Dream High 2: Episode 4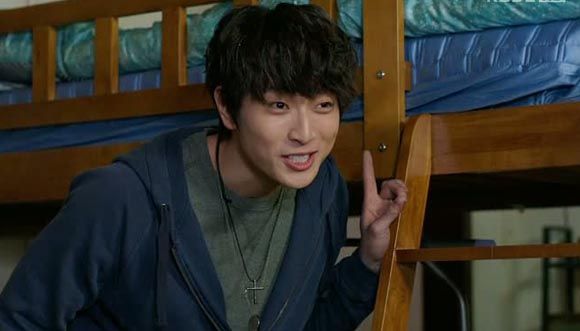 We're given hints at the potential conflicts of a few more characters, but as usual, what we get are crumbs. In attempting to give too many characters adequate screentime, you end up shafting everybody; it would have been vastly more effective to establish rapport with two or three kids, then work in the support crew. What we get instead is a lot of flimsy storylines, none of which have found purchase because they've been given no chance to connect with us.
I think there's promise in what today's episode gives us, but I fear it may be too little, too late.
SONG OF THE DAY
Jinwoon – "걸어온다" which Yoo-jin played in the street in yesterday's episode.
[ Download ]
Audio clip: Adobe Flash Player (version 9 or above) is required to play this audio clip. Download the latest version here. You also need to have JavaScript enabled in your browser.

EPISODE 4 RECAP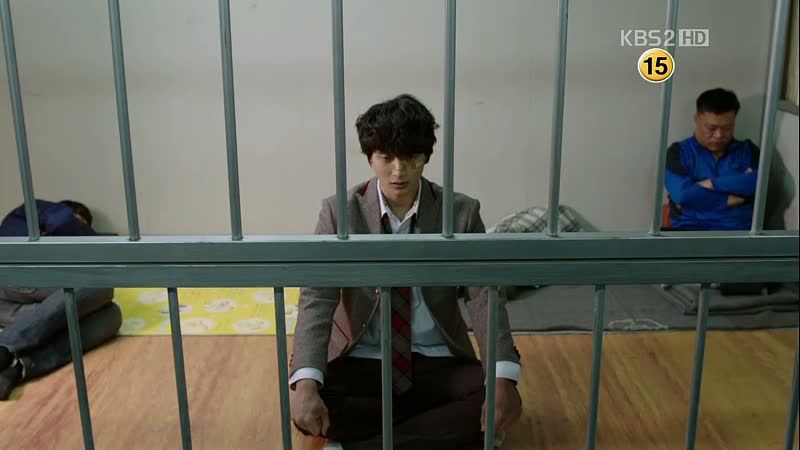 Yoo-jin sits in jail, refusing to settle with his accusers in the assault case. To his surprise, he's released: A teacher coughed up the 10 million won (nearly $10,000) to settle his case. Yoo-jin finds Principal Joo waiting for him — huh, so he's not useless after all.
Yoo-jin can't believe it either, but Principal Joo just shoves tofu at him (to eat upon prison release since it's pure and white, symbolizing a fresh start). Yoo-jin says he'll pay him back, to which Principal Joo yanks his ear (poor Yoo-jin and his abused ears) to assure him that he's going to track down his elusive parents and charge the debt to them, plus interest.
As his new creditor, Principal Joo outlines Step 1 in restoring his bad credit: pass the midterm exam.
Ri-an proposes teaming up with Hae-sung, just as Yoo-jin comes charging up to JB. Ah, so the jail stint jumped us back in time, and now we're at the end of the previous episode. As JB walks away, Yoo-jin calls him a coward and JB sort of squints a little before turning back and reminding him that he's a celebrity and wasn't about to waste his time dragging out the case. Naturally he'd just throw money at it.
Kang-chul sees that they're fighting and because he's a sadistic bastard, he smiles and says this is a good opportunity: They already hate each other, therefore they should team up for the midterm duet. Why, are you suggesting they hash out their differences via song? Because we saw how well the dance-off mended fences last week.
We learn that Yoo-jin's settlement money came from Kang-chul when Principal Joo thanks him for the emergency loan, which Kang-chul says he doesn't have to pay back. He assumes that the money was needed by Mrs. Joo for some domestic problem, and the principal doesn't clarify.
A pair of young lovebirds gets caught holding hands and is punished for the infraction. They protest ("Is love a crime?!") and teachers Jin-man and Tae-yeon cluck-cluck at the severity of Ji-soo's disciplinary response. Tae-yeon wonders if her "spinster hysteria" is to blame for her bitchiness, and I ask, Seriously? What are you, a 19th-century parochial misogynist? It's this kind of girl-on-girl backbiting that makes me dislike Tae-yeon. She's got this weird haughty vibe now that she's transformed herself into an OZ clone — which, by the way, I still don't really understand, but whatever, it's one of many things that strike me as inconsistent about this show.
Tae-yeon gossips that Ji-soo was always bitchy, even in her idol days. "When everyone else was cotton candy, she was a sugar cube, all tough on her own."
Hae-sung decides to do the duet with Ri-an, and informs Ji-soo of the arrangement. Tae-yeon offers to be their coach, and gets assigned to JB and Yoo-jin as well. According to her chart, only two students are partnerless, meaning that diva Ailee will be shackled to psychic-wannabe Soon-dong. Well, that should be interesting.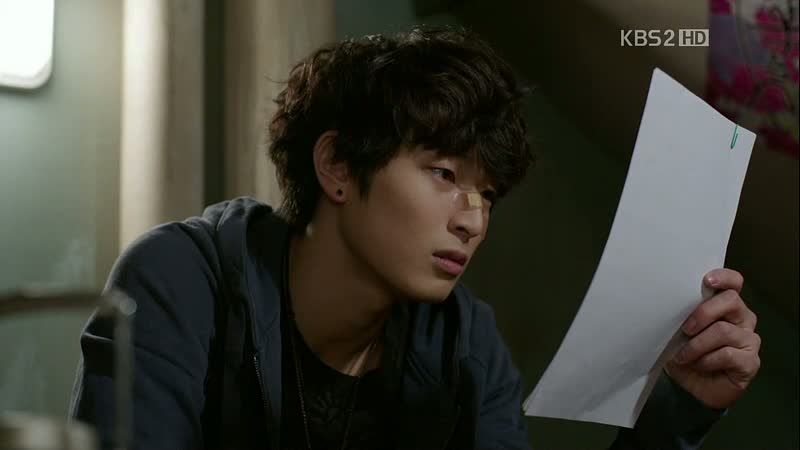 Yoo-jin looks over his duet music for a song titled "Beautiful Dance," sighing that they're gonna make him dance after all. Also: You're going to make them dance for a singing duet? Yeah, that's not rigged in JB's favor or anything. Or logical in the sense of words meaning… what they mean.
Yoo-jin's prepared to rip up the music, but recalls Principal Joo's warning about his parents repaying his debt and stops himself. Hm, so there's some parental issue going on here…
He wonders what the principal's really up to, and fantasizes that at Principal Joo's funeral, they find out that he's really been pouring all his chicken restaurant earnings into his students' educations. He shakes off that scenario, but now he's plagued with the nagging feeling that maybe he's a decent guy, and that messes with his head.
Ri-an has ignored Hae-sung's attempts to work on the song together, so Hae-sung pesters her that night until Ri-an divides the parts. Hae-sung protests — they're supposed to sing together, not give Ri-an all the good parts.
Ri-an says that supporting the main vocals is singing together, and Hae-sung retorts, "Maybe in your group they were, but not for me!" Unexpectedly, Ri-an looks stung and Hae-sung backtracks, but it's clear she's hit a sore spot.
Since Jin-man is technically an English teacher, Ji-soo assumes he's got no talent and brings him in to dance class. It's more to mock him than anything; to her, he's symbolic of the hopeless Kirin students with no dancing aptitude.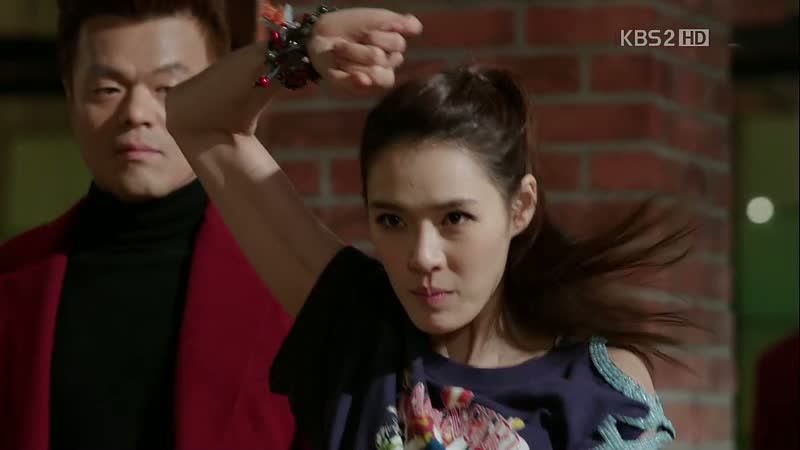 She condescendingly demonstrates a simple move and tells him to repeat it while she literally dances circles around him, like he's a prop. It's her demonstration of how a good dancer can cover for a poor dancer, and she instructs the students to give it a try. She calls out the best dancer and the worst to demonstrate, and JB smirks at Eui-bong as he passes him to the front.
Hae-sung, the worst dancer, is his prop-partner, which naturally she loves. This involves dance-hugs and closeness, which results in some jealousy-frowning by Ri-an and Yoo-jin.
Ri-an tells her after class that she won't cover for her the way JB did in the dance, and Hae-sung says she'll take care of herself.
Ri-an gets a call from her father and answers using an earpiece. Hae-sung tries to point out Ri-an's contraband phone to a teacher, but Ri-an covers by pretending she's talking to Hae-sung: "How could you? Didn't you understand what I said before?!" Based on Ri-an's emotional response (to Dad), Tae-yeon assumes she's being bullied by Hae-sung. She warns that she'll be watching her closely.
Ri-an drags her mother out of the talent agency where she's had a meeting, and reminds Mom that she decided to stay with OZ. Even though she wants to, Ri-an can't risk jumping ship and having Kang-chul crush her career in retaliation.
Mom doesn't seem like an entirely terrible person, because she says she's doing this because Ri-an is having such a tough time as an idol. The fancy fur she's wearing turns out to be a knockoff, and while Ri-an scolded her for the splurge when she thought it was real, now that it's fake she tells Mom to use her money to go buy a real one.
Yoo-jin and Eui-bong gripe about JB while shooting hoops together, only to have JB himself appear. He suggests a game, and Yoo-jin — who has the reputation of being an awesome player — is happy to oblige.
Strangely, though, JB starts dancing in front of him instead of playing, and Yoo-jin stares in confusion. JB dance-skips around and taunts, "You play your way, I'll play mine," and I swear if somebody breaks into song, I'm going to break somebody's head.
Oh no, is that a song I hear, cueing up to ruin this moment? Gawwwwwwd. JB flashes mocking smiles at Yoo-jin and keeps dancing while Yoo-jin scores basket after basket, not even caring that he gets the ball stolen from him repeatedly. Arg, Dream High, now I'm mad at you for ruining a Bye Bye Sea song for me.
Then JB turns the tables by taking the ball, confusing Yoo-jin with some dance tricks, and scoring. Yoo-jin outscores him overall, but JB's the one gloating triumphantly. God, I just want to smack that smile off his face.
Uh-oh, looks like Yoo-jin has the same thought, because he hurls the ball at JB's retreating back… only JB bends over at the last moment and the ball flies into Principal Joo's forehead.
Kang-chul catches Ri-an on her return to school, confiscates her phone, and revokes her practice room privileges until midterms. With her skipping class and leaving school at will, what need does she have for practice?
The teachers have a staff dinner that night and head to a bar/noraebang afterward, where Tae-yeon demonstrates her terrible singing skills. Principal Joo explains that while she can't sing, she's a great vocal trainer. Which is like me saying I'm a great running coach because I understand in theory what it takes to put one foot in front of the other.
Kang-chul invites Principal Joo to sing next, though it's clear that makes him uncomfortable. Then he tells Jin-man to go, adding that if he's good he'll turn him into a singer. Jin-man seizes the moment and manages to impress everybody, even Ji-soo, whom he drags up as dance partner.
Kang-chul takes a jab at Principal Joo's lack of dance skills. Hm, is this a hint of an old rivalry, Yoo-jin/JB-style? Kang-chul has the '90s idol background, and we know Principal Joo plays guitar. This possibly adds dimension to the idol-versus-talent tension, if only they'd let the conflict out of its cage…
Soon-dong makes contact with her spirit guide and tells Ailee that they'll come in first place if Ailee sings while Soon-dong dances. Do these people not understand the meaning of the word duet? Like the other kids, Ailee's inclined to dismiss her as a crazy, but can't avoid that seed of doubt that makes her listen anyway. Soon-dong senses something strange about the upcoming midterms and declares that bad luck is on its way.
Hae-sung practices her song, and while she's not a terrible singer, she's not good, either. Just like your average, everyday person singing in the shower. Tae-yeon criticizes her breathing technique in a mocking way that makes JB smirk, which renews my desire to smack him. Yoo-jin at least looks sorry for Hae-sung's hurt feelings and shoots JB a disapproving look.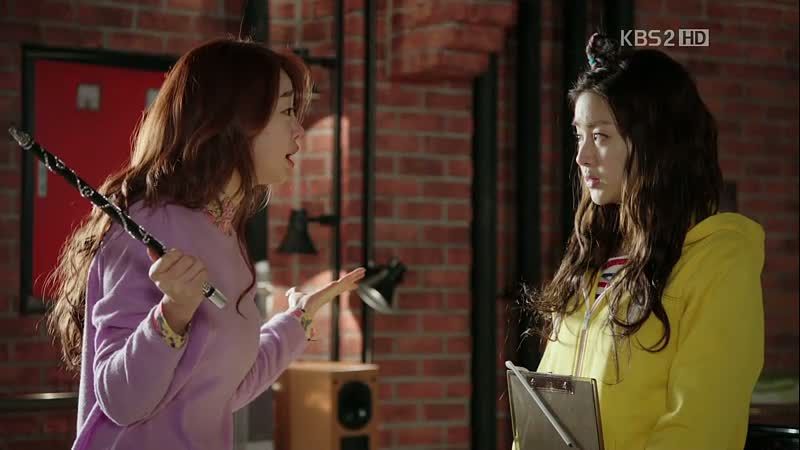 Tae-yeon re-assigns her to the supporting line, saying that this isn't a solo performance and they're not competing. Except for the part where you're making them compete, you mean? (Technically, I suppose the kids don't know it's a competition.)
Hae-sung morosely asks Soon-dong to conjure her guide for more help. The instructions send her on a Mission Impossible trip to the boys' dorm to swipe a boy idol's childhood photo, so she can carry it with her onstage. She finds an album and takes a picture from it… revealing the coupley photo of JB and Ri-an hidden behind it.
Without practice room rights, Ri-an is reduced to singing in the laundry room, where JB runs into her. He calls her irresponsible for ditching her partner to practice on her own, which is rich coming from you, Mr. Basketdanceyball. Ri-an retorts, "What about you? Did you take responsibility for Shi-woo?"
JB insults her back for being a pretty face who doesn't sing and who can't act. She slaps him.
Hae-sung's still in JB's room when he comes back and ducks under his bunk bed. She watches him reach for his Rubik's cube, which reminds her of a different encounter from two years ago.
Flashback: He'd been crying alone and she'd felt so bad for him that she gave him her Rubik's cube, saying it would make him feel better. It makes her happy to see that he still has it.
Yoo-jin enters to ask for a CD of their dance moves, since he doesn't want to learn from JB directly. Then he catches a glimpse of Hae-sung huddling under the bed, although he can't see her face, and assumes JB's been sneaking a girl here.
He pulls aside the cover to reveal Hae-sung, and both guys gape while she stutters that this is not usual behavior for her. Ha. Somehow it's not a convincing argument.
She runs out in embarrassment. Yoo-jin wonders whether they're dating, which JB denies in horror. So if they're not dating, that means Hae-sung's a stalker, he decides.
Hong-joo and Nana practice their duet, which sounds great until she coughs and winces. She wants to continue, but her voice breaks again and he urges her to go to the hospital. She says he's overreacting, but heads there anyway, and finds Shi-woo chatting up the nurses.
She explains her throat issue via handwritten note, then tells Shi-woo to beg Kang-chul for forgiveness so he can stay at Kirin. They have an easy, half-bickering rapport that makes me wonder whether they're dating, especially since she seems sincerely worried for him and he jokes, "Wanna run away?" He points to the scarf she's wearing, which is his.
Hae-sung bugs Ri-an again to practice and gets blown off again. Ri-an says they can practice separately and then run through the song on the day of the performance, adding that she didn't know Hae-sung was this bad.
Yoo-jin approaches his own duet with determination, choosing to practice on familiar turf: the basketball court. He starts moving like JB did during their game, working in his basketball movies so that eventually it looks like a hybrid dribble-dance with the ball.
Hae-sung comes across him mid-practice, faithfully blowing up a balloon as a breathing exercise. Yoo-jin waves her away in annoyance.
But when he flinches away from her balloon, she smiles an evil grin, guessing that he's skittish around balloon popping. He jumps when it pops, and she laughs her head off and pulls out another.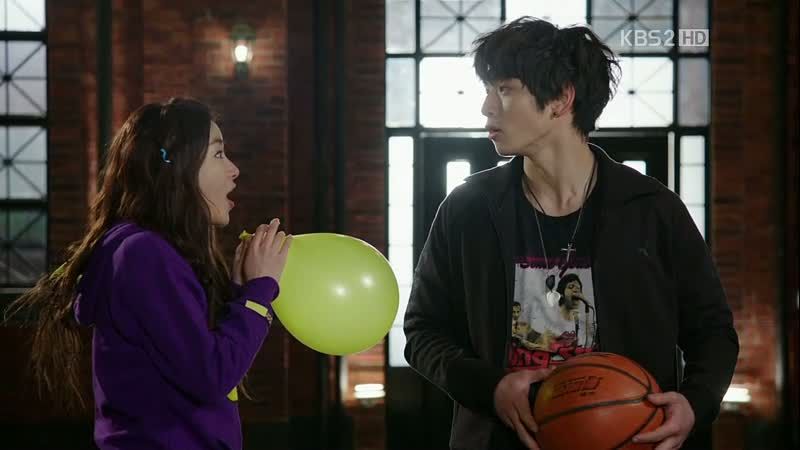 When Hae-sung stumbles in dizziness, Yoo-jin looks worried for her sake, until her stomach growls. Just hunger.
They go to Principal Joo's chicken place, quite possibly just so Yoo-jin can enjoy bossing him around as customer. Principal Joo kicks them out at the end of the meal, and Yoo-jin clucks over the poor service.
In exchange for the chicken dinner, Yoo-jin asks a favor of Hae-sung. She's happy to oblige, since it involves secretly filming JB's dance rehearsal, so Yoo-jin can use it to practice on his own. And while they and the other students spend the following days practicing, Ri-an sits idly by and wastes her time.
Evaluation day arrives, and it's treated like a pseudo-concert, with a red carpet inside the school hall and paparazzi line, giving the students a taste of the celebrity experience.
Hae-sung nervously waits for Ri-an to show, but the event kicks off without a sign of her. And they'd never even practiced together once.
Kang-chul introduces the event and asks how the kids enjoyed their faux red carpet, then wonders how many of them might get to experience the real thing. He advises the students to give up on their empty dreams, because if they want to make it, they've got to leave fantasyland behind. Um, somebody pull this guy aside to remind him the name of his drama.
With that in mind, he announces that today will be an audition of sorts. No rehearsals or do-overs. He drops the bomb that one person in each pairing will be cut, which means their partner has just become their rival. If that makes you mad, he says, then win and earn the right to stick around. He dangles an extra carrot: He's planning to take the cream of the crop and turn them into a super idol group.
Ri-an finally arrives while the students are backstage, and Hae-sung pulls her aside. She's a bundle of nerves over their lack of practice, but Ri-an tells her carelessly that it shouldn't matter how she does since they're in an every-man-for-himself situation.
Now Hae-sung realizes that Ri-an picked her because she's the easiest to beat, and that she knew about this additional cut. Ri-an tells her that she hasn't practiced at all while Hae-sung has been diligently at work, so she can just beat her then.
Hae-sung vows that she will. Ri-an says, "I'll be tough — onstage, I'm the pro. And you're nothing."

COMMENTS
Sorry, folks, the Dream High 2 train ends here. At least for us, because there's just not enough in this drama to make us care — and whether the acting is good or bad, the writing spotty or tight, the music moving or bland, ultimately we have to care enough to stick with something. It's not a terrible show, but that's also the frustrating thing about it — it's just sort of sitting there, full of potential but not fulfilling it. The ingredients are mostly present, they're just not cooked together in a tasty way.
In some respects, this drama makes me think of Goong S all over again. You have an initial series that becomes an instant phenomenon, built on a premise that seems solid gold. You dive into the second series with all these hopes, thinking that even if it isn't as good as the original, it would have a lot of the same kind of charm. So you stick with it, and tell yourself it has to get better, and remember all the reasons it should be good, and try to convince yourself that you like it more than you do. But in the end, you're left with disappointment and a pale shadow of what you found so lovable the first time around. It's tiring work to convince yourself something might get better when you don't think it will.
I find that Dream High 2 is making a lot of little missteps that I could probably overlook, but for its fatal flaw: I don't care about anybody, other than Yoo-jin. He's the only character who is both acted and written well, and Jinwoon is pretty charming. If only they all were.
As viewers we're pretty much hardwired to root for the underdog, but can you be an underdog if you don't have talent? In the first series, I rooted for the Misfit Mafia because they worked hard and were talented; they just had the odds stacked against them. They hadn't had the opportunity to cultivate their skills and show the world what they could do. Here, the Kirin kids have had opportunities — vocal training, music lessons, dance classes — but they happen to suck at this industry and therefore maybe don't deserve to be famous in it.
Guitar-strumming Hong-joo has talent and so does dancer Eui-bong, but what about Soon-dong? I don't even know what the drama intends for us to think of her. And the rest of their class — how am I supposed to wish you success when you buy songs for your homework assignment? Or expend your energies in psychic rituals rather than training?
I find myself agreeing with all the harsh words of the idolmaker adults, which actually confuses me because I'm not sure what I'm supposed to want for Hae-sung. Or Ri-an, while we're at it. I really like Jiyeon's performance, but I have no sympathy for the famous celebrity who can neither act nor sing.
Her setup IS intriguing as the reluctant idol, and her character allows the series to get in a few pointed barbs at the industry. Like her retort about setting up an internet shopping mall, which many a has-been idol singer has done after her initial source of fame has dried up — ouch. And I wonder if Ri-an's duet behavior is really a self-destructive act — if she can't leave OZ of her own free will, then let them cut her loose. I like that. But I don't know what her trajectory in this drama is.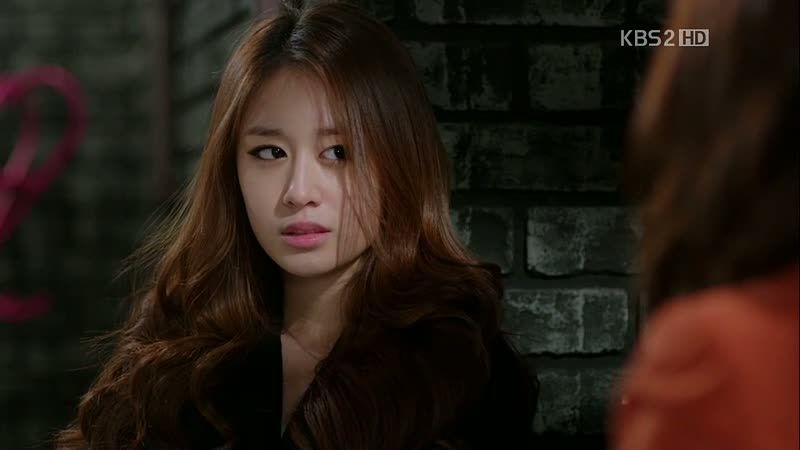 So unless Hae-sung and Ri-an suddenly cultivate dreams of accounting, I'm more likely to hope they give up their dreams than keep pursuing them. Not because people can't want things they're not good at, but because they would be wasting their lives on unrealistic goals. Dreams can still be valid when they're attainable, and I'd rather they found a dream that actually made use of their skills. Otherwise it's just sad; watching Hae-sung trying to cling to idol hopes when she's apparently the worst dancer and a bad singer is depressing.
As for the idol half, that's another big question mark. Last year the top dogs had their down moments, and Baek-hee and Jin-gook actually started out underdogs so you had reason to pull for them. This year the idols are presented as these perfect singing and dancing machines who are expected to crush their opponents. So… how is that interesting?
JB's acting aside, I don't find his character endearing or even relatable. We got a tiny look at his timid side at his audition, and another tiny peek at vulnerability in today's flashback. Yet most of the time he's stiff and smirky and I want to hit him. (Also: Why the heck did we not get today's flashback in Episode 1? All this time Hae-sung has been presented as a silly fangirl when she'd met him before? What a waste of a setup.)
As for the dances: oy. I like the dances when they're used well, like the stuff in the studio during class to demonstrate a point. And also: sparingly. Not in every other scene. The dance-offs have got to stop, if for no other reason that my muscles need a chance to un-cringe themselves from the last one. I feel like there's a disconnect between what the drama tells us is cool and what we actually consider cool, which is odd because that's something I thought was JYP's forte last year — knowing when to undercut a moment or introduce a joke.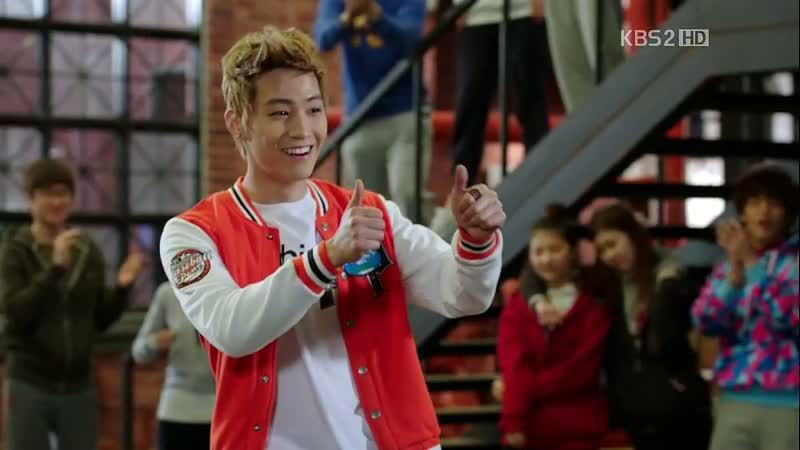 Then, the elaborate song numbers.
Here's the thing about the songs. In the first season, as girlfriday pointed out, the songs were worked into the plot so that a performance was an extension of a scene. Not a commercial break or an excuse for a glossy recorded track to get some airplay. It felt like you had a performance that meant something, like producers had carefully combed through scores of songs and picked the best one to convey the desired message. So we ended up with a diverse mix of genres with artists ranging from lesser-knowns to household names, from the '70s, '80s, up through to the present day. This kept the drama mixtape eclectic and fresh, and had enough fun nods to bygone pop hits to appeal to people from multiple generations.
This season, it feels like some trendy producer handed over a list of autotuned bubblegum pop hits and the writers are left trying to figure out how to write a scene around these designated musical numbers. This does not work, Singin' in the Rain notwithstanding. So, how to seamlessly work in "Roly Poly"? We don't know, so we'll just construct a standalone music video and drop it in somewhere. What about "Heartbreaker"? Oh, I know, a tense, aggro dance-off! Sure, that makes sense, if that strain of homoeroticism was intentional.
Last year I felt a sense of discovery every time I placed a song within the scene, then got its meaning for being there. Like "Goose's Dream" as a declaration of determination. "Winter Child" as a heartfelt birthday gift. "Dream High" as a soulless techno beat that genius Sam-dong reworked, transforming it into our misfit anthem. It was music as a mode of storytelling.
This year, it feels like a visualization of Top 40 radio. It's not creative, and it's not interesting. Do not want.
Don't get me wrong; I'm not upset that Season 2 isn't Season 1. The reason I bring up last year is because it's an example of how certain elements worked well, in contrast to this year's mishmash of things that don't work well. If this had been the only season of Dream High it would have been easier to write it off as a mediocre drama. It's because we have the first season that it's harder to let go of 2, because I've seen how great this can be when the care is put into developing emotion and character and story.
In short, what I want from Dream High 2 is simply: To know what the point is. Is it about harboring dreams (even if you'll never achieve them), or is it about giving them up? Is it about rock music versus pop, or about dancers versus singers, or about underdogs versus top dogs? I feel like there are threads of all these conflicts woven in, but they're loose and unconnected, and it makes me unsure of what I'm watching. I just want to know what you're doing, Dream High. I want to like you. I want to root for somebody! I just don't know who that's supposed to be.
RELATED POSTS
Tags: Dream High 2, featured, Ji-yeon, Jung Jin-woon, Kang So-ra, Kim Jung-tae