History of the Salaryman: Episode 14
What a ride! Bang and Hang-woo go head to head in a surprisingly suspenseful competition, and we get to finally see just how far Gabi is willing to go for the sake of her greed. She goes above and beyond the call of duty in that regard, and it's not necessarily what she does as much as the desperately violent way in which she does it that's guaranteed to send a shiver down your spine and/or make your jaw drop. I know mine did.

EPISODE 14 RECAP
Chairman Jin might have called Gabi, but he didn't do it to call her out. She's able to smooth-talk her way out of a potentially sticky situation by owning up to the fact that other executives have been embezzling money from him, and that the only reason she didn't tell him before was due to his poor health and her belief that she could handle it on her own.
He may suspect her, but he doesn't have enough evidence to make a solid claim. So instead he tells her to harden her heart and prepare – they have to root out the corruption within Chun Ha from the source. Taking this as a cue that she's free from suspicion, Gabi smiles. To her, Jin is a sickly old fox while she's king of the mountain.
Bang barges into Chun Ha to speak with Hang-woo personally, and Woo-hee gets some admonishment for letting Bang in without an appointment. Never one to beat around the bush, Bang cuts straight to the chase: what does Hang-woo plan to do with the blood sugar monitor that's nearly identical to his? How did he even get a patent for it?
Hang-woo replies that laws are made to be evaded, which explains how he got the patent. He advises Bang to just give up now and hand the factory over, since this is a war he can't win. Bang: "You go to battle to win, right?" Hang-woo: "Isn't that a given?" Bang: "I only go to battles I can win."
The earlier confidence he displayed with Hang-woo is gone, as Bang, Woo-hee, and Bun-kwae share their sorrows over soju. The simple fact is that they can't win if they don't have any money.
Yeo-chi arrives with a smile, only to have it fall when she sees Woo-hee. The good news is that the last episode cliffhanger was a fake out, and that Bang doesn't hold Yeo-chi responsible for subverting his business since he knows it was all Hang-woo's doing. Still, she gets to overhear Bang soundly reject her as an investment opportunity – according to him, that would be like letting the cat watch the fish.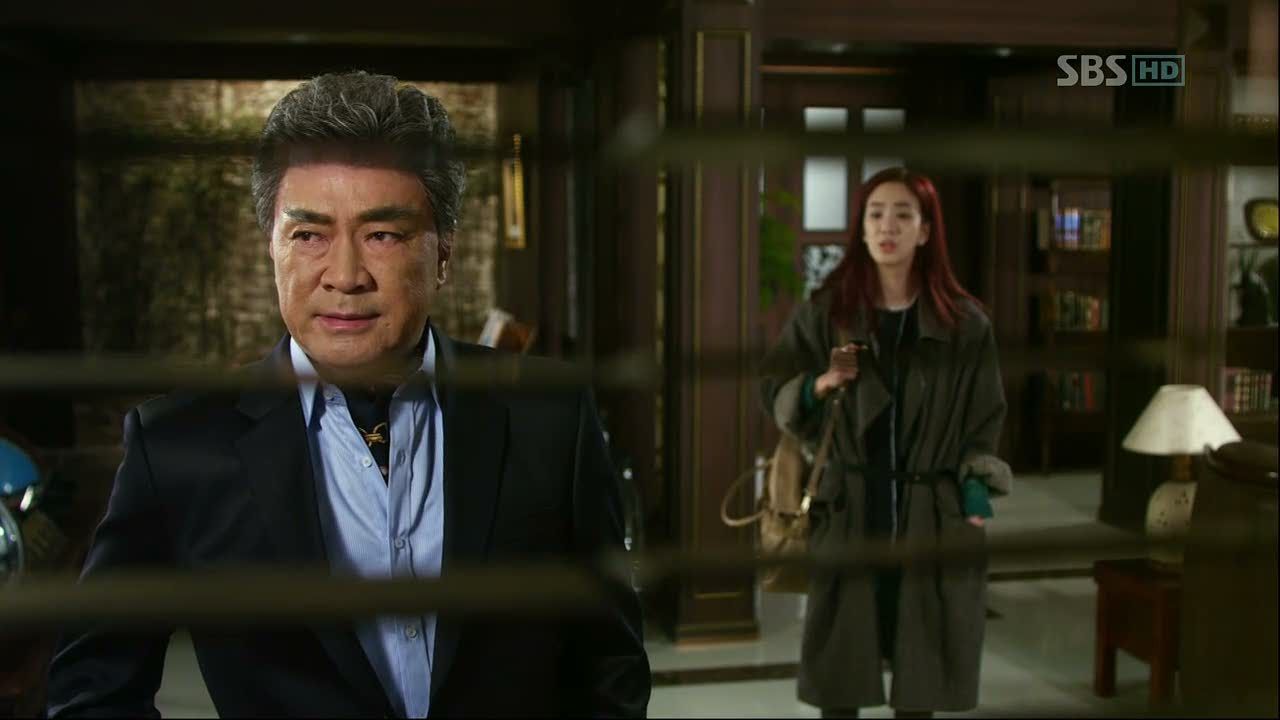 Yeo-chi goes straight to Grandpa Jin to ask if he'll give Bang the investment after all. Chairman Jin wants to know her real reason for caring about Bang – because with Bang in direct competition with Hang-woo, helping Bang would be akin to handing weapons to the enemy. I think that this is all a front to get Yeo-chi to admit her real feelings, because he frames the idea of him helping Bang around a simple question: "Do you like Yoo Bang?" We don't get to hear her answer.
Bang turns to Jang Ryang as a possible investor, but things aren't looking good. Jang Ryang is much more jaded in the world of business than Bang, and breaks it to him that he has little chance of succeeding. In this field, power reigns above common sense. Power is law, and whoever is stronger ends up being righteous, even if they aren't.
This sort of talk actually offends Bang, as he brings up his deceased father who lived his life poor and powerless. But he was nothing if not righteous in Bang's eyes… to him, power doesn't make the person. Character makes the person. This is a turning point in the conversation, and maybe it's what Jang Ryang wanted to hear as he all of a sudden changes his tune and says that he'll make the investment.
They change venues in order to handle the paperwork, and Bang officially receives investment money from Jang Ryang in the hopes that his merger with Taeyang Group (the company that wants to use the device in cell phones) will be successful.
What Bang doesn't know is that this money is coming straight from Chairman Jin, who sat within hearing distance during the meeting. Jang Ryang is curious as to why Chairman Jin is helping Bang, who's technically working against Chun Ha's interests. Chairman Jin simply explains that he wants to see who will emerge victorious if Bang and Hang-woo were to go head to head – but in order for there to be a good fight, Bang needs a weapon. All Chairman Jin did was to supply that weapon, and it looks like he'll be watching the battle gladiator-style.
He acknowledges that if this were a battle of sheer competence, Hang-woo would be victorious. But Bang possesses something that Hang-woo doesn't, and that's his greatest weapon. They don't say what it is out right, but I'll take a guess and say: a heart?
Bang returns to the factory only to be confronted by his employees, who have become aware of the extremely tight financial situation. But in a heartwarming turn, the employees offer to give up their salaries just so the company can survive, because they trust in Bang.
This is a great moment for our freshly-minted president, and tears fill his eyes as he happily informs his employees that they won't have to go to such extremes, because they have a new investor. Everyone erupts into cheers, offering Bang a group "Fighting!" This is a perfect example of what Bang and Hang-woo do differently, since Hang-woo possesses a coldness in business that Bang doesn't have. But it's not like that isn't paying off. If we think about Hang-woo, would any of his employees go to such lengths for him? (Probably not.)
None of the men on the executive board of Chun Ha are happy about Gabi, but what can they do? She goes into a board meeting and lays down the law, even going so far as to demand that So Ha give back the money she helped him embezzle.
Aside from Yeo-chi, Jang Ryang has proven himself as Chairman Jin's closest confidant. He asks Chairman Jin if he trusts Gabi, who's too quick to fall into a simple scheme. Chairman Jin is quick too, and knows what Gabi is after: his will. If he tests her with that, then her true self will be revealed. Go Chairman Jin!
Meanwhile, tensions are escalating at Chun Ha. Everything Hang-woo and Bang have worked toward is now resting on the shoulders of the Taeyang Group heir, who's shown more than just a passing interest in Woo-hee. Though he's a colleague of Hang-woo's, that doesn't automatically net Hang-woo his business. Instead, the Taeyang Son (I wish they'd just give him a name) suggests a competition between Chun Ha Group and Bang's company, Paeng Seong Enterprise. Hang-woo makes it his mission to find out who gave Bang funding.
Hang-woo's in a foul mood, and seeks Yeo-chi out for a confrontation. He wants to know if she's the one behind the Paeng Seong investment, and accuses her of being a traitor. Calmly, she replies, "Are you that unconfident?" BOOM.
She treats the matter lightly, wondering why Hang-woo is making such a fuss over little ol' Bang. If Chun Ha is an elephant, Paeng Seong is a biscuit. Who would come out victorious from that fight?
Hang-woo gets right up in Yeo-chi's face and warns her against provoking him. The more she acts this way to him, the more desire he has to trample Bang. Unfazed by his intimidating presence, Yeo-chi simply responds that she's curious as to who will become the victor. When he asks her why, she tells him it's because she's going to be the head of Chun Ha, so of course she has to find out who's the most competent between them.
She leaves, and Hang-woo's temper flares high enough for him to physically assault her desk. She probably hit the nail right on the head – he's unconfident about going into battle with Bang.
Woo-hee happens upon him looking as though he's asleep in his dark office, but he pulls what he did on Yeo-chi before and talks with his eyes closed. "You are rooting for Bang too, right?" he asks, and suddenly I feel sort of bad for him. He doesn't have anyone on his side. He tells her that of all people she should root for him, being his chief secretary. She says she will.
When she attempts to leave, Hang-woo pulls a wrist-grab to get her to stay… and goes in for a kiss. This moment is really drawn out as far as tension goes, and I was on the edge of my seat until the very last moment, when Woo-hee turns her face away. Aww, fail. But just as gently as he grabbed her wrist, Hang-woo lets her go.
The next day, Hang-woo gets his lackey to give him a rundown of all the judges for the upcoming competition for Taeyang Group's partnership. In order to get a leg up he needs to send Bang's product to their factory in Vietnam, but it's a bit of a challenge since the product isn't on the market yet. Hang-woo has an easy fix for that, and calls up none other than Han Shin to do some dirty work.
Luckily, Shin's track record for trickery keeps Bang on his toes, and Shin is unable to hide the fact that Hang-woo called him from under Bang's watchful eye. For his part, Shin seems loyal to Bang – though that's hard to prove when he's lived so dishonestly before.
But the fact that Hang-woo doesn't know Shin is working for Paeng Seong gives Bang an idea. He tells Shin to meet with Hang-woo and do what he wants, but above all else, he can't let Hang-woo know where he's working. Bun-kwae doesn't seem keen on trusting Shin but Bang cites a stratagem for using one's opponent's tactic against them. If Hang-woo is planning to use tricks, then Bang is going to use that trick to his advantage. Go Bang!
Through Shin acting as a double agent, Bang is able to find out that Hang-woo wants Bang's blood sugar monitor. He decides that the best plan is to give Hang-woo what he wants, citing the stratagem of 'tossing out a brick to get a jade gem', which is exactly as it sounds. They sacrifice their product, but they'll nab Hang-woo in the process. Man, is it fun to see Bang outwitting Hang-woo.
Acting on orders, Shin delivers the blood sugar monitor to Hang-woo. The product performs soundly, so much so that Bum-jeung believes that they can't go head to head with Bang without losing… so they'll go around that issue by bribing the judges. Shin reports to Bang that Hang-woo has gone on a full-scale bribery mission, and we see both him and Bum-jeung win each judge over with expensive gifts. In return, Shin is able to procure an information packet on Hang-woo's blood monitor, which is exactly like Bang's, only round. Bang asks Woo-hee's sunbae, DR. HONG, if it's possible to get their product to look identical to Chun Ha's before the competition at the end of the month.
Yeo-chi is being a good granddaughter by taking over the duty of cutting Chairman Jin's fingernails. Chairman Jin hasn't let her on to the fact that he's suspicious of Gabi (who apparently used to perform this task), and what seems like a throwaway line by Yeo-chi about Gabi lets us know that Yeo-chi admires her and trusts her. That's going to be a problem.
Using Grandpa Jin's blindness to play a harmless prank, Yeo-chi decides to paint one of his nails hot pink while he talks. It's adorable. He asks her why she likes Bang, to which she gives a half-hearted denial. Chairman Jin: "If he beats Hang-woo, then I will make the decision to have Yoo Bang as a grandson-in-law."
Yeo-chi can put up as much of a front as she wants, but we know that she has to be happy about this decision. Chairman Jin deflates her a bit by saying that Bang winning is an impossibility… but if he makes the impossible possible, then Chairman Jin has no right to refuse him.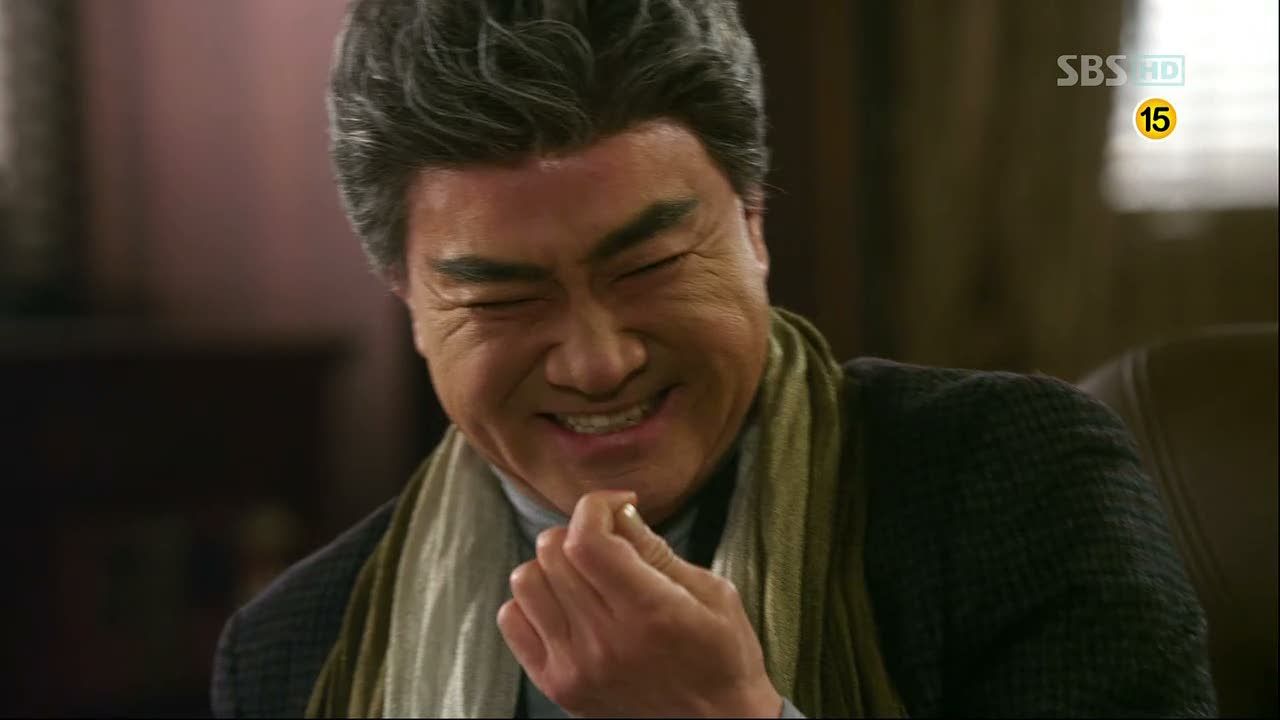 Adorably, once Yeo-chi leaves, Chairman Jin starts jumping around like a little kid at Christmas at the sight of his painted nail. It's not as if Yeo-chi gave him anything with material worth, but that one painted nail is a symbol of their close bond. We've always known Chairman Jin loved Yeo-chi, even when he was harsh early on – so it's wonderful now to see a payoff to their relationship. He's just so cute when he's so happy.
We all know how women are susceptible to Bang's superior meat-grilling skills, and this outing with Woo-hee is no exception. Once again, Bang wastes no time and gets straight to the point by asking her if she'd consider quitting Chun Ha (and thus her work as Hang-woo's secretary) if Paeng Seong were to make it big.
She replies that she'd go to him if Paeng Seong were to become as big as Chun Ha, which has Bang in as good a mood as Chairman Jin. Now that he has a goal in getting Woo-hee away from Hang-woo, he has more energy. It's only once she's alone that Woo-hee flashes back to the almost-kiss with Hang-woo. "Choi Hang-woo, what exactly did you do to me? Why are you in my head all day long? Get out. Hurry up and jump out of my head, I said!" Aww.
Bang happens upon a strange sight when he gets to the office – Yeo-chi is outside, slapping huge chunks of taffy onto his business sign. Ha! Bang wonders if she's telling him to shove it before the competition (the term "eat taffy" can be equated to "screw you"). That clearly wasn't her intention, as taffy also acts as a good luck charm, commonly given to students about to go in for an exam.
I love that she's gone above and beyond, since she's clearly praying for his success. When he has only harsh words for her, she stuffs his mouth with a piece of taffy and gives him two bags full of snacks… and more taffy. Heh.
It's the day of the competition. Hang-woo and Bang are both equally grim and focused, and exchange some fun barbs in the elevator. Bang notes that Chun Ha has the most to lose in this competition, because if they were to lose to a no-name startup company it'd be the talk of the international corporate world. He also effectively puts Hang-woo in his place when the latter uses banmal, to which Bang retorts, "Am I younger than you or am I lower in rank than you? My ranking is president and you are a vice president." Done and done.
The competition is a public forum, so in the view of cameras and many eyes Hang-woo and Bang place their products on separate tables for review. Hang-woo is more than a little surprised to see Bang put down an identical circular monitor to the one he made, and says that that isn't what Bang's product looked like. Bang: "How do you know that? We never made it public. Did you steal it once or something?" Ha.
My my, is that Hang-woo I'm seeing, officially on the ropes? To the judges who are now confused as to how to proceed, Bang suggests that the company names be put on the products to tell them apart. Labels are assigned to the blood monitors before judging commences, and it's clear from the judges' facial expressions that Hang-woo is going to emerge victorious. Though the products look the same on the outside, the bribed judges act like Paeng Seong's product is inferior just by a cursory glance.
The son and heir of Taeyang Group finally reveals the results. Based on a forty-point system, Chun Ha wins by a small margin. Hang-woo and Bum-jeung enter celebratory mode, but Bang cuts them short by addressing the judges and the public.
He accepts that the judges rated Chun Ha's product better, only to peel a sticker off the back and reveal the initials "PS" for "Paeng Seong". So the product they rated the highest wasn't Chun Ha's product at all, meaning that Paeng Seong wins. How did it all happen? In the elevator, Shin and Bun-kwae exchanged their briefcases behind Hang-woo's back. Nooo way. Bang preempted all of this? Wow.
Hang-woo and Bum-jeung have been officially had, and in a totally embarrassing way, to boot. The bribed judges can't do anything at this point, since Bang has tricked them all out of their trick, just as he said he would. I'm so proud of you, Bang!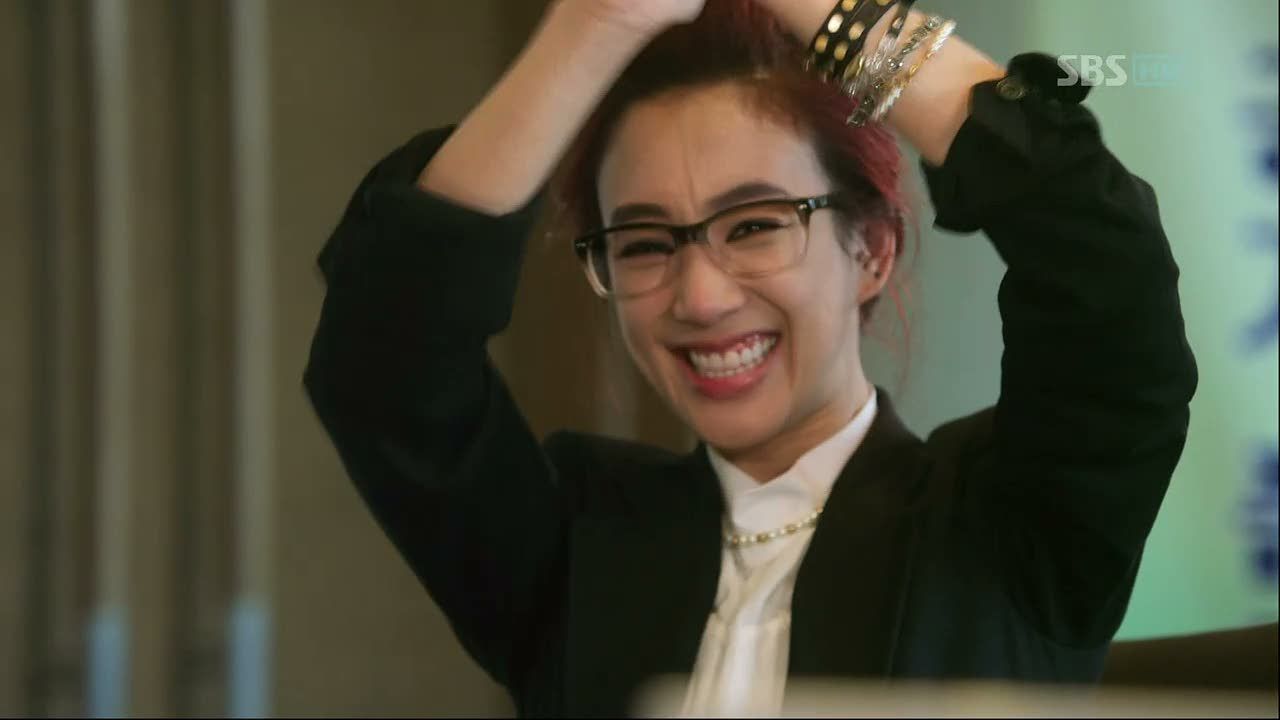 Yeo-chi has been sitting in on the proceedings with bated breath, probably because her marriage depends on the victor. Naturally she's ecstatic when Paeng Seong wins, with the son of Taeyang Group promising a partnership with Bang's company. Bang doesn't miss her cheering, and the two exchange a smile. Aww.
Earlier, Chairman Jin made good on his promise to test Gabi by telling her to send all the office staff away so that he can revise his will. She's set to record it via audio, and write down his dictation.
Alone with Chairman Jin, whom she fully believes to still be blind, Gabi puts her plan into motion. It ends up being pretty simple on her part – all she does is turn off the recorder, along with inserting her own name every time Chairman Jin says "Baek Yeo-chi". Chairman Jin's original intention was for Yeo-chi to inherit everything he has and to become the next chairperson, but Gabi switches all those things to go to herself. At least she lets Yeo-chi have some remaining liquid assets, perhaps as some last vestige of concern.
Chairman Jin isn't looking too good and is sweating profusely. She gets him to place his official seal on the will but he asks her to get him a glass of water, and uses the time she's gone to grab a pair of glasses to read the will. Oh dear. He can see clearly how everything has been changed for Gabi's benefit.
It is a freaking showdown as Chairman Jin confronts Gabi, who's caught so unaware she's literally shaking in her boots. He's lost it, accusing her of betraying him just like everyone else. She tries to pass it off as a misunderstanding, which really sets him off. In anger, he rips up the will with his hands and teeth.
She screams, and he spits venom as he asks her why she's so shocked over a torn will. Is it because everything she's worked for is now crumbling before her eyes? The angry confrontation sends his blood sugar spiraling downward, and he fumbles with the jar of chocolates from his desk drawer. He ends up knocking it out of his own reach, and falls in an effort to get to them.
Lying on the floor, he entreats Gabi to give him the jar. She grabs it, but doesn't hand it over. "So in the end, you didn't trust me," she says. Crap.
She withholds the jar from him while she simultaneously yells, laughs, and cries all at once. "You're going to pass everything to Baek Yeo-chi?" she screams. "Then I? What am I, then?!" When he calls her Director Mo, her official title, she nearly rends her garments in hysteria. "Director Mo! Director Mo! Director Mo! Director Mo! To you, I was only Director Mo, is that it?! Was there even one moment that I existed in your head, instead of Baek Yeo-chi?" This woman done lost her mind.
Withholding the chocolate needed to save his blood sugar level isn't enough, and Gabi retrieves one of the syringes she switched earlier, the same medicine that's been poisoning him. She claims that she can rewrite the will and use his seal (meaning she no longer needs him alive), and begins a brutal struggle with him and the needle. He knows she intends to kill him, and fights her every step of the way. She can't succeed even if she kills him, he tells her, because his new will is locked away in the secret vault and out of her reach.
Screaming the word "Chairman", Gabi plunges the needle into Chairman Jin and injects the poisonous contents. He immediately starts to seize and convulse, unable to reach the phone when Yeo-chi calls him. Good. God.
Thinking him dead, Gabi drops the phone on the ground. She finds Woo-hee outside the office, though how long she's been there and what she's heard, we don't know.
But through a twitch we see that he's still clinging onto life (phew!), and he starts to desperately reach for his ringing phone. It's only inches away from his grasp. "Yeo-chi," he whispers. "Yeo-chi… Yeo-chi… Yeo-chi… Yeo-chi…"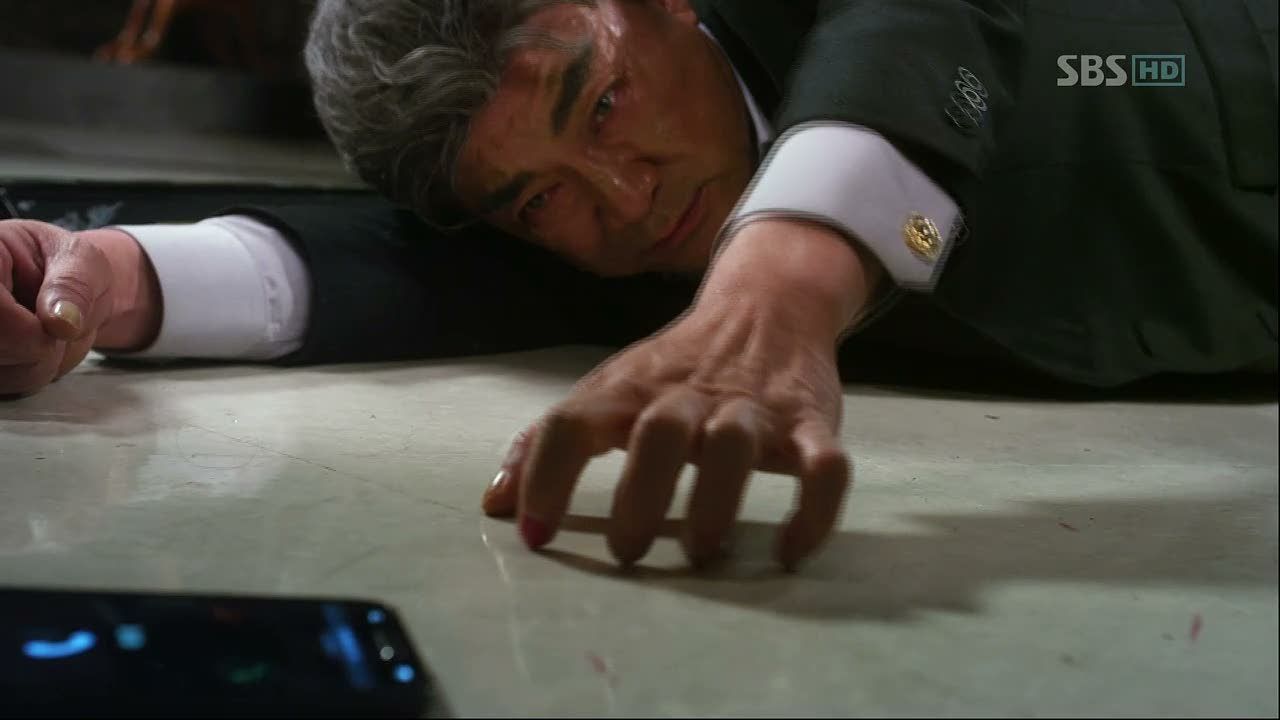 COMMENTS
Jesus Christmas. That was intense.
The Withholding Vital Medicine trope isn't uncommon in the drama world, but the twist of Chairman Jin still being alive after all that is what's uncommon and awesome. The show might just be pulling this for a good cliffhanger's sake and may kill him off in the first ten minutes of the next episode, but for the moment I have to applaud Salaryman on all fronts. I remember being fairly indifferent to Chairman Jin early on in the series, and my views gradually changed when Yeo-chi's did. He's not all good but he's certainly not bad either (I feel like I say that a lot with most of the characters from this show), and his sheer tenacity to live is chilling. Here, we can see the man who founded Chun Ha. He's got the qualities of an emperor – which is the point, since he's loosely based on Ziying, the last emperor of Qin.
This entire episode was made of win, but there was something so shocking about the final scene with Gabi and Chairman Jin. The subject matter was shocking, of course, but what got me most was how raw and real everything felt. Rage was oozing through these characters' pores, and this show didn't back away from showing us every gruesome detail of Gabi's inner psyche. I can believe that she'd go to such lengths, but what's a harder pill to swallow is her brutality – she had multiple chances to renegade on her plans and save Chairman Jin's life, but she kept making conscious and cruel decisions to end his life. That takes a special sort of terrible person.
She's been a little larger than life in the past couple of episodes, and that scene certainly allowed her the freedom to go mad as a hatter. Unlike her maniacal laughing scene, I really believed her during every moment of her fight with Chairman Jin. I can't recall a drama of recent memory where a man and a woman have had such a vicious, knock-down fight quite like this one. It was honestly hard to watch because everything was happening so slowly, and Chairman Jin was suffering so much. Props to Lee Deok-hwa and Kim Seo-hyung for really bringing that scene home. And for what it's worth, I hope he lives a little longer.

RELATED POSTS
Tags: featured, History of the Salaryman, Hong Soo-hyun, Jung Kyeo-woon, Jung Ryeo-won, Lee Beom-soo