History of the Salaryman: Episode 16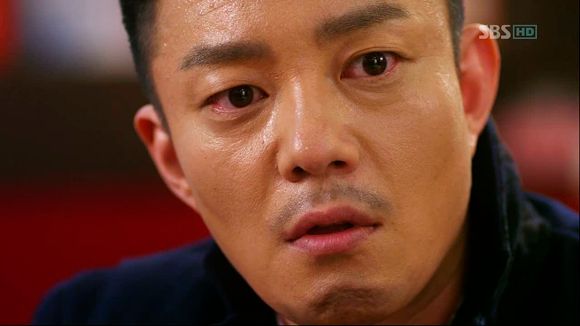 A nefarious evil has overtaken Chun Ha Group, leaving Yeo-chi missing, Bang drinking, and Woo-hee practicing extremely unsafe driving methods. This episode was a great example of controlled chaos, as each of our characters goes through some kind of shakeup to their world order. There's more than enough cute to go around, even as we find ourselves wondering whether the eye of the beholder really can turn a deer into a horse, or vice versa. Especially if the beholder is someone so warped anyway. That's right – Gabi, I'm looking at you.

EPISODE 16 RECAP
Woo-hee's trying to put the pieces together regarding the insulin case with Chairman Jin. She remembers that his doctor blamed himself for the dose being too strong, and that Chairman Jin wanted her to analyze the insulin he was taking. Why?
Finding herself outside of the stockholders meeting, she peeps inside via an opened door. Her eyes fix straight on Mo Gabi, who is announced to be the new Chairwoman of Chun Ha Group via the false will she wrote. Everyone is reeling from the shock, but those executives Gabi has won over begin to sing her praises while influencing other executives to accept. Soon enough the whole room is applauding the announcement.
In the crowd, Bang asks Jang Ryang what's going to happen now. Jang Ryang: "The game's over." Gabi takes the stand to introduce herself, and Woo-hee remembers how Chairman Jin's lifeless hand fell out of the blanket… C'mon, Woo-hee! You're this close! At least she places a call to the medical center to do some further investigating.
While Gabi starts dressing herself like a proper chairwoman for her upcoming inauguration ceremony (I know, things move fast this episode), she muses on how Yeo-chi is going to become penniless. She sure doesn't seem that torn up about it.
Yeo-chi gets a rude knock at the door and finds herself unable to keep some ruffians out – and those ruffians come with repossession stickers to put on every last thing Yeo-chi owns. The scene of Yeo-chi's possessions being repossessed is intercut with Gabi's inauguration scene, only going to show what Gabi is gaining at Yeo-chi's expense.
Gabi assures all those gathered that, as the new Chairwoman of Chun Ha, she will go hand in hand with them toward a bright future. You know, all the nonsense you'd expect her to spout. Hang-woo looks like he's the only one not buying what Gabi's selling, and the handshake they're forced to share is tense. She is bathed in praise and flowers for killing the Chairman. Of course, no one present knows that.
On the way to Yeo-chi's apartment, Bang sees the men leaving and knows something is wrong. When he goes inside he sees all the repossession stickers while Yeo-chi sits in the middle of her living room, looking small and alone. She doesn't know what to do.
Bang goes straight to Woo-hee, who's acting as his only contact from within Chun Ha. It's nice that she's always willing to pull double agent duty for him because they're friends, with an easygoing relationship between them that's always enjoyable.
She informs him that Chairman Jin made a personal investment in a company that went belly up, which surprises Bang. He wasn't aware that Chairman Jin was making other personal investments besides the one he made in Paeng Seong Enterprise. But Woo-hee explains it like this: in order to make the investment, Chairman Jin put up collateral, and all the shares of that company went to Yeo-chi. Now that the bank is calling for liability, Yeo-chi's number is up. As for how much she owes, Woo-hee says that even if Yeo-chi sold all her company stocks it wouldn't be enough. So in the end, Yeo-chi even loses her house.
Something seems fishy about this whole ordeal. Yeo-chi meets with Gabi, the latter of whom feigns worry until they're alone together. Then she rips Yeo-chi a new one, chiding her for calling her 'Director' Mo and not 'Chairwoman' Mo.
Yeo-chi is taken aback at first, wondering why Gabi is suddenly acting high, mighty, and mean toward her. To top it all off, Gabi throws a small pile of bills at Yeo-chi and tells her to never show her face at Chun Ha again. Proving that she's way more keen than most people take her to be, Yeo-chi collects herself and asks, "How did you manage to hold back all this time? A person doesn't change over one moment. This is your true self, right? How hard it must have been for you to put on that fake look in front of Grandpa day after day." Oh. Burn.
Gabi defends herself vehemently, claiming that she only received what she deserved by working under Chairman Jin for so many years. Yeo-chi fires right back, saying that no one forced Gabi to work and that she'll always be 'Director' Mo in her eyes, no more and no less. For that matter, something rings false about how Chairman Jin gave everything to her.
In response, Gabi slaps her.
Later, Yeo-chi gets to overhear the public opinion of other employees in the strategic resources department, and it's mostly negative. They might acknowledge that Yeo-chi was treated unfairly, but whether she deserved it or not is another matter.
Hang-woo encounters her in the hallway, and offers some advice. She should first look into the company her Grandpa invested in first to see if it even exists. She must find out who the president is, as well as why Chairman Jin invested. Nice. Hang-woo is on her side. Yeo-chi accuses him of just pitying her, but he merely replies that Gabi is a mutual thorn in both their sides. But, "Baek Yeo-chi, you, you're really frustrating. Your ignorance of worldly matters is to the point of being pathetic."
He's trying to toughen her up in order to fight back. We don't know whether his words have any effect or not quite yet.
Poor Yeo-chi. Alone in a home that's no longer hers, she talks to a photo of Grandpa Jin and sobs. She doesn't know the truth, and she doesn't know what to do.
Bum-jeung, meanwhile, overhears a conversation Gabi has with her minion. Though we could have guessed already, it's said plainly that Gabi was the mastermind behind Yeo-chi's poverty, causing all Yeo-chi's equity to go to the creditors who worked for her. Through a roundabout method made to evade suspicion, all of Yeo-chi's equity goes to Gabi. Now that Bum-jeung knows all, will it change anything?
Without needing to eavesdrop, Jang Ryang is already well aware that the company Chairman Jin invested in was a sham. Bang doesn't understand how that makes sense, and Jang Ryang explains that it was a company that only existed on paper. But unlike Jang Ryang, who seems to think that Chairman Jin could have been conned, Bang is sure that this was all a calculated plan to bring Yeo-chi down. If Chairman Jin was planning on giving everything to Gabi, why would he have bothered with successor training for Yeo-chi?
He's sure there must be a conspiracy. (There is, Bang! There is!) His attempts to get in touch with Yeo-chi fail, and even when he goes to bang on her front door, she doesn't answer.
Gabi has caught onto the fact that certain executives have been talking ill of her – so in order to nip that problem in the bud she uses a method Chairman Jin taught her about striking first. All the executives engaged in such talk find themselves on the receiving end of a text message that says they're fired – and when they protest, they're forcibly removed from the meeting room.
Now everyone knows she's playing for keeps, and that all their jobs are at her mercy. Hang-woo is the only one nonplussed. She idly asks about a horse painting on the wall… and executive So Ha kindly corrects her. That isn't a horse, he says, it's a deer.
Deer, she says? To her, it looks like a horse. She challenges anyone else to tell her what they see in that painting, and all the scared executives hastily affirm that yes, that deer in the painting is clearly a horse, just because she says so.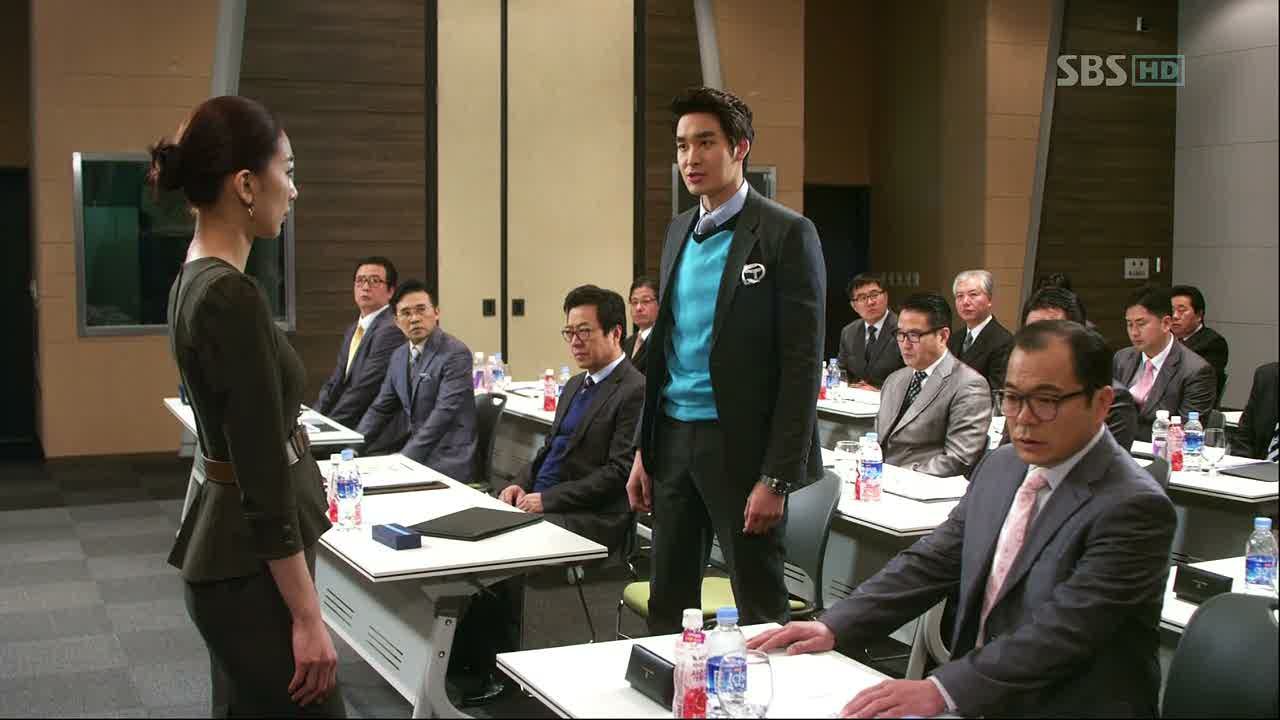 Hang-woo finally stands up, disgusted with everyone's behavior. Have they all gone mad? He points to the painting and tells Gabi, flat-out, that it's a deer. She chooses not to fight him on this one, and merely smiles as he stalks out of the meeting.
Bum-jeung, who's been looking like a man on a ledge for most of this episode, tries to take some action to assure his job position for the future. He comes upon Gabi in her office and greasily grabs her by the waist. (Creeps. Me. Out.)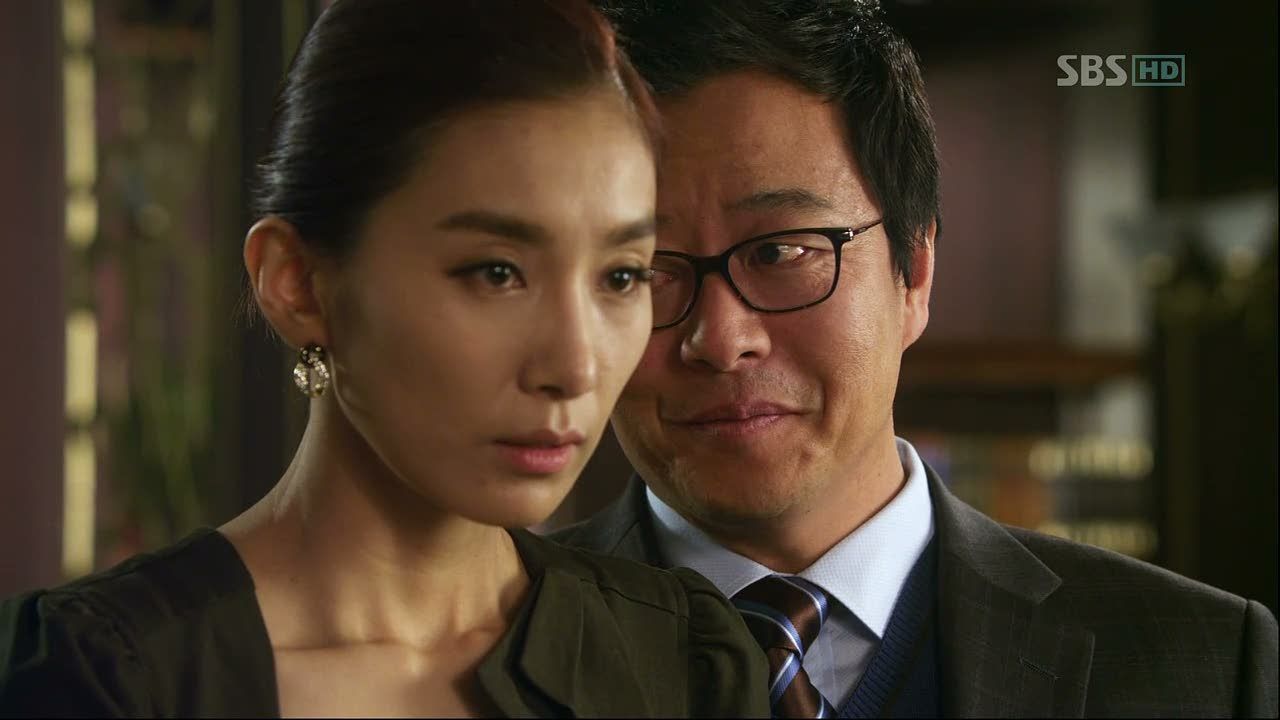 He doesn't seem to understand that Gabi had only been using him up until now, and since she is no longer in a position beneath him (in both senses of that phrase), she doesn't need to cater to his affections and treats him coldly.
She informs him that he's as much at risk during the coming personnel reorganization as anyone, and has to prove his competence. He looks very confused by the end of their conversation.
Even though he's received the cold shoulder all of a sudden, that doesn't seem to change Bum-jeung's feelings for her. When Hang-woo meets with him to discuss dethroning Gabi, Bum-jeung doesn't want to hear it. He claims that the strategic resource team is there to protect the chairwoman, and that he won't sanction a revolt. Hang-woo calls him out, now believing the rumors about Bum-jeung and Gabi's relationship. Knowing when someone is being had, Hang-woo tries to warn him against trusting Gabi – she's not as pure and noble as he thinks. His words fall on deaf ears.
Woo-hee finally arrives at the bar Hang-woo called her from, surprised to see that he's been drinking so much. Because she owes him for all the times she's been drunk on his watch, she offers to be his designated driver so that he can drink all he wants.
He at least admits to feeling a little bummed out, which is why he's drinking, but that he'll put his trust in Woo-hee to take care of him.
Cut to: Woo-hee driving a thoroughly sloshed and passed-out Hang-woo home. She tries different methods to get him to wake up, all the while making me worry because her eyes are clearly not on the road. Especially when she gets in close enough to look like she's about to steal a kiss from Hang-woo like he did to her – but while driving… and she crashes the car into some road construction. Okay, that's pretty hilarious.
Cut to: Hang-woo wearing a neck brace in the hospital, while Woo-hee's gotten away with only a minor head wound. Ahaha! The look on his face! This is an example of perfect comedic timing all around.
Woo-hee feels terrible, but any attempts to make things better – like spoon-feeding him porridge – go horribly awry when the porridge is too hot. (I seriously cannot stop laughing.) They bicker, it's adorable. In a very serious yet funny tone, Hang-woo says, "What did you say yesterday? You said you were going to escort me home safely. Is this what you call safely? Do I look to you like I'm safe and comfortable?!" He immediately feels sorry for throwing a temper tantrum once she starts crying because of it, since she's already riddled with guilt on top of hurting her knees and losing her car because she can't afford the insurance.
Yeo-chi has officially gone missing, and Bang has taken up the mantle of searching for her. With only an unflattering handphone picture to go on, he begins an intense search mission to find even a trace of her. But she remains absent from all her usual haunts.
He comes across Gabi shopping in Yeo-chi's favorite department store, and levels a look at her before disguising his ire with a cheerful demeanor… only he keeps calling her Mo Gaji (meaning 'neck') and keeps correcting himself. "Mo Gaji… oops, sorry, Chairwoman Mo Gabi." Of course, he isn't sorry. She thinks that Yeo-chi might be gone because she was upset, to which Bang replies, why would she be upset? She just had her Grandpa's company stolen from her, who gets upset about things like that these days? Ha.
Once Gabi leaves, Bang sincerely wonders aloud whether she has a tail hidden under her dress.
As for Yeo-chi, we find her as a drunken mess, wandering down a dark street. She saves a schoolgirl from being bullied and still seems to have her spunk, even though she's staying in a run down motel. Two shady-looking men seem to be keeping an eye on her, though, and take notice of the fact that Yeo-chi has well over a dozen soju bottles piled up outside her door.
They report this to Gabi (they're her hired minions, apparently) and claim that Yeo-chi is crippled by her alcoholism. Satisfied, Gabi tells them that they need not follow Yeo-chi around anymore.
But Yeo-chi, well aware that men have been watching her, waits until they drive away to resume her real work. She's got a laptop, a phone, and a stack of papers on the phantom company Grandpa Jin never invested in. So the whole drunken persona was a ruse to fool Gabi, and it worked.
Yeo-chi: "Mo Gabi, you thought I'd just go away without a fuss, right? You shouldn't have messed with me."
Woo-hee is upset to find herself folding Hang-woo's sweaters and doing his chores like a maid instead of a secretary. A beeper (like the ones you see in a restaurant) on the desk goes off, controlled by a button Hang-woo pushes from barely a room away. Ha.
He wants to wash, and Woo-hee immediately acts modest… but if he wants her to help him shower, she guesses she could close her eyes to do it. Giving her some serious side eye, Hang-woo says that he only wanted to wash his hair. (Woo-hee fail.)
He holds his neck up while she washes his hair, but as usual, he's crabby the whole time and critiques everything she does. It's sort of cute. Okay, pretty cute. But they get interrupted by a phone call from Bun-kwae – he needs her help staging an intervention for Bang, who's been drinking himself into oblivion the past couple of days.
As it turns out, Bang is pretty torn up about Yeo-chi's vanishing act – but according to Bun-kwae, the nail in the coffin was news that a woman fitting Yeo-chi's description jumped to her death in the Han River a few days ago.
That's why we find Bang drunk as a skunk and looking like he's had a million better days. He hallucinates an image of Yeo-chi in front of him, when in reality it's Woo-hee and Bun-kwae. He's worried out of his mind that Yeo-chi will never survive – and he knows from firsthand experience that she doesn't do well when she's outside her home.
Bang worries that she's off somewhere, starving to death, and we cut to see Yeo-chi stuffing her mouth with a chicken leg. In voiceover, we hear Bang worry that her mouth is too small and delicate to eat most things… and we cut to see her stuffing her mouth with noodles. Ha. She's doing everything she can to build up strength to beat Gabi – even jogging – while Bang looks like the more pitiful one.
Lucky for him, Shin bursts onto the scene to tell him that he's found Yeo-chi. When she gets a knock at her door she covers up all evidence of her being functional, like her work station, and lays out all the evidence of her being an alcoholic. Smart girl.
She wasn't expecting Bang, so she's utterly surprised when he barrels his way through the door to pull her into an embrace. Since he's only heard the news that she's a raging alcoholic (the news she wants everyone to hear), all the evidence in her room points to her 'addiction.' Of course, he's the one who's actually suffering from an alcohol addiction, as proven when he takes her out to eat and can't stop shaking. He's a mess.
Yeo-chi's competence keeps going unrecognized as Bang continues to think that he has to take care of her. He decides that he'll take her on a jog next…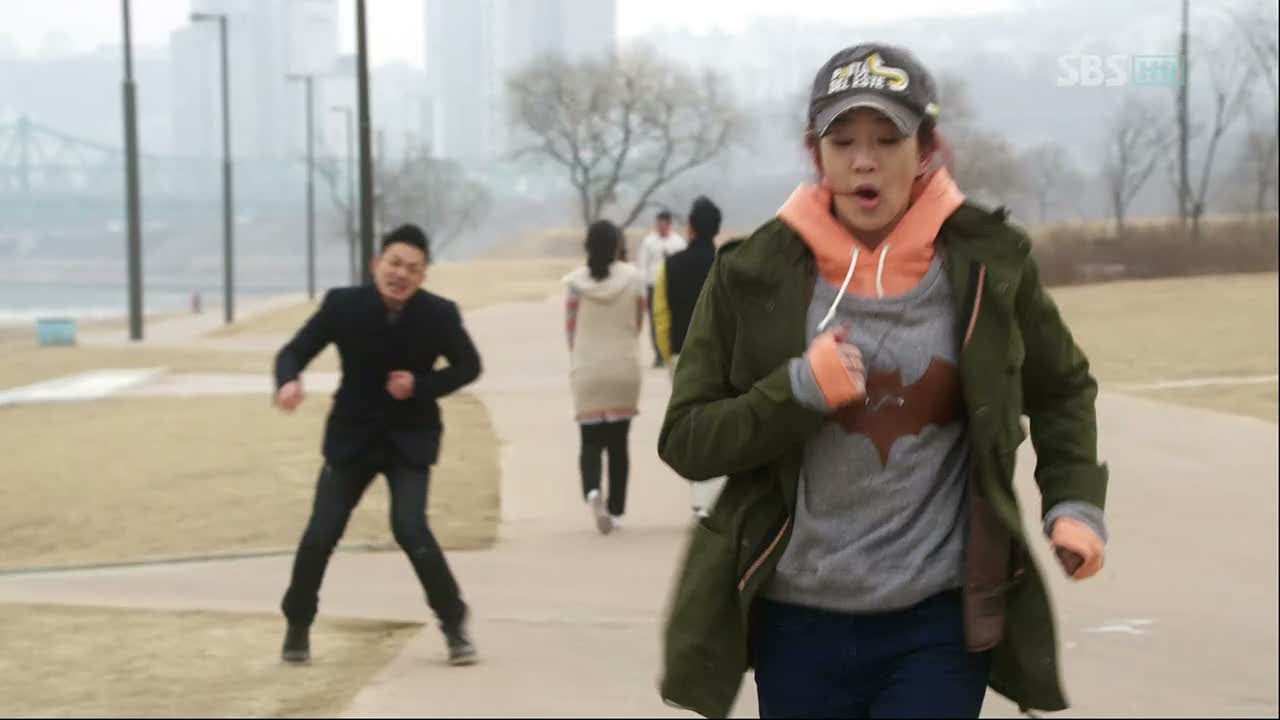 …Only, it looks like he's dying while she's absolutely fine. Ha. All the problems he thinks she's having are problems he's having, although she seems pretty unaware that he's suffering from severe alcohol withdrawal. Either way, she's helping Bang rather than the other way around.
Hang-woo is unhappy to find out that Woo-hee left him to meet with Bang. In return he wants her to stay until he falls asleep, and asks her to sing a song for him. She gets soft lighting as she obliges, singing a soothing melody until her voice cracks. I don't quite know why this scene happened.
She finally gets a call back from Chairman Jin's doctor, which Hang-woo answers first on her behalf. He gets to hear the doctor say that the insulin prescription was switched, and catches on fast. Once she's off the phone, he asks if Chairman Jin was murdered. She replies that she doesn't know the details, but something dubious went on.
He wants her to tell him everything she knows, and to leave nothing out.
Bang takes a reluctant Yeo-chi back to her apartment, because she knows all her things were sold off at auction. Imagine her surprise once she steps inside to find that all her furniture is there, absent of red stickers. Bang tells her that he bought all her things back from the auction for her. Aww.
She wonders if he's doing this out of pity, and Bang honestly replies that buying a house out of pity would make him a crazy person. He did it because Chairman Jin invested in him (and I'm sure, at least in part, due to a crush.) He's even gotten her car back.
Yeo-chi thanks him, and she means it. "I won't disappoint you no matter what," she says, and that's exactly what Bang wants to hear. (Cute. Nation.)
Acting on Woo-hee's information, Hang-woo goes to Chairman Jin's doctor to confirm the facts. Even the doctor has a hunch that the insulin was switched and that Chairman Jin's death was a murder – but he believes that Yeo-chi should be told. Hang-woo says he'll tell her when he's sure, even though he knows that Gabi killed Chairman Jin and fixed the will. He just lacks proof.
Meanwhile, Gabi gets an unfortunate houseguest in the form of Yeo-chi, who's dressed like a homeless person and acting like a crazy person. Yeo-chi has staged this spectacle so that everyone in the Chun Ha lobby can act as a witness, as she miserably throwing herself at Gabi's mercy. She doesn't want money, but begs for a job instead.
To anyone that doesn't know Yeo-chi has been fine and well – like everyone else – the sight of her on her knees is shocking. Hang-woo happens upon the scene of Yeo-chi begging Gabi for a job in the lobby and looks deeply perturbed. Because everyone is watching and taking pity on Yeo-chi, Gabi is forced to offer her her old job back. Score one for Yeo-chi.
Even Bang doesn't seem to be aware that the whole drunken act was a fake, as he later vents his disbelief at Yeo-chi's situation to Jang Ryang. Interestingly enough, Jang Ryang says he received an amusing call earlier, leading me to believe that he might be the one Yeo-chi kept in touch with. Either way, they both decide that something needs to be done with Gabi, and Bang leaves the planning to Jang Ryang.
After 'accidentally' bumping into Gabi at the gym, Jang Ryang stays nearby to witness her receiving a disturbing call. Someone has tipped off the press to the bogus company she set up to ruin Yeo-chi, and we can already guess that Jang Ryang was behind that.
When she returns to her office she receives a fax with huge black lettering that reads: "Insulin! Jin Shi-hwang's murderer is none other than you!" Also included are instructions to go to a certain hotel room to find out who sent her the message.
Next thing we know, we see her walking down a hotel hallway. The door she knocks on opens to reveal… Bang.

COMMENTS
This was a great cliffhanger, because it made me think back on the rest of the episode for the pieces of this puzzle – namely, how did Bang come to this conclusion?
There's a chance Woo-hee may have told him, but it seems unlikely that Bang would realize what Woo-hee and Hang-woo have been working for an entire episode completely offscreen. The more likely option, and the one I'm hoping is revealed to be the truth next week, is that Hang-woo joined forces with Bang. Aside from Woo-hee, he's the only one who knew about the murder, and seeing Yeo-chi kneeling to Gabi might have been the final straw. It works on a couple of levels, because his only fellow cohort in Chun Ha, Bum-jeung, seems to no longer be on Hang-woo's side. Who else does he have to turn to if not our hero?
We had some good character moments this episode, but not without a little filler. To say things have slowed down at all is inaccurate – really, the plot this week moved lightning fast – but I do feel like some of the remaining scenes that didn't directly serve the overarching plot came off as a little unnecessary. Sure they were fun, but there came a point where Bang's alcohol addiction seemed like a darker version of a soju CF (I say this only because of the slowmo shots the soju was awarded and that the brand was recognizable.) Even that isn't so bad, but Woo-hee's singing scene just left me baffled. Why was that there, and why was it given such importance? If that bit was taken out of the episode, it would change nothing – which is a pretty big indicator as to when something is extraneous. Still, it was nicely extraneous, and these are relatively small gripes to have.
As for good news, ratings have been steadily climbing week by week. A two-episode extension is currently being discussed. More Bang can't be a bad thing, right? Right? (Speaking of, today's epilogue was cute. It mirrored a past epilogue where Yeo-chi saw a doctor for lovesickness, only Bang is seeing a hypnotherapist and channels Yeo-chi as he imagines what she'd say if he confessed his feelings – and there's a lot of censoring involved. Hee.)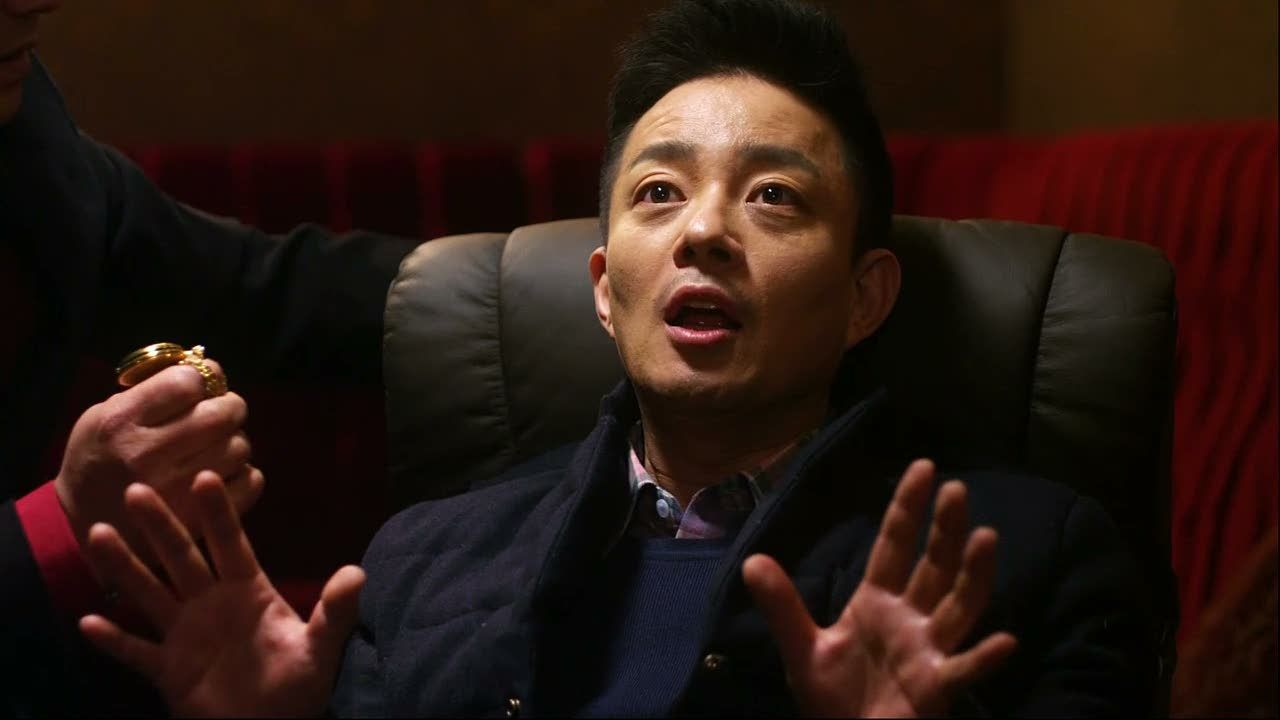 RELATED POSTS
Tags: featured, History of the Salaryman, Hong Soo-hyun, Jung Kyeo-woon, Jung Ryeo-won, Lee Beom-soo