History of the Salaryman: Episode 17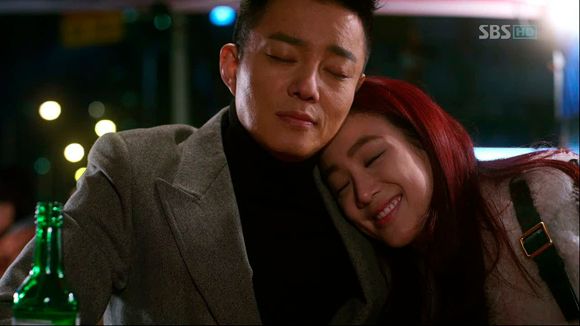 Finally an essential secret is revealed, leaving Yeo-chi stewing in her rage with unknown – and probably epic – possibilities. Hang-woo is brought face to face with a past it seems like he'd rather have left alone, and poor Bang just can't be left to go about his business. Luckily he's got some help from some faces we know (and some faces we aren't as familiar with), along with the support of our red-headed master of deception, Yeo-chi. Onward, to battle!

EPISODE 17 RECAP
Gabi shows up at Bang's hotel room to get the fax straight (I know, I couldn't it), and doesn't blink an eye when she sees him. Bang plays it pretty cool himself, answering Gabi's first question about what the fax was all about with, "Did you only get half the fax? But it's written on it that you're the murderer." All matter of fact, with a smile to spare. So here's what he wants to know – how did she kill the Chairman? Was it the insulin?
With her gaze leveled on him, she answers a phone call that lets us know she's got the police outside, waiting only for her signal to come in and apprehend Bang – but only once she's determined him to be the perpetrator. She plays everything straight, claiming that she won't forgive the person who might have murdered the Chairman. He lets her know that he received a tip that she's the one who murdered the Chairman – so that's either the truth, or someone is out to frame her. He offers his services to help her look into it, and she simply tears up the fax in reply before leaving.
Jang Ryang has overheard the entire conversation from the other room. Didn't he tell Bang that Gabi was no easy feat? Even Bang is left doubtful as to Gabi's innocence, so Jang Ryang submits a stratagem for Bang's approval: 'Disturb the water and catch a fish,' meaning that if they create confusion for Gabi, she'll start to suspect those around her for treason. That's how they'll attack.
We see that stratagem working to perfect effect only moments later, as Gabi begins to wonder who could have betrayed her. Her driver/minion? No, too easy. Bum-jeung? He'd betray her and then some. She needs someone stronger to protect her… someone like Hang-woo. Uh oh.
Cue Hang-woo, who's spending some quality time at his brother's grave. He's there to report that Chairman Jin has died a wretched death, finally receiving the end that Hang-woo longed for. Curiously, he finds that someone has already left a flower… and a ring, engraved with 'Love Forever.' Eh? He speaks to an employee there, who tells him that a woman has been coming for weeks, holding a picture of his brother and crying. And of course, around the corner, we see a slyly grinning Gabi. I see what's going on here, Gabi… and it's pretty ingenious.
Back at work, a viciously shaking Yeo-chi finds all her fellow employees badmouthing her to kingdom come. They even speak loud enough for her to hear, perhaps thinking that she's so lost in her alcoholism that she wouldn't be able to understand anyway. Props to Yeo-chi, who's putting on a convincing act. She even pulls out a tiny bottle of liquor and drinks it in front of everyone, adding fuel to the fire she started.
Gabi is gleefully picking out snazzy outfits, ala Yeo-chi Version 1.0, and doing some serious backpedalling with Bum-jeung, who notes that she's different from before. Pulling out the skinship, Gabi coyly tells him that she's just been too busy to pay him the attention he deserves lately, and that he's the only one she can trust. So, on that note, can he do something about Yeo-chi? Something like getting her out of the company, perhaps? Bum-jeung agrees to the task but looks conflicted, as usual.
Hang-woo's unnamed colleague comes bearing flowers to a surprised Woo-hee, although he doesn't think she should be… he's been sending her bouquets for a while that have been intercepted by an unnamed third party. That third party (Hang-woo) stands in the doorway stewing in jealousy. When Unnamed Colleague asks her to dinner, she chances a look to Hang-woo, who asks, "What? You're going to go?" as if in total disbelief. Much to his chagrin, she goes.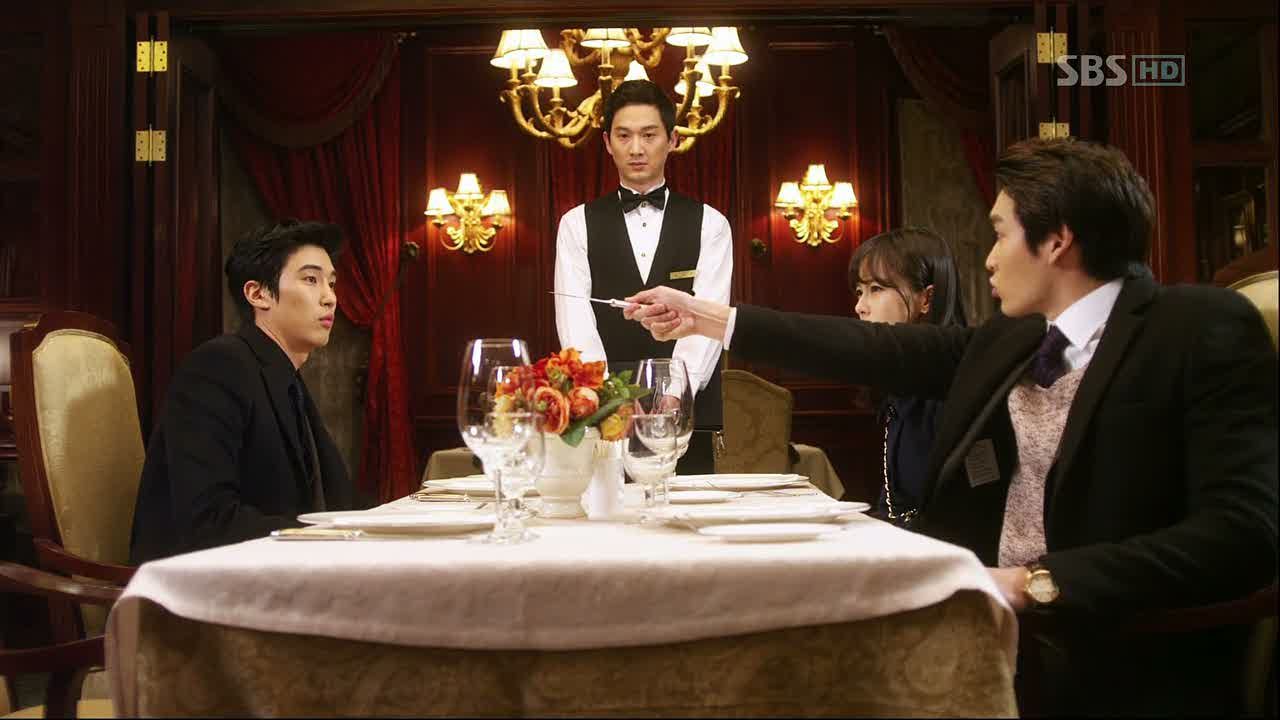 HA! We cut to a restaurant, where both men have taken Woo-hee out to dinner. Both of them even pull chairs out for her at the same time. Unnamed Colleague finally gets a name – BOK SA-YEOL – and he and Hang-woo commence in a stand-off, replete with butter knives, over Woo-hee. Sa-yeol wants her to work for him at Taeyang Group, and offers her more benefits than Hang-woo. Throughout this exchange, Woo-hee looks mighty uncomfortable.
They even drag her to a shopping mall, both of them arguing over which purse suits her best without asking her what she likes best. Alright, boys, put 'em away. And not just the butter knives.
Understandably, Woo-hee leaves both of them stranded in the store, fed up with their pissing contest. Judging by Hang-woo's overtly jealous reactions, Sa-yeol wonders if Hang-woo's feeling are actually (gasp!) sincere.
And Hang-woo, like a thief in the night, leaves a shopping bag hanging on her door with the following words spoken like a prayer/incantation: "All men are thieves, Cha Woo-hee. Don't be fooled by punks like Bok Sa-yeol no matter what." Woo-hee is happy to find the purse the next morning, though she's a bit bummed to find no note inside. More than material things, she'd rather know how Hang-woo really feels.
Yeo-chi is being treated like a third-rate intern at work, forced by her colleagues to do menial labor like bring coffee, make copies, shred papers. She can't do one thing right, and takes all her coworkers' criticism like a champion even as Hang-woo looks on, seemingly incensed by their behavior toward her. She ends up shredding what she should copy, and copying what she should shred. Even after she takes the time to glue a shredded sheet of paper back together, her coworker still gets upset. Alright, that file clearly came out of a computer, and this is a fully functioning office. Could he not just print another?
Just kidding – he claims the original file was deleted. Still, he treats Yeo-chi like a child by punishing her with a finger to the forehead, generally demeaning her in front of everyone. She keeps up the drunk act long enough for Bum-jeung to see her, and he threatens to fire her if she doesn't pull through on the presentation tomorrow.
Through flash back we get a reveal – Yeo-chi was the one to copy the file from her coworker's computer before deleting it, leaving her with the only living copy. To what end we're not yet sure, but while she's doing some corporate espionage in a dark room, she gets a call from Bang.
Their banter is cute, since Bang's reaction to her "I'm busy" tone is to ask her if she's pooping – what else could she be doing to make her so busy? Ha. She ends the conversation quickly, since she's got to finish moving files to a USB drive… and as she leaves the dark room, the nameplate on the desk reveals that she was stealing from none other than Bum-jeung's computer.
Bang takes her out for dinner, and I think it's adorable that they're eating ssambap, Chairman Jin's favorite dish during his blind stint. He wonders why Yeo-chi decided to go back to work for Chun Ha – if she needed a job, she could have just gone to work for him. She tells him that Chun Ha was the company her Grandpa created, and to leave it would be like leaving it forever. Aww.
Perhaps Bang hasn't gotten over his recent alcoholic binge, since he starts downing soju right in front of her. He claims it's because of her, that he's so worried he can't even think straight. And he did get a prescription for his alcoholism, thank you very much. Unfortunately that prescription was: Less Yeo-chi. Since that's not going to happen, he might as well drink. Hee.
However, they remain completely unaware that they're being watched and photographed by a shady-looking guy from a shady-looking vantage point.
Yeo-chi drags a hilariously drunk Bang to his makeshift home in his office, but he won't stay down – insisting that they sleep together, or that he has something to say. Eventually Yeo-chi uses the phrase "Red sun", which Bang's hypnotherapist used in a previous epilogue. The words, and the snapping of her fingers, cause Bang to instantly go out like a light. While he snores, she looks at him with an affectionate smile. "Thank you, Yoo Bang. If you were not here, what would I do?"
And while Bang sleeps it off, Yeo-chi busies herself with the files she's pilfered onto her USB drive. She's certainly got something brewing, but what?
Gabi has been busy buying twelve-million-dollar mansions in California, and even wants a private plane. Bum-jeung knows that her spending is out of control, and is miffed when she sends him away in favor of Jang Ryang, who uses blatant flattery to get on her good side before letting it slip that he's a member of a fabulous yacht club, and that they'd simply love to have her.
Clearly happy at the prospect of being accepted into high social circles, Gabi does falter when she realizes that she doesn't actually own a yacht. That's no problem according to Jang Ryang – she can just buy one! I love all the subtext going on in these conversations, since we know exactly what Jang Ryang is doing here.
Bum-jeung is shocked to hear from So Ha that the upcoming personnel reorganization might include doing away with the strategic resources department altogether – a move that would consolidate all that department's power into Hang-woo's hands. Uh oh.
In his car, Bum-jeung pulls out a manilla folder from the glove box. A flash back reveals that it's Chairman Jin's real written will, which Bum-jeung got his hands on for a hefty sum. Double uh oh. He's way too volatile a person for such volatile information.
Hang-woo has been in a foul mood these days, so his reaction to finding Yeo-chi's coworkers badmouthing her again while Yeo-chi is passed out on her desk is to throw her into his office for a private talk. Why is she even there if she's going to be like this? Does she need money?
Acting drunk, Yeo-chi wonders if he'd give some to her if she asked. In return, Hang-woo throws a pile of bills at her… which Yeo-chi doesn't hesitate to pick up. Woo-hee watches from the doorway, her expression a mix of jealousy and hurt. Even though this is all an act on Yeo-chi's part, there's something terribly sad about the way she picks up the money.
It seems like Hang-woo just wanted to trigger Yeo-chi's pride to snap her out of it, but it's not happening. Hang-woo asks, and rightfully so, "Where the hell did that snooty Baek Yeo-chi go?" Yeo-chi: "Oh, that Baek Yeo-chi! That Baek Yeo-chi, she… she is dead."
Hang-woo and Woo-hee both look on, unclear as to what can be done with Yeo-chi. Aww, I feel bad that neither of them knows the truth. Later, Hang-woo finds Yeo-chi sleeping in the lobby with a fever. (Wait, so she's actually sick?) Without hesitating, he piggybacks her away while poor Woo-hee stays relegated to do some Sad Staring.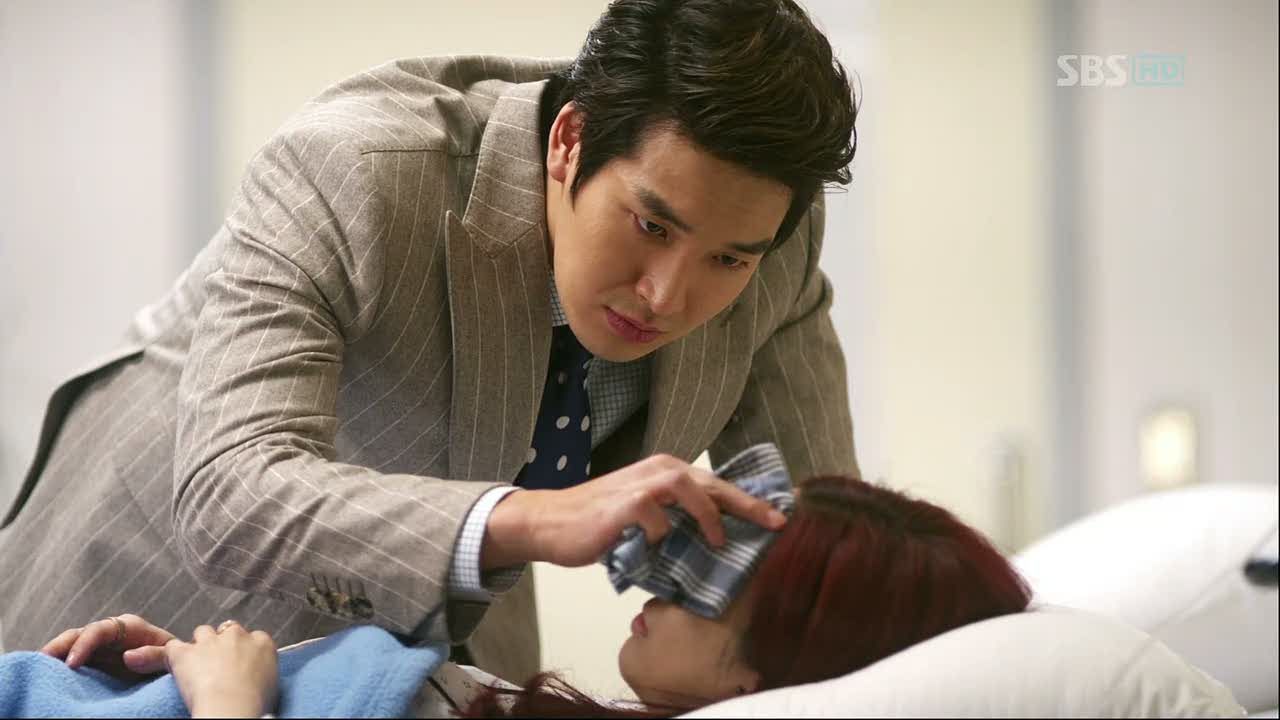 Hang-woo has taken Yeo-chi to the hospital, where she remains unconscious with an IV drip as the doctor discusses the secret of Chairman Jin's insulin murder with Hang-woo.
The doctor insists that Yeo-chi must be told, but Hang-woo insists just as firmly that in her current condition, the shock would be too much. He's trying to safeguard her well-being by keeping the secret, it seems, and when he shows concern enough to wipe her brow with his own handkerchief Woo-hee slides open the door to see the scene. Oh, not again.
Woo-hee takes things the wrong way, and thinks to herself that Hang-woo must like Yeo-chi and that he's been playing with her all along. Oy vey.
Back in the hospital room, Hang-woo places a call and says he'll accept the offer to go back to the U.S. When asked about the woman he was supposed to take with him, he looks down to Yeo-chi as he says that he hasn't proposed to her yet.
He finds Woo-hee already drinking at their usual bar, and is quick to pick up on her bad mood. When asked why she's in a bad mood, she simply replies: "I'm always in a bad mood." Three hundred days out of the year, apparently. And out of the remaining sixty-five, she can't remember fifty because she's normally too drunk.
Hang-woo clearly doesn't get that he's the source of her ire as he asks her what she thinks about moving to the U.S. On days like this she certainly wants to, she replies. When he asks her if she would like to go with him, she levels him with a death glare. "Why do I want to go to the U.S.? Because I don't want to see the sight of you! But you say to go together? You go alone, and don't ever appear in front of my eyes again." Hang-woo is, of course, completely dumbfounded at her reaction, and doesn't try to stop her when she leaves.
To no one's surprise, the man taking pictures of Bang and Yeo-chi together reports to Gabi. She's uneasy about Bang ever since he made the murder accusation, since she remembers that he looked at her like she was the murderer. Regardless, she still wants to find Chairman Jin's will at all costs, even if it doesn't exist.
Hang-woo comes in with a grim expression, handing over his formal letter of resignation. He'll be going back to the U.S. within a month, and leaves it at that. Gabi is not pleased about this fact, and wonders if Hang-woo thought she would let him off this easily.
In the car, Hang-woo smiles at the sight of a ring he's clearly bought to propose to Woo-hee… but gets a call from an employee at his brother/cousin's gravesite that the woman who's been leaving flowers is currently there. When he makes it to the site, his steps slow as he approaches a woman mourning his brother/cousin with a veil…
…And Gabi turns around, a tear falling from her eye. We knew this was coming, but good gracious, this woman is something awful.
They retire somewhere more private, and Gabi produces a ring she wears around her neck identical to the one Hang-woo found at Hang-ryang's grave. She paints herself like a grieving widow, claiming that her secret affair with Hang-ryang was difficult, but they were blissful. Oh, vomit.
She doesn't waste time to get to the point – how could he disgrace his brother by running away to the U.S.? Gabi: "Even if it's only for me, don't leave, please." Gabi need only fan the flame that Bang is responsible for Hang-ryang's suicide to get Hang-woo back on board. He says he'll stay until Bang is brought low and Chun Ha stabilized. Well, that was easy.
Bang is shocked to receive a certified document from Chun Ha claiming that he owes them thirty million dollars in reparation for stealing their patent for the blood sugar monitor. Hang-woo calls right on time to inform Bang that he's playing nice – there are ninety-nine other ways he could bring Paeng Seong Enterprise down. In short, this is a declaration of war.
Bum-jeung thinks that this will be adequate payback for the humiliation they suffered at Bang's hands. Hang-woo insists that this isn't about humiliation, and that he will massacre Paeng Seong Enterprise. He is talking scorched earth here, people.
Bun-kwae and Shin worry over what they can do against such a large-scale lawsuit, but Bang keeps his wits about him. They don't have the money to fight Chun Ha head to head, but they can use the press in their favor. Everyone roots for the underdog, right?
Different news organizations start giving their predictions about Chun Ha and Paeng Seong's future, with one expert stating that this will probably turn into a war with Chun Ha and Taeyang Group, who's allied with Bang's company.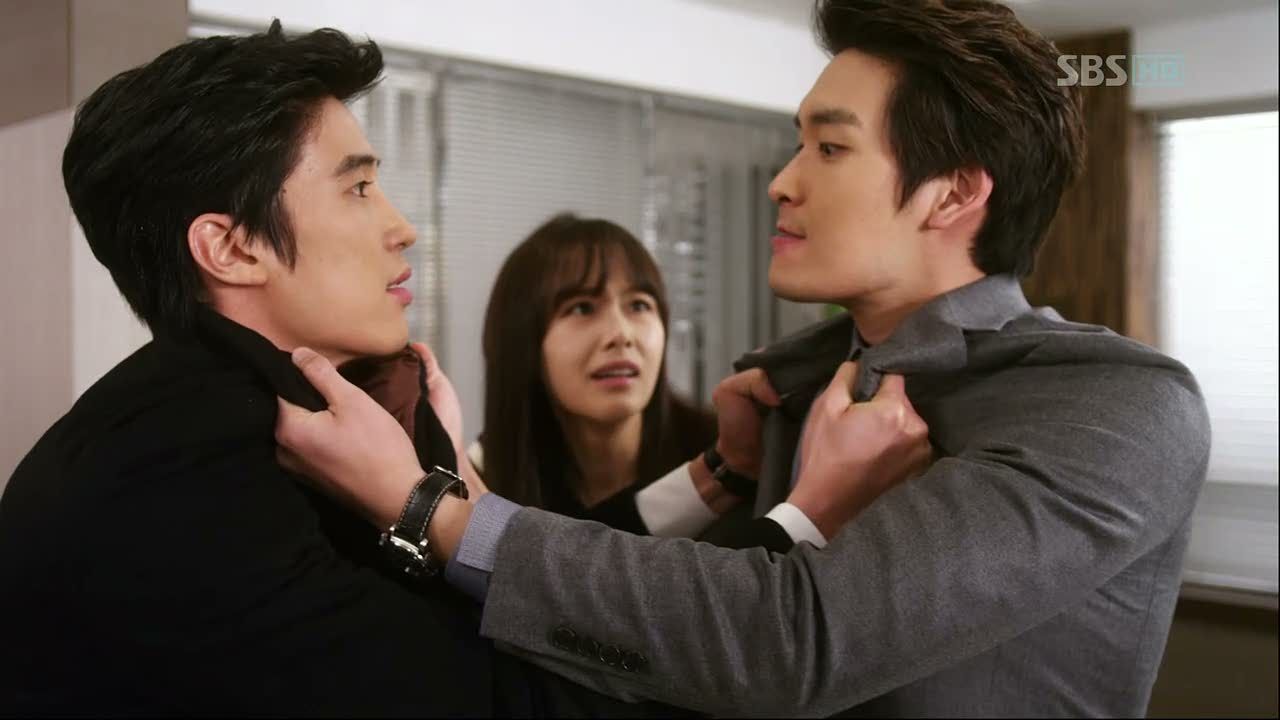 Cut to: an actual fight between Sa-yeol (of Taeyang Group) and Hang-woo, which Woo-hee effectively breaks up with some crude language and a very unladylike voice. Ha! Both men are equally shocked. Hang-woo insists that he'll take this to the end, which doesn't bode well for Sa-yeol. It is on.
While Bang asks Sa-yeol how the conversation with Hang-woo went (answer: not well), the expert from the news station talks about the possible outcome of the fight. Paeng Seong would have a good chance, except for the fact that they first developed the product at Chun Ha's Incheon Factory, which means Chun Ha theoretically invented it. That's bad news for our hero.
Bang has already received the bad news, as he's in grim spirits later that night. Yeo-chi arrives to try and cheer him up, but he's already spoken to a legal consultant and the chances of them coming out of this unscathed are pretty low. He's at risk of losing everything.
Adorably, Yeo-chi clears a spot on her shoulder for Bang to rest on. "Honestly," he says, "if someone's to lean on someone, it should be you. The Chairman's passed away, and it's been so hard on you." Despite her claims to the contrary, he still makes it so that she's resting on his shoulder for support. Aww. Cute.
Meanwhile, Woo-hee continues to give Hang-woo the Formal Treatment, using nothing but formal speech and nothing beyond absolutely necessary contact. There's a moment when he's asleep that she seems to contemplate kissing him, but she decides against it.
He knows she's mad at him, but can't get an answer out of her as to the why of it all. Sighing, he pulls out the engagement ring and wonders when her mood will be good enough for him to give it to her.
I love that Jang Ryang gets the role of a wise sage, giving Bang pieces to solve his business puzzles without doing big reveals that insult his intelligence. Bang looks for the obvious solution first – whether Jang Ryang happens to have thirty-million dollars offhand he can borrow (he doesn't) – and scoffs when Jang Ryang hands him a briefcase full of car engine reports.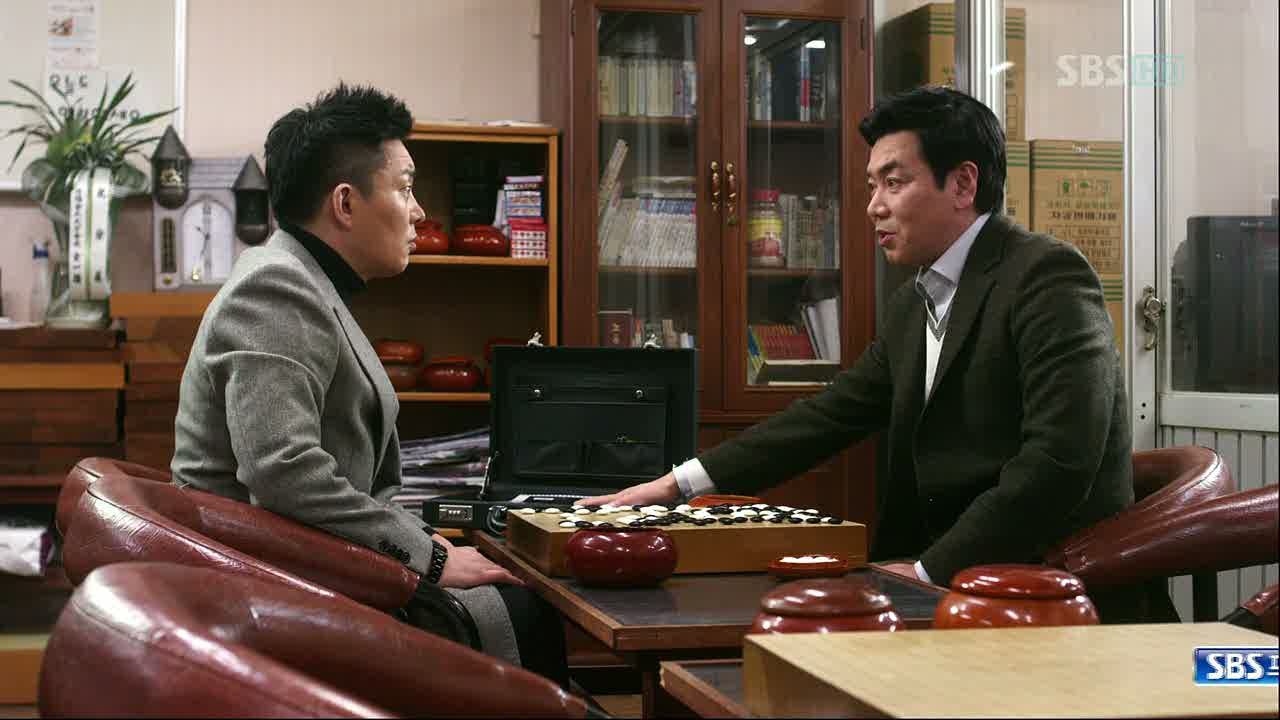 As it turns out, Chun Ha was once responsible for stealing car engine technology from Taeyang Group, and now Bang has all the documents to prove it. This is what Jang Ryang meant when he said that winning without a fight puts them at the best chance for victory – and this just puts Team Bang on a more even playing field.
Woo-hee is still tight-lipped around Hang-woo, and for the life of him he can't figure out why. He tables it for a later date since he's got the court hearing on the patent case to attend… but Bum-jeung comes in with some bad news. He hands over a folder containing Taeyang Group's patent lawsuit against Chun Ha, and right at that moment Bang calls.
In a perfect mirror to Hang-woo's move earlier in the episode, Bang uses Hang-woo's exact words against him as he asks if the documents are to his liking. Bang says, "If you cancel the patent suit, their side says they can cancel too. What do you think?" Checkmate!
Gabi is absolutely incensed to find that they've lost to Bang again. But Hang-woo assures her that he only used one out of ninety-nine methods to bring Paeng Seong down. Now he'll use the most fatal and sure-fire method.
Yeo-chi goes to visit the doctor, who says that he thought hard about whether to tell her (about Chairman Jin's murder) or not… but decided that he must. Next we see Yeo-chi, she's stalking through the lobby of Chun Ha. In voice over/flash back, the doctor tells her that Gabi was in charge of Chairman Jin's insulin, the very same insulin that killed him.
She spots Gabi in the lobby, and begins stalking toward her, with tears in her eyes and rage oozing from her pores. It looks as if she's about to punch Gabi… but at the last minute Bang arrives, and puts a hand over her mouth in order to restrain her.

COMMENTS
I thought this episode was the least enjoyable out of all we've seen so far, but "least enjoyable" in Salaryman terms still means "completely cwesome" in general dramaland, so we're not in troubled waters yet. With such an assured team, I doubt that we'll ever be.
But in the coolest news of this episode… Yeo-chi knows! Huzzah!
Though Sa-yeol's interest in Woo-hee has been established in some earlier episodes, I don't know why the scenes where he fought for her against Hang-woo struck me as odd. He doesn't want Woo-hee strictly for romance's sake (since he also wants her for Taeyang Group) but it seems like they introduced a romantic rival for Hang-woo strictly because Bang is now out of the running. We'll see how it plays out in future episodes, and if Sa-yeol's role is meant to grow.
To have Hang-woo decide that he no longer wants to take over Chun Ha seemed organic to his character, as he seems to have lost a lot of his fighting spirit lately. Gabi's plot to get him back on track was certainly an interesting one, but Hang-woo turned around so fast that I had drama whiplash. So he went from wanting to pull out altogether to suddenly remembering that he needed vengeance for his brother? It's going to be a little difficult to pull off, since many of you aptly noted that Hang-woo did start out as a decently bad guy – and it's true. Whether his character arc of turning into more of a nice, tolerable guy was strictly planned or not remains unknown, but either way, he did sort of become so nice that his turn back to vengeance seems like a step backward in terms of the growth we've seen so far. Unless the Nice Guy path he's taken was just a momentary foray, and he was never supposed to have changed at all.
It makes sense, given that the original Chu-Han Contention had Bang's counterpart going head to head with Hang-woo's counterpart. For a while I was convinced that Salaryman might eschew that route for a different ending, but it seems like that's where we're headed. It'll be a dark road ahead for Hang-woo, but I'm ready.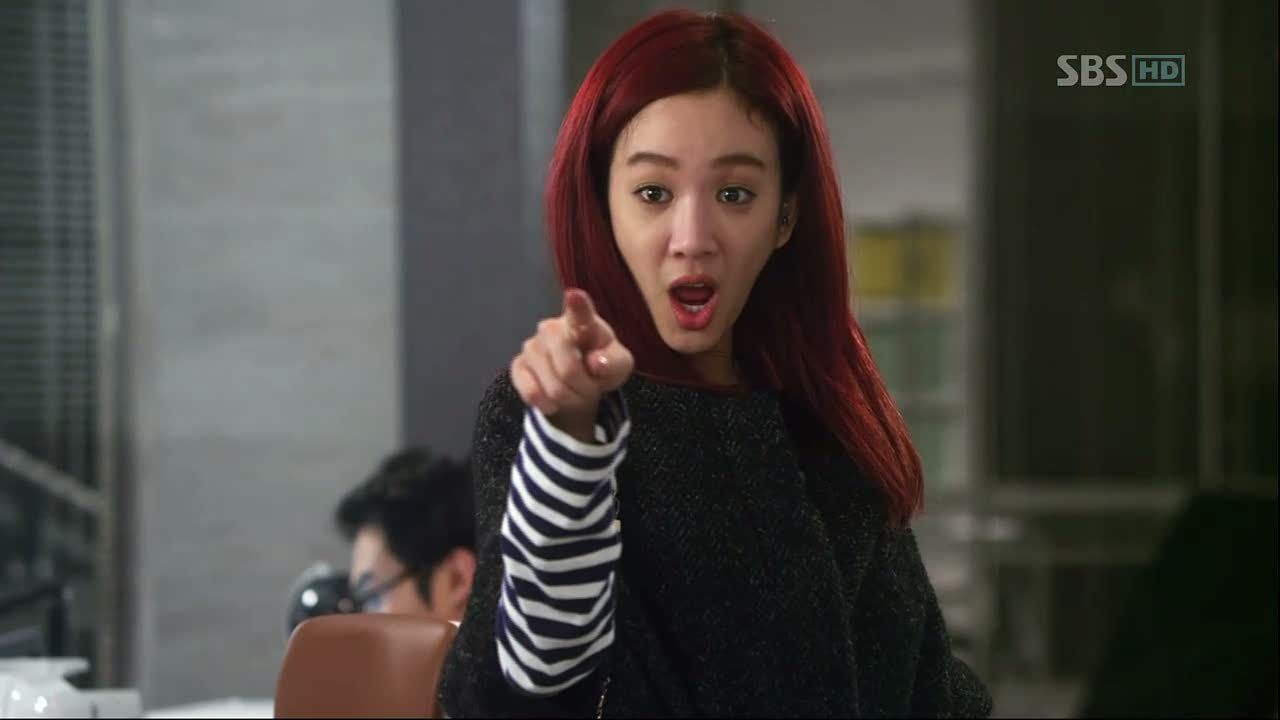 RELATED POSTS
Tags: featured, History of the Salaryman, Hong Soo-hyun, Jung Kyeo-woon, Jung Ryeo-won, Lee Beom-soo