History of the Salaryman: Episode 18
Bang gets to enjoy a taste of the high life, replete with guyliner and questionable women at his beck and call. Hang-woo stirs the hornet's nest that is Bang And Friends, Gabi gets greedy, and Yeo-chi contemplates murder via blunt force trauma. What does it all mean? Maybe that Hang-woo needs to stop romancin' and get his head in the game, because Bang is a more capable opponent than he'd probably like to admit.

EPISODE 18 RECAP
Bang drags Yeo-chi away kicking and screaming, leaving Gabi and her stunned executives with an apology. Oh, Yeo-chi, drinking during the daytime again. What are you gonna do, right?
He takes her into the parking garage where she starts bawling. She repeatedly tries to fend him off so she can go beat the tar out of Gabi for murdering her beloved Grandpa, even going so far as to slap and hit him. Bang takes it all like a champion and just holds her still. Eventually, she breaks down into gut-wrenching sobs that just rip my heart into shreds. Bang can only try to snap her out of it.
Bang: "Hit me. Hit me. Like this. Hit me like this. If this will dispel your anger… I'll take a thousand hits even. Hit me to your fill! What are you doing not hitting? Hit me!"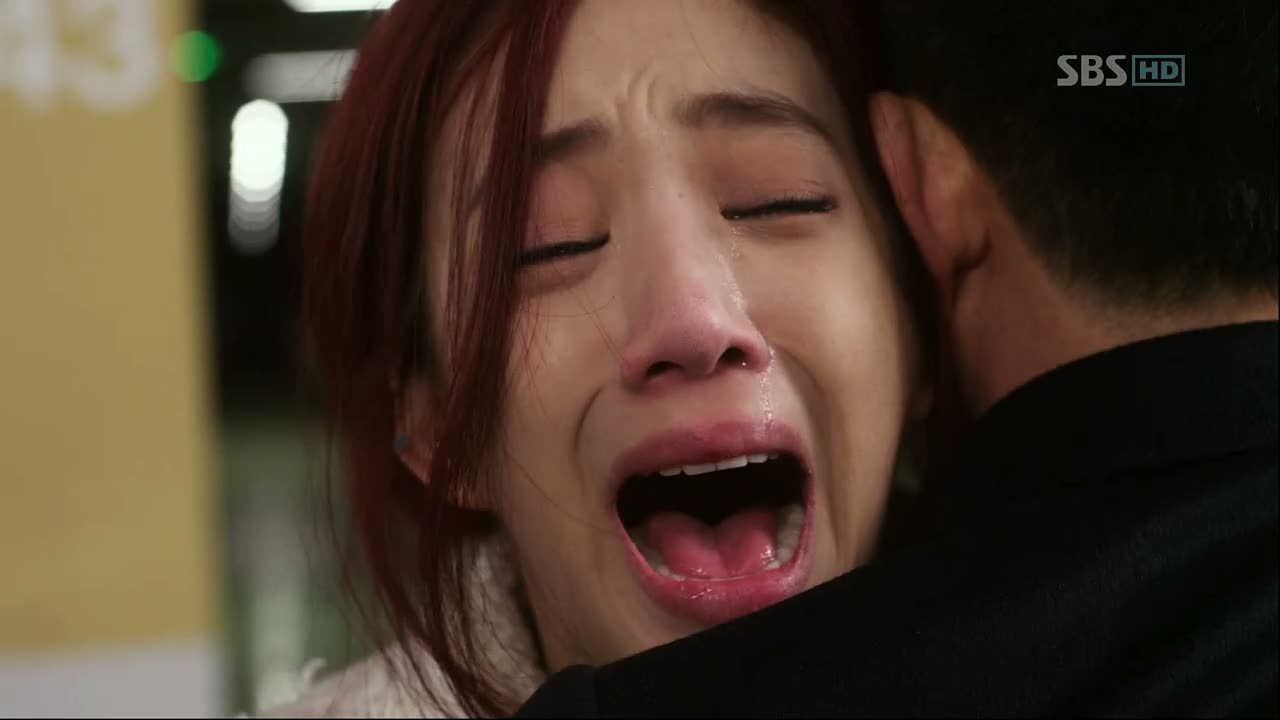 Yeo-chi's lost her spirit, though, and refuses to hit him. She cries for her grandpa over and over again, screaming out in anguish. And doing a great job of it, too.
Bang manages to get her home, but Yeo-chi remains completely silent and just heads for bed. In order to keep an eye on her, Bang declares that he's not moving one inch and plops down next to her.
Drinking alone in a bar, Hang-woo flashes back to all the different schemes he'd devised for Woo-hee to happen upon the engagement ring… but because she kept ignoring him, every scheme failed. Resigned and bitter, Hang-woo declares that he understands now why men dump her. "Never. I will never see your face again," he promises to her. "Until you beg for forgiveness from me, never will be the case where I look for you first. Never."
Cut to: Hang-woo looking for her first by banging on her front door. HA! Of course, he's come to officially declare that he is seceding from the Woo-hee Nation and that he'll never come looking for her first again. Unfortunately he gets a stomach upset and rushes to her bathroom only to pass out once he's inside, leaving Woo-hee locked out.
Bang is being the usual Bang, and cooks meat in Yeo-chi's room as an attempt to get her out of her funk. He basically puts on a very convincing Meat CF in her apartment, and when even that doesn't work, he feigns choking in an effort to get her to look his way. She does, and he hilariously drops the act in the blink of an eye. Great comedic timing, these two.
Yeo-chi says that she doesn't deserve to drink water, considering what a useless grandchild she was while Grandpa Jin was alive – and even now that he's dead, she can't do anything for him. When she keeps refusing to eat, Bang gives her an ultimatum: "Are you going to eat the meat? Or are you going to kiss me?" Each time he asks again, he makes the kiss sound more detailed and raunchy, until she finally relents and eats. Happy, Bang promises her that they'll do the kiss later on. (So. Cute.)
Meanwhile, Hang-woo finally emerges from Woo-hee's bathroom a hot mess. His attempts to sneak out are caught by an indifferent Woo-hee, who indifferently tells him that there's an indifferent meal on the dining room table. He's touched by the gesture and tears into the food, adorably quieting his eating sounds when she brings attention to them. Though she's not sleeping, her expression never changes during the exchange so there's no telling how she's feeling.
Yeo-chi and Bang have a mutual information exchange over a gallon of not-Baskin-Robbins (how on earth are we to clearly see the brand with those tiny stickers?), where she finally explains that the whole alcoholism/crazy person business was a ruse. She worries that Hang-woo is after Bang's company, a concern that Bang simply laughs off. Paeng Seong could be demolished by a fire, he says, but not someone like Hang-woo. Eek, I hope that's not foreshadowing.
Gabi, Hang-woo, and Bum-jeung meet to discuss Paeng Seong's takedown. It's going to take a lot of money, but Gabi could care less. Money is easy, time is not, so the worst sin Hang-woo can commit is to drag the fight out longer than it needs to be.
Bum-jeung expresses concern that they might turn public opinion against them by going after Paeng Seong, and Gabi uses harsh words with an equally harsh demeanor to quiet him down. This much is definitely clear: it's Gabi's way, or no way. Who's surprised?
Gabi calls Yeo-chi for a meeting while getting a private massage, and immediately tells her to pull the out the investment money her Grandpa put into Paeng Seong and give it to her. Yeo-chi defers by saying that it's not exactly her money, to which Gabi cruelly replies, "Your grandpa is dead! He's dead, so it's your money."
These words strike Yeo-chi in the heart, and she begins to eye a large black stone laying right next to a prone Gabi… No, Yeo-chi! Don't do it!
She even picks the stone up as if she's going to smash it right into Gabi's skull when Gabi has the audacity to order Yeo-chi to massage her shoulders. Thankfully, she comes to her senses and puts the stone down. Gabi wonders if all this contact Yeo-chi's had with Bang means that she's spying for him… a claim which Yeo-chi vehemently denies. Even so, Gabi claims, she should turn over that investment money or lose it forever. Paeng Seong will soon be ruined.
Yeo-chi goes straight to Bang to explain the situation, completely avoiding noble idiocy territory for the simple idea that two heads are better than one. Thank goodness for small favors. She doesn't want to pull out the money and leave Bang penniless, even though Bang thinks that's the right thing to do. More so than keeping the investment money, keeping Gabi's trust will be more beneficial to her in the long run.
Bun-kwae isn't happy about the decision, noting that when it comes to Bang, whatever Yeo-chi says goes. Further discussion is cut short by a call Bang gets from the general manager – Hang-woo is on the move, buying Paeng Seong bonds left and right. Uh oh.
Bang & Co. play spies, witnessing both Hang-woo and Bum-jeung conducting business deals for Paeng Seong bonds. Jang Ryang, ever the wise businessman, tells the team that there's no way to stop Hang-woo. "It's as if he's inhaling them," Jang Ryang says. If he manages to get his hands on over 80% of the bonds and forces Paeng Seong into bankruptcy, there's no way they can recover.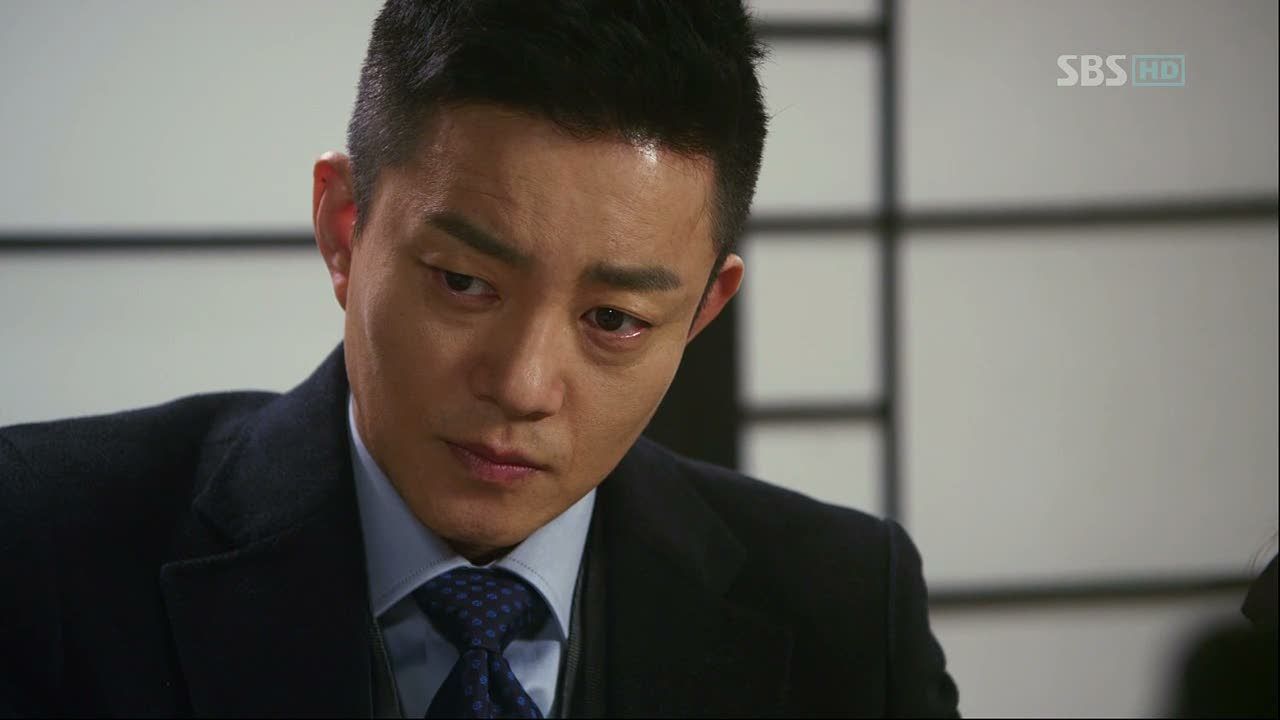 Everyone wonders at the injustice of it all – how can a big company like Chun Ha get away with such a thing? Jang Ryang says it's simple when Chun Ha has money to burn. They can't stop Chun Ha from spending money, can they?
For now our heroes are left powerless, without a visible way out of the trap being laid for them.
In another room of the same restaurant, Hang-woo & Co. are sharing a toast over their assured chances of success. Even though public opinion has turned against them, Bum-jeung advises Hang-woo to finish Paeng Seong's execution swiftly nonetheless. Woo-hee is the only somber one at the table, torn between her loyalty to Chun Ha as an employee and her friendship to Bang.
Woo-hee and Yeo-chi run into each other in the ladies' room, where Yeo-chi becomes aware that Hang-woo is merely rooms away. With this information Bun-kwae suggests a supposedly brilliant plan – he and Bang can do what they used to do best… by kneeling and begging. Ha. But it's with resolve that Bang gets up to face his mortal enemy, only we don't know what he plans to do.
They crash Hang-woo's private party and greet him jovially, but Hang-woo simply returns that Bang shouldn't be drinking at a time like this. He continues to exchange veiled yet demeaning insults, not even blinking an eye when Bun-kwae falls to his knees to beg. If they planned on doing that, Hang-woo says, then shouldn't Bang kneel too? Or has hearing the word "president" gone to his head? Bang's stare remains dark, and Yeo-chi watches from the doorway as he starts to crouch down, her face cringing at the possible humiliation. Don't do it, Bang!
At the last moment, Bang feigns pain in his knee and says that his doctor told him that he couldn't kneel. Coolly, he grabs a cup of water and just throws the contents at Hang-woo's face under the pretense that he'll pour himself a fresh glass… but then he throws that cup of water on Hang-woo, too. Hooray for Bang!
He chides Hang-woo on using such a huge company to go after a tiny enterprise, and gives his own declaration of war – he will not go down without a fight. He leaves Hang-woo drenched and stewing, and Hang-woo swiftly declares that he'll buy all Paeng Seong's bonds and raze the company to the ground.
In the car, Woo-hee gently broaches the subject of Hang-woo's insistence on ruining Bang's company. Proving that she has a heart (although we knew this before), she wonders if having Chun Ha destroy a small company like Paeng Seong is really the right thing to do. Incensed that she might be siding with Bang instead of him, Hang-woo does what all grown men do when they're upset… by dumping a bewildered Woo-hee on the side of the road. Hang-woo, I am going to have to dock some points on this one.
I love that he thinks about calling her while he's warm and cozy at home, but stops himself by insisting that a man must have his pride. Dude, you left her on the side of the road.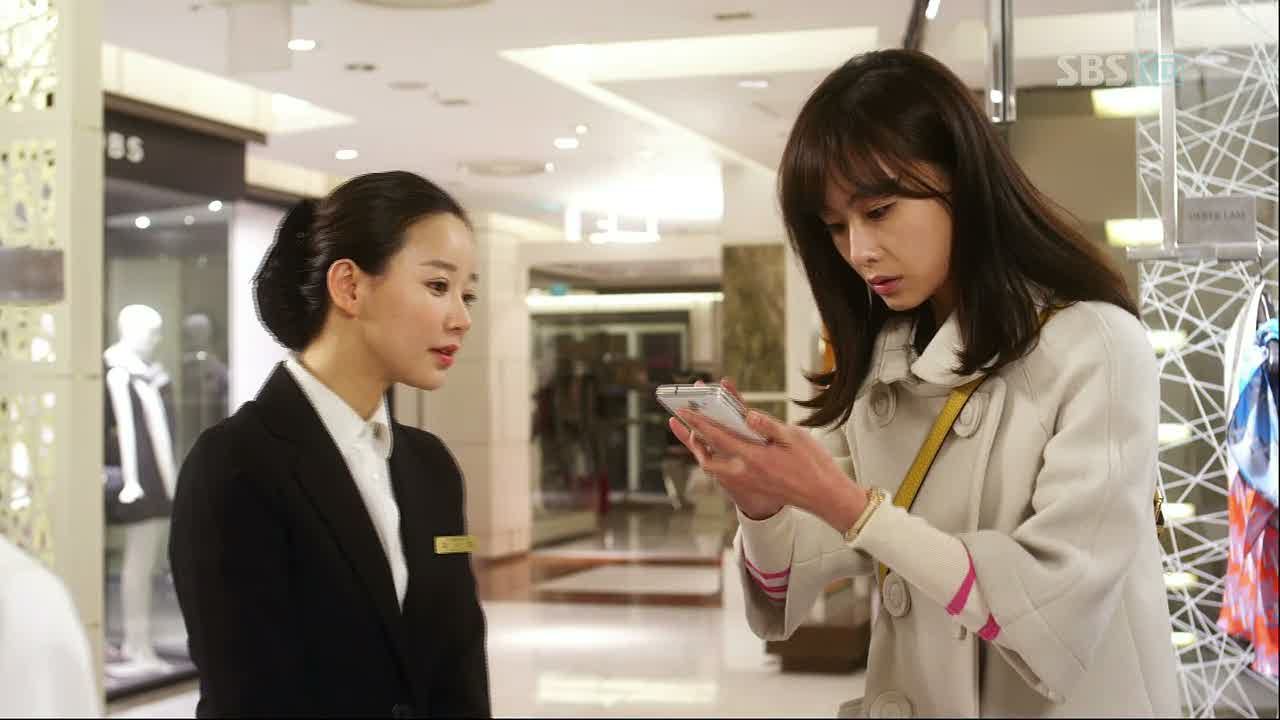 Woo-hee ends up at a department store, perhaps to do some retail therapy, and finds out from the employee that the last time she'd been gifted ten outfits wasn't a storewide event after all. Someone tall, dark, and handsome paid on her behalf. Woo-hee only has to show a picture of Hang-woo to get confirmation, and heads straight to his apartment to set the record straight on his feelings for her.
Unfortunately, she sees Gabi in Hang-woo's hallway and swiftly scuttles into hiding. When the doorbell rings Hang-woo wears a gratified smile like he's earned it, expecting Woo-hee to be on the other end. To his dismay, Gabi is in her place. Yikes.
Gabi pretty much invites herself inside, while Woo-hee wrings her hands in the hallway, worried that Gabi is thinking of seducing Hang-woo. She's right on the mark, as we find Gabi turning on the feminine charms inside. At Hang-woo's attempts to rebuff her she pulls the dead brother/cousin card, acting all lovesick and sad. They've both lost a person near and dear to them, she claims. Urgh, what a sociopath.
Reaching a hand out to touch Hang-woo's face, Gabi croons, "When you're lonely, call me. Perhaps we could be Hang-ryang to each other."
Oh, gross. Seriously gross. At least Hang-woo seems to think the same, and he formally ushers Gabi out. Woo-hee overhears a conversation Gabi has on the phone about how Hang-woo is no longer a threat, since he's achieved vengeance for his father in Chairman Jin's death. Woo-hee processes this information pretty fast, deducing that Chairman Jin must have had something to do with the death of Hang-woo's father.
Hang-woo finds her outside his door, and the shock causes her to twist her ankle. There's no hard feelings about the highway incident as he tends to her foot, and Woo-hee broaches the subject of how much Hang-woo trusts Gabi. He doesn't answer her question.
Hang-woo: "I would like you to trust me no matter what. No matter how much others int he world curse me and hate me, I just need you to take my side. Then, I won't need to be scared of anything."
Clearly moved, Woo-hee tries to muster up the courage to confess her feelings. In the end, though, she can only thank him for treating her ankle.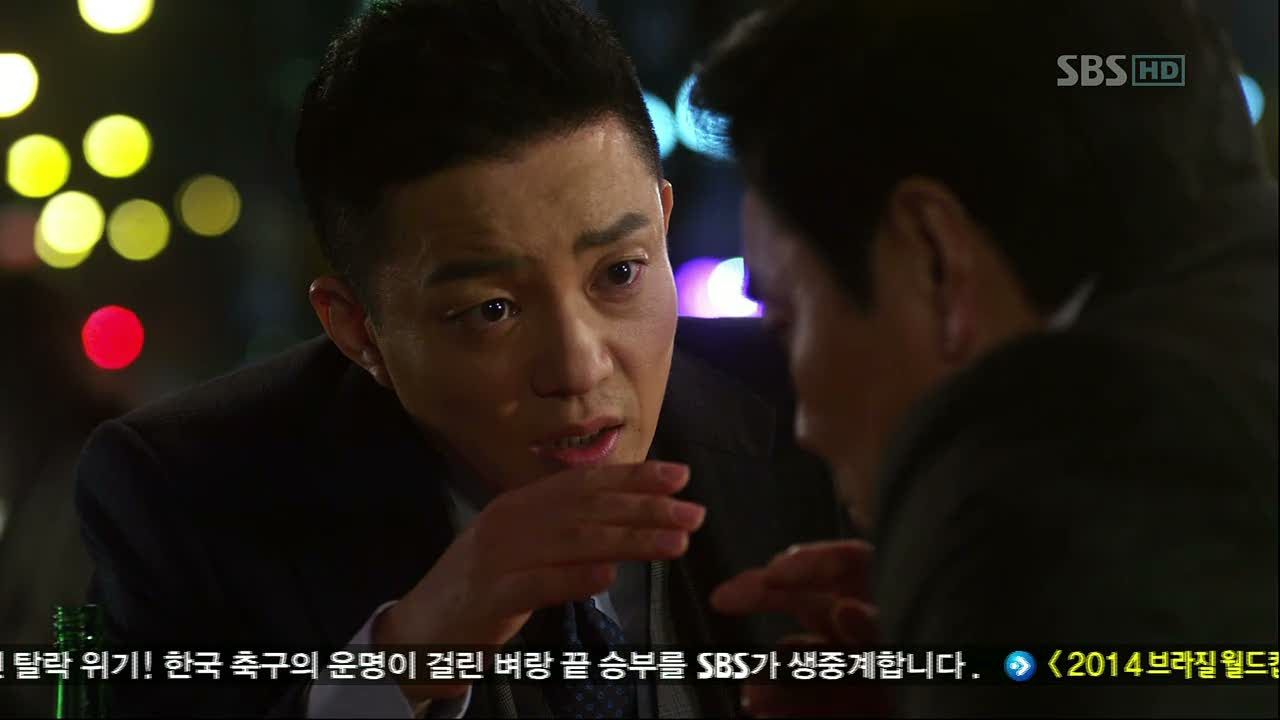 Bang and Jang Ryang discuss strategies, although the options are limited. Bang's conclusion? Because all is fair before money, Hang-woo will certainly take Paeng Seong. Since it's getting taken from him anyway, Bang decides that he'll give Paeng Seong in exchange for Chun Ha. Wait, what?
He whispers the exact strategy to Jang Ryang (we don't hear it), and the latter reels back. Bang wants to commit fraud? Bang defends his decision, saying that what Hang-woo and Chun Ha are doing is real fraud. Stealing what others have built with blood, sweat, and tears, that's fraud. What he's planning to do will pale in comparison.
Hang-woo discusses the money needed to take down Paeng Seong with Gabi, who readily agrees to give all that he needs. At least he finally seems to be recognizing Bang as a capable foe, since he orders Bum-jeung to have someone keep an eye on him. Bang isn't the type to go down without a fight. (And you just figured that out now?)
Suddenly, Bang shows up to a fancy club in an incredibly fancy car, wearing fancy clothes while he throws money at a gaggle of women. This must be all part of his plan, but it's certainly funny to see him dressed like a pimp. Hang-woo and Bum-jeung are well aware, and don't even think twice about the fact that this could all be an elaborate deception. Hang-woo simply thinks that Bang has finally realized how nice money is.
The partying isn't all, it seems – Bang has also started dabbling in gambling. Apparently being taken seriously as a gambler involves some heavy guyliner, which is just hilarious to see on Bang.
Yeo-chi goes Bang Hunting, and is surprised to hear of all his expensive escapades. In disbelief, she says, "When one thinks of Yoo Bang, one thinks of earnestness and austerity. He's notorious for those, no?" Shin replies, "Now it's arrogance and extravagance. He's the symbol of hedonism."
We see our symbol of hedonism partying with a bunch of girls who call him oppa, and for each compliment he hands out large sums of cash. Yeo-chi crashes the party, cursing up a proper storm to send the girls on their way. Instead of calling Bang out, however, she thinks he's lapsed into temporary insanity because of her and begins to profusely apologize.
The best thing? She calls him by his name, but Bang replies that he's changed that tacky name (which we know means breasts) to something much more fitting: Versailles. Yes, he named himself Versailles. Versailles Yoo, to be exact. Yeo-chi and Bun-kwae take turns crying over Versailles, hoping that he'll come back to himself. This is too funny.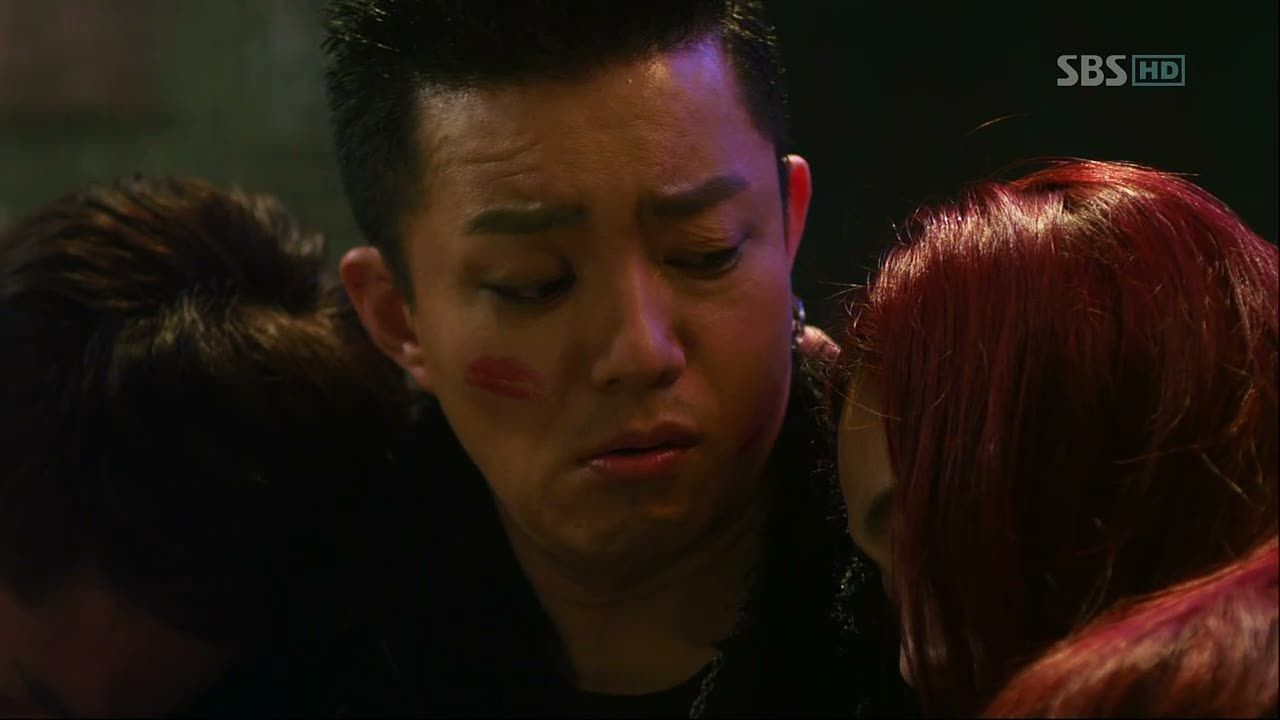 Meanwhile, Hang-woo gets the bad news that more and more bonds keep popping up for Paeng Seong. Initially he'd estimated that they'd spend twenty-five million, then it turned into thirty million, and now it's thirty-five million. Something is fishy about all this, but our Wall Street trained Hang-woo has no idea, and says that they'll spend whatever they need to get hold of Paeng Seong.
Yeo-chi and Bun-kwae are forced to look on as Bang – or is it still Versailles? – proves that he has no talent for golfing. Jang Ryang just happens to show up at the same range, and a desperate Yeo-chi asks him to do something about Bang, who's clearly lost his mind. Jang Ryang tries to sneak out before he can be seen, but Bang closes in on him and they get into it about some money that Jang Ryang supposedly owes him.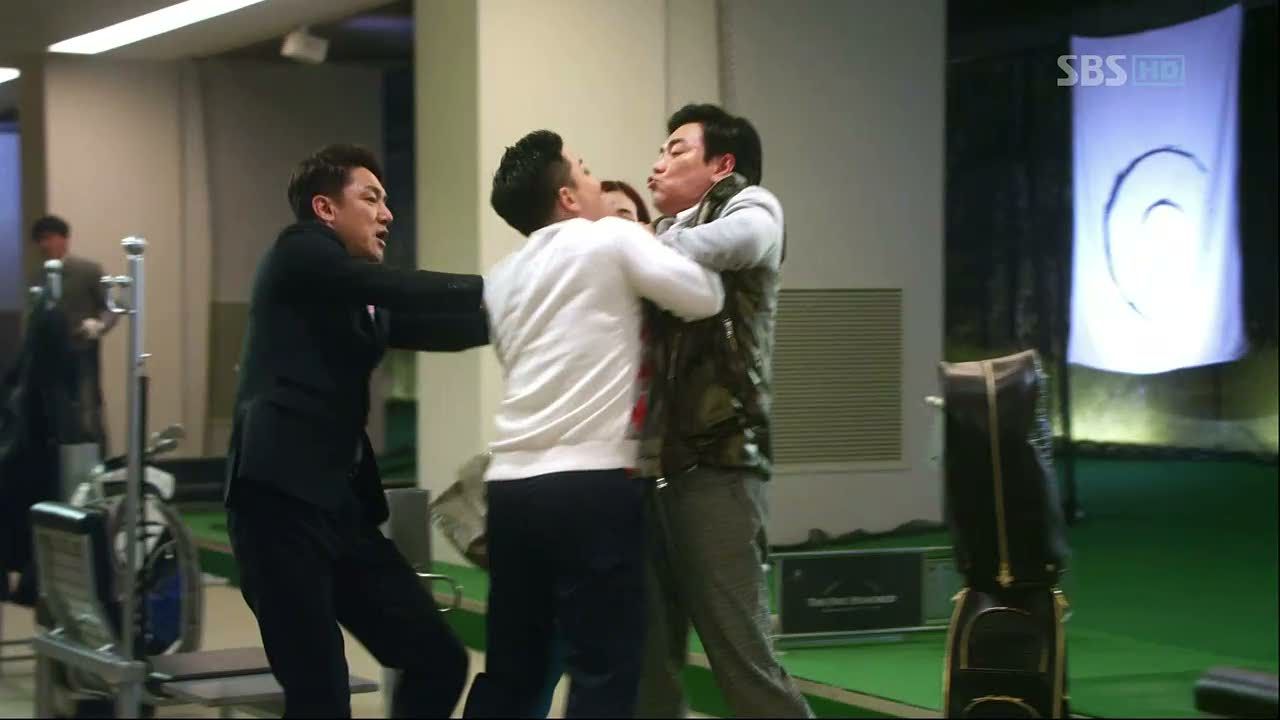 None of our characters have caught on to how uncharacteristic this is for both Bang and Jang Ryang, who take their fight into the locker room. Curiously enough, they're being spied on by a shady-looking minion.
Of course Bang and Jang Ryang aren't fighting, but discussing strategy instead. They know they were being spied on, and Jang Ryang reveals how they've been managing to up the bonds price for Chun Ha – by creating phantom bond holders, and thus phantom bonds. Apparently Hang-woo can't tell the difference, and so he keeps spending, landing him right in the trap Bang and Jang Ryang have laid for him. But before Hang-woo catches on, Jang Ryang warns, they need to move to the next phase: Mo Gabi.
Bang rightfully worries whether Gabi will be so easily fooled. Jang Ryang: "She's a woman with a great sense of vanity. She's like an active volcano spewing out greed ever since she became Chairwoman." Right on, Jang Ryang.
At an unspecified later time, Yeo-chi meets with Gabi and Bum-jeung, who decide to bring her along to a place Gabi describes as a "high class playground." It's an auction, and Gabi is unhappy to find herself seated right next to Bang.
A painting goes on sale, starting at three-hundred thousand dollars. When Bang places a bid, Gabi is not to be outdone and the two enter in a fierce bidding war. Yeo-chi looks in in bafflement as the price goes up to two million dollars… a bid put in by Gabi. With a smile on his face, Bang raises his paddle only to declare that he's not buying, footing Gabi with an incredibly hefty bill.
He congratulates her, but not before wondering if she might have overdone it today. Ha. She levels a murderous look at him, and he merely laughs it off. He's won this one, after all.
Gabi is well aware of this fact, so hearing it again from Bum-jeung's lips only adds fuel to the fire. Her spending is out of control, and at this rate she'll have to start selling stocks. She warns him to stay quiet but he persists, telling her that what he needs now isn't some expensive painting, but self-restraint. If he can't tell her to shape up, who can? In a rage, she knocks down her two-million-dollar painting.
"Don't delude yourself, Park Bum-jeung," Gabi warns. "I never, for one moment, liked you." Burn. Bum-jeung is not to be deterred, and tries entreating to the Gabi he knew before – the one who used to be human. It's no use. He leaves her alone in to coo over her expensive painting in the same spot where she killed Chairman Jin.
She's called away for an extravagant dinner with Jang Ryang, who's always there to assure her that she's spending just the right amount. In fact, he's got some possible investment opportunities that can net her 200% profit. I love this scene, you can literally see Jang Ryang pulling the strings. He's got her hook, line, and sinker. She'll invest.
Bum-jeung contemplates Chairman Jin's will in darkness, hoping to himself that Gabi's actions won't force him to use it against her. Bum-jeung, what other bad things does she have to do in order for you to turn that will over? Punt some puppies?
He gets a call from Yeo-chi, who wants to meet with him personally in order to discuss her Grandpa's chauffeur. Judging by the fact that Bang is sitting next to her, she must have heard the truth about his Versailles persona by now. I wonder if they know about all the secrets Bum-jeung is hiding, since I doubt Yeo-chi is calling him about the chauffeur.
Hang-woo has Woo-hee on the phone as he tells her to search his desk drawers for a box. As she looks for it he approaches from behind, though she remains unaware. As per his orders she opens the ring box and thinks it's just a ring, until she turns around to come face to face with Hang-woo. Finally, he gets his proposal. We don't get to see how it turns out yet, but Woo-hee doesn't seem to look displeased.
Bum-jeung, meanwhile, goes to the place where he's to meet Yeo-chi and finds Bang – er, Versailles – there waiting.

COMMENTS
I was holding out commentary on last episode's unanswered questions in the hopes that we'd have some answers today – but alas, no dice. We still don't know exactly who tipped Bang off on Chairman Jin's murder, what files Yeo-chi was pilfering from Bum-jeung, and without hide nor hair of Taeyang Group's Sa-yeol to be seen today I'm sure now that his character was given a romantic angle with Woo-hee just to stretch out some screen time. There's certainly time for them to explain these questions in the coming episodes, and maybe that's the point. (Maybe.)
Surprisingly enough, Hang-woo's character remains something of a mystery. This may all tie into the fact that Bang is simply far smarter and much more capable than he was presented as at the start of the series. He has Jang Ryang there as the business-savvy sage to help him out, but for the most part, he's coming up with all the solutions to the problems Hang-woo gives him on his own. This is supposed to be the same man who consistently failed the corporate entrance exams year after year? There was a point during the series where Bang claimed his memory had improved due to the Eternal Youth drug, but it seems like we're simply supposed to buy that he's just become infinitely more capable. That's fine, because I love Bang. (And especially with all his cute antics today, who could resist?) I'll buy the idea that he just never had the right opportunities to showcase his capabilities before, and that Hang-woo's just had it incredibly easy up till now.
That being said, it's interesting that Hang-woo consistently gets one-upped by Bang every single time. It may take Bang a little while, but he always wins. His excellently-made plan this episode was a joy to watch but also left me wondering why Hang-woo doesn't suspect even one iota of trickery. It took Hang-woo this long to realize that he underestimates his enemies, yet he still gets consistently fooled. It'll be interesting to see how he becomes a worthy opponent for the final showdown, and I hope Salaryman will make me eat my words about Hang-woo's toothlessness. Maybe he'll surprise us, and show us that he's been playing Gabi all along. (I can hope!)
I loved that we could see the subtext of all the conversations pointing back to Bang's master plan, and how well his whole team works together. It's brilliant thinking to just poke a hole in Chun Ha so that it bleeds money, because money seems to be the only thing Chun Ha has against Paeng Seong. Now that Bang is evening out the playing field, taking hold of Chun Ha doesn't seem like such a pipe dream after all.

RELATED POSTS
Tags: featured, History of the Salaryman, Hong Soo-hyun, Jung Kyeo-woon, Jung Ryeo-won, Lee Beom-soo