Kim Hyun-joo headlines new SBS weekend drama
Kim Hyun-joo has lined up her next drama (yay), which will be a weekend series (er, sigh?) titled Dumb Mom, which will be hitting airwaves next month.
Based on a novel of the same name, Kim plays the lead character, Young-joo, in a story following three women of three generations and their relationships with love, forgiveness, and reconciliation. The book, which is itself based on a true story, follows a dim-witted woman who is the victim of a rape and her daughter Young-joo, who is born of the attack. The mother smothers the girl with love, and Young-joo finds the attachment so oppressive that she marries to run away from her, leaving Mom in a psychiatric hospital.
Soooo… a rom-com, right? Haha, if only. The description doesn't tell us much about the plot of the drama itself, but I'm expecting crying and heartbreak, with some poignant moments as well.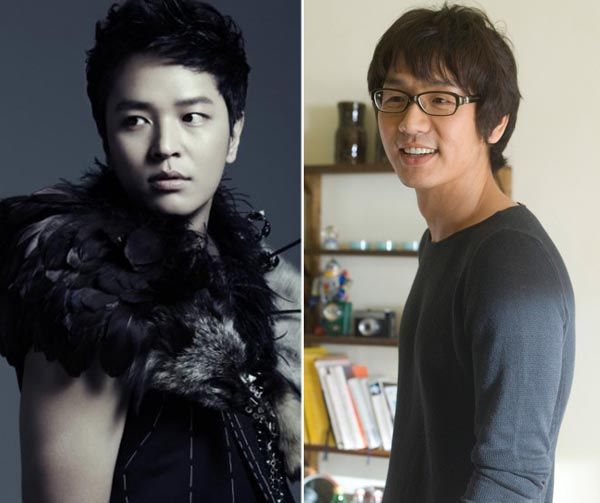 Kim Jung-hoon, Kim Tae-woo
Two of her leading men have also been cast: Kim Tae-woo (Quick) and Kim Jung-hoon (I Need Romance). Kim Tae-woo plays Young-joo's husband in his first drama role in four years; he had a cameo in Daemul playing Go Hyun-jung's husband, but his last real drama role was 2008's four-episode series Tokyo Showers. He's mostly done movies, like Influence, Naked Kitchen, Like You Know It All, and Woman on the Beach.
Meanwhile, Kim Jung-hoon plays Young-joo's old school friend, now a doctor, who harbors a one-sided love for our heroine.
Wish I could say I was excited about this, but despite really liking Kim Hyun-joo, I haven't liked her projects in recent years; I had a hard time sticking with Partner and dropped All That Glitters (aka Twinkle Twinkle) right away. The director, Lee Dong-hoon, recently did the drama Daring Women (also Crazy for Love, Princess Lulu) and writer Park Kye-ok wrote Invincible Lee Pyeong-gang and Cain and Abel. It's a likely pass for me.
Dumb Mom will replace SBS's currently running Live With Style and premieres in March.
RELATED POSTS
Tags: Kim Hyun-joo, Kim Jung-hoon, Kim Tae-woo