More cable disappointments: You're Here gets the ax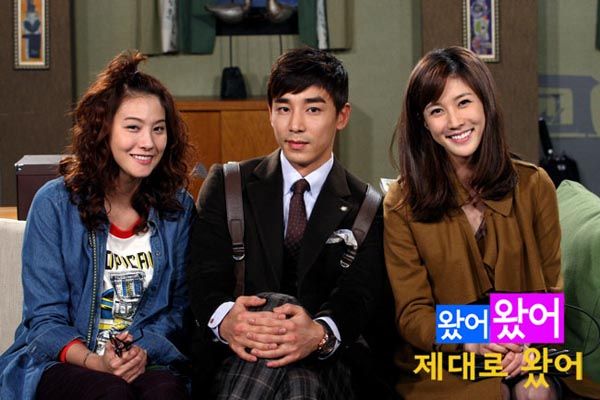 I talked about cable programs underperforming recently, so it shouldn't come as a huge shock that You're Here, You're Here, You're Really Here, the daily MBN sitcom about a group of 30-ish single friends, is getting the big ol' cutdown. But while I'm not shocked, I'm still a little surprised at the drastic measure: Instead of 120 episodes as planned, it'll be ending on Episode 60. This week!
According to a source with MBN, the biggest reason is the low ratings. None of MBN's programs have been strong on that front, but apparently You're Here has been lower than its other shows. Vampire Idol and army sitcom Bolder By the Day have been averaging 0.3% to 0.5% ratings (though Vampire has spiked above that on occasion, and has the benefit of being a youthful buzz show). By comparison, You're Here kicked off last December with a 0.396%, but dropped in the new year to 0.2%, and more recently down to 0.1%.
I file this one into the "expected, but still a bummer" category. I've been watching the show pretty consistently (though I'm currently about two weeks behind), and found it to be silly light fun. There's really not much depth to the show and the plots are simple and obvious, but the characters are fun, and the actors engaging. I like that in contrast to the miniseries/big-budget drama norm, there's no big angst here; characters develop feelings gradually and deal with conflicts in low-key, amusing ways.
The show really picked up after Jeon Tae-soo joined the cast around the Episode 20 mark, with his quirky, random personality as the unflappable, 4-D doctor who falls asleep anywhere and annoys the ever-loving bejeezus out of our OCD lawyer hero Jin Yi-han. Jeon expresses interest in Lee Soo-kyung just as Jin realizes his own attraction for her, his lifelong best friend. To add to that conflict are the silly hijinks that come when the boys become roommies and start borrowing each other's underwear and engaging in an annoy-off to out-pester the other. So stupidly cute.
On the other hand, with the show ending so soon, it ought to be a lot easier to write up, so maybe this calls for a series wrap-up. Soon. Ish. When I find some extra time lying around, doin' nothin'.
Via Osen
RELATED POSTS
Tags: cable programs, drama production, drama ratings, You're Here You're Here You're Really Here