Operation Proposal: Episode 2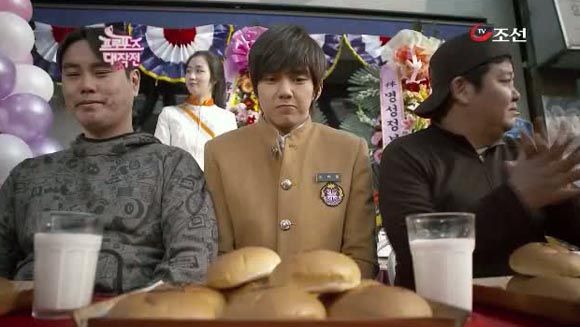 So Baek-ho travels back in time to relive his high school days. It's his first shot at fixing his wrongs and turning them into rights. We get a few more clues from his past which speaks more about his present. Will he be able to identify what went wrong between him and Yi-seul or will fate get in the way of his desire to change his present? You'll have to dive in to find out what happens next.
EPISODE 2 RECAP
Now back in 2001, Baek-ho does a little happy dance of glee and then – smack! He turns and Yi-seul teases him about his earlier outcry on stage ("NO!!"). She reminds him that she was left to do the morning duties by herself, but cheers up after telling him about the new movie theater, adding that she'll forgive him if he takes her.
She initially interprets Baek-ho's puzzled expression as a joke, but realizes that he honestly doesn't have a clue. With a sigh, she says that it was silly of her to think that he'd remember. So Baek-ho is left to wonder if Yi-seul was mad that day because of a pair of movie tickets.
In another part of the school, Chae-ri and her gals are busy dancing in front of a small crowd of boys, while poor Tae-nam's efforts to prevent them from snapping photos prove futile. Baek-ho takes offense at Chan-wook's statement that they should tell Chae-ri to give up on her desire to become a star, stating that she shouldn't give up if she's never tried, then marches up to Tae-nam, telling him that if he bides his time, Chae-ri will be his. Both friends are left confused at Baek-ho's sudden outburst.
Back in the classroom, Yi-seul returns a CD she borrowed from Baek-ho, and asks his blank expression if he still can't remember anything. He retorts that he's trying, and they're interrupted when their other friends join them.
Yi-seul snatches the CD out of Tae-nam's hands when he asks to borrow it, stuffing it into his backpack. She argues that Tae-nam often returns them in an unreadable state and adds that Baek-ho shouldn't let anyone borrow it if he wants to keep listening to it.
The class is changing seats today, and the teacher sends the boys outside while the ladies choose first. Adorably, Tae-nam jumps to sneak a peek, earning him a hard smack on the head. But he smiles when Chan-wook whispers to him where Chae-ri's seat is.
Baek-ho sweats, worried whether Yi-seul will change her seat and it dawns on him if this was what ticked her off that day. So he stops and racks his brain at his old seat next to Yi-seul. But Chan-wook invites him to sit at the back of the classroom, and he winces when he sees Yi-seul return to her former seat and looks for him. Seeing that they're now separated, Yi-seul ignores him, slightly miffed.
Baek-ho consults his buddies to borrow money to buy the movie tickets, but they turn their pockets and present two measly coins. Heh. He resolves to find a way to score them anyway after he overhears Yi-seul talking excitedly about how Baek-ho is going to take her to the movies.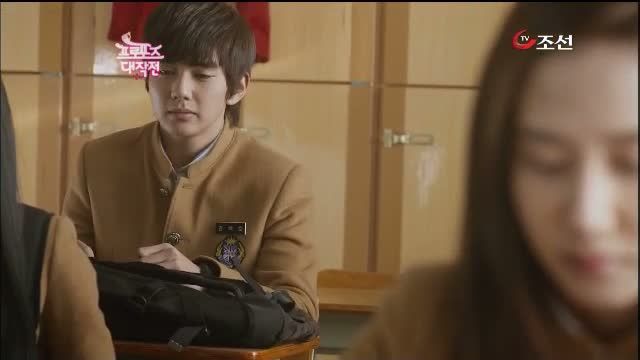 Yi-seul spots him and smiles in his direction, and Baek-ho tosses out the possibility that the seat change wasn't the underlying reason behind her annoyance. The stack of books about film on her desk cements his theory that it really was about attending the movies.
In class, Yi-seul asks Chan-wook where Baek-ho has gone off to and lights up when she hears that he's gone to score some movie tickets while our hero sneaks past the security guard and jumps the wall to the outside world.
Mission Movie Tickets Plan A leads Baek-ho to the local health clinic to donate blood, armed with the knowledge that the clinic gives out a pair of tickets to their donors. As they pump his blood, he imagines being in the theater with Yi-seul, sharing popcorn. Their hands brush against each other and they blush at the touch. He looks at her adoringly, and Yi-seul closes her eyes. Imaginary Baek-ho leans in for the kiss…
…and the nurse jolts him out of his daydream, noting that he's finished. Baek-ho playfully replies that they can keep taking his blood (ew) and she laughs at his enthusiasm. He hints at his reward for his donation, and the nurse returns to give him… snacks and milk, thanking him for helping today. HA! I love that the bread has an insert of Fin.K.L.
She's confused at Baek-ho's mention that he thought he would be compensated with tickets and he realizes that would only be the case in his present 2012.
Back at school, Tae-nam comments that Baek-ho ran off to obtain the tickets like his life depended on it. Yi-seul coolly responds that she doesn't know what goes on his head and guesses that he must be trying to trade them for something better.
Chae-ri dreamily mentions about how great her new boyfriend is: he loves the arts instead of sports. Her comparison between the baseball field and movie theater is analogous to the type of man she wants: loving, cozy, and clean, whereas the field is simply sweaty and gross.
Tae-nam literally drools at the news, unable to hide his disappointment. He's stunned to hear that not only is he tall, but athletic, and good-looking to boot. Dejected, he turns to leave, but sits right back down when Chae-ri orders him to do so.
During classroom cleaning duty, Chae-ri sighs that although her new boytoy seems like he has it all, he's got one fatal flaw – his clingy nature suffocates her and wonders if she should call it quits. That earns a look from Yi-seul who chides her flippant attitude, adding that it's already her third relationship this year.
Chae-ri pointedly says that Yi-seul is too picky and she should at least send a signal to the guy she likes. Yi-seul's reply of, "Even if I did, I don't think he'd pick up on it," sparks Chae-ri's radar to which Yi-seul quickly dismisses.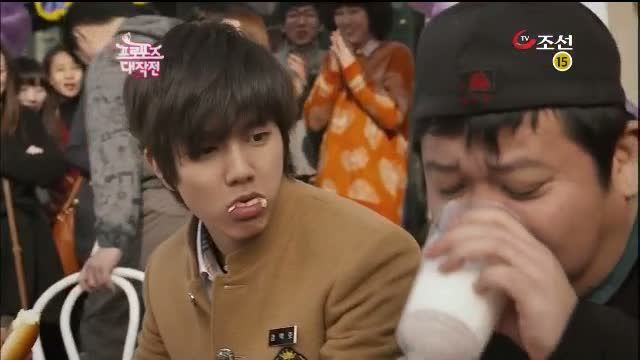 Mission Movie Ticket Plan B results in a street eating contest as Baek-ho eyes the second place price: a coupon for a pair of movie tickets. With determined eyes, he gorges on the mountain of bread. The other contestants go down one by one, until it's just him and one big guy left.
Assured that he's in the clear, he lifts his hands up in surrender, securing the movie tickets… when the dude upchucks the bread. Disgruntled, Baek-ho takes his first place prize home in disbelief at his victory.
Yi-seul notes that Chae-ri should consider Tae-nam's thoughtful attitude and behavior, saying that there aren't many guys like him. So Chae-ri turns the questions back at her about Baek-ho – he's skipping classes to go to great lengths to see a movie with her. Like any good best friend, she sees straight through Yi-seul's answer that he's just acting peculiar, noting that she must secretly like it.
The two girls hear chatter in the halls about Baek-ho making a love confession to a fellow classmate – new that makes Yi-seul stop in her tracks. Seeing it for herself leaves her in absolute amazement as Baek-ho states, "I like you."
Baek-ho stammers through the rest of the declaration, complimenting the girl's appearance which makes the girl blush in embarrassment. His words that he can't sleep or drink because of her ring in Yi-seul's mind as Chae-ri looks on with incredulity. Her heart drops and tears form in her eyes as Baek-ho delivers the accompanying letter, but receives with a sharp slap to the cheek.
The crowd breaks and Baek-ho finally notices Yi-seul's presence. Before he can explain, his buddies rush to inspect his reddening cheek to see if he's all right. Chan-wook asks, "Did you want to see that movie so much that you felt you had to resort to this?" Keh.
And if social humiliation weren't enough, he earns himself an afternoon in detention to top it off.
The friends hypothesize why Baek-ho made such a ridiculous fool out of himself and Yi-seul pretends not to overhear their conversation. Ah, so Baek-ho made a fake confession in payment for movie tickets (now snatched by the teacher), and Yi-seul attempts to block out the situation by scribbling "idiot" next to Baek-ho's name in her notebook.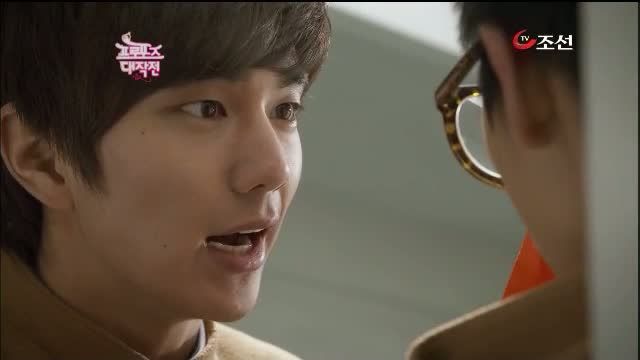 Baek-ho returns the love letter to its owner after his stint in detention. The student apologizes for using Baek-ho as his messenger, but adds that it turned out better he didn't confess to her himself to save him from the misery. That sparks Baek-ho to push him against the pillar, asking him what he should be sorry for – if he wanted to tell a girl how he felt, he should have said it himself.
Baek-ho gets caught up in his frustration, telling him that what's important is that she hears it from his own lips rather than being crippled by the fear of rejection. If not, the regret will hurt a thousand times more than a slap across the face down the road.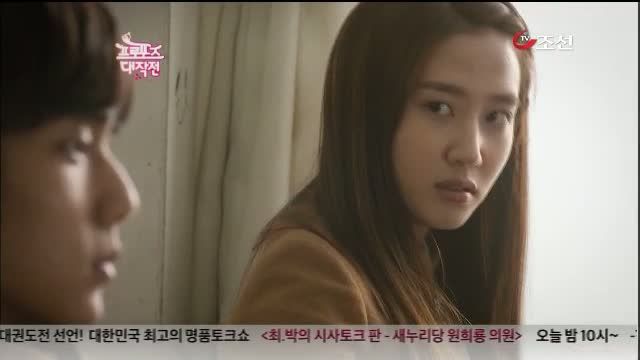 Yi-seul leaves in a huff as soon as class is over, refusing to believe that he requested his former seat again because he couldn't read the chalkboard. She accuses him that he just wants to use her like always and he follows her out in silence.
But her shoe gets caught on some gum on the ground and she attempts to shake it off in annoyance. So Baek-ho helps her out… by lifting her up off the ground. While he scrapes the remainder gum from the sole of her shoe, Yi-seul sneaks a glance at him.
They soon bicker again about how Baek-ho's actions got him into trouble, and Yi-seul remarks that it's typical Baek-ho behavior. He flares back in response, still thinking that not taking her out was the reason for her anger, yelling that she doesn't know what he went through to get those movie tickets. He quickly apologizes that he wasn't able to keep his end of the promise again but he felt that it would be meaningless if he didn't see it through.
But Yi-seul reassures him that it's the heart behind the action that matters, and she successfully got that message. She leaves him with a smile which gets Baek-ho thinking that everything's been fixed, but he notices the next moment that her smile transforms into a frown.
The friends leave school, calling Baek-ho clueless for forgetting his own birthday. So he's pleasantly surprised when he returns to the classroom to gather his things and finds the colorful birthday messages left for him on the board. One of them, Yi-seul's, catches his eye, as she signs her message with a little heart by her name.
As he leaves to join his friends at their favorite hangout, Baek-ho shares in voiceover how he didn't understand Yi-seul twelve years ago, and he envisions her upset and disappointed faces in his head. If he was more affectionate, put more effort into making her smile…
And then, he has a revelation. That day, she'd stormed out because he demanded his birthday present as soon as he saw her that afternoon. He pulls out the CD she gave back to him earlier that day, to reveal a hint for him. As he runs, he wonders how many times he missed the countless signs and clues that Yi-seul must have left especially for him.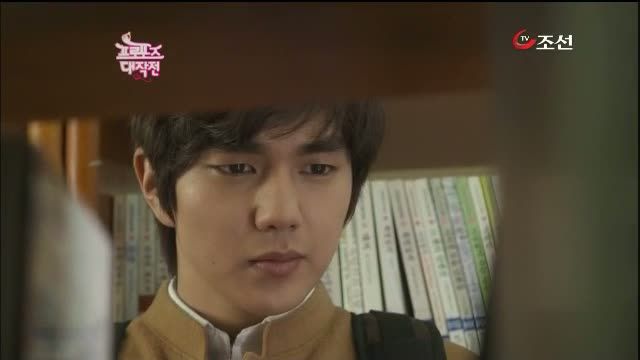 Baek-ho ends up at the library, tracking down the corresponding call numbers on the list. He scours the shelves until he finally sees it – a custom baseball glove – with his name embroidered on it. It dawns on him that he really didn't understand anything at all, and the glove that Yi-seul's father referred to was real, not just a metaphorical one.
He holds the glove close to his chest, having finally discovered the glove made especially for him.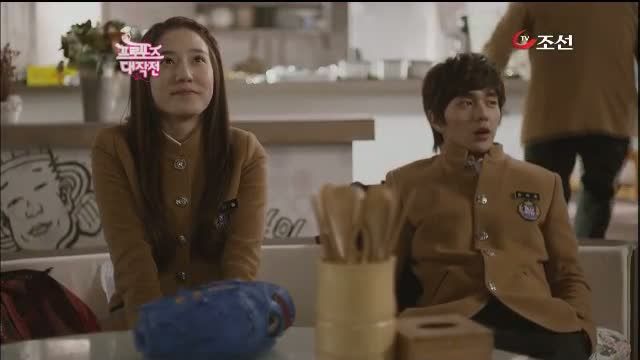 Baek-ho sets down the glove on the table without a word, the sight of which brings a smile to Yi-seul's face. He coolly jokes that he can't even use such a unique and valuable gift. He hands back the list of clues to her and reveals a handwritten coupon to watch movies together. Baek-ho tells her to follow up on him about it, no matter what he'll say tomorrow. Aww, okay – that's cute.
Yi-seul asks if he's suddenly sick given his oddly nice behavior, and Baek-ho reaches to take it back if she doesn't like it. She balks when he advises her that she should get to school early because he's left a top-secret message on the chalkboard. (It reads: "The most precious person in my life is sitting right next to me.")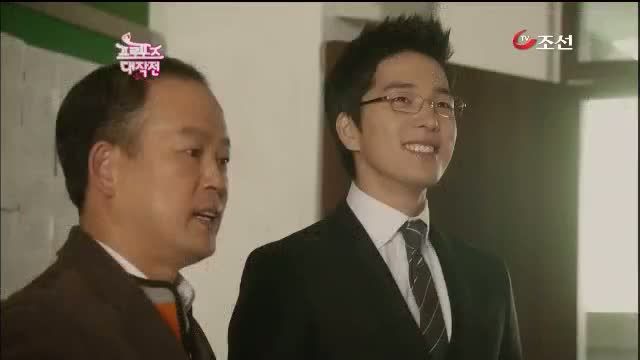 Speaking of which, the new teacher enters the empty classroom. It's Jin-won, who looks around with nostalgia in his eyes. The teacher sings his praises that he's grown up to be more handsome after he graduated, to which Jin-won humbly dismisses. He asks after the baseball team and the teacher complains that they're still just kids, pointing to the scribble left on the chalkboard to prove his point. And unknowingly, Jin-won steps in, erasing the message away.
How cute is it that Baek-ho's birthday cake resembles a baseball field? But the cake only looks delicious as Tae-nam sneaks a taste and reels in disgust. Then there's the fact that the restaurant owner is basically like a mother hen, who loves dramas. So cute.
In true birthday traditon, they smash Baek-ho's face against the cake and Chan-wook wishes that he remembered his camera. Then someone mysteriously appears, ready with a camera. We don't get introduced to her name, but it's JO JIN-JU (Park Jin-ju), but the owner explains that she's his niece. He took her in after she alone survived a fatal car crash years ago.
Chan-wook works up the courage to make the first move and invites her to take a picture with them, but she hides in a corner in response. So the friends gather around to take a souvenir picture, and as soon as the lens flashes, his vision starts to spin…
Baek-ho finds himself in a middle of a tussle between his buddies and the ladies with a dried squid affixed on his face. It's Valentine's Day 2012, but instead of being at the church, they're now outside Yi-seul's place.
At the sight of Ye-seul, he runs to meet her and the tug-of-war continues at the gate between the two warring parties. The boys want to opt out but Chae-ri demands that Baek-ho come in because he's Yi-seul's friend. And in the middle of this Baek-ho asks when the wedding is, incredulous to hear that the wedding isn't for another week.
He tumbles inside, and squeals on the ground that he's returned to a time where Yi-seul isn't married off yet.
However, the fact does little to ease his mind as he watches the engaged couple sing happily in front of their families and friends, enjoying each other's company. Baek-ho excuses himself and wanders into Yi-seul's room. An adorned corner is filled with shelves of old baseball gloves and collector balls, and he stops to examine one of them.
His memory trickles back to when they were younger and Baek-ho was admiring the baseball memorabilia. Yi-seul showed him a glove that was custom-made for her from her dad's company and let him wear it.
Dad walks in saying that he promised Yi-seul that he would make a custom-designed glove for her the man she would end up with. But he fulfilled that promise 10 years earlier than he expected, in her first year in high school. Dad breathes that he's sure that Yi-seul cried more than Baek-ho did the day he gave up baseball. Ooh, interesting.
Lastly, he mentions that Baek-ho should consider himself lucky as he wouldn't have made it for him if Yi-seul asked him today. Baek-ho simply stammers an apology in response.
Baek-ho uncovers the same photo he stared at before his first time warp jump, but it's different now – Yi-seul was upset in the original but it now depicts her smiling. And then there's the altered wedding date on the invitation. He realizes that changes made in the past are already affecting his present.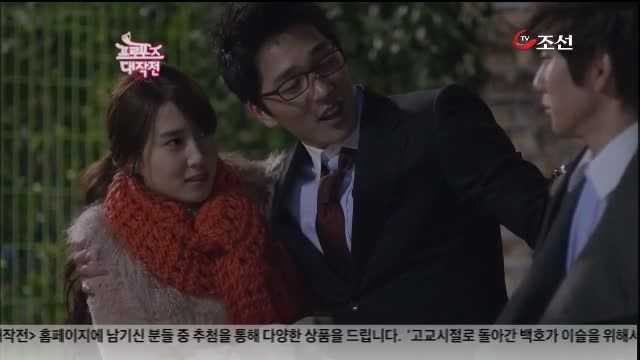 Later that night, Yi-seul and Baek-ho assist a drunk Jin-won to his taxi. Jin-won drunkenly chides Yi-seul for calling him 'Teacher' since they'll be man or wife soon. He grabs each of them with his arms, and the sudden proximity jolts the both of them.
Jin-won calls Yi-seul his life's 'home run,' and asks Baek-ho if he's ever experienced that. Baek-ho half-heartedly says no, adding that he's not much of a great hitter since he's a pitcher. And as Jin-won leaves, he realizes that though the wedding has been pushed back, nothing has changed, and Yi-seul will still end up married like before.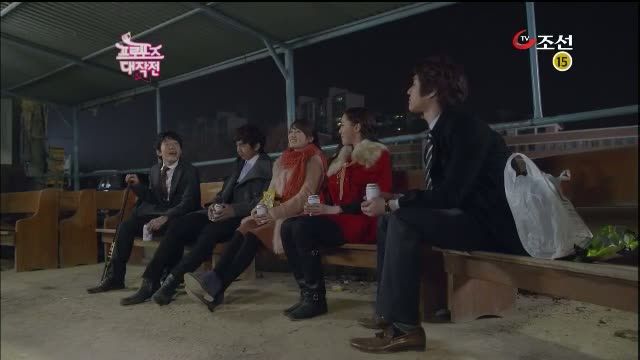 The five friends have an impromptu, informal baseball match on the field. Afterwards, they reminisce on how they never realized their childhood dreams. Chae-ri blurts out that out of all of them, the fact that Baek-ho never became a professional baseball player surprised her. She realizes her mistake as soon as she says it and the others look at each other uneasily, waiting on Baek-ho's reaction.
They conclude that Yi-seul's the one who got closest, but she discloses that it was her dream to manage a major league baseball team (then Tae-nam says his one and only dream is to be with Chae-ri). They toast to their never-ending friendship and to Yi-seul's happy marriage.
We see that Chae-ri is a cheerleader instead of becoming a big star, Tae-nam became her manager, Chan-wook is a sports cameraman, Yi-seul works snacks, and Baek-ho is filled with longing and regret for leaving the industry.
Baek-ho walks Yi-seul back to her house, and Yi-seul apologizes on behalf of Chae-ri. She reminds him not to blame himself for 'what happened that time,' but that Chae-ri longed for that kind of future for him. He interrupts her by asking if that what she thinks too, which startles her.
Baek-ho asks, "If I didn't quit baseball, would it have changed?" She asks about what and he replies, "Us."
COMMENTS
Now that we're two episodes in, it's easier to gain a grasp on what's similar and what differs between Operation Proposal and its Japanese counterpart Proposal Daisakusen. Many of you have pointed out that the much of the story, even particular scenes seem like carbon-copies of the original. Remakes are a double-edged sword – you try to stay true to the content and viewers find in redundant, but if it's unlike the original, then purists will scream bloody murder. For me, I'm generally not too concerned with staple scenes almost eerily similar but hope that different productions can add its own essence and flavor to the more memorable ones. I know that sounds counterintuitive, but those are chances where the remake can diverge from its source material, and explore one's interpretations of the characters in those moments.
There's been past dramas (*cough* Boys Over Flowers) where poor and sloppy execution of this led to many an outcry, including mine, but I'm confident that Operation Proposal can add its own flair and form new memories of those beloved scenes.
What intrigues me so far is how the series has taken to approach the consequences to Baek-ho's time travelling thus far. The hero in the original always returned to nearly the same point of that day, and still frozen in time, and here, we've stepped into an alternative reality. I'm not sure if I'm fully on board with such dramatic changes to Baek-ho's life (and what was up with the dried squid on his face?) but for now, I'm going to run with it.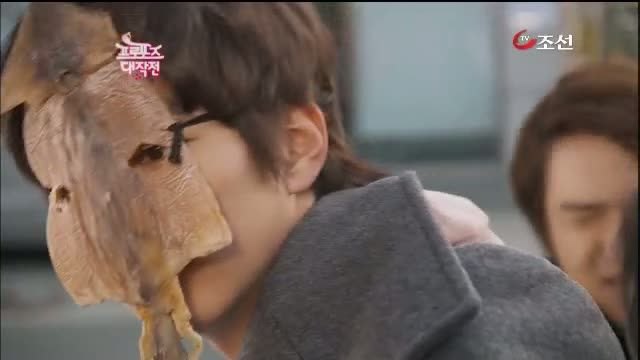 The voiceover, the voiceover, the voiceover. Oh, did I just repeat myself for the 82315th time? Goodness gracious, Baek-ho – we.get.it. You messed up, your best buddy got married, and you want to change your wrongs to see her happy. You don't need to remind us, the audience, every five minutes of why you're doing what you're doing. What I want is less of you talking to yourself, and more of you talking with the Conductor.
Lastly, there are some hints at some underlying issues that have us invested for now. For instance, both Dad and friends have alluded to Baek-ho's baseball career in the past – that some incident made him decide to quit. I like that this is something that bothers him too, that it's a decision that doesn't sit well for him. I'm hoping that during this time travel journey of his, he'll not only resolve this present issue with Yi-seul, he'll address his issue with baseball too.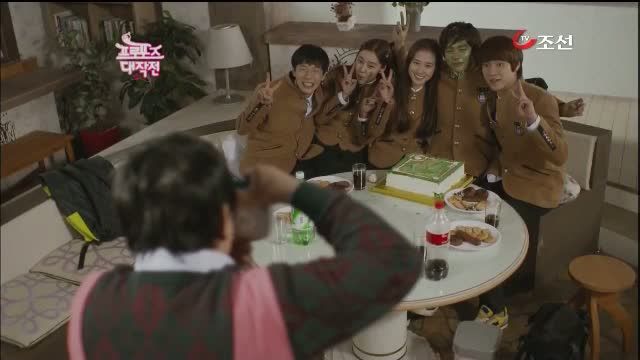 RELATED POSTS
Tags: featured, Lee Hyun-jin, Operation Proposal, Park Eun-bin, Yoo Seung-ho