Twelve Men in a Year: Episode 1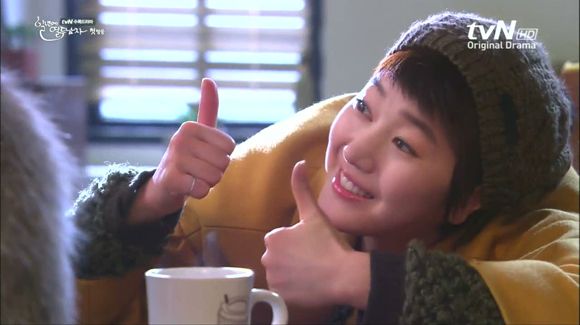 This drama gives me I Need Romance vibes. I liked I Need Romance, so I guess that's a good thing for this series huh? It's surprising to me that this series isn't getting as much attention as I expected it would. It's an enjoyable drama, and one that promises plenty of eye candy in the future.
We start off in a battlefield – because "Love is a Battlefield"? – and our heroine NA MI ROO (Yoon Jin Seo) reports from the middle of the Israeli-Palestine conflict. It looks more like intergalactic space warfare, but ok. She cries out in protest of the war, but gets blown up and dies, wondering with her last breath if world peace is just a dream.
World peace – or rather, this whole battle – is a dream, because she gets a rude awakening when she rolls out of bed and hits her head against the nightstand. Introduction: Na Mi Roo, 29 years old, Libra – believes in astrology and is a virgin.
Wait – take that back – she's not a virgin, because we see her boyfriend CHA JIN OH (Ohn Joo Wan) in her bed.
She wakes up really early to get to the shopping mall before it opens, dragging her best friend PARK TAN YA (Go Joon Hee) for help. (Tan Ya's profile: Leo, doesn't give a crap about guys, and a free spirit. She's also a photographer.) Mi Roo's not the only one, as there are a dozen or so more women pushing behind her, trying to get past her as the gate goes up. It's a literal rat race the moment the doors open – and for what? Why limited edition Swiss watches for men of course! And the first three customers get a 30% discount.
Mi Roo races down the aisles but trips and falls, so when she actually reaches the counter, she's number 4! The three ladies ahead of her look down on her snottily, while the other ladies behind her slink away despondently. Mi Roo hangs in there – hoping that they'll let her have the watch. Or better yet, can Lady #3 sell it to her instead?
Lady #3 won't budge, so Mi Roo takes out her ultimate offer – the entire payment in cash. She plunks it down on the counter and snatches the box! They don't know each other right? It's all good! She runs off, and calls up Tan Ya to bring her scooter around to the front as quickly as possible. Tan Ya rolls her eyes, but good friend that she is, she gives Mi Roo a clean getaway.
Mi Roo went through all this trouble just for this special gift for her boyfriend because Tan Ya had overheard Jin Oh planning to buy a ring for Mi Roo. With all that bling, she needed to get Jin Oh an equally awesome gift.
They celebrate their first year anniversary that evening, and Mi Roo presents her gift first. Jin Oh is immensely excited to see that he got the watch, and he presents to her his gift. It's a huge box, so my first thought goes to, "Puppy!" But it's not – it's a set of pots. (At least they're colorful…?!) He hands her another box – and it's so infuriating how Jin Oh is so excited in presenting it, but it's really unimpressive. Inside are just some ingredients. And then he hands her a smaller box – one that is more likely to hold jewelry. Mi Roo thinks, "Ah…finally!" but when she opens it, it's two bottles of soybean oil.
REALLY?! Really Jin Oh!?
And of all things, he's so proud he got her all this. He kisses her and then announces he'll go take a shower. Bad idea dude – you just left an angry girlfriend alone to stew. With your watch on the table.
When Jin Oh returns from his shower, he finds Mi Roo stewing on the sofa. He takes her hand, and slips on a ring. "Mi Roo, I love you." And she screams, "NOOOOOOO!"
Mi Roo rushes to the stove, where inside the new pot she fishes out his watch, fried with the oil he gave her!!! HAHAHA!
Well great – now she has a ring, and he has a fried watch that he can't even touch or use. His declaration of love for her? Yeah, he's taking it back. What amazes me is he has the gall to call HER selfish and insensitive, when all of his gifts were totally misleading as well. Guys – quick note: do NOT lead girls on.
They get into a huge fight, resulting in him saying that he can't take her any longer. He's stuck around for a year, 11 months longer than any other man would have, and he's had enough. Meanie. She creams him with their anniversary cake and tries to kick him out of the house!
Only, she gets kicked out herself because it's not her apartment. Heh.
Mi Roo turns to Tan Ya for support and housing – while Tan Ya can provide the latter easily, she cracks up at hearing of Mi Roo's breakup. She can't be blamed – she told Mi Roo of the ring, and he gave her the ring; it was all Mi Roo's doing in letting the relationship end with a breakup. Despite the backlash Mi Roo may receive from her parents, Tan Ya offers the only comfort a friend can give – some alcohol! And not just any alcohol – but absinthe! They're a killer, and Mi Roo unwisely chugs her entire cup of green liquor.
She passes out – and oversleeps. Mi Roo rushes to her appointment – and interview with a professor – only to get there too late because the professor has gone for a seminar in Jeonju. Now she's gonna go to work with no story to present to their editor. Uh oh…
She's despondent as the staff gathers in the meeting room, waiting for their editor MICHELLE JANG (Choi Soo Rin). Three girls start gossiping about the name "Jeon Deok Ja;" apparently, before she was the chic and stylish "Michelle Jang," their boss was "Jeon Deok Ja" – a totally unfashionable name for a fashion magazine editor. Mi Roo tells them initially to shut up – until she asks, "Who's Jeon Deok Ja?"
In comes Michelle Jang, and the girls quickly take their seats. One of them whispers the answer, but oblivious that she is, Mi Roo starts laughing her butt off. Everyone else squirms in their seat as Michelle waits for Mi Roo to finish laughing and turn around.
AWKWARD.
Michelle begins the meeting as if nothing happened and receives updates on everyone's articles. When it gets to Mi Roo, she says, "Professor Oh Min Kyu just left suddenly!" Of course, Michelle doesn't believe that – didn't she check the schedules? She assigns the article to someone else, and then announces that they'll be having a new sex column through the writer "Sofia." This "Sofia" is hard to communicate with, so she assigns the writer to Mi Roo to handle. Mi Roo flips through the proposal for the column, and is scandalized to see all the erotic images in it.
After a long day, she heads home with the groceries, calling Tan Ya about her new assignment. Sofia is pretty famous on the web, but Mi Roo isn't too thrilled by it. She tells Tan Ya that she's near her home, but Tan Ya doesn't see her around. Mi Roo takes a good look at her surroundings – she's actually at her (ex-)boyfriend's apartment! Mi Roo hangs up hurriedly and leaves – that was a close call!
The next day, she waits in the cafe for this Sofia, and receives a text message: is she the reporter wearing a knit hat? Mi Roo looks up, and sees a strange lady all covered up – hats, sunglasses, gloves, scarf, big coat. She also communicates via text, while Mi Roo replies with her voice.
I can't tell you how awfully ridiculous and funny this is.
Sofia claims that she's sick, and therefore never got around to writing up her column. Mi Roo: "What!?" She takes a sip from her tea, which shows off the ring she still wears from her ex. Sofia asks if Mi Roo has a significant other, and she quickly says she doesn't. To make conversation, Mi Roo asks if Sofia believes in astrology. Sofia doesn't. Heh. But Mi Roo continues, saying that she believes in the stars. It makes things easier for her – if bad things happen, then it's because of the stars. Sofia puts her head down – out of sadness? embarrassment? awkwardness? A little hard to read emotions when she's not speaking and her face is covered up.
Mi Roo meets up with Tan Ya at a local cafe, and tells her that Sofia is really weird, being all covered up. Tan Ya suggests that Sofia is hiding a secret – maybe "she" is really a "he"?! Mi Roo's too tired for conspiracy theories. Tan Ya thinks she still misses Jin Oh, or why else would she still be wearing the ring. To distract her, she starts pointing out various men in the cafe – is Mi Roo interested in any of them? Mi Roo: "No."
The barista, GWAN WOO (Supernova's Sung Je) comes by and presents a small espresso for Mi Roo, topped with a happy face. She likes him – only because he's such an awesome barista. Tan Ya finally spots a really good looking one – sitting alone at a table, with a horoscope clock fittingly behind him. Before Mi Roo can say another word, Tan Ya is off! – introducing herself and pointing Mi Roo out in the cafe.
How awesome to be the friend that embarrasses the other friend? Mi Roo sneaks out before Tan Ya and mystery guy can get another look at her.
Jin Oh – who is a hotelier by the way – gets a call from Mi Roo's mother. Looks like he can't get away from being called over to Mi Roo's parents' house!
His hotel receives a guest who is all bundled up – sweatshirt, two layers of coats, scarves galore, leggings, and a couple of towels/blankets wrapped around like a skirt. Sunglasses too. It's like Sofia Redux – but we find out that this is a very high-class guest named OH HAE RA (an unrecognizable Bae Geu Rin), who has reserved a suite. The hilarious thing is she walks like an old woman – but on heels. If you're in that much pain – why are you wearing heels!? She can't even reach over the counter for her room card key, and she walks like she's snowshoeing through the marble lobby.
Back at work, Mi Roo is having a hard time getting in contact with Sofia, while her own mother is having a hard time reaching her. She orders Mi Roo to come home that evening, but she refuses to, claiming that she's too busy.
Mi Roo then reports to Michelle about the status of her article. Though she's met with Sofia, she hasn't received anything or heard anything from her since then. Once again – she's at the receiving end of Michelle's ire and impatience, so to save her pride, Mi Roo promises that tomorrow morning she will have something from Sofia – no matter what.
She immediately starts investigating for where Sofia could be by reading some of her blog posts. Sofia mentions a particular restaurant in Yangjae, and Mi Roo excitedly jots down the address. She rushes out the building – only to be met with a police officer and his car.
The police officer asks, "Are you Na Mi Roo?" And he forcefully drags her into the car. Mi Roo throws a fit – does he even know her?! He does – she's Na Mi Roo, a 29-year old writer for Double X Magazine – who happens to be the daughter of his boss.
He drops her off at home – and her mother, a higher ranking police officer, is waiting outside the front steps!! Ha! I love that she uses her pull to get her daughter home.
They go up to the front yard, where her father is barbecuing, and Jin Oh is sitting at the table. Uhm… this will be interesting…
While Mi Roo and Jin Oh shoot death glares at each other, the father makes offhanded comments about them getting married, or practically being a married couple. When they're finally left alone, Mi Roo is furious to see that he's there at her home. It's not like he could have refused her mother though, as he hasn't told the parents yet that they've broken up.
He does become quite a bit of a jerk when he asks for the ring back, because he bought it with his money. Angrily, she hands it back, and there we have Man #1: a Capricorn, scrupulous in every matter of his life, from work to relationships.
Mi Roo heads out – and catches a cab to Yangjae. Along the way, she struggles to keep her tears of heartbreak to herself.
At the restaurant, Mi Roo desperately asks the chef if he ever saw any woman with large sunglasses and all covered up. The chef has no idea who she's talking about, but the delivery man recognizes the description. He sends her to an address to where he thinks that woman lives in.
No one answers the doorbell, so Mi Roo hunkers down for a wait. She calls up Tan Ya – who's out partying at a club – and sadly asks if it's possible to stay with her for a while. She can't go back home to her parents, and she clearly can't go back to Jin Oh. Tan Ya can't hear a single word she's saying, so Mi Roo just says they'll talk later.
Finally – someone comes home! But – it's not Sofia! Rather, it's YI JOON (Lee Yong Woo), who's curious to see why Mi Roo is squatting outside his apartment. Mi Roo is aghast – no way!!! Isn't there a Sofia who lives there? Or lives with him? Yi Joon: "Uh… no." And he quickly escapes into his apartment.
Mi Roo is about to leave – having lost all hope – when the door opens again, and Yi Joon invites her in. Turns out, Sofia just left for Africa!! (Everyone just keeps leaving her!!) It was quite sudden, and Sofia had given the apartment for Yi Joon to use. She had told him about Mi Roo, describing her as an interesting woman who believed in astrology. If he ever saw her, Sofia asked him to relay a message to her: "It's not astrology that determines fate, but rather, people."
That's some food for thought, and Mi Roo notices the pile of books on Africa on the table. She takes out her notebook and asks for his autograph – he's Yi Joon the author, right? She's a fan of his writing! On top of that, she's figured out that Yi Joon is Sofia's younger brother. Heh! He asks her to keep that familial relationship a secret.
As Mi Roo leaves his building, she receives a text from Sofia. It's an apology, and also a note that Mi Roo doesn't really need Sofia anymore… Eh? She looks suspiciously up to the windows. Could Yi Joon be sending this text himself?
She spends the night alone at a karaoke bar, getting even the waiter to sing with her because she's so lonely. At first he's all, "What the hell?" but he joins in zealously. Hee. Mi Roo thinks back to that day when Jin Oh had sung to her during their 100 day anniversary, and presented to her another ring.
Back to the present – Mi Roo cries, while the waiter really gets into the songs.
Drunk, Mi Roo collapses on Tan Ya's bed, but then Michelle calls, checking up on the article, as the deadline is looming. Time for some Red Bull!
Mi Roo sits down at the computer and decides to write the column herself. But – does she know a thing about erotica and sex? Ehhhhhh….
But she goes typing away, and starts thinking about her experience with Jin Oh. (Flash of abs moment!) Mi Roo would usually end up fantasizing about other hotter men, so clearly he's not doing it for her. Rather than an article about love and sex, it's more like a tirade against Jin Oh. But from this furious passion comes an article – and off she sends to Michelle!
Comments:
And here we get our set-up. It would appear that Mi Roo is going to write an article about dating and astrology, which will then evolve into a project of dating a guy from every single astrological sign. Plot wise, I think we're in for a fun ride. What can go wrong with speed dating and hot guys in every episode?!
The drama is very reminiscent of I Need Romance – we have our broken up couple, one works in a hotel, there's an awesome best friend, and it's likely that Mi Roo and Jin Oh will end up together again out of familiarity. However, I would love it if we didn't have Mi Roo end up with Jin Oh. In a way, I'm hoping that this project becomes a process for Mi Roo to find out who she is and stand up more bravely as she faces life. She can end up single, but much happier. As Sofia seems to have noticed, Mi Roo runs away from her problems by blaming it on astrology, when in fact she should just be holding human error and choice accountable.
Or – on a completely shallow note – she can just end up with Yi Joon because it's Lee! Yong! Woo! (And, I keep suspecting he may be Sofia.)
Yoon Jin Seo is quite hyper in this role, which sort of suits the character, but I am a little turned off by all her jumping and flailing. Go Joon Hee is an awesome best friend, and it's lucky for her that she just has to stand by and have fun watching Mi Roo go through so much trouble. As for Ohn Joo Wan, he plays the jerk so straightforwardly. It's easy to hate him, but that makes it more fun for when he eventually makes a change. I'd also love to see him become jealous. Bae Geu Rin shows up more in episode 2 (and she's unrecognizable with her longer hair) but already in the first episode she is super quirky, and I feel that there will be a love line between her and Jin Oh.
I hope people check this drama out – I won't be continuing recaps on this series, but I'll keep a sideways glance at it!
RELATED POSTS
Tags: cable programs, featured, first episodes, Go Jun-hee, Ohn Joo-wan, Twelve Men in a Year, Yoon Jin-seo