Uhm Tae-woong for Equator Man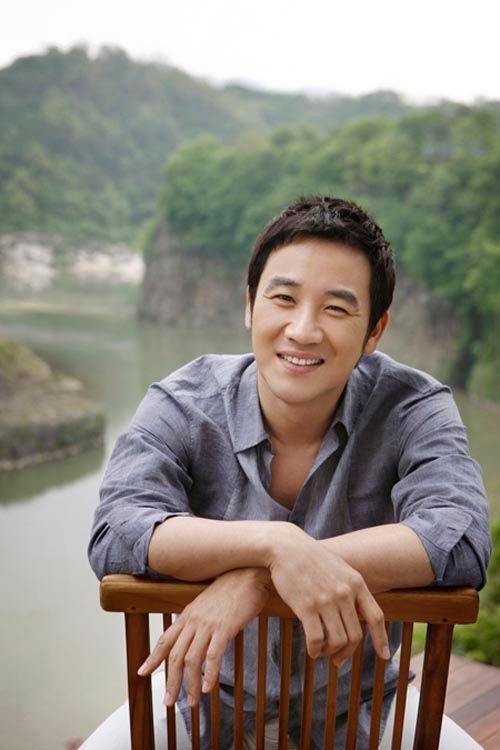 This is a man who knows the meaning of striking when the iron is hot: Uhm Tae-woong has just been secured as the lead in Equator Man, continuing his very busy streak with a drama this time, after completing a string of movies. More Uhm Tae-woong? Love. In a straight-up conventional melodrama? Um…
Uhm has basically been working nonstop for the past year and a half, ever since taking on 2010's romantic comedy film Cyrano Dating Agency, then the 2010 sports-medicine drama Dr. Champ. In the past year alone he's filmed or released three movies: dark rom-com Neverending Story, Crime Squad, and Introduction to Architecture. Plus, there's the whole ongoing 1 Night 2 Days gig he's been doing.
Phew. Either he's been bitten by the workaholia bug (it's a powerful little stinker), or he's figured out how to conduct time, Operation Proposal-style. I wish he'd let me in on the secret so I could eke out more hours in a day, too. Well, and spend time in close quarters with Uhm Tae-woong.
As for Equator Man: Described as the "male version of Women in the Sun" (same writer) and about "ambition and forgiveness, it's a project I've been hearing about for a little while, but was holding off on commenting on because the news was so tentative, the casting so hazy. It seems crazy to me that it would take so long finding a lead, because the drama premieres in March. Yup, next month. As recently as three days ago, there were rumors of Oh Ji-ho taking a look at the role. Yeesh, talk about cutting it close. We don't want a repeat of Me Too, Flower's time-crunch madness, do we?

Baek Sung-hyun
Uhm Tae-woong will play a man whose father's suspicious death still figures largely in his life, who finds himself in a taut rivalry with his friend. Baek Sung-hyun isn't a confirmed addition to the cast, but the 22-year-old White Christmas actor has surfaced as a contender to join Equator Man, playing Uhm's younger counterpart.
Confronting his intense, difficult life with burning heart, our hero turns himself into a successful businessman. Despite the makjang-sounding plot (which invokes that key player, twisted Fate) and the fact that real-life Uhm Tae-woong seems like a humongous dork, I do love him in fierce, tough roles, since he's got such intensity. They don't call him Uhmforce for nothin'.
Equator Man follows Wild Romance on Wednesdays and Thursdays, but there'll be two weeks in between the two dramas while KBS airs a four-part special. Uhm had also reportedly been attached to an upcoming medical drama, Third Ward, but production has been delayed on that drama after losing a broadcaster, so Equator Man will come first. We'll have to wait to see what becomes of Third Ward, if anything.
Via E Daily
RELATED POSTS
Tags: Baek Sung-hyun, Uhm Tae-woong