What's Up: Episodes 17-18
Agh – these two episodes were emotional roller coasters. I felt happy, then sad, then heartbroken, then happy again, then euphorically happy, and then sad again. SHOW – WHAT ARE YOU DOING TO ME!?!? The best part is? Episode 18 had two wonderful performances. I couldn't bear to write about them as two separate recaps…
What?! Jae Hun leaving?! Wait what?! Who has cancer?!
Two bombshells happening to two very different girls, with their male-best friend/sidekick as the bearer of bad news. While Doo Ri is stunned into silence, Tae Hee doesn't want to be the one to stop Jae Hun from leaving. She hates that everyone is using her as Jae Hun's kryptonite, like he'll do anything for anyone if Tae Hee asks it of him. Do Sung practically yells at her – is she ok with not seeing Jae Hun – ever!? again!?
OK – maybe forever is a strong ultimatum, but it sure convinces her to start running with Do Sung to the bus stop in an attempt to stop Jae Hun. He even sweetly holds out his hand to support her so that she can catch up; too bad this may be the only time he can ever hold her hand.
As for Doo Ri, she's hyperventilating while choking back tears, screaming at Prof. Yang's assistants for Sun-Man's address. She may be a crazy lunatic, but deep down, she's shaking and crying, barely able to control her emotions.
Armed with his address, she knocks on his door. Her stalking wonders never ceasing to amaze him, Sun-Man tries to get her to go outside for their talk. Instead, she barges in and starts hitting him again and again. "Tell me it's not true! That it's not cancer! That I got it wrong. That I'm just acting crazy right now!"
Sun-Man's face freezes into a look of concerned curiosity – "How did you know?" So it is true! He confirms it's liver cancer, but he can't get surgery because it's progressed much too far. So yes, he will die. Doo Ri: "Liar…" Sun-Man: "You wanted the truth, so I told you the truth, and now you call me a liar?!"
Do Sung gets a text message from Jae Hun; it's Jae Hun's address, and he quickly shares it with Tae Hee. Now she can go and bring Jae Hun back! But she makes excuses that she is too busy with school work and "Fame" to even go see him. So Do Sung writes the address on the back of her hand and instructs her to relay a message:
"Tell him on my behalf that Soo Bin and I wrote a song together. But don't worry because that song is just pure awesome. And Doo Ri said that she'll be done with the script by the weekend, and we can start immediately once he gets here. Tell him that we haven't given up on him yet."
Jae Hun calls up Detective Cho for one more day as a free man. The detective is suspicious that Jae Hun may want to skedaddle, but then again, would a wannabe fugitive actually call asking for permission for an extra day?
He arrives at the address written on that fateful piece of paper that Mr. Park held on the day he died. An older, prim-looking woman leaves the house, and Jae Hun interrupts her before she gets in her car. Does she know a man named Park Young Soo? Awkwardly, Jae Hun reveals that Mr. Park was in an accident. Worry fills the woman's face, and she asks if Park is ok. Jae Hun: "He passed away…" The woman stumbles against her car.
TAE HEE'S MOTHER! I'M CALLING IT! I'M CALLING IT!
Back at school, Byeong Gun is singing the "What's Up" song a little differently for Soo Bin, with a little too much pizzazz that seems to annoy Soo Bin more. Heh. He spots the Red Tracksuit ghost out of the corner of his eye and chases after him. The ghost disappears (around the corner, not into thin air), and Byeong Gun whispers a small "Thank you." Aw – he knows who his lucky charm is!
Jae Hun heads home, and he spots Tae Hee wandering around near his area. She's freezing, having gotten lost while looking for Jae Hun's home. In typical Tae Hee fashion, she couldn't tell which crooked street was what and kept walking around in circles for two to three hours. Jae Hun calls her an idiot, and immediately wraps his scarf around her. Then he grabs her in a tight hug. I say it's 'cause he missed her. He might say it's 'cause he wants to warm her up.
They go into a small cafe, where Jae Hun buys her hot chocolate. Tae Hee thinks he's going to enlist in the military, but he denies it. (LIES – Im Joo Hwan you bum – your military stint is preventing a What's Up Vol. 2 right now! Ahem…)
He's not going abroad either, but is just going somewhere very far away. Tae Hee assumes he didn't say goodbye because she would have stopped him, but still scolds him for not saying anything. She tries to figure him out – there are moments when Jae Hun is really nice to her, and then moments when he's just so mean. She counts his comment, "You look really bad – are you sick?" as a mean comment, especially since she put on makeup just for him.
Despite her pleas to make him stay, and after relaying Do Sung's message, Jae Hun still refuses to go back. "Before I met you guys, I made a huge mistake. I thought it was a mistake, but it became a huge crime. So I have to go tomorrow and turn myself in."
Tae Hee: "What'd you do? You can't ask them to forgive you? I'll go with you. Do you think I can go with you and ask for forgiveness? I'm really good at that."
*CRAAAACK* That was my heart shattering. Oh, if Tae Hee only knew that he really didn't have to go far to ask for forgiveness. Jae Hun smothers her in another hug, begging her to stop talking. Gah – it kills me how much he loves her.
He waits outside with her in the cold for a taxi, and tucks her hand inside his pocket. Because he doesn't know her cell number, Jae Hun gave Doo Ri's number instead to this "person" who will call for her. Tae Hee asks who it'll be, and he just says to ask that person later. He hands her some money for the taxi fare, because he won't be needing it for where he's going, and sends her off.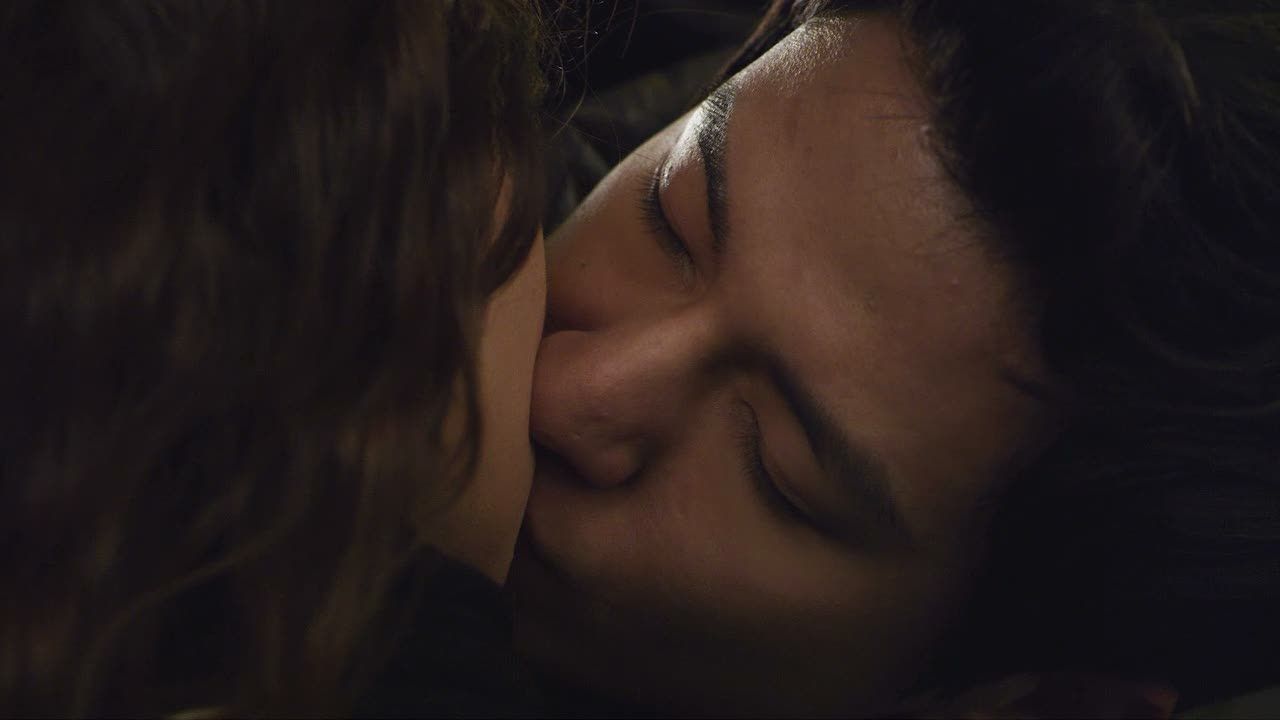 Tae Hee doesn't get into the cab right away, not wanting to leave just yet, so Jae Hun makes the decision for her by leaving her first. Tae Hee slowly steps in, and next thing you know, Jae Hun's back – AND GRABS HER FOR A KISS!
Shocked, Tae Hee slowly closes her eyes, and that's when Jae Hun pulls away and leaves.
As for our other couple, Doo Ri hasn't left Sun-Man's bedside, even though he's already gone to sleep. He wakes up from the pain in his abdomen, and she quickly hands him a cup of water and a packet of pills. Pain slightly relieved, Doo Ri helps him back under the covers, and then writes up a list of things he may need – towels, underwear, pajamas. Sun-Man: "What the hell are you doing?" Doo Ri proudly announces she's going to buy some supplies and be back once the sun rises.
Sun-Man: You're telling me a female student is going to go in and out of a single male professor's house? What will others think?

Doo Ri: You know why I came to college? So I could do whatever I wanted regardless of what others would think. So stop thinking about that stuff. Just go to sleep. I'll be by your side.

Sun-Man: Please don't. Just go back hooooooome!
Doo Ri settles in, sitting beside Sun-Man's bed, but she takes up a bit too much space laying her head beside his bed. Since they're both awake, she asks if he's scared of dying. He isn't, mainly because he's hoping to see Eun Hye there.Doo Ri: "Now I feel like messing it up for the both of you."
She promises to do anything he wants for him because she doesn't want to live with regrets. So Sun-Man sits up. His wish is to see their performance; this class is his first and last class, and he wants to see Jae Hun direct and show his version of a musical. He wants to hear Do Sung and Soo Bin's music. He wants to see Byeong Gun do a solo on the stage. If everyone wins an award, he wants to be thanked in the acceptance speech, that without him the performance wouldn't have existed. And then in the after party he wants to have locally produced Korean meat.
Doo Ri puts a stop to his ramblings – the meat is too expensive! He starts laughing – and Doo Ri realizes he just said all that to distract her from the inevitable, and cheer her up. His real wish? He just wants to see everyone laughing.
Great – now you just put tears in Doo Ri and my eyes. How am I supposed to laugh now!?
As for the "Fame" performance, everyone has broken down into small groups practicing, and Ji Eun watches jealously as Chae Young sings "Remember My Name" (quite out-of-tune if I may add) with the pianist. She storms out of the practice hall, with Chang Jin calling her back angrily to go practice.
Prof. Yang's assistant bumps into Ji Eun in the hallway and notices her crying. Ji Eun: "Am I really that bad of a singer? My singing is that terrible isn't it?" When Chang Jin sees Ji Eun crying, he realizes it's because Ji Eun's part was cut and given to someone else. That "someone" is Chae Young. Ji Eun cries, "Sunbae – just tell me honestly if my singing is terrible. Then I'll just quit singing altogether." Outraged, the assistant asks why her part was cut, and Chang Jin explains that the agency probably just wants to be "creative."
Chang Jin is no idiot. He knows that it's because of Chae Young that the story is being changed around to suit her. I'm so glad he's becoming disenchanted with his idol. He mentions as much to Prof. Yang, but Prof. Yang doesn't care. They're all pros, so they must know what they're doing. Chang Jin insists it's no longer a musical, but Prof. Yang thinks differently. People come to watch musicals because of the star in it, not because of the story. There's no such thing as "art," and even if Chang Jin produces something original in the future, if there is no audience, he'll make no money. And he won't succeed. "Art" is something that is successful and written about by journalists. And to be successful, he needs to bring in a star so the audience will come, and the money will come.
Ew – she is so jaded and totally hurt by the system.
Chang Jin: "So. Are you happy like that?" YEAH, ARE YOU?!
Tae Hee runs back to the practice hall and finds it completely empty save for Chae Young, who is still looking over her song sheets. She quickly gets up to leave, not wanting to listen to Tae Hee chatter on. But Tae Hee has a question for her – is it OK if she just does Sun-Man's musical instead? It's a conflict of interest with their agency, but she'd rather work on Sun-Man's musical. She hopes that perhaps Chae Young can help smooth things over with the agency.
Chae Young: "Do you get everything you want in life just because you ask for a favor?" Tae Hee doesn't, so Chae Young rejects her flatly. But now Tae Hee wants to cancel the contract with the agency. Ever since she signed on, she hasn't felt happy about performing. Chae Young reminds her that if she breaks it, she needs to pay double or triple the amount. Tae Hee: "Can I pay that in installments?" Even if she may be blacklisted from the entertainment world, Tae Hee thinks that if she lies low for several years (and waits for Jae Hun), it'll be OK.
Chae Young thought it was Tae Hee's dream to be a musical star, but Tae Hee replies, "My dream was to be happy. Not to become 'something'."
Doo Ri arrives in her classroom/practice room the next morning and proceeds to text the entire freshmen class to come to the room at 12 noon ASAP. She has the scripts ready. The only people who answer her call are Soo Bin and Byeong Gun (Ha!) She hands them a copy of the musical's script, titled "What's Up Vol. 1." I'm guessing 'Vol.1′ is referencing the students' lives in school, as they are in their first year, and the play is all about them. All the moments from their freshmen year are included, from their conversations in classes, to their imitations of their professors, to their conversations on the posters. The characters' names are also all their names, with just the last names changed.
Byeong Gun immediately sees a problem though. The director is listed as Jang Jae Hun, but he's not around – what to do? Doo Ri says they all have to get him back no matter what; it's an emergency, and it's Sun-Man's last wish. Problem number 2: Where's everyone else? Most of the class is in the "Fame" production, so why would they come and do this musical?
Doo Ri's already ahead of him. She sent the script to everyone, and sooner or later they're all going to be flocking in. They won't be able to resist talking about themselves. She's up for any edits they may have, but any stupid requests will be ignored.
She gets a call, expecting that it's one of the other freshmen calling about the script. However, it's someone else, asking for where Tae Hee is… Doo Ri points the person in the direction of the school cafeteria.
Tae Hee may still be working at the little cafe shop, but she's so distracted that Young Jin suggests she just quit. She has no pity for Tae Hee, whether Tae Hee is tired from practices with her agency, or depressed about Jae Hun's departure. Young Jin notes that every year there's someone who leaves when he/she realizes he/she may not get very far with an acting career; Jae Hun's just another one of "them."
They notice a lady – the one Jae Hun met with – sitting at the cafeteria, watching them. Neither recognize her, but she looks away when Tae Hee looks over. Young Jin sends Tae Hee to tape up signs on the windows, but she struggles keeping them in place while ripping off tape.
The lady comes over and helps hold it up for her. Tae Hee looks at the lady a little closely, but doesn't think too much of it. Lady: "You're Park Tae Hee, right?"
DUN DUN DUN!
They sit down, and the lady hands over a yellow piece of paper. Tae Hee's "friend" (cough*Jae Hun*cough) had given it to her, saying that he picked it up from Mr. Park's accident scene. Tae Hee wonders if the lady knows her father, but she just says she's the friend of the mother.
YEAH RIGHT. What "friend of your mother" would ask to hold your hand and gush over how tiny it was – and then add, "Or so I heard…"? Also, what "friend of your mother" would have the same habit of not being able to drink things that are too hot?
The lady then explains what Tae Hee's mother had done, putting it lightly because Tae Hee doesn't want to hear the cold brutal truth just yet. Tae Hee's mother had been very naive and young, falling in love with Mr. Park despite his poor background. She ran away from her rich lifestyle to be with him, and had a daughter. Those three years together were her happiest, but she had figured that it might be for the best to just leave them if her rich parents ever came looking for her.
It was an unforgivable move of abandonment. Tae Hee's mother even went on to marry another rich man and had another two kids. She probably won't ever come see Tae Hee either, unable to face her. The lady calls the mother "an evil woman."
But Tae Hee is forgiving – even if her mother did abandon her and went on with a happy life, she doesn't begrudge her for it.
Meanwhile, Jae Hun leaves a letter on his mother's doorstep. He apologizes to the door, as she is not home, and then gets on the floor and bows deeply. And with that, he runs off to the police station.
After the lady leaves, Tae Hee spends a moment looking at her father's picture. She knows that the lady she just met is really her mother. "Why didn't you ask her then?" Tae Hee turns around to see her Angel Daddy beside her again!
He's finally back!
Even though the lady had not acknowledged herself as the mother, she still came to see Tae Hee, and so Tae Hee can't hate her completely. Angel Daddy admires at how much his daughter has matured. But Tae Hee is more preoccupied with the yellow piece of paper – she recognizes it from Jae Hun's wallet, when she thought it was a love letter. How did Jae Hun get it? Was he at her father's accident? These questions scare her so much that she'd rather not think about it.
But it just leads to more questions – if the slip was with her father, and it led to her mother, then was her father searching for her mother? Was Jae Hun the cause of the accident? Angel Daddy can't say much else, but advises her to go see Jae Hun. She should seek her answers there, no matter how scared she must feel. Only then can she know what she truly fears.
As for Jae Hun, he records his testimony with Detective Cho. He was racing down the alleyway when Mr. Park had appeared out of nowhere. He swerved and hit the wall to avoid Mr. Park, but Mr. Park must have stumbled backwards anyways. He fell on the road and got hit by the truck.
He remembers seeing Mr. Park's face, but ran away at the shock of the incident. He didn't know if Mr. Park died, so he eventually went back and asked the cashier lady in the supermarket about what happened. The cashier lady said nothing happened; Jae Hun believed it. Little did either know at the time that Mr. Park had actually died.
Detective Cho acknowledges for the tape that Jae Hun made a very immature mistake, but if he reached a settlement, he could get away with a suspension. Jae Hun says he couldn't ask for forgiveness. It would be too selfish to ask for forgiveness over killing someone.
So Detective Cho takes matters into his own hands. Outside the interrogation room, he calls up Tae Hee. It had come to his attention that she went to the same school as the suspect in her father's accident. Would she like to come in and meet him? He is to be prosecuted the next day at 9AM, so she can come anytime before then, before he is taken away in handcuffs.
Silence at the other end.
I feel like Detective Cho is like their indirect matchmaker/destiny-maker…
The freshmen all gather in their classroom to discuss the script for "What's Up Vol. 1," just like Doo Ri had predicted. Sung Jae is in denial that he ever said things like, "Why become an actor if you have money?" so his classmates graciously act out the entire scenario that went down in Sun-Man's class. Byeong Gun then does his impression of Sun-Man, to the delight of all. Ka Young also gives it a shot, but then her buddy Glasses Girl tells her to tilt her chin up higher so that she can look like Professor Yang! (Do I detect a faint smile on Chae Young?!)
And amidst all this fun and teasing, no one notices Prof. Yang standing at the doorway, watching them all.
In his office, Myung Hwan admires the music Soo Bin and Do Sung wrote together, while Sun-Man laughs at the script. Doo Ri even included the bit about some girls being in love with Myung Hwan!
Prof. Yang arrives, wanting to talk, so Sun-Man invites her to sit. He can't stand, being in too much pain, but he hides it from her. Prof. Yang wants him to stop his musical from happening; she called up NYMF and they said one university cannot enter two teams. Sun-Man remarks that she must have called NYMF up personally to tell them to make up such a rule. Heh. I wouldn't put that past her.
She boasts that her team is already doing run-through rehearsals, and will soon do a dress rehearsal. What have Sun-Man's kids done? She turns to leave, but he gets up and stops her, clutching his abdomen. Can't she just read his kids' script once? And listen to their music? If they are to send only one team, how about they send the best team?
He believes in Doo Ri and his kids because they wrote an honest, original musical that's about themselves. Didn't Prof. Yang want to direct original musicals herself? If so, perhaps she can lead his kids to victory. Prof. Yang scoffs – this is all too ridiculous. She heads for the door and Sun-Man calls out that he'll be her assistant director, and clean the stage.
Suddenly he collapses, and Myung Hwan freaks out. "Hyung! Are you ok?!" Myung Hwan yells. Prof. Yang orders Myung Hwan to stop fussing – Sun-Man is just playing a trick on all of them. It's just a trick! Sun-Man can get up now! It's just a trick!
Except…Sun-Man isn't getting up. And Myung Hwan keeps yelling. He even orders Prof. Yang to call the ambulance, and that's enough to unsettle her. Sun-Man…isn't pulling a trick?
The ambulance whisks Sun-Man away in front of everyone, and Doo Ri races over. The EMT's won't let her get on though, and so she resorts to chasing after the ambulance, with everyone watching. Suddenly a car drives up to her – it's Soo Bin, and he's giving her a ride. (OHMYGOD this is awesome…)
Byeong Gun is puzzled, and asks Prof. Yang if Sun-Man is really sick. She's in denial, thinking that Sun-Man had one too many bottles of alcohol.
As Do Sung plays the piano by himself, we see Jae Hun at the station, refusing to see Tae Hee. Detective Cho has no choice but to send her back, as Jae Hun has the right to see – or not see – whomever he wants. He admits he would like to submit documents of a settlement for Jae Hun, and let him go. Tae Hee: "Does settling mean that I forgive him?" Detective Cho: "You want to forgive him?"
Back in the piano room, Do Sung suddenly hears a voice: "Number of people crying, one." He turns around – it's the Red Tracksuit Ghost! Wait – the Red Tracksuit Ghost SPEAKS!?!?!?!
Give me a minute until my world stops spinning upside down…
OK – so yes, the ghost speaks: "Number of people playing the piano, one." Do Sung asks who he is, which apparently is the wrong question to ask. (Really!? 'Cause, uh, I'd like to know who he is, and whether he's a real ghost or not right now…) The right question is apparently "Who is the person crying? Is it in the room next to us?"
The ghost replies: "In the room next to you, there is someone always crying."
Do Sung goes to check it out – and it's Ji Eun. She's singing "Remember My Name," the song that used to be hers before it was brutally snatched away by Chae Young. Do Sung doesn't know how to approach her, so he just takes a seat and listens quietly.
When she reaches a point where she can't go any further, Do Sung picks it right up for her. She looks up at him in wonder, and he smiles as he sings, "I'm going to live forever / I'm gonna learn how to fly!"
So fitting for Do Sung…
She smiles back at him, and the two slowly start singing together. Is this our new couple!? [download]
Audio clip: Adobe Flash Player (version 9 or above) is required to play this audio clip. Download the latest version here. You also need to have JavaScript enabled in your browser.
And then, we see a glimpse of the "Fame" cast practicing the routine for that song. Disappointingly, Chae Young is not dancing, and Prof. Yang doesn't look as proud as you would think. We see Tae Hee writing up a petition for a settlement. We see Soo Bin in the hospital waiting area, bringing a warm drink to Doo Ri. Instead of accepting, she breaks down into bigger sobs, and he quietly sits down next to her.
As Tae Hee writes her letter, Angel Daddy asks her, "Do you remember asking me when you were younger if I ever hated your mother?" His answer then had been "No." Tae Hee assumes this means her father forgave her mother. Angel Daddy: "How can I forgive her when I never hated her?"
It's a logic she can apply towards her feelings for Jae Hun.
And so when Detective Cho settles in at his desk for the night, he sees a handwritten statement from Tae Hee asking for Jae Hun's release. She wants him back, and directing the musical. She just made Detective Cho's life easier!
The next day, Prof. Yang arrives at the hospital. She knocks on his room door twice, but there's no answer. She reaches for the handle, then thinks better of it and turns to leave… 'cept Sun-Man is standing RIGHT THERE! Haha – "Two knocks and you give up?" He must've come back from the potty…
She wants to know if he's really sick. "You mean, my cancer?" Sun-Man smiles. Oh yeah – that's guilt written all over her face right there!
He's disappointed she has no flowers for him, or juice. "Flowers are not allowed in patient rooms!" she cries defensively. "And I didn't know what juice to bring because I didn't know your condition!"
Sun-Man: "I was just trying to say thanks. For coming to see me. Now can you do me a favor?"
He opens the door – Doo Ri is sprawled over half his bed! Hahahaha – he wants Prof. Yang to take away this little pest. Prof. Yang tsk-tsks his ability to continually break women's hearts, and Sun-Man is surprised. Of all the people who know he's dying, she is the only one who refuses to be nice to him and grant him his wish!
Grudgingly, Prof. Yang says, "Say it. If you have any wishes." Sun-Man's face lights up in pure joy. But! She has conditions – he only gets one wish, and he can't use the kids' performance as a wish.
Sun-Man: When you were in a play, you came out as a drummer once, right? I want to hear you play the drums once.

Prof. Yang: You're crazy right?

Sun-Man: It's a dying man's wish.

Prof. Yang. It's been over ten years since I stopped playing the drums!

Sun-Man: Even though I'm dying?

Doo Ri: (Raising her hand sleepily from the bed) I want to be a part of this too.

Kaedejun: (Raising her hand through the computer screen) Me three!
Sun-Man is discharged from the hospital, and escorted by Do Sung and Byeong Gun back to the school. Doo Ri is waiting for him in the hallway, and they share a special smile.
They host a special performance of 4 Non Blondes' "What's Up" for Sun-Man. (How freakin' appropriate is this song title…) Vocals: Doo Ri. Guitar: Byeong Gun. Bass: Some other student I don't care about. Drummer: YANG SOO JUNG! I love that she rocks big, bushy hair as well! [download]
Audio clip: Adobe Flash Player (version 9 or above) is required to play this audio clip. Download the latest version here. You also need to have JavaScript enabled in your browser.
(Is this really Im Joo Eun's voice? Because shivers just went up and down my spine… She sings the song with someone else though, someone unseen for the soundtrack.)
Comments:
I started out episode 17 with a feeling of dread and sadness. I ended it with anticipation. I started episode 18 feeling hopeful. I ended it with absolute happiness – and dread. Sun-Man's mortality is becoming all the more clear with each passing hour.
The themes pounded into our heads with these two episodes is, "What is the path to happiness?" For some, it's a career in entertainment and musicals. For others, it's to be happy. For some, it's to be able to perform and act upon one's passion. For others, it's to see others be happy. A lot of our characters have grown so much, going from selfish students thinking about themselves and their futures, to adults who have realized that seeing others happy and safe is like being happy themselves. It's pretty obvious where Tae Hee, Sun-Man, Doo Ri, and Ji Eun find their path to happiness. What I love is seeing Prof. Yang and Chae Young being challenged by that question.
Chae Young is still her self-involved self, though she knows that she's slowly losing control, and therefore is only grasping at her path of fame and fortune even more desperately. The two episodes' mini arc is centered around her. She acts out a scene with a hoobae, played by none other than Hwang Sun Hee. (Did she and Oh Man Suk meet while doing this, because yunno, it just makes the Six Degrees of Wild Romance game so much more fun…)
Hwang Sun Hee's character slaps Chae Young in the scene, because Chae Young is playing the bitchy second-female-lead, but when the director calls "Cut," Sun Hee doesn't bother apologizing. She just waits for the make-up artist to come do touch-ups. What's worse is, the director then asks Sun Hee to slap Chae Young harder! More realistically!
Suffice to say, Chae Young is a grumpy gal when the shoot is over. But the day isn't over yet because when she arrives at the parking lot – she finds her luxurious van has been replaced with an old, ratty one per director's orders.
Her life as a movie star is starting to suck. Wait til she gets found out as a fraud onstage.
As for Prof. Yang, she doesn't believe happiness comes from creating something that you're passionate about. She thinks happiness comes from tangible, monetary success. It's so sad, especially since Chang Jin still dreams of directing all original musicals. It's interesting that later, Sun-Man calls her out for having the same exact dream. It just shows how jaded she is. I hope that seeing the kids have fun with "What's Up Vol. 1," and facing Sun-Man's mortality might be a good wake up call for her. Life is too short to think about monetary success. If only she did what she loved, she could probably die a little happier.
On another note, we get Tae Hee's backstory with her mother. It doesn't end on a happy note, and is quite open-ended. I'm glad they didn't try to stick a neat bow on it, but it definitely helped tie her past back to her present conflict – that of Jae Hun killing her father. I also loved seeing Soo Bin's moment of tenderness towards Doo Ri. I'd like to think that working with her on the musical has made him a lot warmer towards her, and also more human-like… instead of sleeping and composing all day.
RELATED POSTS
Tags: Daesung, featured, Im Joo-eun, Im Joo-hwan, Jang Hee-jin, Kim Ji-won, Lee Soo-hyuk, What's Up