An introduction to tvN's Marriage Plot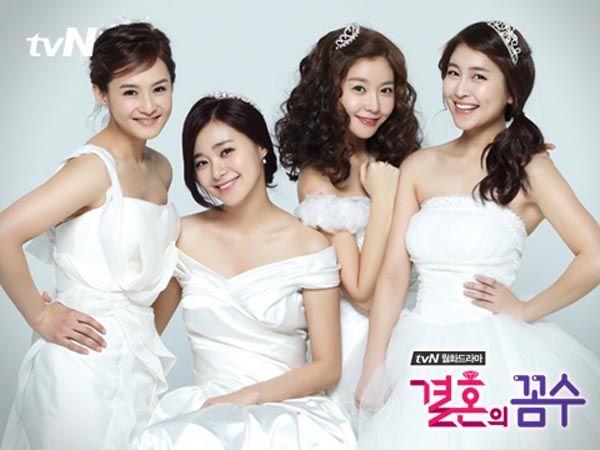 Cable channel tvN is about to premiere a new romantic comedy, so let's get to know the world of Marriage Plot, or Wedding Scheme, or any other combination of those words. As you can tell from these stills, there's a huge emphasis on weddings/marriages; it's a bit of matrimony overload as far as promos go, but effective for the fact that I'm never going to forget what this drama's about. It won't let me.
The show stars Kang Hye-jung (Miss Ripley) and is centered around four unmarried sisters in their thirties. Their mother comes from the Mrs. Bennett school of mothering and is determined to send them all down the aisle, and goes to extreme lengths to ensure that happens. She sets her sights on a few bachelors and gets her plot in motion…
If you've been watching tvN shows like Shut Up, you've probably already seen these teasers, which take the conflict to a metaphorical level. At least, it had better be metaphorical; this drama isn't aiming to be Myung Wol the Spy Gets Married.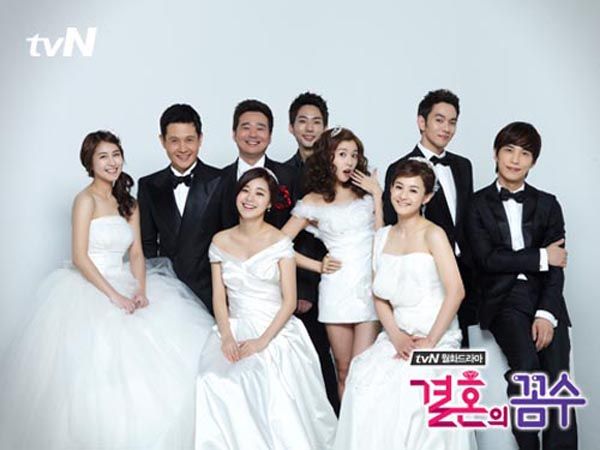 In the first teaser below, Kang and her leading man Lee Kyu-han pull pistols on each other and say sweetly, "I love you." "I love you too."
The second teaser gets more symbolic with the whole dragging-the-groom-to-the-altar theme. Gives new meaning to the term shotgun wedding.
So it's the third trailer that actually gives a glimpse at the story, with Kang Hye-jung labeled as an alpha girl who's always single, and Lee Kyu-han the "pure macho" chaebol man. The words crossed out read "love," "dating," and "marriage" — it must be hate at first sight. But then flashes the word "cohabitation?" That's the scheme brewing in Mom's head, who's determined to reel in a few nice sons-in-laws.

Now, for our characters. Kang Hye-jung plays Gun-hee, a 32-year-old careerwoman with no interest in marrying who's the second daughter of four, whose mother runs a boarding house. She's ambitious, selfish, competitive, independent, the epitome of the "gold miss" — single and lovin' it.
She gets paired with Lee Kyu-han, a 32-year-old chaebol son to a food corporation president who happens to be one of Mom's lodgers. He's got some smarts and skills, but he refuses to do anything he doesn't want to do. So, pampered rich boy, even if he really is a big softie underneath the sly exterior.

Lee Young-eun (OB-GYN, While You Were Sleeping) plays the eldest sister Sun-hee, the sweet and maternal 33-year-old unni who raised her sisters after Dad died and Mom had to work to keep them afloat. Because of that, she has a bit of complex about not having lived her own life.
She gets paired with Lee Min-woo (Princess's Man), who plays 35-year-old Jang-won, another boarder. Ha, I love that Mom's dipping into her client base for sons-in-law. Jang-won is a "returned single" (aka divorced or widowed) stunt director, and painful memories are why he keeps love at arm's length.

Third in line is Kim Se-jung playing 24-year-old Min-jung, a fun-loving, vivacious material girl who loves designer clothes and men with money. At first it's purely a one-sided attraction that brings Soon-dol closer (Seo Jae-kyung), the 30-year-old club-hopping, rap-loving city man whose looks totally contradict his personality. He likes Min-jung, but she's pretty picky about looks… until she finds out that he's the only son to a rich real estate businessman in the States.
On the other hand, there's good-looking Se-won (Kim Jae-deuk), a 24-year-old playboy partier who spends money freely and gets into accidents left and right. He ends up moving into the boarding home when his troublemaking ways get him kicked out of home.

Last but not least is Park Min-ji playing Min-ji, the 21-year-old maknae daughter who's a cynical old soul, wise beyond her years. She doesn't have a romantic partner yet, but she does have a crush on unni's man Jang-won (Lee Min-woo). I'm less worried about this turning into a huge drama because of the age gap; she's still a kid compared to Jang-won (35) and her sister Sun-hee (33), and it's likely her interest in the stunt director stems from her own dream to be a film director. For that reason, she goes around with a camcorder in order to shoot a family movie and sticks her nose into everybody's business.
Sounds light-hearted and cute. Marriage Plot premieres on April 2 and airs on Mondays and Tuesdays.
Via Star News
RELATED POSTS
Tags: cable programs, Kang Hye-jung, Lee Kyu-han, Lee Min-woo (2), Marriage Plot