Full House 2 lands its stars in a pit
So here are some stills from Full House 2, the drama that I still can't quite figure out. Like how it's going to be related to/spun off from/relevant to the original Full House entity. Or why it has an airdate in Japan (May 2012) and has sold rights to China, but hasn't yet fixed plans to air in Korea.
The stills feature Noh Min-woo (Rock Rock Rock) and Hwang Jung-eum (Can You Hear My Heart) as the two leads, who get stuck in a grave and covered in dirt, looking pathetic. The plot that leads them there: Noh Min-woo plays the big star who travels to the woods for an outdoor photo shoot, while Hwang Jung-eum tags along as his stylist. She falls into the pit while searching for the cat she holds.
Since Rain played the cocky movie star in the original and Song Hye-gyo was his live-in maid/contract bride, I'm guessing we'll preserve some of that bickery dynamic with these two. I'll say this for Hwang Jung-eum — she is a chameleon, looks-wise, always changing things up and transforming her image.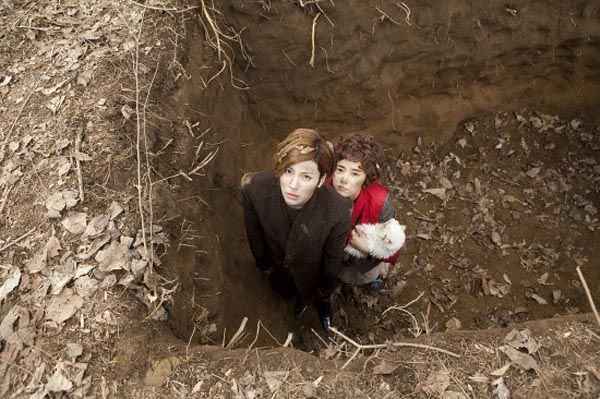 The original was big enough international Hallyu hit that you'd figure anticipation would be equally high at home — after all, the show did capture 40%+ ratings when it aired in 2004. Caveat: That was back when television shows as a whole got higher ratings all across the board (and numbers in the mid-teens were considered a disappointment rather than a success). Caveat to the caveat: 40% is still pretty damn high, in any context.
So I'm curious why we haven't heard more consistent news about the show, or why the buzz isn't higher. There are bits and pieces of information out there if you do some digging, but a production like this should be doling out the promotional goodies readily, shouldn't it? And you'd think a station would be eager to snap up the show for its own. I'm confused, and it makes me wonder what's wrong with the show.
Also starring are Park Ki-woong (The Musical) and Lee Seung-hyo (Queen Seon-deok). Full House 2 will air on TBS in Japan. The production heads to China later this month to film abroad.
Via Osen
RELATED POSTS
Tags: Full House, Hwang Jung-eum, Noh Min-woo, sequels