Lee Yoon-ji gets in touch with her inner princess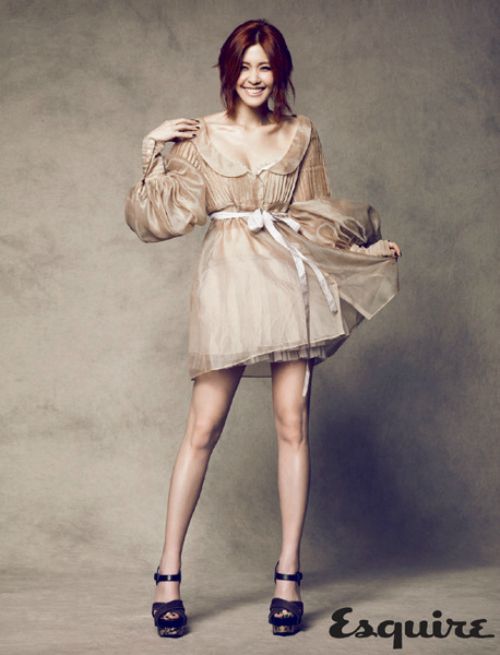 Aw, I love Lee Yoon-ji. And she looks beautiful here in a shoot for Esquire in frothy, girly dresses that I want for self. She's long overdue for her entrance in the new MBC drama The King 2 Hearts, where she plays a princess who calls Seung-gi "oppa."
Yeah, you read that right. She's playing Jae-ha's younger sister Lee Jae-shin. The age-casting on this drama is so wonky it's comical, but at least the gap isn't as large between Lee Seung-gi and Lee Yoon-ji, even if she's technically the noona. When Lee Sung-min showed up to play the hyung, I honestly had to pause and look it up to be sure. He's a great actor (and awesome for the dark comedy tone) but he looks like Seung-gi's dad, with the nearly twenty-year age gap. At least his character's a father figure?
Anyway, Lee Yoon-ji plays the youngest sibling, Jae-shin, who is in current drama time studying abroad in England. She enjoys a carefree life, much like Jae-ha's used to be, pre-army and goin'-north-of-the-DMZ days. (Shouldn't that be a song on the OST: "DMZ Dayz"?) She returns to Korea for her oppa's engagement, bringing her back into the thick of the family drama. Her character is apparently harboring some traumatic memories, described as fragments that bring her panic, but also hold the key to the future of the country. Hm. Can't wait till she makes her grand entrance, fragments or no, 'cause she knows how to bring the funny.
The King airs Wednesdays-Thursdays on MBC, and her spread in Esquire will be out in April.
Via My Daily
RELATED POSTS
Tags: Lee Yoon-ji, photo shoots