Operation Proposal: Episode 10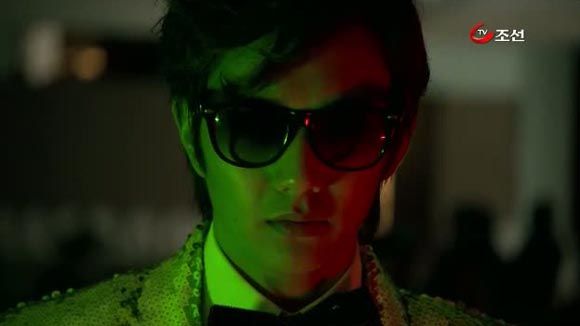 This episode rocked my socks off. Baek-ho finally makes his declaration, Tae-nam steps it up, and Yi-seul gets a worthy rival where it's one tense filled moment before a cat fight bursts. 'Cause this is kdrama-land. You need a love square to even everything out.
EPISODE 10 RECAP
Baek-ho revs up to pitch the riskiest ball in his life, and Yi-seul waits with great anticipation in her eyes. He throws it, and it cleanly knocks the bottle from its post.
Yi-seul smiles (in relief?) and Baek-ho excitedly confirms that he hit his mark. She walks up to him and flicks his head, saying that he should reserve his magic for the tryout than wasting it on a joke. But if you thought she was being harsh, she turns away with a small smirk.
"It's not a joke," Baek-ho calls after her. "And I'm not kidding around. I'm going to pass this test, so instead of being my friend and my manager, will you date me for real?"
Tears start to form in Yi-seul's eyes as she takes in his proposal and she answers, "No. I don't want to be just your girlfriend." Dejected, Baek-ho hangs his head.
Yi-seul continues, "Like now, I want to be your friend and your manager…and…" She pauses, smiling, "… your girlfriend." Baek-ho can hardly contain his giddy excitement and instead of hugging her, he rushes to the car to grab his training gear.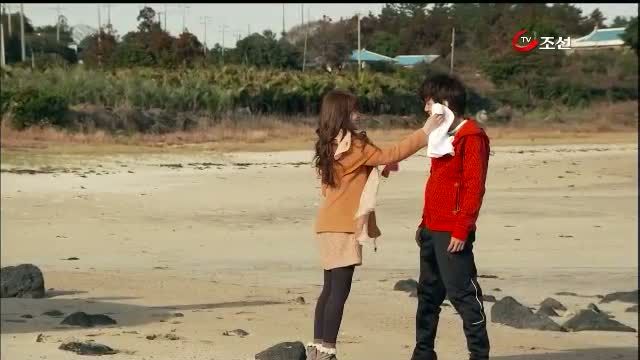 There's 8 hours until his test so he's got to be in tip-top shape. He runs on the beach, practices agility exercises and strength exercises. Just make sure you get back to the field on time too Baek-ho!
Meanwhile, Chae-ri gets a call from the deadbeat while she runs with Tae-nam by the Han River. She gets called out to eat but declines the offer since she has 'work' to do (Aw, are you hinting that you like hanging out with Tae-nam). Not surprisingly, petty boy hangs up.
It tugs at her and decides to leave, but Tae-nam calls after her, recalling Baek-ho's words. "Don't go."Chae-ri reminds him that it was him who said that she should see it through to the end, and now he's flip-flopping on his words.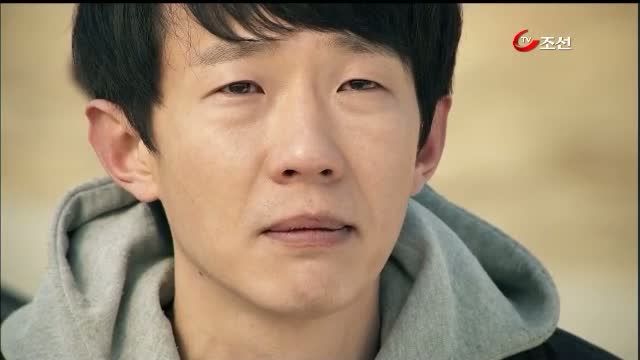 With a confident and serious tone, he confesses:
"Truthfully, yesterday, last year, three and five years ago, I wish you didn't go to him. You're not just any woman, Chae-ri. To me, you're a symbol of my youth. I know – you're a flower I can't have. But you're the one I admired since my youth. Even though I couldn't have you, I thought it was enough to see you happy from the sidelines. But I don't think this is right. This is not making you happy."
Falling to his knees, he breaks, "Don't be a girl who gets called around. Don't meet guys who'll use you and curse you. Please don't get involved in a relationship that will make you cry. Don't go. Don't go, Yoo Chae-ri. Don't go to someone like him ever again."
It's earnest and heart-breaking and before Chae-ri can respond, her phone rings again. Thankfully, she ignores it.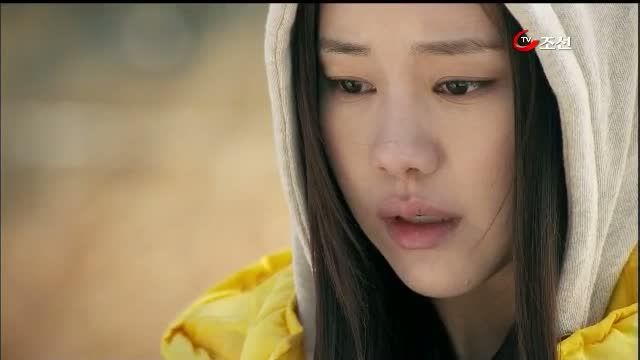 Chae-ri tells him not to get any wrong ideas by thinking things will change between them because she's going to listen to him. She instructs him not to kneel in front of anyone else…'cause it won't make a difference since he's so short.
Wiping his tears, her words effectively gets Tae-nam to smile, saying he'll just wear shoe lifts instead, and they happily run down the path together.
HA – who knew that being a pitcher could also mean you could be a neighborhood hero? A couple of thugs snatch Yi-seul's purse and zoom off. And Baek-ho, who takes the world's fastest bathroom break, returns just in time. He aims straight for the guy's head, and both guys topple over on the bike.
And Yi-seul gives Baek-ho a thumbs-up? Stopping bad guys = good. Giving bad guys a concussion = questionable.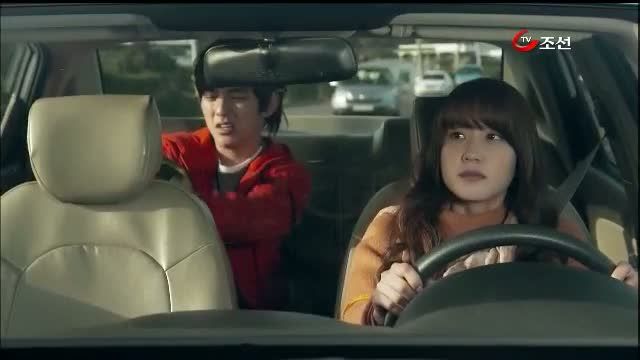 Baek-ho tosses the keys to Yi-seul to drive, and she balks when he starts taking off his clothes (rawr?) in the car. She stammers why he has to change in the car, and he argues that he can't arrive all sweaty to his tryout. If she's uncomfortable with it, she can quit being his manager.
She stutters no and tells him to get changed right away. And I don't blame her for sneaking glances in the rearview mirror while she drives. The best part is that when he's done, he declares that he's going to take a catnap in the car and that she should keep her eyes on the road. HA.
She swerves the car in response.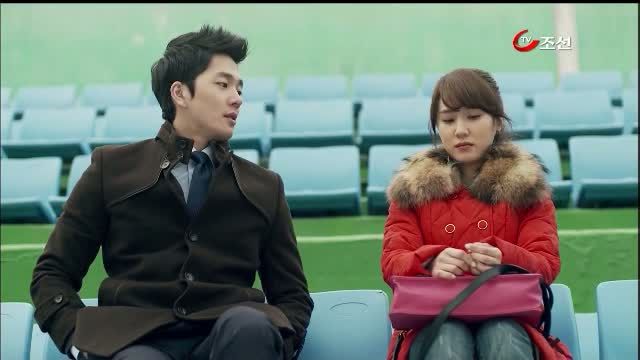 Jin-won pulls Yi-seul aside, having heard that Baek-ho will also be trying out for first string. He hopes that he'll do well, to which Yi-seul assures him that he will.
He interrupts her when she brings up the previous night, and admits that it wasn't a mistake; he made his thoughts, feelings, and intentions about her clear ever since his confession at the amusement park.
So he neither regrets telling her nor has any thoughts of taking his words back. Hm, interesting – I guess this means that she rejected him that night.
Yi-seul apologizes and Jin-won picks up on the message, asking if that means she still can't give him the answer he wants. She answers truthfully, "Yes."
Jin-won assures her that she needn't feel sorry about it, and placing a hand over his chest, reminds her that she'll always be in the corner of his heart. He gets up, saying that they have to cheer Baek-ho on for the most important moment in his life thus far.
Baek-ho gets called to the mound, and his friends adorably cheer him on from the sidelines. But Yi-seul is nowhere to be found.
We cut to Yi-seul praying by herself in an empty corner of the stadium, and footsteps echo down the hall towards her. As Yi-seul rises to hear the news, Baek-ho's uniform falls to the ground.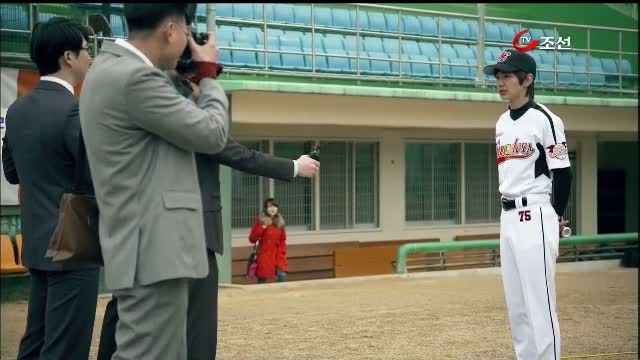 A reporter asks how Baek-ho feels to have finally made it to the major leagues after years of being in the industry. Baek-ho answers that he's thankful that he can play the sport; that once you've lost something precious to you, you have a vigilance to hold onto it. He vows to be a great player.
Yi-seul runs in to catch the tail-end of the interview and Baek-ho waves at her. But the photographer asks to take a picture and flash, it's back to the future.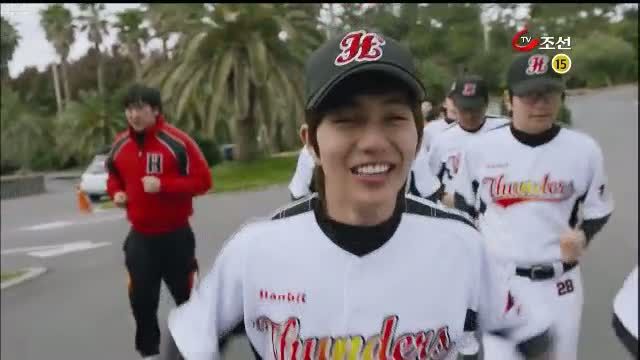 We're back in the middle of spring training, and the team is on Jeju Island. Baek-ho excitedly jumps in the middle of their run, happy that he's remained on first string. His hoobae looks at him in confusion – it's freakin' cold here and they were almost going to go to Hawaii.
Undeterred, he recalls his confession to Yi-seul and thinks to himself, 'Did I really do it?' Throwing his hands up in the air, he shouts, "It worked!"
Only he finds that Yi-seul is still with Jin-won and his face falls. Tae-nam and Chae-ri meet up with him – they're here to check out wedding venues and arranged it so they could see their friend.
Baek-ho blusters, "W-w-wedding?!" and they say yep, is he surprised that they're getting married before Yi-seul and Jin-won are? Those two do everything by the book, and for them, they agree that if you're going to get married, you should just do it – clean and simple.
Tae-nam mentions that it's funny that they're all back here again, given what happened three years ago. This was the place where Baek-ho and Yi-seul broke up because of another woman – doesn't he remember? Tae-nam gives Baek-ho a cute pat on the butt before the couple leaves.
Baek-ho sits in the lobby, taking in the blow that he and Yi-seul didn't last after all. He imagines Yi-seul's façade waiting for him alone. He'd been in another part of the hotel, drinking. Someone rip the bottle from this man's hand. Hasn't he learned that there have only been negative consequences whenever he drinks?
So Yi-seul had traveled on her own, and while hiking, she met Jin-won serendipitously. Baek-ho wonders if fate tore them apart or if she and Jin-won were destined to be together.
The thought bothers him during practice, and afraid that the coach might lecture him for having an off day, his baseball hyung suggests that he take a walk to cool off.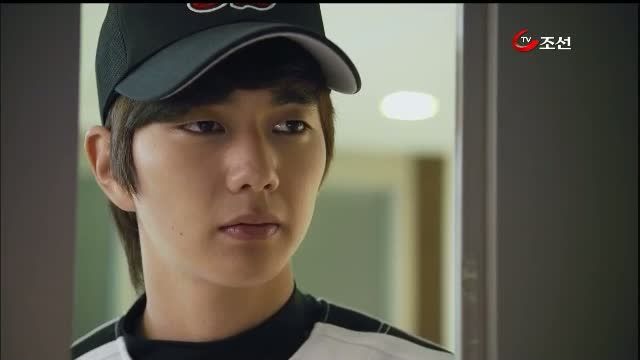 He spots a sign directing him to a workshop Yi-seul is leading. Just outside, he wonders how even though he confessed and became a pro baseball player, the other things have changed in his life.
But one thing remained the same – the fact that he and Yi-seul are still apart.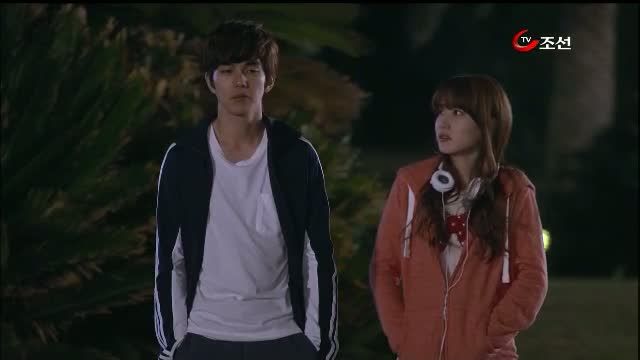 Unable to sleep, Baek-ho runs outside when he hears Yi-seul singing out loud. They walk together for a midnight stroll. She muses that this place gets better with memories and he immediately apologizes, thinking of the past.
She says that she said it lightheartedly and before he can bring it up, she cuts in that she's grateful he stood her up three years ago, or else she and Jin-won would have never gotten together.
She continues that he should give up on the sliders and the other pitches that are too strenuous for his body. The baseball advice and lecture isn't what Baek-ho wants to hear nor what he wants to talk about and he finally bursts, "I don't want to hear that from you!"
Yi-seul is shocked at the sudden outburst, and Baek-ho apologizes, alluding that the advice isn't what he's talking about. The sentiment registers in her head, but she apologizes for trying to give him coaching advice and promises not to do so again.
Still reeling from Baek-ho's burst of anger, she sends him off to bed and bids him goodnight.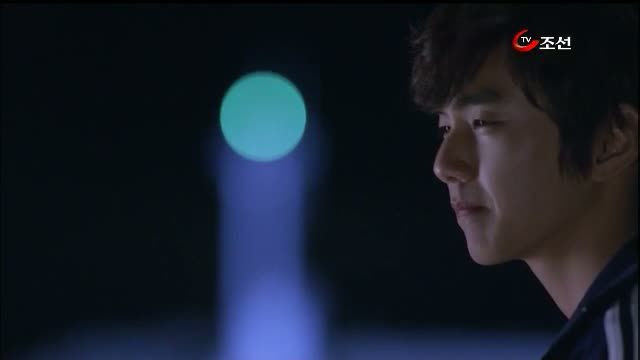 Baek-ho broods by the seashore with a bottle of soju in his hands. But before he brings it to his lips, he has second thoughts and tosses it into the ocean.
Smart boy. Took you long enough that alcohol and you are a bad combination.
"What you really want to throw is yourself, not the soju bottle." The Conductor pipes with his own bottle in his hands. He notes that Baek-ho's expression is different today – he shouldn't be shooting those killer eyes at his lifesaver.
Then, Baek-ho falls to his knees, pleading for the Conductor to help him. The Conductor doesn't flinch and Baek-ho launches into how he doesn't get it: how can he mess up every time? Question of the Day, buddy.
He doesn't understand himself – does the Conductor have meds that can make him smarter? PFFFFFFFTTTTT.
The Conductor reminds him that it's not easy changing destiny and Baek-ho has it especially hard because he's trying to change someone else's heart. Baek-ho pouts that it's too difficult. There, there.
Does that mean Baek-ho's giving up? He immediately says no he won't – he'll do it right this time. He confessed to her, she even said she'd be his girlfriend…
The Conductor hands him another vial and Baek-ho notices that he didn't pay yet, which is when he unearths another signed ball. The Conductor tells him that unlike someone else he knows, he came prepared.
The Conductor teaches that no matter how well the game started, that doesn't mean you'll win. Everything rests on a good finish and it's never over until the last pitch. "Don't forget it. If it starts off easy, it's more reason for you to stay on your toes."
With that, he disappears.
Baek-ho reflects on his memories with Yi-seul and reminds himself that they were lovers once. He was Yi-seul's boyfriend, and she was his girlfriend.
Determined, he drinks…
Well, this isn't a half-bad moment to return to… only that the lips he's kissing isn't Yi-seul's. He lurches back as soon as he realizes, staring at the strange doctor woman he'd been locking lips with moments earlier.
She calmly explains that people call it a kiss (no kidding Doogie) and spews about how the body reacts and changes when people kiss each other. Like how serotonin flows and their heart rate increases.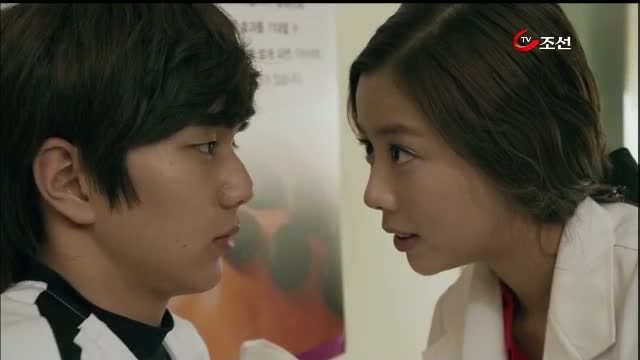 He asks as to why they were just kissing and she retorts that it's because she likes him. It's not the first time she's told him and she asks, "Then why do you play baseball? Because you like it."
She says that though there are a billion reasons why someone could hate one another; there isn't a reason as to why people like each other. This girl could write her own manifesto. She suggests that Baek-ho call her by her first name, Yoo-bin, and that she prefers being called, "Bin-ah."
I know that this is the girl that will drive a wedge between Baek-ho and Yi-seul, but man is she a hoot.
Yoo-bin drops by afternoon practice, demanding to check on Baek-ho's ankle. It's a sprain, and she advises that he rests. Baek-ho barks in response, as does the coach, and Yoo-bin asserts her position as the team doctor. Coach relents.
A younger player taunts Baek-ho about how he caught Yoo-bin's eye. Does he feel like Park Chan-ho because the team owner's daughter fancies him? He makes a jab at Baek-ho for squeezing into the team and Baek-ho loses it, ready to rip him a new one.
Coach stops the brawl before it begins and sends them to do drills as punishment.
The others arrive at the hotel and Chae-ri teases that it must be like a honeymoon for Yi-seul and Tae-nam. After 15 frustrating years, she must be so happy. Yi-seul argues that it's not like that and Chae-ri just smiles, seeing her best friend happy makes her happy as well.
The girls leave to go have fun leaving poor Tae-nam to take care of the bags (and he lifts them all at once, ha).
Yoo-bin tracks Baek-ho in the cafeteria, ignoring his protests that she should leave him alone. If she did, she'd be fired as a doctor for being negligent to her players. She slips in that she looks after the others too, but her heart is hers to give.
Asking why he doesn't like her… is it because he's interested in her? Wait what? Can't follow your logic here, girl. Baek-ho explains that he's focused on baseball, noting that she has no idea how hard it was for him to get to this place.
She says she only wants to help, but Baek-ho clarifies that he already has someone else who does and leaves. Good thing you didn't waver there, but I don't think it's going to stop Yoo-bin.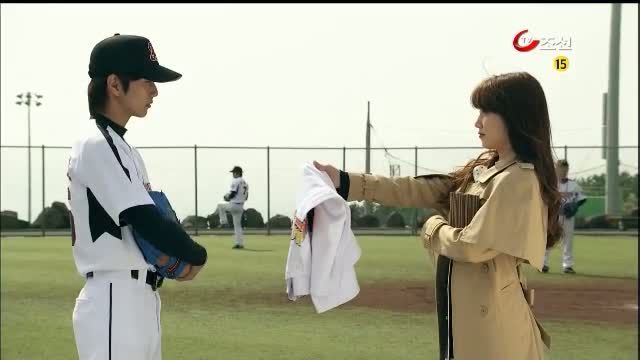 Yi-seul surprises him during practice, teasing that his curveball is more powerful than his slider. She's here to make sure he doesn't cause trouble at his first spring training camp, as his agent. And of course, he's doing a great job, she says with a smile. Cute. His face darkens at the mention that everyone, including Jin-won, is also in attendance.
She hands him a uniform to sign as a souvenir of his first spring training camp. When he gets embarrassed, she tells him to do it or she'll make him, and he readily complies. Yi-seul tells him that they never know – it could sell high at an auction one day.
The idea makes Baek-ho think aloud, "Maybe I should give the Conductor my own autographed baseballs," which perks Yi-seul's curiosity. He quickly dismisses it, but that's another slip, Boy Who Leapt Through Time.
The ladies chat in the clinic after a rogue ball hits Yi-seul square in the back. Yoo-bin thanks her for saving "my Baek-ho," an endearment that doesn't go unnoticed. She's heard that Yi-seul and Baek-ho are childhood friends, and that Yi-seul is like a maternal manager to him. She's impressed by the fact that Yi-seul took a hit for him (har har).
Yi-seul scoffs, "Like a mother?"and Yoo-bin nonchalantly addresses that she'd very much like to get close to Baek-ho. Yi-seul might not always be there to prevent him from getting hurt, but she can take care his wounds if he does. She challenges that a doctor wouldn't settle to be a sports doctor for just anything – but rather she saw something worth doing it for.
Yoo-bin may come off like a dunce at first, but she's quick on the uptake. When Yi-seul asks why she's being told all of this, Yoo-bin figures that this must mean that Yi-seul's not in a position to hear her declaration of war, i.e. Baek-ho's girlfriend.
Finally, she throws her gauntlet: she challenges Yi-seul for Baek-ho's heart, fair and square.
The challenge still weighing on her heart, she silently takes in Baek-ho's worried words over her. He calls her reckless, but she tells him that she saw it first. Baek-ho pulls the "But I'm a man and you're a woman," card and she counters that he's a player and she's someone who protects the players – wouldn't he have done the same for her?
Yi-seul: "I don't want to see you ever get hurt again."
Jin-won compliments Yi-seul on a job well done, but when he pats her on the back, she flinches at the touch. She dismisses his concern about if she's severely hurt by telling him it's an 'honorable injury.'
Baek-ho's distracted during his team meeting, but he perks up about news of a talent show, and the player who gets first place will be granted a wish. Yoo-bin watches him write his wish and she jots hers, "a date with Baek-ho." Why am I not surprised?
There's a mix of players from a sick beatboxer to Coach salsa-dancing. Oh, my eyes. Then Yoo-bin prepares a dance and heads straight for Baek-ho, who sits uncomfortably. By the door, Chae-ri and Yi-seul look on disapprovingly.
BAHAHAHAHA – this might be the most EPIC thing I've ever seen. Baek-ho puts on a show of the Wondergirls' "Nobody" with Chan-wook and Tae-nam dressed in glitzy gold dresses and shades.
Chae-ri wonders what on earth Baek-ho wagered to resort to such embarrassment. Unable to stand it any longer, she joins in, which gets the crowd riled up in excitement. Aww Chae-ri – you luff your friends.
Hilariously, Chae-ri drinks in the attention from the boys in the pool in her swimsuit (as Tae-nam desperately tries to shield her), but Yoo-bin's entrance gets practically a standing ovation and she sends death glares her way, knowing a kniving witch when she sees one.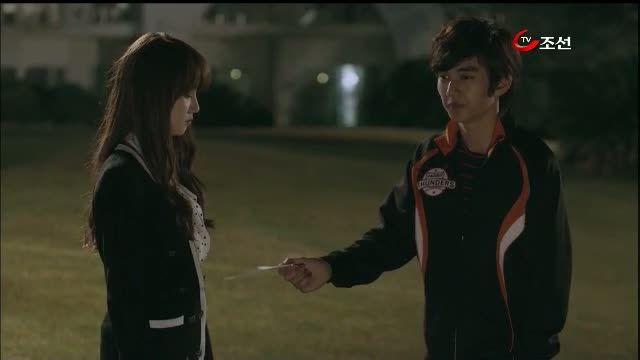 Baek-ho spooks Yi-seul by dragging her away from her work via putting his hand over her mouth. It provokes her temper, citing he sure has a twisted taste and nearly storms off until he tells her she should at least see what he won first. HA – men doing girl idol dances is always a winner.
Yi-seul opens it to read, "24 Hour Break." Baek-ho looks at her and requests, "Give me your time tomorrow."
She protests that they'll all hang out, but he says, no – just the two of them. "Don't ask or argue about what we'll do tomorrow. Just do as I say."
They walk back to the hotel, and shift uncomfortably seeing a nearby couple making out under the moonlight. He tells her not to be late tomorrow and she reminds him that he's the one always late.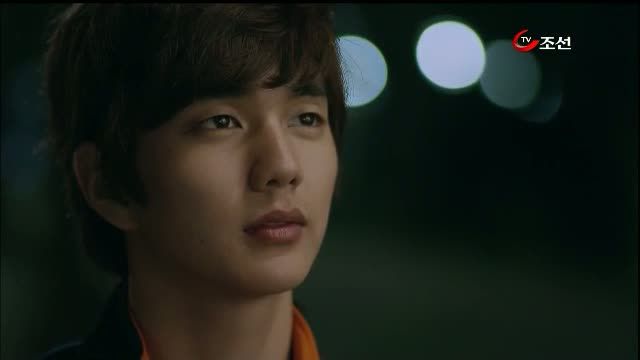 Baek-ho thinks to himself, "This time I won't be late. I won't ever be late again. I won't ever let you go."
This scene however is observed by Yoo-bin. In her darkly-lit room, she peruses photos of Baek-ho on her computer screen and vows, "Just because I met you later doesn't mean I love you any less. I won't lose your heart. To anyone."
COMMENTS
I found this episode to be far more enjoyable than the last, though I admit, it's really the second half I found myself dying of laughter and cringing at the screen. It's not necessarily a bad thing.
A couple of note-worthy characters this episode. Starting off with Tae-nam, I mentioned earlier that I didn't know where his blasé attitude about Chae-ri's suitors came from. After some thought, maybe the vast number of exes and suitors over the years and constantly being passed over led to this dejected and defeated mood. I loved his earnest confession to Chae-ri that though he might not be her ideal man, he wants to see her happy. And sometimes that means not being content with seeing that girl get hurt over and over again. I wonder if he realized in that moment, and for Chae-ri as well, that he could be that man to make her happy. And to his credit, by the time he's confessed his feelings to her outright, she's already warmed up to him, waiting for him to confirm it.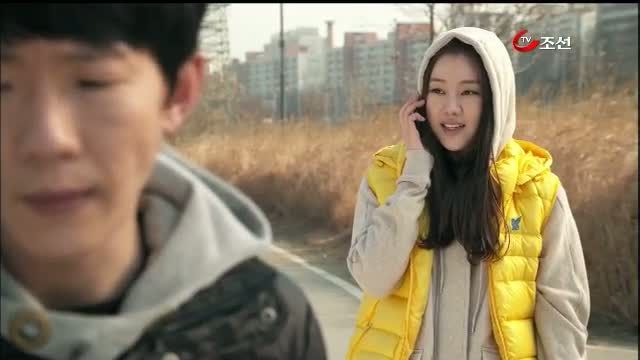 Call me sadistic, but I'm thrilled that Yi-seul now has a rival. I know that I've been shifting the blame to Baek-ho, but he's the only perspective we've been able to pry and pick apart. So for someone to challenge her 'childhood love = forever' perspective is a nice change of pace. It's unfortunate, however, that Yoo-bin is portrayed so animatedly and possesses potentially interesting layers as a character whereas Yi-seul is painted as your classic heroine with a stubborn temper as the only flare.
Yoo-bin comes off as an air-headed beauty, but that girl knows what she wants even if he's someone else's man. She understands her boundaries, but she has no qualms whatsoever about overstepping them. She creates a formidable foil to Yi-seul – both are well-off daughters who are stubborn, but their approaches are vastly different. It's refreshing that the gauntlet's been officially thrown down and Yoo-bin has made her motives clear.
I'm not fully gung-ho on the whole Baek-ho and Yi-seul must be together camp, but if Yi-seul still wants to fight for Baek-ho, be it for love or friendship, she's got a new enemy to face.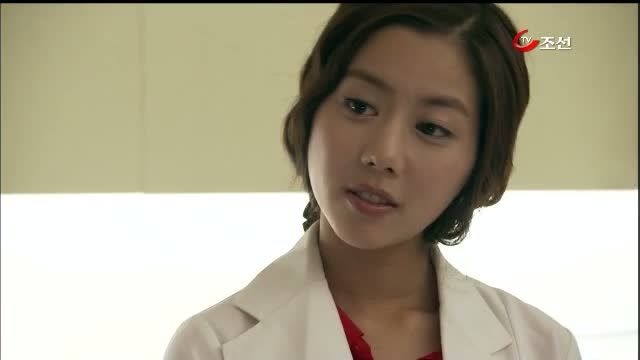 RELATED POSTS
Tags: featured, Lee Hyun-jin, Operation Proposal, Park Eun-bin, Yoo Seung-ho