Operation Proposal: Episode 11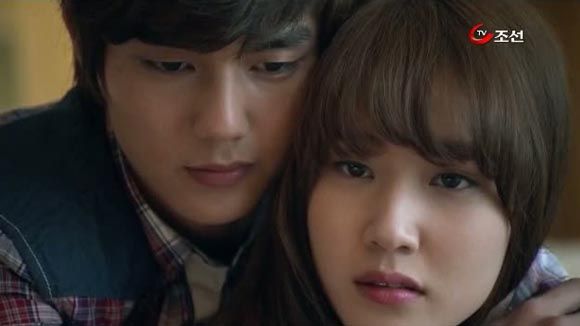 Things are certainly heating up in this episode in terms of romance and conflict. This episode happened to zoom by and left me wanting. Is it weird that I feel like we're moving somewhere but I look back and we're still at square one?
EPISODE 11 RECAP
Early the next morning, Yi-seul and Baek-ho set off on their 24 hour date, riding bikes to the seashore. Yi-seul finds his small kind gestures unfamiliar, like being handed homemade coffee from thermos, since she's usually the one taking care of him.
Baek-ho adorably tells her 'that guy' must be a jerk if she's moved by such a simple gesture. He jokingly adds that she should kick the unappreciative boy to the curb. But Yi-seul argues that she can't – 'that guy' holds a warm and fuzzy place in her heart. He says nothing, the sentiment moving his heart.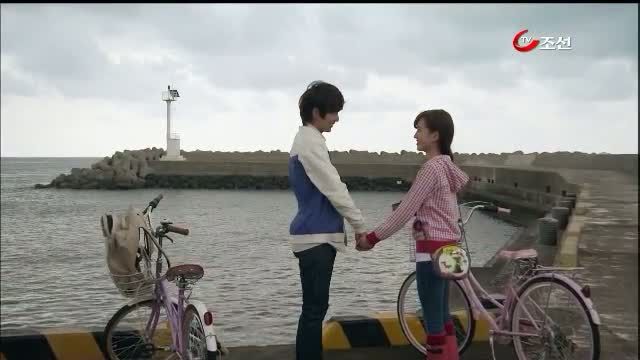 He silently takes her hand in his, interlocking his fingers. With a gentle kiss on her hand, Baek-ho tells her to forget him, as if abandoning his former self. He declares, "There's 22 hours and 17 minutes left. Today, I'm your manager, agent, reporter, and your PR." She smiles, he smiles, we all smile.
Meanwhile, the friends sit over breakfast puzzled that they won't be throwing a congratulatory party for Baek-ho making it to first string. Chae-ri reminds the boys that the two lovebirds are on a special all-day date, and that tonight might be the night that their relationships transitions from friendship into romance.
This bit of news is overheard by Yoo-bin, who butts in asking Baek-ho's whereabouts, pulling her position as team doctor that she can't reach him. Chae-ri astutely clocks her presence and notes that he's on special leave and implies that it wouldn't be one if he could be reached.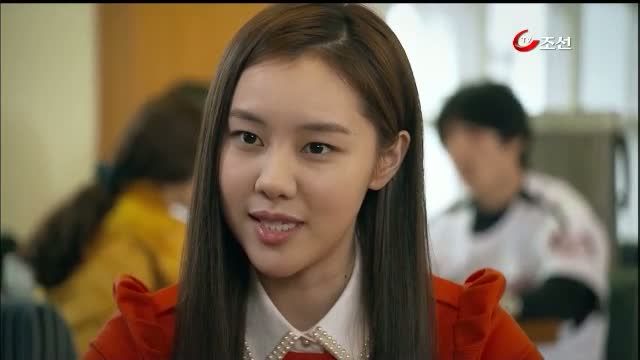 She adds, her voice laced with false nicety, that he might reach his friends or he might not. After all, today's a special day for them – would they want to be interrupted? It's enough for Yoo-bin to back off.
The boys think that Yoo-bin harmless, but Chae-ri utilizes her woman's intuition that she knows flirts like Yoo-bin and it worrisome that she's so attentive to Baek-ho.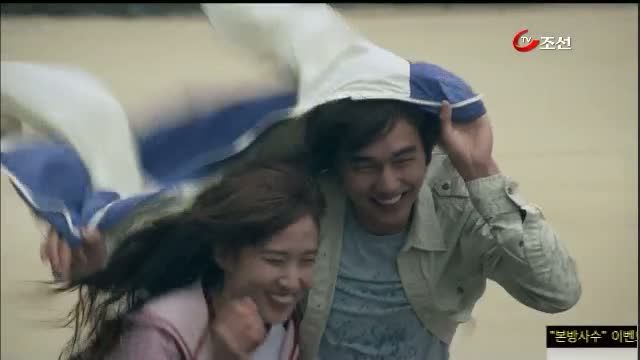 Baek-ho asks Yi-seul to sing the song she was singing yesterday (Make Her Laugh, by Esther). As she sings it, recollections of their childhood flash before us like how he used to write Yi-seul's name repeatedly in the sand. And now, he writes, "I like you," and Yi-seul scribbles in "Idiot."
Their outside beach date gets cut short by a sudden rain shower and they hurry inside. Baek-ho dries Yi-seul's hair with a towel, and takes a moment to gaze at her. Slightly entranced, he leans in for a kiss… and she sneezes, sopping wet.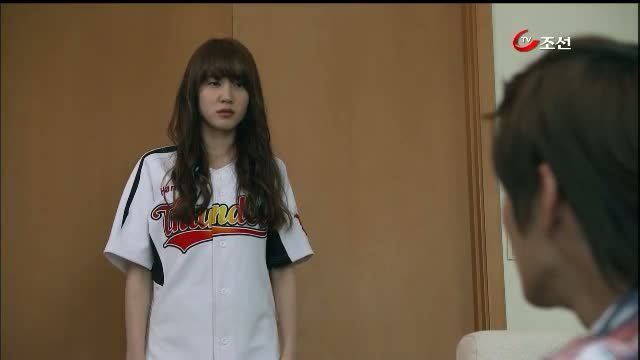 Baek-ho, who is somehow magically dry, rifles through his backpack for her to change into his baseball uniform. Yi-seul is slightly miffed when she comes out and Baek-ho laughs at her, but he assures her it's because the outfit suits her.
It confuses him when Yi-seul casually tosses out that the uniform has a distinct smell. Not necessarily stinky, but a mix of the ocean, grass, and dirt – and smells of him.
But Yi-seul's small cry of back pain recalls how she saved him from that rogue ball and frustration settles in on Baek-ho's face. Yi-seul explains that she's fine, well better than fine. She's honestly relieved that she could protect him from that rouge ball. And Baek-ho effectively shuts her up with a tender back-hug.
Still in this position, he tells her, "I love you."
Yi-seul turns to him, asking him to repeat the words, still in disbelief. With unwavering eyes, he solemnly declares, "I said, I, Kang Baek-ho, love Ham Yi-seul." And this time, Yi-seul pulls him in for a kiss.
They end up on the floor (rawr), and my brain's going to check out for a minute. Or five.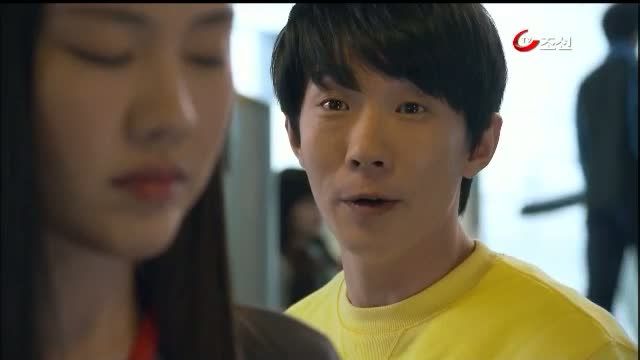 A nosy couple at the gym offsets Chae-ri's mood to work out with Tae-nam. It's not that she's ashamed to been seen with him but is put out by their ridiculous gossip. Tae-nam insists that they exercise here anyway, jumping on a treadmill and having Chae-ri stand by to watch.
It hilariously turns into a competition against his neighbors, steadily increasing the speed as they drop like flies.
Tae-nam finally collapses, acknowledging that he's a fool, and he's not rich, but he loves her away. And Chae-ri shuts him up with a kiss on the forehead. Tae-nam reels in shock as Chae-ri sweetly admits that there's no one fool who can move her like he does. He's unique so she'll keep her eye on him.
Uh, this is NOT the kind of sleepover I imagined. How and when does a makeout session transition to a nail-painting extravaganza? Baek-ho points out that it's usually the guy painting the girl's nails, but she counters that in most cases, the guy a girl loves usually isn't a pitcher.
Her use of "the guy she loves" doesn't go unnoticed and Baek-ho says he's got a more effective method than this. She asks what it is, and he swoops in for another kiss.
And just when you thought that they're about to move past first base… the phone rings.
Baek-ho is called away and Yi-seul sends him off with a salute, telling him not to worry about her. She walks by the beach and smiles at their scrawled scribbles in the sand from earlier that day.
And in a bit of foreshadowing, as the tide rises, it slowly takes the etched love declaration in the sand with it.
Looks like Yoo-bin got her way after all. Originally called away by the director, he's mysteriously missing now and it's clear that the check-up on Baek-ho's injury is an excuse for Yoo-bin to pull him away.
Before he leaves, Baek-ho thanks her for treating Yi-seul, to which she concludes it means he's indebted to her. He nods in agreement, and Yoo-bin jumps at the opportunity that he can repay her now.
She pulls out a cane and hobbles a bit, and Baek-ho asks after her suddenly injured ankle. She plays it off that it just inconvenient for her to get around and asks him if Baek-ho can be her human crutch home. Yeah, I'm betting that ankle's perfectly fine. And even if she was hurt – there are things called crutches, lady. I thought you were a doctor.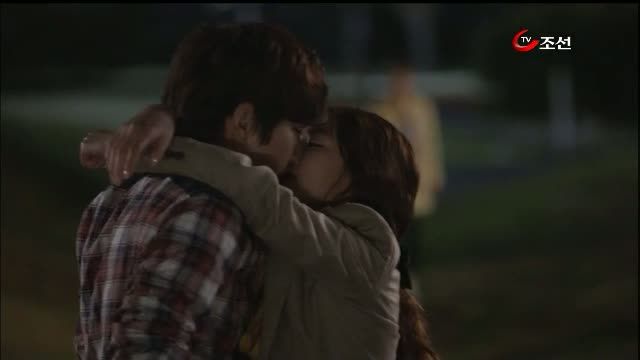 As he carries her home on piggyback, Yoo-bin admits that his back feels just as warm as she expected it would be. Baek-ho stops for a second, uncomfortable with the comment but unable to drop her on the spot. And in the distance, Yi-seul stops dead in her tracks, seeing the two together. Oh, crap.
Yoo-bin is aware of Yi-seul's presence and asks to be let down in plain sight. He does, and she clings onto him. Before he can push her away, she goes in for a kiss. OH. CRAP.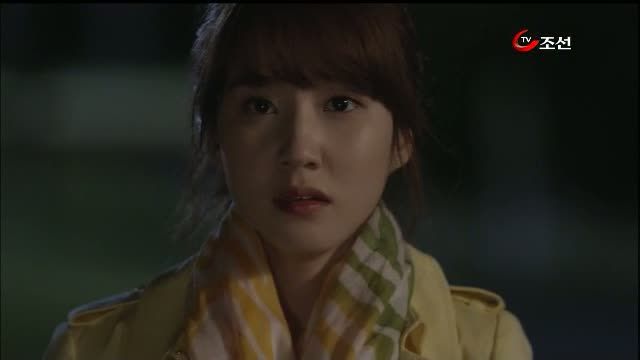 Baek-ho shoves her away instinctively, but it's too late – the damage has been done. Yi-seul runs off, and nearly hit by an oncoming car whose passenger, Jin-won, follows Yi-seul on foot.
Yi-seul reflects alone, Baek-ho's earlier words and actions mocking her now. Her eyes brim with tears as she realizes the extent of Yoo-bin's warnings and challenge. She ignores Yoo-bin's text that she wants to meet with her concerning Baek-ho.
It's in this state that Jin-won finds her and with a worried tone says, "What on earth…made you like this?" Unable to hold her tears back any longer, hurt and betrayal rising to the surface.
She cries into his chest and Jin-won pats her back with a hand of comfort.
After Yi-seul gets her tears out, Jin-won takes her to see the stars. He won't ask her what's wrong but can teach her two remedies for her sadness: crying a liter of tears and star-gazing. She's already cried her liter, so he tells her to think of her place in the universe as she looks at the stars. Doing so, will make her sadness seem like dust in comparison.
But it surprises him that Yi-seul replies that they're so beautiful that it actually makes her sadder.
She asks if he remembers when Jin-won advised her on her high school graduation that she should give someone at least three chances. Though they both know how each other feels about one another, they knew that it might not last forever. Every time they got the courage to show their true feelings, their timing never aligned.
Jin-won tells her that "the show must go on" and the game must continue. Even if she strikes out and the game is over, there is another where she can start afresh.
Her stomach growls, and Jin-won laughs, declaring it's time for her third treatment. He whips up food for her in the kitchen and she eats every delicious bite.
Then as she falls asleep when Jin-won plays the piano, he places a blanket to cover and declares that the last step of the treatment is administered. He watches her sleep, comforting her with a soft pat on her shoulder. Jin-won, can you stop being so perfect? K, thnx.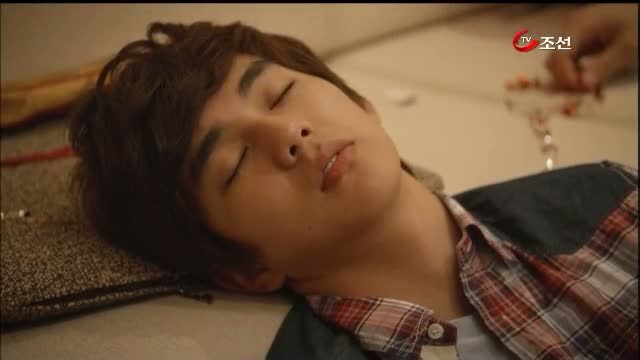 Baek-ho is surprised to be thrown a small party to congratulate him for making the baseball team and he asks where Yi-seul is. His friends thought that Yi-seul would be bringing him herself. And Baek-ho is unable to reach her by phone.
Later, he's too passed out to pick up Yi-seul's calls.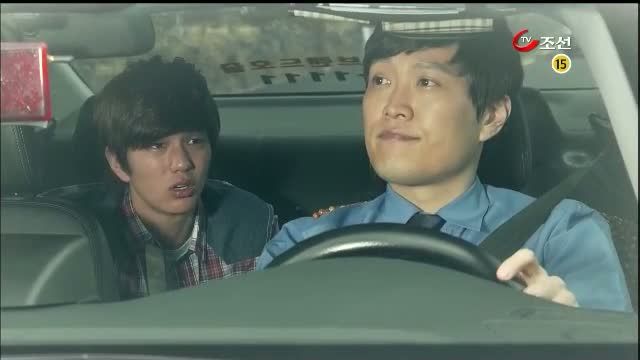 The next morning, Baek-ho hails a taxi, but the driver is keeps to the rules of the road to the T, despite Baek-ho's protests that his life depends on it. Hahaha, and the driver stops for an old man who is slowly inching across the road. Noticing a picture of a famous baseball player, Baek-ho promises an autographed ball and the driver guns it.
At the airport, Yi-seul looks back on all of her memories with Jinwon – from the times he comforted her, to his public love declaration, and his small acts of kindness. Jin-won gets flustered and jokes that she's staring at him as if she's never seen him before.
They head inside their gate to board their flight to Seoul, and Baek-ho misses them by mere seconds.
The taxi driver apologizes for not recognizing Baek-ho sooner and suggests they take a picture together instead. The camera flashes, and Baek-ho is sent back to the present.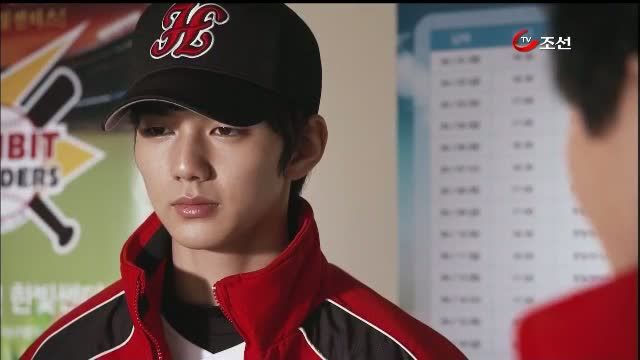 We're back in Baek-ho's apartment again, but this time it's littered with empty liquor bottles and old pizza boxes. Baek-ho gets ripped a new one by the coach that he had such high hopes when Baek-ho made it to first string, but he's tired of waiting around for something after Baek-ho was demoted.
Baek-ho is completely stoic throughout the lecture and bows out when the coach tells him to pack his bags. As he takes off his uniform for the last time, he hesitates for a moment when his hand brushes across the second button.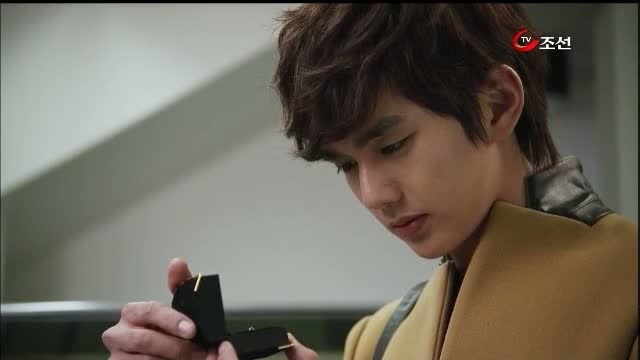 He waits around for Jin-won at his cubicle, and picks up a curiously small black box left on her desk. He gets a quick glimpse of an engagement ring before Jin-won arrives to greet him.
Jin-won gives him a comforting hug and tells him that to every end, there's a new beginning. He finds Baek-ho's statement that whether the end is good or bad untypically cynical.
He invites Baek-ho to join his team and clocks his surprised reaction, asking if it would hurt Baek-ho's pride to be a part of a misfit team. Jin-won assures Baek-ho that he's very much qualified and admits that he secretly hoped he would have joined earlier, but Baek-ho was already part of the first squad by then.
Jin-won advises that he at least considers the offer – not as a coach or as a sunbae, but as a team director.
We flashback to the park, where Yi-seul and Baek-ho had confronted the incident at Jeju Island. She trusted him and knew that there was nothing going on between him and Yoo-bin. She neither resented him nor blamed him, but she was fed up with how fate kept toying with them.
With tears in her eyes, she says that maybe they were always meant to be friends, but were too greedy about their relationship. Yi-seul apologized and ran off without another word. And instead of chasing after her, Baek-ho continued to brood in the park.
Jin-won drags Yi-seul to the roof, the two unaware that Baek-ho is just a stone's throw away. Taking a deep breath, Jin-won starts his proposal, "I knew the moment you walked through that door that I love this crazy, stuck-up girl who didn't know how to knock. I'm sorry for being an arrogant, stubborn, spoiled Nazi. But for you…for a woman like Ham Yi-seul, she is always welcome to come into my room without knocking." Swooon.
Calling himself a prisoner of Yi-seul's heart, he presents the ring to her. Baek-ho pleads with her in his head for her to say no… but Yi-seul accepts. Jin-won embraces her in happiness, and Baek-ho has already disappeared.
Back at the snack shop, Chae-ri yells at Tae-nam for losing all of their savings meant towards their wedding and marriage on an internet scam. To Tae-nam, a marriage and money are two separate entities, but Chae-ri yells that one depends on the other. She storms out, taking off her ring.
Baek-ho shares that at least Tae-nam bought Chae-ri a ring, still envious even though it's not an expensive one. Outside a jewelry store window, he looks at the array with a sad eye, his happy memoires with Yi-seul on their date now a distant memory.
He hums the song Yi-seul sung on the swings with a bottle in his hand, tears streaming down his face. And then, a stranger's hand extends a handkerchief to him.
"This scene seems like dejavu." The Conductor states, citing that it doesn't look like Baek-ho is much better off now than the night they first met. He feels that Baek-ho's time traveling journeys are coming to a close since the traveler is too exhausted.
The Conductor gets up to leave… and another baseball rolls towards his feet.
In a confident voice, Baek-ho recites that it's from the 1984 Korean Baseball Series, that he pitched 42 innings in 5 of those games and even lists off the quote, "This is my game, and I'm going to stay in it, even if my shoulder breaks."
The Conductor asks if this baseball means that Baek-ho isn't giving up yet. He declines Baek-ho's request that he get sent back to spring training because he can't go back to the same point in time as one of his previous journeys.
He warns that Yi-seul's heart might already be closed so turning her heart around now will prove to be especially difficult. So Baek-ho contemplates for a few moments and asks to be sent right after training ended, to March 14.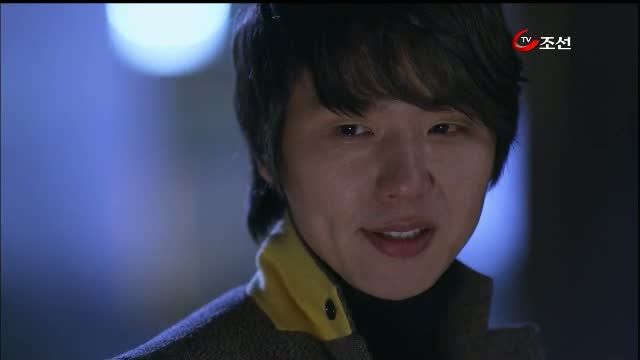 The Conductor reminds him that that day was the first birthday that Baek-ho didn't celebrate with her. That day, Yi-seul had decided to spend her birthday with Jin-won rather than her friends.
Baek-ho pleads with him, and the Conductor hands him another golden vial. He recalls as he sat in the snack shop alone, that he realized for the first time, how much it scared him that he and Yi-seul were growing distant. He berates himself that he can't allow that they can no longer be friends, so he's going to go and pour out his heart to her…
The date is March 12th, two days before Yi-seul's birthday. Baek-ho rushes into the building, and pulls Yi-seul out to clear the air about what happened at Jeju Island.
Surprisingly, Yi-seul tells him that she already knows because Yoo-bin told her the truth before she left for the States – that nothing happened and everything was her fault.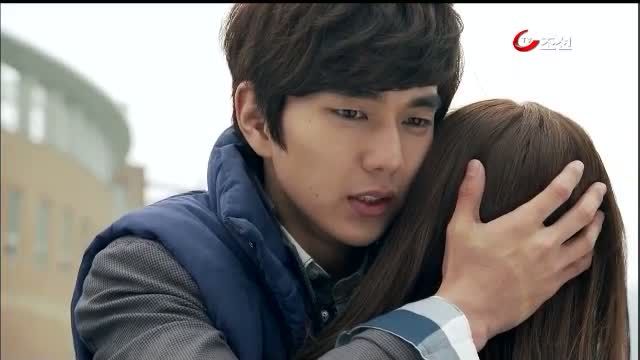 Baek-ho cuts in and tells her that he knows how tired she must be of how he never says what he means and always making her wait. He begs for another chance:
"You can stay right where you are. I'll run to you. I'll make sure you won't be anxious, that you won't waver, that you won't have to wait for me anymore. I'll run to you."
A solid tear runs down Yi-seul's cheek and Baek-ho gently embraces her in his arms. He apologizes, "I'm sorry… for always making you feel hurt."
Baek-ho drops by the jeweler to get a quote, and consults Chan-wook with any extra cash. It's not enough and he returns to his apartment.
But the place is ransacked and Baek-ho frantically searches his open drawers and packages, coming up empty. Baek-ho yells in frustration and anger.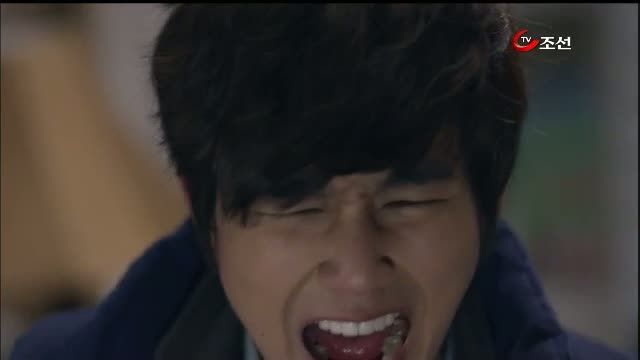 COMMENTS
Foiled yet again, Baek-ho. It's no surprise that another wrench has been tossed in to stop Baek-ho from fulfilling his desired plan to do his best for Yi-seul, which seems like the very problem in this conflict. I shouldn't expect the negative turns and obstacles to be very natural since the whole premise is a fantasy, time-switching, consequence observing story. And though I could sense and feel the raw emotions of anger and rage when Baek-ho came back to a trashed apartment, I felt as if another situation was lazily wedged into the plot.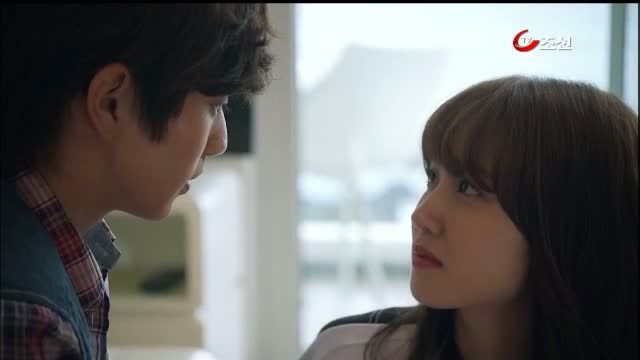 It makes me wonder if the writers felt that they didn't have enough source material to work with (the Japanese original had 11 shorter episodes of approximately 45 minutes and a subsequent movie) or didn't want to explore the complexity of Baek-ho and Yi-seul's relationship. Because right now, we got to their deep issue – the unknown of being completely vulnerable to one another and how that will affect their relationship…but that's about it. They get that they tell each other what they don't mean and as an audience member, if we got more of that interaction, it could create their own language, even if they still fully didn't understand each other.
The more adorable sweet moments between Baek-ho and Yi-seul are sweet, but I find myself much more intrigued and happier to see Yi-seul with Jin-won. They've got a more complicated relationship where she still sees him as a protector advisor role which he's more than happy to fulfill, but now that they're both adults, it finally dawns on her that this dependable guy was there for her out of love and devotion, and that she sees him in a different light, just like how Jin-won did at the amusement park.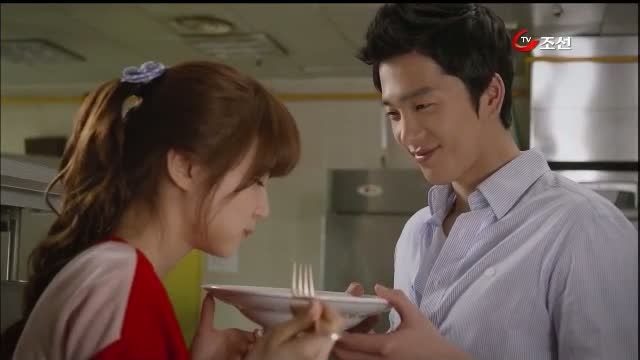 Speaking of whom, Jin-won why are you so goddamn perfect? Don't you have a flawed bone in your system? Maybe it's the writing, maybe it's the directing, but we already got that he's pretty much Mr. Perfect in a can and with these constant reminders that he can cook, that he loves to serve others, he's closely veering towards stock category. Lee Hyun-jin does a good job of preventing it from tipping over the edge, but I will have words if he has another hobby where he shows that he's ideal husband material. Yi-seul, if you don't get on that Jin-won train soon, you're gonna have to get in line.
RELATED POSTS
Tags: featured, Lee Hyun-jin, Operation Proposal, Park Eun-bin, Yoo Seung-ho