Operation Proposal: Episode 12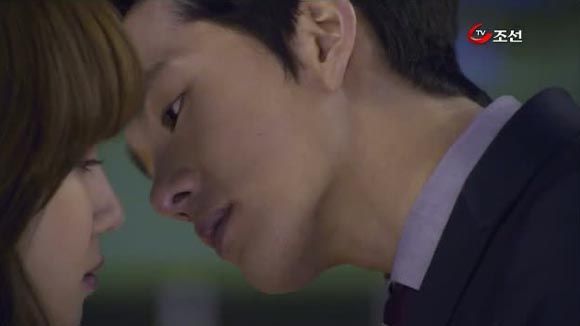 How you continue to wrench my heart – and not in a good way. The small elements sprinkled that gave this show its initial charm is back and we discover more into Baek-ho's background . The train for Yi-seul's heart keeps chugging away, moving further and faster from him than ever before and maybe bowing out gracefully is better than holding on to what seems like water in your hands.

EPISODE 12 RECAP
Baek-ho returns home to find his place completely turned upside-down. He frantically rummages through his open drawers, empty of any stashed cash. Filled with rage, he lets out a deafening cry.
A store owner pleads with a man over an envelope of money she needs to maintain her business. It's still not enough he says, and threatens to stop seeing her should she stop bringing cash.
Baek-ho watches the scene unfold from outside with a solemn expression, and I gather this is Mom and a good-for-nothing boyfriend. The sleazy boyfriend makes with the cash and rips up any evidence in front of Baek-ho's eyes. Well at least we know where all that money went.
Mom has a delicate charm that makes her popular with her customers, taking in compliments with grace and entertaining them with a song. It begins to rain outside and it makes her sentimental while Baek-ho walks home sans an umbrella.
Drunk good-for-nothing boyfriend staggers outside of a nightclub and stops to puke in an alley. Then, a mysterious darkened figure appears, blocking his path. After a few punches, the boyfriend ends up on the ground, bloodied. The mysterious man pops a sweet in his mouth and walks away, humming the same song Mom is singing.
The silhouette looks oddly familiar, and so does that hair…
At the playground, Baek-ho sits on the swing as the rain continues to fall. Recollections of his childhood flash before him – Mom left him home alone for days, and seeing her get trampled by a string of worthless men marred his earlier memories of Mom.
Young Baek-ho slipped and fell after witnessing another one of these events, and started crying. A kind stranger helped him back up, gently wiped the tears from his eyes and tucked the same white sweet we've seen older Baek-ho suck on.
All the other parents would call for their children from the playground until Baek-ho and Yi-seul were left. But Yi-seul's mom would call his name, and the three of them would leave hand in hand, surely warming his little heart.
In both the past and present, the swing swings as if its own accord, with a white sweet left on its seat.
Baek-ho's mom pays Yi-seul a visit and they grab a bite to eat. Yi-seul asks after her well-being, happy to see her after such a long time. She asks with caution if she's seen her son and Mom silently shakes her head no. Yi-seul assures her that he's doing well and looks on with concern as they eat.
Baek-ho is penniless. It's the day before Yi-seul's birthday and has no means to buy a ring. But then he steps outside and eyes his car…
Jin-won asks after Yi-seul's lunch date and is surprised to hear that she's Baek-ho's mother. He remarks that she seems too nice to be someone who emotionally abandoned their child. Considering that Baek-ho got as far as he did is a miracle, and he attributes about 80% of that credit to Yi-seul.
But he points out: "But you're not Baek-ho's mother." He understands that it's natural for her to think that she is, but feels it's about time Yi-seul abandoned that role in his life.
In the lot, Baek-ho contemplates his decision, memories of when he showed off his then new car to Yi-seul and they adorably ran around spraying water and sticking soap bubbles on each other's faces as they washed the car. Placing a hand on his car before it's taken away, he fights tears – perhaps at the thought of never getting another chance to repeat that experience again.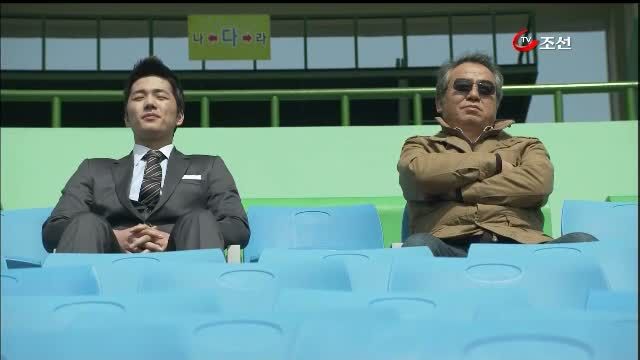 Jin-won and Yi-seul swing by someone's house and the little kid wonders why they come every day if it just angers Grandpa. They track him down at the baseball field and Jin-won attempts to convince the old man still has a desire to play baseball and quotes that if it weren't for baseball, his life would feel so much emptier, especially after most of his family passed away early.
Grandpa comments that baseball isn't some kind of charity and finds Jin-won's plan crazy. There's bitterness in his voice about how they don't want 'an old mean man' to play baseball and Jin-won explains that's exactly why they need him – someone who gives proper recognition to second string players, stars who are told they are too old and those who were never trained properly.
What does Jin-won expect to find from a recycling bin? A flower, he says, because it's more precious when it blooms in waste. If Grandpa is curious what can come out of 'trash,' he's more than welcome to watch the tryouts.
Grandpa mulls over the words as his grandson calls him out to play baseball.
Later that night, Baek-ho throws practice pitches in the park again and a sudden bright light shines in his face. Yi-seul smiles, showing off her new light so that Baek-ho can practice with it at night.
They sit on the swings and Baek-ho is disinterested in knowing of his mother's whereabouts. Yi-seul mentions that she's getting older now, but Baek-ho asks if that means if she makes him his mother now or if he has to be a filial son towards her.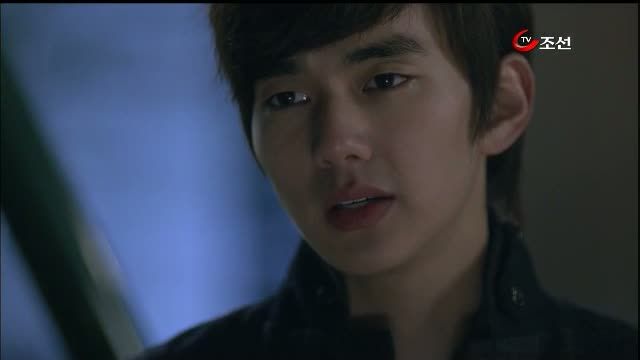 She defends that he's the only family she has, but Baek-ho barks, "I don't have a family! I don't even have a mother! It's only you. You, your mother, and your father." and stalks off.
Baek-ho smiles, with the ring now in hand and drops by Yi-seul's office to pick her up. Before he can call out to her, he sees her run into Jin-won and his father. They joke about Jin-won in front of him (and how Yi-seul does all the work, keh).
They leave, but Yi-seul gets a call and answers, "Mother," which spikes Baek-ho's curiosity. He slips behind her table in a nearby coffee shop as Yi-seul hands over an envelope, apologizing to Baek-ho's mother that it's only half of what she requested.
Mom tells Yi-seul that Baek-ho's father must have sent Yi-seul to her son's life in place of his actual mother. She reaches for the envelope, saying it's the very last time, when a hand grabs her wrist.
Baek-ho swipes the money with angry eyes and bitterly remarks that Mom isn't even human. He storms off, Yi-seul tagging behind him and Mom half-cries and half-laughs alone in the coffee shop.
Yi-seul tracks down Baek-ho and explains that she's helped his mother because things were rough for and he counters, "Hard? As much I've have?" He'd rather wish she was dead rather than living like that, begging money from others to survive. How dare his mother ask Yi-seul for money, he yells, and Yi-seul apologizes for not telling him.
He returns her money and sarcastically remarks that Yi-seul must be rich enough to give away money that she'll never see returned and adds that a future chaebol-daughter-in-law must see the world differently.
She tells him to stop, but he persists, attacking her now. Did Yi-seul think she was his mother? Or because she felt sorry for him as an orphan? "Now that I think about it, you couldn't leave stray dogs in the street because you felt sorry for them."
He's past the point of reason now and says that Yi-seul can stop meddling in other people's business – he doesn't need her sympathy or charity. It doesn't suit her to go to such lengths so she can go her own path as a rich family's daughter and marry Jin-won.
And she slaps him. Um, yeah. You deserved that. He walks off and Yi-seul falls to her knees, crying.
Yi-seul gets a call that Jin-won is missing from the office, so she searches high and low for him. She finally finds him at the batting cage, saying that it's unlike him to suddenly disappear like that. He agrees that it's untypical of him, but it's the first time he was ever scared he was alone in a dream of creating a ragtag baseball team after she didn't show for the tryouts. Afraid that it was just a pipe dream of a young, immature entrepreneur.
Stepping inside the cage, she tells him that dreams can become an ideal if they gain enough support and that she will evict his instilled fear in his heart.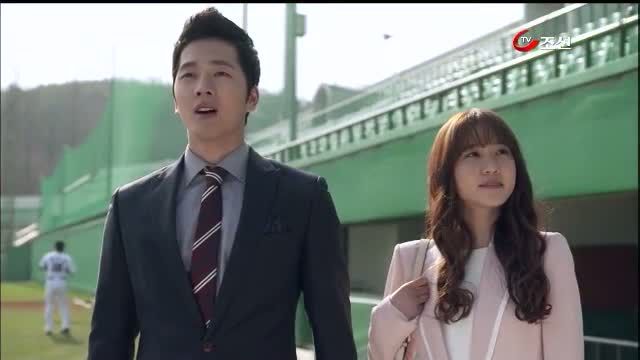 He sweats at the stadium, the silence creeping into his nerves, scared that no one will show. But with Yi-seul's help, he steps outside to the sounds of drums and cheering families in the crowd. Look there's Sergeant Yong-soo!
Moved, Jin-won asks if this isn't a dream and Yi-seul tells him that it's just the beginning. Grumpy Grandpa from earlier is here too, ready to work.
Jin-won steps in front of the group after a long day, thanking them for their passion for baseball. They're a recycled team if you word it bluntly, but he tells them to consider this a rest stop, an oasis of sorts, so that they end up somewhere better.
Their team name is the Han River Bastards, a name that best suits their circumstances. They're going to show the others that a bunch of misfits can still pursue their dream and leads them in a heartwarming cheer.
Back at the restaurant, Mom's boyfriend causes another ruckus to pillage for more cash when Baek-ho drives him out of the restaurant. Mother and son sit together, and she sadly wonders when her little boy grew up, noting that she has hardly any memories with him.
Baek-ho asks how long she's met with Yi-seul, which surprises her that Yi-seul stayed mum about their acquaintance. Yi-seul first came to see her when he was in the military. She helped at the restaurant and learned how to make Baek-ho's favorite dish.
Taking out a few boxes, Mom says that Yi-seul told her they were birthday gifts from Baek-ho. She knew they weren't but Yi-seul was an angelic gift anyway and Mom considered her a hundred times better than herself.
Baek-ho runs out before she can say another word, memories of Yi-seul whipping up his favorite dish, the harsh words he threw at her. He realizes that he really knew nothing at all despite all of his time lapse trips and the numerous chances he got to reverse his wrongs.
At the baseball field, Jin-won admits to Yi-seul that he's still scared, the fear of carrying not only the dreams of lost baseball players but also their families' settling in. Would he be able to protect it and meet their expectations?
Yi-seul assures him that he will and that this isn't a burden he has to carry alone. She places a comforting hand on his shoulder, joking that she can carry about 5 tons herself.
When she turns to leave, Jin-won suddenly grabs her by the arm, and pulls her into a tight embrace. In a gentle voice, he says, "Thank you for staying by my side. If it weren't for you, I would never have gotten this far."
Looking straight into her eyes now, he tells her, "I'm going to kiss you now." He does and Yi-seul struggles at first, but sinks into the kisss… and the camera pulls back to Baek-ho witnessing this scene.
He sits in the dark with tears streaming down his face, the first ring he ever bought in his hand. Afraid that it wouldn't slip on Yi-seul's finger he asked for the biggest size. It was just as unlucky as he was and as it hangs loosely on his own finger, Baek-ho sees it as the end of the road.
Baek-ho steps onto the pitcher's mound and chucks the ring as far as he can. I know this is supposed to be dramatic, but I don't quite think it has the same effect as chucking it into a river. Just sayin'
Chan-wook calls from the snack shop, asking if Baek-ho has forgotten about Yi-seul's birthday but Baek-ho bows out. The friends gather over cake and Baek-ho watches from just outside as they celebrate together. Chan-wook sets up the camera for a photo and back to the present we go.
HA! Okay, this is pretty awesome. Baek-ho is lying on the bed and he looks over to see Yi-seul lying beside him, smiling. She asks, "What do you think?" He blubbers that he likes it (I bet you do), and she concurs. Yi-seul adds that she doesn't want to waver anymore… and pipes that she'll get this bed.
We widen the shot and the friends are all gathered together, joking that Baek-ho already looks like he's about to fall asleep on the comfortable bed. Tae-nam mentions that a bed shouldn't be that comfortable for the newlyweds and Chae-ri chides him.
Outside, Baek-ho says that Yi-seul can ask for anything for her wedding gift and she eyes that he better not take back his words. On a slightly more serious note, however, she stops and asks that the five of them go on one last trip together before she gets married.
For some reason, they never went on their end-of-the-year trip last year and Chan-wook agrees that the trip can mark a celebration of a new chapter in Yi-seul's life. Chae-ri gives a quick glance to Baek-ho to discern any response from him.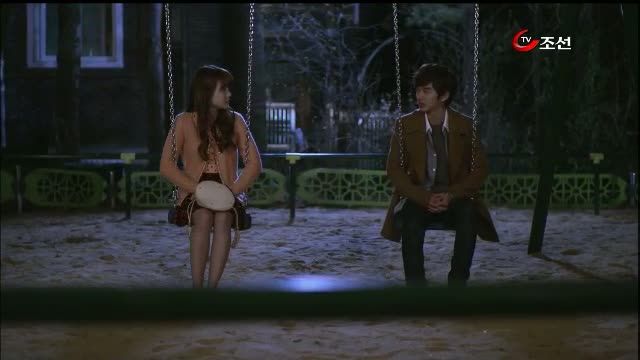 On the swings later that night, Baek-ho asks what gift she wants from him. She honestly says that she wishes that Baek-ho would join the Bastards, and he agrees to consider it.
Yi-seul gets up to leave when Baek-ho calls, "Are you sure you don't have any regrets about this wedding?" She's slightly miffed at the sudden question and says she's leaving first.
But Baek-ho stops her in a back hug, begging her not to go. "I can't send you away. No, I don't want to." He the one who knows her the best, the one who knows everything about her, and the one who shares the most memories with. "The person who loves you most isn't Jin-won, but me!"
She takes his arms away and says that it's too late. He protests that she can call off the wedding, but she looks at him and says, "Baek-ho, you don't know anything. Back then and even now, you don't know anything about me or my heart."
Yi-seul tells him that the person she loves is Jin-won and walks away.
Back at his apartment, Baek-ho mulls over about how he heard the words he hated the most not once but now twice. He berates himself and hurls a baseball in frustration… and the Conductor catches it in his hand.
He tells Baek-ho that he feels that he owes him an apology. He knows that he's not happily welcomed this time, but he reminds Baek-ho of what he said when they first met – why was Baek-ho hesitant when he had nothing to lose?
But that was only if it turned out for the better, and the Conductor admits to his own mistake. There were sacrifices that Baek-ho had to make in exchange for a few more chances and now he can't say that Baek-ho is better off than the beginning, but rather he looks worse.
Baek-ho doesn't want to hear it, but the Conductor continues it's like Pandora's Box has been flown wide open. He sees that Baek-ho wants her more, he's obsessed with her now… and Baek-ho tells the Conductor to get lost.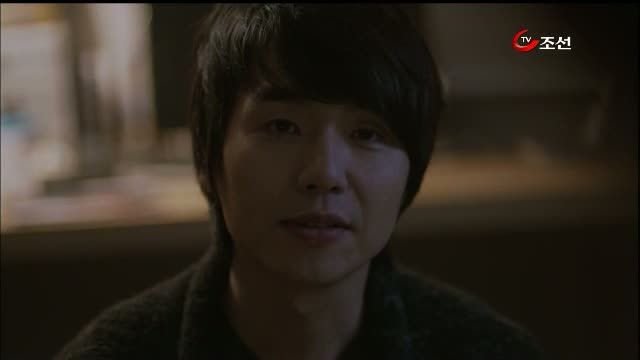 But he's here to suggest another offer as an apology – how about a trip to forget Yi-seul? Baek-ho's confused so he clarifies that it might be easier to see Yi-seul get married if Baek-ho's already dealt with his feelings for her.
Baek-ho asks if it's possible and the Conductor smiles that it's probably easier than trying to win Yi-seul back, since it just involves his heart.
There was a pitcher who came on as a relief late in the game and took the loss. As he left the mound, he said, "This is the end," and effectively terminating his career. And that same pitcher turned into a successful singer, Lee Sang-hoon. The Conductor tells him that being tenacious doesn't make you a pro, but sometimes knowing when to bow out.
Handing him a vial, the Conductor assures him that he can be worry-free this time and simply enjoy his trip.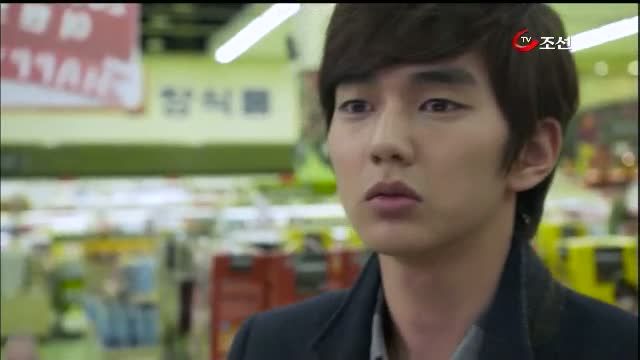 It's the end of 2010 and the friends are busy shopping in a busy supermarket. Baek-ho smiles when Yi-seul praises him for grabbing the sale items just in time, then hits himself in the head reminding himself that he's here to forget her, not fall in love with her.
Yi-seul pulls him aside to the playground, and with a deep breath she starts, "You might already know, but I wanted to tell you myself. Kang Baek-ho I…"
In his head he pleads for her not to continue, that he doesn't want to hear it. But she continues, "I decided to accept Jin-won's heart. Officially."
COMMENTS
What else is new, Yi-seul. We know. We get it. It's obvious – Jin-won loves you. You don't even have to tell us yourself – we can see it, your friends can see it, even Baek-ho sees it, even if he doesn't want to. It's a huge gripe I have with our main couple where I'm always left wondering if they are trying to skirt the hurt and anger they feel towards each other because they're too scared or that they just aren't aware of it. It's a pretty thin boundary they're playing with and my patience is wearing down. It's wafer-thin, really. I think my mind just clicks off whenever they're together on the screen.
I am glad, however, that we were finally introduced to Baek-ho's mother and alluded to the brewing conflict that Baek-ho has with her. She's abandoned him emotionally, a sad truth that she herself acknowledges, and explains why Baek-ho is so attached to Yi-seul and her family. A lot of readers have suggested that the writers imply that Baek-ho and Yi-seul aren't meant to be together, an opinion I share in. Baek-ho may honestly be in love with her, but he also shares a familial love for her as she filled that void of maternal care that he needed so much in his life. So if he loses Yi-seul to Jin-won, or to anyone else for that matter, he also fears losing that connection with her as well.
I'm glad that Jin-won was the one who pointed out that it wasn't Yi-seul's role anymore to act as Baek-ho's mother, and by doing so, it prevents her from moving on in her life and eventually hurting him. We see those different roles in Baek-ho's life as foster mom, friend, and lover mesh together when Baek-ho confronts her about how she's been helping his mother financially and how he can't discern her roles in his life.
Like how the Conductor said, if it turns out for the better, that's great, but right now Baek-ho is taking a turn for the worst, trying to fight fate to grasp what he thinks is his destiny.
It's probably no surprise that the mysterious figure who slugged the good-for-nothing boyfriend is the Conductor, given the silhouette, and then it's not too far a guess that he might be Dad. Why he approached Baek-ho in the first place is still a mystery and though I'm thoroughly fed up with Baek-ho breaking down every time he's foiled at fighting the Powers That Be, I'm intrigued to wait and see what else he has left to find out.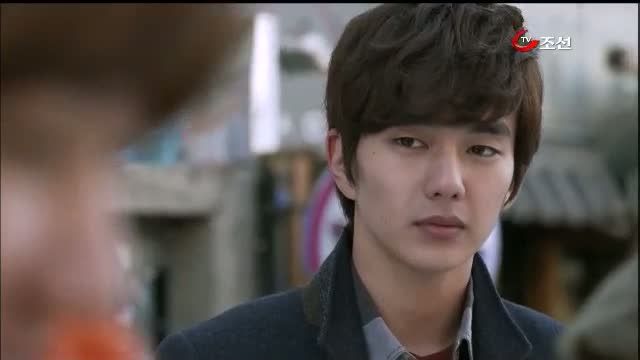 RELATED POSTS
Tags: featured, Lee Hyun-jin, Operation Proposal, Park Eun-bin, Yoo Seung-ho