Operation Proposal: Episode 13
The clock is ticking in a way we haven't really seen before, as Baek-ho comes to the realization that there's only so many chances to skip back in time before he ends up exactly where he started. It's now or never when it comes to winning Yi-seul's heart – will his efforts finally amount to something, or is what he's longing for just destined never to be?
(As for the identity switch, have no fear – your dedicated Time Skip Extraordinaire, gummimochi, will be back for the next episode.)

EPISODE 13 RECAP
Baek-ho is forced to hear those fateful words he never wanted to hear – that Yi-seul has officially decided to accept Jin-won. I love that he takes issue with her use of 'officially' in his mind, wondering if it's really necessary to make a declaration like that 'official.'
She's not done, though. "Do you remember me saying that I'm tired of things not working out with you? I hated you for not being able to be honest. Now that I think about it, it wasn't you who wasn't honest. It was me." Well, at least she finally realizes it. She tells him that this whole time it's been her running away and not him, because she was afraid of things getting awkward between them.
But now that she's let Baek-ho go in her heart, she realizes that she has to change and grow up. (Just now?) "Thank you," Yi-seul tells him. "I've always been a selfish friend."
Poor Baek-ho thinks to himself that her thanks hurts worst than when she slapped him. He puts on a cheery outward facade and jokes with her like old times, and they chase each other around the swing set spraying cola at one another.
The Snack Shop Ajusshi tells Chan-wook that Jin-ju has been locking herself in her room for three days. She's impervious to the knocking at her door while she cries in a dark corner of her room, and a flashback reveals that she witnessed a car accident three feet from her only days before.
In it, looks at the man bleeding behind the wheel in horror, and all of a sudden she's sitting in the backseat of another similarly wrecked vehicle – a flashback within a flashback, Inception-style – only there's a bleeding couple in the front seats. Oh no, those were her parents, weren't they?
Back in the first flashback, Jin-ju holds her head in her hands and cries, with the accident in front of her having brought back all of her painful memories.
Now in the present, Chan-wook approaches the door. He tries to coax Jin-ju out by inviting her to go to the beach with them, which is such a sweet gesture. It's ineffective, though, and the Snack Shop Ajusshi sends him on his way so he won't be late for his vacation.
Tae-nam and Chae-ri greet Yi-seul and Jin-won, the latter of whom seems unsure about joining them on their trip. Chae-ri is more than willing to accept Jin-won as family, but Tae-nam acts as the protective older brother and tells Jin-won that he still needs to be officially accepted by them in order to keep Yi-seul.
Someone's missing from the itinerary – and who else but Baek-ho? Chan-wook tries to convince him to go but he's not having it, and so Chan-wook offers up a parting piece of wisdom: "There's no use in trying to force yourself to move on. If you could move on so easily, you wouldn't have liked her until now."
Chan-wook joins his friends, and Jin-won gets a crash-course in friendship during the car ride to the beach. They've all taken this same trip for five years, without fail – except for this year, because Baek-ho is a no-show.
Chae-ri asks Jin-won if he's sure he's going to be able to keep up with their vacation schedule – and as she explains it, we see it in flashback, with Baek-ho included. First they'd do an eating contest, then they'd go to an arcade in a countryside, then a temple to write wishes. Of course, no trip is complete without karaoke, which would force them to stay up all night until they could see the sunrise on the beach. Aw. I love these guys.
We find Baek-ho drinking by himself in a club, which is just bad news bears already. Alcohol doesn't mesh well with him, so naturally it makes him hallucinate that Yi-seul is sitting at the bar, beckoning him over. He even embraces the hallucination, only it turns out to be another woman – and one with an angry boyfriend, at that.
Baek-ho ends up beaten and thrown out on the street, which is probably for his own good. Don't let him near liquor!
Meanwhile, Jin-won has figuratively taken Baek-ho's place in the friendship and the eating contest, sitting where Baek-ho used to sit and doing what Baek-ho used to do, however unwittingly. Chae-ri is the one to bring Baek-ho back into the conversation, amazed that he wouldn't want to be included – he would even include himself in their punishment when they were in middle school. They don't know why he didn't come, even though they used to know everything about each other. Sadly, Chan-wook notes that they'll know even less about each other as time goes on.
This causes Yi-seul's mood to go pensive, and it doesn't go unnoticed by Jin-won.
Sporting a fresh bloody lip, Baek-ho hears a couple talking about a carnival/batting game so difficult that even a famous baseball player couldn't win the grand prize – a teddy bear as big as he is. He thinks back to a memory of Yi-seul coveting the toy, and decides to try and win it. It's a baseball game, but one that requires batting the ball into just the right place to win – you know, the usual impossible carnival games.
Our friends go through their usual motions, but Yi-seul stops when she sees an arcade game with Baek-ho's name still gracing the top of the scoreboard. She was there when he won that spot.
They then go to the temple to place their wishes, with Jin-won wishing for those who trust him to never be disappointed and Yi-seul wishing that a nameless "he" doesn't hurt.
Again, though, she's faced with a symbol of Baek-ho's absence, with his wish still hanging from the previous year. It reads: "I wish that she smiles a lot because of me." Once she sees it, she can't help but cry.
Baek-ho's been going at the game for hours on end, with no luck. Even the ajusshi in charge feels bad for taking his money, but Baek-ho insists that he'll win that teddy bear, as if he'll win Yi-seul's heart with it. As he bats, he wonders if staying away from Yi-seul like this will allow him to move on, and whether a future without her will ever come.
There's no escaping the lack of Baek-ho's presence even during karaoke, since they end up singing The Wonder Girls' "Nobody," which Baek-ho famously performed before. They each sigh that this trip is different without Baek-ho, but Yi-seul pipes up in defense of his absence – what's so different? Besides, it's not like they can all stay the same forever.
Chae-ri shares a sweet moment by saying that she always wished that they'd all stay together forever. Even if they got married and had kids and got old. Aww.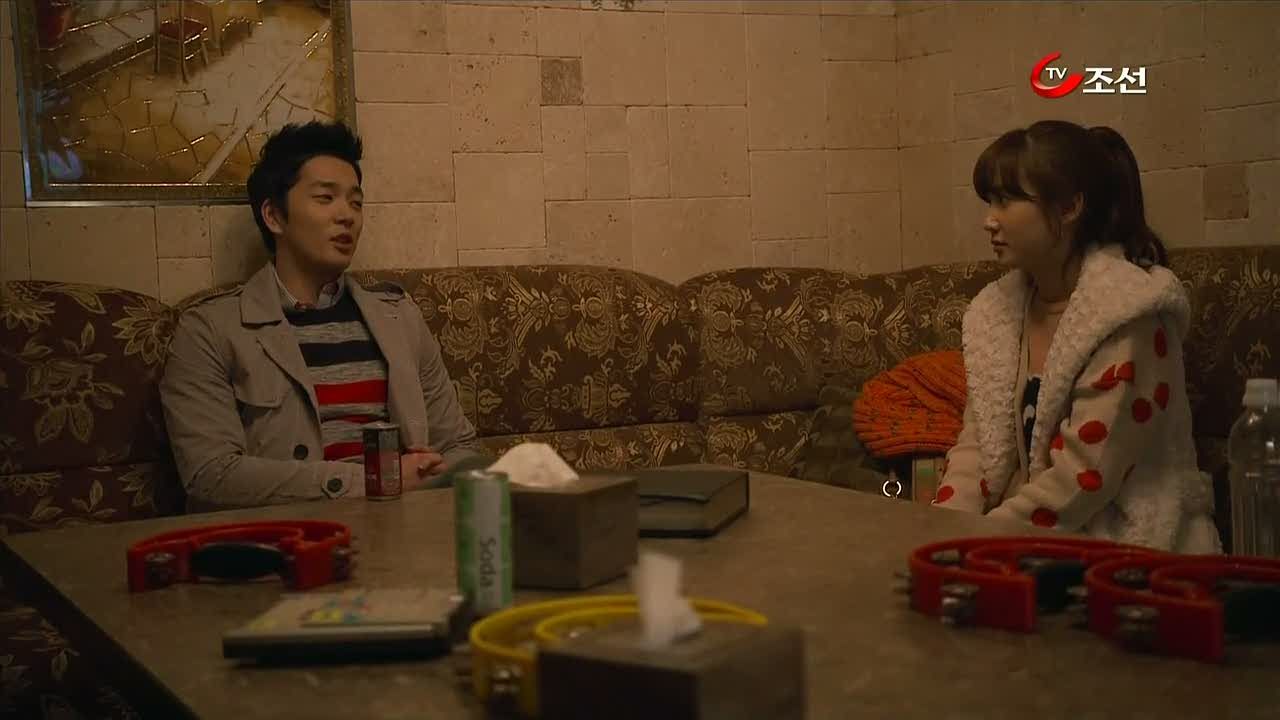 But it's Jin-won who intervenes by saying that losing things in life is a given – but if you can try to keep something, you should. Yi-seul's willingness to go on without Baek-ho has been out-voted even by her significant other, and so the group decides to ditch the trip and go get their missing 1/5th, Baek-ho. (Huzzah!)
Yi-seul apologizes to Jin-won, who only tells her that he just said what she wanted to.
Back at the batting cage, Baek-ho pays for more chances to win the bear. The fed-up ajusshi tells him that he'll just tell Baek-ho where to buy the bear if he wants it so bad, but Baek-ho is dead-set on doing things the old-fashioned way, through sweat and hard work.
He thinks to himself that no matter how many times he swings the bat, all he can think about are the twenty years he spent with Yi-seul.
Cue flashbacks to their childhood all the way till their adulthood – all the good and bad times, their kisses, when he told her he loved her, and when she slapped him because he told her to go to Jin-won. The final memory is of her telling him: "You don't know anything." And suddenly, back in the present, he wins the game.
As tears fall down his face, we hear him in voiceover saying that it was in this moment that he realized that he couldn't forget Yi-seul, no matter how hard he tried.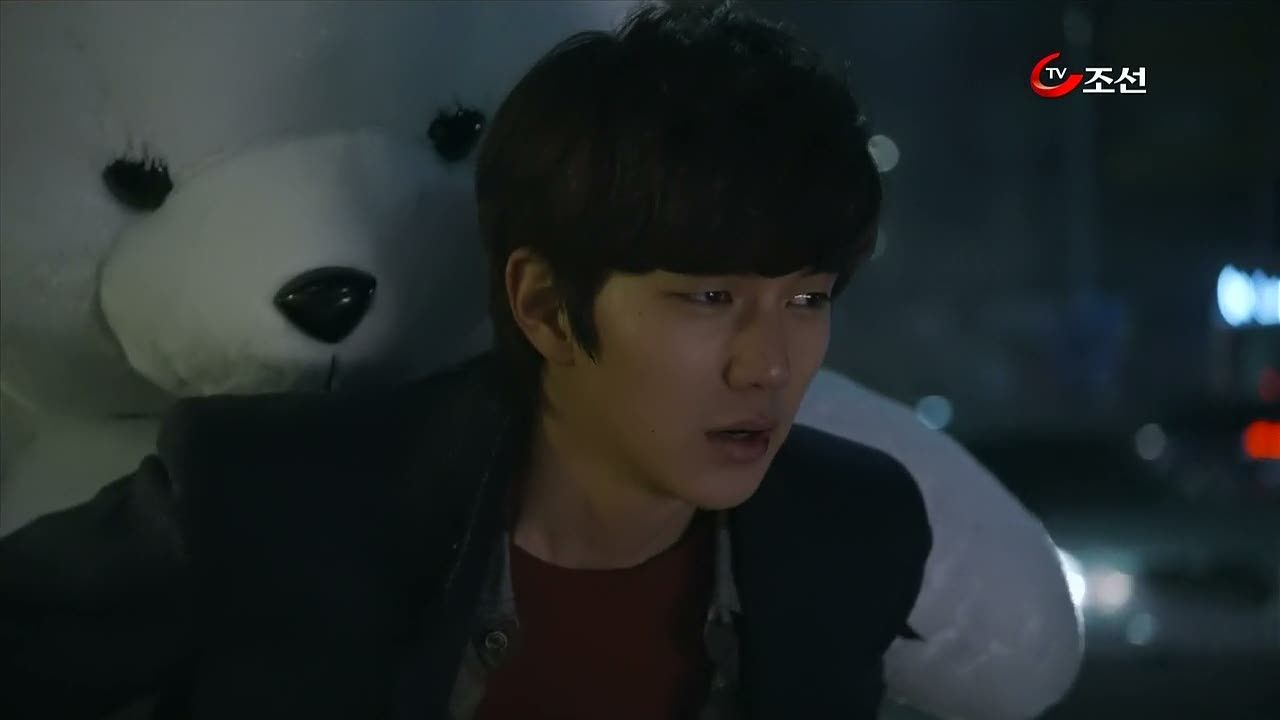 Carrying the stuffed bear down a lonely street, Baek-ho continues to think to himself that he never wants to sever his bonds with Yi-seul – because he still loves her.
Jin-won drops the group off in Seoul, and Chan-wook thinks of Jin-ju when he hears the song she once sang for him on the school rooftop. He goes immediately to the snack shop and breaks down her door, finding Jin-ju sobbing on the floor. She tries to fend off the Snack Shop Ajusshi, saying she just wants to be left alone to die – until Chan-wook intervenes with a slap to the face.
Snack Shop Ajusshi is appropriately shocked, but Chan-wook explains his actions by saying that Jin-ju deserves it, and that she needs a beating to wake up. (I get what he's trying to do, but hearing the words still made me cringe.)
He grabs her by the wrist and drags her out to an intersection, holding her shoulders still so she can be forced to face her fears.
Chan-wook: "You think your parents would say: 'Yeah! Come to us, Jin-ju! Why did you survive? We can't bear you being happy, so just come to us!' You think they would say that? No parent would want such a thing. You think your parents will be happy if you live like a fool like this?"
He calls out to her parents, reaffirming that they'd want her to be happy, that they'd want her to smile again. When he asks them (well, as much as they can be asked) if they know that she's good at singing, my heart just breaks into a million pieces. This scene kills.
Snow starts to fall like an answer from heaven, and Jin-ju accepts Chan-wook's hand to help her stand, while symbolically reaffirming her will to live. When she does, he wipes away her tears.
If that wasn't enough to move your heartstrings, we find her next at her parents' memorial with Chan-wook, singing them a song with a guitar while Chan-wook records video.
Baek-ho is greeted with a surprise party when he gets to his apartment, and Chae-ri is quick to point out the giant elephant bear in the room, which Baek-ho tries to pass off as something he bought for himself… to sleep with. Ha. Chae-ri wants one, so Tae-nam asked him how much he paid for it – and Baek-ho answers with a completely straight face that it was $330, leaving Tae-nam sputtering in disbelief. Double ha.
He finds a way to pass it off to Yi-seul without seeming too obvious – except that it's totally, 100% obvious. It's still an adorable gesture and she accepts the gift, though he takes offense when she names the bear Baek-ho and calls "him" stupid.
Before sunrise, the whole gang (including Jin-ju) writes their wishes on the roof of a building overlooking the city. They make them into paper airplanes and send them flying down, with everyone's wishes for each other's happiness (or in Chae-ri's case, for Tae-nam's growth).
We don't see what Baek-ho's wish was, and he doesn't give in when Yi-seul asks. His paper airplane/wish lands right in front of Jin-won's feet. We still don't see it even as he reads it, but the words have a serious effect on Jin-won's demeanor. (What on earth does it say?)
Our band of merry friends watch the first sun rise of the new year, none of them missing the view they would have had at the beach. "It's not important where you see it," Chan-wook says, "it's important who you see it with." Amen.
Jin-won joins the party, but isn't able to say what he wants to Baek-ho. Instead he just pats him on the shoulder, asking, "Do you know that I like you a lot?" The words make Baek-ho uncomfortable, because he knows something isn't being said.
Regardless, they all start posing for a group picture, with Baek-ho fully aware that this will propel him back to the present. Before the flash goes off, he thinks to himself: "It was a New Year's Day that was a bit better than my gloomy past. No matter how much it was going to hurt, I couldn't possibly forget Yi-seul. I learned that from this trip. Even if the Conductor laughs at me for being stupid, I have no choice."
Flash! We're back to the year 2012, with the familiar Valentine's Day radio broadcast going on while Yi-seul pretties herself up and talks to Bear Baek-ho. But there's a change to the radio lineup – this time it's a song by Jin-ju, called "After That Day." She became famous off the video that Chan-wook took of her, and he's now become a successful music video producer.
Baek-ho's apparently accepted the offer to be on Jin-won's team, and I love that Chae-ri hangs a lantern on the whole issue of Jin-won being a perfect chaebol who's successful at business: "A person needs flaws to be likable. He's so perfect that it's suffocating." Ha. Well, self-awareness must count for something.
Surprisingly, it's Baek-ho that comes to Jin-won's defense by saying that his passion for the Third League is probably why Yi-seul likes him so much. Chae-ri looks uncomfortable at the statement, and follows Baek-ho for a private chat. She seems loathe to bring up the topic of Yi-seul saying something supposedly important, but it seems like Yi-seul didn't say whatever it was whenever she was supposed to say it, which is not a surprise at this point.
Baek-ho reacts strongly to a video of Yi-seul Chan-wook took two weeks ago, and asks to borrow his video camera before running off. He watches the video at home and sees Yi-seul holding the ring that he bought for her, the one that was three sizes too big. Her face is unreadable, and try as he might, he can't figure out what she was thinking when she looked at his ring. Regret? Apprehension? He wants to go back in time to find out.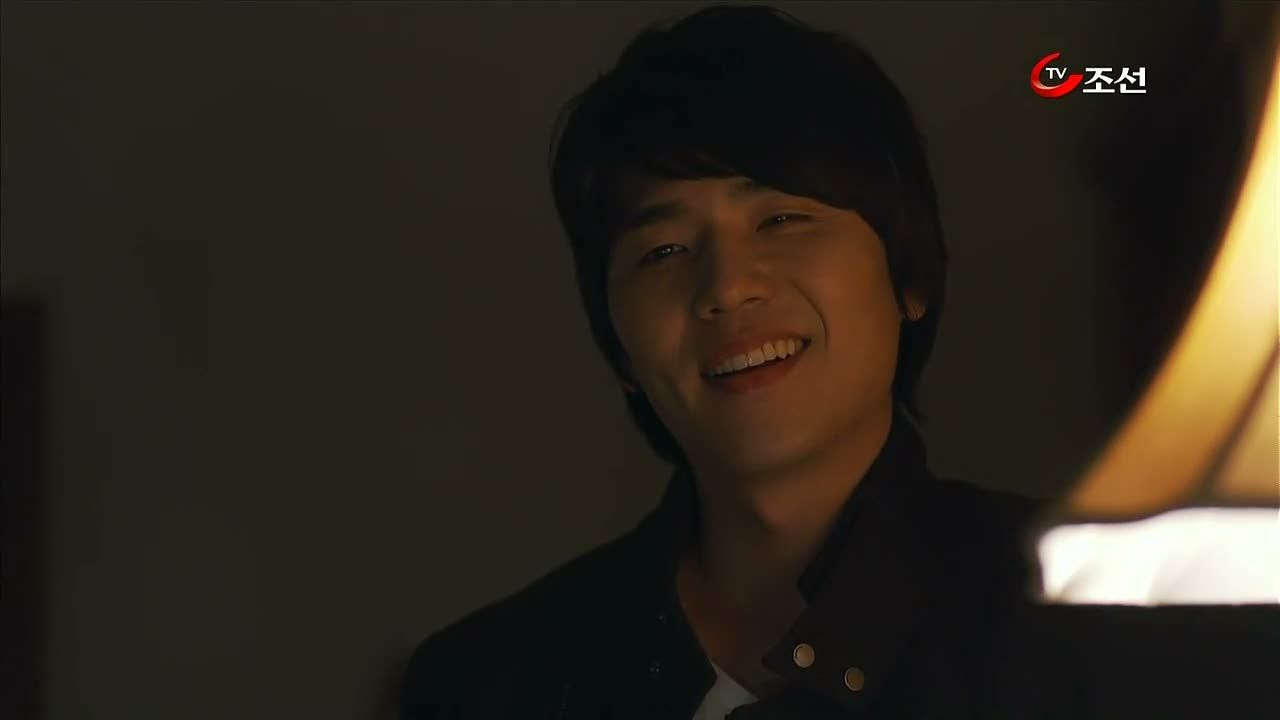 Cue the Conductor, who notes that he gave Baek-ho a wasted chance to lessen the pain – and to add insult to injury, Baek-ho is choosing the most painful path. "You're going to watch her wedding twice," he sighs.
Still, Baek-ho wants to go back, even if turning things around at this point would be a miracle. "In order to hit home runs to upset the game," the Conductor says, "you must be able to hit home runs in the first place." (Wow, the Conductor just took Baek-ho to school.)
And Baek-ho retorts, wittily, that he's a pitcher – which makes the whole home run argument moot. Haha.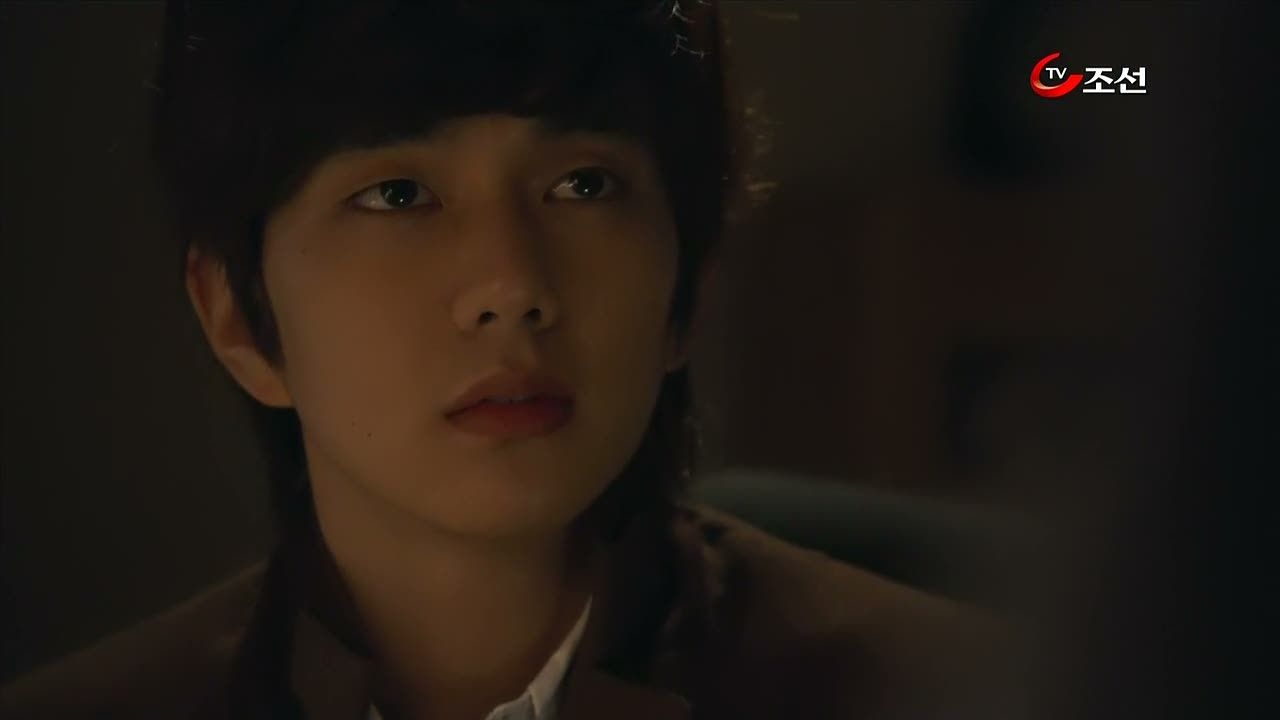 The Conductor tells Baek-ho that he needs to figure out what he has in his mind while he tries to turn the game around. The baseball that he takes as payment this time is from a pitcher who stayed on the same team for two decades – and that the same stubbornness isn't unlike Baek-ho pining after the same girl for the same period of time.
He wants to make sure Baek-ho knows this is really the last time – the 9th inning, with 2 outs. "Even if it looks stupid, swing the bat as hard as you can."
And with that, he leaves Baek-ho with what might be his last vial, because Baek-ho has nowhere else to go, time-wise.
Now that we've jumped back two weeks, Yi-seul's father is addressing a recording to Jin-won by saying that he wants this whole marriage business to stop – Yi-seul has someone else that she loves. Baek-ho grows elated, thinking that her dad is standing up for him… but then her dad continues: "The man who loves her the most and knows the most about her… it's me!" Aww, Baek-ho buzzkill. (Story of his life.)
Things turn serious as Yi-seul's father does a re-take, with a speech that comes from the bottom of his heart. He says that he couldn't understand why his father-in-law wasn't accepting of him until Yi-seul was born. Once he had a daughter, he knew what it felt like to not want to let his daughter go to to another man.
"She once told me that you're a warm person who was there for her through all of her hard times. To be honest, I was jealous. I raised her for twenty-seven years. And she has never shown me her weak side. But she showed it to you. I was jealous," her father says for the recording, and even Baek-ho struggles to hold back tears.
Dad finishes by asking Jin-won to take care of his daughter, and to make her happy. Baek-ho thinks to himself that he only now realized that marriage is more than just a union of two people – it's building a family upon the two families that have raised them.
A picture of Yi-seul's grandfather brings back fond memories, since Grandpa was always on Baek-ho's side when it came to Yi-seul. He even once called Yi-seul's mom to tell her that she should let Baek-ho take care of Yi-seul for the rest of her life, after their time spent on the mountain. Mom says she always thought that Baek-ho would be Yi-seul's husband, but guesses that maybe she just didn't know Yi-seul well enough.
Regardless, she asks Baek-ho to visit them in the future, even if Yi-seul isn't there.
Outside Yi-seul's house, the sight of a child's bicycle takes us into a flashback. Baek-ho taught Yi-seul how to ride a bike, but she ended up falling and hurting her arm. When her mom remarked that she hoped the injury wouldn't leave a scar, a young Baek-ho claimed he would take responsibility (as in, marry her if the scar made her unworthy) and that he'd take care of her for the rest of her life. Aww.
Everyone's touched by Dad's speech, and in the car Chan-wook and Tae-nam joke around about where they are on each other's priority lists – because that all changes when you get married. Baek-ho wonders where he would be on Yi-seul's list once she gets married to Jin-won.
Yi-seul and Baek-ho end up finely dressed in Chan-wook's studio, presumably readying for some engagement photos. Baek-ho feels uncomfortable in his Best Man Suit (though he should be more uncomfortable in his Best Man Role), and the two play around the studio like kids.
Baek-ho thinks to himself how this will all end soon. "It was always me who was the closest to Yi-seul. It was only natural she was my number one priority. Those natural things are going to disappear now. The days we joke around like this, the days we fight over nothing. They are only going to become memories. The person I love the most in the world that is right in front of me… is getting married to someone else." Then for the love of all that is holy, Baek-ho, do something about it!
He thinks back to when the Conductor asked him about what kind of player he is – will he be the reckless kind that tries to turn the game around when no one expects it?
With that in his mind, Baek-ho wrist-grabs Yi-seul and steals her away from the photo shoot and into his car. He thinks to himself (while dramatically fastening his seatbelt – safety first) that this really is the 9th inning with 2 outs, and that he'll swing as hard as he can – because he has nowhere else to go time-wise, and nothing to lose.

COMMENTS
I really adore the depiction of friendship in this drama, because it just gives me the warm fuzzies. This is a group of people that I genuinely believe care deeply about one another, so I feel their heartbreak when it happens. Chan-wook is an example of a character who's always just been around, but he and Jin-ju received a well-deserved spotlight this episode that hit all the right notes for me. Hooray for a well-cast ensemble, because what this show has in the way of frustrating moments, it makes up for with a walloping amount of heart.
We're aware that the clock is ticking because of the episode count, but I like that Baek-ho gets a feel for it when the most he can time-skip back to is two weeks earlier. With all the endless chances he'd been getting I had forgotten that an end to the time travel was possible, and then saw it in a big way here. Baek-ho really is cutting it down to the wire, and one wonders whether he'll just keep jumping back until that inevitable wedding day happens, when he just can't jump back anymore.
I definitely feel the inevitability of seeing Yi-seul and Jin-won's wedding a second time, and we've been told as much by the Conductor. We've known it since day one, and it seems like there's just nothing Baek-ho can do to change it. I can't even be mad at him for continuing to try, though – because I'm not really invested in him and Yi-seul as a couple at this point. But I'd like him to be at peace with the resolution, whatever it is. The Conductor gave him a chance to bow out and he didn't take it, so now I want to see him really go all in, and fight till the bitter end. He owes himself that much.
At this point there's only a few episodes left for this show to convince me that a big reversal can happen, since it looks like we really might get down to the wire and that the Moment Of Decision will come at the wedding. Maybe I've got a soft spot for Baek-ho (okay, not maybe – I do), because while I used to feel like his relationship fail with Yi-seul rested squarely on his shoulders, now I can't help feeling like he's facing a brick wall. If he does everything he can for the umpteenth time to win Yi-seul's trust – that's what it seems to come down to more than love, at this point – and ends up getting the same negative results, then I'll take this series as an endearing exercise in proving that sometimes our best just isn't good enough.
RELATED POSTS
Tags: featured, Lee Hyun-jin, Operation Proposal, Park Eun-bin, Yoo Seung-ho