Operation Proposal: Episode 9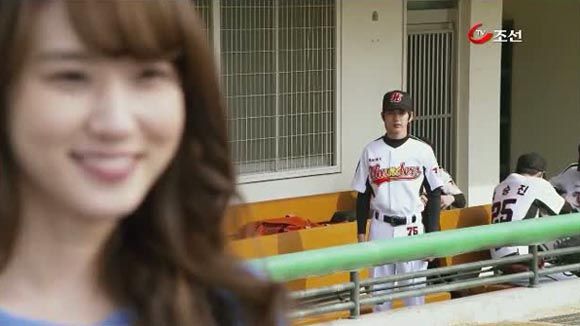 You know you still haven't learned your life lesson if you take various trips back in time and still come out empty-handed. There were a few touching moments and instances that made me laugh out loud, but it wasn't enough to fully redeem this episode. I feel like we're dragging our feet a little too much now.
EPISODE 9 RECAP
Jin-won plays dead on the ice, which alarms Yi-seul to try and shake him awake. He pulls her in close… and then breaks into an adorable smile. While she storms off at the prank, he gloats with pride on the ice. Sigh, another fantasy moment thwarted.
Yi-seul gifts him with a coffee mug he can't lose since it has their portrait plastered on the side. Because that won't make him fall in love with you or anything, right?
Their flirting is interrupted by a nearby argument between two children. The boys dispute over whether Pops used to be a pro baseball player or not. But Yi-seul recognizes him right away and identifies herself as a huge fan.
Bending down, she explains to the kids that Dad was a great baseball player and she asks for a picture like the fangirl she is. She comes out with an autograph (on another portrait T-shirt? This woman and her ironed on photos) and Jin-won looks on with a smile.
Aww, looks like they made it! Baek-ho's army superior gasps for breath after scouring the amusement park with him, suggesting that he should make an announcement to track down his friends. The next moment, the speakers blare that his friends, referred to as grade-schoolers, report to meet with their 'teacher,' Baek-ho.
Jin-won gets caught sneaking glances at Yi-seul (aw) and she calls him out on it. He tells her it's because she looks pretty (double aw) which earns him a slightly surprised look, and he recovers, saying that he raised a pretty apprentice. Pssh, right.
He adds that though she's pretty, she doesn't have any manners. Noting that he's the only one with whom she's ill-mannered, she apologizes. He tells her that it's fine, as long as she's rude just with him. Their ears perk up at the announcement.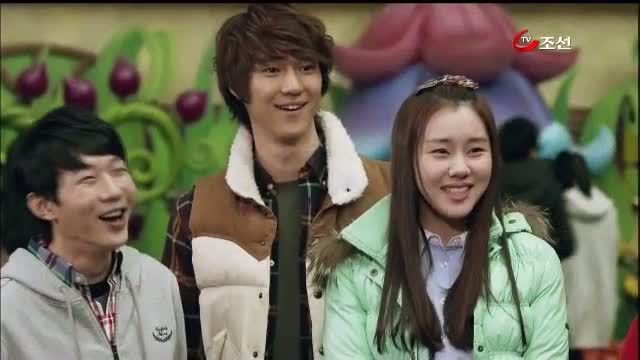 Everyone is pleasantly surprised to see Baek-ho and they warmly greet his superior, Yong-soo. Chae-ri mentions that it must be hard to take care of a subordinate like Baek-ho, but none of her words reach his ears – he's already fallen for her.
While Tae-nam hilariously tries to block Yong-soo from Chae-ri (as if she needed any more suitors), Baek-ho sneaks away with Yi-seul, asking her to ride "that ride" with him.
Yi-seul smiles as they ride the merry-go-round, and Baek-ho imagines their younger selves in front of them. He muses how he never realized how happy seeing Yi-seul happy made him, and a painted sepia filter covers them, as if in their own little world.
In another corner of the park, Chae-ri asks if they should head out, slightly worried that the childhood friends are nowhere in sight. Having chased away Sergeant Yong-soo, they usher her away before she can say another word.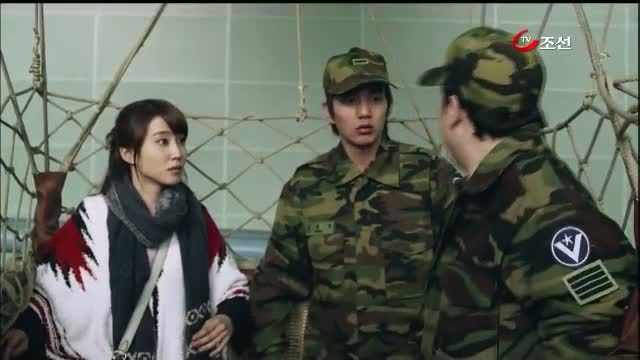 Baek-ho hands Yi-seul the carved cross necklace and blusters that it was no big deal – he had so much time on his hands and she should have it. Dude, this is why you haven't gotten the girl yet. You just say it's for her and then stop.
Thankfully, Yi-seul compliments him on his craftsmenship, to which he just dismisses (*facepalm*), and she comments that he's like a real solider, aka a real man.
They climb into the hot air balloon ride, and Baek-ho musters the courage to start his confession… when Yong-soo stumbles in with them, looking for Chae-ri. He whispers loudly if Baek-ho's said it yet and barks what's he been doing all this time that he's dragging his feet.
Baek-ho: "I was going to do it just now…then you came along." Awkward.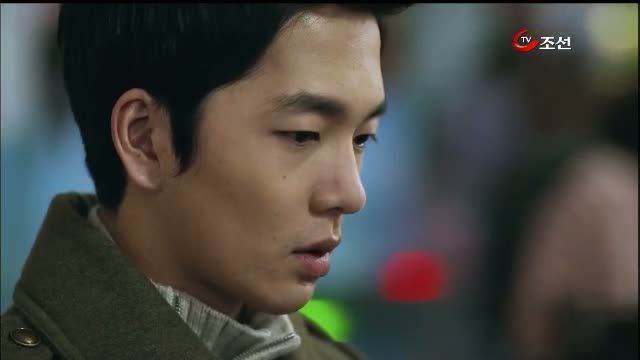 Jin-won gazes at his new coffee mug, recollecting past memories with Yi-seul from their first encounter to today's festivities. He places a hand over his heart for a few silent moments before he gets up with new resolve, heading outside.
Baek-ho and Yi-seul rush to meet their friends after an announcement about fireworks, and he decides it's the perfect opportunity for a romantic love confession. But he loses her in the crowd just when Jin-won stands in front of the crowd yelling Yi-seul's name.
From across the way, he declares, "I like you! I just realized this now, but I like you!" Slinking through the crowd to say it to her directly, he confesses that he sees her as a woman, that he always liked her, but only now did he realize his feelings for her. "I love you."
And just as he says it, the fireworks burst in the sky, and Baek-ho looks at his missed chance. Lesson learned – you don't wait 15 years to tell the girl of your dreams that you love her. You tell her as soon as you know.
Chae-ri lifts her camera to take a souvenir photo of the "romantic proposal, just like in the movies," and the flash sends Baek-ho back to the present.
We land in the middle of practice when another pitcher asks if he can start today and then he skips the line to get checked out at the clinic first with a little smirk. Oh hi, you must be a star rookie or something.
Baek-ho mentions that wearing a baseball uniform ceases to comfort him any longer – he's still second string and still without Yi-seul's heart. This could be the limit of his baseball career but he has no regrets about it.
Prince Buffoon aka our hot-headed pitcher acts the same immature manner to the reporters as with Baek-ho while Yi-seul as his agent calmly explains the next steps in his career. When Yi-seul gets faced with a tough question, Jin-won steps in to give a diplomatic answer.
Baek-ho looks on at this unstoppable partnership, knowing that they'd soon be joined together in a different sense. And Socrates Chan-wook hits the nail on the head once again, identifying hotshot pitcher and his puffed up ego.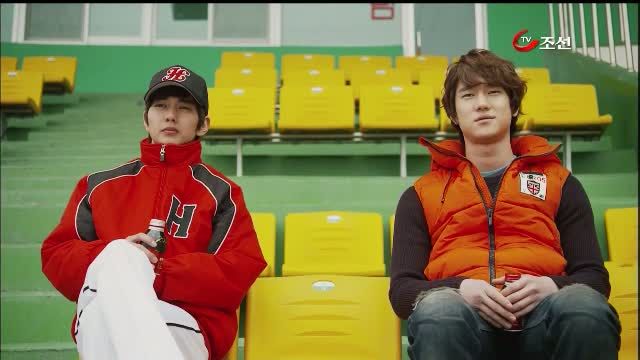 Sitting on the bleachers, Baek-ho asks how Chan-wook's film project is going. Hearing that it's temporarily shelved due to a lack of funding, he reflects on how none of them will give up: on baseball, movies, or Chae-ri (heh).
Chan-wook tells him they can't since they've been at it too long. Talk of the upcoming engagement party allows the memory of Jin-won's heartfelt confession flood into his head. Chan-wook laughs at the irony that she was eventually won over by the man she initially tried to chase away.
Now that he thinks of it, what happened 3 years ago when he tried out for first string? He should've passed but failed and Baek-ho looks perplexed at the news. Don't tell me you don't remember…
We flashback to memories from three years ago and he was initially surprised at the coach's suggestion that he try out. The coach said why not – would he settle for second string and waste the decision of dropping out of university to go pro?
But the next day, Baek-ho stumbled onto the field, failing to throw a pitch, let alone catch a ball correctly. Dude this was your one shot and you came up drunk? You better have had a better reason than my girl is going to marry some other guy 'cause I didn't do anything about it.
Baek-ho drowns his sorrows in soju at the snack shop and his friends wonder whether something's up. Chae-ri slips away for a mysterious phone call from an ex who is recently divorced. Chan-wook asks if Tae-nam is going to stand by and watch.
Yi-seul drops by and is irate at the news that Chae-ri's heart still wavers. She calls Tae-nam out if he's going to do anything about it. But Tae-nam replies that he's happy as long as Chae-ri is. Fed up, she seethes, "Do you know that you're a coward?"
She continues that he's never once told her how he felt about Chae-ri (uh hello plot inconsistency!), and that he gives up whenever he sees Chae-ri with another man. "How can she know? How can she trust you? That's not enough for a woman!"
Tae-nam is left speechless. Yi-seul downs a shot, and leaves in a huff.
Baek-ho chases after her, following her home in silence until she finally turns around. He bucks up the courage and asks why she never asked him about the tryout three years ago. Isn't she curious?
Yi-seul shakes her head no and asks if he wants to know why. He does, and she replies, "Because I'm afraid of knowing the truth."
For the first time in her life, he was not the Baek-ho she knew. "No matter what the reason was, I was afraid I wouldn't understand and be disappointed." He blubbers an apology and she says it's all in the past now.
As Baek-ho turns around, his past self comes running at him, ecstatic to tell Yi-seul about the tryout… and saw the lovebirds outside of Yi-seul's apartment. He drank bottle after bottle that night as if it would erase the pain.
Yi-seul's words echo in his ears about how she was never disappointed in him as a player until that day. Questions of regret swarm his brain, if he went back, he'd never disappoint her, he'd give it his all….
And he turns around, his eyes shifting back and forth as if those words would will the Conductor's presence. HAHAHA. Okay, that's pretty funny. He throws balls, commanding the Conductor to make himself known…
"In all my life, I've never met a kid like you." Baek-ho greets him with a smile and the Conductor says, yes that stupid Conductor he cursed at is back. He even thinks aloud that he must not have any pride appearing before someone after being bad-mouthed.
He tells Baek-ho not to get the wrong idea; he intended to come by anyway, not because some ungrateful kid commanded him to do so. So he wants to go back to the tryout? Would he make it this time and not pass out drunk?
Baek-ho assures him that he'll give it his best shot and the Conductor challenges if it's about baseball or Yi-seul. Baek-ho hesitates, gathering his words and replies, "I want to be a man she can be proud of."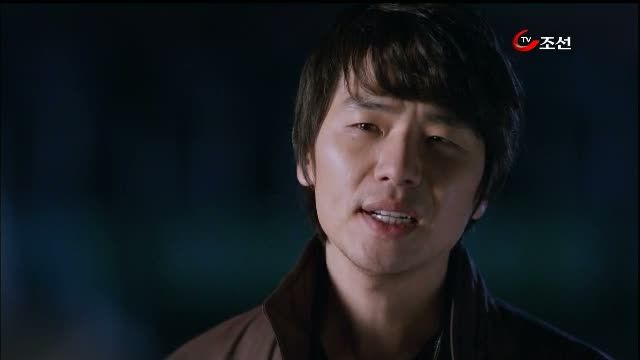 Taking out another baseball, today's baseball legend analogy is of Park Chan-ho: people usually remember him for his stats. But what made him great? Even if he couldn't be the best, he worked to the bone to be. And thosewords couldn't be more suited for Baek-ho.
Baek-ho vows to do his best and the Conductor tells him to just pass the test.
So once more, Baek-ho chants the word that sends him back to the past.
Baek-ho hears about the news of the first string tryout again and he vows that this time, he won't repeat the past (or is it now the present) actions and actually do something about it.
At the snack shop, Chae-ri gets called away and it's Chan-wook who tells her not to go since the guy's just using her. She knows it, but can't help what her heart feels.
So it's to everyone's surprise that Tae-nam sends her off with a smile, spewing about how she's being given a second chance and she should see it through. She lingers for a moment with a darkened and downcast expression before heading out.
Tae-nam sighs when his friends urge him to catch Chae-ri, noting that she's way out of his league. Defeated, he adds that he's just a sunflower to gaze upon a brilliantly shining Chae-ri sun. Have you been taking dunce lessons with your buddies? No wonder none of the ladies they like know how they feel.
Baek-ho insists that he chases her anyway – after all, he hit a homerun for her when no one thought he could have.
Baek-ho is unsuccessful at reaching Yi-seul all day, and it turns out she's meeting Daddy-in-law-to-be. When was it ever explained that Jin-won was a chaebol? Oh right, this is kdrama land – there always needs be a chaebol.
Yi-seul introduces herself as a humble employee and he disagrees – he thinks she's more to him than just that. It catches her off guard, so he clarifies that it's the first time his son has paid such close attention to someone, so she strikes him more like his protogée.
Daddy-in-law has a favor to ask: he'd love it if Yi-seul could bring Jin-won back to the family business. They'd supported him as a player because they thought baseball was his fate, but a sports agency just doesn't seem very promising.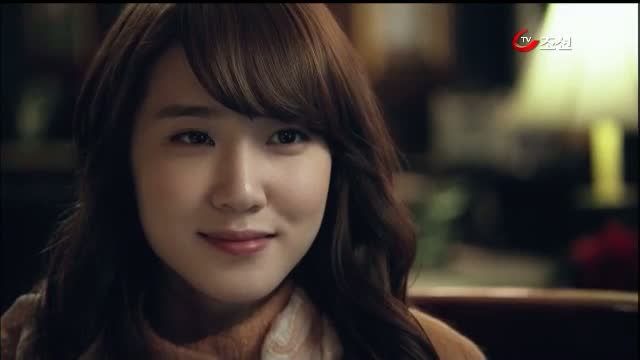 Yi-seul asks for permission to give her honest opinion, and he grants it. She believes that Jin-won will not enter the company because Jin-won has other dreams. He asks after what that is and she explains that he's carving a new road for himself.
If it's a matter of destination, wouldn't it be easier and you'd travel farther on a road already paved? Oh you and your first-world problems. But Yi-seul answers it's not the destination that matters, but the journey.
He's impressed and casually mentions that they'll probably see more of each other soon. As she leaves, Jin-won lurks in the shadows with a smile on his face.
Mom makes Baek-ho his favorite dish. As he eats up, he admires watching her back and how all these years, it was still his most cherished memory since he didn't have a mother to admire.
Mom catches him in the act, joking if her back has aged too. She mentions that the only person in the world who knows her back best is Baek-ho. Embarrassed, he asks if she knew – of course, she's a mother after all.
She gives him a word of advice: Women need to hear from men directly how they feel about them, even if they have an inkling. If they don't, she'll think that there's no meaning and end up becoming suspicious.
Baek-ho contends for women's intuition, but she gently reminds him that doesn't work when it comes to the matters of the heart. She calls him a good man and encourages him to be more confident. Aww, Mom.
Baek-ho is out practicing pitches again when he spots Jin-won and Yi-seul driving to her house. Okay, if you were planning to prevent that kiss on the forehead, shouldn't you be standing, say, in front of her house? If you don't get there in time, it's your own fault.
Jin-won tries to weasel information out Yi-seul, but she stands firm that she simply rejected a job offer from his father. He asks if she'll go if he prepares a better deal for her, but she counters that she fits better in a hole-in-the-wall kind of place.
Jin-won stutters at her brutally honest opinion, unable to compete with her. She teases if that means he'll fire her. But before she can go inside, he wraps her in a small hug, "Don't leave until I fire you."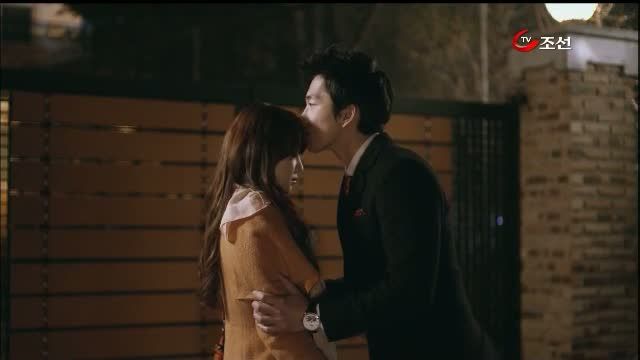 …and Baek-ho runs in just as Jin-won plants a kiss on her forehead. Watching the same moment twice, he wonders if it hurt more to watch it over again or knowing that Yi-seul would become Jin-won's wife.
But he tells himself to buck up and come to his senses. He takes a few deep breaths and collects himself before calling out, "What's up with your expression? Did something happen?"
He tells her that something urgent has come up, which spikes her concern radar, but he needs her help first, and then tells her there's somewhere they need to go.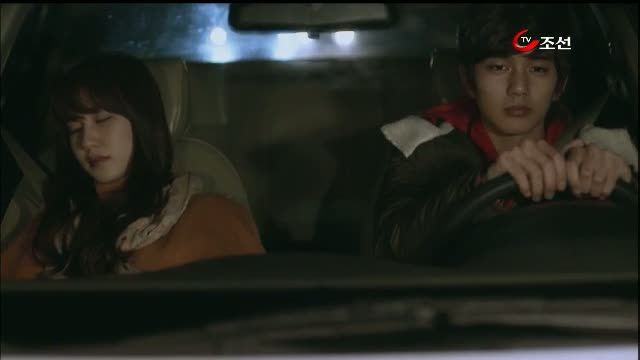 Wait, what? You have a car, Baek-ho? You couldn't just drive and waited in front of Yi-seul's house? Oh, okay.
They drive to the shore and Yi-seul wakes in the car, finding Baek-ho's coat draped over her.
Yi-seul is more than ecstatic to hear the news that Baek-ho will be trying out for first string later that day. She then barks at him that he should be training, not out here on a midnight drive.
He turns to look straight at him, and then walks away from her, setting down an empty coffee can. Baek-ho continues to walk and then stops, taking out a baseball from his pocket.
Baek-ho declares, "If I throw this ball and it hits that bottle… then we're going out together."
And he hurls it.
COMMENTS
You know that cliffhangers and I were never buddies. Why must you tease me like that? We don't hear anything from this end of the episode, so we're not sure whether he makes it or not. Since we're only at the halfway point, I'm thinking not. And if you can, keep the spoilers to a minimum – I'm among those who hates knowing what lies ahead prematurely and it ruins any genuine surprise or reaction of a noteworthy scene later on.
Okay enough is enough – what is with all these plot inconsistencies? For a show that did so well of integrating how the little changes in Baek-ho's decisions made to altering his later memories and present, it almost seems that the story forgets itself sometimes. Case in point: Tae-nam let Chae-ri (and the entire school) know how he felt about her back in Episode 5, so where is Yi-seul getting at when she says he never let Chae-ri know how he feels about her? Doesn't he tell her every chance he got?
Don't get me wrong – I understand that the words are for Baek-ho's benefit and not Tae-nam (don't get me started about how his blasé attitude about letting Chae-ri meet whatever man she wanted to meet annoyed me). But you have every piece of evidence that points to the contrary so that Yi-seul's outburst just feels… misplaced.
Maybe it would have been better if Yi-seul was yelling at Chan-wook about Jin-ju but we didn't have any scenes with them today (boo) and Yi-seul doesn't know Jin-ju well enough yet.
Then there's how Baek-ho still managed to see the same scene again. Hey buddy – this was the moment you wanted to change. Nothing's gonna change if you start pitching in the park. And did you really think that your car was slower than your legs? Was there no parking in front of Yi-seul's house? But this is drama world, where just like a chaebol appears out of thin air, so must we witness the same scene again.
I do enjoy, however, that our hero is taking less time brooding and taking more proactive steps. It's a mark of development for him, and his voiceovers have gotten progressively shorter. Maybe he's figured out that less talk, more action might get the girl.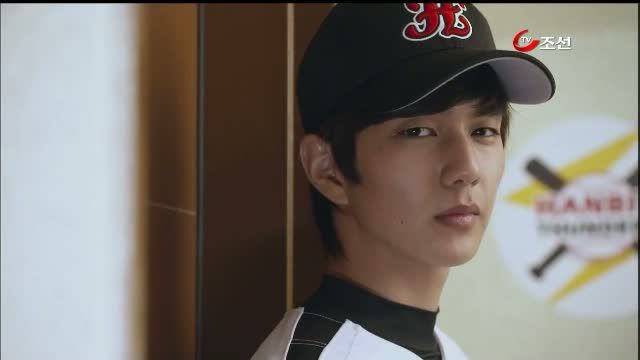 RELATED POSTS
Tags: featured, Lee Hyun-jin, Operation Proposal, Park Eun-bin, Yoo Seung-ho