Shut Up: Flower Boy Band: Episode 11
More fame, more adorable manlove, and more questions about what it means to be a band. I appreciate how the drama poses the question of the group's identity and direction, not presuming that it's something the boys need to answer immediately, but depicting it as a work in progress. Their coming of age as people corresponds to their coming of age as a band, which is one reason why the show works so well. Other youth dramas should take note.
SONG OF THE DAY
Go Go Boys – "I Like You." Among the things our singer likes his girl better than: coffee, milk, summer, ramyun, kimchi, noona, oppa, weekends, paychecks, naps, and refreshing showers. I was bopping my head along until that fatal line came: I like you better than… my friends. Oh no he di'n't. Naturally I thought of this drama. [ Download ]
Audio clip: Adobe Flash Player (version 9 or above) is required to play this audio clip. Download the latest version here. You also need to have JavaScript enabled in your browser.

EPISODE 11 RECAP
Eye Candy takes the stage for their TV debut, and things start off great; I'm pretty sure that look of giddy excitement on Su-ah's face matches the goofy grin on mine.
But as we saw, Ha-jin's bass cord disconnects and Do-jin loses a drumstick. The guys cringe but soldier on; Ji-hyuk keeps singing and Do-il drums one-handed, and when it comes time for the guitar solo, Hyun-soo steps up and commands the screen.
That gives the audience something to watch while Ha-jin scrambles to plug his cord back in and Teacher Kim crawls onstage to return the lost drumstick. Everything's back on track by the final chorus, phew. I think I grayed a few hairs in those brief seconds.
The MCs spin the accident into praise, saying that pulling this off in their debut shows the band's live skills.
Hae-ri is on the verge of apoplexy, having never meant for them to go live in the first place (the last-minute "amp problem" was invented to force them to go pre-recorded, bypassing a mutiny). But after the show, she finds the guys sitting in shell-shock and gives them a terse, "Good job."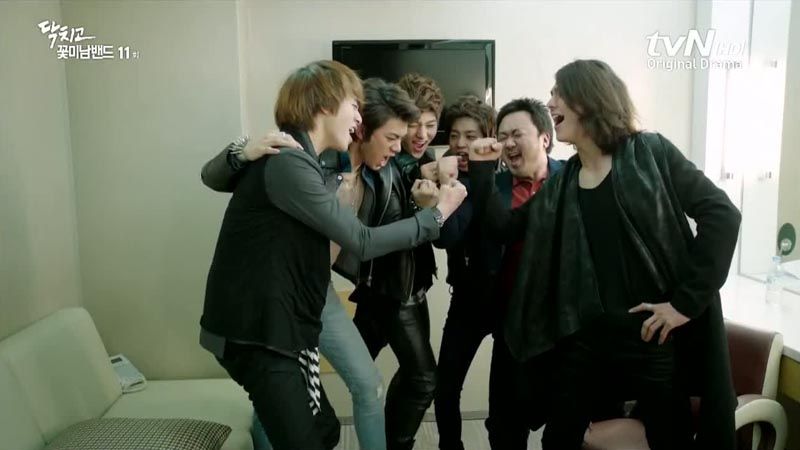 The guys are amazed at the lack of scolding from Witchy, and decide that this means they must have impressed after all. Aw, it's awesome that of all things, Hae-ri's grudging words are what pull the boys out of their funk, and they cheer to their successful showing. Teacher Kim even takes credit for dropping their pre-recorded track into the water on purpose. Haha. Everyone's a genius in retrospect.
Hae-ri lets the guys have their phones back, and Ji-hyuk texts Su-ah thanks for the shoes, which Hyun-soo ribs him about. I doubt he knows where they came from but it's enough that they were a gift from a fangirl, and Ji-hyuk blusters an awkward denial.
Teacher Kim makes the rounds at the broadcast station, where the music show PD grumbles that the guys nearly gave him a heart attack, though he concedes that at least the guys stir interest with their good looks.
Another PD offers an interview showcasing the boys' dorm life, and this one goes better than the first. Ha-jin and Kyung-jong are still unpolished but Hyun-soo again proves himself to be the best speaker as he smoothly describes wanting to ensure that his next performance is mistake-free.
When asked about whether their glitch will scare them off of live stages, Ji-hyuk's answer is customarily gruff, but goes over pretty well: That the studio recording is the perfect version, but a live stage captures a moment that only happens once, and that has more meaning. Do-il adds, "A band that's afraid of performing live oughtta quit." Hae-ri watches, perhaps impressed, though probably more at their chutzpah than anything.
Soon the band's schedule is packed with interviews, performances, radio shows. Eye Candy even displaces Kim Ye-rim (singing Seung-hoon's song) as No. 1 on a countdown program.
It's happy times for the band and Su-ah enjoys watching their fame grow among her peers… but it also leaves her tapping her phone in disappointment, because he's too busy to call.
On a rare day off, Kyung-jong makes a lavish breakfast for the boys, who ooh at the spread after subsisting on ramyun and kimbap for days. He puffs up, particularly when Ha-jin declares today a very important day… and then deflates when Ha-jin commends him for being so supportive on the day of his date with Goddess Ye-rim. Aw, is that seaweed soup on the table? Don't you boys watch dramas? It's gotta be a birthday, judging from his disappointment.
No one else remembers, though Hyun-soo picks up on Kyung-jong's reaction.
Teacher Kim arrives to take Hyun-soo to his next event, and chides the boys for taking it easy while Hyun-soo is up to his neck in activities (among them a variety dating show), all in the name of the band. Ji-hyuk bristles at the implication that he's not working hard and retorts that nobody's forcing Hyun-soo. He grumbles at the phoniness of acting smiley for interviews, which in turn makes Hyun-soo ask if Ji-hyuk's insinuating that he's drunk on fame or something. No no, don't fight! You're doing so well! You're bros!
Ji-hyuk leaves the room and Do-il plays peacemaker, saying that Ji-hyuk's reaction comes from feeling bad about Hyun-soo working so much.
Ha-jin drags Kyung-jong along on his date with Ye-rim, but Kyung-jong's surly about his forgotten birthday. He's like an angry kitten; you can try to respect the animal's feelings, but he's jusss so widdle and cuuuute! Kyung-jong shoots daggers at Ha-jin and is extra-friendly with Hyun-soo over the phone, who has remembered his birthday.
Ye-rim perks up and suggests inviting Hyun-soo over, just as Ha-jin tries to say something. He keeps missing openings to speak, which is exacerbated by the fact that peevish Kyung-jong actively cockblocks: He tells Ye-rim how Hyun-soo only seems cold, but is a good friend who's sweet to his sister. He storms off, tired of playing wingman.
Ji-hyuk gets ready for his own date, and hee, is he pilfering from Ha-jin's cosmetics? I love that he worries over what to wear; surely it makes a huge difference whether he wears Drab Brown Sweater or Drab Brown Jacket. But Do-il interrupts his beauty routine, having remembered something important.
Cut to: Kyung-jong in a noraebang, singing to himself, "Happy birthday to you." It's more amusing than sad, but then my heart breaks when Mom calls and he lies about his friends making him seaweed soup and how his birthday's been so awesome.
Su-ah excitedly takes Ji-hyuk's call, then deflates a moment later when he cancels their date. Oh, that sucks, although I totally get why he'd put Kyung-jong's forgotten birthday first in this situation.
Do-il, Ji-hyuk, and Woo-kyung prepare a party at the dorm, but Ha-jin comes home alone. It's only now that he realizes that he missed his bestie's birthday, and they sit there waiting for hours, determined to surprise him with the party. But when Kyung-jong finally comes home, he ignores them and heads straight for bed.
The boys literally drag him out of bed. How much do I love that ambushing someone in bed is this group's go-to tactic for cheering up a glumdrop? It works, and the friends have a proper party this time.
Ji-hyuk calls Hyun-soo to awkwardly thank him for tipping them off about Kyung-jong's birthday, and adds that he knows Hyun-soo's working hard. And then, before hanging up, he says stammeringly, "I won't say this twice, so listen up. I-love-you-Dog-Hyun-soo! Milky skin Dog Hyun-soo!"
Yayyyy! It's reminiscent of Byung-hee's love declaration, only Ji-hyuk's way more embarrassed about it and has to reassert his masculinity (or something) by making devil's horns with his hands. It's okay, you get to keep your broody rock singer card.
Woo-kyung and Ji-hyuk sit outside, and she says that they feel farther away. He mumbles that nothing's different, but she says that they never would've forgotten Kyung-jong's birthday in the past. Now there are things to take their time away from their friends, and that leads to distance, and forgetting.
Then she asks, point-blank, how long he's going to hide his relationship with Su-ah from the band. He tells her it's not her business, but she retorts that she's been with the band for ages — what does that make her? Her feelings about him are obvious, even if he pretends not to notice — so how does he see her?
Ji-hyuk replies, "To me, you're like the others. Family." Worse than the implied rejection, she points out that framing her as family means he's telling her there's no hope for anything else. He answers yes, that he wants her to keep being his family. She walks off in tears. It's a painful truth, but hallelujah for straightforward honesty for once. Maybe if you can tell your bro you love him, telling a girl you're just not that into her pales in comparison.
At school, Seung-hoon watches Su-ah from a distance, but turns away when she spots him. Maro tells him he's being childish, since pestering a girl to like you back doesn't work when you're no longer eight: "But don't lose yourself."
Eye Candy gets mobbed for autographs, which includes the principal, whose daughter is a fan. The principal suggests that the band take over as models for the school's website, to which Ha-jin suggests that he take it up with their management. Brown-nosing principal asks them to put in a good word, and this would actually be somewhat satisfying if I didn't hate him so much.
Ji-hyuk spies Su-ah and hurries after her, but ducks back when she approaches Seung-hoon to hesitantly ask how things are going. She wants to be friends again, which Seung-hoon doesn't think is possible. All the things they used to do — watching late-night movies, going to shows and spending all day together — can she still do them?
She answers that she wants to try, and just as Seung-hoon starts to decline, he spots Ji-hyuk around the corner. He asks her to be there for him when he needs her, extracting the promise solely for Ji-hyuk's ears.
Su-ah finds Ji-hyuk on her way out, though he doesn't let on that he heard the exchange. He makes a date for the weekend just as a couple of students sees them together and wonders if they're secretly dating. Su-ah hurries off to prevent him from getting caught up in rumors, which is probably what he would have wanted her to do, but turns out not to be what he wants after all. He bangs his fist on a locker in frustration.
With Seung-hoon defecting from his band, Maro and Pyo-joo start looking for a replacement. Deo-mi offers herself up for the task, which Pyo-joo immediately rejects in horror, saying she'll ruin their visual appeal. You know, since the market is so hot for psychotic egomaniacs.
On the other hand, Maro looks at her with a clinical eye, liking the look of her piano-playing hand. She launches into an exuberant speech about how awesome this is going to be, and hilariously, this causes Maro to rescind his offer because she's too loud. HAHAHA.
The girls mill around and ask when the band is coming out with their next song. The boys exchange looks, as though it never occurred to them to have a next song. Seung-hoon smirks; one-hit wonders are no competition.
Deo-mi marvels at the band's rise in star power; they even knocked Seung-hoon out as school model. Su-ah says Seung-hoon doesn't care about stuff like that, which might be true if his replacements were anybody else in the world.
Su-ah sighs, questioning whether she knew Seung-hoon as well as she thought. She casts a wistful look back at him, which Ji-hyuk clocks. She smiles at him too, but it looks like the shoe's on the other foot for once.
A reporter prods Eye Candy's former producer for an interview with the band. The producer predicts that the band will soon be on their way out, though, figuring they don't have it in them for the long haul.
At the recording studio, Seung-hoon crosses paths with Ji-hyuk and congratulates them on their recent success, but says that with Byung-hee gone, they have no songwriter. Ji-hyuk retorts that it's pathetic for Seung-hoon to cling to a bus that's already left the station.
Seung-hoon surprises him, though, by admitting that he knows it. However, he just wanted to keep Su-ah from feeling alone: "But you have this ability to make her feel lonely." What's more, Ji-hyuk is fooling himself if he thinks he has a firm claim on that bus, with his busy schedule and absence.
Hyun-soo talks with Mom on the phone, asking after his sister's test results. Mom tells him not to worry about anything, but he presses her to keep him in the loop, just as Hae-ri catches the tail end of that conversation.
She gathers the band to discuss their next single. Hyun-soo asks why it's not a full album, and she replies that she's not convinced of their staying power yet, given that they didn't get here entirely on their musical strength. However, if the response to their next single is just as strong as the first, they'll find a very favorable contract awaiting them.
Ji-hyuk stops the others from signing the new contract, wanting a few answers first: Where will the next single come from? Hae-ri answers that the company will provide a song, based on their analysis of the band's appeal.
The guys don't love the idea of being locked into a style based on one song, but Hae-ri reminds them that their songwriter is gone. What else can they offer?
Ji-hyuk tells her that they want their next single to be their own composition. She asks if they're confident in their abilities, and the boys nod. She agrees to try it out, but warns that they won't have much time.
So Ji-hyuk takes Byung-hee's guitar and returns to their old basement studio, racking his brains for inspiration.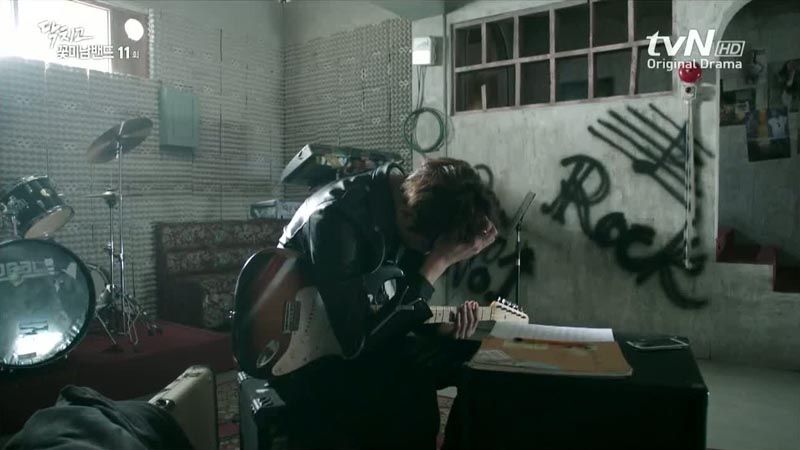 He gets called by Rock Kim, who refers to their latest decision as a mistake. Ji-hyuk asks, "How do I know if I should keep going, or stop?" He doesn't know if he's here because he wanted the world to hear Byung-hee's song, or maybe that's an excuse and he likes the attention. Rock Kim asks if the other guys feel the same, and he says maybe, maybe not.
He's feeling confused and glum: "Plus it's not great to have an ineffectual leader who can't write songs leading a band." Maybe that Witch was right about bands not lasting. Rock Kim laughs, mimicking Hae-ri rattling off Oasis and the Beatles as bands that broke up, but says that she's wrong. There's U2, the Rolling Stones, Aerosmith, and tons more who stuck together.
He tells Ji-hyuk the story of the Def Leppard drummer who lost an arm in an accident, and rather than quitting his friends designed a special drum kit that he could play with his feet.
Rock Kim: "You wonder why you're doing this? Do you know the meaning of a band? Solidarity. Partnership. Unity. You guys say you like making music so you can be together, so why are you worrying about this on your own? You should do it together. And if those kids have loyalty, they should know to have faith and wait."
Suddenly inspired, Ji-hyuk mobilizes his friends, who are off doing their own things. They all get his text: "Whatcha doing? Let's write a song! Come to the practice room."
So they all come back to their dank basement room and start playing. Over the next few days, they immerse themselves in songwriting, ignoring all calls. Unfortunately, this means Ji-hyuk forgets his plans with Su-ah, leaving her waiting at home, wondering where he is.
Hyun-soo wraps another of his individual promo activities and joins Ji-hyuk in the basement. The mood is much lighter between these two now, and Ji-hyuk ruefully calls himself a leader who refuses to do things he doesn't want to do, while another band member takes up the slack. Hyun-soo smiles, teasing that he ought to treat him better, then.
Ji-hyuk asks if something's going on at home. Hyun-soo initially says no, but when Ji-hyuk adds that it seems like his sister is sick, he admits lightly, "A little." Ji-hyuk tells him that if something's going on, he ought to talk, rather than holding it back. I love how he's passing on his newly learned lesson, and he points out, "If you try to figure out everything alone, whaddaya need friends for?"
Hyun-soo turns their attention to their new song, motivated to finish within their weeklong time frame because Ms. Witch threatened him with a truly horrible assignment if they didn't — a TV date with a comedian. Ji-hyuk teases him about it, then they work on the song together.
Still no word from Su-ah's absent boyfriend, though. When Deo-mi offers to treat her to the movies, Su-ah turns her down with a promise of a raincheck, and spends the evening checking her phone.
The management team worries that the boys may not deliver, though Rock Kim assures Hae-ri that they'll produce something. Hae-ri wonders who to use as producer, sending Teacher Kim a look with a nod at Rock Kim. Time to rope in the reluctant pro, perhaps?
The band delivers their new song to Hae-ri, who likes it enough to declare it their new single. Hae-ri still intends to bring on a producer, assuring them that they'll work to preserve Eye Candy's personality.
Everyone's relieved that the previous guy refused to work with them again, and a knock signals the entrance of the new guy. And just as we're possibly expecting the awesomeness of Rock Kim to enter the room… we get Seung-hoon, who's introduced as their new producer.

COMMENTS
Aw man, now this is going to bring on a huge clash, is it not? I've warmed to Hae-ri, who has shown that she knows how to back down and can compromise on things important to the band, and in return the guys have shown her a pretty respectful attitude. They press on the big issues, but for the most part they know she's a pro and always try to negotiate a point, rather than throwing up a brick wall and refusing to bend. It's what I was afraid they'd do when they first signed, and I've been pleasantly relieved at how things have progressed on the music-versus-commerce front.
But Seung-hoon? He's a wild card, and I'm not sure he can (or will) put feelings aside while he's working in producer mode. Everything he told Ji-hyuk in this episode is true, and he's confident enough in his own skills to challenge the group on a professional battlefield. But will he act the professional, or will he revert to that childish kid who's mad that the girl chose the other guy? We've seen enough of Seung-hoon to see that he can be decent, but he can also be ruthless. And Eye Candy has the sole distinction of being the thing to get under his skin and get his temper boiling.
On the Hyun-soo front, I'm relieved that the issue flared, and then was resolved. I love that the conflicts don't drag on and on; they get adequate space to play out, but then things work out and move on. After watching so many predictable dramas that drag a conflict out like it's competing for deadest horse ever, I tend to see a conflict brewing and dread the outpouring of angst that's sure to follow. It's actually the mark of insecure plotting, because it bespeaks a reluctance to let go of a conflict for fear that the show won't be able to come up with another one.
On the other hand, if you're confident that you've built a strong foundation and populated it with interesting characters, you can rest assured that more complications can be mined from that world. You let things play out only as long as they need to, without dancing in circles. This drama is so good at finding the drama in natural human interactions that the story develops in a way that feels organic.
That said, the Woo-kyung conversation probably could have come sooner, although I do like that she's the one to point out how Ji-hyuk's hiding his relationship as though that'll negate the conflict from ever happening. It makes sense that Ji-hyuk, who is supremely nonconfrontational (schoolyard fights notwithstanding), would drag his feet with Woo-kyung and then demonstrate a similar reluctance to rock the boat with Su-ah.
I haven't been annoyed by either him or Woo-kyung, even though their situation frustrates me, because I understand how they got to this point. We've seen how he genuinely cares for her and he doesn't want to ruin the family, in the way that Su-ah and Seung-hoon now find it hard to be friends. I'm glad he told her definitively that he doesn't like her, though, and she gets the message loud and clear. The sooner she heals and moves on, the sooner she can realize what a prince she has in Do-il, ever-present and silently supportive, right?
On the other hand, Ji-hyuk may have secured Su-ah's affections but he's got to learn that he can't just take 'em for granted, either. Just because he's a dreamy drama lead — so broody, so intense! — doesn't make him a good boyfriend, and in fact he's a pretty piss-poor one right now. I don't blame him for the canceled dates too much because each time I've understood why he had to back out. But date-forgetting aside, he hasn't been able to work up the nerve to be honest about it with his friends, and as we know, his friends are everything to him. To paraphrase Chris Rock, if you've been dating a man for months and his friends don't know about you, you are not his girlfriend.
Plus, I'm about one missed call away from stapling the damn phone to his forehead. It's not enough that you've stopped losing it everywhere if you don't answer the sucker!
RELATED POSTS
Tags: featured, Jo Boa, Jung Eui-chul, Shut Up: Flower Boy Band, Sung Joon