Shut Up: Flower Boy Band: Episode 12
It's a rough day for the boys, when they discover that having their mortal enemy as a music producer isn't even the worst of their troubles. Well, it kinda is. And it isn't. Things pile up, as the downside to being famous starts to catch up with them, and then… romance starts to threaten bromance, three times over. But cheer up — Eye Candy's second single:
SONG OF THE DAY
Sung Joon / Eye Candy – "Wake Up" [ Download ]
Audio clip: Adobe Flash Player (version 9 or above) is required to play this audio clip. Download the latest version here. You also need to have JavaScript enabled in your browser.

EPISODE 12 RECAP
Hae-ri calls in their producer for the next single, and in walks Public Enemy Number One: Yoo Seung-hoon. The boys flip out, while Seung-hoon smirks. So this is clearly his idea.
They argue with Hae-ri that they can't work with this guy, but she says it's already a done deal. She wants to produce a single written, produced by, and performed by teens, so that's just how it has to be. Their contract agreed to let them write the song, but the producer choice is hers.
As they walk out of the office with Seung-hoon, they ask what he's up to. He plays it cool, like he's here for the music and they're acting like children.
Hae-ri sits in her office with a concerned look, as we flashback to Seung-hoon asking her for the gig. She says she already has someone else in mind, but Seung-hoon pleads with her to give him this one thing.
She notes that it's so unlike him to act emotionally, and wonders what he hopes to gain from doing this. Seung-hoon: "I want to make them kneel in front of me." Oh, okay. Hello, Noona, you don't maybe think that's an unhealthy thing to be coming out of your little brother's mouth? Yeesh, this family.
She admits that Eye Candy is just a commodity she can gain something from, ready to toss them aside when she's done. Seung-hoon says it won't matter then, if she lets him use them to regain his pride. Or… you could get some self-esteem for free?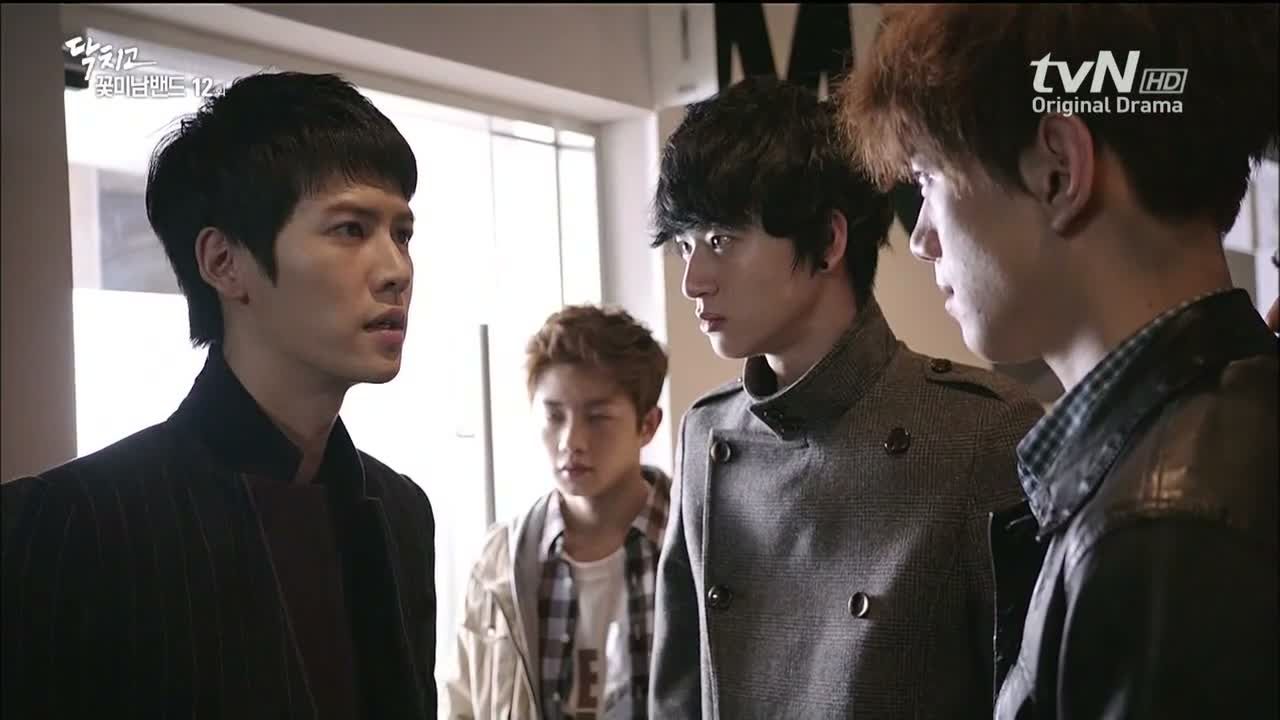 He says through gritted teeth that they took the one thing he ever wanted away from him. Dude, if this is about Su-ah, I will cut you. If it's about music, then the fastest way to getting back your popularity is to make your own new songs that are better, no?
The boys return to their dorm in defeat, wondering what to do. Ha-jin says there's no question; they rip up their contracts and walk. But Do-il reminds them that doing that means they have to cough up three times as much as their pay for breach of contract.
At that, Hyun-soo gets up with a big sigh, ready to go practice. He knows they don't have the money to get out, so in the very least, he doesn't want to be humiliated in front of Seung-hoon.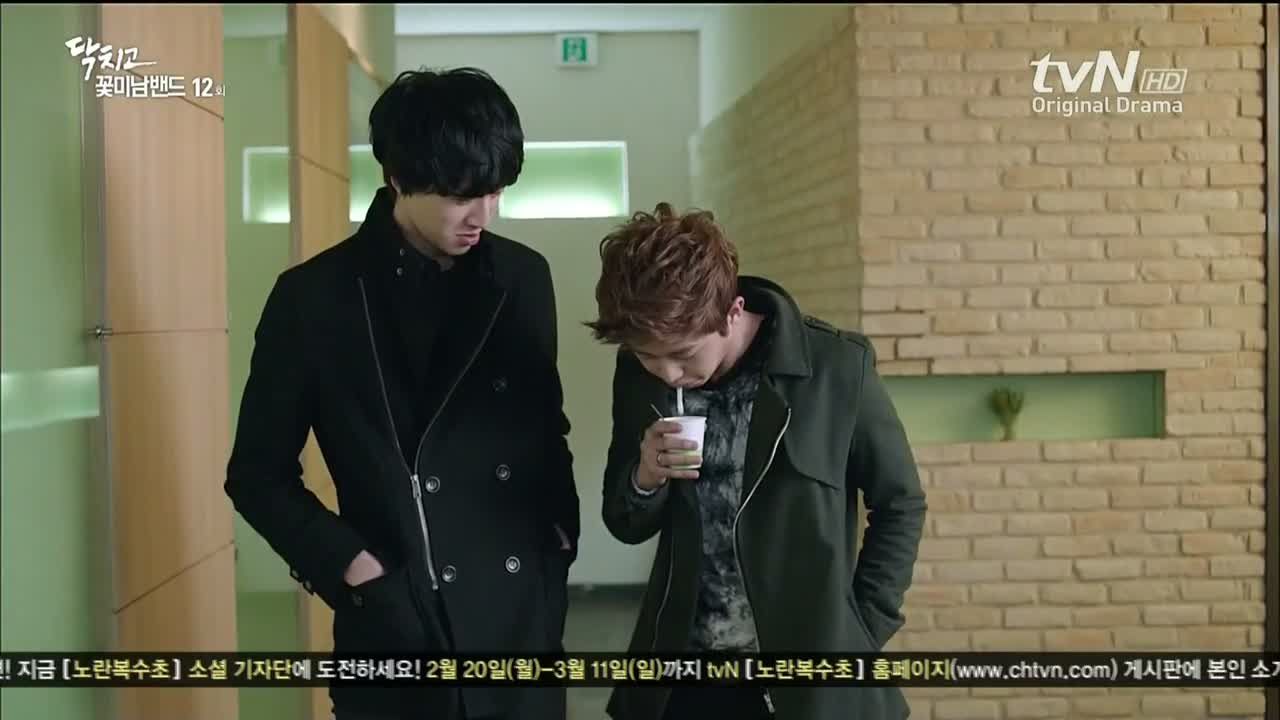 Ji-hyuk tosses and turns in bed, thinking about Seung-hoon's challenge to him about Su-ah. He texts her that night that he'll see her soon, and it kind of kills me how happy that makes her.
The next day the boys file into the recording studio, while Ha-jin and Kyung-jong trail behind to get a cup of coffee… which they take turns spitting in, just for Seung-hoon. Ha. They offer it to him way too nicely, which is probably why he turns it down. Curses!
Teacher Kim gladly takes the cup and downs it while the boys watch in horror, and gag as he asks, "Does this coffee have chunks?" Eeeeewwwww.
They ask where Hyun-soo is, and Seung-hoon says he already recorded his part. The fact that they're even recording separately is news to them, and they get up in arms over it. They wonder why Hyun-soo ever agreed, and Teacher Kim admits that he told him that the other boys already agreed. Aw, man, really? Divide and conquer?
Ji-hyuk insists they're playing together, but Seung-hoon stands his ground that it's not his decision to make. So one by one, they record their parts as he barks instructions at them. Every time Seung-hoon says, "Again!" you can see the boys grinding down to their last nerve.
He finally calls it quits in the middle of Ji-hyuk's vocal recording, "Call me when you feel like doing it right." URG.
The boys leave the studio in such low spirits that Teacher Kim gives them the night off to go play, and mentions that Hyun-soo will be working from home for a while.
Hyun-soo arrives home late that night and checks on his sister, who tells him that she's okay now, and that the doctor said when she gets surgery she won't be sick anymore. And now we know why Hyun-soo's been working extra hard, though it's not surprising.
Ha-jin drags Kyung-jong down to the station to visit Ye-rim in between show appearances. Ha-jin continues to be embarrassingly awkward around her, but when he leaves the room to get her a drink, Kyung-jong notices that all she does is ask about Hyun-soo. "Are you interested in him?"
Her smiley non-answer is enough to tip him off. When Ha-jin comes back, Ye-rim's manager yells at them for being so thoughtless as to visit her where they're surrounded by reporters. He makes it very clear that if a scandal erupts, it's Ye-rim who has something to lose, scaring them away.
Ji-hyuk FINALLY comes home looking for Su-ah, and she spots him down in the street. She runs up with a big smile, demanding one of those lollipops he's always got in his mouth, but he swears he only has the one. So… lemme get this straight… you never call, leave a girl hanging all the time, and you won't even share your candy? If you weren't so damned cute, I swear.
A couple passes by and recognizes him, so Su-ah immediately steps away. He doesn't think it's a big deal and reaches for her hand, but she pulls away, and doesn't even want to head upstairs at the same time because someone might be watching.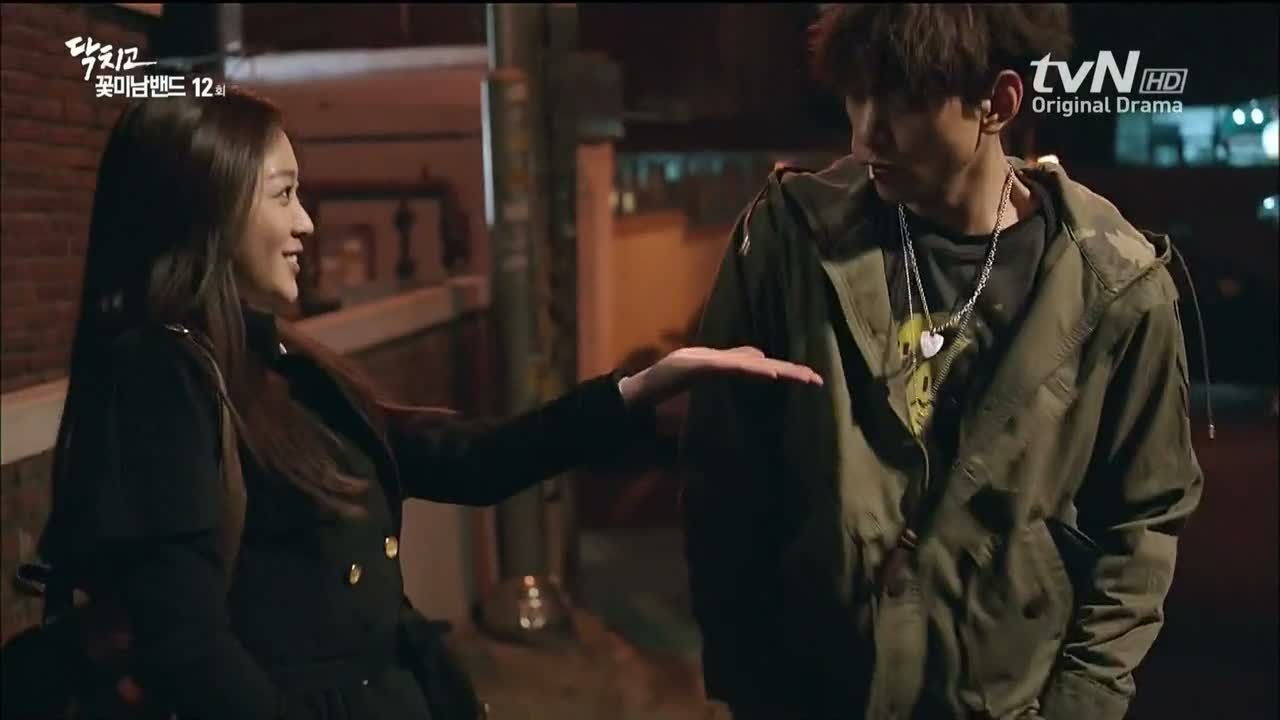 They finally get up to the roof and she says she's planning to move, and has started looking for a place. He says it's okay if she stays, but she says it's for her own comfort. Ji-hyuk tells her to call when she's ready to move. Su-ah: "So you can help me move my stuff?" Ji-hyuk: "No, so I can make sure you don't steal any of MY stuff." Heh.
He gripes that she's coming home so late when her shift should've been over hours ago, and she mentions that she went to see a movie with a friend, and had fun like the old days. He thinks back to Seung-hoon mentioning movies during the last conversation he overheard, and jumps to the wrong conclusion.
She lights up as she talks about her day, as his face grows darker and darker, imagining her doing all those things with Seung-hoon. He finally just turns around to go, telling her to eat ramyun by herself, and she runs after him.
What they don't see is that two schoolgirl fans are snapping pictures of the two of them as they come downstairs. Ruh-roh.
In the pool hall, Kyung-jong finally tires of listening to Ha-jin drool over Ye-rim, and snaps, "Haven't you noticed that all she does is ask about Hyun-soo?" But he's in total denial, of course.
They're interrupted by the local gang who scan the room and smile to find the two boys alone. They insist they're just here to play pool though, and the leader actually asks Kyung-jong for an autograph. Ha. He obliges with a fake one.
They get ready to retaliate, only suddenly Do-il pops up out of nowhere, complaining that the noise woke him up from his nap. Hee. The gangsters freeze. He goes to meet Ji-hyuk, and Ha-jin says they'll be there in a while, wanting to taunt the punks a little longer.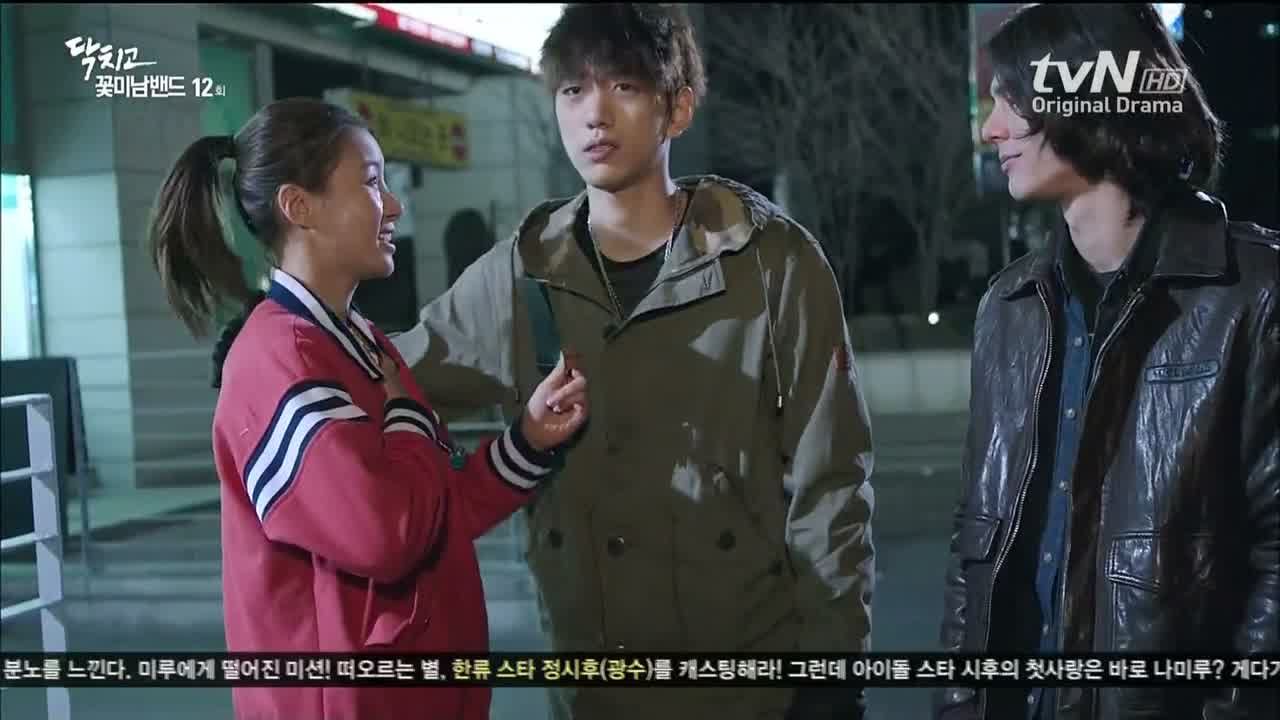 Ji-hyuk and Do-il walk home, and Woo-kyung comes running up to hug Ji-hyuk, calling him "Jagi." Oh no, you're drunk. I'm cringing in embarrassment…
She says it's a very special day, and flashes an ID at them. It's her stylist's license, which she declares proudly, looking up into Ji-hyuk's eyes. Only of course Ji-hyuk couldn't care less, while Do-il's eyes light up. GRAR, why can't you see the other guy?
Her heart sinks in disappointment at Ji-hyuk's nonchalant response, and she asks if he knows how hard she worked to get this, and why: "Because of you! So that I could keep up with you!" Ji-hyuk fires back at her, "And who told you to do that?"
He finally yells at her to take care of her own feelings, which just knocks the wind out of her. She starts to cry instantly. Do-il tells him to stop, but Woo-kyung says through her tears that he shouldn't have always run to her rescue then.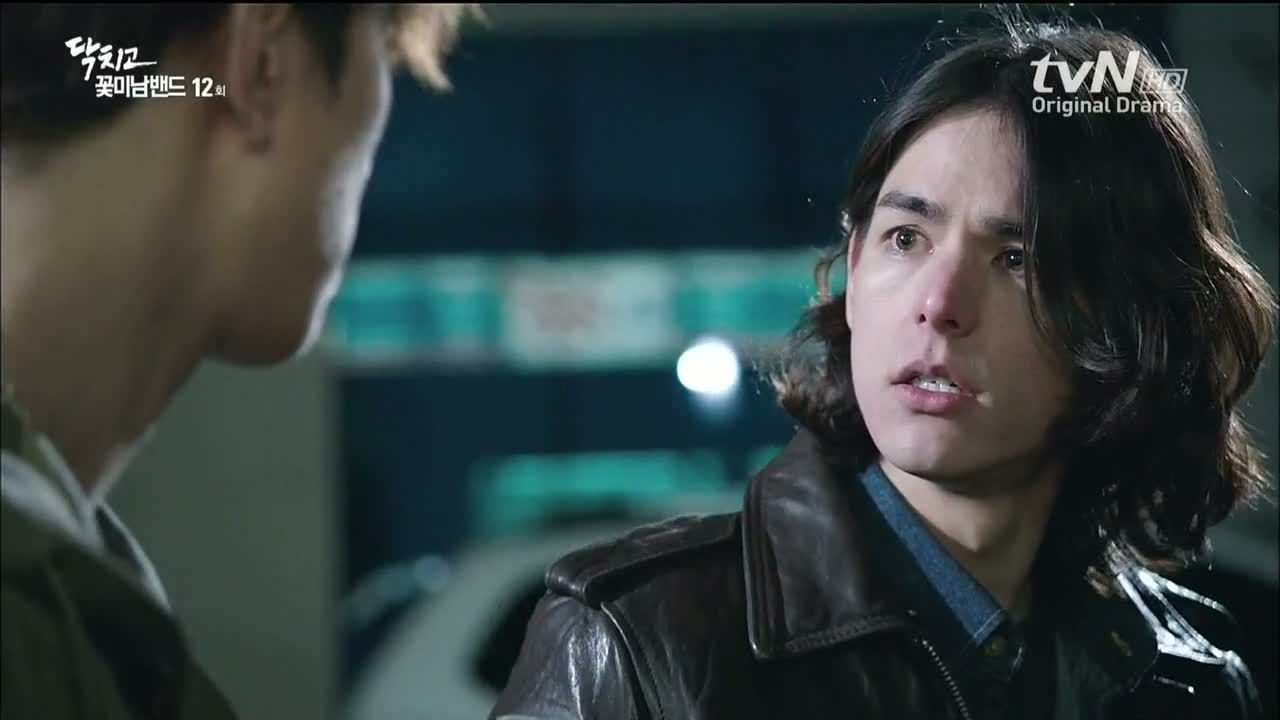 Ji-hyuk: "FINE! Then I won't from now on!" He starts to head inside. Do-il stops him, telling him to walk Woo-kyung home. Ji-hyuk's like, what's with you—she told me to stop being nice!
And finally, Do-il has his outburst, which is seriously, about frickin' time: "Stop making Woo-kyung cry!" He storms off, and Ji-hyuk yells in frustration.
Kyung-jong finds Hyun-soo back at the dorm, and greets him with a hand to the chin, saying he missed his pretty face, and… I'm pretty much a goner. Kyung-jong takes the opportunity to ask if he like Ye-rim.
He says no, which I'd be more inclined to believe if he ever showed any outward emotion about anything. But he seems to genuinely not care. He laughs about everyone falling in line to like that girl, and Kyung-jong says it's not for him; he's asking because Ha-jin seems sincere about her, and well, she's always asking about Hyun-soo.
"The story might get strangely twisted." I'd say it's already halfway there. But Hyun-soo tells him to stop concerning himself with trivialities, and so Kyung-jong leaves him to practice with a pat on the head. Now the kitten is petting the puppy? Cuteness. Overload.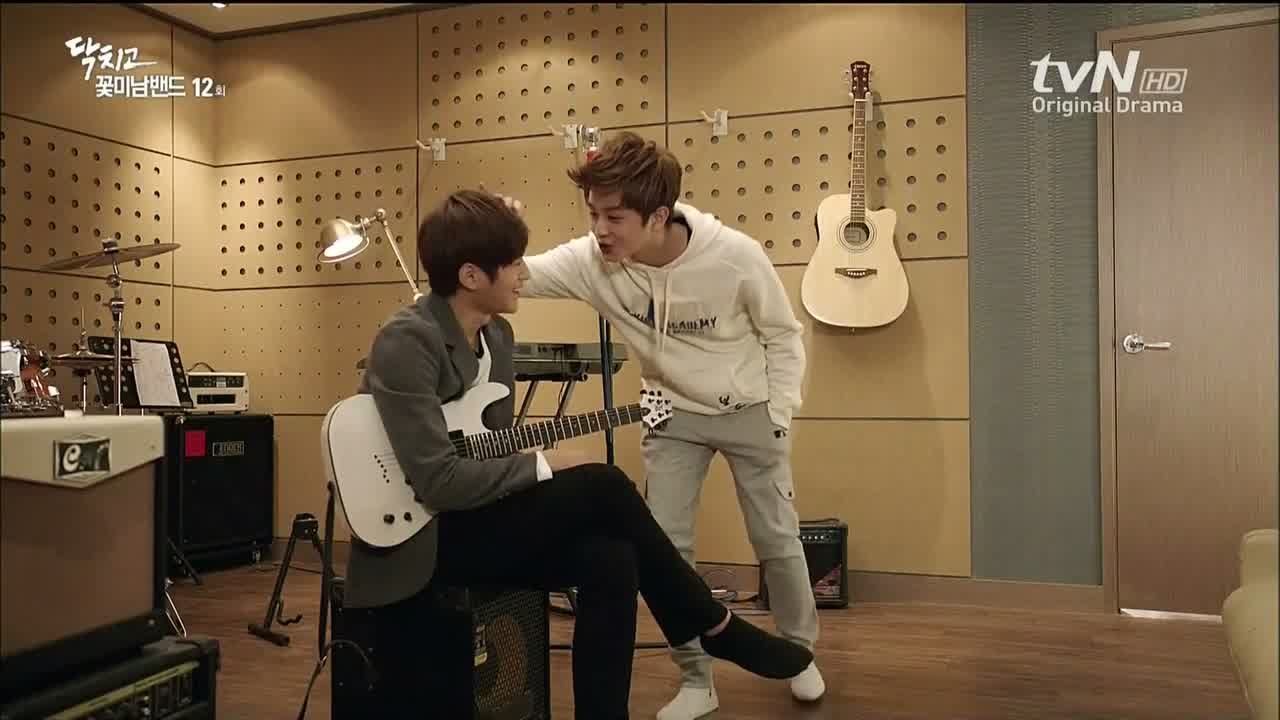 Do-il wanders the streets aimlessly for a while, and gets stuck in an altercation with some asshole who decides to make a big deal about a celebrity bumping into him.
Do-il tries to apologize and walk away, but the guy refuses to get out of his face, and he finally grabs the guy by the collar and growls, "If my face hadn't been sold on tv, you'd be goner." People recognize him and murmur.
Eye Candy shows up at school the next day, and Ji-hyuk glowers, surrounded by his usual groupies. Deo-mi begs Su-ah for a teensy favor – Ji-hyuk's autograph, for a friend of hers. Su-ah cringes, but Deo-mi says loudly that if she does, she'll totally splurge on dinner and a movie like she did last night.
Ji-hyuk's ears suddenly perk up. Su-ah walks over, wishing she could be invisible, and sticks out a notebook. "Sign…" He obliges, and then asks oh-so-casually, "Were you out with her last night?" She says yeah, and he tries to hide his smile like a fool.
He smiles again when he sees her in the hallway, and then stealth-passes something into her hand as they brush past each other. Swoon. Sometimes secrets suck, and other times they're totally hot.
She looks in her hand and finds a lollipop. Awwwwww.
Ji-hyuk sits down next to Do-il and says he was really scary last night. He says he knows how much Woo-kyung does for them, and how she looks after them like a mom. "But I learned only recently – that accepting someone's feelings that you can't return… is being the bad guy."
Do-il: "You learned that only now?" Well not everyone is silently empathetic with shampoo commercial hair. Ji-hyuk says that he wants to keep Woo-kyung as family, and so even if it hurts her now, he's going to continue to be an ass. It's like half-smart, half-stupid.
Do-il points out as much, and Ji-hyuk just asks him to look after Woo-kyung, "She always tells you what she's really thinking anyway." Do-il sighs, wondering if he'll be enough. Aw. You'll be enough. She just doesn't know it yet.
Hae-ri calls Hyun-soo and Ye-rim in for a meeting and proposes they do her next duet together, and is taken aback when Hyun-soo turns her down flat. She reminds him that he's been doing all those solo appearances, but he says that's acting as a member of Eye Candy. He says if he's going to do vocals, it'll be on Eye Candy's next album, and has no interest running off and doing solo activities.
Ye-rim asks if he won't reconsider, but he leaves no room for misunderstanding, turning around to add that he'd rather her not say anything about liking him to Ha-jin, since he seems sincere about her, "and I hate being caught up in complications."
Hyun-soo calls Mom to ask about his sister's surgery, and discuss the cost. Mom says she asked to borrow money against their house, but Hyun-soo knows it's not enough. She tells him not to worry about it, which of course just makes him madder.
He joins the guys for ramyun, as they're complaining about working with Seung-hoon. They start discussing options to get out of it, like pushing the single back and working on it themselves.
That gets Hyun-soo all riled up, as he asks if Seung-hoon actually said or did anything wrong, and what on earth they're planning to do, blaming Ji-hyuk: "You're the biggest problem!" He storms out of the room.
Noooo! Don't fight! The thing is, of course Hyun-soo would react this way, because he only got off the phone with his mom five minutes ago, furious about not having any money to support his family, and then walked straight into his bandmates wanting to postpone their payday. Not to mention the fact that he JUST turned down the duet out of loyalty to them. It's just… THEY DON'T KNOW THAT.
Ji-hyuk follows him into the room to try and stop him from walking out on the conversation, and Hyun-soo asks if he really thinks that Hae-ri would listen to him. "I don't have time for that! Stop doing whatever you feel like. If you're a leader, then start acting like a leader and THINK."
Seung-hoon calls Su-ah and asks her to come to the studio to listen to his new song. Your new song or Eye Candy's?
Ji-hyuk goes back in to record his vocals the next day, taking a note from Hyun-soo and swallowing back his temper to get through the recording. Seung-hoon makes him do it over and over, insisting that the feeling is off, and Ji-hyuk snaps back that they wrote this song, so he can tell them how to adjust this or that, "But you can't tell me what I'm supposed to be feeling!" Touché.
They finally get through it, and the sound tech tells Ji-hyuk that he did a good job, considering that Seung-hoon's such a stickler, just like his sister. It's news to Ji-hyuk that Seung-hoon is Hae-ri's brother, which I hadn't realized.
Meanwhile Hae-ri gets reports that rumors are circulating online about Do-il and his father, and lines up a press conference to try and counter it with positive press.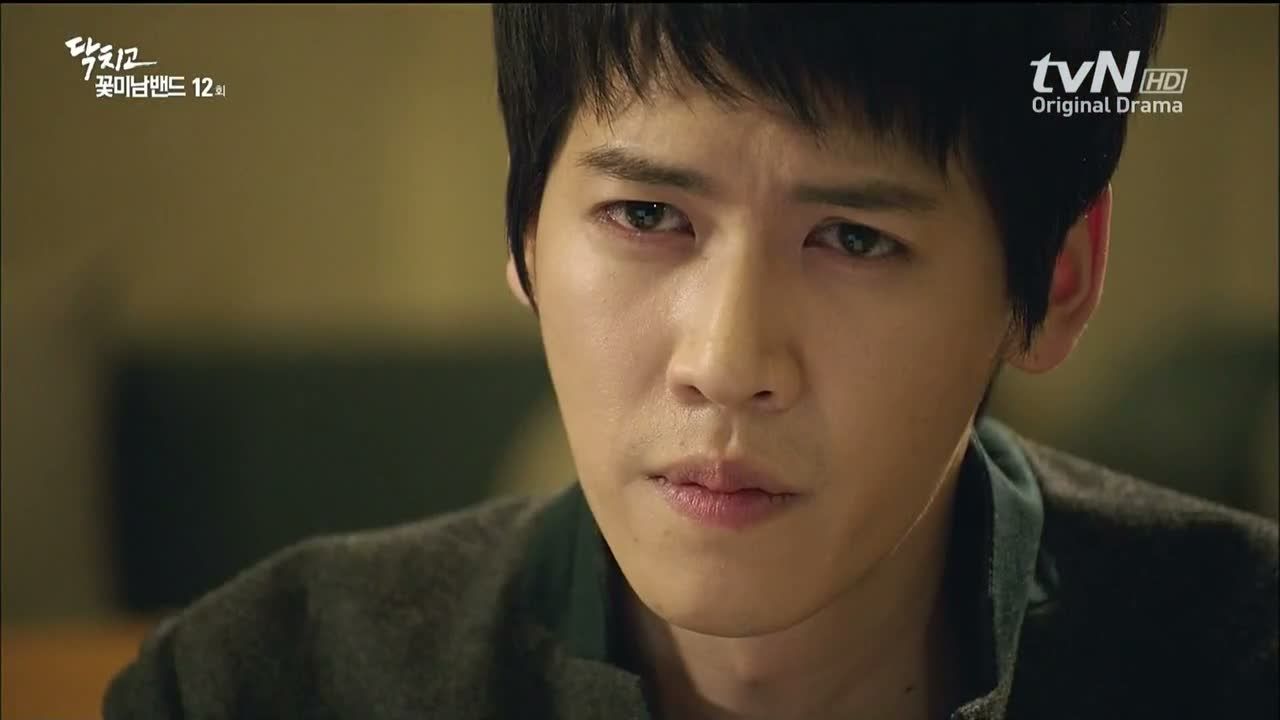 Ji-hyuk storms into her office to ask if she's having fun watching them suffer through working with her kid brother, and she just says she's never once acted emotionally when it comes to business. But he points out that Seung-hoon asking to be their producer in the first place is acting emotionally. He's right about that, and you ought to know since you said the exact same words to him.
But she just tells him that there hasn't been any issue with the recordings, they got through them, and now they only have the showcase left. She reminds him to act responsibly, like a leader, handing him a document. She tells him he can't have it all.
He walks back into the recording studio, to find Su-ah there with Seung-hoon. He asks angrily if it's not enough that Seung-hoon follows her everywhere; now she's following HIM?
Su-ah starts to say it's not like that, but he spits back angrily, "That's all you can ever say – it's not like that!" And then he says the same thing Hyun-soo told Ye-rim: "I hate complicated things," and tells her to be clear with her actions.
He storms out and she starts to go after him, but Seung-hoon holds her back. Ugh, I hate you right now. Su-ah: "I think I know now why you called me here. I'm disappointed in you." She walks out. Well thank goodness for that.
She catches up to Ji-hyuk and tells him to stop right there. Nice. Now it's her turn to take him to task – for all the missed calls, missed dates. She says sure, it's a situation he could easily misunderstand, but she came here as Seung-hoon's friend.
She says that Seung-hoon is a childhood friend to her, just like his friends are to him, and that she feels bad that she had to reject him… "But at least my friend Seung-hoon acknowledges what you and I are."
He asks what that's supposed to mean. Su-ah: "You told me to be clear. Then what about you? Your friends? That unni? Is there anyone around you who knows about me? YOU be clear." THANK YOU. Gah, I frickin' love you right now.
He blurts out, "I'll tell them! My friends… I'll tell each of them that I like you. So stop hanging out with that bastard. I hate seeing you with him." That finally gets her to smile. You'd just better do it, buddy. No pussyfooting.
But they've got bigger worries the next day, because it's time for the big press conference for their next single, and I have a feeling things are going to go very badly. Do-il worries that the rumors about his dad are going to mess with things, but the guys rally together.
It starts off well, and they have an MC who helps deflect questions about Do-il's father, so things stay on topic about the single and the band for the most part. But then one final reporter asks Ji-hyuk a direct question: "Do you have a girlfriend?"
Ji-hyuk hesitates, and then asks if he has to answer the question. The reporter follows it up with a picture of him and Su-ah exiting his rooftop room: "Then is it true that you're living with your girlfriend, a student from your school?"
Oh. Crap. The boys all turn to look at him.
He holds the mic up and opens his mouth to answer…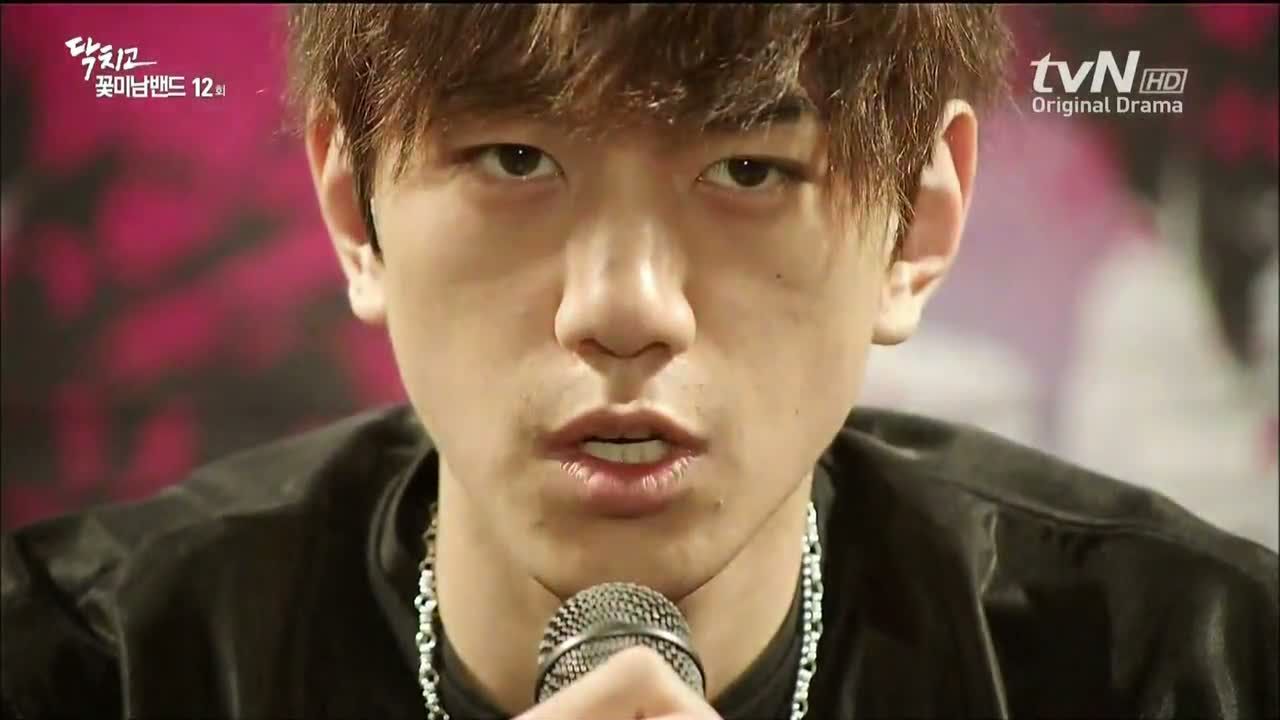 COMMENTS
Aaaaaaaaargh. You would end there. The thing is, Ji-hyuk is enough of a loose cannon to just say "Yes" thinking that he can clarify his answer later, which is just going to shoot him in the foot. And just when he was going to tell his friends about Su-ah? What crap timing! Why does the muse always suffer? Huh, rocker boy? I guess Do-il's gangster connections were really the least of their worries today.
But crazy scandal aside, I'm so glad that Su-ah finally spoke up about Ji-hyuk's lame attempt to be a boyfriend, because he really was completely absent and annoyingly secretive about her, all the while getting angry anytime she even so much as looked at Seung-hoon. I think Seung-hoon needs to get over his increasingly pathetic feelings, but I'm on Su-ah's side when she argues that she's trying to salvage a lifelong friendship, because SHE was crystal clear to him about her rejection. I love that she schools Ji-hyuk on who needs to be clear about what. Damn straight.
And in an episode full of righteous anger, I'm happy that Do-il finally had an outburst at Ji-hyuk too. In their case I knew it wouldn't last since they have such an easy friendship, but still, he needs to stop taking the backseat where Woo-kyung is concerned, 'cause I'll only feel bad for so long before I yell at him to grow a pair and make a move already.
The Hyun-soo/Ji-hyuk dynamic continues to be the one that stresses me out the most, because it's the one I'm most invested in. But they both made strides in this episode, despite not showing it to each other. It's becoming clearer that Hyun-soo has never once thought of abandoning the boys or running off to be famous on his own, even as a side gig, which is a huge relief. But he continues to be a martyr, which is frustrating because he doesn't want to burden the boys with his problems, but because they don't know his problems, they can't see why he's being combative.
But I like that without having to be told the why, Ji-hyuk listens to what Hyun-soo tells him about being a leader and thinking responsibly. It's certainly a huge step forward for him to swallow his pride and get through the recording session with Seung-hoon despite the mountain of issues between them. And it's a nice example of how much the guys need each other to be their best – maybe Ji-hyuk isn't the best leader on his own, but Hyun-soo pushing him and challenging him is what makes him step up to the task. It's the bromantic you-complete-me, though they'd never admit it, of course. Pshaw.

RELATED POSTS
Tags: featured, Jo Boa, Jung Eui-chul, Shut Up: Flower Boy Band, Sung Joon