Special Affairs Team TEN: Episode 1 (Part 2)
And we continue on with Part 2! The more twists that occurred just solidified my excitement for this drama. Granted it aired in late 2011, but hey, better late than never!
Chapter 6: A Suspect
So Eun Bi is not Eun Young – but they're identical twin sisters. They went to Angels Orphanage in 1994. The older one, Eun Young, was adopted first in 1995, and the younger one Eun Bi was adopted in 1997 to different families.
Ji Hoon orders that they'll go to Eun Young's house to investigate, and Ye Ri proves useful in having the keys to the house. Do Shik goes through the photo albums and finds a photo with one of the sisters wearing the tennis bracelet he found. He figures that Eun Young found out about Eun Bi's gambling brother, and pushed him off the cliff to rid her sister of a gambling stepbrother. So for him, his case is done.
While going through Eun Young's computer though, Min Ho discovers folders and folders about the Daejeon Tape Murder case. Why was she looking up that case? Did she actually plan a copy cat murder? With that, their first official suspect is Kim Eun Young.
Ji Hoon wants to continue the investigation, and he allows Do Shik to stay on board (because their cases have one killer suspect) but dismisses Ye Ri. (What?! Why?!) Ye Ri gets up to leave, but then she gives them her parting thought: "If Eun Young killed the stepbrother, who was bullying Eun Bi, why then did she go and kill her younger sister?"
True that, my friend. And she's gone before any of the men can think of saying, "Wait! Come back Ye Ri and help us!" She would've been so much more useful than Do Shik, whose ramblings don't help clarify the case.
Ji Hoon gets the toxin report and discovers there was a mix of codeine and morphine in Eun Bi's body. The Medical Examiner noticed that having these two drugs together means that the victim was suffering from cancer, so she performed an autopsy: Eun Bi had late-stage pancreatic cancer.
That still doesn't give them a motive, because if death was imminent, what is the underlying reason to feed Eun Bi a large amount of these drugs, and kill her so brutally?
Chapter 7: Making Discreet Inquiries
Ye Ri continues her investigation alone, deciding to check out the bar/club Black Rose where Eun Bi worked at. It's also near the telephone booth she had scouted out earlier. She asks the other hostesses about Eun Bi, who seemed to be less outgoing than other hostesses. Eun Bi only revealed to other hostesses that her stepbrother saved her long time ago, and that she was planning to find another line of work. One of the hostesses found it strange that Eun Bi was talking about her future – something she never did before.
Meanwhile, Min Ho goes to Eun Young's university and learns that she was a studious mathematics major… who borrowed books all about serial killers and criminal psychology. (Even the librarian helping Min Ho got freaked out when she looked up Eun Young's records.) Eun Young had never mentioned a twin sister to any of her friends, and only a few months ago had begun acting more nervous than usual.
Min Ho wonders if Eun Young was hiding Eun Bi's existence because she was already planning the murder…
Ye Ri then goes to the Angels Orphanage and speaks to the current director. The director shows Ye Ri a video of when the kids had a little talent show. Though they were twins, their personalities couldn't be more different, and that's how the director could tell them apart. Eun Bi was the more sullen, reticent sister. Eun Young was the one with a more vivacious personality and was very clever, and hence adopted first.
However, the director has her own doubts on why Eun Young was adopted so early. There was another girl, Su Jin, whom the family liked initially. However, just when the process for adoption was underway, Su Jin was badly burned by a scalding pot of water. It was suspected that Eun Young deliberately dropped the pot on her so that she could be adopted instead. Murderous tendencies alert!
Chapter 8: Malice
Ji Hoon, Min Ho, and Do Shik prepare to watch another CCTV tape from outside Eun Young's apartment, but Do Shik is interrupted by a call for a blind date. Really? Blind date plans in the middle of a case?! Ji Hoon isn't going to dismiss Do Shik from the case so quickly though – despite his lackadaisical manner, he also identified the suspect to Seo Ji Suk's case and contacted them in 37 hours. That's still an impressive record.
They review the footage of Eun Young arriving at her apartment at 12:42 AM on the day of the incident. After calculating the distance between Black Rose to Eun Bi's home, and Eun Young's home to Eun Bi's, the only time left to commit the actual murder is 12 minutes. Is that possible?
When Do Shik returns from his phone call, he notices that Eun Young is acting weird – if she's lived in her own home for years, why is she looking up and down the hallway as if she's not sure where she's going? Or fearing something?
Ji Hoon and Do Shik immediately leave for her apartment building – and there, they see that Eun Young was looking at the sign indicating where the apartments were. It was her first time there… and so "Eun Young" wasn't actually "Eun Young"…
Ye Ri locates Su Jin working at a beauty parlor, her skin still scarred from the burns as a child. Su Jin still feels bitter towards Eun Young because she knows the girl had hurt her intentionally. Everyone wanted to escape Angels Orphanage though; the director in the past had given a yellow butterfly clip to every child he wanted to see later that evening. He would invite them into his office… and fondle and rape these poor little girls. Su Jin was one them.
Su Jin then asks if something happened to Eun Bi. When they were younger at the orphanage, she saw the two sisters fighting over a dress. Eun Young had slapped Eun Bi and told her "Hands off!" She felt slightly apologetic afterwards when Eun Bi cried, so she gave her yellow hair clip to Eun Bi instead. Then, when Eun Young was leaving because she was adopted, she didn't say goodbye to her sister, but just stared.
If it were Su Jin, she would have hated Eun Young until she died. Ye Ri quickly calls up Do Shik with the information – the one with malicious intent is Seo Eun Bi. Now it looks like the victim "Eun Bi" is actually Kim Eun Young, and the real Eun Bi took her sister's identity. She chopped off the fingertips because that would also make it difficult to confirm her identity.
Min Ho checks out Kim Eun Young's credit card records and finds that she was diagnosed with pancreatic cancer three months ago. This only confirms that Eun Bi at the Morgue is one and the same as Kim Eun Young.
Chapter 9: A Perfect Plan
Do Shik and Min Ho are mulling the case over some soju when Ji Hoon calls and orders Min Ho to get to Eun Bi's home ASAP. Ji Hoon himself is grabbing a cab and heading over too.
When Min Ho arrives at the apartment, it's all dark and empty. The doorbell rings, and suddenly, someone comes charging up against Min Ho. It's Ji Hoon! They make a mess of the apartment. And Ji Hoon gets Min Ho pinned on the floor. He tapes up his wrists and pulls out a scissor – and brings it around Min Ho's fingers!!! NOOO!
Ji Hoon finishes the deed by wrapping up Min Ho's face with tape and then grabs a cab to go to Eun Young's apartment. He arrives at 12:49 AM – exceeding the crime timeline by 7 minutes. OK – you just proved that it's impossible to commit the crime in 12 minutes – but at your sidekick's expense!?!?!? And I know you're a bit obsessive and crazy – but you just cut off Min Ho's finger?!?!!?!?
From the dark hallway, Do Shik emerges, laughing. He had gone straight to investigate Eun Young's apartment because something was bugging him. If Real Eun Bi had committed the crime and returned to Eun Young's apartment, then why was there information about the Daejeon Tape Murders in that apartment? It would have indicated that Real Eun Young was actually investigating the serial killer, rather than Eun Bi.
AGH THIS IS SO CONFUSING! But it's becoming the perfect crime.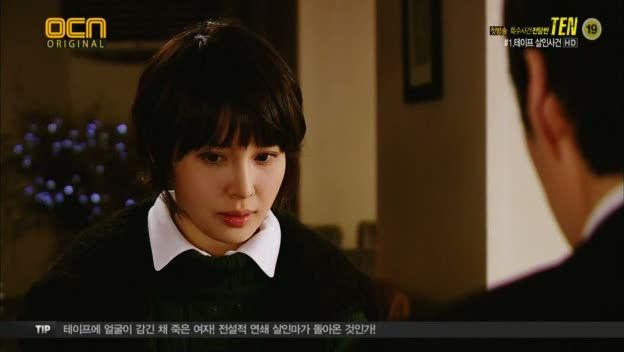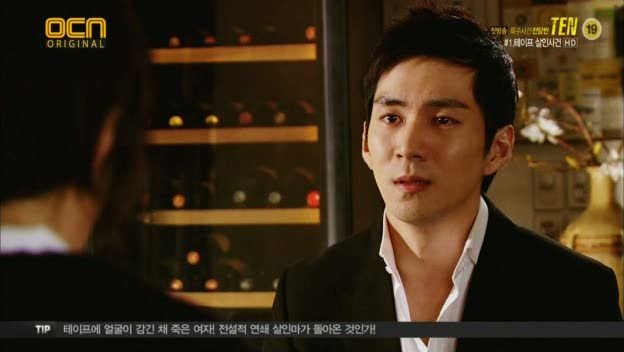 Meanwhile, Ye Ri sits in a cafe and prepares to deliver the bad news to Sang Won. She practices her speech in various ways, but when Sang Won finally arrives, he overhears the part about Eun Young having cancer. He's absolutely heartbroken, but now he understands Eun Young a little better.
Three months ago, they had taken a vacation and instead of sleeping in separate rooms, Eun Young suggested they share one. This was a surprise because Eun Young was very insistent on keeping her purity until they married. They slept together that night, but then after that everything changed. She became colder, and more spiteful.
Back at the office, Min Ho presents footage and records of Eun Young and Eun Bi reuniting and spending time together after they found each other. They met up quite frequently, and all expenses were charged to Eun Young's credit card. He also informs them that Eun Bi's phone was turned on and then shut off after 6 hours during the night of the murder. There were no records of calls or text messages during that period of time.
Oh – and Min Ho is badly bruised, but his fingers all seem to be intact, in case you were wondering.
After speaking with Sang Won, Ye Ri hurries to the office and informs them that she thinks they should be searching for a "Kim Eun Young" – it might be Seo Eun Bi posing as Kim Eun Young because she wants her older sister's life. Now they just need to lure her out.
Ji Hoon has Chief Jung organize a press conference about the case. They announce that "Seo Eun Bi's" death must be part of the serial killings from 7 years ago, and so they're going to want leads for that same serial killer. Hopefully "Kim Eun Young" will appear, thinking that it's safe and no one's looking for her.
While Min Ho is busy fielding calls from tipsters with other police officers, Do Shik waits for her credit card number to pop up on their radar. And finally it does show up – she made a recent charge at a hospital.
Another police officer announces that they have a guest who claims to be a relative of the victim. Say whut!? A young woman with bandaged hands comes slowly down the stairs – it's the sister Kim Eun Young, looking for her sister's body. Ji Hoon notices her hands – what happened? "I scalded it when I was boiling water," she replies. How freakin' great is that? Now they can't get her fingerprints to prove her identity!
(Remember – this is supposedly Seo Eun Bi-as-Kim Eun Young here…)
Eun Young sobs when she sees her sister's face in the morgue. Everyone is pretty annoyed that they can't prove Seo Eun Bi is the real murderer, and they all leave, but Ye Ri isn't fooled. She addresses Eun Young as Seo Eun Bi, and recounts how she killed her sister. Eun Young claims to be confused, and repeats that she is Kim Eun Young, not Seo Eun Bi. Ye Ri is taken aback – Eun Young was actually telling the truth.
Were all of their theories wrong?! Seo Eun Bi-as-Kim Eun Young is actually….just Kim Eun Young.
Chapter 10: Lie Detector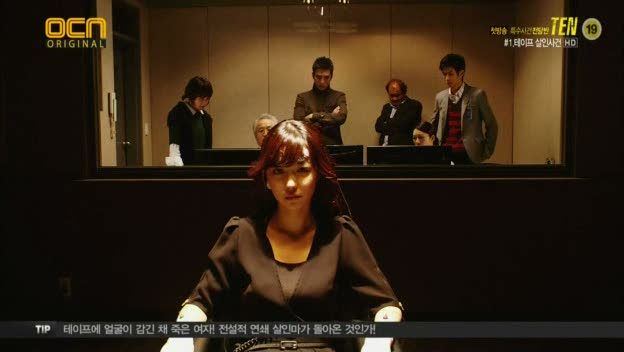 Eun Young is put to the lie detector test. She passes all the control questions perfectly, having memorized all the major life events in Eun Young's life and knowing just enough about Eun Bi's. The polygraph examiner tries to goad her to break by addressing her as Eun Bi and accusing her of trying to kill her sister. Eun Young's heart starts racing as she listens to the accusations, but her polygraph readings return to normal the moment she answers the question. She passes the test completely – and eludes the detectives' grasps again.
Do Shik throws a fit, angry that he's being outsmarted. Heh. Min Ho rushes in with good news though – they located Eun Bi's phone, and it was left in one place the entire six hours. Since no calls were made, it's possible that it was recording something with its camera phone, and then ran out of batteries. Assemble a team, stat!
Eun Young hasn't been released from the polygraph testing room, and Ji Hoon begins his line of questioning. Since they believe she is Seo Eun Bi acting as Kim Eun Young, he'll direct one question to Kim Eun Young, and one to Seo Eun Bi. To Kim Eun Young: "You were diagnosed with pancreatic cancer three months ago." Her reading goes off the charts, and Ji Hoon laughs – so this girl in front of him didn't know.  He proposes that her sister went looking for her because when faced with death, one tends to reflect on life.
Then to Seo Eun Bi: "Why did you cut off your sister's fingers while she was alive?" Her heartbeat and blood pressure go crazy again. Ji Hoon wonders why she didn't cut it after her sister was dead, and there would be less resistance; perhaps she enjoyed watching her sister suffer to her death?
Suddenly, her readings return to normal, and Eun Young smiles – "For that, you'll have to ask the devil who killd Eun Bi."
Dayum she's a good liar. Ji Hoon doesn't see it, but despite her scornful smile, Eun Young lets out silent tears.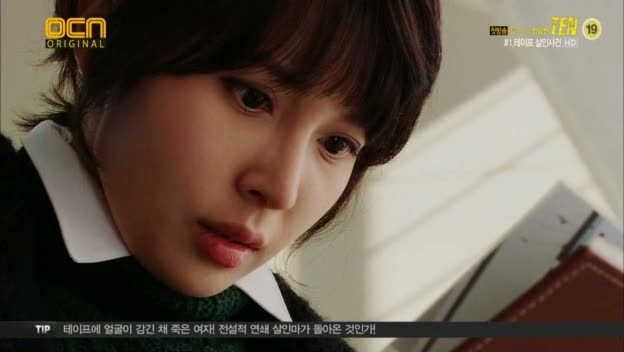 Ye Ri sees a photo album of Kim Eun Young being taken in for evidence and asks to take a look. Pictures from every life event are recorded in detail, and Ye Ri spots one of young Eun Young with her parents when they first adopted her. She recognizes that sullen face and immediately refers back to the talent show tape from the orphanage. The sullen look on kid-Eun Young matches the look on kid-Eun Bi in the talent show.
So… they switched places at the orphanage?!?!
Ye Ri quickly sits down to talk with Eun Young at a small interrogation room, with Ji Hoon watching from the camera set up in the room. Ye Ri now understands the truth – the girl sitting before her is the elder sister Kim Eun Young, who wanted her younger sister to be placed in a well-to-do home and switched places for the adoption, and then lived her life as Seo Eun Bi the Bar Hostess.
AGHH – and this time Eun Young can't even answer. The conflicted expression on her face confirms it all.
Ye Ri then shows Eun Young the photo album. They're pictures of Eun Bi-as-Eun Young, and the captions were written by the same pen. It appears the younger sister Eun Bi was trying to record her life so that Eun Young could see what kind of life she could have lived. Was supposed to live.
The question now is, why did Eun Young kill Eun Bi if she had sacrificed everything to protect her from the very beginning?
Ji Hoon, watching through his computer monitor, is stunned and impressed by the revelation. He then realizes that Eun Young was never at the crime scene…
Chapter 11: Confession
Eun Young had gone to a vacation villa expecting to hang out with Eun Bi that day, but instead, found a letter explaining everything.
When they were young in the orphanage, they played this game where the two of them would say a magic spell and switch places. Eun Bi had the butterfly clip, and the director had wanted her to come to his office that evening. She was excited because she heard about the sweets he would give the girls. So Eun Young then suggested they play their magic spell, and while Eun Bi closed her eyes chanting, Eun Young took the clip and went to the director's office herself.
Eun Bi was no fool – she knew her sister wanted the sweets too, so she woke up and followed Eun Young to the office. She peeked through the window, and then saw the horrors of the director raping her sister. She held her sobs in as she overheard Eun Young crying and washing herself after the ordeal.
When it came time for the adoption, Eun Young told Eun Bi to keep reciting the spell so that they would "remain switched," and to keep it all a secret. She made Eun Bi go with the family, and kept the butterfly clip for herself. This was her way of making sure Eun Bi would never have to suffer in the orphanage.
In the letter, Eun Bi tells Eun Young that she felt guilty ever since the day she left the orphanage for having ignored her elder sister's existence. She feels that she's being punished for it with her cancer, but the cancer has also given them an opportunity to switch back their lives.
Eun Bi killed Seo Ji Suk and then comforted Eun Young when she couldn't locate her stepbrother. When Eun Bi saw how frail Eun Young looked, she wanted to give her the chance to regain her strength, to be the strong unni she always knew. That's when she started researching the Daejeon Tape Murder cases…
Eun Bi is the lady we see in the very beginning of the episode as the newspaper clipper and scrapbooker.
Ji Hoon begins wondering what the missing link between all this is, and he starts scanning his clear glass board of photos for clues. He finds a discrepancy in the bedroom crime scene. In Ji Eom's photos of the bedroom, there's no glass full of folded cranes, but in the crime scene photos, there is. He contacts Min Ho and tells him to find the phone in that crane jar.
Min Ho and Do Shik quickly run into the apartment and find the phone. Inside is a video recording of Eun Bi saying her final farewell to her sister. She sweetly holds up a heart for her sister, then puts on the clip.
Back in the interrogation room, Eun Young admits that she kept quiet because she did want to be "Eun Young" again, and stop living her life as "Seo Eun Bi." At this point – Ye Ri is a teary mess. She's quite emotional for a detective.
The video recording in the phone is brought back into the office, and the boys watch as Eun Bi tapes her mouth and then slices off her fingers one by one. She screams in so much pain that Do Shik and Min Ho have to turn away disgusted. Ye Ri comes down from the interrogation room, followed by Eun Young. When she sees her sister torturing herself to a slow death, she faints from shock, and Do Shik quickly turns off the tape.
But Ji Hoon turns it back on. "Your sister would not have wanted you to collapse like that, Miss Kim Eun Young."
It's true, since Eun Bi's last wish was for Eun Young to become strong again. Eun Young slowly gets up to her feet and goes closer to the TV. She forces herself to watch as Eun Bi finishes taping her face and then crawls into a fetal position, before finally letting out her last breath.
All this for sisterly love.
Ji Hoon closes the case, and stores the interrogation videos into boxes in his drawers, where they are marked F2009, F2010, F2011…
Why "F"? And what is with all those cases in those marked boxes?
We conclude with Chief Jung being confronted by the press and government to do something about the number of unsolved cases being leaked out in a recent hacking incident against the National Police Bureau. He calls up Ji Hoon and gives him a position to head Special Affairs Team Ten. Ji Hoon looks over at Do Shik, Ye Ri, and Min Ho in the other room, checking out their gifts, and he smiles – "Seems like the team is already here."
Comments:
This second hour of the drama was more twisted and crazy than the first. I was seriously getting confused between who was Eun Young and Eun Bi, and who was dead and who wasn't. I felt that there were some weird plot inconsistencies, especially with how Su Jin's memories of the sisters did not match the sisters' memories of each other. But these inconsistencies were there to make us keep guessing about the real killer. At the end of the day, this strong bond between sisters, and the feeling of debt and gratitude, were what led to this brutal suicide.
In case you were wondering, the sisters are played by one actress, Kim Hae In.
Overall, the first episode really plays out like a movie, with no qualms about showing the victim's chopped fingers, uses slow motion to great effect, and has interesting framing of shots and angles. It's run overlapped with Vampire Prosecutor's (letting people have dark, crime-filled weekends for a bit), but this drama is so much darker. I think Vampire Prosecutor is like child's play next to this one. But we'll have to see if this tone holds up…
I am so hooked on this series. Well written, fast paced, and I love rag-tag teams that join together. It's like I'm getting my Sign fix all over again!
NOTE: Someone did mention this, and I thought it'd be good to repeat it here: Please keep the spoilers to yourself. Or, if you REALLY have to discuss a future episode, note that you're going to be giving spoilers. Let's assume that since this will have episode recaps (rather than a full review), people are watching this for the first time. Thanks! 🙂
RELATED POSTS
Tags: featured, Jo Ahn, Joo Sang-wook, Kim Sang-ho, Special Affairs Team TEN