Uhm Tae-woong shows Lee Jun-hyuk some love on Equator Man
javabeans: I swear, 1N2D has turned Uhm Tae-woong all handsy. He was NOT that affectionate at the start, was he?
girlfriday: Dude. That is totally all Kang Ho-dong's doing. He opened some kind of bromancey floodgate there.
javabeans: Now all I ever see is him with his arms wrapped around another dude.
girlfriday: Yeah now on 1N2D he's just always the guy in the back, just hugging someone else. That or giving birthday kisses.
javabeans: Doesn't it make you think of a young kid learning a new word, and then just using it all the time?
girlfriday: Yes! It's like he learned the new emotion that is bromance, and is just bromancing all over town now, wherever he goes.
javabeans: You can't stop him. He's the unstoppable bromance machine.
girlfriday: Uhmforce now has a new meaning.
javabeans: I suppose that's a good thing for this drama, which is all about the love-hate between him and his BFF/nemesis Lee Jun-hyuk.
girlfriday: I'm pretty sure all the love goes one way (Tae-woong to Jun-hyuk) and the hate goes the other way.
javabeans: Clearly. It IS Lee Jun-hyuk who betrays Tae-woong, after all. Maybe he got eternal youth thrown into the package deal when he sold his soul to the devil. 'Cause he still looks just a few years older than Young Counterpart, while Tae-woong looks like he's traveled a lifetime of misery and back.
girlfriday: Well thankfully I think his character actually backs that up (the lifetime of harshness) so I guess it's not completely unbelievable. I just love the super-serious-melo version of the shot, followed by the hugging.
javabeans: It's like he's saying, "I'm fierce, I'm in character, but I'm-just-acting-I-swear-I-still-love-youuuuu!" You know, like what other guys would express via: "Yo brah, we cool?" "We cool." "Cool."
girlfriday: Hugs are so much cuter than fist bumps anyway.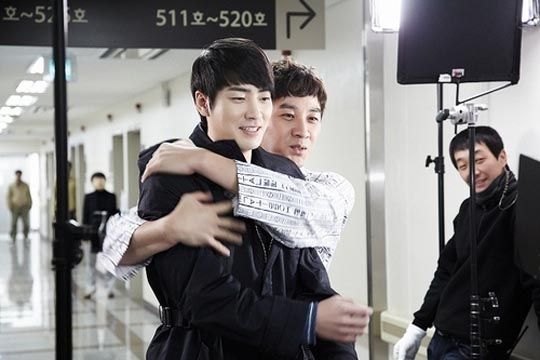 Via Chosun
RELATED POSTS
Tags: conversation post, Equator Man, Lee Jun-hyuk, Uhm Tae-woong