48th Baeksang Arts Awards
Baeksang Awards!
This springtime award show has the distinction of honoring both film and television, sort of like the Golden Globes, and has been running for nearly half a century, since 1965. Since it's not a broadcast station award (where you have a broadcaster giving awards to its own shows) but awards across stations, winning a Baeksang carries a bit more weight than those year-enders.
Still, in the end, Baeksangs are still something of a popularity game, more likely to hand out honors to hit shows than based on pure critical acclaim—I'm waiting for the day when cable shows get to be part of the mix. That means there are a number of winners I tend to disagree with, and a slew of deserving selections that went overlooked.
Basically, as with any award ceremony: Take results with a grain of salt. Heck, take the whole salt shaker while you're at it.
WINNERS LIST
FILM SECTION
Daesang: Nameless Gangster: Rules of Time
Best Picture: Unbowed
Director: Byun Young-joo (Helpless)
Top Excellence, Actor: Ahn Sung-ki (Unbowed)
Top Excellence, Actress: Uhm Jung-hwa (Dancing Queen)
New Actor: Kim Sung-kyun (Nameless Gangster)
New Actress: Suzy (Introduction to Architecture)
New Director: Im Chan-ik (Arrest King aka Officer of the Year)
Screenplay: Jeon Kye-soo (Love Fiction)
Popularity Award, Actor: Jang Geun-seok (You're My Pet)
Popularity Award, Actress: Kang So-ra (Sunny)
TV SECTION
Daesang: Tree With Deep Roots
Best Drama: The Moon That Embraces the Sun
Educational Program: The Story of Mathematics, EBS Docu Prime
Variety Program: Gag Concert
Directing: Kim Jung-min, Park Hyun-seok (The Princess's Man)
Top Excellence, Actor: Kim Soo-hyun (The Moon That Embraces the Sun)
Top Excellence, Actress: Gong Hyo-jin (Best Love)
New Actor: Joo-won (Ojakkyo Brothers)
New Actress: Uee (Ojakkyo Brothers)
Scriptwriting: Kim Young-hyun, Park Sang-yeon (Tree With Deep Roots)
Variety, Male Performer: Kim Joon-hyun (Gag Concert)
Variety, Female Performer: Park Ha-sun (High Kick: Counterattack of the Short Legs)
Popularity Award, Actor: Park Yoochun (Miss Ripley)
Popularity Award, Actress: Park Shin-hye (You've Fallen For Me)

Now, on to the fun part.
I think my favorite ceremonies for red carpets are Blue Dragons and Baeksangs; the styles tend to be a little more interesting than the year-enders, where you see lots of similar looks and, for whatever reason, often get a lot of people following a small number of trends.
This year there was lots of springtime color. I LOVE COLOR.
Onward!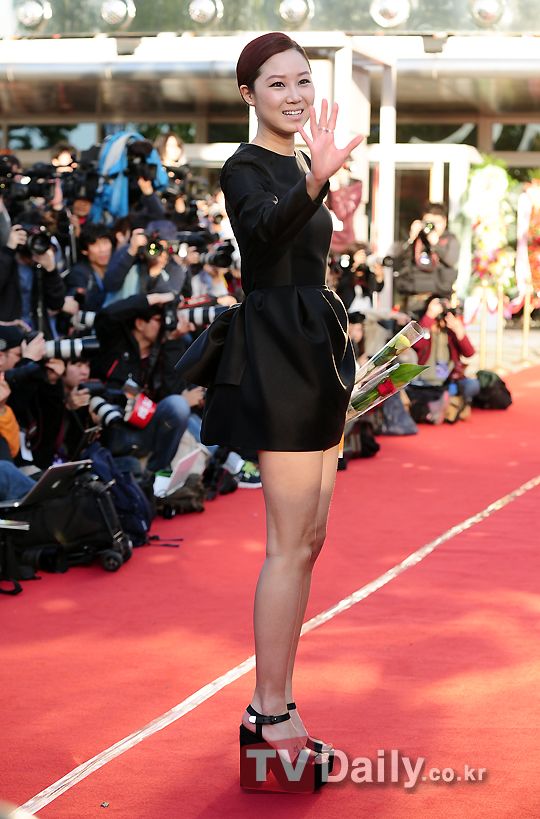 Okay, so Gong Hyo-jin—who won top drama honors for Best Love—isn't in color, but she always wears something a little edgy, and I think she's rocking the short, structured look. I do wish her she weren't in such blocky platforms; the dress is cool and hip, but the shoe says Just Another Stripper in the '90s. I haven't loved Gong's recent interview photo shoots, but I love the makeup and hair here.
Gong beat out Su Ae, Kim Hyun-joo, Moon Chae-won, and Kim Sun-ah for the award. I would've thought Su Ae or Moon Chae-won might have had the edge over Gong's more naturalistic acting performance, with their heavyweight dramatic roles, but it's nice to see Best Love get some props.
Kim Soo-hyun, looking snazzy. I loved his look on first sight—it's a little quirky, but he's working the confidence and the edgy hairstyle. I do love you, Kim Soo-hyun, but I'm a little befuddled as to how you won top acting honors for The Moon That Embraces the Sun OVER Han Seok-kyu (Tree) and Shin Ha-kyun (Brain). I can understand beating out Park Shi-hoo and Cha Seung-won, given Moon's monster ratings, but Han and Shin? Whaaa?
Love love love love love.
Love.
Uee (Ojakkyo Brothers) has been acing all her red carpets in the last year, and she has another adorable, fresh look for this one, where she picked up a New Actress Award. The shoes are great, as are the accessories and her hair. Did I mention I love this?
Uee's co-star Joo-won (Ojakkyo Brothers) also took home an award. I love his look much less, as in, not much at all. He looks like he's going to the opera in mid-December, and maybe Grandpa dressed him. Then again, he's adorable enough to get away with it. He arrives with Uhm Jung-hwa and Kim Yoon-seok; below, Uhm also poses with her award and Ahn Sung-ki. Those two were the big winners on the film side with her upbeat comedy Dancing Queen and his intense based-on-a-true-story Unbowed.
Suzy has been wearing a lot of short white dresses to these kinds of events, so I wouldn't mind seeing her try a new look now. But I suppose she's playing to her "young innocence" image, so why not enjoy it while it's hot? She picked up a newcomer award for Introduction to Architecture, playing the first-love object of Lee Je-hoon's affections.
Um. I can't decide how I feel about this. On one hand, Kang So-ra (Dream High 2) is wearing a pretty vibrant color, and the cut of the dress is flattering. On the other hand, it's electric-blue animal print; suddenly the fresh young thing sort of looks like she's channeling cougar mom at the cabana, and now I can't stop singing, Her name was Lola, she was a showgirl…
Yoo Inna (Queen In-hyun's Man) wears blue too, but her gown is more in the princess category.
Does this mean that Jung Kyeo-woon's (History of the Salaryman) surfer transformation wasn't real? I kind of dug the blond hair on him, though the man certainly never looks bad suited up.
Han Hyo-joo's (Dong Yi) gown looks beige in some photos, and pinkish in others. I don't love the shade, because it nudes her out, which then makes the red lip a jarring contrast. The whole color palette is a little sickly, in my eyes, though her shoes are fabulous.
Fashionista Kim Min-hee had a successful movie with Helpless, co-starring Lee Seon-kyun (who had a zillion movies in the past year, it seems), and she's got a structured white gown on with a huge bow on the side that triggers my childish impulses. I want to pull it. I think she works the pale gown, red lip, and dark hair combo/contrast better than Han.
Park Ha-sun! After High Kick 3, I love this girl—whatever the role requires of her, she commits 100%. Looks like audiences feel the same, since she won an award for the show… in the variety segment. It's a little strange, though I'm glad she won something for that show. I suppose it's the closest thing to a comedy category?
Park Shin-hye appears to be in almost the exact same shade of salmon pink as Park Ha-sun. Both dresses look great, but I'm particular to the super-flattering flow and cut of this one. Park picked up a popularity award for You've Fallen For Me… which wasn't very popular, but it's more about her than the show, isn't it?
Kim Ah-joong (Sign) emceed the event, and arrives with her co-host, Lee Hwi-jae. This dress seems typical of her style: sleek, simple, modern. I don't love it, but I don't hate it either.
I feel like I've seen this dusty-rose pink gown before, but it's sweet on Jung Yumi. The look suits her previous role as Thousand Day Promise's gentle-hearted doormat better than her current one as a black-hearted opportunist in Rooftop Prince. I suppose the look is appropriate since it's Promise that earned her a new actress nomination at these awards, though she didn't win.
Here's her co-star Yoochun (Rooftop Prince), rockin' a pompadour. I'm not convinced he's pulling off the hairstyle 100%, but I so prefer him with his hair brushed back instead of that Bieber hair he always seems to sport in his projects. Why??? The world may never know.
Two is always better than one? Little brother Park Yoo-hwan was also at the awards, having earned a nomination for new actor in Thousand Day Promise. (Big Bro won a popularity award for Miss Ripley.) Too bad Yoobro didn't win so they'd have a matching set of awards, although if we're straight-up comparing those performances (a dangerous proposition, I know), I think Yoo-hwan was more impressive. Though I'd have to say the pendulum swings back for their current projects, where hyung's rocking as the Joseon transplant in Rooftop Prince, while Yoo-hwan plays the haughty idol star in K-Pop Ultimate Survival. (Yes, I've watched it, and I find it fluffy and pleasant, but silly in a watered-down You're Beautiful way.)
It's not so much that I love this dress, as much as it's this photo that's striking. Shin Hyun-bin (Warrior Baek Dong-soo) looks confident, purposeful, and a little bit scary. It's kind of awesome. Just don't get in her way; she may trample you.
Aw, how cute. The outfit is a little precious on Kim Yoo-jung (The Moon That Embraces the Sun), who may be a wee bit old to pull off the full-on ankle-ruffles and Mary Janes. It's like something Kim Sae-ron would have rocked at age 10. It is adorable, though.
Here's her co-star Yeo Jin-gu, heartthrob-in-the-making. Noonas, prepare to have your hearts stolen in the coming years. Unless it's already happened. Although, here's a sobering reminder: He turns fifteen this summer.
Comedian Jung Juri looks like she's having the time of her life. She beams in every single photo.
Lee Kwang-soo (Running Man), so gangly and adorkable.
Im Soo-hyang (New Gisaeng Story) was up for a newcomer award, and comes wearing a flowy blue number. Yay for color.
Um, no. That's the first thought that pops to mind when seeing Lee In-hye (Comrades) in her black asymmetrical dress, although individually the components are fine. The slit up one side, the asymmetrical sleeves, wavy tousled hair—sure, all fine. Then you put them together and I'm thinking someone forgot to finish making the rest of the dress.
Oh Seung-hyun (Beauty Island) wears lilac; I like the color more than the gown, though there's nothing wrong with it.
Oh Nara (Feast of the Gods) has a nude-peach gown on with a mermaid cut. I hate the mermaid cut. On the upside, this one at least looks like it allows her to walk.
I'm in love with this look, worn by Hong Su-ah (I Trusted Men); I may even like it more than Uee's dress, though it's a close race. It's springy and fresh, and from all the photos of the event it looks like the skirt flows like a dream. I'd want to twirl in it all day, maybe in a grassy meadow somewhere, while making daisy chains and nuzzling my pet unicorn. Hey, a girl can dream, and a dress that can make you feel that light and breezy is a winner, I say.
I think it's also the vaguely hanbok-inspired silhouette that adds interest, replete with that sash hanging from the back. I would wear this to my wedding. Heck, I would have a wedding, so as to be able to wear this dress.
Via Mk.co.kr
RELATED POSTS
Tags: Ahn Sung-ki, awards, Gong Hyo-jin, Hong Su-ah, Im Soo-hyang, Joo-won, Jung Kyeo-woon, Jung Yumi (2), Kang So-ra, Kim Ah-joong, Kim Min-hee, Kim Soo-hyun, Kim Yoo-jung, Micky Yoochun, Park Ha-sun, Park Shin-hye, Park Yoo-hwan, Shin Hyun-bin, Suzy, UEE, Uhm Jung-hwa, Yeo Jin-gu