Marriage Plot: Episode 1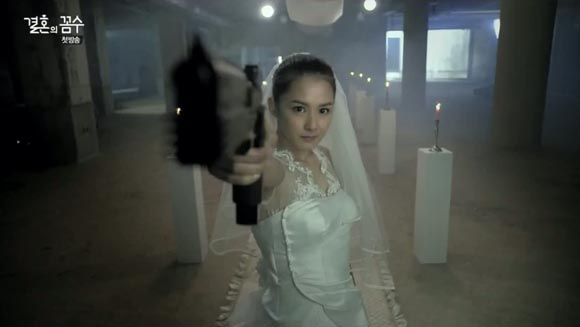 And tvN does it again with another light-hearted comedy with a layer of depth lurking under the romancing-and-bickering surface. Marriage Plot—or Wedding Scheme, or Marriage Scheme, or you get the idea—premiered Monday and gives us interesting characters, quippy banter, and a surprising emotional core that grounds the show.
The cable channel has been actively courting two key markets in recent years, and in my opinion doing a pretty bang-up job at both: the twenty- and thirtysomething single female demographic (I Need Romance, Twelve Men in a Year, Manny) and the teenage/youth audience (Shut Up: Flower Boy Band, Flower Boy Ramyun Shop). If fast-paced rom-coms or youthful storylines aren't your bag, perhaps the tvN lineup isn't up your alley, but for me? Ooh, yes, and more please. Basically, I have found my people.
SONG OF THE DAY
Marriage Plot OST – "그대도 나와 같다면" (If you're like me) by Kim Hyun-joong
[ Download ]
Audio clip: Adobe Flash Player (version 9 or above) is required to play this audio clip. Download the latest version here. You also need to have JavaScript enabled in your browser.

EPISODE 1 RECAP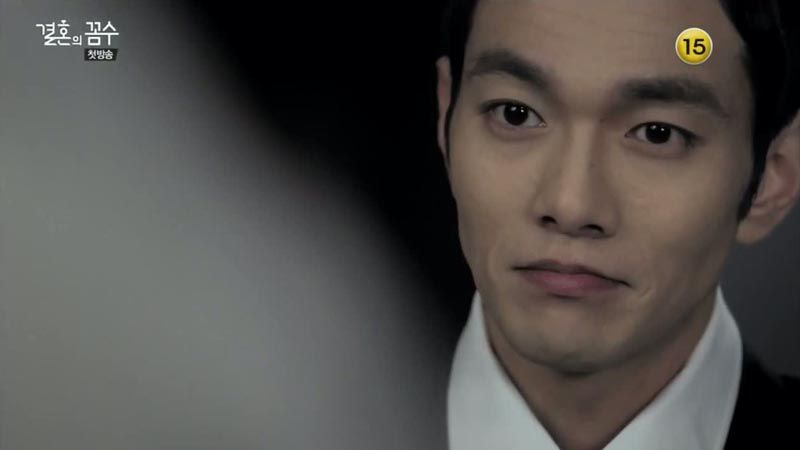 A wedding appears to be unfolding in an oddly industrial-looking warehouse, except there are no guests. No minister, either. There's just a bride and groom standing at the altar, and a SWAT team mobilizing outside. Your standard Saturday afternoon.
The groom spouts off condescendingly about the nature of women and marriage, such as how men all lie when they say they want a smart woman, but that women let those lies hoodwink them. "Women who are fooled by false men are beautiful," he says smugly.
Then the bride lifts her veil, and his pretension fizzles into fear. She smirks and raises a gun to his head. The SWAT team rushes in and the head agent yells at the bride, "No! You'll get nothing out of killing someone like him!" Satisfyingly, the groom's voice cracks: "Kill? Me? WHY?!" What, could you not just hear yourself?
Groom makes a break for it, dodging explosions. Bride follows, ripping off her dress to reveal the black combat gear underneath. Groom dances to avoid her gunfire, and shouts exasperatedly, "Why are you doing this?!"
She yells back that she did all the work—it was her idea, her execution, and he took credit! He wags a finger back at her; that's her problem, she doesn't know how to be a team player.
That pisses her off, and she continues chasing him through the ruins of a building. She beats him up, growling that she's made herself ill because of him, grinding her teeth.
The SWAT team catches up to them, and Groom yells for rescue. Bride corners him with a fresh gun, turning his sexist comments around on him with a dig about how men's useless nipples are proof that God half-assed the job when creating the male gender (ha). She pulls the trigger.
Sadly for YOO GUN-HEE (Kang Hye-jung), this is the point at which she wakes up. At work. With the annoying Groom—er, LEE KANG-JAE (Lee Kyu-han) looking down at her desk with raised eyebrow.
Kang-jae makes more sexist comments, like how it's unlikely a woman would die from overwork. But here in the workplace, Kang-jae's the big dog so Gun-hee grits her teeth and tells him she's working on the presentation. She rolls her eyes at his pompous lecture and vows to kill him, someday.
Kang-jae's a total prick when it comes to, well, everything, but he just barely manages to stay on this side of the funny line without being too infuriating. (Well, he IS infuriating, but it's amusing since we can anticipate a reversal.)
For instance, he finds Gun-hee avoiding him at a cafe, then proceeds to tell her a story about one of his female classmates who's a lot like her—a fat, smart girl who was always at the top of her class in high school, who figured she could always date in college. But she got to college and was still fat and frumpy, and when she managed to improve her looks, she was busy studying and preparing for graduation. So she graduated without ever going on a date. "Oh, but I'm not talking about you," he smiles.
Kang-jae's just glib enough to be charming, till you register his words and then you want to hit him. Gun-hee argues that she wasn't like that, and he replies, "Sure, let's pretend that's true." She insists she was such a femme fatale that she had men following her around, and after laughing out loud, he calls her bluff. Okay, then approach that guy over there and prove her powers of attraction.
Gun-hee takes up the challenge: She'll get that guy with one word. He offers to do a dance right here and now if she succeeds.
Cut to: Kang-jae, arms crossed, pouting that he didn't know they were super close college friends.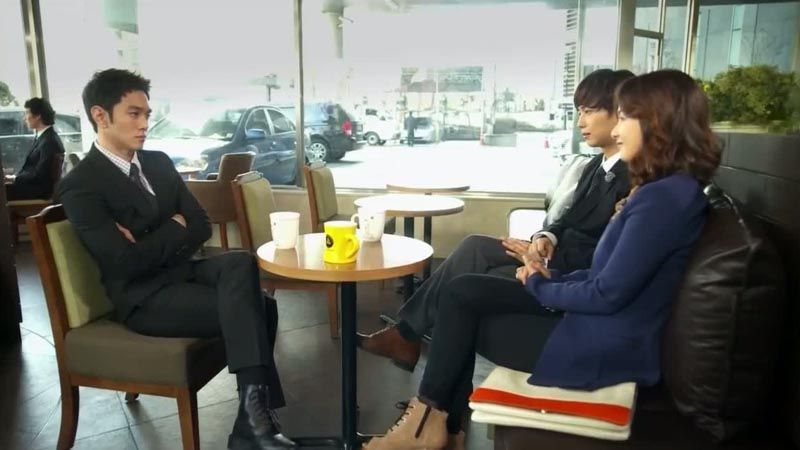 Gun-hee says sweetly, "I wasn't the one who picked the guy." Turns out her sunbae, Su-ho, is being scouted by their employer, a food products company named Sangcharim (meaning table setting or full table). They talk business for a minute before Gun-hee reminds Kang-jae to make good on the dance.
Kang-jae approaches the arguing couple at the next table, and when the boyfriend raises his hand to the girlfriend, Kang-jae smoothly intercepts his hand… and breaks into rap-dance. He looks crazy, but it's actually kind of impressive in the way he defuses the situation while simultaneously rapping his views on romance ("This is why I don't fall in love"), then tells the girl to break up with the guy instead of crying.
Gun-hee, on the other hand, ducks away with her sunbae pretending not to know the crazy man.
A filming crew tapes a segment in the home of its interview subject, a woman running a small but prestigious kimchi company, Chinjung Kimchi. She explains her kimchi-making process for the cameras.
Mom compares one type of kimchi to her eldest daughter, since both are sweet and simple. Said daughter stumbles her way into frame, dropping a stack of dishes. SUN-HEE (Lee Young-eun) totally misunderstands the interviewer's question but doesn't catch on, smiling pleasantly.
Moving on, Mom compares her third daughter to another type of kimchi: strong personality and passionate. Speaking of the devil, MIN-JUNG (Kim Se-jung) makes her appearance looking sexy, playing to the camera like they're here to cover her.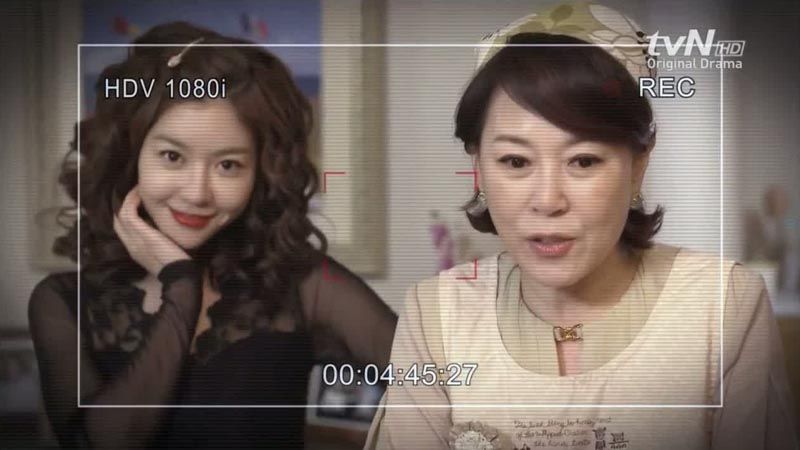 Mom hurriedly moves on to Daughter #2: strong flavor, spicy and salty, competitive. Right on cue, Gun-hee bursts into the kitchen ranting about the creeps who parked in front of the gate and how she'd like to stick a knife in their tires. She stops short to see the crew and promises, "But I didn't!"
Mom is dismayed to have all her descriptions of her girls proven so wrong, and asks if they can cut the whole part about the daughters out. Haha.
Gun-hee starts to work on her presentation, only to have Mom catch sight of her computer screen and flip out — now Gun-hee's big corporate employer is moving into the kimchi market? She's working against Mom?
Mom argues that food shouldn't be made in factories and tells Gun-hee (not for the first time) to quit that job. People and food both need to have their own taste; neither Gun-hee nor her boss have that taste, as people.
Gun-hee orders her mom to quit nagging, wincing when she goes overboard and hurts her feelings, though she doesn't apologize for it.
There's similar bickery tension between Kang-jae and his CEO father, who sits him down for a drink that night. Dad cuts him down to size, which is pretty satisfying: When Kang-jae says he's got to prepare for a very important presentation tomorrow, Dad scoffs, "Psh, it's not like you even did anything."
Kang-jae blusters that he did too do tons of work — it's just the wrap-up that he's leaving to his subordinates. So Dad tests him with a basic kimchi question, which Kang-jae doesn't know.
Apparently Dad's kimchi enterprise is a sudden move for Sangcharim, and Kang-jae complains that Dad's making everyone suffer for his whim. Dad says it's because there's a particular brand of kimchi that's out of this world, so he wants to get into the game. He'd like to buy Chinjung Kimchi out, but the company's owner—a longtime acquaintance—insists that food shouldn't be made in factories, and that the food Dad makes isn't real food. I enjoy that Kang-jae nods and agrees with the Chinjung president, and Dad literally kicks him out of the room.
Gun-hee oversleeps and freaks out at her sister, who's meditating to a video on her laptop. ("Unni, why didn't you wake me?!" "You told me not to interfere with your private life." I love that touché seems such an appropriate word with her.) She rushes to work—or tries to, but finds herself stuck because Mom has parked in front of her. She yells at her to move.
Mom has just about had enough of Gun-hee's bad-tempered demands, but she gives her one last chance, asking if Gun-hee considers Mom or work more important. Gun-hee dismisses that impatiently, saying whatever, just move the car. So Mom replies, "No. Call a tow truck." HA. Well, it's not like she didn't give you a chance.
CEO Dad calls Kang-jae to his office in a snit that morning, throwing a tissue box at his head that Kang-jae easily avoids, and we find out that the father-son relationship is a secret at the office. Dad is annoyed to hear that Kang-jae isn't even making the upcoming investment presentation himself, and he replies that he left it to a competent employee.
Dad: "If you don't get that investment—"
Kang-jae: "I'll fire her."
Dad: "No—not her. You."
Kang-jae: "You'll fire me?"
Dad: "Not fire. But… I'll make you do whatever you haaaate the most."
They're so immature with each other, and it cracks me up.
Gun-hee flies into the building just barely in time and begins the presentation… only to find that the flash drive got swapped with her sister's meditation program. Uh-oh.
Hilariously, the interpreter keeps translating the meditation instructions to the Japanese investor, and the puzzled employees follow along with the exercise.
Afterward, Gun-hee sits in the empty conference room and has to laugh at the ridiculousness of the failed presentation. But not for long.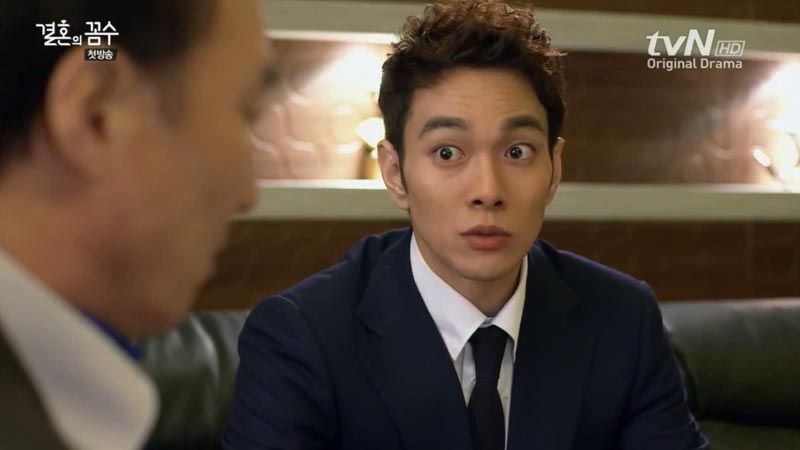 In his office, Dad throws a tissue box again, but Kang-jae doesn't duck: "I deserved to be hit this time." Heh. Dad admits that he figured out somewhere in the middle of the cross-legged stance that things had gone awry, "But I couldn't stop then—stopping would have made it weirder!" Dad offers a bit of life wisdom, saying that sometimes you have to go along with something, even when you know it's wrong.
Kang-jae offers to fire Gun-hee, but Dad says it's Kang-jae's responsibility and decides he'll send him to the States. Kang-jae protests, "But you know I don't like the U.S." Dad: "I do. That's why you're going." This relationship cracks me up. It's like Chi-soo and dad in Ramyun Shop, albeit one notch lower on the ladder of absurdity.
Kang-jae refuses to go and storms out of the office, just as Gun-hee is trying to plead with the secretary for a moment of the president's time. She hangs her head and apologizes to him, but he cuts her off, saying he never expected much from her anyway: "It's my fault for entrusting a woman to do this."
Do you want to hit him? I want to hit him. I think Gun-hee wants to hit him too, because at that she follows him out and demands to know why he hates her so much. If he was soooo convinced she'd fail because she's a woman, what was he doing assigning it to her anyway? "You were hoping I'd fail, weren't you? Because I'm a woman?!"
He turns to her glaring, saying that she's making business personal, and asks why she's so cocky and sharp-edged about everything. She fires back that it's because of guys like him, always spouting off about women being inferior. He retorts that unlike some women, he doesn't blame others for his mistakes.
Mom arrives home that night, disappointed that her daughters have forgotten her birthday. With a heavy sigh, she heads inside the empty house and makes her own birthday dinner.
Gun-hee comes home shouting for her sister, who arrives just after her. Gun-hee yells at Sun-hee for the flash drive and calls her by her first name, which earns her a slap from Mom—mostly for disrespectfully using Sun-hee's name (instead of unni), but also because tensions are already high and it's been that kind of day.
(Side note: In case you wonder what the fuss is, you just cannot call an older family member by name, especially out of anger and not, say, in jest. I was slapped for this once in my life, and I was joking. Lesson learned. And if you do want to tempt the fates, do it out of parental earshot.)
Gun-hee isn't the least bit sorry, though, and fumes that she's sick and tired of family. No matter how hard she lives her life, they're always there to mess things up. Mom turns to her in a combination of horror and anger, saying that she only thinks of work and never her family.
Gun-hee bites out, "Aren't those words for Dad? I only remember what he looked like from the back." Her eyes start to fill with angry tears: "He went to work before we were awake, and came home when we were asleep. Then he left his whole family behind and died! Have we ever gone on a trip together? Did we ever eat a meal outside the house together? Even if I try to remember Dad, I have no memories."
Mom tries to say that Dad adored her, that she used to follow him around, but Gun-hee screams that she doesn't have any memories of him and storms out.
Sun-hee can't stop Gun-hee from driving off, and third daughter Min-jung stumbles home drunk and wishes Mom happy birthday, then vomits. Mom thinks to herself that she raised her daughters wrong, and decides, "I can't let things go like this. I have to do something."
Gun-hee drives to the river, blinking back tears. Kang-jae sits in the empty office contemplating his fate.
In the morning, the company bulletin board has a few startling reassignments: Kang-jae is being transferred to the U.S. office in Alaska, Gun-hee is appointed to a new department, and the new recruit Su-ho will be the new planning director (taking Kang-jae's old job).
Mom informs her secretary of her plans, and while we don't hear them, they must be extreme enough to make the secretary protest that it's a drastic measure. She says this is something she has to do for her family, before it's too late.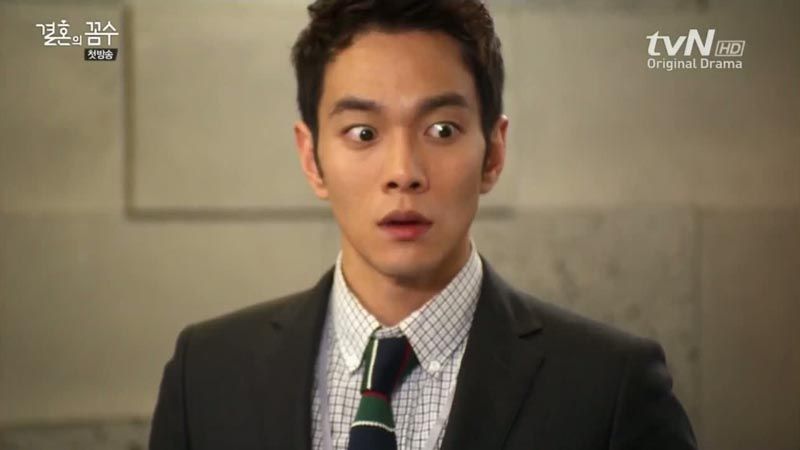 Kang-jae's sunbae drags him to lunch, then drools over the program featuring Chinjung Kimchi on TV. It's the segment Mom filmed the other day… including the part where Gun-hee storms in.
Kang-jae bolts upright. Wait… so Gun-hee's the daughter of the Chinjung Kimchi owner? Wheels… turning…
Meanwhile, Gun-hee prepares to submit her resignation letter, sighing to her mild-mannered sunbae Su-ho. He says it's too bad, since he was happy to be working at the same company with her.
Kang-jae bursts in, and she hands him her letter straightaway and shoves him out of the office. He tries to push back inside to talk, but she's sick and tired of him and screams that she's not in the mood to listen to him spout off about women. He retorts that if she toughens up to match the men, she won't be the subject of discrimination.
Gun-hee shouts back that fine, he's right. But the fight saps out of her as she sinks to the ground, tired now: "But I'm weaker than you think."
Bolstered by his new information, Kang-jae tracks down his father to ask if scoring Chinjung Kimchi will be enough to change his mind—if he can get them, can he stay in Korea?
Mom's already receiving advice to expand into foreign markets, although she's hesitant about going too big. Her secretary assures her that the response overseas has been fantastic, and adds that he's busily looking into that other thing.
Mom takes a call with someone and says she's fine now, and that she's doing this for her daughters. She'll tell them today, though she worries whether they'll follow along.
Kang-jae confronts Gun-hee in the company lobby, as she's heading out with Su-ho and a colleague for drinks. He's about to argue her resignation again (as in, refuse to accept it), but she warns him to cut it out and leaves anyway.
Kang-jae chases her out, grabbing a taxi to follow hers. He shouts at her from his moving cab, then points to her co-worker sitting in his vehicle: "Doesn't this letter make you think of somebody?"
In a flashback, we see Gun-hee counseling that co-worker, who'd been crying and wanting to quit her job. It was Gun-hee who'd told the woman not to quit over something this small, telling her that rock bottom often presents the most opportunity.
Now Kang-jae gets out of his car—they're pulled over, thankfully—and reminds her of those words. Their opportunity: kimchi. He'd gotten the go-ahead from the president, and now he and Gun-hee are in charge of a new project, which includes a promotion for Gun-hee. The goal: acquire Chinjung Kimchi. Since she's so closely tied to them, he considers this a done deal. Easy peasy.
They start to shake on it, but are interrupted by phone calls by their respective parents. Dad has a few details to add, like Gun-hee's new title, which is higher than anticipated. Kang-jae: "You want me to work under her?!"
Mom apologizes for the fight last night, and says she's decided that running the business is too hard for her, and she's going to hand it off. Gun-hee: "Give it to whom?!"

COMMENTS
Based on pre-show information, I had thought this would be something of a screwball comedy—lots of banter, hijinks, and potentially ridiculous characters. Because what kind of Mom would go on a mission to make her four single daughters shack up with single men, in hopes of bringing about matrimony? It's hardly realistic, though it's got so much comic fodder that it alone could keep the show moving briskly along.
So I was surprised at the thread of real emotion and familial tensions running through the Yoon household, and when we see that Mom's undertaking this project as a last-ditch effort to do something for her girls, it starts to make more sense, and feel more believable. I love the way the actress (Cha Hwa-yeon) plays Mom, as quietly pained and contemplative, which makes me think her whole Marriage Plot will be more poignant and thoughtful than I'd assumed it would be. (Since I assumed it was crackpot.) Having this kind of motivation means that no matter how outlandish the shenanigans get, I'm more willing to go with it because I can see what it's rooted in.
You see that Gun-hee doesn't aim to be hurtful, but she's so strong-willed and brash that she doesn't exactly do her best to smooth things over, either. This isn't a family on the verge of collapse or anything quite that drastic, but these are five women (though we've yet to meet the youngest) who have sort of forgotten what it means to be there for each other, or to love unconditionally rather than holding grudges and sniping at each other. Granted, most of the grudges and sniping comes from one person, but I can see Gun-hee being the one who sets the tone. If she were to have a change of heart, she could easily become the glue holding them together. It's just that right now, she'd rather abdicate her place and to hell with the rest.
We haven't seen anything of the whole boardinghouse situation come into play yet, so that's still a big question mark. Perhaps that's Mom's big change in direction, to be revealed soon.
I like the conflict of the romantic leads, in that they are SO confrontational and the chemistry is palpable. Most of that is hate-chemistry at the moment, but it only takes one spark to change that right around. I do like Su-ho sunbae and can see how he and Gun-hee click as friends, and maybe there's even some romantic feeling there—you know, in that mild, pleasant, maybe-if-we're-still-single-at-forty kind of way. But they sure don't push each other's buttons the way Gun-hee and Kang-jae do.
Speaking of whom, Kang-jae's kind of a huge ass, but for whatever reason I find him amusing more than teeth-grindingly infuriating, as well he could be. It's probably because of the way Lee Kyu-han plays him, and I'm so pleased to see him finally in a role that uses him to such great effect; he's been living in Second Lead Land for an awfully long while, hasn't he? He and Kang Hye-jung—who's spunky and fiery and always great—play well off each other, and I look forward to seeing this unfold.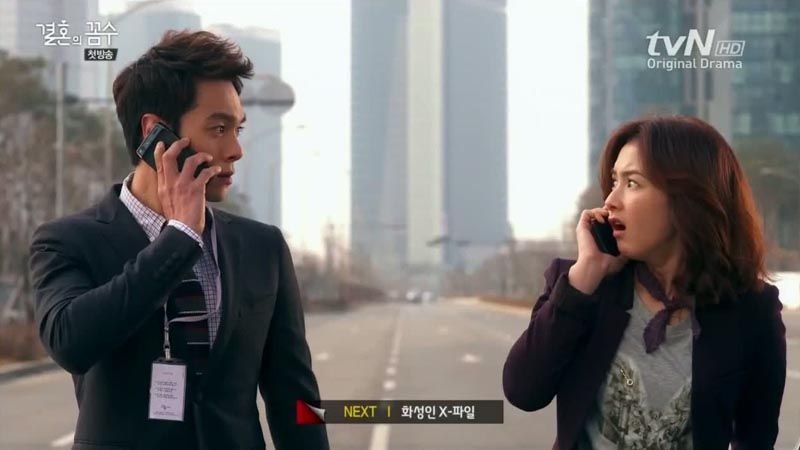 RELATED POSTS
Tags: featured, first episodes, Kang Hye-jung, Lee Kyu-han, Marriage Plot