Marriage Plot: Episode 3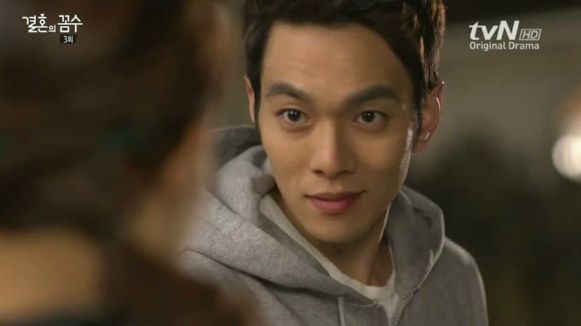 Our main leads continue to spar against each other – forced to work together but both hate the arrangement. It's comedic and they sizzle the screen with their revengeful antics and quippy bickering.
EPISODE 3 RECAP
Back at Mom's Boardinghouse K (a meta joke to a music program named Superstar K), Kang-jae's file is up against another candidate. Mom's against him and chides youngest sis for trying to sway them with her own opinion of him,
Sun-hee asks if they should consider Gun-hee's absentee vote of nay, which Mom approves of. The swing vote falls on big sis and Mom sweetly presses, "You know how I feel right?"
And we finally hear Sun-hee's vote: "Lee Kang-jae."
The car horn that resounds from Gun-hee's car basically sums up her feelings at the decision. Her head starts concocting images of Kang-jae (imagined run-ins post-shower, sitting next to her in the car, and seeing him outside the house), all while screaming her head off. Dream Kang-jae even talks to her that they're "one big happy family."
Wary to see him again sitting on the front yard, she waves to make sure he's real. Though he waves back and talks to her, the fact that he's real doesn't hit until unni invites him in. She gapes, "This wasn't my imagination?!" which startles them.
After a very inconvenient break (still haven't learned, have we Korea?), Gun-hee storms in, demanding why he's here. He asks the same, and explains that he's here with a plan – to see a successful merger. To catch the tiger, he's got to enter the tiger's cave to catch one.
Kang-jae scoffs at her suggestion to bite him to commemorate his welcome into the tiger's cave. Through gritted teeth, he says that it sounds she really would, coming from her. Yeah, she might.
Gun-hee vows to boot him out in a week but Kang-jae brushes it aside and demands that she leave so he can change. She doesn't budge and he warns that he'll take it all off at once, motioning towards his zipper.
He slyly adds that she likes to undress after all, a nod to the previous hose incident, and scares her off by reaching for his pants again.
Kang-jae greets the family like a perfect gentleman at breakfast. Gun-hee is of course, absent, and Mom dotes on him, tearing kimchi with her fingers and placing on top of his rice. It's a simple gesture that moves his cold little heart. After one bite, his eyes widen and he digs in, remarking how delicious everything is.
(The whole kimchi on rice thing may initially seem gross but it's a loving gesture of mother to child)
He confronts Gun-hee at the office, wondering why she wouldn't eat his mother's kimchi and she raises her sandwich that she's content with this.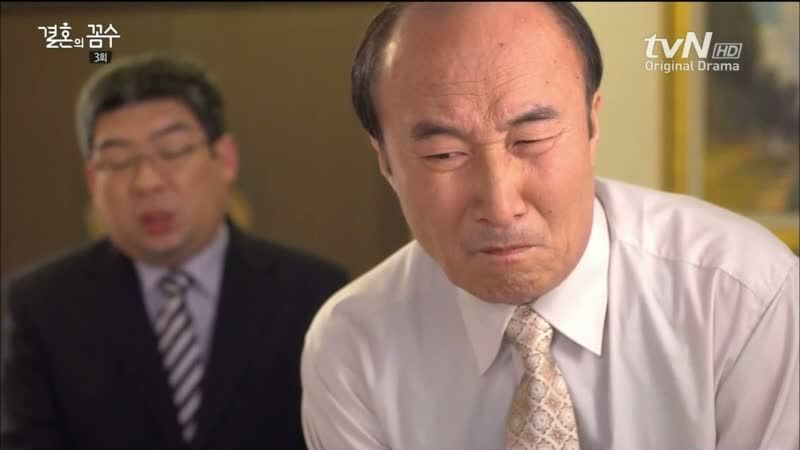 Dad asks for updates on how the new team is getting along, and his secretary hilariously misinterprets this as if they seemed well-suited for each other, laughing that they're both past marriageable age.
He worries that Kang-jae won't see the kimchi project through since he's been pampered as a child. The secretary agrees that it's tough with an influx of imported kimchi and kids these days eating less of it. Dad tells him to look into it.
Meanwhile, Kang-jae and Gun-hee inspect the kimchi-making facility and he informs her that he's called in various kimchi companies for a taste analysis. But Chinjung was the only one that rejected them – does Gun-hee know why her mother is so against going corporate?
Gun-hee throws back that she'll tell him once he's out and he challenges that perhaps she doesn't know after all. She looks over at a machine julienning radishes, commenting that something like that will be a great addition and makes cutting noises at him, like he's on the chopping block.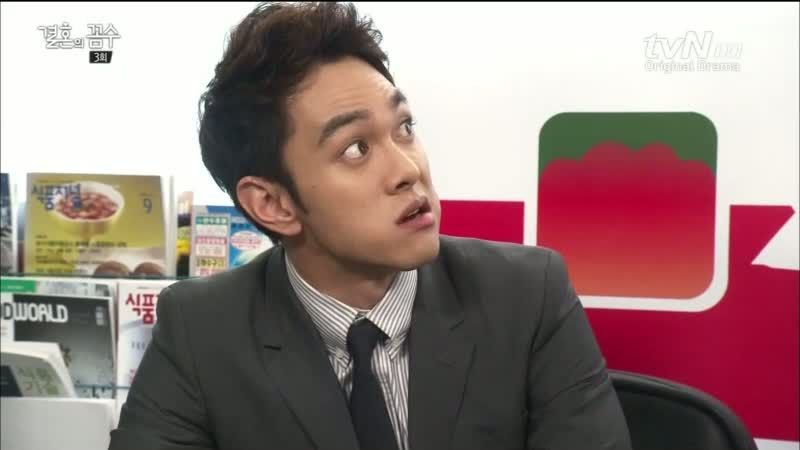 The competitors come in and Gun-hee hands off the tasting to Kang-jae, who proclaims that he has an iron stomach, but by the end of the day, it's clear that there can be too much of a good thing.
Gun-hee goads him all day that he can stop if he moves out, topping it off with a spicy jjampong. He makes evil eyes at her and asks the manager the spice level, "If you eat it, you could die."
He looks pretty sour by the time they arrive at her class reunion, which Su-ho has invited the both of them too. He races to the bathroom, pausing to shout to take revenge on Gun-hee before upchucking the day's contents into the toilet.
Gun-hee catches up with a mutual friend. She's one of those thinly veiled fake modesty types. Gun-hee grows uncomfortable at the suggestion that she sing for them. Su-ho tries to step in, but she ends up on stage anyway.
She's terrible, and I want to slap the other girl's face as Kang-jae staggers outside of the bathroom to witness this and overhear her say that it's entertaining to watch.
He grabs the mike and starts dancing like a fool to Gun-hee's astonishment. He tells her, "Let's do this together. Even if that means being ridiculed." He argues that it's best for the merger and they finish the song, singing and dancing together.
When they rejoin her friends (who commented that they looked good together which Su-ho's deflates at), Kang-jae lets out a huge scoff at the other girl.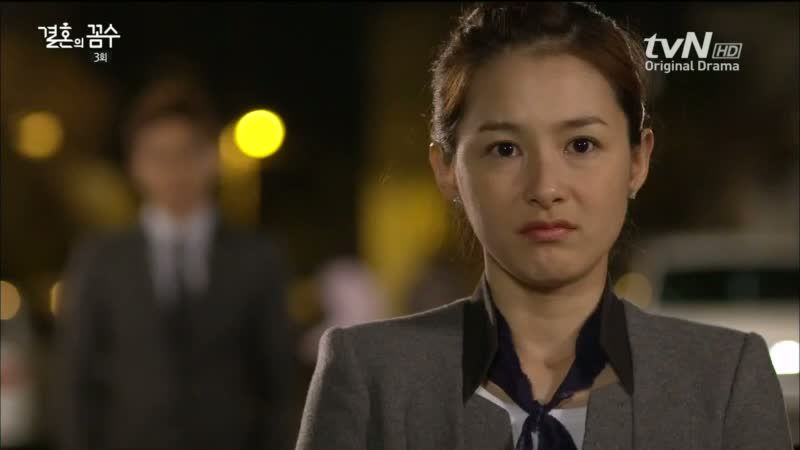 Gun-hee thanks him as they walk home, admitting she has stage fright. He doesn't hear it since he's following her at a distance. So she tells him that he should hurry up, why's he so slow? Kang-jae: "You made a fuss about getting me to leave and now you want me to hurry on home?"
She mutters another remark under her breath and Kang-jae asks if she cursed him again. He follows her in with a smile on his face. Hehe, these two.
The other boarders move in and Mom begins with a welcome speech. She's a woman who's made kimchi all her life. They're the kimchi she'll make and this is where they'll ferment and become ripe. Kang-jae reflects on the metaphorical mention that the boardinghouse will be a cellar, glancing at Gun-hee for a moment.
The daughters will cook every other day and even maknae Min- ji will have to help. They'll clean the house together every Sunday, despite unni's protest that she'll do it herself. Aw it's like one big happy family!
Gun-hee offers to cook first to everyone's surprise. Mom ushers everyone in as Min-jung eyes PARK SE-WON (Kim Jae-duk), rumored to hail from a chaebol family.
Gun-hee pulls her younger sisters aside, instructing them that they must have the upper hand if they're to live with men under one household. Kang-jae gathers the men together for the same talk, saying that these aren't ordinary women that they're dealing with, and if they're not careful – it can turn into a living hell.
Sun-hee informs their mother that Gun-hee has sure changed if she's offered to make breakfast. That is, a breakfast that calls for an instant heart attack of fried foods and pizza, to Mom's horror. Se-won digs in, the array fit for the young chap he is, and Sun-hee runs out, gagging.
Guess Mom didn't account for the street parking situation as the neighbors call of them up for occupying so much space. Mom divvies up the spaces, and Kang-jae slinks right up to Gun-hee. How convenient that they can just carpool.
In the car, Gun-hee complains that they'll be stuck 24/7 together and Kang-jae comments that he's not too happy about the arrangement either. There's still the matter of how to address her when they're at home since calling her 'Team Leader' seems out-of-place, , "Since I'm older, how about 'Gun-hee ya'?"
She unbuckles his safety belt in annoyance, threatening to beat him in banmal. But like the man-child he is, he calls her by that name again, this time fake coughing.
The two carry their bickering to a volunteer center, exacting petty revenge on each other throughout the day. How like Gun-hee ruins Kang-jae's cooking and he snorts at her dancing a children's song.
While they wash laundry, they both ignore their co-worker's insistence, stepping on the clothes with their feet as if imagining doing the same to each other. Kang-jae: "Just thinking that I'm stomping on someone gives! me! strength!" and Gun-hee declares, "Die! Die! Die!"
The kicker is that she drives off without him, forcing Kang-jae to walk home much later.
Jang-won catches Min-ji sneak out the back door and lets her tag along with him to the stunt school (Hey it's the same one from Secret Garden!). He teaches her the ropes, and they joke and play.
He compliments Sun-hee on her cooking at dinner (she blushes), and Min-ji races to join them to join in on the drinking. Mom sneers when Jang-won tries to offer a can to her.
Kang-jae toasts in celebration of everyone living together and Gun-hee gets up to do the same, with a sarcastic lick that they don't know how long they'll be living together.
Mom gets up early, and he confronts Gun-hee that they should have left together and she barks that she's not obligated to just because they're heading in the same direction. No matter how much of a jerk Kang-jae was in the beginning, remarks like these irks me about her, like I want her come-uppance to hit the nail on the head sooner.
In a loud voice, he declares that even though he may be a boarder, they're living under one roof and if they all keep to the same rules, doesn't that make them a pseudo-family? She's offended at the term and the others line up behind them like dividing sides in a feud.
Kang-jae proposes that they'll determine this through a good ol' battle of the sexes. If the men win, the boarders will be acknowledged as family, including him. Should the ladies win, Kang-jae will pack his bags – immediately.
Round 1 consists of bowling as maknae Min-ji serves as judge. Needless to say, the boys cream the ladies and Kang-jae reels in the victory.
It's a lemon eating contest for Round 2 and the chipmunk-like coaching in the background cracks me up. The ladies win this event, and it's tied. They strategize separately, everyone in a serious tone that the last round will determine it.
After reading off the suggestions for Round 3 (the ladies chose crafts and the guys picked sports). Kang-jae agrees to the ladies' choice of a marathon, while both he and Gun-hee whisper to their teammate that the other team has fallen right into their trap.
Kang-jae lays the trash talk on thick, commenting loudly that Jang-won once ran the 100m sprint in 12 seconds (isn't that kinda slow?). But it doesn't hold a candle to Sun-hee, who was an athlete and runs marathons every year.
He looks over at smiling Jang-won and a big talking Se-won and sighs, "As usual, I can only depend on my own two feet."
They start, and Jang-won eventually leads the pack. But all the running is too much for Min-jung, who's been running in high-heel sneakers, and Se-won, who stops not to slow down for her, but to hurl over the railing. HA!
Meanwhile, Mom arrives at a fancy restaurant for a secret meeting, even sending Soon-dol away. She's greeted by Kang-jae's father and she remarks that it's been 20 years since they've seen each other last since her husband's death.
Dad is surprised that she's reached out to him since it's usually the other way around. She doesn't beat around the bush and asks why he's employed Gun-hee to work in their kimchi division – does he still have his eye on Chinjung?
He comments that he believes that this merger will benefit them both and he wants to create a kimchi the world can enjoy. But she replies, does he still not know where she's coming from?
Back at the world's slowest marathon (seriously, you could WALK faster than they run), Sun-hee twists her ankle and Jang-won stops to help. She flutters at the gesture as he mends her while Kang-jae pulls ahead of the pack.
Dad asks Gun-hee's mother if she still resents him – whatever happened in the past was an accident. She confirms it as an accident that should have never happened. He tells her that it's not easy for him either and Mom snaps that she's never asked him to forget it. She warns him that she'll never forget that he's using her daughter for his own gain.
At the same time, Gun-hee and Kang-jae have a parallel conversation, him asking if all the running doesn't tire her out. Cut to Dad telling Mom that he'll won't forget it, no matter how hard it is for her and Gun-hee shouts that she won't stop running, no matter how hard it is, "Because I like it, I forget about the pain. Because I like it!"
Mom says not to, or else it'll cause her pain and Dad finally asks, "Do I make things that difficult for you?" She leaves, but we don't hear her answer.
He calls in with his secretary for any updates, but he's too drunk to give him any comprehensible answers.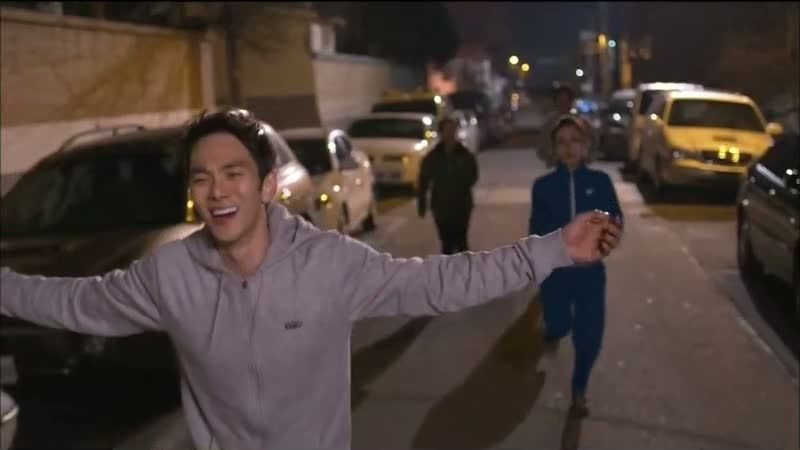 Kang-jae sees the finish line before his eyes, victory just mere feet away… when Sun-hee appears out of nowhere and marches ahead of him. It's a final victory for the women and Gun-hee relishes in the victory, demanding that Kang-jae move out.
But she gets a sudden phone call from the CEO – he's discarding the kimchi venture.
COMMENTS
It's the funny that keeps me engaged in this series, and I'd like to thank javabeans and girlfriday for letting me pick up another drama.
I wondered what kind of main couple chemistry we'd get from our actresses and, boy do I love it. I'm happy to see Lee Kyu-han out of second lead territory. He's certainly got the acting chops and the comedic timing down.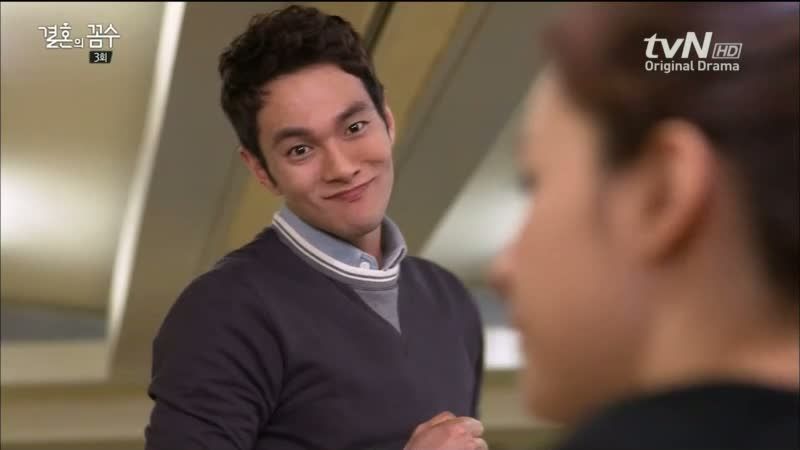 Kang-jae's a total ass in the beginning, but ever since the tables were turned, I find him downright hilarious and ridiculous. Additionally, we see that Kang-jae isn't a complete jerk and sticks to his values, like how he helped Gun-hee out at the reunion, welcoming ridicule himself because they'll stick together. So even though Gun-hee doesn't see them as a team just yet, he certainly does, even if right now it's just to fulfill his own gains.
A moment I really loved was when Kang-jae first tasted Mom's cooking and seeing how she placed kimchi on his rice. It's such a sweet and intimate gesture, usually reserved between parent and child. From what we can tell so far, he doesn't have a mother so this small moment may be especially touching for someone without a maternal presence in his life.
Mom's story surprisingly strikes me at the heart – there's a reason to why she doesn't want to enter the corporate world of business, the philosophy that if you want something done right, do it yourself. Her backstory with Kang-jae's father is oddly intriguing – emotions are tense for sure, but she doesn't necessarily resent him for her husband's death either.
Then there's the boardinghouse itself, which I see much more hilarity afoot. Mom has set up the situation to create people out of her daughters and boarders, and being the metaphorical geek I am, I loved the connection that their home is a place where everyone will become ripe for the harvest.
RELATED POSTS
Tags: featured, Kang Hye-jung, Lee Kyu-han, Marriage Plot