Marriage Plot: Episode 6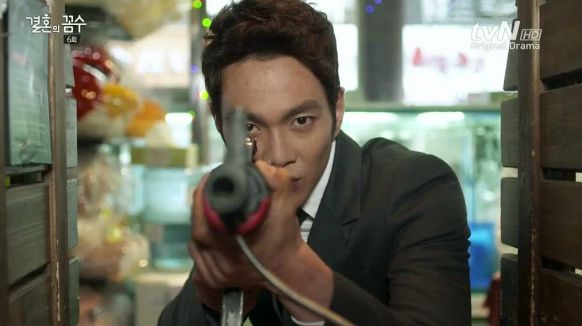 Ooh I never knew that iced coffee could be so cold, so strong, so bitter, so sweet, so sharp, so smooth, and so delicious. And just as enjoyable when it melts.
EPISODE 6 RECAP
Now that Operation Kimchi Merger's been given the green light, they make appropriate office preparations. Handing her a flyer to speed the wedding process, Kang-jae argues that people marry two or even three times – can't she just get married once?
But she spits right back: "I've managed fine for 30 years. You think a few words from you are going to convince me?"
Which is overheard by Dad's secretary. It takes another man to identify what other men are like. "And Lee Kang-jae… could care less about others." HA! Is it that he says it with a smile or that Kang-jae's prideful smirk comes crashing down in a split second?
The duo introduces the kimchi project and asks for recruits. No one steps forward and Kang-jae takes a dig at Su-ho's polite rejection.
Gun-hee takes offense but he defends that he was taking her side then eyes that she's always nice to Su-ho Sunbae. Before a full-fledged shouting match blows up, two recruits shoot up their hands.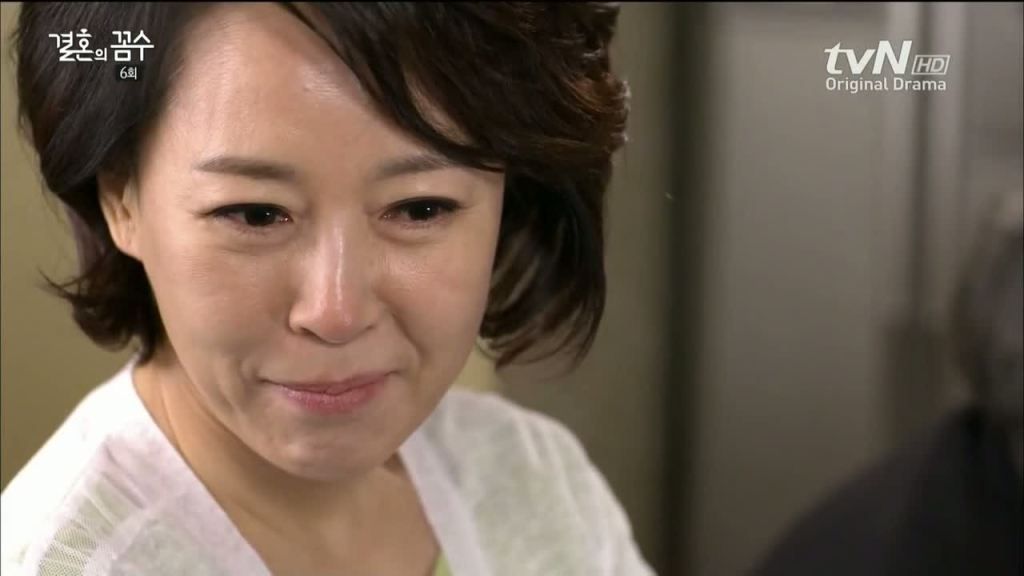 Mom reflects on the tense meeting with the president at breakfast. She thinks aloud that she created the kimchi cellar to be like family, but she has to reconsider if someone else has different motives. To her, that's Kang-jae.
Last night's drunken ajusshi arrives to the table, grateful for the night's room and board. Mom gives him a firm word of advice, but warms with pride as he eats her cooking heartily.
After the meeting, Gun-hee fumes but Su-ho reminds her that Kang-jae sided with her after all. It does little to console her, tossing out that Kang-jae's the kind of man who wouldn't side with his own father.
Then out of the blue, Su-ho comments that their lives always seem intertwined. Back when they were in college, they almost went on a blind date with each other – does she remember?
But Kang-jae walks in before she can answer; berating her that she should address Su-ho properly at the office. Su-ho takes his leave and Kang-jae snorts (?) at his successful childish attack.
Gun-hee remembers the incident Su-ho was referring to. Blind dates weren't her thing and was confused at the mention that her buddy sunbae Su-ho wanted to be set up with her. Aww, bashful Su-ho dropped by her part-time job just 'cause he was in the area. She wonders what could've been if she went out to that date.
News breaks that Plan B's kimchi is infected with a parasite so Kang-jae resolves that it paves way for Plan A: Get Married.
One of the new recruits drops by to greet her new colleagues. Kang-jae proposes they all grab a bite but Gun-hee's already got plans. He seethes as he watches her leave with Su-ho replying that he wants something to "chew into" for dinner.
Once at the restaurant, he orders the toughest steak. Yeah I think you're gonna chew into that for a while.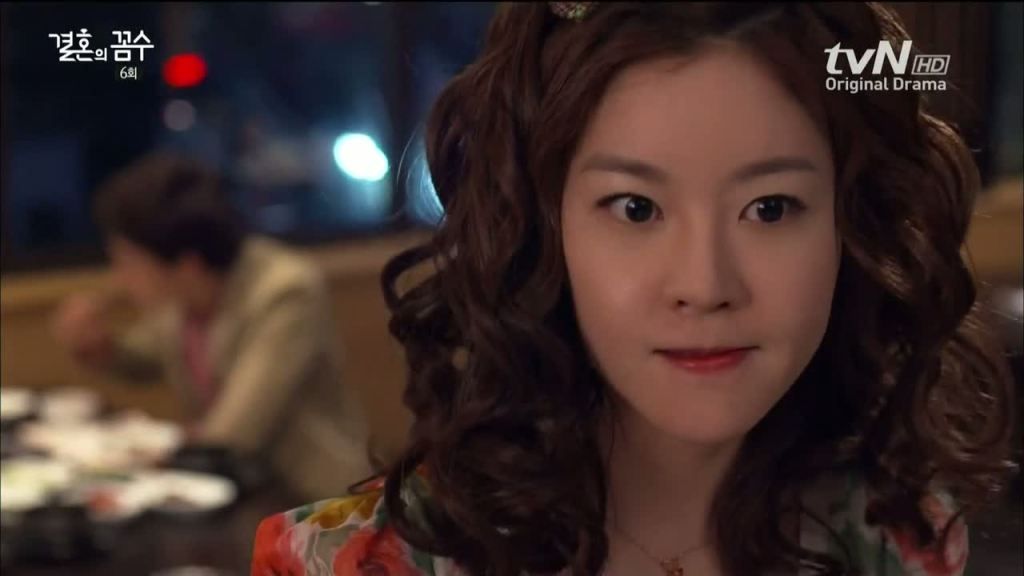 On their date, Se-won confesses to Min-jung that there's something important he wants to tell her. She listens in, relieved to finally hear some truth in his words.
Her eyes widen at his lofty speech that he wants to carve his own way from his familial ties. Will she help him out (in terms of letting him stay at the boardinghouse free of charge) while he finds that vision for his life? This kid cracks me up – he's honest but completely naïve and idealistic.
Min-jung slips out and her friend confirms that it's true – Se-won's been kicked out of the family, so he's penniless. She fumes that he tricked her to thinking he was rich (Uh honey you came to that conclusion on your own), but is piqued about another chaebol prospect.
Kang-jae waits at home and drills Sun-hee with questions once he hears that Gun-hee won't be back tonight. She doesn't know where but their mother approved it.
Mom gives him a dismissive greeting, and he heads to bed, tossing in bed, his mind imagining the two spending a romantic night together.
The next morning, he sighs at Gun-hee's empty desk and attempts to shake off any notions of the previous night. She arrives just after the recruits report for their first day.
He immediately notices the same jacket she wore yesterday and thinks, "She changed her shirt. That means she took it off…" Though he wills himself not to think about it, he constantly mulls over how much it annoys him, burying his face in his hands.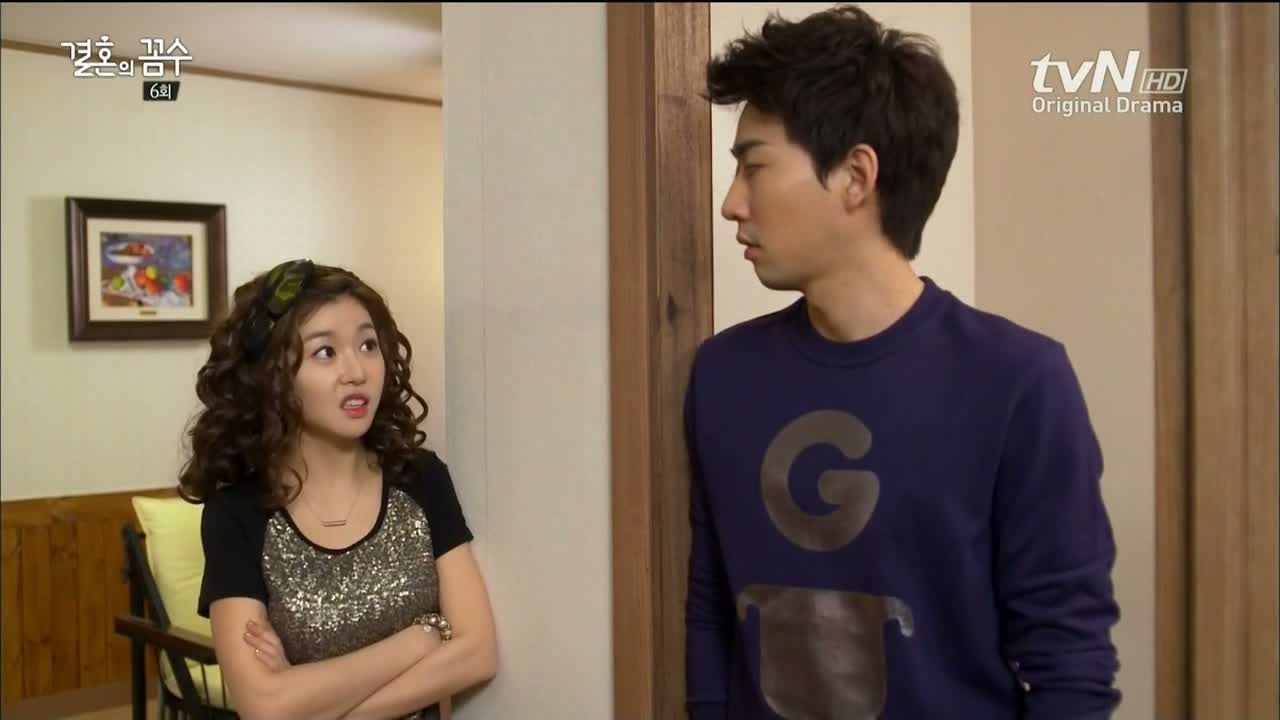 Se-won confronts Min-jung about ditching him at the restaurant, finding it hard to believe that Min-jung doesn't trust him. She argues that he's claimed that he's changed so he should earn his keep with his own sweat as in work.
But all he does is play video games all day. Shouldn't you be giving yourself this lecture Princess?
Min-ji visits Jang-won at the stunt school and he's initially cautious about eating the packed lunch. He adorably lights up when she covers that Sun-hee instructed to bring it over. Jang-won mutters a word of thanks to the lunchbox as if it were Sun-hee. So cute.
The team toasts their pints to the kimchi project's new beginning. Kang-jae encourages the recruits to work hard, regaling them with how Gun-hee went from his subordinate to his superior overnight.
Hanna the female recruit mentions that she wants to be a manager one day like Gun-hee's classmate. Gun-hee admits that she saw her recently – in fact, she stayed over her house last night. You can't wipe that huge smile that erupts from Kang-jae's face.
His mood uplifted, he proposes another toast:"I knew that was gonna happen!" Confused faces around the table lift their glasses, repeating it in unison.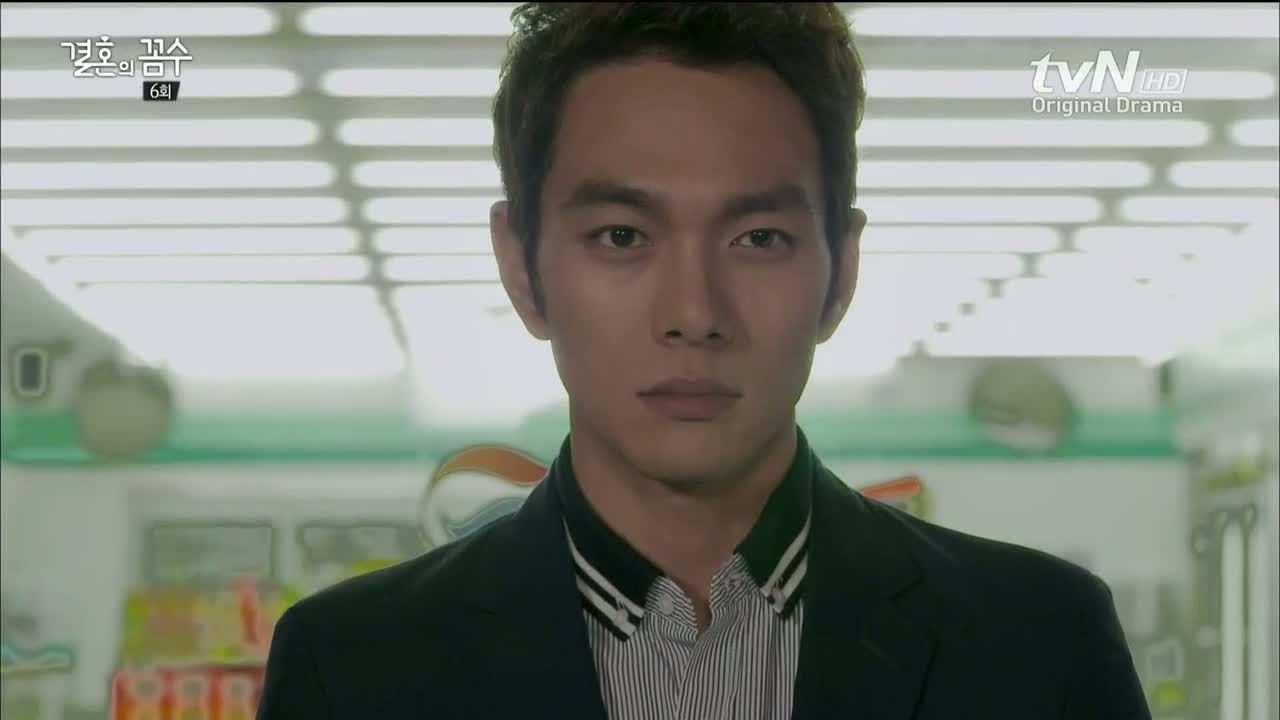 He watches Gun-hee on the phone with a darkened expression as she talks to Su-ho. Annoyed, he yells: "The designated driver is here!" Aw, but there's a mixed look of jealousy and hurt written on his face.
They drive home in an irritated mood, denying that they're a couple because they live at the same address. Gun-hee clarifies that they live in a boardinghouse. Kang-jae points out that as a boarder he's considered a customer – so shouldn't the owner be courteous to the guests like she is with Su-ho?
Then he asks the question that's been burning in his head: "Do you like Park Su-ho sunbae?" He confesses that the curiosity has been driving him nuts, but Gun-hee says nothing on the subject.
Gun-hee greets unni at home – their rapport is so cute because they're so good to each other. You know, when Gun-hee doesn't spew out the hurtful remarks. Sun-hee remarks that Kang-jae seemed worried about her last night and he even waited for her out on the porch early that morning.
Jang-won comes home and remembers to thank Sun-hee for the lunch, which of course, she has no recollection of. He lets the matter drop as they prepare for a boxing lesson.
Gun-hee recalls her sleepover from last night, talking to Su-ho over some wine. Thanks to her no-show, Ja-young (that same airy pretentious classmate) showed up on that date.
So she asked why Su-ho never dated her. He learned a crucial lesson, Su-ho answered – to be brave enough to act when he had the chance. As time passed, it only got harder. All the while, she ignored Kang-jae's calls (saved under "I'll kill him one day" hehe).
On a minor note, we see a small wine stain on Gun-hee's blouse and Kang-jae broods in his room.
Turns out that homeless ajusshi is Mom's mysterious man. She jokes that he took his joke too far this time. From what I can tell, he went out drinking with his patient thus coming to visit her in a drunken state, arguing that good food and company is the best medicine. I guess that rules out fatal illness for now.
Mom's surprised, however, to see an unexpected guest outside Chinjung – Kang-jae. She's less than pleased that his teammate came under the guise as a magazine reporter, suspicious that they came poking around the company.
Gun-hee sits in the office, reviewing the list of missed calls and reflects on that poignant question from last night. Is he jealous of Su-ho? Happy memories shared with Kang-jae flood her mind and she admits to herself that when they're together, she's not bored.
She asks her new recruit what kind of woman he likes which throws him off guard. He answers someone like Hanna (aww), who's fun and makes him feel comfortable.
He offers to put Gun-hee through a personality test to help her determine what kind of woman she is (These 'tests' are mainly for fun, wildly popular in Korea, and psychoanalysis is usually determined by the test taker's answers. They're similar to those fun quizzes you see in magazines).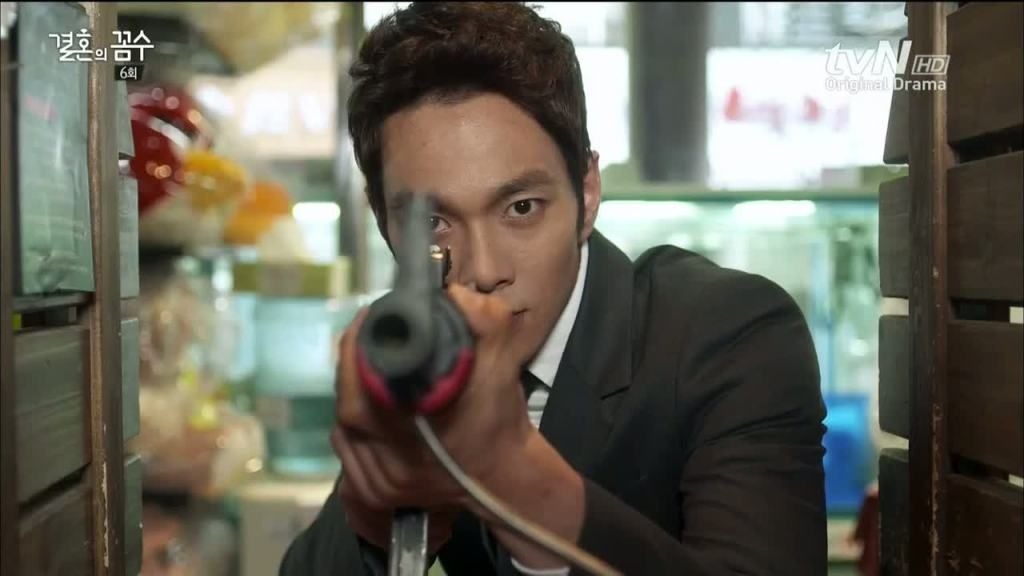 The scenario is that she walks into a café: what coffee will she order? Black, café au'lait, mocha, iced, or cappuccino? She chooses iced coffee which means she likes an exciting lover whose charm she falls for even if no one else notices it.
Meanwhile, Kang-jae shoots down targets at an arcade with pinpoint accuracy, whispering Gun-hee's name with each shot.
Kang-jae returns to the office to report on the Chinjung visit. Gun-hee dismisses him, annoyed that her chat with Su-ho is interrupted yet again. She makes it clear that her chat is far more important than whatever he has to say and this time, it's Kang-jae who leaves first.
He sends a text to Su-ho calling him to the roof but it's intercepted by Gun-hee while Hanna returns with a huge doll in her arms, announcing that Kang-jae won it for her. Poor male recruit's face falls at the news. Aww.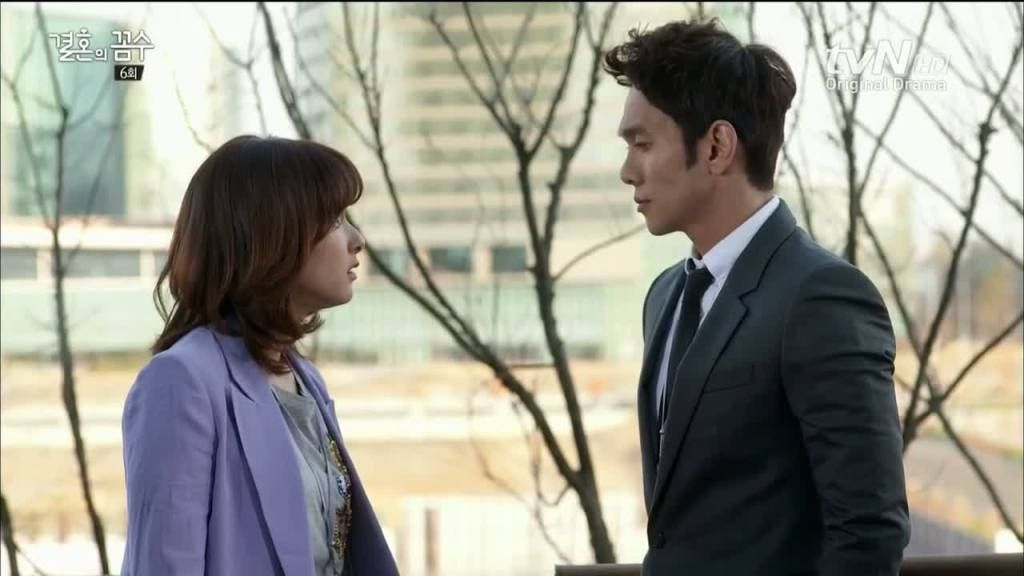 He's naturally surprised to see her and Gun-hee demands the reason why he called out Su-ho to the roof. Kang-jae explains he wanted to speak to Su-ho man-to-man. She presses the matter and now I'm a little annoyed. It's enough that you saw a text that wasn't for you, but now you're trying to get in the middle of a fight that isn't yours. Su-ho can fight for himself, thanks – he's no damsel-in-distress.
But Kang-jae comes right out with it – he intended to ask if she and Su-ho were dating. Shouldn't he be aware when it comes to whom she's marrying? Because it affects the kimchi project's future?
She retorts, in banmal, that it may seem to him that the merger with Chinjung may depend on if she gets married, but this involves her personal future so Kang-jae can stay out of it. Ooh.
Kang-jae calls after her when she turns to leave, asking again if she likes Su-ho. If she does, they shouldn't waste time and just get it over with (i.e. Gun-hee and Su-ho get married). Gun-hee turns, challenging if she should propose to Su-ho today and he icily replies that there isn't anything she can do, tears starting to fill in both of their eyes.
Su-ho arrives to the roof belatedly and Gun-hee looks straight into his eyes: "Someone should confess their feelings when they have the chance, right?" Kang-jae apologizes as well: "It was a mistake. A mistake."
Gun-hee storms back into the office, furious, refusing her iced coffee (a manifestation of her desire of an 'exciting lover'), seething that she'll have a sweet one instead.
Kang-jae splashes water on his face in the bathroom, his anger boiling under his skin. He keeps a stern face as Gun-hee makes plans to meet with Su-ho that evening.
The air is tense as Min-jung sips coffee with her chaebol girlfriends. Se-won calls to tell her that he loves working – the smell of sweat, being outdoors. Her friend further ruffles her feathers that it's been a week since she's gone shopping so maybe Min-jung should get a part-time job. Oh, chaebol problems.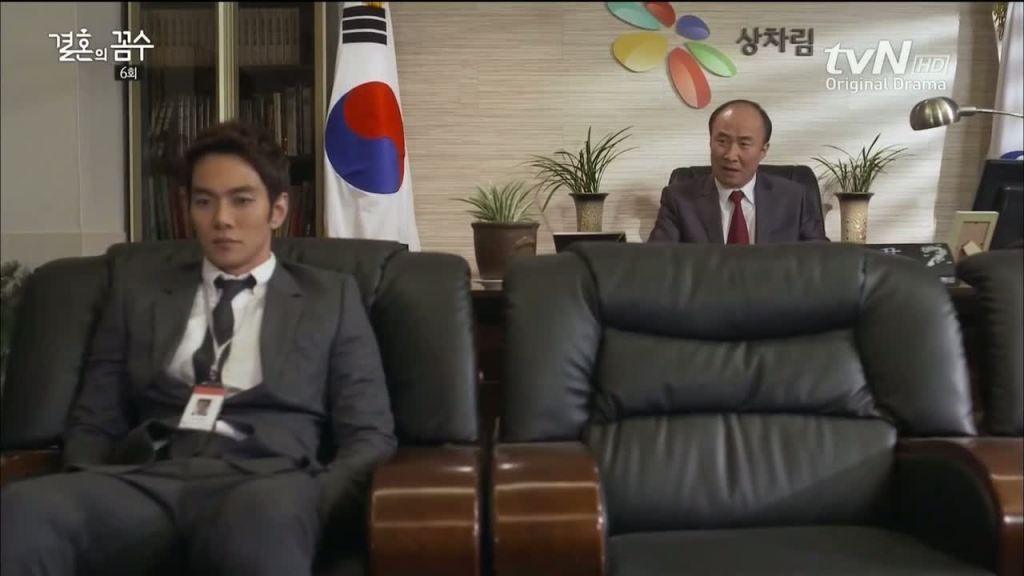 Back at the office, Kang-jae refuses to take the car keys from Gun-hee at the end of the day. So he broods in Dad's office, who complains that he wants to go home for the day.
Kang-jae takes out his petty frustration on Dad declaring that he's this close to closing the merger. Dad asks how, but he shuts up, saying he won't tell. Geez, you might as well have said neener-neener to him.
Kang-jae hesitates in front of Dad's office to talk to his secretary and wife, "Is it nice to be married?" Dad's secretary asks if he's ever been in love and Kang-jae takes a moment to think about it, as if he has to remember. HA – so I'm guessing… no.
Dad's secretary gives the classic answer that love appears when you're not looking for it. So that's why you get married – to grab love just before it disappears, an answer that his wife approves of. Kang-jae can barely stand their public display of affection, "I'll disappear."
That night, Mom comes home in a furious state, stating, "There's a bug in our kimchi cellar. I have to kill it right away." She's metaphorically speaking about Kang-jae of course, but the others are left confused (Jang-won starts looking around for the bug – HA).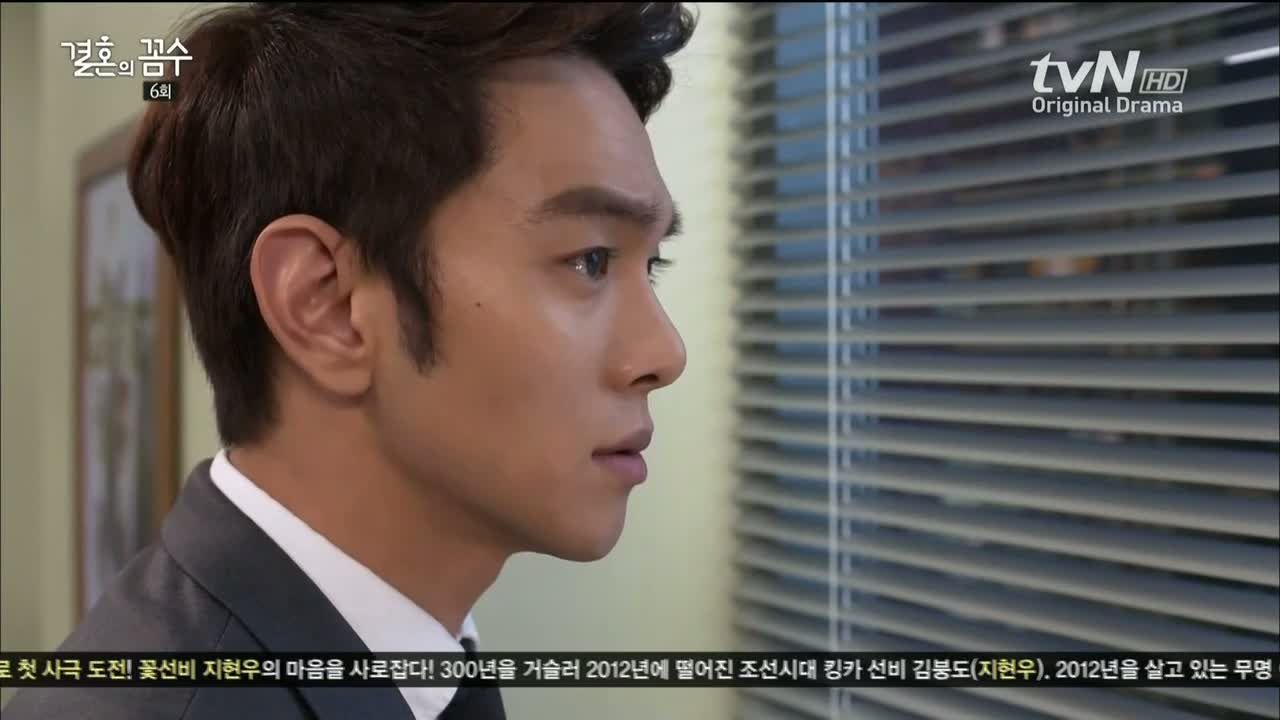 It's apparent that Kang-jae's schedule is free as a bird, calling random old friends to meet up. He gets overly excited when one friend agrees… but he pauses and cancels himself. Kang-jae scoffs as he stares out the window, unable to think of what to do.
Hanna's voice gets him face-to-face with Ja-young whose here on business.
The next moment we see him rushing out of the office, running down the stairs while at the same time, Gun-hee and Su-ho arrive at the restaurant. She mentions that this was where their blind date should have been. Su-ho smiles that she knew about it and she nods.
As Kang-jae scours the streets, bursting through various restaurants, we see what made him run out so quickly. They were chatting over coffee, and Kang-jae took notice that Hanna spoke to Ja-young informally. He mused that everyone seemed to do that nowadays.
And then the bomb: Su-ho and Jae-young are engaged. The worst part? Su-ho plans to tell the news to Gun-hee tonight.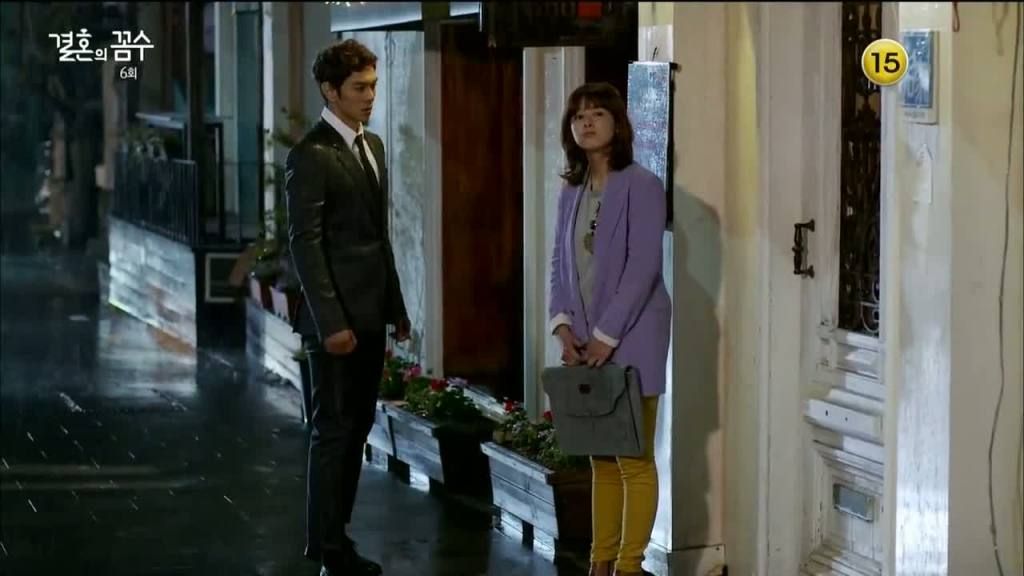 It's pouring now when Kang-jae finally finds Gun-hee who has temporarily found shelter outside of the restaurant. He approaches her, completely drenched from the rain to her astonishment.
He asks how it went, and when she doesn't answer he asks more specifically who confessed first – her or Su-ho? Is that important, Gun-hee asks?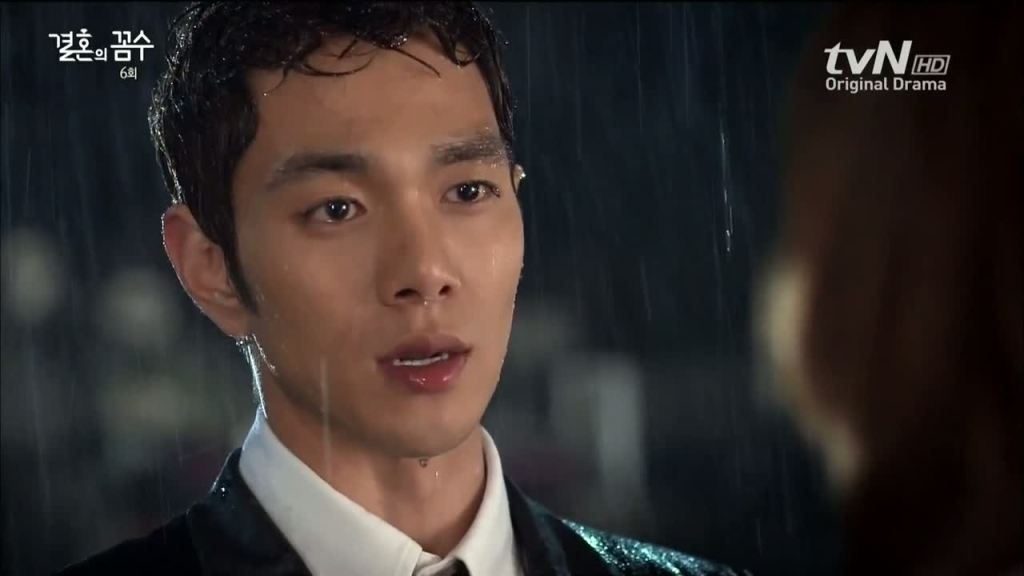 It is, he replies:
"It's important to me. Because I'm the only one who can make you feel embarrassed. I, Lee Kang-jae, am the only one who can humiliate you and make you angry. If you confessed to him first, I'm going to kill Su-ho. I'm going to bury him so that he can't say a word."
Aww, it's so sweet and so typical of Kang-jae to say. It's his own little way of saying that he's the only one who is allowed to irritate her and be there for her.
Gun-hee gives a forced empty laugh, calling Kang-jae a nut job. But those laughs cease as she looks to Kang-jae, her eyes glossed over to hold back her tears that Su-ho told her first that he's engaged. It pains me as she instructs Kang-jae not to kill him, because he has to get married.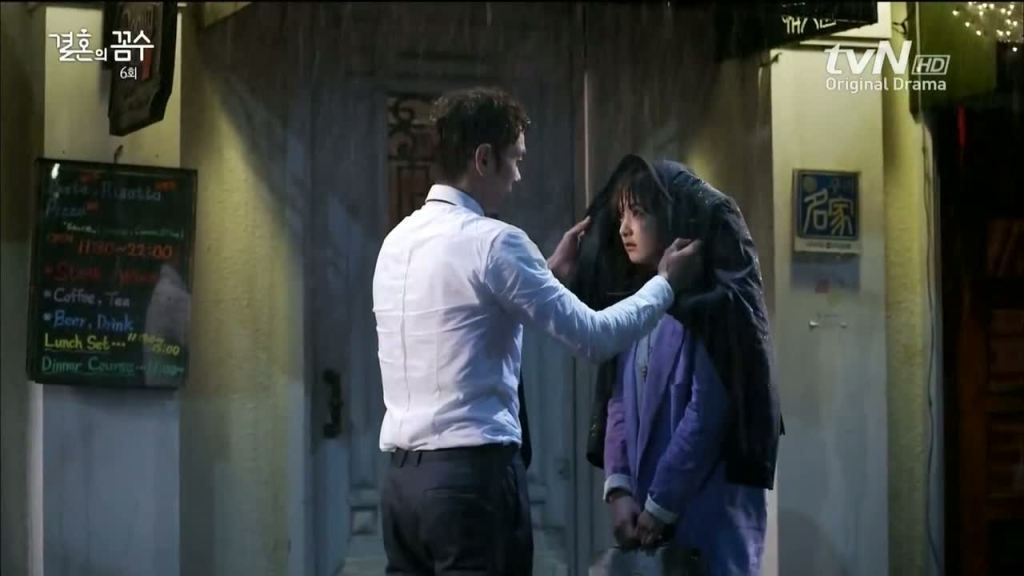 After a long moment, Kang-jae pulls her out into the rain. He takes off his jacket and as he places it over her head to cover her, he tells her: "Yoo Gun-hee can't cry. But it's okay to cry in secret. If you cry in the rain, you can't tell if it's the rain or if it's tears so it's all right. Starting now, cry as much as you'd like. You can be weak for a moment."
So she rests her head against his chest and finally lets the tears drop.
COMMENTS
What a beautiful ending – more beautiful if it didn't end up like this: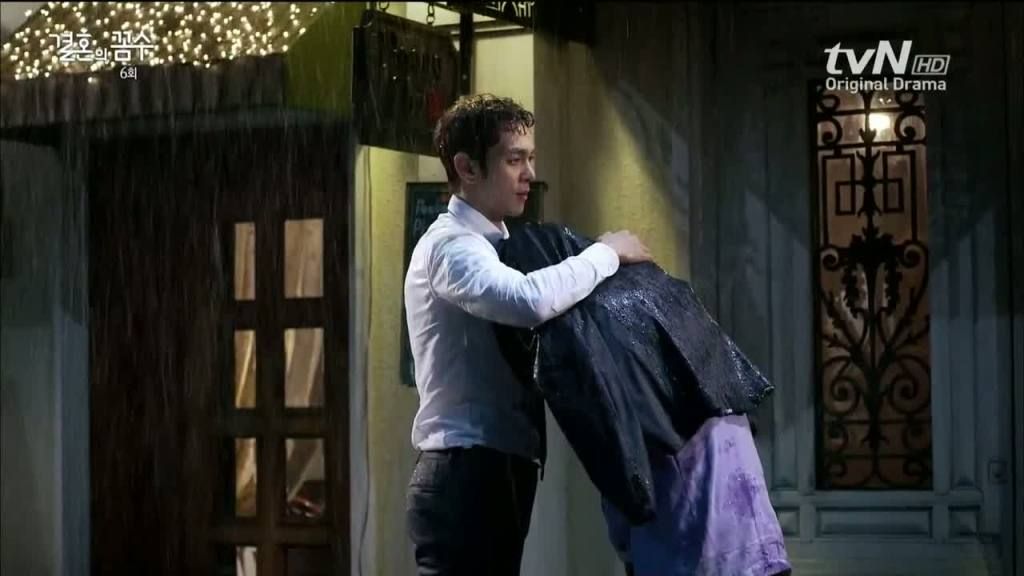 Yunno what I'm saying? That's just far, awkward, and uncomfortable. Anyway…
We're continuing to tug at that thread of Gun-hee's vulnerability. I thought it was a nice touch that we didn't get to see her cry. Because in that moment, moreso than seeing those tears fall from her eyes, is the reassurance that she won't be judged and encouraged to let herself go. How frightening is it to allow ourselves to be completely vulnerable, to break down those walls of self-defense you've worked so hard to build and have one person gently whisper that you're in a safe space where it's okay to be weak.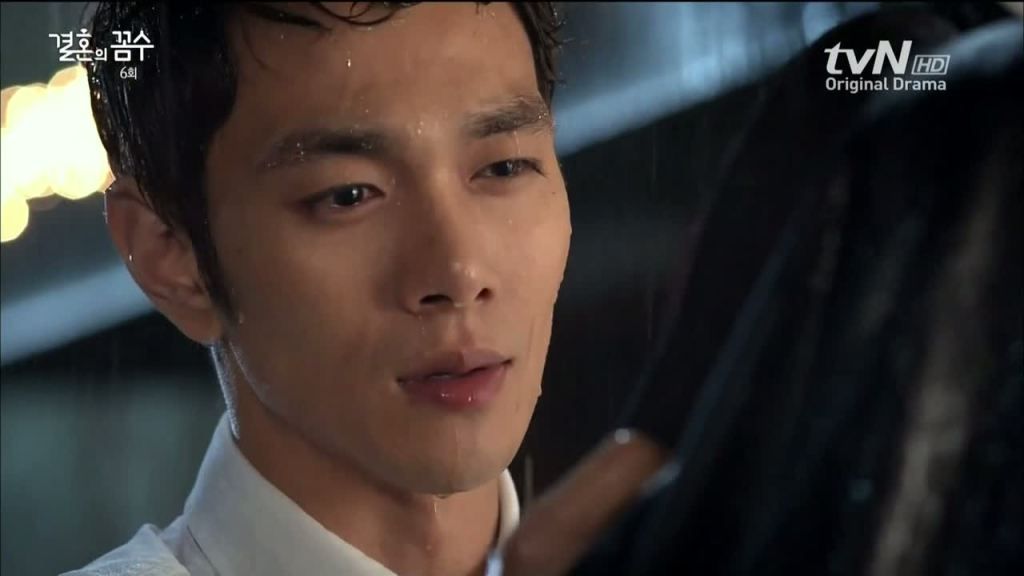 Gun-hee went through a trajectory in this episode where she began to see both men in a different light. For Su-ho that question was always what if – what if she went on that blind date, what if she caught on sooner. You can argue that you can't really blame the guy for being engaged to someone else given how long he waited for Gun-hee to come around, but then again up to now, we the audience was led to believe that he still harbored romantic feelings for Gun-hee and as a fellow woman, I'm not okay with that. From what I can tell, Gun-hee isn't as upset about the engagement itself but it strikes a deeper chord of a missed opportunity because of the values that she stands for: independence, success, work.
Not to say that she didn't annoy me again with that whole rooftop scene. In all honesty, she didn't belong there. I can let go that she accidentally saw Su-ho's text but that was not a fight she had to involve herself in.
The issue is that her future marriage affects her work and personal life, which I understand. But I couldn't figure out what made her go up there in the first place. Was she thinking of all the nice things Kang-jae did for her? Was Kang-jae going to try and convince Su-ho to marry her? Was she angry that Kang-jae was pestering Su-ho? Kang-jae made his intentions clear after she pressed the issue. So how could she have known? It takes a pretty far-fetched conclusion to do that but then again, that's my thought process.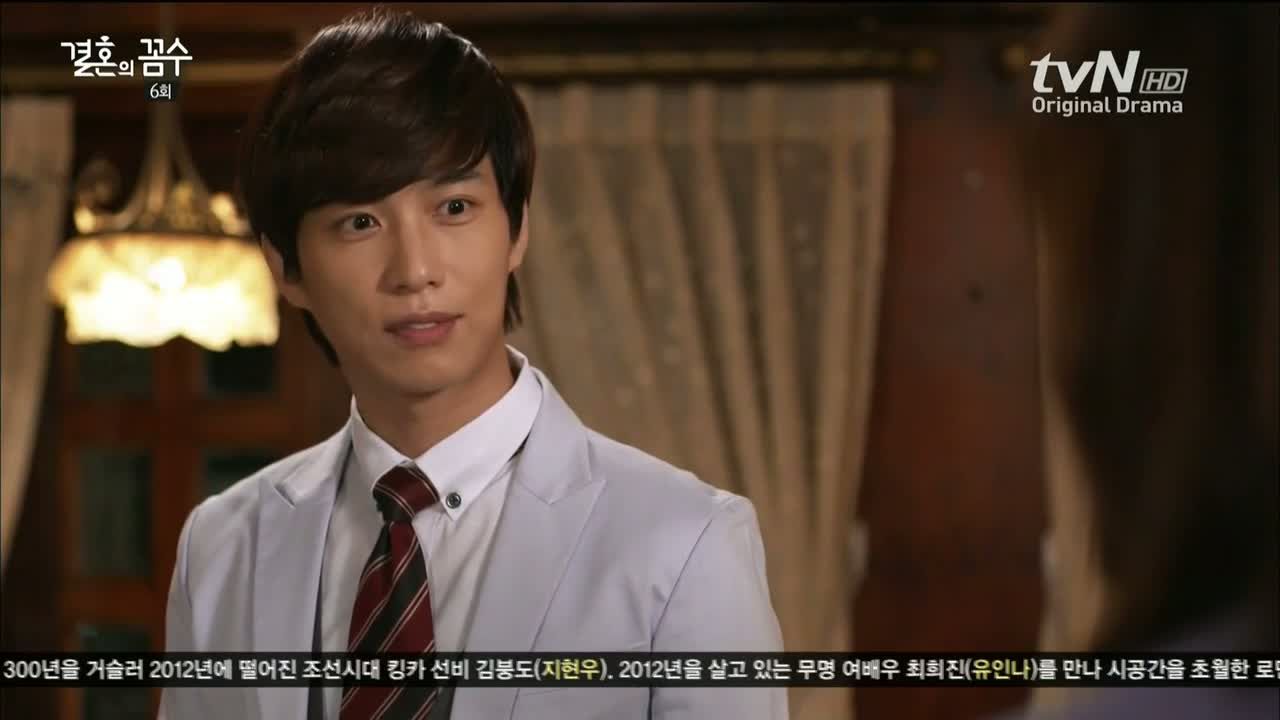 What this drama does so well is the ability to utilize how people don't always say what they mean for both comedic and dramatic moments. Like how Se-won mentioned "to go check the land" and he meant hiking, or Mom's references about the kimchi cellar/boardinghouse and the bug. Or that nearly flippant comment to Su-ho that sending the text was a mistake.
Kang-jae continues to impress me and perhaps for the first time, I feel that they're on more of an equal footing. Ever since Episode 4 when he felt the initial heartstrings of affection tug in that Meaningful Glance I was so confused on why he started falling for her in the first place and in such an out-of-place timing at that. But he's beginning to fall into a jargon that only Gun-hee can understand. By telling her that he's the only one who can flare those emotions in her, he's implying that he's the one who can handle them and be there when they do arise. He really is that iced coffee – the one who is exciting and whose charm you fall for even if no one else notices.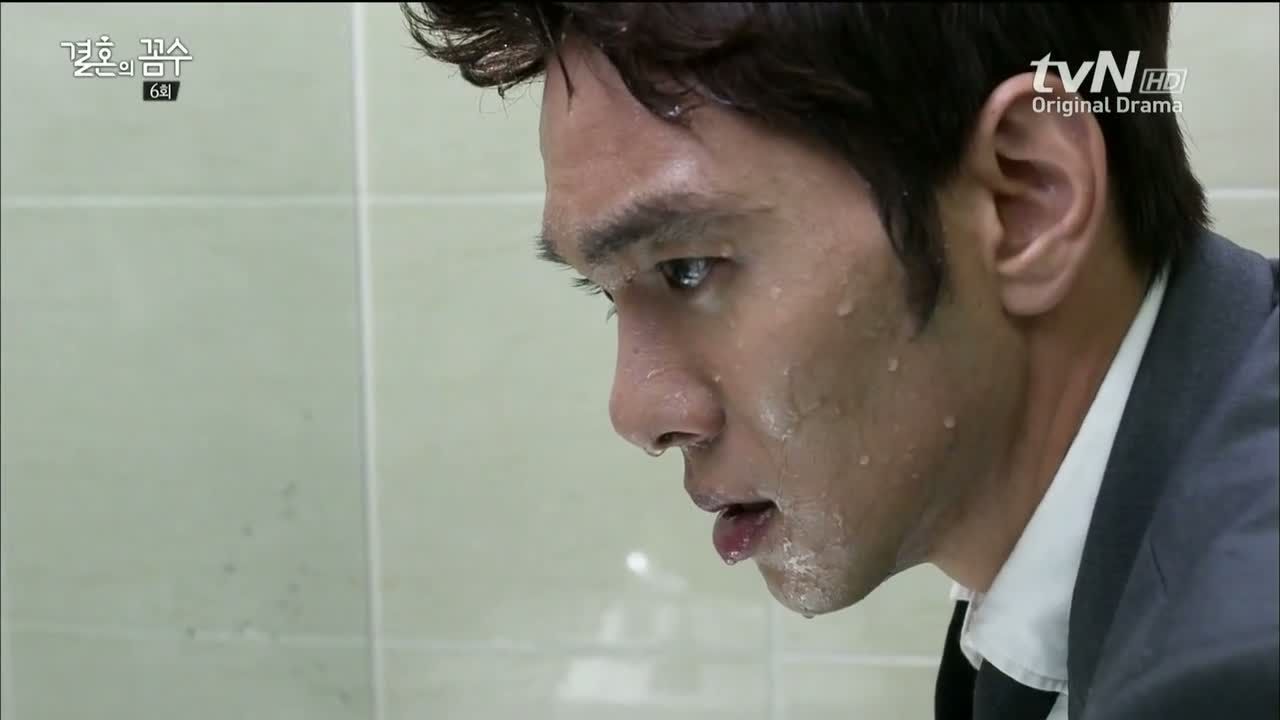 RELATED POSTS
Tags: featured, Kang Hye-jung, Lee Kyu-han, Marriage Plot