Movie Review: The Client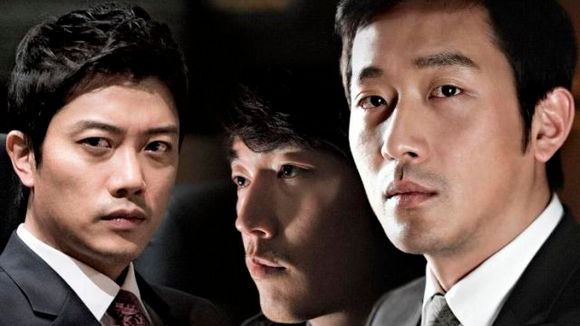 Considered the first Korean courtroom thriller to hit the big screen, The Client is a commanding cerebral experience headlined by three acting heavyweights and a taut storyline that will keep you guessing, or at the very least second-guessing, until its explosive finale. It premiered to critical and box office success, taking second place to The Crucible for three straight weeks, and remained the tenth highest-grossing film in domestic box office sales for 2011.
Ha Jung-woo puts in a commanding performance as a defense attorney unsure of his client's guilt, alongside Park Hee-soon and Jang Hyuk, who play prosecutor and defendant, respectively. This movie rises and falls on the intensity of its star power and certainly delivers in spades on that front, though it doesn't skimp on the details either. A sophomore effort by director Sohn Young-sung, The Client delivers plenty of thrills despite its limitation to the courtroom setting and keeps the scenes alive and moving. There isn't a boring moment to be had, even if it's not constant edge-of-your-seat entertainment. It's an exercise for the heart and mind as we essentially become the jury in a film that doesn't necessarily set new bars for the classic courtroom mystery, but one that does what it sets out to do and then some. Simply put, if you enjoy a good whodunit and compelling performances, you're in the right place.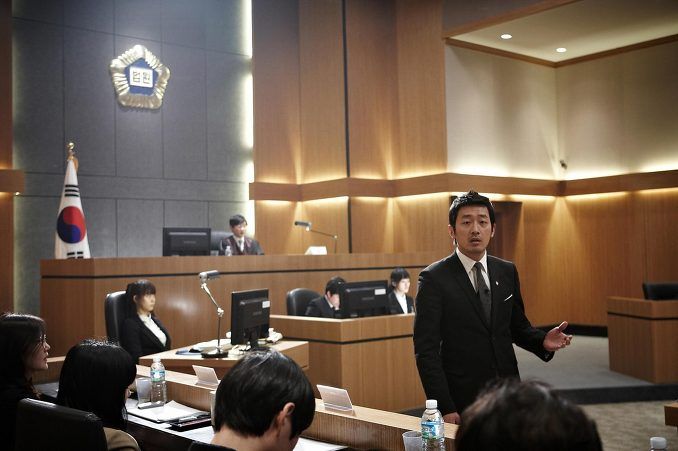 The premise of The Client doesn't seem all that astounding to anyone who's watched a courtroom thriller before, though as they say, it's all in the execution. We've got a murder with no body and a prosecutor who may be more than he seems on the surface, doing everything in his power to put our suspect away for good. It seems like a clear-cut case, only all the evidence is circumstantial. Add a defense lawyer to the mix and we get a lovechild of a murder mystery and a foray into the delicate ins and outs of the legal system, which is surprisingly alike to any you'll see in American courtroom dramas.
I was initially concerned that we'd spend almost the entire film in a courtroom, which can be plenty engaging but would put an incredibly heavy burden on the writing/acting/directing trifecta to keep things moving along. We get our fair share of courtroom scenes as expected (mostly toward the end), and to my surprise they were nail-bitingly good. Thus we had a very assured sense of pacing and story with just the right amount of reveals in a film that works well to manipulate us as the audience into thinking one way, only to slap us over the head with what we weren't expecting. It's not entirely unpredictable, but the twists and turns are handled deftly. It probably doesn't hurt to have such a great cast, either.
It's definitely an intellectual thriller that poses moral and ethical questions to the audience as if we were the jury, and has no qualms about throwing us into the middle of the action with the hopes that we'll figure out who's who eventually. That being said, I thought it was smart of the film to only give us glimpses as to who the real jurors were, so that by the end of the trial the prosecution and defense are delivering their closing speeches to us, really – and we never really know much more than the jury does. It's what makes the whole experience so fun – we're allowed to come up with our own theories, we're influenced by the passionate arguments of both sides, and in the end we're given the truth. For some it might be mind-blowing, for others expected, but it's the journey more than the end result that's satisfying.
Our first character introduction is to our "client," HAN CHUL-MIN (Jang Hyuk), who comes home for his anniversary to find his apartment swarming with police. He makes it to the bedroom door, flowers for his wife in hand, only to find the bed soaked in blood so fresh that it's still dripping off the comforter and onto the floor. His face remains emotionless even as he's cuffed and dragged away by the police.
He's our central enigma, since he seems like a simple man with a simple life at first – though once again, everything isn't as it seems. Immediately upon arrival to the prison we get a glimpse into his character as he tries and fails to hang himself by using a trash bag as a noose. He garners our sympathy while he garners public scorn, since the prosecution is quick to decry him as the obvious murderer of his wife, despite there being no body and no murder weapon. Only blood.
It's unsettling that he has such a poker face, though we can attribute it to shock and denial. Naturally we want to join the bandwagon in pointing the finger at him, but the beginning of the film does a bang-up job at establishing the world as being out to get him. Is he a murderer because he's a quiet man? Is he one because he has no fingerprints? Or is there a greater conspiracy involved?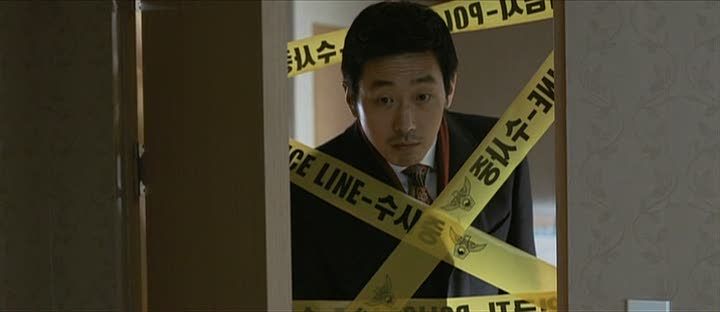 That truth isn't as important to our charismatic defense lawyer, KANG SUNG-HEE (Ha Jung-woo), who openly claims to the press that sorting out the truth is the prosecutor's job. At first he's reluctant to take on the case, though the promise of money and a way out of his downward-trending record eventually signs him on to Chul-min's case. His performance is the centerpiece of the film, and he's simply excellent as an incredibly intelligent yet easygoing lawyer.
What we glean from his backstory is that he once was a prosecutor, though he had to quit because he became too emotionally involved in a previous murder case and got violent. Sung-hee isn't necessarily a justice hound, though what's presented as more of a laissez-faire attitude toward the beginning quickly changes as he becomes more and more invested in Chul-min's case.
Sung-hee truly commands the screen as he plays both detective and lawyer, which is such an interesting Good Guy turn since the last role I saw him in (a psychopath in 2008's thriller The Chaser). As Chul-min eventually tells him, Sung-hee is his last hope.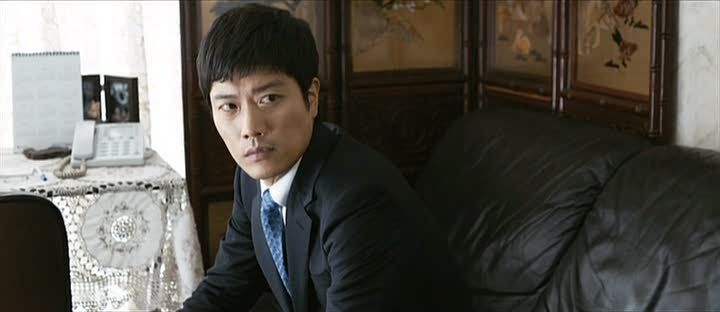 He has an inevitable rivalry against humorless prosecutor AHN MIN-HO (Park Hee-soon), a man who remains almost as much of an enigma as Chul-min throughout the film. What we do know about him is that he is dead set on putting Chul-min away for good – though the 'why' of it isn't revealed until the midpoint.
At first his insistence that Chul-min is guilty seems almost too thick-headed, which had me pulling more for Sung-hee, who seemed to be more open-minded about different possibilities. It doesn't help that Min-ho works hard to hide evidence from Sung-hee, though their relationship is built on grudgingly mutual respect – a perfect backdrop for them to go head to head in the courtroom.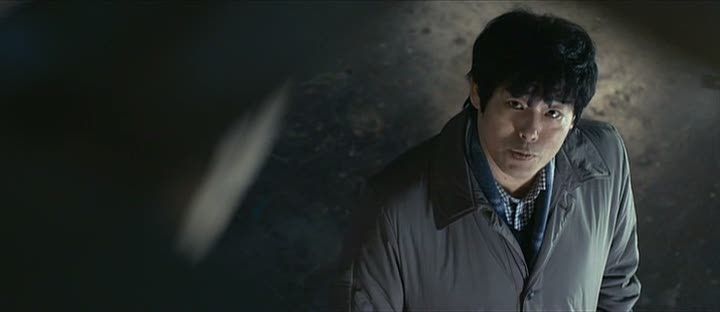 What's nice about this movie is that it's lean and fast – no extras, no filler subplots. Everything is written in a way to advance the plot or to give the audience red herrings, since we're inevitably led by the director to where he wants us to be during the film. (Although it's a nice touch that when we get red herrings, our characters do too.) We mostly remain just as confused as they are, though we inevitably live the experience more through Sung-hee, since he's just naturally more accessible than Min-ho.
Playing a pivotal role in helping Sung-hee is JANG HO-WON (Sung Dong-il), who I was extremely happy to see in a much more toned down (yet no less important) role. He acts as a sort of case broker to Sung-hee along with being a jack of all trades who isn't afraid to do some dirty work (though none of it is really that illegal or dirty, just a bit harder) to get what Sung-hee needs. The same goes for a paralegal assistant on Sung-hee's team, though her quest to garner evidence by buying it lands her boss in some hot water later on.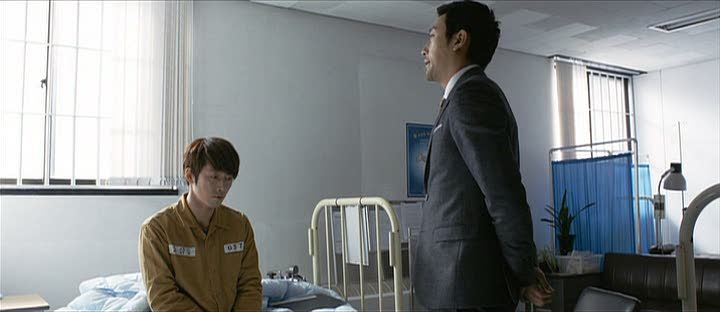 There's an important moment at the beginning of the film which sets the stage for the Sung-hee/Chul-min relationship. While asking Chul-min some basic questions about his life, Chul-min interrupts to ask the question that proves to be one of the running themes through the movie: "Do you believe me?"
Sung-hee takes this question as if it were nothing, as though it's something anyone would ask. He nonchalantly replies, "Pretty much. I believe everybody."
Whether he actually does or not is another story. I'm more inclined to believe that he's more willing than someone like Min-ho to give people the benefit of the doubt. Things get murky being a defense lawyer, naturally, though Sung-hee isn't an amoral man only out to win. It's clear that he believes he's doing the right thing, simply because there's no evidence to sustain the prosecution's claim.
He gets caught up in a possible conspiracy by the prosecution to sweep Chul-min under the rug as quickly as possible. They're hiding essential CCTV footage that could prove another man went to the apartment the night of the murder, and the timeline is strange. The police showed up to the crime scene inordinately fast, and had Chul-min arrested in no time at all.
There's also the matter of a candle that was clearly lit after the supposed time of death (which is measured by how the blood coagulated – but once again, no body). Who lit the candle, if Chul-min only came home once the police were already there?
A big wrench is thrown into Sung-hee's truth-seeking in the form of a black envelope delivered inside his apartment. The camera begins to tilt as he starts reading it, which is a nice view into how Sung-hee's formerly straight-laced perspective is skewing because of what he sees.
And what that is sends him hurtling into a spiral of self-doubt. It's a bunch of files on Chul-min, who was a previous suspect for the brutal murder of a high school girl. Once again though, he was released due to a lack of evidence, no matter how much the police were sure he was the culprit. Why? Because he never emoted, never cracked, and only quietly protested his innocence. Three days of harsh interrogation proved nothing, so he was released.
Here's the thing about Chul-min – the files are supposed to help damn him, but a flashback to the interrogation shows him as a very simple, possibly misunderstood man. We've then got two options for how to perceive him, with either being completely valid at this point; either he's a criminal mastermind pulling one on everyone, or just an incredibly simple-minded schmuck who was wrongly accused both times.
Either way, we find out an interesting tidbit – Min-ho was the prosecutor for the high school girl's case. He was convinced of Chul-min's guilt then, so this opportunity is now-or-never for him to nab the killer, which explains his extreme doggedness in winning the case.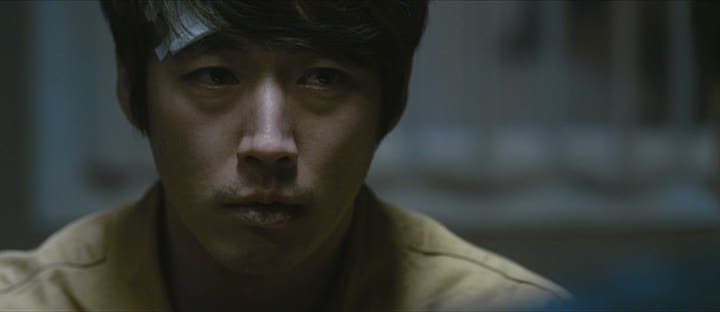 Sung-hee goes through a moral crisis, with the files having done their job by throwing into question his beliefs about Chul-min's innocence. It effectively makes Sung-hee more relatable and more of a hero figure – he's not just a defense attorney out for money, after all. He wants to do the right thing.
So we're with Sung-hee when he doubts Chul-min, and then we're with him when he confronts Chul-min about the previous suspicion, who seems contrite that he kept the information. It's just that he didn't think it would do him any good.
This is when Sung-hee finally asks, "You did it, didn't you?" Chul-min's poker face starts to fade into something more like sorrow. "The way you look at me, it's no different from the way others do." Everyone else thinks he's guilty, but he can't even accept the fact that his wife is dead without seeing a body. He didn't kill his wife, he claims.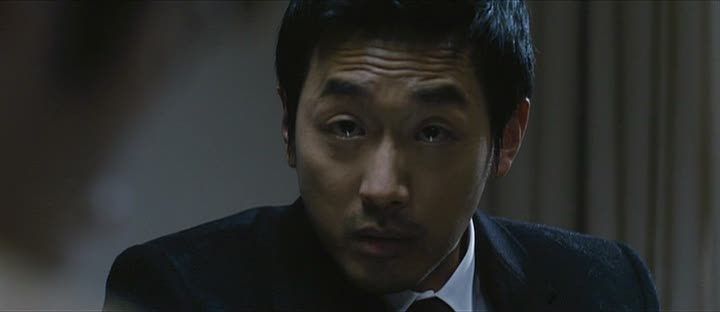 Even though Sung-hee has doubts, one thing is for sure – the police told Chul-min's wife that they thought her husband was a killer, and it affected her deeply. She was being treated for depression because of it.
So that then throws doubt onto police procedurals, and once again, as to whether Chul-min is a victim or not.
We do get a nice moment between our lawyers when Sung-hee's paralegal helper, against his advice, attempts to buy the CCTV footage that she believes will prove Chul-min's innocence. It turns out to be a trap by the prosecution, so Min-ho expends the effort to try and take Sung-hee off the case. Is someone scared he might lose?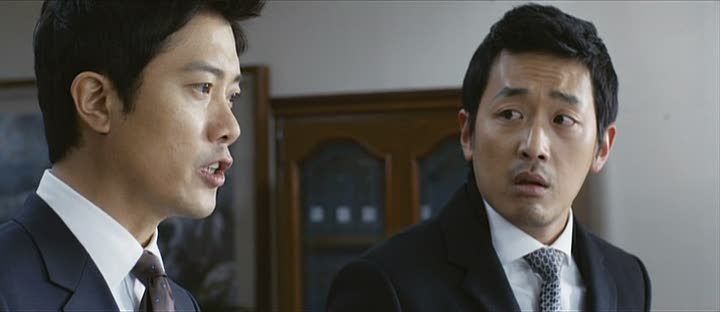 So they end up squabbling like two incredibly educated children in front of the judge, who's like a grouchy father figure to both. It's one of the lighter moments of the film even though it never delves into dark or depressing in the first place – and even more dark comedy is to be had when Sung-hee asks Min-ho's father, a well respected senior lawyer, to defend him against his own sun.
Their argument goes to prove that this is as much about Chul-min's innocence and guilt as much as it is about the legal system and all its various loopholes. As compelling a case as Min-ho has on an emotional level, the bottom line is that the evidence is all circumstantial. To make matters worse, Sung-hee tells the jury about Min-ho's involvement in the high school girl's case, presenting a possible conflict of interest that makes it seem as though Min-ho wants Chul-min to be guilty, even if he isn't.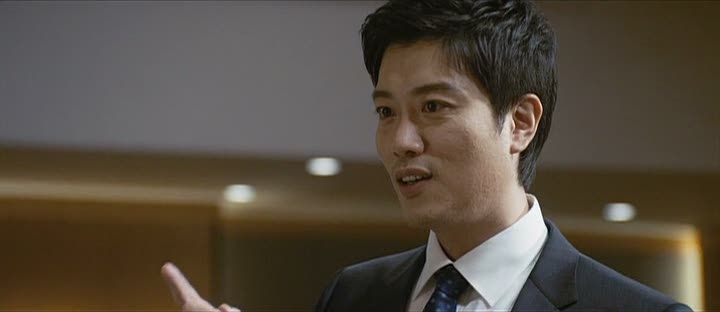 There are other added mysteries, like the extent of the police's involvement with Chul-min's wife after he was suspected of murder as well as his wife's seemingly-crazy mother. The courtroom scenes afford us, to no surprise, the best sort of interaction between our opposing lawyers as we watch them try to outsmart each other. Neither of them is in it for the glory, or for the pride of winning. Sung-hee may have his doubts but he goes by the law, so doubts aren't enough to convict Chul-min. Min-ho doesn't see himself as accusing a possibly innocent man, he sees Chul-min as wholly guilty.
Unfortunately for Sung-hee, he keeps getting into trouble due to the actions of those trying to help him. First it's his assistant trying to buy evidence, and next it's jack-of-all-trades Ho-won, who's tracked down an elderly man who claims to have seen Chul-min the night of the murder because he got into a hit-and-run with his deaf grandson's bicycle. Though the old man and his son seem to be a red herring at first (and Min-ho has the grandfather thrown out on the basis that he was promised payment for his testimony), they prove to hold the true keys to solving the case.
I love that Sung-hee and Min-ho adapt to each other, since that's just plain necessary in a court battle like this. Because Min-ho has to rely on emotion and motive more than hard evidence, Sung-hee takes him to school on his own game by using Chul-min's emotions to work in his favor. The moment Chul-min takes the stand Sung-hee starts tearing into him about his avoidance of his wife even with her depression, and finally, Chul-min's stoic poker face shatters as he breaks down in front of the jury.
What's great about this moment (besides the acting) is that it comes at a pivotal time for us as the audience – since right up to that moment I had begun to slip back into doubt (after un-doubting, then doubting, then un-doubting again). Then we, like the jury, get treated to Chul-min's moving monologue and are once again left wondering if he truly committed the crime, or not. The audience gets played by the lawyers just like the jury does, which is just plain fun.
The question then becomes less of a 'Did Chul-min commit the murder?' and more of a matter of legality. This is where it gets hard to read Sung-hee, and we don't really get to figure out whether he put away his doubts before the closing arguments, or not. One thing is for sure – he's not ready to damn Chul-min like everyone else, and believes in the legal system probably more than his rival.
Tensions inevitably rise between the two lawyers, who both believe they're right. Sung-hee blames the police involvement for killing Chul-min's wife, though the specifics are unknown. Min-ho claims that he'll stake his life on Chul-min being the killer, and warns Sung-hee that he's trying to let a guilty man walk. The bottom line still remains: there's no evidence against Chul-min. And furthermore, Sung-hee asks the jury: "Is his wife really dead?"
And in one of the most brilliant moments of the film, and frankly any courtroom thriller I've seen in a while, is where Sung-hee tells the courtroom: "I'll count to three, and his wife will walk in through the door." Everyone turns around, and waits. "One… Two… Three."
Did you look at the doors?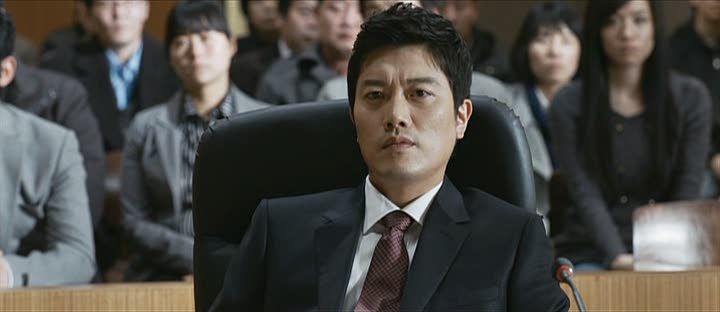 This careens us toward our ending, which is less about the verdict and more about how the law can be so easily manipulated – just like people. I'd argue that what happens from here on out is the best part of the film, while also serving as an organic culmination of all that's come before it. It wasn't unexpected on my end, but I still ate it up – I knew that was the point we'd get to, and only waited to see how the film planned to take us there. I wasn't disappointed.
Even then, the end isn't action-packed, the music isn't intrusive, and for all the revelations it's actually pretty quiet by relying more on talk than action. This would spell disaster if handled in less capable hands, but with such great acting talents the end, along with the entire film, is a sight to behold.
More than just an empty courtroom drama with stock lawyer characters, this film felt very well thought-out and was just as deftly executed. The cinematography was on par for the film, never going above and beyond the call of duty so that we were never distracted from what was happening on screen. Just like jurors in a court room I could feel when the script was manipulating us, but rather than being a cheap trick, it worked in the sense that manipulation was the name of the game. That's really all that happens in a courtroom, when you get down to it – how well can the lawyers manipulate the jury?
Most courtroom procedurals will take the stance of allowing the audience to become the jury, so it's hard to explain why it was a more rewarding experience in this film. Keeping secrets from the audience is key to a great reveal, though unlike most courtroom thrillers, I became invested in Sung-hee's journey. His motives were never really ambiguous, he would simply go along with the flow as he saw fit. When he was lost, so were we – and when he finds out the truth, we're right there experiencing the gravity of it with him.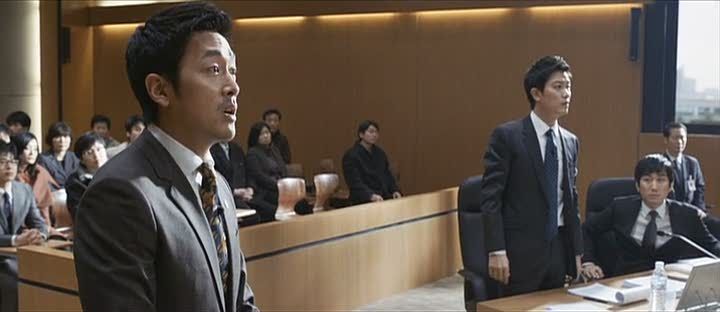 I mentioned it before but it's worth saying again – I have endless appreciation for how lean the story was. There were plenty of side characters that played their roles effectively, and I actually liked that the writers didn't feel the need to pander to the audience – there wasn't a place for romance in the movie, so there wasn't any. You'd be hard pressed to say that a romance element is missing, because it was something I didn't think of until after the movie was over – and I was more surprised than anything about the realization.
There's a message to be gleaned in how we perceive others, how we trust them, who we can trust and why. Is it always better to doubt and be safe (Sung-hee) or does that make us too cynical (Min-ho)? Is it, like Sung-hee asks, more egregious to put one innocent man in jail than it is to let ten guilty men walk free?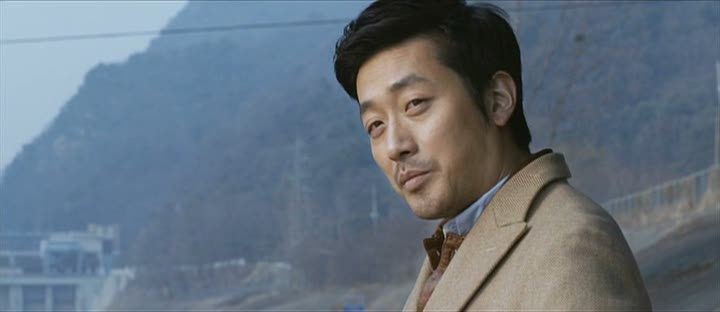 The bottom line: A thoroughly engrossing and extremely well-executed courtroom thriller filled to the brim with stellar performances. Packs a classic twist ending, but one that doesn't negate the sacrifices made to get there. Lean, mean, engaging. 9/10.

RELATED POSTS
Tags: featured, Ha Jung-woo, Jang Hyuk, Park Hee-soon