Rooftop Prince: Episode 10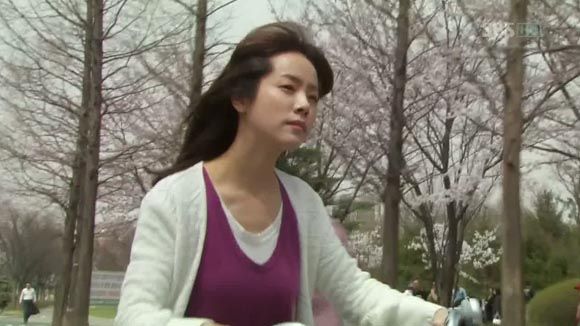 Eee! We get some big developments, and a (tiny) peek at the endgame with our time-traveling murder-mystery solvers. We haven't spent a lot of time looking into what the reincarnation means, and I'm still puzzling it over in my head, but at least the boys have a firm theory in place that is driving their actions.
I was afraid (from comments in the last recap) that this episode would deliver lots of pain for Park-ha, but on the contrary I think it's a great advancement for her. Can't wait to see what next week brings.
SONG OF THE DAY
John Park – "이게 아닌데" (This isn't right) [ Download ]
Audio clip: Adobe Flash Player (version 9 or above) is required to play this audio clip. Download the latest version here. You also need to have JavaScript enabled in your browser.

EPISODE 10 RECAP
Bitchycakes Se-na embraces Yi Gak to cap off her confession of romantic feelings. What makes her especially hateful isn't just that she's manipulating him for her own benefit, but that she purposely times the hug for Park-ha to see. And honey, is that Tae-mu's engagement ring you're still wearing on your finger? You are a piece of work.
Park-ha turns around, crushed, and heads back home. On her walk, she comes across a basketball at an outdoor court, and stops to shoot a few hoops.
Walking along, Se-na admires the sight of Namsan Tower, which Yi Gak has never visited. At this point I have no faith that any of her stories are true, but she spins a pretty tale of never having been there either—she'd wanted to go with another first-timer, so they could experience the same feelings. Barf.
In the Tower, they look out at the city lights, and Se-na waxes poetic about how lights always seem happy from far away, and then you get up close and see that some people living within those lights are fighting, or sad. Or heartless backstabbing gold-diggers?
He turns the comment into a compliment/question: Which is she, beautiful at a distance, or beautiful up close? Is there a Door Number 3 I can choose? She just laughs, saying she can't see herself so she wouldn't know. But I can see you, so I know.
She asks whether he prefers views from afar or close by, and he answers that the truly good scenario is when he admires something from a distance, then sees it up close and confirms that it was just as good as he'd hoped. "People are the same way," he says. So wise, yet so blind.
The ducklings come across Park-ha on the basketball court, wondering why she's not with Yi Gak, who was supposed to meet her for her birthday dinner. They note that she dressed up for him, so she lies that no, she had dinner with a friend.
They ask what she's doing with the ball, and she shows them the basics, then tells Yong-sool to give it a try. He contemplates the ball for a long moment… and then throws himself into the air and dunks. He lets out the strangest squeal-howl of victory.
Se-na suggests a ride in the cable cars, but as they're about to board, Yi Gak excuses himself, saying he ought to be heading home. He checks in with Chi-san and drives to the court, where he finds the others engaged in a game.
Park-ha puts on a cheerful face, trying not to let her disappointment show. It's difficult, however, when they pick teams for the next round and she ends up paired with Yi Gak.
That won't do, so she scooches closer to Yong-sool and declares him her partner, leading to hilarious reaction shots from both men: Yong-sool gives her a nervous side-eye, and Yi Gak's eyes bug out.
That leads to more protests, so Park-ha suggests a game to sort it out. It's a variation on rock-scissors-paper, where you either stand or sit on the count of three, and partner up based on the result. Yi Gak shoots Yong-sool a look and points down, indicating that he'd better sit, and Yong-sool nods.
Then on the count, everyone hunches down except Park-ha, who shoots up… and Yong-sool changes position mid-hunch, joining her. HAHAHA. Oh, that is classic!
Yi Gak looks at him in stunned disbelief—you dare betray me? Yong-sool pointedly looks away, avoiding his gaze.
The game commences, and devolves into Basketball: The Wild Jungle Version, with lots of pushing, grabbing, clinging to legs. Park-ha and Yong-sool end up winning, and their prize is a wish from the losers. Oh, this should be good.
Yi Gak pulls out his credit card, ready to let money solve the issue. She goes nose to nose with him, and says, "Let's settle it with one hit." And socks him in the gut. I'll admit, it's a little satisfying.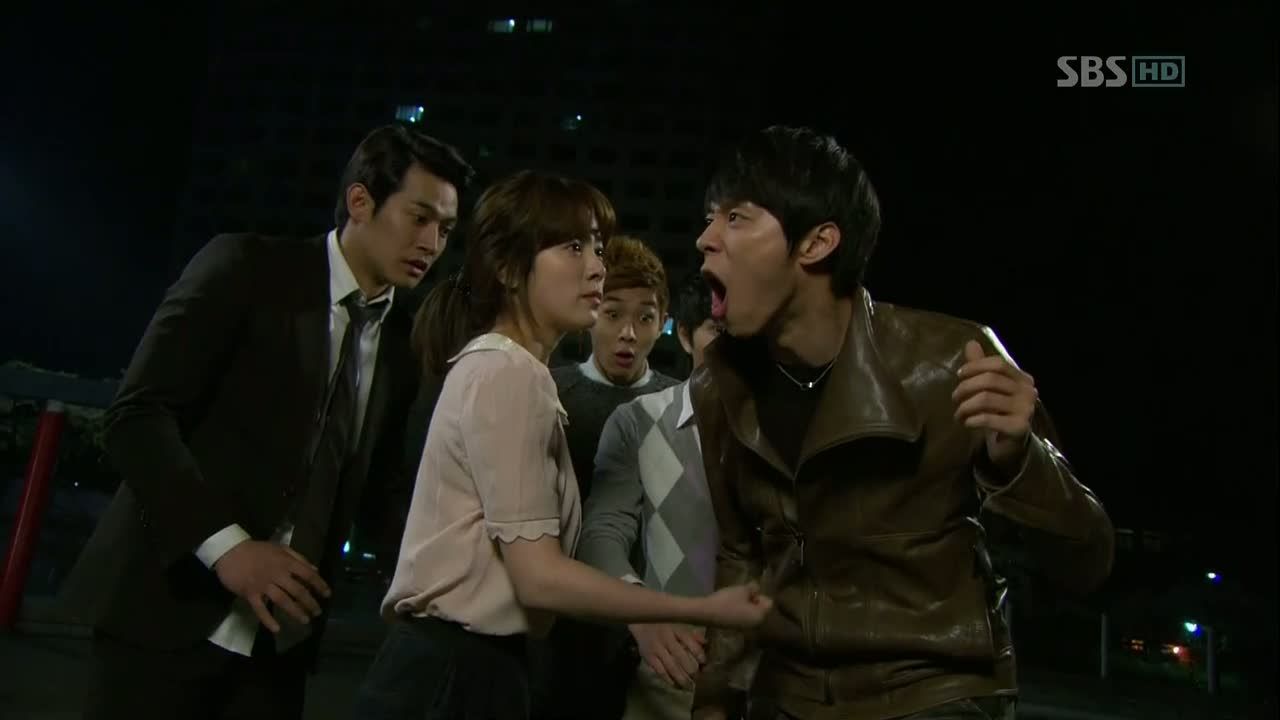 At home, it's cake time. The ducklings sing her the song (with hand motions learned from Mimi), then ask the prince what HE prepared for her. Surely he didn't come empty-handed.
He starts to pull out his gift—the hairclip—but stops himself, saying the cake is good enough. He excuses himself and Park-ha deflates a little, then slaps on a bright face for the others' sake.
Yi Gak puts the hairclip away in his nightstand, and I'm thinking that if he has enough forethought to understand that giving it would be inappropriate (given that he's starting a relationship with Se-na), then he must be aware of feelings with Park-ha. Right?
Now that she's got Tae-yong/Yi Gak on her side, Se-na begins shifting work alliances by asking to train under Pyo Taek-soo. He's happy to do it, and welcomes her to his team.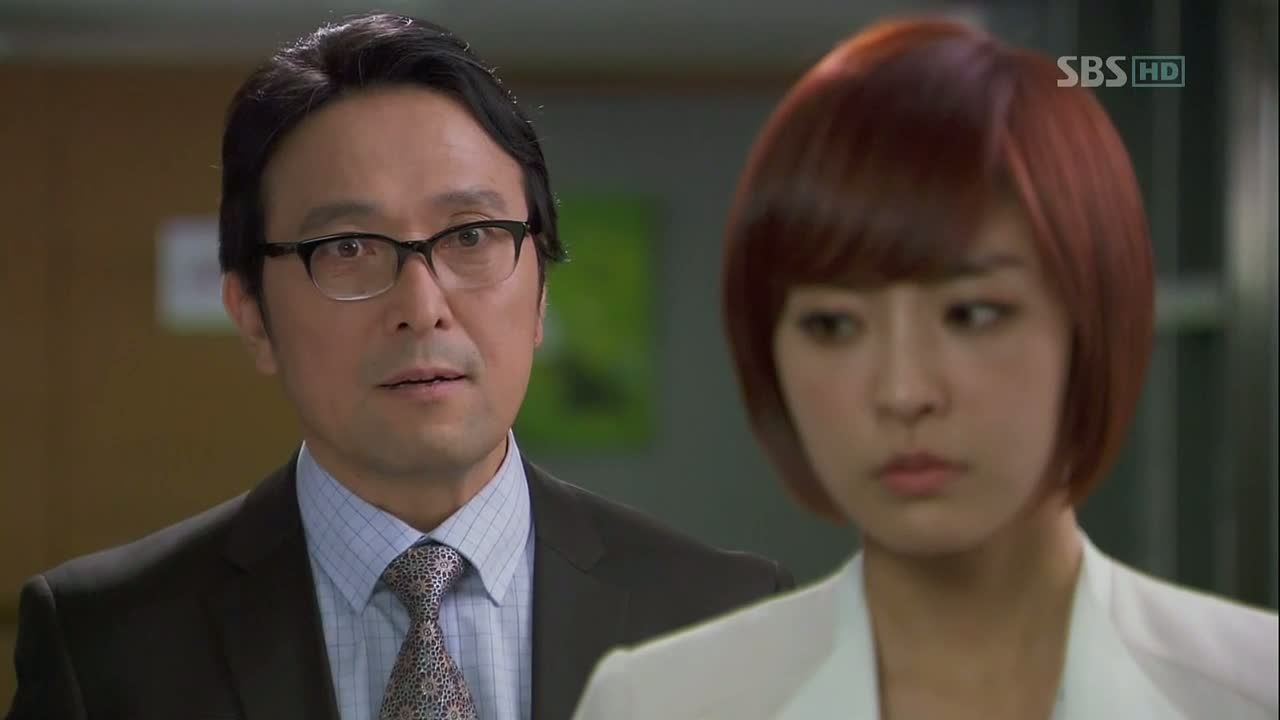 But Uncle's on to her, and warns her that he'll give her till the end of today to submit her resignation. If not, he'll make his move. (Side note: It wasn't until today that I heard Uncle's name—mostly 'cause I just don't care about him—is Yong Don-man, which means Money-Only. Haha. It's appropriate, since money is all he cares about.)
The sisters come face to face in the bathroom, and Se-na grabs little sis to tell her she crossed that uncrossable line. ORLY?, says I, since I'm remembering some sisterly abandonment a few episodes back. Oh, Se-na. She's actually kind of amusing with her excessive hate, if you can get past the part where she makes your insides boil.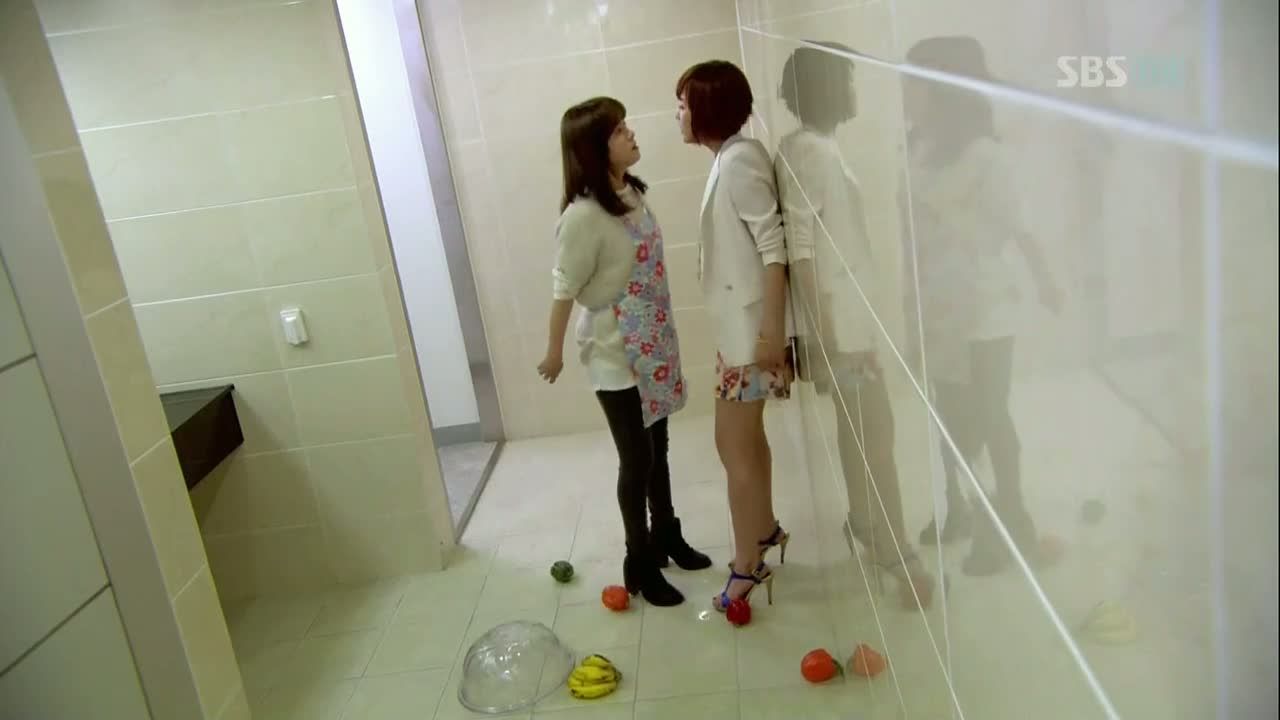 Se-na asks how it felt to reveal her secret, telling Uncle about her mother's real identity. Park-ha tells her coldly to take her accusations elsewhere, since Se-na's the only one going around lying and then being suspicious of everyone.
Angered, Se-na throws Park-ha's tub of props to the ground, and Park-ha shoves Se-na right back, not cowed. (Yay! Pull her hair! Knee her in the gut! Yank her earrings! I can't help it, this drama makes me so bloodthirsty.)
But Se-na's past the boiling point and trembles with rage, vowing, "I'm going to steal everything from you."
Uncle Money gleefully reports to Grandma that Tae-yong is doing absolutely nothing, leading to employee complaints. Sure, don't clarify that most of those complaints come from yourself, little man. Uncle suggests cutting Tae-yong loose, while Pyo Taek-soo argues that it's too early to deem him incompetent.
Grandma declares that a project will be the judge: Make Tae-yong develop and sell a product. The two men leave the office insulting each other, which Great Aunt overhears. She swoops in to berate her nephew for his rudeness: "How dare you talk like that to your uncle?"
Jaws drop. Uncle? She specifically uses the word that indicates Taek-soo is her husband, and Uncle Money is shocked at this bomb being dropped. So is Taek-soo, for this matter, since their relationship is secret and the husband term seems aspirational. (As in, don't you dare talk back to your future uncle.) He stammers that he absolutely is NOT Uncle and storms off, but Uncle Money has heard enough and looks like he's just been handed an early Christmas present, wrapped in a birthday present, stuffed with money. It's gossip turducken.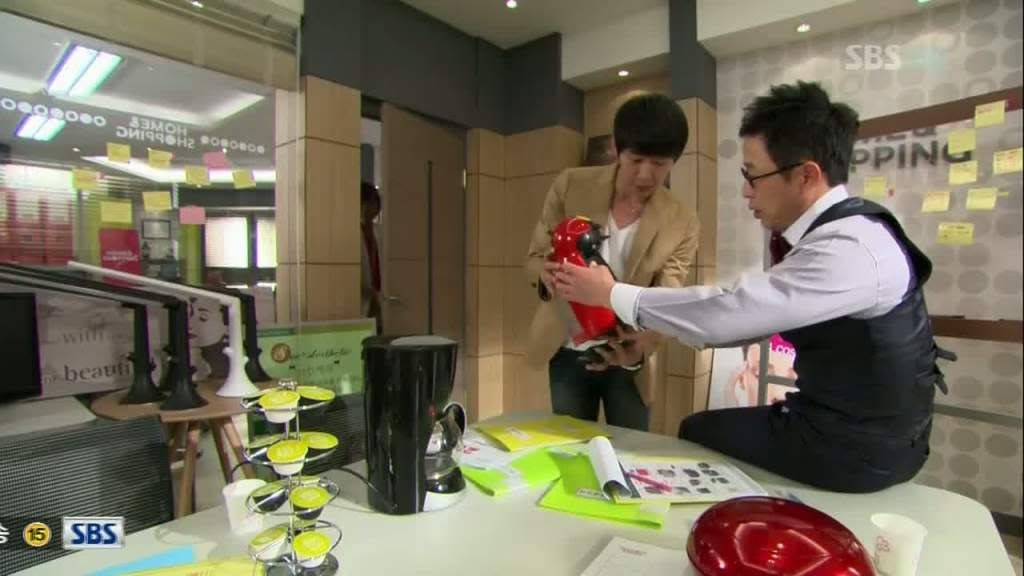 Taek-soo gathers his protegés: They have no time to lose in making sure Tae-yong(-gak) proves himself with the upcoming project. Se-na joins them and proposes a project idea—she has just the thing, hidden up her sleeve.
Thus she takes Yi Gak to see a cosmetics factory manager, leading to a favorable meeting. They're feeling good about scoring the contract, and Yi Gak thanks her for her help.
Se-na works damage control for last night, in case her behavior caused his early departure. He eases her mind, saying it was because of a household matter. She explains learning about Park-ha's birthday only today, guessing that's why he'd hurried home.
Se-na knows how to play her cards, because this gives her the opening to ask about their relationship; even though Se-na and Yi Gak have both confessed their feelings for each other, she couldn't help feeling uneasy about Park-ha. She says demurely, "If I've come between you, I feel I should apologize and step back." HA. Step back like a bulldozer?
He tells her there's no need for her to worry, to her relief. Then his gaze strays to the buzzer on the table, similar to the one he'd given to Park-ha.
She's currently at work, and a buzzing sound sends her eagerly fishing for that pager—only to realize it's her phone that's vibrating. It's Chi-san, who calls her out to ask if there's anything she'd like to eat. Anything super expensive.
She eyes him suspiciously, wondering if he's done something bad, but he tells noona that today is payday, and the boys are planning to take her out. Pleased, Park-ha scritches under Chi-san's chin like he's a puppy, which he totally is. A-dor-a-ble.
The boys receive their pay happily, and generously tuck a few bills into Taek-soo's suit pockets like a tip. Or maybe like noblemen frittering away money on entertainment. Or subordinates treating their boss like hired help.
Taek-soo is so astounded that he just stares, then blows up at them for "learning really weird lessons," throwing back the cash. Haha.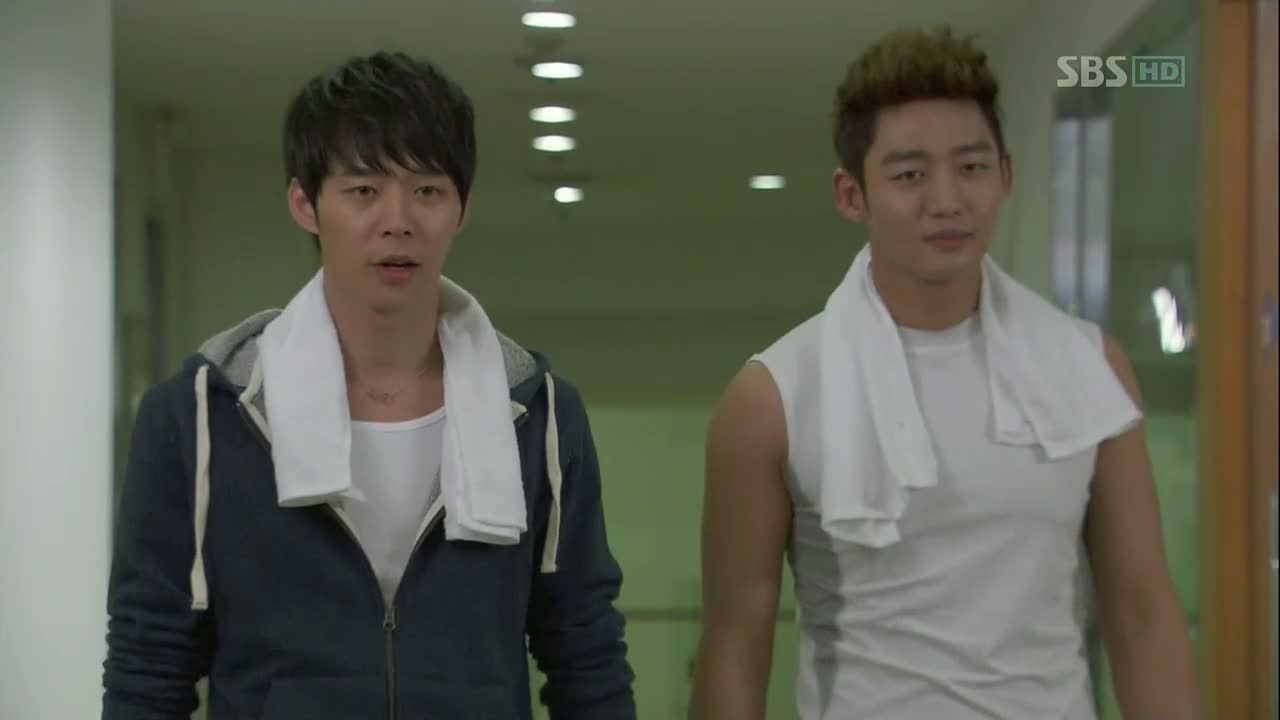 Se-na tags along for another cousinly squash match, which goes much better for Yi Gak this time. Tae-mu says he's improved, and Yi Gak says that his body seems to be remembering how to play.
Tae-mu finds Se-na waiting afterward, and she doesn't reveal her relationship status yet, making it seem like she's only working with Tae-yong on the director's orders. He warns her to be careful since he's sure this guy is not Tae-yong, and vows, "I'm going to reveal who he really is."
Park-ha meets the minions after work, looking around expectantly for Yi Gak, only to hear that he's working with Se-na. She brushes aside her disappointment and asks what they'd like to start with—food? Drink?
Chi-san has heard of the tradition of buying your family members gifts with your first paycheck, and she asks about their family giftss. That causes long faces all around, since theirs is back in Joseon times, and she apologizes for speaking without thinking.
They show Park-ha their purchases, one by one. Chi-san goes first, holding up a box of medicated patches. In his Joseon life, his mother works for aristocracy and lives a hard life, so she'd come home with aching body. He bought these patches to ease her pains.
Man-bo has bought cosmetics for his 16-year-old sister. He wonders what she's doing now that he's gone—perhaps stricken with grief over her brother's disappearance.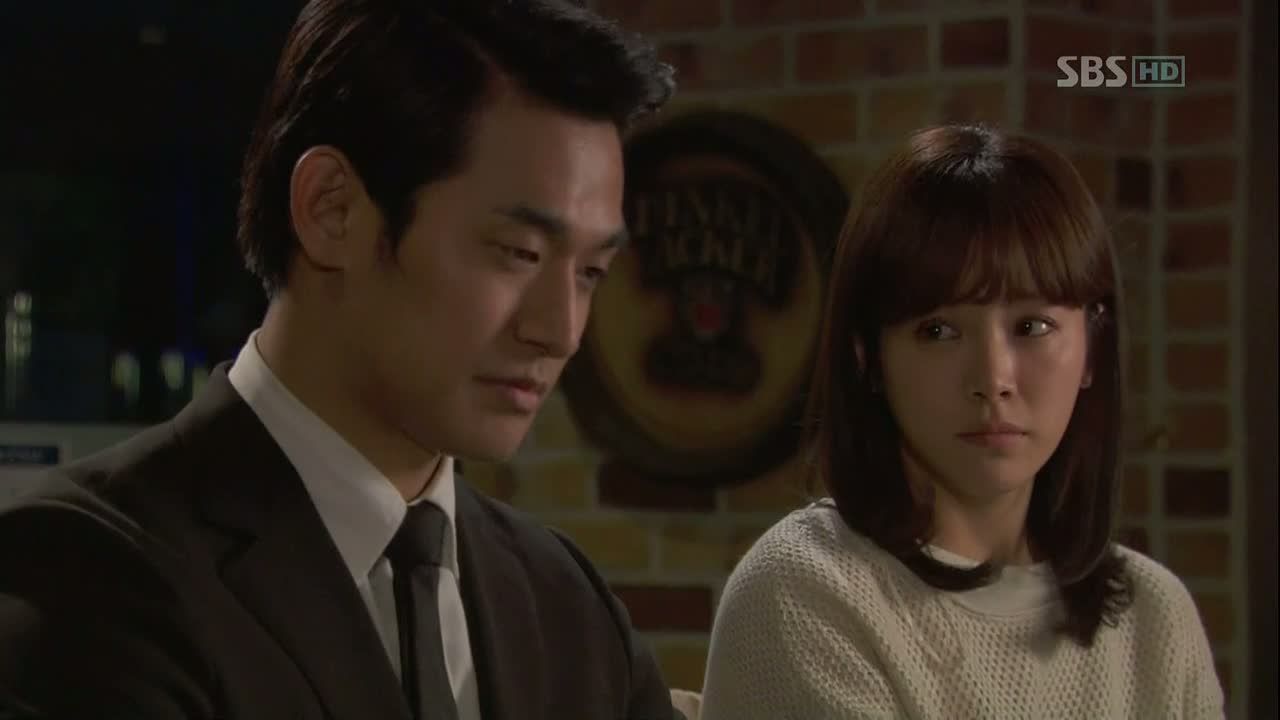 Yong-sool has bought a box of beef jerky thinking of his bedridden father. He'd wanted to feed Dad warm beef soup to give him strength, but they're so poor they don't even have a hearth fire. He heard that beef jerky stays edible for a long time and he bought it for Dad.
Their explanations have Park-ha in tears. And, okay, maybe me too. Then they present Park-ha with a gift of her own, to express their thanks. Aw, she's family!
It's the thought that counts, so I'm still totally moved by that gesture, even if the gift turns out to be lacy lingerie. HAHA. Better yet: the explanation that they were recommended the gift after describing her personality. You know, all sly and lascivious.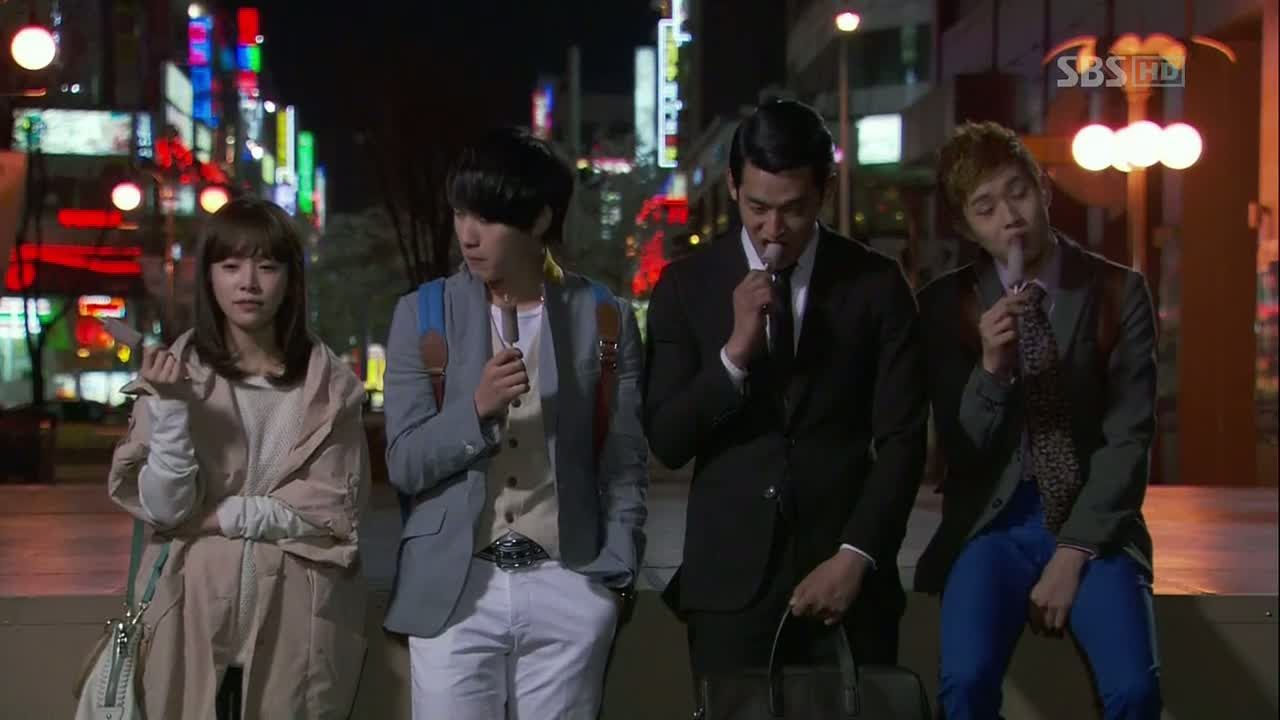 After dinner, they eat popsicles and think nostalgically on their old lives. Man-bo asks whether the others would want to stay or return home, given the chance, and Chi-san answers that no matter how nice and convenient this life is, it's not home. Yong-sool agrees.
Park-ha sighs, "Ah, I see." She explains that it's not that she's disappointed that they'd want to go home, but has realized she hadn't understood their feelings all this while. Chi-san assures her that for the time they're here, they're all prepared to enjoy themselves to the fullest. And then he climbs on Yong-sool's back for a horsey ride down the street.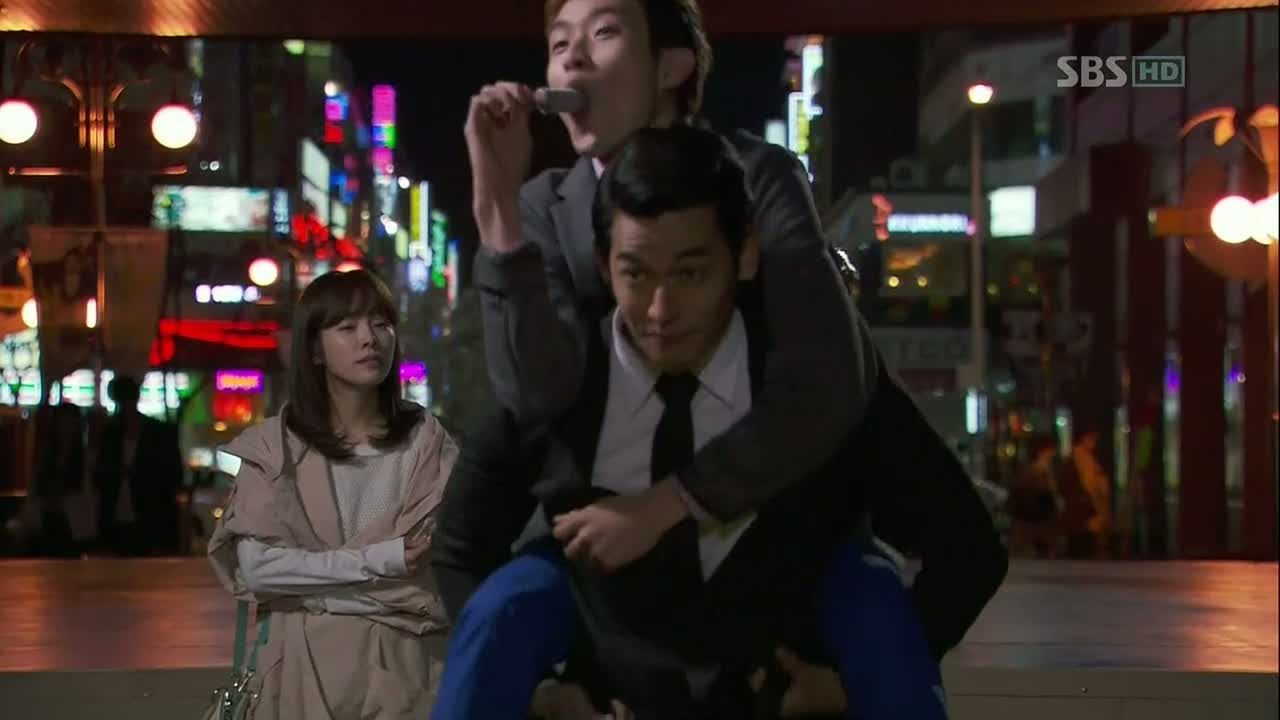 They take sticker photos and scrutinize the results. Chi-san: "Yong-sool sunbae, I told you that you have to cover your face like this to make it look smaller!" (Small faces = beauty ideal.) Yong-sool: "What good is it for a man to have a small face? You should want it seen from far away." Hee.
Then Chi-san pouts over his teeny-eyed photo. Man-bo: "Try opening your eyes a little wider." Chi-san: "I did!" Man-bo: "Just a little more." Chi-san: "They're open all the way!" Oh, the Asian curse.
On to the arcade, and while Grumpy and Snazzy try their hand at games, Park-ha sits with Smarty (Man-bo) and asks when he thinks they'll be able to warp home. Will they be able to go back after they find the person Yi Gak said he came to meet?
Man-bo says that some power pulled them from Joseon times and brought them here, which must have happened so they could meet "that person." In fact, they've already made contact with her—the prince's bride, reincarnated.
This is the first Park-ha is hearing of the reincarnation theory, and he adds that since reincarnated souls don't have memories of their prior lives, the princess in this era hasn't recognized the prince. But if the prince marries her again in this lifetime, they may be able to solve their puzzle and return home.
She asks who that woman is, and holds her breath waiting for his answer: "Our company's Secretary Hong [Se-na]."
Horrors! Man-bo keeps talking, but she can't hear any of his words. The world turns blurry and Park-ha thinks back to all the signs, like the bracelet he bought. Worst of all is her knowledge of what a hateful, vindictive person Se-na is.
Se-na gives Yi Gak a ride home, and Park-ha watches them say their goodbyes from her rooftop vantage point. Thus her mood is grim when he comes home and greets her; she leaves in the middle of his greeting, ignoring him.
Se-na sees the minions walking along and pulls over, suggesting that they have a rooftop barbecue tomorrow. Time to win over the sidekicks, now that she's scored the target.
The boys muse that the couple seems mighty friendly these days, which is good for their purposes. They're operating on the theory that if Yi Gak marries Se-na, they'll be able to find out who killed the princess, return home, and mete out justice for the villains.
Thus the trio vows to do what they can to speed the courtship along. Could they lock up the couple somewhere? Or should they leave them alone? Then there's Park-ha, the spoiler in all this.
The spoiler sits at home drinking beer, and Yi Gak joins her on the couch with his own, confused when she gets up right away. Why all the avoidy? She feigns ignorance and excuses herself coolly.
Se-na comes home that night to find that Uncle Money has made good on his threat. Her officetel has been raided, its contents emptied. Which I suppose he has the legal right to do, since the place is in the Yong name.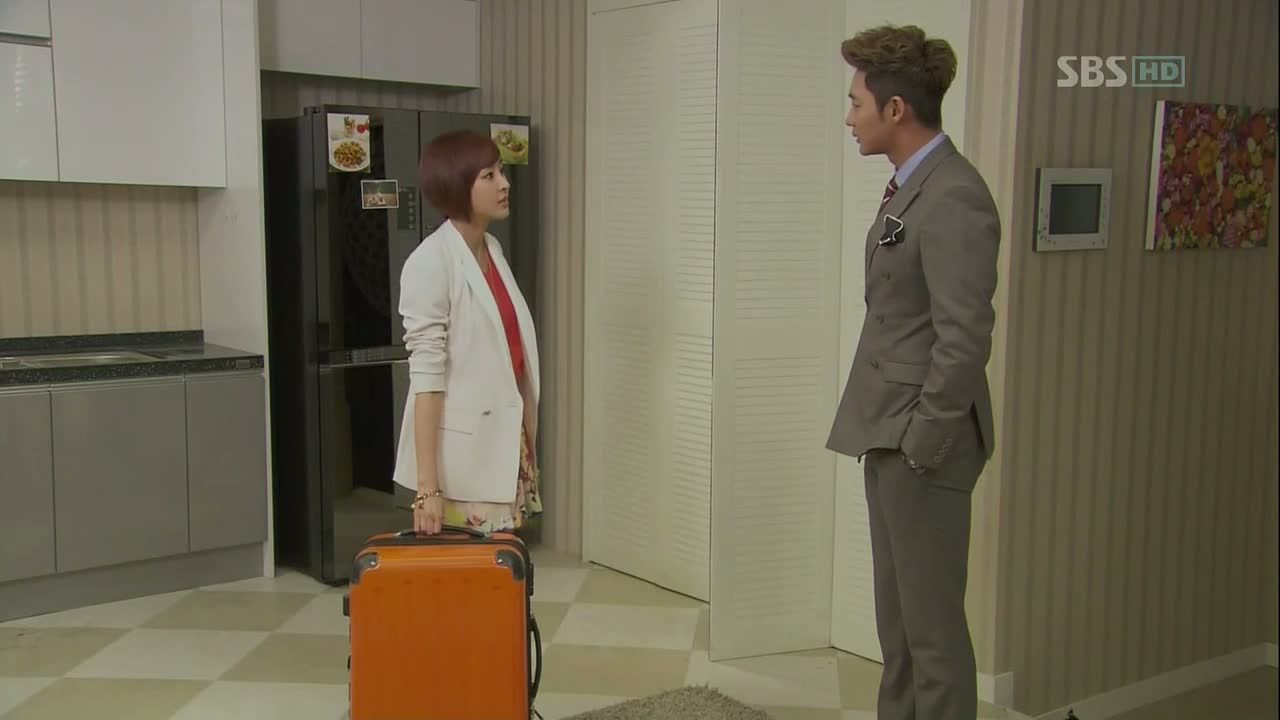 Tae-mu finds her packing her clothes and pleads with her to stay, saying he'll explain to his father. He'll live here with her. Or they can move to a hotel for the time being. Se-na tells him this is Daddy's place, not hers, and rejects him cold.
With nowhere else to go, Se-na sucks it up and goes to Mom, lying that she's in between apartments. I guess it's not so much a lie as a misrepresentation, but potayto, potahto.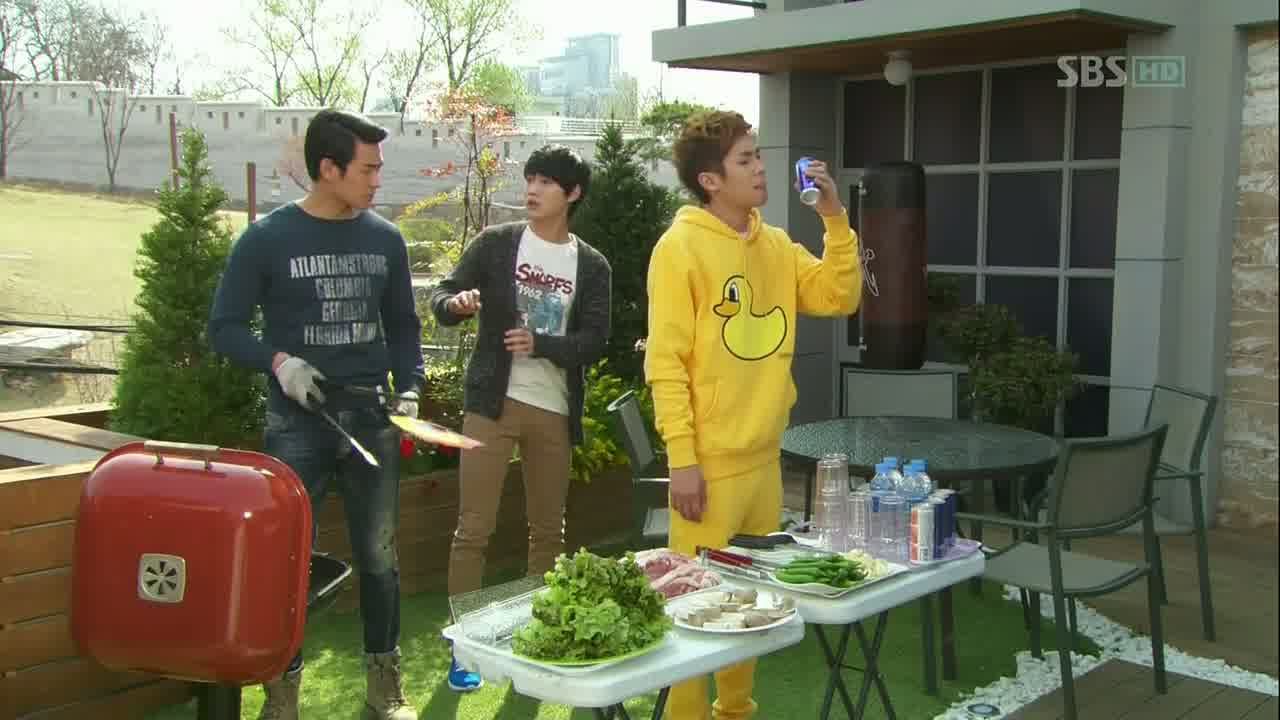 The boys make preparations for their party, arguing over barbecuing technique, which boys will do. Park-ha is discouraged at the news that Se-na (whom Chi-san calls "Secretary Hong Highness," lol) will be joining them, so she borrows a bike from the girls downstairs and heads off to cool her head.
Yi Gak wonders where she went, hearing only that she was seen leaving, and ends up following her to the park. He's not far behind and soon catches up, confused at her behavior, and also his.
She shoots him an annoyed grimace and tells him not to follow. He huffs, "I'm not following!" Then she rides off, and he follows. Ha.
She's still smarting as they pause for a break, and when he orders her to buy him a (sweet) drink, she refuses. He hands over his birthday gift now, but she refuses that, too: "I'm not going to accept anything from you anymore."
He can't make sense of her standoffishness, and asks why she's mad. She says, "I'm not mad," which of course is no help in relieving his frustration.
He doesn't understand why she keeps disturbing his peace of mind and making him follow her. He calls her a bothersome, annoying existence, but the wording is telling: It's that "bother" word that often comes as a prelude to a confession of feelings, used by reluctant lovers who aren't willing to admit their interest is romantic and therefore reducing it to a pesky nuisance. ("Stop bothering me" = "Stop making me think of you" = "Okay, I can't stop thinking of you, all right?!")
I'm not sure Park-ha registers this, though, perhaps taking him at face value. Yi Gak declares, "I am not a person who is bothered by trifling things. I myself do not know why I followed you here."
He says that he won't let her bother him anymore, and rides off. Park-ha watches him go, tearing up as she thinks, "Even if you didn't come here to see me, I'm still going to like you."
She even gets out her phone to text that declaration: "I like you… I love you…" And hits send! Eee!
But she hadn't meant to hit send, hahaha, and freaks out the moment the text goes through. She frantically looks for that nonexistent abort button, then sees Yi Gak returning, heading straight for her. She panics, trying to escape, but he's too fast and confronts her before she can.
He declares, "I think we have to talk this out further." First he heads off in search of a beverage, and Park-ha tries to figure out whether he read the message yet. Then his phone beeps from the jacket he left behind, and she fishes it out to see that there's one unread message. Huzzah!
Now to guess his PIN to get inside and erase it. Madly she types random numbers, but it doesn't work and she runs out of time, so she takes the phone and buries it.
A dog's incessant yapping cuts in, and Park-ha hurriedly tries to distract Yi Gak and drag him away. The dog's owner suggests that there's something buried there, and Yi Gak's attention is captured.
When the cell phone is discovered, he recognizes it as his own and calls out to claim it. Park-ha lies that it's not her doing, but he scoffs, "Do you feel better after burying it? Did you do that to get back at me?"
He sees that she sent him a text, and before he can read it, Park-ha dashes for her bike and flees. And then he reads her message. Eeeee!
Shocker. Yi Gak speeds after her and cuts her off, forcing her to stop.
Ackkkkk, and you're going to end the episode there? Of course you're going to end there. You give us three episodes this week, but of course you manage to cut out at the point designed to make us want more.
At least we get an Epilogue, to tide us over a bit:
I wonder if this is the comic that Mimi's working on, which would be adorable, but even out of context it's pretty cute. In it, we see Yi Gak making his big reveal of the remodeled rooftop… which has been fashioned to replicate his Joseon-era house, HA.
Thus begins Park-ha's life of misery, as she sleeps shuddering in cold (the others dream peacefully), falls off the stoop every morning, and goes crazy. In the last frame, Yi Gak wonders where she's gone in the middle of the night, and Angry Park-ha retorts, "Because of you, I have to use the bathroom that's outdoors!"

COMMENTS
He reads the message, hallelujah! I'd assumed they'd take the one-step-forward-two-steps-back approach here—she admits her feelings, but they stay hidden—so this two-steps-forward-one-step-back version is infinitely preferable.
On one hand, it would have been nice to have Yi Gak come to realize he likes Park-ha without any prompting, although I think he's heading there anyway. And I mean that realization in a conscious sense, versus an unconscious liking. I don't think it's necessarily a character weakness that he would find himself drawn to Park-ha while continuing on his marriage plans with Se-na, because of the murder mystery driving their quest. Plus there's the whole part where ET needs to phone home, and Se-na seems to be the key to that problem.
In that sense, you have the familiar setup of a hero being forced into a relationship and unable or unwilling to forsake that for his true feelings—one we've seen in every chaebol drama ever. But with the show's fantasy twist, it has managed to take something trite and freshen it up in its own way, which is something that Rooftop Prince does well on multiple levels. As I've said before, its saving grace is the time-travel element, which gives everything in this generation a little extra leeway because the makjang (which we know is familiar makjang stuff) is intertwined with a thread of novelty. Everything old is new again.
I won't argue that this is the smoothest drama ever, or best executed, but it's because it's able to pull out those little twists that has me engaged, even when the story veers tiresome with the same old evil folks being the same old kind of evil. This is what we mean when asking for a new take on something—yes, there is no new story under the sun anymore, but there's a difference between regurgitating the same thing in the same way, and tweaking it with a different spin.
It's interesting that the Joseon Rangers don't frame their warp as a mission to reverse the murder, but to solve it. They're assuming they'll go back to the point where they time-skipped, so they're not even going to entertain the idea that they can change their own lives. Hey, this isn't science fiction, yunno!
Seeing that mentality actually sheds light onto Yi Gak's behavior, because it explains how he can go along with the Se-na courtship while not necessarily loving her for herself. I wonder if that's also why he doesn't feel more conflicted about Park-ha, because in his mind, the princess is dead, even if he goes back in time. His goal is to bring justice, not to save her life, so he's already come to grips with the fact that she's gone. I like that, in that it takes care of some of that tricky emotional conflict that you'd expect if the guy fell in love with a new woman while he still had a wife in his old life. He may be dense, but he's not an ass.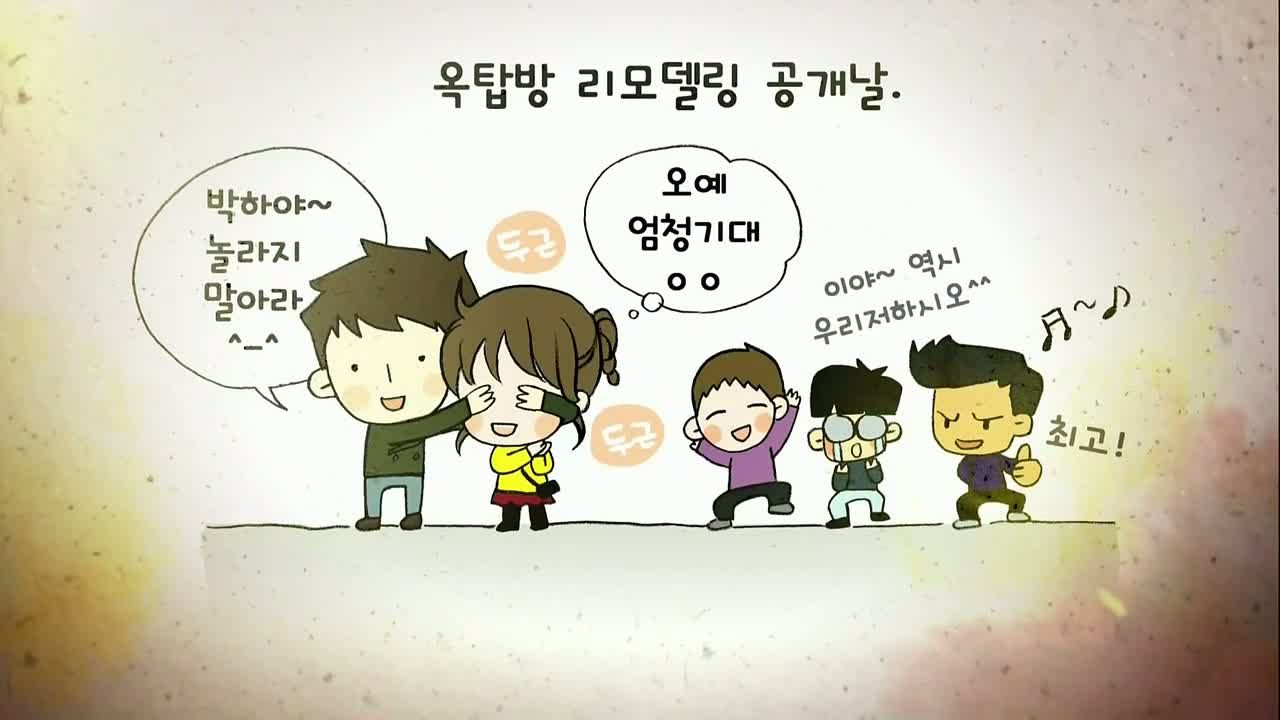 RELATED POSTS
Tags: featured, Han Ji-min, Jung Yumi (2), Lee Tae-sung, Micky Yoochun, Rooftop Prince