Rooftop Prince: Episode 6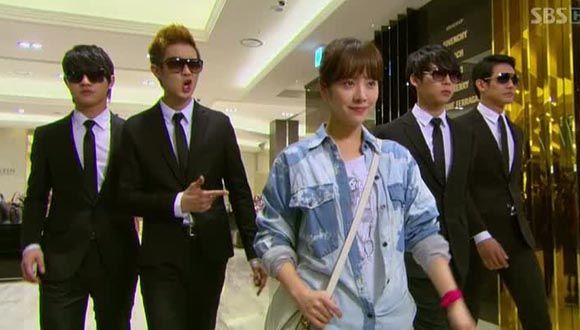 *Finger gun.* Why so cute?
The drama ramps up in this episode, but contrary to my expectation, I'm actually pretty invested in how it plays out. Perhaps because it's secret-related drama, not company-related drama, which continues to be… yawn… wait, what was I talking about again?
It's definitely the rooftop five who keep this drama chugging along briskly, and I'm vastly relieved that the drama shows no signs of running out of hilarious culture-clash moments to draw upon. And while bringing the crew into the company means that there are more company scenes, it also means that the company stories are injected with a much-appreciated dose of energy.
SONG OF THE DAY
Huh Gak – "사랑 사랑 사랑" (Love Love Love) [ Download ]
Audio clip: Adobe Flash Player (version 9 or above) is required to play this audio clip. Download the latest version here. You also need to have JavaScript enabled in your browser.

EPISODE 6 RECAP
Park-ha and Yi Gak head home and meet the other three, now sporting short haircuts of their own. Aw, did the trend-loving eunuch get a cut and color?
Yi Gak clocks her pleased reaction and smiles like a proud papa. At home, a construction crew busily remodels the rooftop and installs their new beach view. The prince has been hard at work, I see; he's finally learning the ways of this world. (Although, duh, of course he's at home ordering people around to do his bidding—he really has found the perfect cover.)
Grandma drops by, curious about his living quarters. Se-na's with her and glares daggers at Park-ha, and at unni's warning look, Park-ha keeps their family connection quiet.
Grandma gives Park-ha money to buy appliances and necessities—wait, so does she know that they'll be living together? You go, progressive grandma. She reminds Yi Gak of his promise to report to work tomorrow.
Se-na calls Park-ha to a cafe, and the moment Park-ha sits down she flings a glass of water in her face. Whoa there. She accuses her of lying and not keeping her promise to leave the country.
The boys buy an RV for use while the rooftop room is being remodeled and proudly show off the acquisition to Park-ha, giving her the keys. Yi Gak is quickly learning to love his new VIP black card and shows it off. Oh honey, you're so lucky your doppelganger was born rich.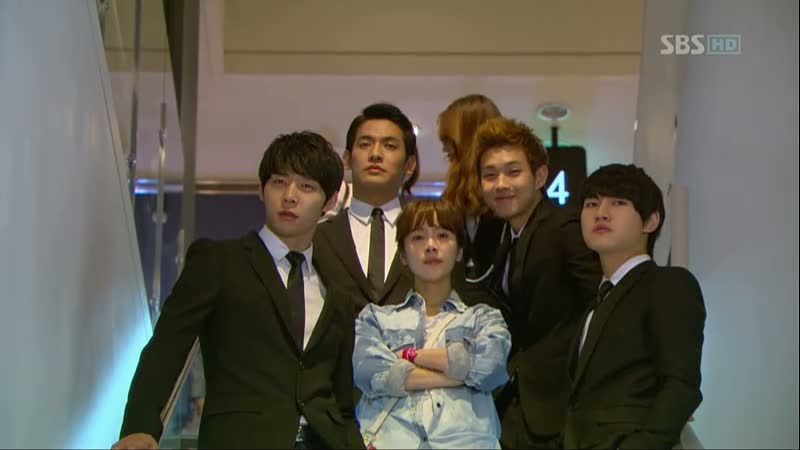 Yi Gak directs them to prepare to start at the company, which takes them to the department store to buy suits. It says something about this drama's grasp on its fictional "reality" that this sharp, groomed look is really the more familiar appearance for these actors, and yet I'm giggling because it's so funny for these characters.
They go gaga over their new smartphones and enjoy the admiring looks they now attract—and Park-ha, mama duck, struts right along with them (in V formation, no less).
Great Aunt makes another trip to see security guard Pyo Taek-soo—remember him? No? The gist: he used to be an executive with the company, they're involved (Aunt: "I'm sick of dating in secret!"), he cost the company with an expensive mistake, he's too sorry to go back.
Just then she spots her nephew's car approaching and panics, asking Taek-soo to hide her. So he shoves her into the dog house, HA.
There's no love lost between the two men, who trade barbs in banmal. Tae-mu's father (aka Uncle, to keep this easier) hands him documents: Grandma wants him to return to the company. Uncle mocks, "But don't get your hopes too high—the company needs guards."
Taek-soo is pleased to hear of Tae-yong's return, and if his antagonism to sneaky Uncle weren't enough to prove it, this lets us know he's probably a guy we like. If we cared about the company, I mean.
On to Uncle and Tae-mu. (Arg, two company scenes in a row? Okay, I can do this. Tries to concentrate.) At the airport, they welcome a posh businesswoman, CEO Jang, who's based in Hong Kong. Uncle plays the role of eager supplicant, swift to curry favor.
CEO Jang first has a personal errand to run, which takes her to the fish market. She goes right up to Se-na's mother and says hello, calling her unni, while Mom stares in shock.
Mom says she shouldn't be here and tells her to go away. CEO Jang declares that she's here to take back her daughter. And while birth secrets always seem like a needless cliche to me, my first thought is: Well, this explains a lot about Se-na.
Mom screams at her to leave, flinging items ineffectually at her, like an empty basket and a styrofoam lid. You know what might do the trick? How about THE FISH, fish market lady.
Thankfully we return to the boys, who are being instructed by Park-ha on how to order coffee: "Don't look at the menu, just order an Americano." Bwahaha. Oh, are we backhandedly mocking Korean trends now? Awesome. I always did wonder why Americanos are so disproportionately popular with Koreans.
Park-ha notices that they're still calling the prince "Prince", so she corrects them—they've gotta use hyung, sunbae, or -sshi. Time to find out everyone's ages.
Man-bo explains: He's the youngest, Yong-sool the eldest, and Princey and Chi-san are the same age. Yi Gak gulps uneasily; in a rankless modern Korea, he's no longer in the position of most power.
To make things more interesting, Yong-sool and Park-ha are dong-gap, or the same age. HAHAHA. Rubs hands gleefully. This is gonna be so much fun.
Park-ha offers Yong-sool a handshake and uses the phrase dong-gaps use with each other: "Nice to meet you, friend!" She instructs the other two "friends" (the Prince and his eunuch) to do the same.
She lays out the new hierarchy: Yong-sool is the hyung… "And I am everyone's NOONA." That word echoes ominously. Muahaha. Yi Gak looks perturbed, but Chi-san adopts it right away, "Okay, noona!"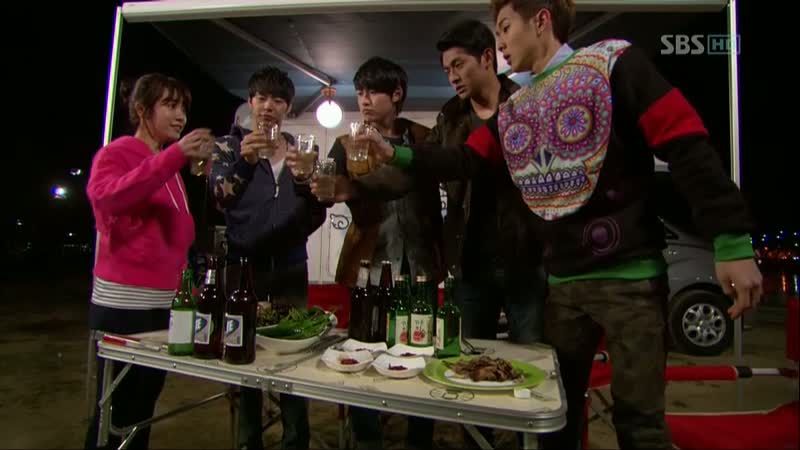 Dinnertime becomes practice for that very important work function: The Office Dinner. Office dinners mean samgyupsal (pork belly, grilled) and so-mek (soju-mekju, or soju bombs in beer), taken in one-shots. There's 1-cha (round 1, dinner), then 2-cha (round 2, usually noraebang), and tips on surviving karaoke despite a lack of singing skills (show off a funny talent).
She demonstrates with an impersonation, but they have no idea who she's impersonating. So she bursts out with a comedy growl-gag, and the boys actually look away in secondhand embarrassment at her failed bit. Kids catch on so fast.
Yi Gak approaches Park-ha with her twine dolls and asks with a nervous throat-clear how to tie the string if you're hoping for love. She shows him, and the implication brings a smile to her face. Oh no, I hope this isn't a misdirect and he's thinking of the stupid princess. That would crush Park-ha, and also me.
Haha, the boys arrive to work via RV, and wave cheerily to noona before heading in to work. All but Yi Gak, who's fixated on the building and doesn't look back at her, to her disappointment.
F4 strut time!
Chi-san wastes no time asking pretty girls for their phone numbers, Man-bo wanders around following his phone signal, and Yong-sool glowers at the security guards. (Dude, it's not their fault the revolving doors bested you.)
Watching their arrival, Uncle laughs at the very unimpressive entourage Tae-yong has assembled. He calls them slightly off in the head, then adds that they have nothing to worry about with Taek-soo's reappearance, either.
An employee awaits their arrival, and "Tae-yong" is escorted up to meet Grandma, while the other three are taken away to be tested on their abilities. They're each given papers, and Man-bo hilariously tries to hold his ballpoint like a calligraphy brush.
Grandma declares that her grandson will be trained by the returned Pyo Taek-soo. Se-na reports that the entourage scored three big fat zeroes on their tests, but Yi Gak says that they're highly qualified men whose value cannot be judged so hastily, so Grandma agrees to let them prove themselves over time.
Yi Gak requests that Se-na be the one to show him around. Oh no, it was you and the stupid dolls. Grar, hateful wench. Grandma agrees, assigning Taek-soo to training the underlings.
While making the rounds, Yi Gak doesn't hide his interest in Se-na, and when a crew member swings a ladder without seeing her, he grabs Se-na out of harm's way. He asks her intently whether she feels like they've met before, meaning, You know, like three hundred years ago? She takes that for a pick-up line—though she's amused today rather than outraged. Boo, you.
Taek-soo takes out the ducklings for lunch, and the boys recognize this as 1-cha (oh no! muahaha). They vow to rock this task.
So they order lots of beer and soju and toast each other. Taek-soo isn't sure what to make of them—should he be troubled, or amused? He picks amused, for now.
At 2-cha, they fall back on Park-ha's trick—the personal talent—to carry them through the singing: Yong-sool bends spoons with his thumbs and rips a phone book with his bare hands. They pretend to horseback-ride the coat rack and vow devotion to Taek-soo. Omg. I'm dying. And impressed at the thoroughness of Park-ha's instruction.
Finally Taek-soo calls a halt, no longer willing to humor this behavior, and rips into them. They're new hires, but they're behaving like complacent longtime employees with boorish attitudes. He accuses them of being pathetic moochers who got by on their connections to Tae-yong and stole jobs from worthy men.
He ends by calling them pieces of crap, saying that if they'd been born in the Joseon era, they would've amounted to no more than eunuchs or concubine's sons. Ouch. It hurts because it's true.
Tae-mu and his father make their big proposal to CEO Jang. Essentially they need her stake in the company to take control away from Grandma, who has half ownership.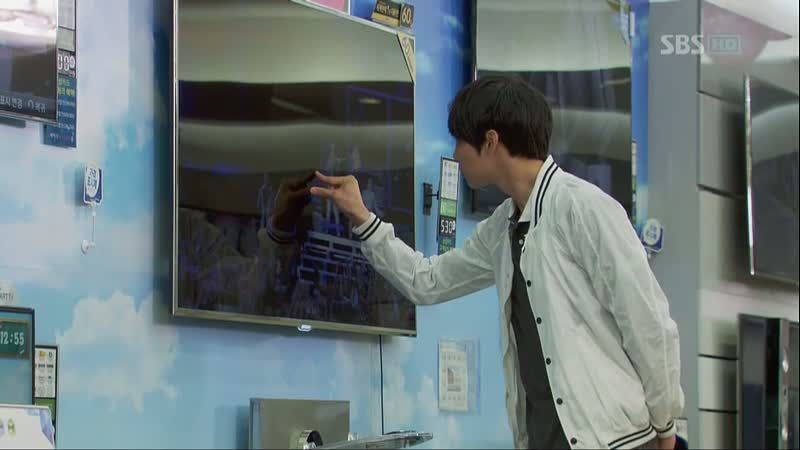 Park-ha drags Yi Gak along to the electronics store, because there's a 10% discount for newlyweds. He observes the other couples browsing, then offers his arm in imitation. Then he turns to the TV nearby and tries to "zoom" the screen with his fingers—'cause it worked on his smartphone. Omg.
Park-ha pauses to look at jewelry, and he asks if modern women value such things. She answers yes, but leaves without buying.
Yi Gak's next challenge is mastering the intricacies of wielding a fork, and he asks for chopsticks instead: "I can't eat noodles with this meal-spear."
He asks what men and women do for fun, and she describes a typical date course of dinner and coffee. But he wants specifics: "If it were you, what would you want to do?" Aw, it's both adorable and pre-emptively crushing.
Park-ha says she'd want to ride a couple bike. So off they go to teach him how, which leads to falling and frustration. He wobbles along and insists, "You can't let go! Don't let go!" She pulls the age-old trick of letting go while telling him, "I've got you!"
Mimi works on her adorable web-toon featuring the boys, although she lies to Becky that she totally isn't drawing Man-bo, nope, not him.
At the office, the boys are trying to learn all the employees' names using their company profiles. Man-bo must have a photographic memory because he just needs one look to know, and gets busy playing with his phone. Which then rings; Mimi comes to deliver food for "Man-bo oppa," and she makes sure he knows that the bottom one is for him. (It has extra goodies.)
Park-ha comes home to the RV and spots her twine dolls sticking out of Yi Gak's jacket pocket, its limbs still crossed in that love-wish pose. Putting it back, she finds something else: the charm bracelet she'd been admiring.
She pretends not to have seen it when Yi Gak steps out of the shower in a bathrobe, and to preserve his modesty he puts a paper bag over her head. HAHA.
She pretends she's put out, but then he pulls off the bag and holds out the bracelet to her, asking if she'll accept it. She bashfully does, and he says the dolls made his wish come true after all.
But she's just daydreaming this, off in brown-paper-bag fantasyland while Yi Gak changes his clothes. He decides to have some fun and warns her that he's not done changing, and in impatience she shoves off the bag, coming nose to nose with him. Freeze. Gulp.
Yi Gak taps her forehead teasingly, saying that he'd told her he wasn't dressed yet, which therefore means she's wicked. Hee. Well, you can't blame a girl for trying.
The next day at work, Grandma and Taek-soo arrive to an unexpected sight: the three new hires, chanting in unison, "We're new employees! Nice to meet you!" They've memorized everybody's faces and ranks, able to address each arrival by name. They're full of eager-puppy energy, as befits their positions, and Grandma and Taek-soo are impressed at their initiative.
Yi Gak calls Se-na out, and without preamble he presents her with a tandem bike and says, "Let us ride a bicycle. A couple's bicycle." Soooo awkward. But he's pretty smart, too, and says that the if the company sells bikes, he should know the product.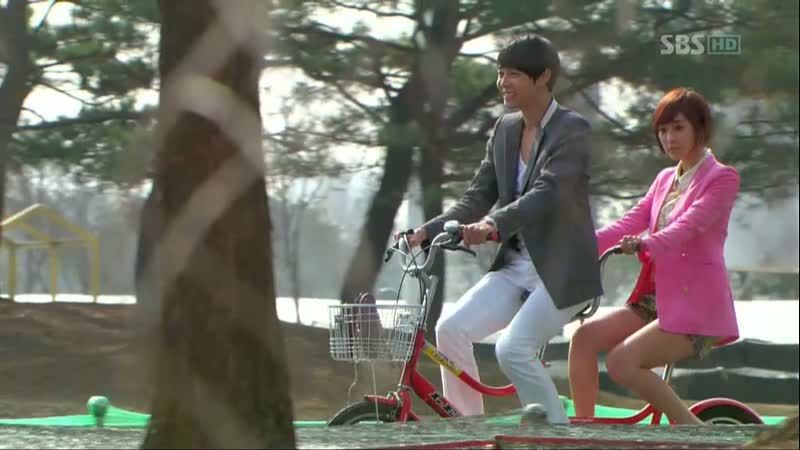 She gets on, and he grins from ear to ear. They ride for a while, then take a break on a park bench. She feels him staring and asks him to get to his point—now's about the time most guys ask about her background and her parents. He answers that when viewing flowers, you merely enjoy the sight, rather than wondering where they came from, an answer that perplexes her.
As she takes everything in, though, she starts to relax, enjoying herself. Yi Gak steps away to get her a drink and comes back to see her smiling, reminded further of the princess.
When she comes out of her thoughts, she finds him gone and calls, wondering where he went. He tells her to call it a day; he didn't want to disturb her. And he left her something nearby. She turns and finds the charm bracelet hooked on a beverage bottle..
Tae-mu hears that CEO Jang is on her way back to Hong Kong unexpectedly, and worries that their plan will fail. He and Uncle have to intercept her before she leaves.
Meanwhile, Taek-soo takes out the boys for a real company dinner this time, assuring them that drinks are acceptable now. Still uptight from their last mistake, the boys sit stiffly.
The party is crashed by a douchey middle manager who works for Uncle. He suggests a game, where everyone can ignore real-world politeness for three minutes. Oh, this seems like a dangerous game. He starts by insulting Taek-soo, and everyone looks alarmed—is he starting something? But then he laughs, and everyone follows suit, defusing the tension.
It's one of those games that nobody enjoys except the douchebag who suggests it, but you kinda have to grin and bear it, pretending it doesn't piss you off. But the ducklings don't know that, and take this as free license to play. Chi-san insults Taek-soo, too, using banmal and telling him he smells like dog. Man-bo joins in, but Yong-sool can't bring himself to participate and leaves the table. Aw.
The prince is amused, until Chi-san turns the game on him. As Chi-san and Man-bo mock him freely, Yi Gak sits there fuming at their insolence. Hee.
Time is called and the douchey manager leaves, just as Yong-sool comes back to growl at Yi Gak, "Young punk, you just got lucky being born to nice parents…" Man-bo jumps in and tells him the game's over, and immediately Yong-sool starts trembling. Just thank your stars you hadn't actually hurled that water in the prince's face yet.
Yi Gak seethes, and the three minions fall to their knees begging forgiveness. Yi Gak: "Bring me Yong-sool's sword." Minions: "Prince, noooooo!"
Park-ha and Mom visit Dad's memorial vault together, and gives her a photo taken on her dol birthday, with her birth mother's face torn out. Dad never spoke of his first wife, and Mom supposes she must have been terrible to have run off days after that photo was taken.
They head to one of her father's favorite restaurants, but Mom spies CEO Jang already there and freezes. She ushers Park-ha out immediately, and CEO Jang hears Park-ha calling her "mother"—ah, is this her long-neglected daughter?
Mom is so frantic to get away that she walks right into the path of an oncoming car (this, again?), and this time they're not so lucky. Mom is hit, and the driver races out to check on her. It's Tae-mu, here to track down CEO Jang—man, this guy can't catch a break, can he? (Yes, his villainy comes from the way he handles these situations, but the accidents themselves have been legitimately unintentional.)
Se-na pulls up just behind them and sees her mother lying in the ground, but she's trapped in her lie and can't react. Tae-mu carries Mom to his car, and Park-ha spots Se-na standing there. But just like she did as a child, unni turns her back, then peels away in her car.
This familiar gesture triggers one just like it from childhood—and suddenly Park-ha's mind floods with memories of Se-na walking away and the crash that overturned that truck shortly afterward…
The doctor has good news: aside from a concussion, Mom is not seriously hurt. Tae-mu apologizes, and promises to do everything to help Mom recover.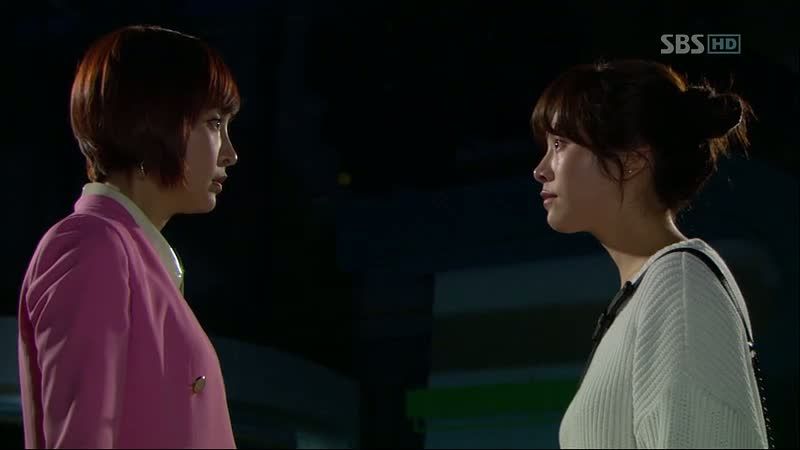 In a moment alone, Park-ha returns to her flashback, seeing it in more detail. Only now does she realize that Se-na left her on purpose, and the betrayal hits her full force.
She calls Se-na and arranges to meet at the office, where they find an empty room to talk in. Se-na worriedly asks after her mother's condition, but Park-ha confronts her with cold fury: "Are you a person? The mother who gave birth to you collapses in front of your eyes, but you're so worried about your lie that you pretend not to know her—is that something a person does?"
Park-ha agrees not to be sisters anymore, and lays out why she changed her mind: Her adoption, her accident, her memory loss—they're all Se-na's fault.
She remembers now that unni abandoned her, and Se-na slaps her to stop the litany of her sins. Park-ha slaps her right back, vowing, "I won't forgive you."
Se-na goes in for another slap, but Park-ha stops her hand midair… and sends Se-na's new charm bracelet falling to the ground. OH NO. Worst timing ever. Park-ha recognizes the jewelry and stalks away.
Park-ha runs into Yi Gak in the lobby, who greets her with a smile and asks if she's here to take him home. He belatedly registers her tears, but she just shoots him a wounded look and leaves wordlessly.
Se-na emerges seconds later. He looks from one sister to the other, realizing that something just went down.

COMMENTS
This episode did a great job in tying in the time-skip hijinks with actual plot, which takes the jokery to a higher, more thematically relevant level. I've been loving every bit of the screwball comedy, but if you take a look at the drama from a holistic view, I'd say most of them aren't strictly necessary to the plot. I don't mean they're throwaway, because they mean something in the context of the story; you certainly can't just discard those scenes because acclimating to modernity is the whole point of the setup.
But I especially enjoyed how the office dinner gone awry became a plot point beyond a funny scene—it turned into a catalyst for character development. Similarly, the hair-cutting in the previous episode was done with a nice touch; it became a source of an emotional reaction from our characters.
It also gives the three underlings a growth arc of their own, since it's not just about them being extensions of the prince. They decided on their own to prove their worth as employees, and that adds a dimension to their characters they didn't have before.
You know, I was prepared to just hate Se-na and the princess-chasing storyline through the end, accepting it as a plot point because it was necessary, not because I liked it. It's like Miss Ripley redux: One ambitious woman scores a successful businessman, then takes advantage of the chaebol's infatuation to dump the first guy and aim higher. (Ha, is that going to become Yoochun's second-most-popular character type? The first being stiff Joseon aristocrats, natch.)
But I like that Se-na has a legitimate reason for liking Tae-yong/Yi Gak, something outside her basic mercenary interests in nabbing the rich dude. He's the guy who doesn't care about her background, doesn't seem to want anything more than just herself. It takes her off-guard, like she can't understand it and is wary of believing his interest is genuine, but I can see how that would win her over.
I'm not sure that Tae-mu would care about her family background, either; maybe he would, or maybe he'd tell her he just wants her for her, too. The issue is that she never gave him the chance to prove he might be that guy; she anticipated his (lesser) reaction and lied accordingly, so really, this is a couple that doesn't trust each other enough to let them be their best selves.
There's nothing that redeems Se-na for me (or her Joseon counterpart, Hwa-yong), but this was the first episode where I thought it was nice to have a decent actress like Jung Yumi playing the part, because at least I could see her conflicted state. I have zero faith she'll do the right thing when push comes to shove, but at least we see her hesitating; I believed she wanted to rush to Mom's side, and I believe her childhood self didn't ditch Park-ha without any pangs of conscience. At the least, the drama goes with the argument that villains are made based on their choices, not that people are intrinsically evil.
As for Se-na's mother (she's Se-na's mother, right?), I admit to groaning when that birth secret was revealed. If this were a strictly modern story I'd be annoyed, but in this case I think it's saved by the dual-timeline setup, because it hints to a birth secret in Hwa-yong's past. It explains why the father initially picked the younger daughter to be the princess, passing over the elder, if bloodline purity was in question. Congrats to those of you who picked up on that possibility early on. It's not confirmed yet so I wouldn't get ahead of myself in that line of speculation, but it adds another clue to the mix.
RELATED POSTS
Tags: featured, Han Ji-min, Jung Yumi (2), Lee Tae-sung, Micky Yoochun, Rooftop Prince