Rooftop Prince: Episode 9
I don't think I'll ever tire of Yong-sool's Zoolander face. He makes humorlessness hilarious.
Just a note: I know there are two episodes that came out today, but out of respect for people who are following recaps apace with their drama-watching (and wanting to keep spoiler-free of future episodes), let's keep discussion to this episode. I promise 10 will be up soon(ish), I swears it!
Ratings kept the same order for Thursday: Equator Man at 13.0%, Rooftop Prince with 12.0% and 10.4%, and The King 2 Hearts with 10.5%.
SONG OF THE DAY
Lucia with Epitone Project – "좋아" (I Like You) [ Download ]
Audio clip: Adobe Flash Player (version 9 or above) is required to play this audio clip. Download the latest version here. You also need to have JavaScript enabled in your browser.

EPISODE 9 RECAP
Grandma slaps Park-ha, assuming that she has known who Tae-yong is for the past two years and has been lying to them all. So she has let his family suffer by thinking he was dead, all while biding her time so she can take advantage and score a windfall out of the situation. Se-na smirks to see her sister abused, because she's hateful.
Here's the thing: Se-na's and Grandma's accusations aren't terribly far-fetched—at least, not in context of the other things that are way more far-fetched about this drama, like reincarnation and time-travel. Therefore I don't suppose they're out of line for assuming the worst. It's just that I kind of hate them, while I actively like Park-ha. Nobody puts Baby in a corner (after slapping her silly), and all that.
The ladies leave in a huff. Se-na is sent back to collect Park-ha; Granny is calling her and Tae-yong on the carpet for some interrogation. What, you couldn't just stay here and wait for him to come home? You had to make sure you had higher ground by making them come to you? Officious Granny likes her… officions.
When they reconvene at Granny's house (ha, which I notice looks like a mirror image of the new rooftop; guess Yi Gak had to get his inspiration from somewhere), Yi Gak insists that Grandma is mistaken, that he never met Park-ha in New York. Which, naturally, holds no water since he's supposedly dealing with memory loss. There's just no way to unravel this mess without revealing the truth, and in this case even that probably wouldn't solve things since the truth is so absurd.
Great Aunt accuses Park-ha of deliberately approaching Tae-yong to manipulate his amnesia for her own gain. Anything he says in her defense sounds like naivety: "That's why you're being taken advantage of!" Yi Gak replies, "It's not being taken advantage! It's that I like her."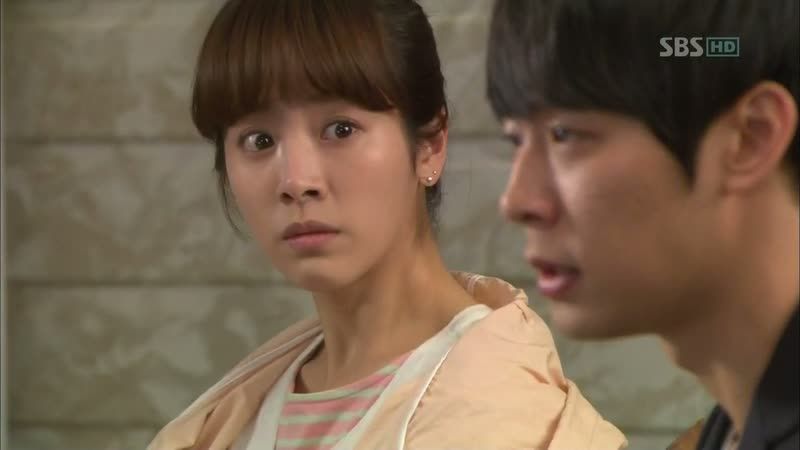 Eeee! I know he's saying it to convince them, not because it's true (it's totally true—I just don't think he's admitted it to himself yet), but it still merits a little squeal. He says he moved into the rooftop room because he liked her, and insisted on staying even after she told him to leave multiple times. Therefore they can't blame her for anything.
Grandma puts on her "So be it" face and orders Park-ha to move out and leave the company. When Yi Gak protests, she orders him to leave, too.
As they leave the house together, he apologizes for her mistreatment when she was just trying to protect him and his identity. She tells him she didn't out him because he's risking everything to keep up the persona, using his words from a previous conversation. But she sighs that she doesn't really understand what she's doing, either.
He tells her to go home, taking up a kneeling position in Grandma's yard. He settles in for a long session of groveling, assuming the formal stance of the penitent supplicant outside Grandma's window.
At home, the ducklings make Park-ha soothing tea and assure her things will work themselves out. Yong-sool says, "You have us," meaning it as a comforting thought, but Man-bo argues that all this happened because of them. Aw, and then they bicker back and forth ("What, can't I even say the words?" "I'm just telling you to get your words straight." "You talk too much!").
Chi-san has to jump between them before they jump down each other's throats. No, don't fight, Voltron needs you! Without all of its lions, it's just a crippled Day-Glo robot!
Yi Gak maintains his kneeling pose on the front lawn, and softhearted Great Aunt is first to cave, urging Grandma to relent before he collapses. Grandma says coldly that she didn't tell him to kneel, refusing to take back her eviction of Park-ha.
Thus he stays in that position all night and into the morning, gritting his teeth against the pain.
Finally, Grandma brings him into the house and asks what his relationship is with Park-ha. Is he considering marriage?
Yi Gak answers, "No, I cannot marry her. There's somebody else I will marry." Oh, haha, sigh. He's so earnest about it, not really registering that it makes him sound like a callous use-'er-and-lose-'er playboy. Grandma's just relieved that he's not going to marry Park-ha, and actually softens. Glad to know your priorities are straight, lady, since you'd rather your grandson be a heartless ass than marry a woman he cares about.
Granny works in a mention of his grandfather's libertine ways, warning him not to follow in those footsteps. (Our backstory tells us that Grandma's husband philandered, which is why Uncle isn't her son but the child born out of wedlock to another woman.) Ah, so the unfaithfulness is okay as long as they're not married, is that the lesson we're taking from this?
Grandma agrees to wipe yesterday's slate clean. Yi Gak thanks her and limps out of the house, where he finds Park-ha waiting anxiously. She lends him an arm and helps him walk, then treats his legs with medicated ointment.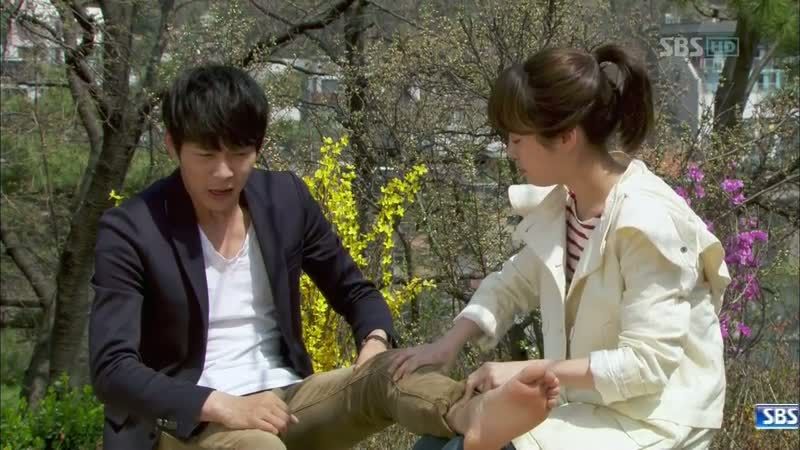 Yi Gak apologizes to Park-ha for Grandma's harsh treatment, especially when he was the one who pleaded with her not to leave for the States. She tells him it's okay, but his earnest apology brings her to tears anyway. (She pretends something got in her eye while she wipes the tears, forgetting the harsh ointment on her hands and then really crying.)
Tae-mu brings Se-na breakfast, his cheer restored now that their relationship is back on. Se-na has been looking troubled, which makes me think she's contemplating ending it anyway, which would be exactly in character. For now, though, she goes along with things.
Tae-mu notices that she's wearing CEO Jang's ring and tells her that she'd asked about Se-na in a phone call—she must really have taken to her. She'd also mentioned wanting to leave her stake in the company to her missing daughter. I find it ironic that Se-na is so threatened by the lost daughter, assuming Park-ha is the beneficiary. If she ended up disinheriting herself in the process, that would serve her right.
Since Tae-mu doesn't know this, his strategy is to locate that daughter quickly and sway her to their side before she's swayed to Grandma's.
The couple arrives at work to see Park-ha and Yi Gak together, so Se-na gets the story from Great Aunt: He confessed to liking Park-ha, which defanged their accusations against her. Great Aunt urges Se-na to hurry and claim him for herself.
The minions arrive at work to a startling sight: Park-ha's blind date, whom I'm just going to call Yeom till he's given a name. Man-bo sees his face, mentally runs it through his brain bank till he finds a match, and confirms his identity. We've established that he's got a photographic memory for faces, but was that because he's half-robot? Haha.
The boys corner Yeom, glowering. He explains that he's here to drop off a gift, since tomorrow is Park-ha's birthday and all.
The boys shoot each other looks and stand down—haha, they hadn't known. Man-bo coughs and says of course they know, why wouldn't they know? The boys offer to convey his gift (a homemade cake), which Yeom struggles to hang onto. They claim it anyway and growl at him to leave. Looks like these puppies are Dobermans.
Uncle calls Se-na in to tell her to leave the company. He offers to find her a new job and assures her that he knows she's a decent person, which is just funny; so says the man without moral fiber, about another person without moral fiber. Is he thinking mathematics, where two negatives equal a positive?
Uncle says that it took a lot of hard work for him and Tae-mu to get to this point (I assume by hard work you also mean killing people, or trying), and that he won't let her stop their ascension.
Se-na replies with a smiling threat: "If the chairwoman finds out that I've been seeing Director Yong Tae-mu for the past two years, that could present a problem for you." After all, she has been privy to some important information. She "worries" that Tae-mu and Uncle might get hurt by the blowback if she were to be ousted.
The boys marvel at the well-made cake, wondering if they should give it to Park-ha. Man-bo has a better idea (depending on how you define better): "We must get rid of it."
After an extended round of rock-scissors-paper to decide who has to be "it," Chi-san delivers the cake to Pyo Taek-soo, saying it's an expression of his heart. Pyo Taek-soo is flattered till he reads the attached card: "From the moment I saw you… I fell for you! I want to see you when I open my eyes every morning!" Pwahaha.
On to squash lessons. Se-na instructs Yi Gak, holding his hand to show his grip and corrects his stance with her touch. The proximity has him thinking of his princess.
They play for a while, and then pause for a break. He offers her a handkerchief to wipe her brow with, and watches her reaction closely as she oohs over the embroidery. But she's never seen it before, nor does it seem familiar.
Se-na drives him home and heads inside with him, where Park-ha stiffens to see her, no love lost.
Yi Gak works Park-ha's nerves by ordering her around and giving her his handkerchief to launder. Huffily, she tosses it in the wrong pile, then takes the box out for recycling. She's too busy harrumphing over the flirty couple to see the handkerchief dropping.
As Se-na tends to Yi Gak's tired arm with an ice pack, he's again struck with lingering feelings for the princess, giving the moment a romantic cast. Then as she leaves, she finds the dropped handkerchief and recalls how he called it "very important," and takes it.
Mom calls Se-na home for Park-ha's birthday dinner, and the mood turns icy when the two sisters see each other. Mom insists they both stay, not liking the animosity between them.
Dinner is a tense affair, and Se-na picks a fight first, telling Mom that Park-ha disowned her as sister. Se-na says Park-ha blames her for abandoning her as a child, and told out of context the accusation sounds outlandish, so Mom tells Park-ha that's not true.
Park-ha warns Se-na to stop, but Se-na throws back her accusations in her face, challenging her to produce proof of her memory. Otherwise, she's just making them up.
The minions track down a cafe where you can bake your own cake, intent on one-upping that blind date guy with their own homemade offering. Aw, that's adorable. You're stealing his idea to impress Park-ha! Yong-sool says intently, "I want a cake as big as a house."
The boys set to work building their cake, and they weren't kidding when they said they wanted big. What they produce is basically a wedding cake, with about a dozen tiers and frosting and roses.
They stuff it into the fridge at home, where Yi Gak complains about the needlessly big cake, calling tomorrow "no special day." The boys disagree, and Yong-sool even gets in Yi Gak's face to ask what they'll prepare for the birthday feast.
Yi Gak declares that the cake itself is already too much. The trio huddles anyway, deciding to ask Becky and Mimi for help.
They're instructed in the essentials of birthday parties: cake, cone hats, fireworks. And, of course, the all-important song.
Park-ha belatedly realizes the handkerchief is missing, and Yi Gak blows a fuse, reminding her it was important. She offers to buy a new one, but he shouts that it was one-of-a-kind. He's so furious that he barks, "Are you stupid, or are you mean?"
Hurt and angry, Park-ha storms out to go searching. The three boys shrink back at the confrontation, Chi-san plugging his ears like a child traumatized by Mommy and Daddy fighting.
Yong-sool goes on an errand and comes home smiling like a little boy, proudly showing off the very important birthday items he found. He brandishes the kko-kkal (a snack food, misheard from go-kkal meaning cone hats) and pat-jook (red bean porridge, which is NOT pok-jook, fireworks). HAHAHA. Poor well-meaning Yong-sool. There's a reason you're the brawns of this operation.
Park-ha heads to the clothing donation center, where the box of recycled clothes ended up. Mountains and mountains of 'em. Worse yet, they'll be shipped off tomorrow, so she only has tonight to find that handkerchief.
While she works her way through the warehouse, Yi Gak waits up for her, pacing the front yard for hours. She finally trudges home in the early morning, and he asks where she was all night. Did she spend all night looking for the handkerchief? Discouraged from her failed search, she apologizes for losing it.
He tells her to forget it; what's done is done. His change of heart is surprising, and she wonders why he's not yelling today.
Working all night has made her sick, though, and she takes to bed with a fever. Yi Gak takes her pulse and concentrates, then declares she's suffering from da-mal-jeung. It sounds serious, till he clarifies what it means—talking too much. HA.
Yi Gak writes at his table, which is basically a coffee table sitting on his bed like an old-timey desk—who thinks up all these sight gags? They deserve a raise. He has written a list of medicinal ingredients to be bought.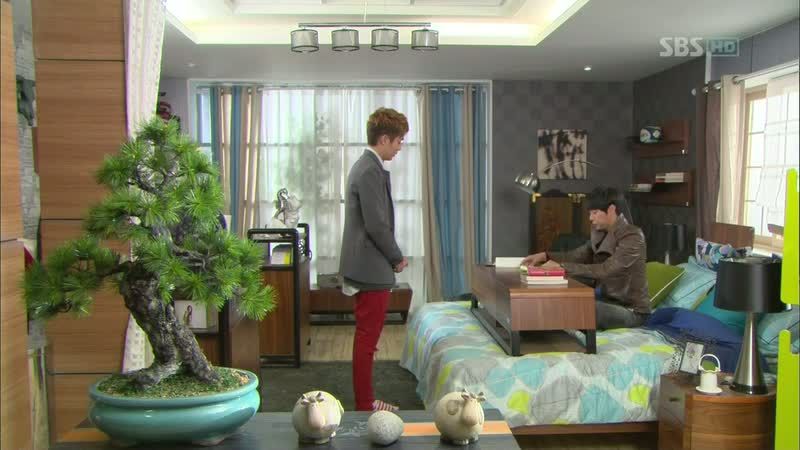 Uncle calls in Tae-mu's second-in-command to demand information about his son. The secretary says he can't betray Tae-mu, but Uncle threatens him with retaliation and he crumbles: Tae-mu has a secret officetel, and Se-na lives in it.
Uncle arrives outside Se-na's door just as Mom is struggling with the passcode, which no longer works. Mom asks to borrow a pen to write a note, and he pretends he's just passing by until she leaves. Then he reads the note, which is addressed to Se-na from Mom. Bingo.
The boys set up an outdoor brazier to brew the medicine, which Yong-sool attends to. He assures Park-ha that the prince studied medicine extensively, so it should be effective.
Yi Gak declares the medicine ready and gives it to her to drink, following it up with a chaser to manage the bitterness: park-ha candy, haha. (He stifles a smile when she crunches down on it, oblivious to its other meaning as aggression management tactic.)
She settles down to sleep, and now he looks at her wall and notices that postcard. He says he finds this all very curious, and she admits she'd love to know what really happened.
He makes a few deductions: Clearly the drawing is of her, and the artist is Tae-yong. (The initials look like EO, but they're also the hangul initials for Tae-yong's name, 태용.) But Park-ha he never showed up to the date he anonymously requested so she never met him. It's possible he died between sending the postcard and their missed date.
The shoe's on the other foot the next time Uncle meets Se-na; now he's got one of her secrets. He admits her threat had him worried, but gives her leave to spread whatever news she wants: "Who will believe what you say now?" After all, she'd told everyone her mother was a professor in England when she's really a fish market ajumma. Cackle.
Se-na trembles, but holds it together in front of Uncle. He orders her to resign and leave Tae-mu, in exchange for his silence.
But she's badly rattled, and wonders how he found out. Se-na recalls seeing Park-ha on friendly terms with Uncle, and jumps to the conclusion that her sister was the leak. She gets her bitchface on (well, bitchierface) and heads for the rooftop apartment.
She barges into Park-ha's while the latter sleeps, and Se-na finds Yi Gak's note: "When you wake, meet me under the Han River Bridge at 7 o'clock."
Yi Gak shops for accessories, picking out a hairclip (a lotus?). When Park-ha finds his note, she prettifies herself to meet him, wearing her new date hairstyle and changing her mind a dozen times about what to wear.
But it's Se-na who arrives first at the water, telling him that Park-ha's still feeling unwell and can't meet him after all.
Se-na reminds him of his comment earlier telling her she'd come to like him, and asks him what would happen if she did—what comes next? He answers, "You'll marry me."
He starts to say that it's okay if she isn't ready to like him now, but she contradicts him—she does like him. To seal the deal, she takes out his precious handkerchief, letting him believe she also spent all night looking for it, "Because it seemed important to you." Ugh, you wench.
Yi Gak is no match against these "fateful" events, and while he's processing everything, Se-na spots Park-ha in the distance, heading for them. Time for a hug.
Park-ha arrives and registers the scene unfolding between Yi Gak and Se-na, turning away while a tear falls from her eye.

COMMENTS
I know, I know, Yi Gak has to stick to his Se-na line, and I do buy it from a character and story standpoint, as much as I hate it. I suppose that puts this conflict on the good side of the angst divide, in that I understand why something's happening and see the need for it. It makes sense for him to love his wife, and furthermore, the whole fate of history sort of hinges on his connection with her, whether we're talking about the original Hwa-yong or the reincarnated Se-na. Of course, he doesn't realize that Bu-yong and Park-ha are an integral part of the equation, so for now his entire raison d'être centers around Se-na. You can't just go shaking a man's raison d'être that easily.
Plus, there's a reverse-Fate thing going on here, where Se-na is manipulating the situation so that everything falls neatly into place, like they're the leads in a romance drama. She came to him first, she found the handkerchief, not Park-ha. In a culture so used to invoking Fate like it's a tangible force, it makes sense that he'd fall right into her clutches. As a side note, I enjoy that this also has the attendant effect of skewering the drama-concept of Fate—that despite this situation following the script for Fate's storyline, it's all artifice and machination.
It's funny that I hate Uncle, I hate Se-na, and I generally hate most of the company stuff where none of our core five are involved. But it's sort of strangely satisfying to see Uncle and Se-na tangling with each other, because I'm just hoping they take each other out. I do think Uncle's logic is a little twisty with regards to Se-na, but it makes some sense. As much sense as you can attribute to a twisty old schemer, I mean. We've established that Grandma considers Se-na a favorable match for Tae-yong, but that this is a bit "generous" of her, in this dramaland reality where chaebols don't marry "down." Grandma's the head honcho and can bend the rules, but Tae-mu and his father are on such a razor's edge that they can't afford any liabilities. Uncle won't marry his son to a secretary who brings no advantage, when he can shoot higher and use the marriage as an upward stepping stone.
But my favorite bits remain, as always, the three minions and the Park-ha/Yi Gak relationship. I'm not even sure exactly what drives their animosity toward Yeom, but I love it anyway. Is it because he threatens to usurp their place in Park-ha's affections? Or do they just want to monopolize her time, like a jealous cat? Maybe they sense the challenge of another alpha dog in their midst, and that makes them protective of their own alpha dog. In any case, I hope that's not the last we've seen of Yeom, if only for the hilarity that his presence elicits.
RELATED POSTS
Tags: featured, Han Ji-min, Jung Yumi (2), Lee Tae-sung, Micky Yoochun, Rooftop Prince