Sexy new posters for All About My Wife
I'm actually way more excited for this movie than Lee Seon-kyun's upcoming drama. Medical drama? Been there, done that. A movie where he plays a husband who's so afraid of his wife that he hires a cassanova to seduce her away? Now that I have to see. Where do you even find a guy to do that? I love these new posters for romantic comedy film All About My Wife, that feature each of the three leads in pitch-perfect character.
Lee Seon-kyun's reads: "Just imagining divorce makes me happy." The little book he's reading? 101 Methods for the Perfect Divorce. His character, a kind of wussy doormat of a husband, gets so fed up with being bossed around by his wife that he begins a project to get her to divorce him. I'd argue that it takes way more energy to come up with that kind of a plot, but then, I guess if he were the confrontational type, he'd just ASK her for a divorce. Besides, how else are we gonna get the hijinks?
Im Soo-jung's poster features her posing seductively and asking, "Do you still not want to live with me?" But my favorite by far is Ryu Seung-ryong's poster, which just… Rawr. His tagline: "A cassanova never falls in love." Hm, methinks you'll be eatin' those words. I love all three leads, the wacky premise, and the possibility that I'll end up rooting for the cassanova over the hapless hubby, which already makes me laugh.
All About My Wife premieres in theaters May 17. *checks watch impatiently*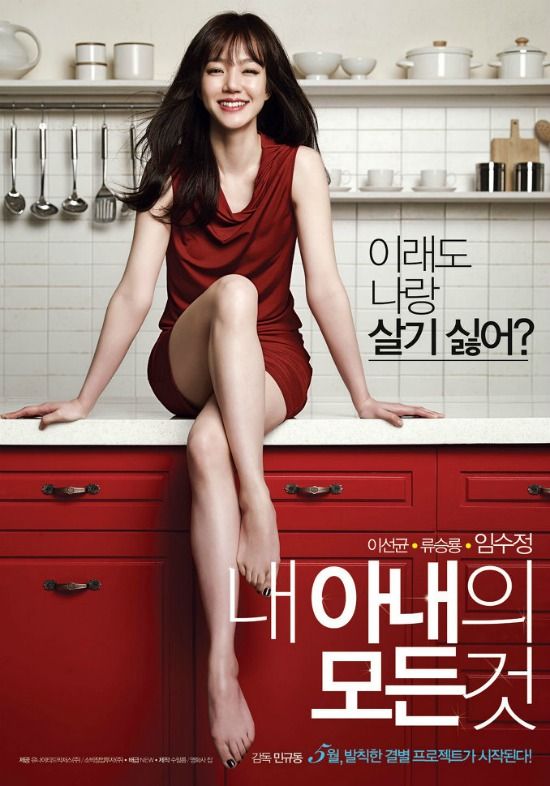 Via Osen
RELATED POSTS
Tags: Im Soo-jung, Lee Seon-kyun, Ryu Seung-ryong