Standby: Episodes 5-14 (Highlights)
More Standby!
So here's the deal: I won't be recapping (or weecapping) MBC daily sitcom Standby on a regular basis, because that's just a level of commitment I'm not ready to make. Furthermore, the show is a pretty simple watch, and not always worth examining on a deeper level… 'cause I'm not sure it HAS a deeper level. Ha. Not that shallow is bad. Shallow gives us glorious abs and bro-bonding and silly pettiness—no complaints here.
On the other hand, I've been following it daily, and every once in a while there's a hilarious moment that makes me giggle, or snort, or clutch my sides cracking up. But since not every episode is memorable, I'm pulling out some favorite moments for a highlight reel, so to speak. I may do this again for future weeks, or I may not if there are no scenes worth highlighting. We'll play it by ear.
SONG OF THE DAY
Busker Busker – "벚꽃 엔딩" (Cherry Blossom Ending) [ Download ]
Audio clip: Adobe Flash Player (version 9 or above) is required to play this audio clip. Download the latest version here. You also need to have JavaScript enabled in your browser.
This post covers Weeks 2 & 3 of the show. If you haven't had a chance to get acquainted with Standby, take a look at the introductory post, covering Week 1 and establishing the premise: Episodes 1-4.

Highlight #1: So-min & Ki-woo
Episode 6. So-min offers to buy Ki-woo dinner to make up for eating his noodles, falling in his lap, and dumping water on him. He plays a prank on her, purposely ordering up a storm while knowing she's on a small budget, just to see how she'll react. He ends up paying anyway—he's a prankster, not an ass—and that makes her feel bad for all the leftover food. So she downs a pitcher of beer (he only drinks milk, natch), and gets drunk.
Mountain girl So-min is an agile tree-climber, as she demonstrated previously when rescuing a child's balloon from a branch. She stumbles out of the restaurant and squints up at a tree, arrested by the sight of a hat hanging from it… and climbs Ki-woo, the human tree. HAHA.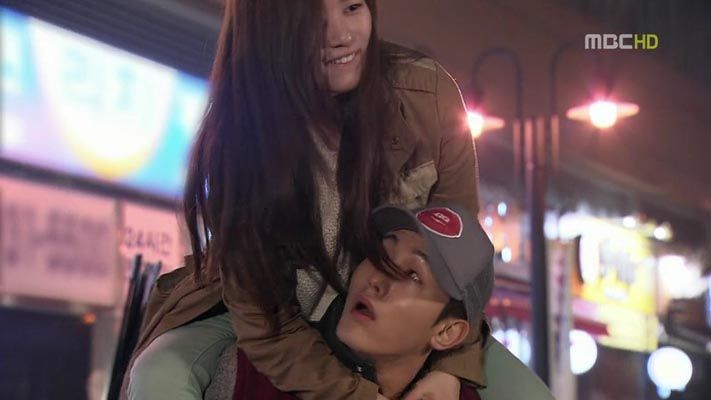 Highlight #2: Shi-wan & Kyung-pyo
Episode 10. Idiot Trio leader Kyung-pyo is constantly cutting class to play games, so noona Soo-hyun asks new classmate Shi-wan to keep an eye on Kyung-pyo at school and prevent him from ditching. Shi-wan takes his job seriously, blocking Kyung-pyo from leaving campus and getting stern—which includes wrist-grabbing, shoulder-shaking, and falling on top of him (accidentally, pulling him out of a motorcyclist's path).
Thus Kyung-pyo, who'd initially scoffed at Shi-wan's feminine looks (read: weak and puny), now sees him in a different light. A masculine, forceful, attractive light. Suddenly, Kyung-pyo is flung into the throes of indecision—could he, gasp, actually have a crush on Shi-wan? Omg.
The storyline's kind of awesome, not because it's funny—though it's funny—but because this is the rare occasion where sexual-identity crisis plays out in a way that isn't a total cop-out. As in, Korean dramas love to flirt with gay subtext, but it's always in an ultimately "safe" context—a wink-wink, We know this is just a joke scenario.
Consider all the bromancing that occurs between idol boys, variety show regulars, and even drama characters—all the rampant homoeroticism is, when all is said and done, not treated as real. It's cheeky, or joke (or slashfic) fodder. Like in Personal Taste, where the two boys crack jokes about the assumption that they're gay, or in The Moon That Embraces the Sun, where the king purposely plays up the gay rumors about him and Woon, because it amuses him.
The closest I've seen a show explore sexual-identity confusion is in Coffee Prince, which did a strong job with the hero's inner turmoil… although it all turns out fine in the end because the object of his affections is actually a girl. Same with You're Beautiful's Jeremy.
So far this show hasn't explored the Kyung-pyo confusion much, and frankly I wouldn't get my hopes super-high that Standby means to take this anywhere progressive. But I'm impressed that they bothered to do it in the first place. Gay text instead of subtext—who knew, K-dramas?

Highlight #3: Moon/Sun parody
Episode 11. This one's not really much of a highlight, but it's a Moon/Sun reference and it ties in to Highlight #2, so in it goes. Kyung-pyo is so rattled by his sudden attraction to Shi-wan that he agrees to date Ye-won, who has been pestering him for ages… only to find that she's also recently discovered Shi-wan's masculine charms and has transferred her crush to him. Ha, beard attempt fail.
Shi-wan rejects her advances, but she's persistent and drags him out to dress up as Yeom, since that's the drama character he resembles, wink-wink. She dresses up as Princess Min-hwa, which doesn't seem like the ideal model for a romantic relationship, but I suppose they're not working with a lot of options…

Highlight #4: Ki-woo & Suk-jin
Episode 11. Here's what I mean by homoerotic subtext used as joke fodder. (Which, by the way, is not a denouncement—I'll take it.) Suk-jin becomes antsy when Ki-woo comments on his resemblance to his high school classmate, Su-do—a geeky, uptight kid with bad teeth and an allergy to raw garlic that once made him crap his pants. In class. Because of a prank Ki-woo played on him.
So now, Suk-jin harbors a lingering grudge (he keeps a running tally of the times Ki-woo pisses him off), but he can't cop to being Su-do and revisiting that shameful past. Therefore, when Ki-woo's co-workers urge him to bring in a photo of this funny guy Su-do so they can see the resemblance, Suk-jin panics. Must. Intercept. Photo!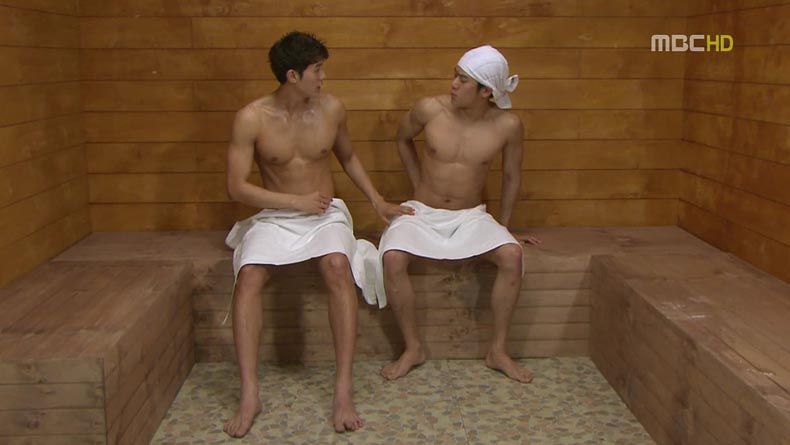 That prompts Suk-jin to make friendly overtures, like going out for drinks after work and pretending to get drunk, so that Ki-woo would take him home for the night—giving him a chance to snatch the photo.
That doesn't work since Ki-woo takes him back to the station instead, and another attempt gets them both nekkid and sharing a sauna. Rawr. Hold on. I need a minute to get my staring fix in.
The sauna trip is wasted (for Suk-jin, that is, not for us), so Suk-jin asks his new "friend" Ki-woo to put him up for a night while his apartment is being worked on. Ki-woo puts his photo away to take to work with him, and in a fit of I-don't-know-how-else-to-steal-it, Suk-jin grabs Ki-woo in a massive backhug, which Ki-woo takes for an expression of affection. Ha.
(Suk-jin gets his photo and dumps Ki-woo as friend, resuming their former prickliness, saying they're too different to get along. Heh.)

Highlight #5: Aerobicizing Ryu Jin
Episode 12. Jin-haeng, in ajumma shorts and flower-print tights, jazzercizing away. No explanation needed.

Highlight #6: More So-min & Ki-woo
Episode 13. This is still my favorite pairing and storyline. So-min finds out that Ki-woo has been jerking her chain this whole time and vows to tell him off. But he has a way of twisting any conversation into a joke, and she needs a way to express her displeasure without getting thrown off-track. So her roommate Soo-hyun offers the advice to change up her image: Go cold and haughty.
They role-play the scenario, with Soo-hyun directing So-min how to talk. If Ki-woo tries to cut her off, hold out her hand and yell, "Stop right there!"
But So-min gets so nervous that she writes a cheat sheet on her hand, and in the midst of her flustered tirade, she yells, "Stop right there!" with the wrong hand. Ki-woo reads her whole speech and teases her some more, which ruins the whole effect.
So-min declares she won't let him trick her anymore, so the next day when he's sent to pick up Soo-hyun's suit for a TV segment, So-min refuses to let him take it. No sense giving the boy who cried wolf free access, right?
Ki-woo takes the suit anyway, leading So-min to grapple with him (rawr) and chase him out. Sadly, the suit is the casualty in the tussle (spliiiiiit!)

Highlight #7: Even more So-min & Ki-woo
Episode 14. Insufferably, now Ki-woo is teasing So-min about crushing on him—you know, since she enjoyed that backhug a little too much and keeps running into him. Could she be staking out his movements to plan their encounters? Ki-woo: "I don't mean to brag, but I am pretty popular with the ladies." He's clearly teasing, but she's so aggravated that she wants to find a way to get him back, and good.
She finds out that Ki-woo has also been pranking Shi-wan: He pretends that a collision with Shi-wan injured his arm, wears a cast, then guilts Shi-wan into acting as his servant. Shi-wan agrees to join her in revenge, and suggests the means: a booby trap with a bucket of flour, a tripwire, and a pool of water.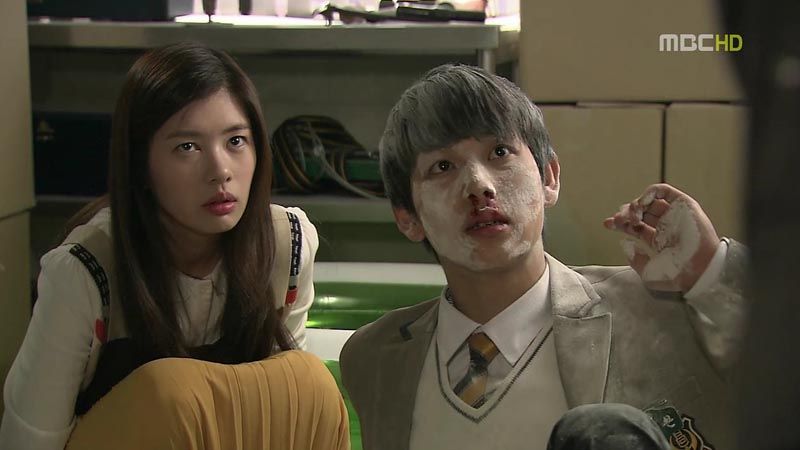 Thing is, Shi-wan finds out that Ki-woo faked the injury as an excuse to lend Shi-wan his laptop (in "payment" for his servant duties). Shi-wan has been excessively stiff and formal with the Ryu family, declining their offers of help or money, not wanting to incur any debt against them. Now that he sees how far Ki-woo went to give him what he needed, he thanks him and accepts the laptop… and then realizes Ki-woo's headed straight for the booby trap.
Shi-wan races there first and finds himself the victim of his own trap. On the upside: So-min and Shi-wan are able to play it off as an accident, so Ki-woo doesn't know what they were plotting, and both of them decide that Ki-woo's not such a bad guy, and that they should let their grudges slide.
But on the downside, Ki-woo is incorrigible as always, and teases So-min endlessly about her crush on him, offering her "tips" on where to find him to plan their chance encounters. So-min fumes, and I sit in glee, awaiting the day when Ki-woo will find himself falling for So-min. 'Cause with that level of cockiness he's got to fall first, right? And it will be sweet.
RELATED POSTS
Tags: featured, Go Kyung-pyo, Ha Suk-jin, Im Shi-wan, Jung So-min, Lee Ki-woo, Ryu Jin, Standby