The King 2 Hearts: Episode 12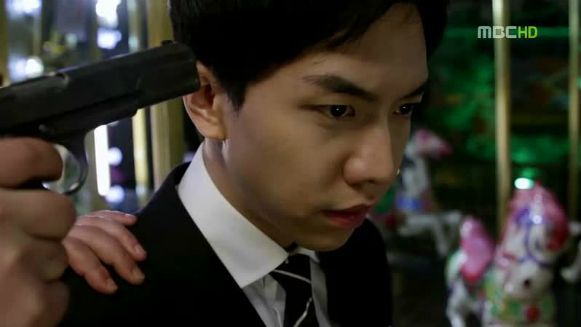 There's nothing better than a show that can pack an hour full of heart-stopping action, fairytale romance, and gut-busting humor. Our hero gets into trouble, but you know what that means – time for the heroine to swoop in and save the day. 'Ssup.

EPISODE 12 RECAP
Hang-ah's father races into the prime minister's office with the news – General ShortFuse has gone off the reservation and Jae-ha is in danger. Nooo! This is why we need a batphone!
Sure enough, the general's troops march right up to Jae-ha to announce that they will be taking over his security detail from now on. Shi-kyung steps forward to tell them that he's the only one who gets to put his hands on the king. Okay, he doesn't say that, but he does step forward like a big ol' hero to say that's his job.
Soldiers on both sides tense up and reach for their guns. Shi-kyung is in full-on Doberman mode. Jae-ha comes forward and asks for their rank, and dismisses them with a laugh. I don't think that was such a good idea.
The prime minister reacts skeptically to the news, even though it's happening right now. He says that the general was just blowing off steam, but he wouldn't do something so crazy as to kidnap the South Korean king… and then names the location where he's going to be kidnapped. Er…
Hang-ah's father looks up. He never said where…
Augh, the friggin' prime minister's in on it too? Is there anyone we can trust? At least he's not so much IN on the plan, as he's letting the plan happen so he can catch General Shouty and get rid of him for good.
But Hang-ah's father reminds him that it's the KING they're talking about. Forget kidnapping – it'd be war if he got a splinter under his nail. Hee. I do enjoy prissy king jokes, despite the gravity of the situation.
He reminds the prime minister that war is the only way this scenario ends, which means a leveled peninsula, both North and South. That finally gets through to the man, and they send troops to arrest the general and his men, but they're already in the wind. In fact it just makes the baddies move their timetable up.
Dad comically pretends to be talking about something else when Hang-ah bursts into his office during a frantic phone call. He's turned the base upside-down looking for the general, which she tells him, and he's like, how'd you know? Ha.
She tells him that Jae-ha has to be sent back home immediately, and Dad says he's already on it—he'll be sent back first thing tomorrow, because he's got a few more stops on his cultural itinerary that can't be undone.
Hang-ah freaks out, as do I. This is not a leisurely I'll-take-in-the-sights-and-then-run-away-from-my-kidnappers-later kind of scenario here. But Dad in turn freaks out over her caring about a man who has nothing to do with her anymore.He swears he's got it under control, and puts her under house arrest for good measure.
Jae-ha heads to an amusement park next, and Shi-kyung worries about the openness of the landscape. Won't it be hard to secure the area? LISTEN to your head of security please. But their guide assures them it'll be fine.
Hang-ah worries about the same thing when she hears about Jae-ha's next stop from the two soldiers guarding her at home. They tell her to forget that jerk already, and ask if they can peek at the present he brought.
She tells them they can have it all and goes to her room, to stare herself down in the mirror and say over and over that Jae-ha is no longer any of her concern.
Dad decides to oversee Jae-ha's amusement park visit personally, and watches as he rides the Viking. At first it's dead silent, with citizens on one side and Jae-ha and his security team on the other, so finally Jae-ha nudges Shi-kyung and raises his arms up for a Whoooo~!
No one else follows along, so he has to force Shi-kyung, who does the most awkward and self-conscious Whooooo~. He finally gets everyone to join in, and they have a great time for the cameras, broadcasting live on the internet.
He even stops to wink into the camera at Secretary Eun, who watches from the palace. Keh. Everything is business as usual down at the park, but from the top of a hill, the baddies put their plan into motion and take over a security room.
Hang-ah cleans her room, which serves as a distraction for about five minutes. She comes out to ask about lunch, and the soldiers say they found a box underneath the other stuff in Jae-ha's present.
They hand her the gift-within-a-gift, a box marked with the royal seal and a note: Handmade by Lee Jae-ha. Flashback to Jae-ha researching the best thing to make for her skin, and slaving away over his chemistry set like a big ol' nerd. So. Cute.
She braces herself and then opens the box. There's a note inside: "An unfamiliar marriage, an awful man, a miscarriage… For Kim Hang-ah, who had a really hard time: Natural 3-step Skincare Project."
That's adorable. It comes with detailed instructions on how to use everything, and then she takes out the first bottle. It's called: "I'm sorry." The second: "Thank you." Omg so sweet.
Cut back to Chemistry Set Jae-ha, getting frustrated halfway through. He wonders if he has to work this hard, and then takes out his phone to look at a picture of Hang-ah dressed as his princess bride.
He sighs, "Of course you do, you jerk." HA. He says to the picture, "I love you."
And then Hang-ah takes out the last bottle. The third label: "I love you." Awwww. She looks down at the gift, overcome with emotion.
She peeks outside at her sentries and asks for lunch again, and they rush to her side. Cut to: Hang-ah holding both agents by the throat, one with her hand, and one with her foot, while her free hand waves around a gun. Hahahaha.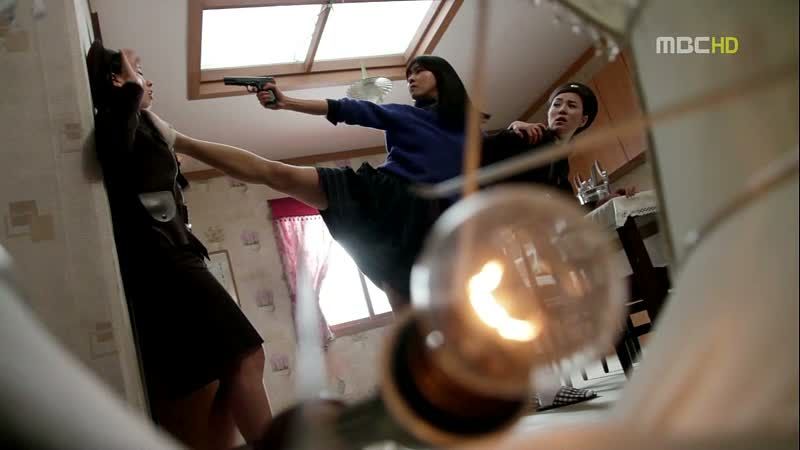 She tells them she'll be going out now, and then changes into her military uniform. It's totally her superhero cape moment. She makes a call on her way out, to ask someone if they're up for some training. Please be your WOC team. I want that reunion so badly.
Jae-ha gets led to a carousel, and he eyes the ride like, you want me to get on this? They swear it's the last one, so he sighs and turns to Shi-kyung, who decides that it's probably safe enough for him to ride alone. Ha. Is riding little horsies too emasculating for the super agent?
Jae-ha walks off sighing, "Stresssss." The park's mascot, Tom (of Tom and Jerry) follows him onto the ride along with a few civilians, and is anyone else suspicious of that overly cheery cat?
He goes 'round and 'round and everything seems fine, until suddenly the lights cut out. Bong-gu watches the live feed online, screaming, "Showtime!"
Suddenly the civilians aren't civilians anymore—they take out guns and train them at Jae-ha's head. Tom takes off his cat head, and of course it's the agent he laughed at earlier that day.
Tom leads Jae-ha around the carousel, and Shi-kyung spots them. Guns come flying out from every direction, but so do Tom's agents, who surround the secret service. Crap crap crap.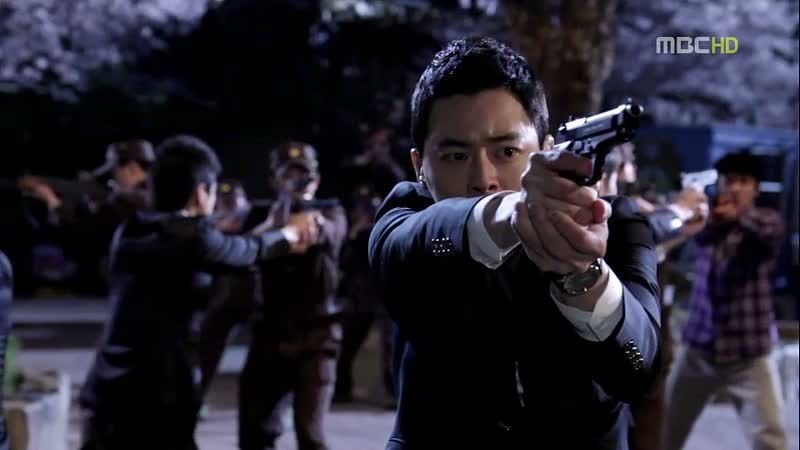 But then as if things weren't bad enough, the baddies all rip open their jackets to reveal bombs strapped to their chests. Oh. Shit. Tom says go ahead and shoot, and he demonstrates by shooting one of his own men. He promptly explodes.
He announces that every bomb is wired to go off if the guy wearing it dies, and takes out a big trigger button as he orders everyone to drop their weapons and step back. They do as they're told, with no other choice.
And then he reads a prepared speech for the camera, basically an angry attack at Jae-ha for using Hang-ah and stepping on North Korea's pride. Oh, so this is you defending her honor? How helpful, but I think she's got it under control there, cat.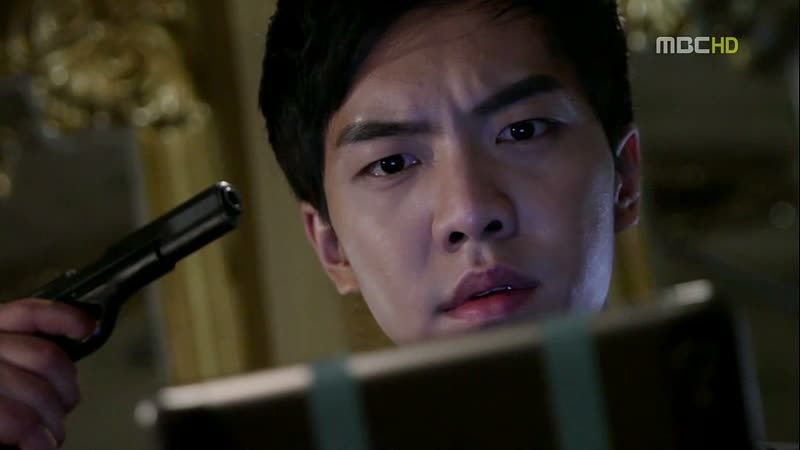 Bong-gu has a direct connection to Tom via earpiece, and he actually directs him mid-speech to ask that the camera show Jae-ha's terrified face. Dude, you are obsessed. He interrupts Tom's speech to cut to the chase—his message to Jae-ha.
Tom hands Jae-ha the pre-recorded message from Bong-gu, claiming responsibility. Bong-gu watches eagerly, "That's him, watching it right now, right?" He practically drools.
Hang-ah arrives just outside the park, running as she radios her backup. It's Kang-seok! Whoooooo! And… whoa, is that a rocket launcher on your back, or are you just happy to see me?
And then! Young-bae sets up his sniper rifle from the top of the ferris wheel. NICE. The band is back together! Hang-ah looks down from the hill and her eyes widen at the sight below.
Jae-ha watches all of Bong-gu's recording, barely holding back his terror. Please, don't give him the satisfaction. He chucks the tablet on the ground in annoyance, "What's he saying?" HA. I love that he's smarter than the evil mastermind!
He looks Tom up and down, "Is Kim Bong-gu talking to you in that earpiece?" He turns to the camera, "He's watching right?" Tom panics and takes out a gun from his cat belly. Jae-ha's like, how much stuff do you have in there? Hee.
Jae-ha turns to the camera to give the best comeback ever: "Ya, Kim Bong-gu. If you're going to work out your inferiority complex, do it right. What is this? Are you advertising to the entire world what a laughable ass you are? You can't even show yourself so you send a video letter? What is this, Section TV? Are you shooting We Got Married? I. Don't. Love you. So please stop, and go exercise. It's really the best thing for a complex. Or go read a book. Work on cultivating your inner self. You overly self-conscious inferiority-complex-riddled ass!"
So. Satisfying. Bong-gu FLIPS out. "Kill him. KIIIIIIIIILL HIIIIIIIIIIIIIM! Detonate now!"
Boom! There's an explosion, but it's not the baddies. It's Kang-seok, who busts through a wall to overtake the security station. He gets the lights on and the carousel moving again. It's enough to throw the baddies into confusion, as they scramble to regain control.
And that's when Sniper Young-bae fires at Tom's trigger arm, and then takes out the surrounding gunmen, one by one. Yessss! Shi-kyung scrambles for a gun. But Hang-ah is faster, and she jumps onto the roof of the carousel, ready to make her move.
The cameras catch her, and everyone, including Mom and Secretary Eun, sees her. Kang-seok throws smoke grenades onto the carousel to give her cover, and she swoops in with one flying kick after another, to take out all of the gunmen singlehandedly.
Tom scrambles for the remote trigger and reaches out… and Hang-ah stomps on his hand and kicks the trigger away. She whips out her gun and sticks the barrel in his mouth. Dayum. Shi-kyung and the rest of the agents fight their way up and secure the bomber from her grasp.
Jae-ha watches as she turns and walks right off the carousel and into the night, like a superhero who's done her work and doesn't look back. It's even got the dramatic smoke and everything. So badass.
She goes straight to her car to drive away, when a car pulls up in her path. Jae-ha gets out and stands in the road. She puts the car in park and then guns the accelerator, staring right at him. Ha. Nice way to let out some anger.
She shifts into drive and drives head on, but he doesn't move or flinch. I love it. It's his way of saying I'm not going anywhere. She stops a few feet short of turning him into a pancake and gets out of the car with a peeved look.
He asks, "Do you like me, or do you like Eun Shi-kyung?" She scowls, "I don't know about that, but I do have someone I hate."
Jae-ha: "Lee Jae-ha?" He reminds her of his famous vengeful streak. "I'm going to get revenge for those words." She turns away, still fuming.
He takes a step closer. "Every morning, I'm going to kiss you. For revenge." Hahaha.
"I'm going to follow you around all the time like a stalker, and buy you everything you want. I'll never cheat. I will only look at you. From now on, I'll never let you cry even one tear." Which is of course exactly when she starts to cry. Aw.
He walks closer and wipes the tears from her eyes. "I'm going to make you the happiest queen in the world. And until the day I die, I will nauseatingly like only you. For revenge." So adorable, the true-to-character, sweet-with-a-kick proposal.
And then, he gets down on one knee, and takes her hand in his. "Can you handle it, your highness?" She just looks down at him, crying more tears. He smiles, "Hey I'm officially proposing to you right now."
She finally opens her mouth… to mutter that South Korean playboys are always smooth-talking with their stupid words, as she sniffles back tears. Hee.
He gets up and hugs her tight, as the cherry blossoms fall.
Now it's time to deal with the baddies, starting with General Regrets-a-Lot, who demands payment from Club M because he held up his part of the bargain. Sort of. They don't quite agree, and send his location to Hang-ah's father, who doesn't receive the help kindly, but does arrest the man with pleasure.
And then Bong-gu takes out his frustrations on his right-hand man, because… um… he can? What's an impotent rage if you can't share it with those closest to you?
Back home, news of the incident gets reported as "WOC members" saving the day, and Dong-ha sighs at the lack of naming names. Seriously, you save the day, and you don't even get a mention on the news.
Secretary Eun releases an official statement on the question of Kim Bong-gu, as in who the hell is he, and he deflects to say that he's nobody important, and that it's a nickname the king invented to represent those who oppose reunification. Pffft. He apologizes to all the Kim Bong-gus of the world for misusing their name. Ha.
He calls Jae-ha to say that he got the press off that scent for now, and Jae-ha asks if anyone's found the recording (of Bong-gu claiming responsibility) yet. They haven't, but Secretary Eun reminds him that he doesn't have the power to do anything with that evidence anyway.
He says that most big players already know that Kim Bong-gu is John Meyer, but they can't do anything about it because it would mean war for their country. Jae-ha asks how long they're just supposed to stand by, while he kills hyung, goes after Jae-shin, and now him. Secretary Eun calls him out, saying truth be told, Jae-ha is scared too—that's why he hasn't acted yet, why he hasn't come forward about Bong-gu's identity. URG. I hate you, old man!
Shi-kyung interrupts him to say it's time to go home. Jae-ha walks down the train platform where the prime minister apologizes again for what happened while he was here. Jae-ha asks if he knows who Kim Bong-gu is.
He can tell by the look on his face that he does. "Let's grow strong together." Nice. He reaches out his hand, and the prime minister shakes it. Hey, enemy of my enemy can be an ally when it counts.
Hang-ah calls her father to say that she's going now. He pouts that he doesn't care, whatever, she's just going to do what she wants anyway. Aw. Jae-ha boards the train car and snatches the phone from her.
He calls him "Father," and promises to visit with Hang-ah after chuseok. Dad says he can't handle the stress from his visits, given the international terrorist fiascos and whatnot, but Jae-ha insists they'll be there, and leaves Dad smiling. Yay.
He asks why the long face, and she says that South Korea still scares her, and she's worried about how she'll be received. He takes her hand reassuringly.
They arrive at the palace and Mom and Secretary Eun are waiting in her room. Mom runs up and takes Hang-ah's face in her hands, and tells her how sorry and grateful she is. Hang-ah says she should bow properly, and Mom says no, she should be the one bowing to Hang-ah, for saving her son's life.
She leads her inside to her room filled with presents sent from well-wishers, from food to seaweed to bears and other gifts. She opens up a few, overwhelmed by the gestures, and then finds a note in one, written in blood? Creepy red ink? "Kim Hang-ah Die."
HAHAHAHAHA. This show, it kills me. What a way to cut the saccharine. Mom quickly snatches that one out of her hands, but Hang-ah's so happy she doesn't even register it.
Jae-ha smiles, pleased at her warm reception, and Secretary Eun follows him out to say that that's not really a lot of presents, and technically, fifty percent of the public still opposes the union. Jae-ha groans, "Ajusshi! Do you have to say things like that right now? We just got here!"
Secretary Eun just doesn't want him floating around with his head in the clouds (or he delights in being a killjoy because he's eeeeevil, take your pick) and Jae-ha assures him that he won't, saying that Daddy Eun is just as un-fun as Shi-kyung.
"I know it's just the beginning. I'm going to raise it—that power you talked about." Secretary Eun smiles proudly despite himself. I do think that he believes he's justified in everything he's doing for the good of the monarchy. It's just… you know what they say about the road to hell.
Shi-kyung goes right back to work like the toy solider that he is, gathering more intel on Club M. I don't know why he has to be told this by someone else, but the princess is the one who holds the key to identifying her brother's killer.
He goes to check on Jae-shin and finds her playing cards with her staff. She's happy to see him and asks him to join the game, but he's so wired from worrying about her that he ends up asking gruffly if this is all she's been doing while he was gone, instead of trying to recover her memories.
She gets defensive and asks why he's attacking her when he of all people knows what she's going through. Shi-kyung: "So do you want my pity?" Ouch. She looks up at him with a stricken look, saying that she can't force herself to remember.
But he challenges her, "Or is it that you don't want to remember?" He calls her out for clinging to it as a weakness, to get more sympathy, to be treated with kid gloves by everyone around her.
He tells her that she has to face it, and even if the memories don't come back, if she doesn't deal with it, she's just going to get worse and worse. "Please come back, Princess. Be bold, like you were before."
But this is a tough love speech she's not ready to hear, and she cuts him off to call and ask that Shi-kyung be replaced by another agent from now on. Nooo. She calls him a frustrating ass.
It stuns him so much that he stands through an entire meeting with Jae-ha lost in thought. He remembers every time Jae-shin called him frustrating in cute ways, culminating in the last one, meant to be an insult.
Jae-ha snaps him back to reality, and Shi-kyung asks, "Am I really that frustrating?" Aw, but you're also adorably earnest! Jae-ha isn't one to mince words, and confirms it, and Shi-kyung just sighs, resigned to his fate as a funless bot. Maybe we could install some party programs in your CPU.
Jae-ha then goes to Hang-ah, to fill her in on Kim Bong-gu, Club M, and everything that's been going on. See, THIS is what I've been waiting for. The romantic declarations are all swoonworthy, but I love that he treats her as an equal, and goes to her for advice and support. It's real, and lovely.
He tells her everything about Bong-gu—that he's just one man, but more than just a man. He has endless money, with which he's bought up everything. His modus operandi: "That power is justice." Might is right? Yeah, that about sums it up. Evil bastards.
He says the whole world wants to see North and South tear each other apart. He spins the little globe on the table with a sigh, "There's so much to do, but we're so small." Man, you can just see it on her face, like she's watching him grow up in front of her.
He asks if she thinks they can do it—the WOC, getting married. She's struck by his sincerity and his very kingly concerns, which is a side of him she's never really seen before.
Suddenly she's like waitaminute, "What're you saying, that you're NOT going to marry me?" Ha. He's like, I am, I am, but she bolts up, "So if it gets difficult, are you just going to send me back? You know that'll be the THIRD TIME!"
She rants, calling him a rat bastard, and he takes her hands, repeating that they will, he swears, what about now, next month? Hee. But she pulls her hands away and tells him to stomp out Bong-gu first: "If you can't handle him, you're not even a MAN. Why would I marry a guy like that?"
Oh nice. She's totally turning it into a challenge for him. It's brilliant. He has something to fight for, and gets a boost of confidence without being patronized. Plus it has the added benefit of leaving him all flustered. She says she'll reject him if he doesn't succeed, and he calls out after her, "I'll do well!"
She storms into her room and calls Daddy, asking how long he's known about Bong-gu. He whines at being woken up in the middle of the night and wonders how she knows, and she shouts into the phone that Comrade Jae-ha, a guy who laughs when people threaten him with bombs, is quaking in his boots.
"I'm not going to leave him be—the bastard who made my man this way!" She's so cute. She starts yelling about how she's going to slit his throat, and Dad tells her he's already on it, with the research.
But research isn't gonna cut it for Action Girl, and she basically orders Dad to find out where Bong-gu lives, lying that Jae-ha needs it for his plan. Thank you! Someone else who thinks just bombing the hell out of his fancy house should do the trick. I know, it's probably not going to work, but I need someone to TRY.
Meanwhile, Jae-ha and Shi-kyung are off chasing another lead on Bong-gu—a girl at a club who sees him on a regular basis. They track her down, and Jae-ha goes in for the big seduction…
But he spins back on his heels to remind Shi-kyung that this is all in the name of The Plan. "The person I love is our Hang-ah. There is only Hang-ah… Just in case she says something, you have to be my witness!" Pfffft. Shi-kyung smiles and nods. I don't know how he's not busting a gut right now.
Annnnd, I was already laughing, but then you got a full shot with your shiny shoes, and now I'm on the floor.
Mission: Seduce-the-girlfriend-but-only-in-the-name-of-the-plan-if-Hang-ah-asks is a go.
Sometime later Bong-gu receives a care package in the mail, sent to his home address. It's got a royal seal on it. He opens the letter from Jae-ha that says he sent a present, but not to bother opening it.
It requires a password, and Jae-ha wouldn't want him to suffer trying to figure it out. He does give a hint though: "It's something I have, that you don't." Taunting the villain never gets old. He closes the letter with, "But don't open it. You'll regret it."
So of course he sits down with it right away. He's so hooked. Also, I love the password game! Among the things he tries: royal seal, good looks (deciding that's not true after all, ha), honor, youth, manners, a conscience.
Jae-ha tells Secretary Eun about the plan and says that now is the time to strike, and he's going to do it together with Hang-ah. He asks for ajusshi's help.
Bong-gu goes crazy (er, crazier) trying to open the box, and flings it at his minion to take an axe to it. Only of course it's wired to explode if it's tampered with. Have you never seen a spy movie? He refuses to let it be taken away.
The royal couple heads out to Hang-ah's first public appearance since the hearings. Jae-ha asks if she's ready, and she nods. He holds her hand one last time in the car, and then leads her up the red carpet hand-in-hand.
Bong-gu ponders the password, and then it hits him. He gets up with a start and whispers into the box, "People."
It opens.
Jae-ha and Hang-ah reach the top of the steps, and then face each other for one last us-against-the-world look. Then they turn to face the cameras.

COMMENTS
WHAT'S IN THE BOX? Okay, sorry I had to get that Seven quote out of my system. I love the games Jae-ha plays with Bong-gu, knowing that curiosity will get the better of the maniacal bastard. So far he's played every exchange with him perfectly—that carousel speech was such sweet vengeance, not to mention crazy brave, given the circumstances. And even in setting the password to "People," it says so much about what Jae-ha understands about his adversary.
Sure, he has more money, more power than Jae-ha has. But the king has his people—from the woman he loves and his action wingman, to every last citizen in his kingdom, something that Bong-gu will never have. More than anything, I love that he's come to acknowledge that a king can be more than a puppet, and that maybe he finally gets what hyung always said about the king belonging to the people—the crown is theirs, and it represents them. Though he might not have money or power, he has the might of the people, and perhaps he'll find that when moved, they are a greater power than money can ever buy.
It was so satisfying to see Hang-ah and Jae-ha each be badass in their own ways when faced with danger. How much do I love that he's the brains and she's the brawn? I mean, REALLY. It doesn't get any better than that. I wish we could've gotten an actual reunion scene with the WOC team post-rescue—they saved his life for crying out loud. But I'm going to tell myself that there were hugs and drinks and SNSD jokes offscreen somewhere.
The proposal was adorable, of course, but what's great about this couple is that their everyday interactions are just as full of bickering cuteness as the big romantic moments are, so it's not a departure from the norm. And I love that they've finally moved past fighting each other, so that they can fight the world together, hand in hand.

RELATED POSTS
Tags: featured, Ha Ji-won, Jo Jung-seok, Lee Seung-gi, Lee Soon-jae, Lee Yoon-ji, The King 2 Hearts