The King 2 Hearts: Episode 6
There are more plans hatched than in a world war, more lies told than any political debate, and more sparks than you'll see on any given country's independence day. Love, they say it's a battlefield.

EPISODE 6 RECAP
Back to the proposal that that never was (or I guess the proposal that was wasted on Comrade Fanboy), Jae-ha fumes in impotent rage. He forks a heart-shaped doughnut to mark his pain. Dong-ha pours him drink after drink, as the rest of the staff very awkwardly treads around them to clean up the most embarrassing remnants of a party ever.
Dong-ha tries to talk sensibly, about how they at least have to be on civil enough terms to put up a united front to the press—say, they broke up mutually or whatever. But Jae-ha's not even listening, as he stews about how he's gotta one-up her now.
He points to the sad decorations, "This isn't just my pride she stomped on! It's the Republic of Korea!" Pffft. Hey, why you dumping your problems onto innocent bystanders?
He gets furious the more he thinks about it, and stands up to shout that just rejecting her isn't going to cut it anymore. No, he's going to make her BELIEVE that he loves her. Hee, I so love where this is going.
"I'm going to make it so that she spends her entire life thinking that I love her, so that she can't marry anybody, and dies old and alone. And then! The second she dies, that's when I say: I never loved you."
HAHAHAHAHAHAHA. Oh. Oh man. My stomach hurts. Best. Plan. Ever. Have I mentioned that I love this show?
Ignoring the idiocy of the plan where he spends his entire life having to "pretend" to love her, Dong-ha says that's all fine and good, but how's he even going to do that when she won't give him the time of day?
Jae-ha slumps down with another sigh, "That's the problem." I'm pretty sure that's really the least of your problems right now. But sure, let's go with that. Suddenly Jae-ha perks up, "Call Shi-kyung." Aw, you couldn't even go 24 hours without contact, could you?
Shi-kyung answers the call in the middle of dinner with Dad. Jae-ha: "Tell me the truth. How did you seduce Kim Hang-ah?" Pffft, do you even know who you're talking to?
Shi-kyung tries to say that he never seduced her, but Jae-ha takes it as a sign he's not cooperating. "When I get to Seoul, you're dead!" After this drama, can these two do a buddy cop movie or something?
Dad mentions that maybe Shi-kyung ought to go back to law school – he can do more than just look after a prince. But Shi-kyung says he's already discovered that he's not as smart as Dad, and that the life of a soldier is what fits him best.
"But I will be a soldier who doesn't bring you shame." Aw. He's such a good egg. And yay for forthrightness and tough conversations with parents. Dad seems disappointed, but doesn't push the issue.
He heads out on assignment to pick up the princess (FINALLY!) but discovers on the way to the airport that she's pulled a fast one and boarded a different plane. The other agents wonder if they have enough manpower for the job, as three whole cars full of agents get out. What, is she a vampire slayer?
They track her down to a club in Hongdae, and Shi-kyung steps inside. There's a rock concert going on, and JAE-SHIN (Lee Yoon-ji) is singing onstage, wearing a blonde wig.
The crowd starts chanting her name, and she starts off the song by shouting mockingly into the mic, "What, that chick who poses in the palace in pretty dresses?" Ha, I love that she's the rebellious maknae. And here we though Jae-ha was the trouble child.
She rocks out, as she sings a song about doing whatever she wants to do, and Shi-kyung watches from the crowd. After the song, the agents drag her into a room in the back, where Shi-kyung is on the phone. He describes how bad the situation is—that the place is filled with punks and just earlier, some woman threatened the princess.
HA. Wait, does he not know she's sitting right there? Why is this character so funny? I love that Jae-shin rawrs at him on sight. She literally looks at him like a tasty treat.
He gets word that there's another cell signal from the princess' phone. Shi-kyung: "Where?" Jae-shin's like, yoo-hoo! Over here! And then he pins her down, demanding to know where she got this phone. Ha.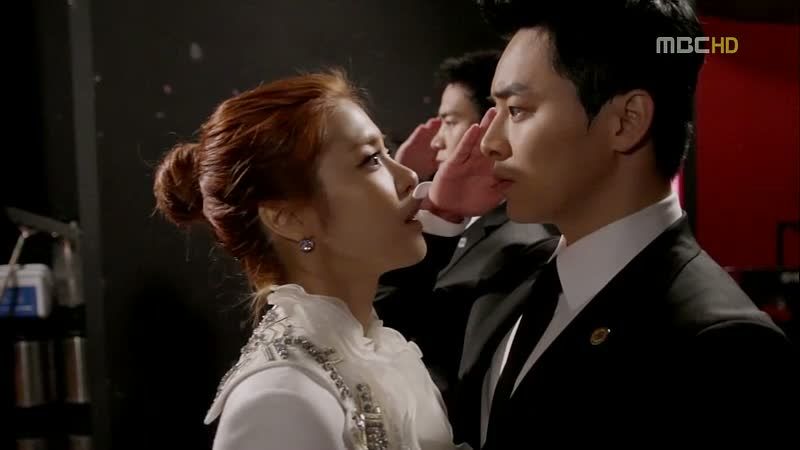 Cut to Jae-shin in her princess wear, as the line of agents salute her. She barks at Shi-kyung, "If I dress up am I a princess, and if I don't, am I a beggar?!" She gets all handsy with him, digging around for his ID tag as she says they're the narrow-minded judgy people who give the royal family a bad name.
Shi-kyung tries to explain the misunderstanding by saying she did not appear as the princess, but that's the very point she's trying to make. His literal brain doesn't understand, and she sighs that he's no fun. She declares that she's going to catch up with some old friends while she's here, so they can just wait. In full salute. Heh. Once she leaves, Shi-kyung lets out a long sigh, like he's really stepped in it this time.
Back at the Villa of Vengeance, Hang-ah finds herself alone at the breakfast table, per her requests. And then again the next morning. She sighs in disappointment.
The queen mother continues her service work as usual, serving food to the needy. But tensions remain high, as people stop to comment angrily that the prince can't marry a North Korean.
Jae-shin comes home and has tea with her eldest brother, who hands over one measly bill for allowance (like ten bucks) and she frowns like a kid. He says she'll worry Mom, running around singing at clubs, but Jae-shin counters that what Mom's really worried about is the possibility of gaining a North Korean daughter-in-law.
True. You've pretty much got a free pass while oppa's love life is causing an international ruckus. She thinks it'll be fun though, and asks what Hang-ah is like, already planning sister duets. Jae-kang leaves her with an adorable little pat on the head, and I can't wait till the three siblings are in one room together.
Bong-gu arrives in Korea, with requests to meet with the king. This time it's Secretary Eun who comes to greet him in the airport, with the news that the king does not have time to meet him, and has put him on the no-entry list for a year.
He has to turn right around and fly back out, and Bong-gu fumes, declaring that he'll show the king a true magic trick.
Hang-ah lights up at the sight of Dong-ha, whom she greets warmly as a friend. It turns out she called him to her room (ha), not because she's curious about the prince, no way. "But since you brought it up, how… is… the prince?"
Dong-ha sighs that he's not doing well at all. "I think he's traumatized." Heh. He mentions that Jae-ha said he didn't know Hang-ah hated him that much, and maybe it's better if he just stays out of her way.
The sad puppy routine totally works. She takes a stroll towards Jae-ha's room, and watches as he paces back and forth in front of his window and then turns out the lights. Kang-seok hilariously creeps up behind her, "Don't you think he's turning out the lights to watch naughty videos?" Ha.
Hang-ah glares, "I hear there's a SNSD special on tv tonight. Aren't you going to watch?" Kang-seok: "I q-q-q-q-quit them." And then he hurries off to "go for a walk."
Hang-ah goes back to window-gazing, as Kang-seok runs past her in the background. HA.
She lingers for a little longer, and then turns to go, which is when the figure in the window peers out. It's Dong-ha, who radios Jae-ha to start in one minute. This ought to be good.
As she walks, she's drawn by the sound of a piano, and approaches slowly. It's Jae-ha, playing a grand piano in the middle of a garden, because THAT's normal. Oh, heroes at the piano. Wouldn't be a k-drama without one. Though it's always nice when the actor can actually play and not be stunt-doubled.
He stops when he notices her, and acting purposely subdued and awkward, he starts to leave. But she stops him, asking what song he was playing just now. He says "Ave Maria." She doesn't believe him.
He swears it is, and then baits her a little, musing that someone from North Korea wouldn't know. She gets defensive, insisting that she grew up on the classics too—but she knows "Ave Maria" and that wasn't it.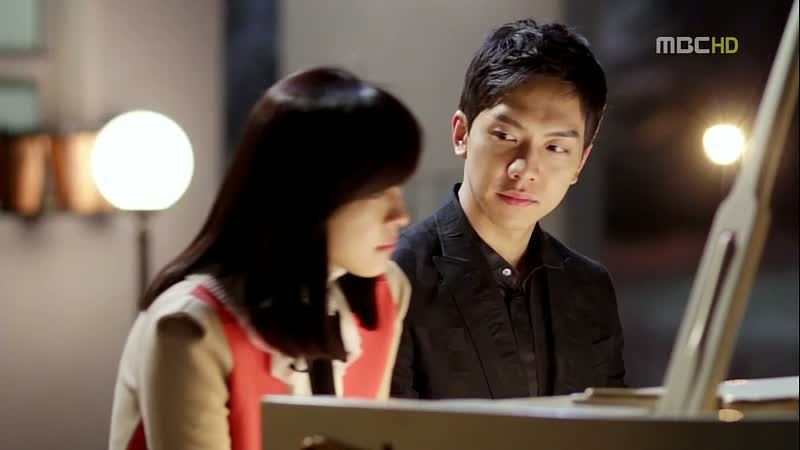 He gives a little chuckle and sits back down at the piano, explaining that he was playing the accompaniment – Bach's Prelude no. 1 in C major. "Ave Maria" the melody was written by Gounod over that original prelude.
She refuses to believe him, so he challenges her to try playing the melody to see if it fits, and she totally takes the bait. She sits down next to him and he starts again, this time counting down for her to play the melody.
She joins in, and when it fits, she beams. Jae-ha: "Bach and Gounod were born in different places, in different times. That their music fits together like this, is amazing." Music AND metaphors? It's the one-two punch.
She nods, totally swept up in the moment. They steal glances at each other, and then their eyes lock. The music stops, and he starts to move closer.
He inches in as she closes her eyes. Their lips get about a millimeter apart…
And then he stands up abruptly. "It's getting late," and he walks away. Aaaaack! You bastid! Grar, I hate to admit it, but that was good.
It leaves her hanging by just the right thread, as she returns to her room to look up Gounod and Bach. She ignores a call from Dad, and lies awake that night.
The next morning, Dong-ha asks if Seduction by Piano was a success, and Jae-ha hands him the file for the next song (ha) – "A Love That Cannot Be." Dong-ha wonders if that isn't too old-fashioned.
But Jae-ha reminds him that if she is to fall in love with him for the rest of her life, then he's gotta go with some hardcore melo – we're talking terminal illness, forbidden romance, the works. He says their North/South dynamic is perfect for a Love That Cannot Be.
Dong-ha: "But… what if she says she can't leave you?" Jae-ha assures him that'll never happen, because women want fantasy, and romance, and staying together turns it into something ordinary. Pfft, I don't know what's funnier—that Jae-ha believes he's a genius for this plan, or that Dong-ha has totally bought into it.
Hang-ah receives the thumb drive with the song, played over a slideshow of her. Hahaha. I swear, his cheestastic methods just crack me up. But she smiles as she sees pictures of their training days, and then flashes back to her own memories.
She sits pondering it all until nightfall, not even realizing that it's snowing into her room until a gust of wind blows through. She gets up to close the balcony door, when she spots Jae-ha pacing down below, strategically well-lit for maximum broody effect.
She watches him for a moment, and then a surge of emotion sends her running out the door. Jae-ha stops and looks up, and finds her terrace empty. He turns around, but that's when he sees her – running full-force toward him.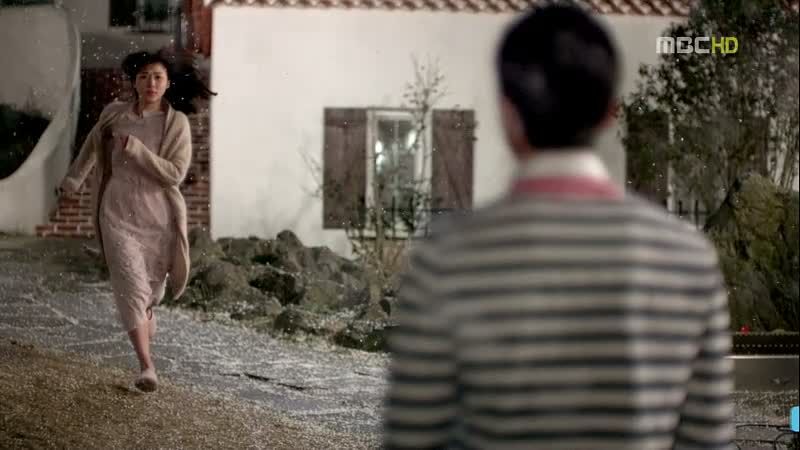 It catches him off guard and he stands there stunned, as she runs in slow motion, right into his arms. She launches her arms around him and he freezes, and his hands slowly close around her as they hold each other.
Melt. I love that we can see it happen—suddenly the line between fiction and reality begins to blur for him.
He lies comatose till the next morning, when Dong-ha comes running in, giddy that the whole staff is buzzing with rumors. He asks excitedly, "Which version are you going to go with? Kick to the curb or die old and alone?"
Suddenly Jae-ha's rethinking it all, "Isn't that a little harsh, you think? I mean, she's never even once had a real relationship. Don't you feel bad for her?" Dong-ha doesn't see what he's getting at—is he what, going to marry her?
"Not marriage, but… isn't there maybe a way I could hide her as a secret mistress?" Hahaha. Damnit, every time you make me think you're growing, then this.
Dong-ha starts to catch on that he likes her, which of course he refuses to admit. He decides to stick with the original plan, and goes up to see her. He tells her gravely that even if this is the end, he wants to be together, and then tells her that they'll announce it together at the press conference tomorrow: that the engagement is off.
But Hang-ah puts a big ol' wrench in that plan: "I'll do it. The engagement." Hahaha. Plan. Fail.
He starts stammering as he reminds her of all the reasons that it can't work between them. But she just comes closer and takes his hand, saying that they can overcome all of it because they have each other.
The more he argues the more she defends their love, until he finally snaps, "I don't want to! What am I, crazy? Why would I marry you? Can't you tell? It was all an act!"
Eeep! She looks up at him, still confused, still not knowing what to believe. He twists the knife further that he felt bad for her because she's never been in a relationship, and he wanted to give her a memory of a happy love and end it at that.
And then he blames her for being so naïve that she fell for it. Oh, is this like when serial killers say it's their victim's fault for wanting to die?
It finally hits her as tears come rolling out, "So it was all a dream?" He cruelly confirms it, "Yes, a play, all of it. That hug sure was intense. Who told you to fall for it, anyway? Why would you fall for that crap?! Are you trying to make it obvious that you've never dated?"
And then the kicker—he mutters that she's easy, and turns to go. OOF. Who said you could rip my guts out? Augh.
He leaves her shaking in tears. He storms out, and then turns back… but stops with his hand on the doorknob. Open it! Open it you evil son of a bitch! But of course, he doesn't.
It's time to fly to Seoul, and he looks over at the empty seat next to his. He asks where Hang-ah went, as if it's news that she'd want to be as far away from you as possible. Guh.
Press conference at the palace. All the family members watch on their tvs, told that the engagement will be called off. As they stand waiting to walk in, Jae-ha tells her that the MC will make the announcement, so she doesn't have to say anything at all.
The official statement will be that they were in love, but could not overcome all the obstacles that stood between their two countries. He muses that she must be sick and tired of him now. Really? Isn't hatred that burns with the fire of a thousand suns a little more appropriate? He tells her it'll all be over soon.
They're led inside and the live broadcast begins. The press asks for statements, and Hang-ah says she'll go first. Uh-oh. He turns to her nervously. Making eye contact with him, she says that she loves South Korean Prince Lee Jae-ha and will go through with the engagement.
OHMYGOD. Did she really just do that? Cameras flash. The room goes crazy. He stares, stunned. Is this her way of challenging his sincerity? 'Cause them's some balls, man.
And then it's his turn to answer. He takes a long moment, wracking his brain, trying to make a decision…
I love the backroom commentary. Dong-ha: "He's for sure going to say he doesn't want to." Shi-kyung: "He already declared that he loved her. Publicly." Dong-ha: "So you think he's going to just say he will? With HIS personality?" Haha.
Jae-ha turns to look at Hang-ah, back out at the cameras, and then finally speaks. Is he… reciting a poem? Ha. So the gist of the poem: The flowers have already fallen / The brief light of spring has now dried up / It's good! The rain that falls through the night / One stem of the plaintain tree rises.
Uh… way to be cryptic. That's literally all he says, as the entire room stares slackjawed, like what the… hell does THAT mean? Hang-ah turns to give him the evil eye, and he gives her a tiny little grin, like you can't beat me at my own game.
It's all over the media—various interpretations trying to figure out what the prince meant, and Jae-ha sits with little sis, watching the news. She asks what the hell it means, the poem about spring passing and summer coming. Is that a good thing?
Jae-ha sighs, "What's so great about spring ending?" Jae-shin gets up, "Oh, so it's a no-thank-you? I'll tell Big Oppa." But he stops her, "YEAH, but it also says that a new sprout came forth."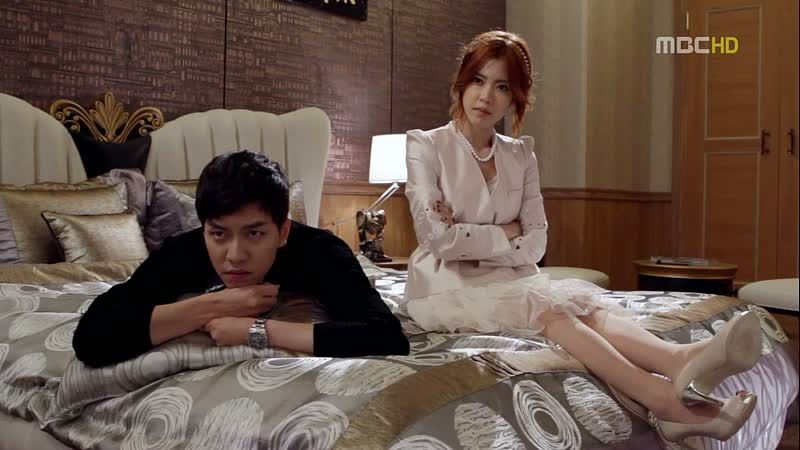 Hahahaha, so basically the poem is a representation of your bipolar wishy-washyness? I love that Jae-shin just rolls her eyes, like make up your friggin' mind! He tells her to go see what Hang-ah is doing.
Hang-ah takes a call from Dad, who is furious, all, Remember the plan where you were going to do the stomping? But I love that what he's mad about is his baby girl's heart, not the political ramifications.
She swears that Jae-ha treats her well, which might sound more convincing if she weren't crying as she said it, and she just says that this is what her heart wants. I think what she's banking on is that he feels the same, but isn't willing to admit it. I agree, but I also think you're underestimating his weaseliness. Also, you have more faith than the average bear, I'll give you that.
There's a knock at the door, and Jae-shin pops in to introduce herself. She says that Little Oppa sent her here on a mission to check on Hang-ah, so she's technically here as a spy. She asks what happened.
Meanwhile, Hang-ah's father works himself into a frenzy, and finally gets in a car headed for Seoul.
Jae-ha pops into Hang-ah's room, where Jae-shin is sitting there, arms crossed, glowering at him. Haha. One look and I know she's got the whole story.
He looks around but Hang-ah isn't there. He asks how she was, and Jae-shin tears into him (THANK GOD) for playing around with a girl's heart. I love it—he even gets scolded by his younger sister.
She starts to ask him what his real deal is, and then we see that Hang-ah is in the room after all, hiding in the closet. HA. Best sister revenge plan ever. In voiceover we hear what Jae-shin had said to her earlier, that Little Oppa is really lazy—he isn't the type to even waste that kind of energy on someone he doesn't care about.
Jae-ha finally spills some crucial beans: "If you get down to it, it's all Eun Shi-kyung's fault!" Jae-shin recognizes the name immediately, and asks if it's the royal guard, the super un-fun one.
Jae-ha gapes, "Did he seduce you TOO?" Hahaha. She asks if Shi-kyung really seduced Hang-ah, and he flips out that he's not good enough for her, but Hang-ah does this laugh in front him, and proceeds to demonstrate.
Jae-shin argues, what, is she not allowed to laugh that way? Jae-ha: "But I'M there!"
Pfffft. Oh, sweet justice.
He continues, "I'm a prince! And we shared a room, and spent WAY more time together! But how could she like him more?" HEE. He keeps going—that she refused to come to the sangyeonrae, and then all it took was one phone call from Shi-kyung for her to come running.
He describes that moment, agreeing that it was like a fuse was lit in his brain, and he went crazy. As he says that, he flashes back to their hug in the snow. Jae-shin: "Do you like her that much? That unni?"
He scoffs a denial, but she just stands up, calling out, "Unni, you heard that, right?" She opens the door, and there stands Hang-ah. He mutters and raises his fist at Jae-shin.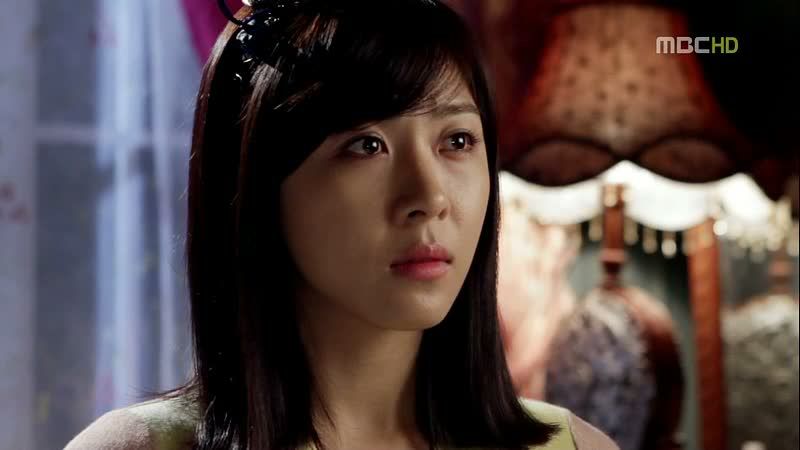 They sit across from each other in silence for a while, and Hang-ah wonders if it's South Korea that's so complicated, or men. "Be a man and just tell me. Do you like me, or not?" What? People being direct? Am I dreaming this?
Jae-ha: "And if I do? What are you going to do about it?" Eeeee!
He says even people who love their whole lives end up divorced, but what is he, a prince, going to overcome all the obstacles that stand in the way and be with a North Korean woman? "Do you think the world is that yielding?"
"Besides, why should I… when there's an easy road?" He's finally honest with her, but it's no less dark, which is what I find fascinating about his character. Jae-ha: "It's like you said. I'm trash. I only think about myself and only see myself."
Hang-ah: "There's no such thing as trash that admits it's trash." But he doesn't let her explain it away, "I'm digging a hole in the ground right now, to run away. Calling myself trash makes it easy."
The king gets word that Hang-ah's father is on his way, and we see him cross the border.
Hang-ah says that she's not totally innocent either – she did have some desire to trade up in life, and well, there may have been a teensy bit of revenge there. He laughs, "Your revenge was too strong."
But she realizes that spending her own life on revenge would only make her the loser in the end. "So let's just call the engagement off." HA. Omg, is this revenge on revenge? He starts to worry—how is she going to handle all the humiliation?
She figures she'll just go study abroad and marry a foreign man, whatevs. Pffft. He asks, what about the WOC? But she laughs that someone else can surely take her spot. And with that, she gets up and tells him she had a good time, and puts her hand out for a shake.
Hahaha. How does she do it? How does she manage to always get the last word in?
He just stares up at her, asking if this is really the end. He leaves her hand hanging there, so she pshaws that he doesn't even want to shake her hand as a comrade.
He tells her that if this is goodbye, then in the south, they do something different to mark the occasion. Is it smooches? He says they even have a fancy name for it: Wrap Party. Ha.
Cut to: happy drinky times. They're so sweet when they're not sober! They do a love-shot and Hang-ah looks at the empty bottle of liquor like the rascal went and emptied itself while she wasn't looking, and hobbles over to the fridge to get some more.
She swoons at the fridge stacked a mile high with bottles, "Is this ALL liquor?" She plops down right there and tells him to bring the food. I don't know if that's one of Seung-gi's CF fridges, but it's kind of messing with my brain. Stop colliding, universes!
The king greets Hang-ah's father, who sternly asks to see the prince Right. Now. Ruh-roh.
Jae-ha parks it next to her on the floor, and after a while, she starts nodding off. He pokes her in the head and taps his shoulder for her to lean on him, but she says she's not falling for that again.
"You just want to try and kiss me again." Jae-ha snorts, reminding her that she's the one who dreamt it, remember? He pets her hair, and then teasingly tries to pull her close, but she resists with a stinkface, saying she knows what he's really thinking on the inside.
He pulls her head in, "So, you want me to?" Up until that moment it's all fun and games, but then she looks up at him in earnest. He gulps.
She brings her fingers up to her lips, saying that hers are untouched, but his have kissed a hundred times before. They linger like that for a moment, and then he wraps his arm around her and pulls her close. Oh, swoon.
He whispers, "So?" They look into each other's eyes… he gulps again…
And then we cut to outside the palace. WHAT? Why are we cutting? WHY ARE CUTTING?
Jae-kang and Hang-ah's father are being marched over…
Once he pulls her in, he takes her hand. He adorably warns her that she can't handle him. She says they'll see about that. I love it—they're still bickering, but you can actually see the magnetic force, like they're trying to fight it off with words but their lips keep getting closer.
He asks what about Jang Dong-gun (ha) and when their lips are an inch away, he murmurs: "Who'd marry you?" She whispers back, "It doesn't matter as long as it's not you." Hee.
They kiss. Again and again. He pulls her in closer.
By the time Hyung and Dad storm in, they're making out, and get caught red-handed like a pair of teenagers. The father figures gape awkwardly.
They jump up with a start. Pfft, Jae-ha's little sight gag with the fridge door popping open cracks me up. They bow their heads nervously, hands over their lips.

COMMENTS
Swooooon. Nothing beats an equally-matched screwball pair, bickering their way towards each other like a force greater than gravity. I love that their bickering goes on even on their way towards kissing each other, like a last line of useless defense. They kill me. This show has done such a good job of teasing the romance – couching the flickers of real emotion within all the layers of crap they fling at each other. We're teased along with them, never knowing which way is up. I love feeling like I'm being carried by the momentum of that, and not just waiting for the standard steps the way they've been danced a hundred times before.
It's like this drama knows and relishes in the inherent pleasure of watching an ass get hoisted by his own petard, because I'm pretty sure every episode now, Jae-ha has done something even assier than before, and then gotten a comeuppance as juicy as deserved. But hearing him admit that he's selfish and looking for a way out at all times is also satisfying, because it shows that even if he has the worst case of spastic foot-in-mouth syndrome ever, he's not completely thoughtless. In the rare moments when he treats Hang-ah like a friend or a little sister, it's like a glimpse into someone else, or a better side of him. And this episode brought the longest stretch of that, in letting them finally share a moment of honesty without the bullshit.
I'm so glad that Jae-shin finally showed up. I feel like we had to wait forever for her. She's a great breath of fresh air in the palace, and I already love the good-natured family dynamic, as I love all the families in this drama, actually. She's going to be a fantastic foil for Stick-in-the-Mud Shi-kyung, who continues to be the funniest character I've encountered in a while. It's all in the writing too—because all he has to do is play everything straight, while everyone around him misinterprets his actions. I die every time Jae-ha adds something to the convoluted narrative that's entirely inside his head, about how Shi-kyung is this mastermind ladies' man who has it out for him and won't share trade secrets. I'm seriously never going to get tired of that reluctant bromance.
My favorite thing about the show is of course the writing, but it's also just stunning to look at. I love the moody lighting, the music, the way every scene is crafted. The tonal twists continue to be the thing of beauty though – the way a scene is both written and directed sometimes purely for a laugh (earnestness is undercut with humor), and other times to hit you with a wave of emotion (humor undercut with sudden sincerity). It's unabashedly romantic, but that's kind of why k-drama is good at what it does. What's a love story without a little romance?

RELATED POSTS
Tags: featured, Ha Ji-won, Jo Jung-seok, Lee Seung-gi, Lee Sung-min, Lee Yoon-ji, The King 2 Hearts