The Thieves releases introductory trailer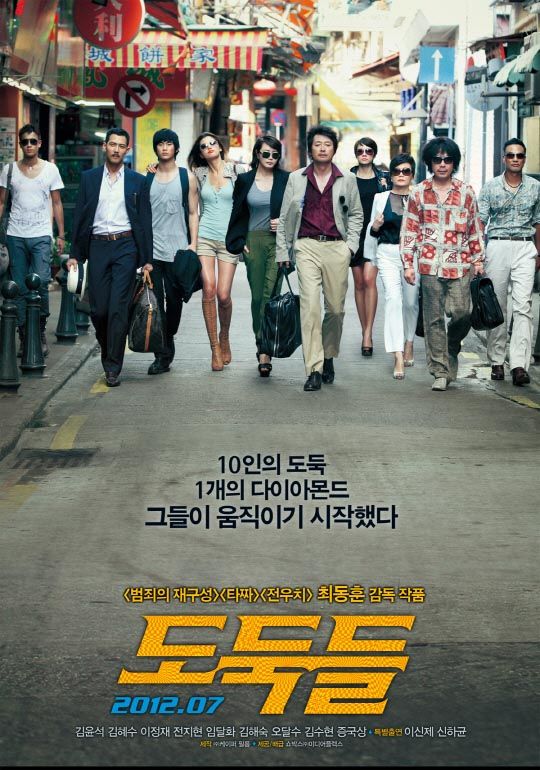 Here's the trailer for The Thieves, which may be the movie I'm most looking forward to right now, because despite its less-than-original plot (a diamond heist that's basically Ocean's Eleven in Macau), it's got a killer cast, a skilled director (Jeon Woo Chi, Tazza), and looks snazzy and fun to boot.
I'll never assume a project is awesome just because it's got a fantastic cast, but you can hardly thumb your nose at this one: Lee Jung-jae (The Housemaid), Kim Hye-soo (Villain & Widow), Jeon Ji-hyun (Blood: The Last Vampire), Kim Yoon-seok (The Chaser), Kim Soo-hyun (The Moon that Embraces the Sun), Oh Dal-soo (Detective K), Kim Hae-sook (Thousand Day Promise).
The poster above reads, "Ten thieves. One diamond. They're on the move."
With so many characters, the teaser is basically a brief intro to each one. The ten teammates scheme to steal a diamond from a casino in Macau and operate using nicknames, so we've got characters like shrewd mastermind Popeye (Lee Jung-jae), legendary safecracker Pepsi (Kim Hye-soo), tightrope-walking Anycall (Jeon Ji-hyun), gum-snapping Chewing Gum (Kim Hae-sook, who poses as a mother-daughter pair with Jeon), "cowardly gunman" Andrew (Oh Dal-soo), and romanticist rookie Zampano (Kim Soo-hyun).
Then there are the Chinese contacts: leader Chen (Simon Yam), Johnny (Derek Tsang), and Julie (Angelica Lee). At the end of the trailer, Jeon Ji-hyun's on the phone call with a guy who asks, "Whatcha doin'?" She replies, "Stealing."
The Thieves releases in July.
Via No Cut News
RELATED POSTS
Tags: Jeon Ji-hyun, Kim Hae-sook, Kim Hye-soo, Kim Soo-hyun, Kim Yoon-seok, Lee Jung-jae, Oh Dal-soo