A detailed look at the main characters of Bridal Mask
One of Bridal Mask's (aka Gaksital) biggest selling points—for me, at least—is that it's set in an interesting time period full of dramatic historical events that isn't (1) done to death in drama after drama, and (2) features a rich tableau of conflict and character complexity. Oh, and (3) it's rocking some snazzy fashions.
Take, for instance, lead actor Joo-won dressed in his daywear, which is to say, as the citizen Lee Kang-to and not his nameless masked crusader guise who becomes known as Bridal Mask. The word dapper comes to mind.
Furthermore, his character is built with fascinating layers and a reversal that I'm itching to watch unfold. The description describes Lee Kang-to, a police officer, thusly: "He's never lost to anybody. He's never acted out of consideration for others, or yielded to them. No, he doesn't feel the need to." His father, a high-ranking official active in the independence movement, died at the hands of bandits after crossing the Yalu River, after which he was left to fend for himself, hiding in the harsh terrain of the Gaema Plateau, fighting with beasts over a mere potato.
Still, Kang-to tamped down his own desires and endured because of his older brother, who would one day help re-establish their family name. But one day his brother suffers an injury and is turned into an imbecile—all thanks to that damn independence movement.
And so, Kang-to decided: "Forget Joseon, ruled by the king's line—I'll be loyal to the Imperial Japanese Empire, where the slave who used to dress the lord can become a ruler." With no money, backing, or education, he hears that a man can die a martyr if only he has strong fighting skills, and throws himself into learning geomdo (kendo).
Once he earns that recognition for his skills, he becomes the capital's top "cold city man," the crown prince of the social world. "But he had no idea that with the appearance of that damned Bridal Mask, the sweet dream would shatter. Or the fate that awaits him…" And then the heroic turn begins.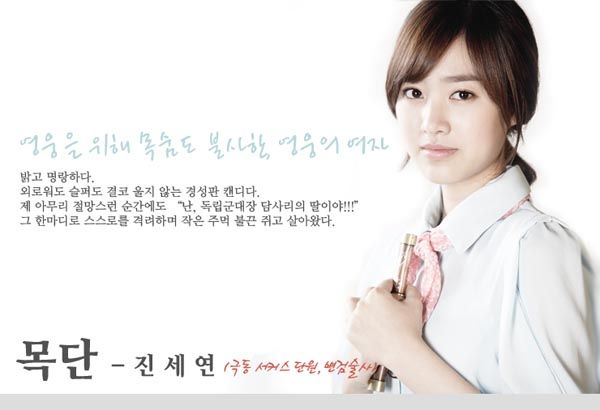 Jin Sae-yeon plays Mok Dan, a member of a circus troupe with a bright personality. Whenever she starts to feel despair, she reminds herself that she's the daughter of a leader in the independence army, a man born into the lowly slave caste who rose to become army general.
At the age of ten, she and her mother crossed the northern border in search of her father, only to have Mom die. And while Dan hovered between life and death, she was saved by the young man, our hero. Her life's goals become twofold: Find her savior, and find her father.
It's for that reason that she gives up an advantageous opportunity to leave for America and chooses instead to wander the entire country with a traveling theater troupe, learning the arts, keeping her ears open for any talk of those two men.
Park Ki-woong plays Kimura Shunji, a teacher living in the capital (Kyungsung, or old Seoul) with a gentle personality that belies a strong backbone. His father was a samurai and Shunji was raised learning how to swordfight, but he grew up to become the opposite of his father's ways. When Dad told him that Joseon was a land of savages, he disagreed and gave up the sword, choosing to become a teacher there.
Shunji was born in Kyungsung and had a loving Korean nanny, and perhaps for that reason he has affection for the country. He falls for a Korean woman as well, our heroine… who loves Kang-to, his friend. And this love rivalry with Kang-to sparks a change in Shunji, which sounds like lots of angst is in store for his future.
Following the opposite trajectory is Chae Hong-joo (Han Chae-ah), a Korean woman who takes up a Japanese identity and reinvents herself as Ueno Rie.
Hong-joo/Rie is a strong woman with diverse sides—a singer, a gambling master, a spy who makes poisons and explosives—who's skilled with artifice and lies.
She was born to an aristocratic family, but because her father refused to monetarily support the independence army, the general killed him. Her mother died from the shock and their servants burned the house down, overturning her life entirely. Hong-joo became an orphan and beggar, driven to survive to avenge her parents' deaths, becoming a gisaeng at the age of nine.
The mere mention of Joseon's independence army has her burning up in fury, which goes noticed early on by a Japanese man named Ueno Hideki, who adopts her as his daughter. Thus she undergoes army training and comes to Joseon to kill the man known as Bridal Mask who has been killing members of their secret organization Kishokai.
Fascinating stuff, no? Bridal Mask / Gaksital premieres on May 30. WHO'S EXCITED?
Via Review Star
RELATED POSTS
Tags: Gaksital, Han Chae-ah, Jin Sae-yeon, Joo-won, Park Ki-woong