And now, for a look at Bridal Mask's other leads
We finally get a look at some of the other cast members of KBS's upcoming Bridal Mask—not that we mind seeing lots of Joo-won, mind—starting with second lead Park Ki-woong, pictured here at the recent poster shoot.
The drama is set in the 1930s amid the independence movement against Japanese colonial rule, which makes Park's character particularly interesting. He plays Shunji, a Japanese police officer with Korean sympathies and a gentle demeanor. I wonder if that makes him a sympathetic "enemy" type, or an unconventional ally. Or is that splitting hairs?
More so than Park's photos, though, I'm loving the ones of Han Chae-ah, which get me excited about all the period costuming to be showcased in the drama. Her character sounds like a much more clear-cut antagonist: She plays Chae Hong-joo, a spy posing as a seductive singer. She was adopted to Japan and comes to Korea to eliminate that pesky hero Bridal Mask, the masked crusader fighting against the Japanese. But complications arise when she falls for him instead.
Last but not least, we have Jin Se-yeon, the leading lady who romances Joo-won. She plays Mok-dan, she of the lively Candy personality (aka, smiling in the face of adversity, like all good heroines do). Unlike most good heroines, she is a member of a circus, which just may be the first time I'm hearing that description for a drama lead. Jin's photos are sel-cas she recently posted, dressed in drag.
The hero breaks off their relationship when he chooses to take up the identity of masked, unnamed freedom fighter, and thereafter Mok-dan becomes "a woman who would risk her life to protect him." A heroine, protecting a superhero? Now that's something I can get behind.
Bridal Mask follows Equator Man on Wednesdays and Thursdays.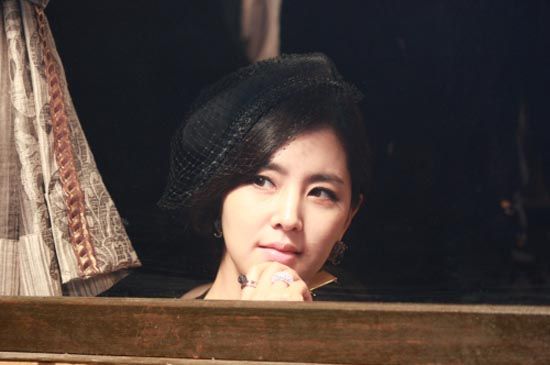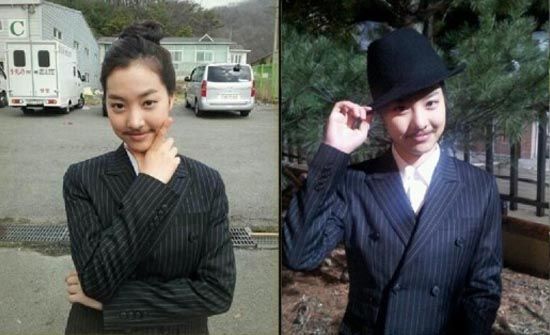 RELATED POSTS
Tags: Gaksital, Han Chae-ah, Jin Sae-yeon, Park Ki-woong