Arang and the Magistrate adds to its cast

Han Jung-soo, Kwon Oh-joong
Fusion ghost-mystery drama Arang and the Magistrate has added a few more names to its cast list as it gears up to begin shooting later this month. The drama stars Shin Mina as Arang, the woman who is murdered and takes to "haunting" the local magistrates in an effort to win justice for herself, until the newest one finally listens to her (Lee Jun-ki). To fulfill the fantasy-romance quotient, the two leads somehow have a romantic development despite the fact that, you know, she's dead and he's not.
Supporting leads include Yeon Woo-jin as a villain and Hwang Bora as Arang's shaman sidekick. Adding to the paranormal element, Han Jung-soo (Chuno, Poseidon) plays another mystical figure as a "guardian angel" who guides the spirits of the deceased to the afterlife and is the right-hand man of the King of the Underworld. But he's also got one foot aboveground, as the "most trusted friend of the King of Heaven." Hm. Interesting duality, although perhaps in this mythology Hades and Heaven aren't necessarily at odds.
Then there's Kwon Oh-joong (The Duo, Gourmet), who plays Lee Jun-ki's manservant Dol-swe. He's a simple-minded fellow, strong as an ox and loyal to the utmost. That makes him a protective friend and hyung figure to our magistrate, ready at the drop of a hat to charge in to keep him from harm. Aw. Already I feel the warm fuzzies of bromantic potential.
Yoo Seung-ho isn't a fixed regular in the cast, but he'll have a special guest role playing a king, sort of. He's the above-mentioned King of Heaven, aka the supreme ruler of the skies, and while this one's not a historical ruler I'm still amazed that it'll be Yoo Seung-ho's fourth king role when he's only 18 years old. The king is described as having a carefree personality, and he'll offer Arang and the magistrate an important clue. Yo, he's the almightiest of the almighties; you'd think he could give more than just a clue. But then I supposed we'd have no drama.
The drama plans to air on MBC on Wednesdays and Thursdays, beginning in late July.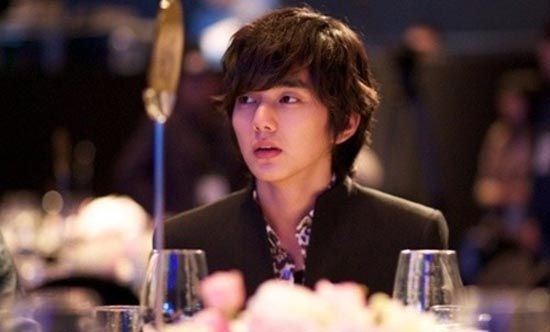 Yoo Seung-ho
RELATED POSTS
Tags: Arang and the Magistrate, Han Jung-soo, Kwon Oh-joong, Yoo Seung-ho