Cable drama Panda and Hedgehog serves up sweet romance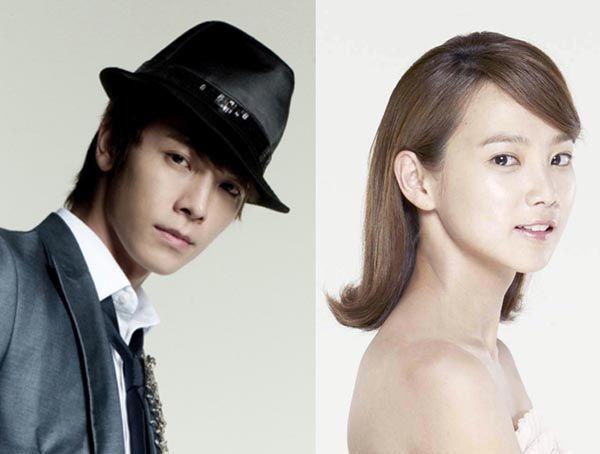 Despite having a pretty dismal track record for drama programming, cable station Channel A is giving it another shot with Panda and Hedgehog, a series starring Super Junior idol-turned-actor Donghae and Yoon Seung-ah (The Moon That Embraces the Sun).
It's a "sweet, lively" romantic comedy where our panda and hedgehog are metaphors for our couple's personalities, which means Ms. Panda is peaceful and plodding, while Mr. Hedgehog is prickly and sharp (Donghae will even sport spiky hair to make the hedgehog analogy complete—yunno, in case you don't get it). So, it's basically every rom-com setup ever, just with new symbology.
There isn't a lot of information about the actual plot, but it appears to involve cakes and bakeries of some sort. Third wheel Choi Jin-hyuk (I Need Romance) has also been cast, and he'll play the gyopo (educated abroad) president of "Korea's top cake franchise," Saint-Honoré. Just one of these days, couldn't we have some businessman own a franchise that isn't the best in the whole nation? One that just does okay, maybe?
Choi's character looks like your typical prince type, but harbors resentment against his parents (a vaguely described "feeling of betrayal"), which has made his personality cold. But once he meets Ms. Panda, he'll start displaying bits of aegyo, which should be an interesting combination—cold and distant, mixed with cutesy and affectionate.

Choi Jin-hyuk
I have two thoughts about this casting: How funny, since Donghae and Choi Jin-hyuk played brothers in last year's It's Okay, Daddy's Girl. At least they didn't play brothers who fought over the same girl, but there's a good chance that's what it'll feel like here.
Secondly, how the hell does Donghae get top billing over Choi Jin-hyuk?! Okay, Donghae's pretty and all, and he seems like an adorably earnest, maybe-a-little-socially-awkward guy (see: his cringe-inducing appearance on We Got Married) with a sweet real-life personality. But his acting? Shudders. He was terrible in Daddy's Girl, and the only reason he didn't embarrass himself entirely in that drama is because everyone else was pretty terrible along with him.
In fact, I remember thinking that Choi Jin-hyuk was the only actual actor in that show full of rookies and idol stars, and cringed for him wasting himself on such a show. Then he went on and stole hearts in I Need Romance, and I was hoping that after his recent show My Daughter, Flower ended, he'd pick a better, more visible project. (My Daughter's a daily.) He really deserves a solid, buzzworthy role to take him to the next level. Choose better projects, Choi Jin-hyuk!
Here I thought Channel A was giving up dramas, scared off by the performances of Color of Woman, Bachelor's Vegetable Store, and Goodbye Wife. It makes me wary of this drama, and I'm not sure one strong actor can make this one work. On the upside, I'm glad Channel A isn't giving up entirely, either.
Panda and Hedgehog plans to air in July.
Via Joy News
RELATED POSTS
Tags: cable programs, Choi Jin-hyuk, Donghae, Yoon Seung-ah