Gentleman's F44 and meet-cute
All suited up and ready for action. A Gentleman's Dignity has released more stills, this time of our middle-aged-flower-men quartet (Seriously, this is what they're calling it. I think F44 is better by a long shot.) and of Jang Dong-gun and Kim Haneul's first meeting, on a rainy day outside a cafe.
The foursome look dapper in their suits (can't really live up to the name in the title if you're not in a suit), although Lee Jong-hyuk looks more pimp daddy than dignified gentleman. He's rocking some weird hair for this role. And what's with the glaring lack of socks? I don't care how pretty you are. You wear socks with your suit or I can't take you seriously. Or perhaps that's the point.
Then the stills below show the couple's first meeting, when they notice each other through a cafe window and lock eyes. There's not much we can glean in the way of chemistry from a meeting separated by glass, but everyone seems to be abuzz over the pair's first encounter.
But what cracks me up the most are the stills at the very bottom, of Kim Min-jong and Kim Suro playing the high school versions of themselves. HIGH SCHOOL. I honestly don't know which is funnier–that we're supposed to buy F44 as F4, or Kim Suro's insane hairdo, that's two wingtips away from Flock of Seagulls. I'm thinking he looks more like a crazy ajusshi who ate the high schooler that uniform belonged to, and then put it on as a trophy.
A Gentleman's Dignity premieres May 26 on SBS.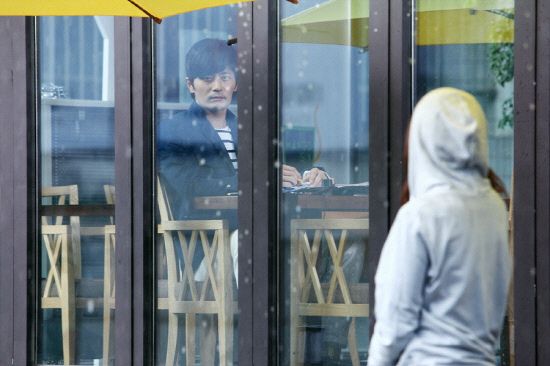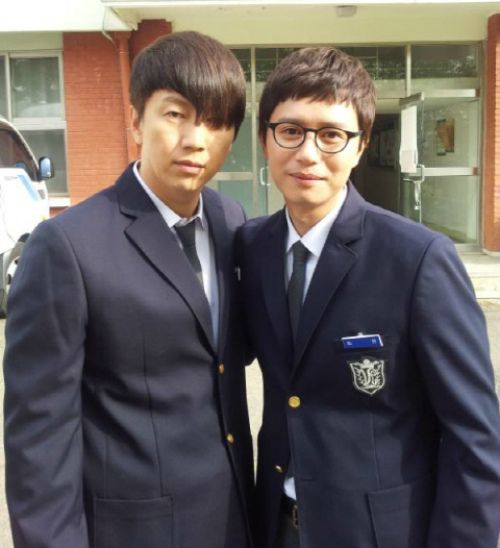 Via Osen
RELATED POSTS
Tags: Jang Dong-gun, Kim Haneul, Kim Min-jong, Kim Su-ro, Lee Jong-hyuk