Hero: Episode 1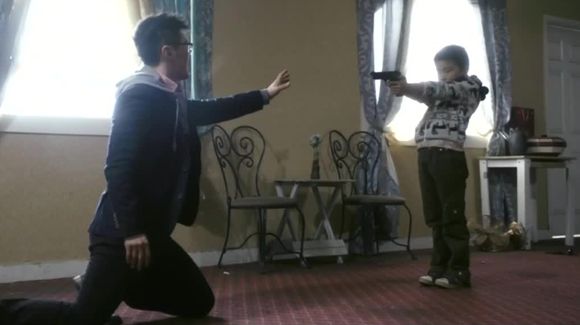 This. Is. Whoa. Hero is like the brain child of Vampire Prosecutor and Special Affairs Team TEN. And then it ups the ante with a dash of The Dark Knight. Oh, and props to a female cop who KNOWS how to kick ass. Here's episode 1, "The Beginning." Apologies for the length – episode one is like Ten, running at over an hour and a half. It's like another mini movie.
SONG OF THE DAY
U-Kiss – "Erase" – Hero OST [download]
Audio clip: Adobe Flash Player (version 9 or above) is required to play this audio clip. Download the latest version here. You also need to have JavaScript enabled in your browser.
We're in the near future in the (fictional) city of Muyeong. South Korea is suffering from a great depression. There is a great divide between the very very rich and the very very poor, and no street is safe. Corruption runs rampant, and technology advancement is at its peak (think holograms, floating screens, and almost-invisible mobile phones).
It's Christmas, and in an abandoned neighborhood church, a group of young orphans sing "Silent Night." The pastor, LEE BEOM JOON (Kim Eung Soo), adorns a Christmas tree with another child. Meanwhile in the pastor's office, a young man – KYUNG HO (Hong Jong Hyun) – breaks into the locked file cabinets and finds some cash. He takes some, but not all, his guilty conscience taking over. He also finds a jar of coins with an antique key in it. His clumsy fingers drop the jar, shattering it all over the floor. However, Kyung Ho only pockets the key.
Outside, a dark van drives up to the front of the church, with LEE JAE IN (Otani Ryohei) leading a few gang members inside. Kyung Ho hears the ruckus outside and crawls out for a look, hiding behind a pillar. Jae In is expecting a certain "gift" from Pastor Lee, but the pastor has no idea what he's talking about.
Kyung Ho has his wits about him, and takes out his phone to record the whole thing. One of the gang members enters the office searching for something, but finds nothing. Jae In mocks the pastor: does he think that this small hiccup will derail all their plans? Pastor Lee: "No authority lasts forever."
The "gift" not found, Jae In turns to leave, but then he hears Pastor Lee pray to God to forgive him. Well, religion just pisses him off, so he shoots Pastor Lee point blank in the head. The other gang members use their machine guns to shoot all the poor innocent children dead. No one sees Kyung Ho, who's filmed the whole thing.
One bright morning by the pier, the mayor's chauffeur KWON HYUK KYU (Park Won Sang) is waiting for a certain guest: KIM HEUK CHUL (Yang Dong Geun), second son of the current mayor KIM HOON (a sinister and old-looking Son Byung Ho) and recently deported from China. He even gets escorted by the Chinese soldiers – that's how much they don't want him there. Once released from the soldiers, Heuk Chul tries to sneak away, but Hyuk Kyu is too fast for him. He manages to grab Heuk Chul in a series of binds and holds, and block every one of Heuk Chul's attacks. Hyuk Kyu: "I've never seen anyone not improve this badly." HAHAHA – I love how lame Heuk Chul is already.
Mayor Kim holds a press conference with the same old political mumbo jumbo ("I will protect the citizens!" "I will capture the good pastor's killer!" "I will save this city!"), and it's broadcast all over the city. Heuk Chul can tell his father will win a re-election, and notes that his older brother MYUNG CHUL (Choi Chul Ho) must be pissed (at his arrival?). Myung Chul is the city's chief prosecutor and likely to follow his father's footsteps into politics. They also have a sister in law school – she doesn't arrive in this episode just yet. Heuk Chul is the black sheep – he always gets in trouble with the law. But since the election is in a week, he promises to lie low.
When he arrives at home, he overhears his father and Myung Chul practicing a political debate. Myung Chul fires questions at his father about his failed policies against crime, and why Heuk Chul had to return from China. They're all the tough questions that manager JANG CHAE OK (Oh Soo Min) isn't asking, and they seem to come from a deep-rooted resentment against his father.
His way of "lying low" is going out to the clubs at night. In front of the bartender, he dumps a roll of cash and asks for the most expensive drink. A sleek woman, YOON YI ON (Han Chae Ah), catches his attention, but she's meeting someone else – Kyung Ho. She signs to him to stop drinking, and so we learn that Kyung Ho is deaf. He's depressed about witnessing the pastor's death, and Yi On promises that she'll catch the killer.
A waiter comes with a drink for her, bought by Heuk Chul. She rejects it, and Heuk Chul prods her to drink it. He'll pay for it, and dumps several bills on the table. That catches some of the club goers' attention too. Yi On takes the drink, toasts it to him, and pours it all over his shoes. Nice!
Heuk Chul heads over to the bathroom, and is accosted by three guys who saw him flash his cash in the club. They want his wallet and, not willing to fight, he hands it over. However, he's not willing to give up the watch. They punch Heuk Chul in the face, knocking off his glasses, and they kick him on the ground. He's unable to see or fight back, but he's terrible at fighting anyways.
Suddenly, the boys have a visitor. It's Yi On, and she washes her hands in the sink. The boys stop to stare at her, and she tells them to shut up and stop fighting, or things will get bad for them. The boys laugh – what's this girl doing, telling them what to do? They grab her, and she kicks one of them into the stalls. Bam, bam, pow! She deftly avoids all their knives and cracks one of their heads on the urinals too. Heuk Chul screams, "WHOA!" as he sits helplessly by the sinks. My sentiments exactly.
Turns out, Yi On is a detective. She returns the wallet to Heuk Chul (and he is so in love with her), and has the other three men arrested. While waiting for her partner, YOUNG JOON (Jo Jae Yun), Heuk Chul flirts with Yi On, asking for her to write something on his new app that can analyze people's personalities based on their handwriting. Yi On rolls her eyes. She reminds him to stop being so flashy with his clothes and waving his wealth around; in this time and environment, it's a crime to be rich.
Heuk Chul returns to his little hideout, where his best friend DONG MIN (Kwon Min) is working on wooden models of army tanks. Heuk Chul throws a roll of toilet paper at his head, so Dong Min drops the model. Uh oh – looks like Heuk Chul-Godzilla is in town, and he proceeds to break every single one of Dong Min's models. Dong Min: "NOOOOOOOOO!" This is one heck of a beautiful friendship.
He then has Dong Min look up Yi On, since he's an expert computer hacker. Dong Min marvels at Heuk Chul's new find – not only is she a talented fighter, but she works in the homicides division, and she's single. Her parents are dead, and her soldier brother is missing. Dong Min: "You always go for the ones you can't get."
At work the next day,  Myung Chul presents the pastor's case to the homicides division. He has the team look for Lee Man Jae, leader of the Man-Sun gangs. His accomplices were found dead not too far from the church; they were killed to cover up their crimes. Man Jae also has a grudge against the pastor because all his teenage members were slowly leaving him for the church, so he is the most likely suspect.
Yi On and Young Joon are assigned to stakeout Man Jae's home, where his mother and his son live together. Young Joon mentions that he did a background check and realized Heuk Chul is really rich… which is why he invited Heuk Chul over to the stakeout. And right on cue, Heuk Chul pops into the car. Hee. His excuse is he wants to give Yi On a reward in the form of a brand new wardrobe. Yi On: "Why, do I look naked to you?" Heuk Chul: "That would be nice…. ah, crap, now I just imagined it." HAHAHA. Young Joon's a great matchmaker.
Man Jae and his henchmen show up in front of the house. Since backup would take too long to arrive, Yi On suggests they take down Man Jae themselves. She orders Heuk Chul to stay put, but then thinks better of it.
While Yi On and Young Joon station themselves outside of the house, Heuk Chul takes the car and drives it right into Man Jae's van. 'Cause he's a rich lunatic, is all. The van's alarm goes off, so Man Jae has his men check it out. Meanwhile Yi On and Young Joon sneak into the house, and one by one take down the goons that come their way. Yi On ends up facing off Man Jae in front of his son and mother, and she manages to grab him into a chokehold with a towel. However, Man Jae grabs the upper hand and knocks her on the floor.
Just when Man Jae is about to crush her with a chair, Young Joon bursts in, gun raised. Man Jae freezes, and then his mother comes in and knocks the gun out of Young Joon's hands. Whoa, Granny… The gun lies in the middle of the floor… and Man Jae's young son picks it up. Uh oh… He points the gun at Yi On, hands shaking. Man Jae smiles proudly, and tells his son to shoot – to kill all strangers who enter their home. He aims the gun at Young Joon, and then at Heuk Chul. Heuk Chul falls to his knees, calmly telling the kid to put the gun down. Heuk Chul: "One day, you'll realize your father wasn't always right." That speaks volumes about his relationship with his own father.
Heuk Chul crawls forward, and the kid is ready to drop the gun. Except, his Granny grabs the gun and shoots Heuk Chul right in the heart. Whoa. Wait  – DID YOU JUST KILL THE MAIN GUY?
Yi On quickly tries to staunch the bleeding and force Heuk Chul to stay awake, but he passes out. He dreams he's in limbo,  with the insides of a clock hanging from the dark clouds above him. Tick tock…tick tock… and in the distance he sees a watery mirror. He runs towards it, and sees doctors frantically trying to save his life. Even his father is watching with a concerned expression. Real Heuk Chul flatlines in the hospital, and the watery mirror disappears for Limbo Heuk Chul.
Mayor Kim is not ready to give up on his son, and he bids a scientist/doctor to help save him. This scientist/doctor has concocted a new serum that just might help bring Heuk Chul back to life. He injects it, and silvery stuff start crawling around Heuk Chul's body, congregating around the bullet hole in his heart. And his heart starts to beat again.
Myung Chul arrives at the hospital with his posse, and are greeted by Yi On and Hyuk Kyu. Yi On apologizes, feeling that it was her fault for not having protected Heuk Chul better. She also realizes at this moment that Heuk Chul is part of the political Kim family. Myung Chul dismisses her apologies – it was just Heuk Chul's bad fate he ended up this way. Such great brotherhood.
The news reports make Heuk Chul sound like a hero (that he was saving Granny and Son instead of telling them to put the gun down). Yi On gets back to the case and tracks Man Jae at a port, trying to leave Korea. She and her partner, along with more backup, corner Man Jae at the docks among all the shipping containers. It's a fierce battle, but finally Yi On manages to point her gun at him when all he's wielding is a knife.
In the Kim Mansion, Heuk Chul finally awakens in shock. He's surprised to find that he's alive as memories of being shot come flooding back. Hyuk Kyu is by his bedside, and he hands over glasses. Except… Heuk Chul doesn't need them anymore. In fact, he's feeling great, and it's only been two days since he was shot. He goes to hang out with Dong Min, who marvels at his fast recovery, and helps out in building the model tanks. He cuts himself with the pliers though, but by the time Dong Min hands him a bandaid, the cut has magically healed itself.
Heuk Chul is… Wolverine!??!
Freaked out, he runs to the bathroom and undoes his chest bandages. Underneath it all, his bullet wound is gone. There isn't even a scar.
In the station, Myung Chul goes to question Man Jae himself. The truth serum hasn't worked, and so they haven't been able to get a confession out of him. Myung Chul refuses to entertain the idea that they may have the wrong suspect though. When he enters the interrogation room, he injects some truth serum in himself to level the playing field. He reveals that his own mother had committed suicide, and Heuk Chul was the first to find her. A pastor had come in for last rites, but he told Myung Chul that a person who commits suicide will be stuck in hell. He then mentions that Man Jae's father had also "committed suicide." Because Man Jae's father was always a drunkard, he used to beat his wife, who was a Vietnamese immigrant. Instead of "suicide," his mother was actually the one to kill his father, right? Man Jae screams in anger and attacks Myung Chul. He understands the threat – if he doesn't confess to killing Pastor Lee, his beloved mother will be charged with murdering his father.
Yi On watches the whole proceedings, slightly disturbed by Myung Chul's ruthlessness.
Time for Heuk Chul to perform an experiment! He speeds through the city, attracting the attention of some traffic police. They make chase, and Heuk Chul escapes into a tall parking building. He goes up as high as he can, and then revs the car. Pressing on the gas, he flies the car right over the edge, and crashes spectacularly onto the street below, blowing up in a fiery blaze. Number of times Heuk Chul has died: 2.
The news casters announce that they've captured Pastor Lee's killer. Kyung Ho sees the news on TV while on a bread line and sees a picture of Man Jae. He hurries over to the church where Mayor Kim is holding a press conference. Man Jae's arrest has helped his approval rating, as he was able to capture a pastor's killer, and also frame it on a Kosian – someone who is half Korean and half another Asian ethnicity. Apparently there is a lot of prejudice against half-Koreans in Muyeong.
Kyung Ho finds Yi On in the benches, and pulls her away. He signs to her that the killer isn't Man Jae, and hands over his phone as proof. She watches the video – yep, the killer Jae In is definitely not Man Jae.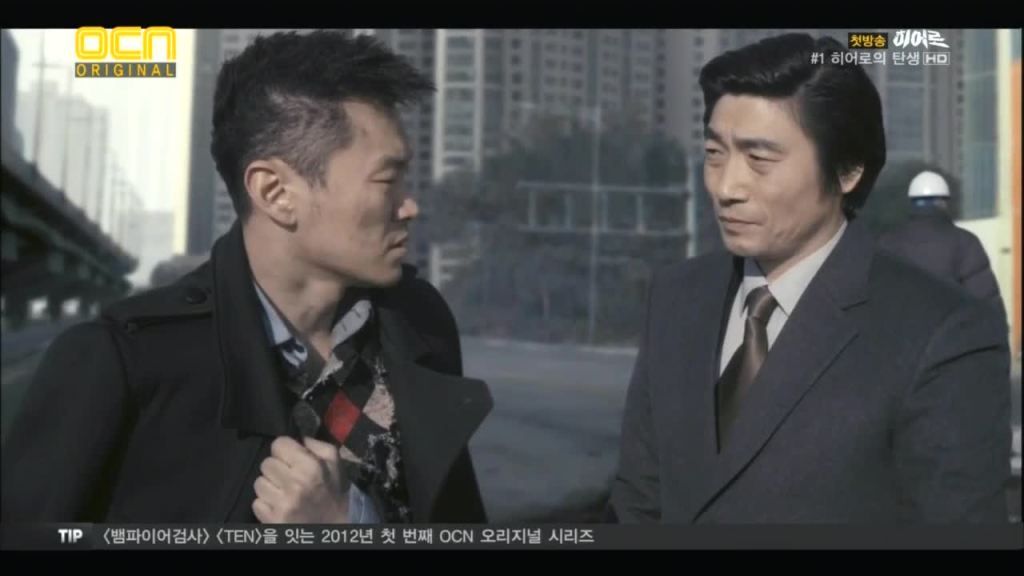 Meanwhile, Heuk Chul emerges from his burning car all sooty, but without a single scratch. Yep – he's a superhero.
Hyuk Kyu arrives to pick him up while the fire is being put out, and he credits an air bag for saving Heuk Chul's life. PFFF – such bullshit. Heuk Chul demands answers – what's wrong with his body? Hyuk Kyu admits that he doesn't know either. All he knows is that he was given some experimental serum that is supposed to help him heal at an alarmingly fast rate. They don't know about the side effects yet, but it saved his life.
Yi On brings Kyung Ho into the station and shows his video to her superiors. Her bosses cannot deny that it's irrefutable evidence that they have the wrong killer in custody, but Kyung Ho himself is a sketchy source. He's had previous convictions on his record. Yi On requests for witness protection, although the bureau doesn't exactly have funds for that. One of the chiefs is not happy that this evidence came out now because election is tomorrow.
Kyung Ho's video then gets shown privately to Myung Chul, who then decides that he'll "take care of it," and asks for the kid's whereabouts.
Yi On discovers that Kyung Ho hurt his elbow, so she takes him over to the hospital for a check up. Perfect timing – Heuk Chul is also there, and he sits next to her in the waiting area, hoping that she was there to visit him. He even pretends that he's in pain just so he can lean his head on her shoulder. His middle-school tactics are adorable. He tries to fish for information on the friend she's here for.
She only says that she owes a lot to this person. A flashback reveals that she was chasing after Kyung Ho for a petty crime he committed. Because he chose to jump over her partner and several stair steps, he slipped and fell, and injured his ear against a railing. That's why he became deaf.
Suddenly, there are nurses screaming, and Yi On sees a couple of men in black suits dragging Kyung Ho away in a car. She beats up the two men and tries to free Kyung Ho from the locked car. While she's fighting them, Heuk Chul pulls the driver out and speeds away with the car and Kyung Ho. Though it's not an ideal situation, at least Yi On knows Kyung Ho is safe from these mysterious baddies. However, she gets chewed out for having lost the witness to the case, and for causing all this ruckus before elections. Her boss even asks, "Do you have someone powerful on your side?" You have no idea, mister…
Heuk Chul takes Kyung Ho to Kim Mansion, and Kyung Ho's eyes widen when he realizes that Heuk Chul is related to the mayor. Through the handwriting app, he tells Heuk Chul that Mayor Kim Hoon will never win re-election… unless he rigs the votes. Heuk Chul doesn't take the message seriously, noting instead that Kyung Ho's handwriting analysis is similar to his own: they both have "high self-esteem" and "finish what  they start no matter what."
He gets a call from Myung Chul and lets his brother know that he has Kyung Ho. Oh damn… BIG MISTAKE.
Yi On works late trying to figure out the case, and her partner tells her that she's slow. Ever since the pastor's murder, Kim Hoon's approval ratings went up. That tingles her spidey senses, and when she gets a text from Kyung Ho about his whereabouts, she immediately calls up Heuk Chul. She wants him to bring Kyung Ho to her at a park, no questions asked. Heuk Chul says his brother's going to come and help them, which actually makes her more worried.
Heuk Chul doesn't understand why Yi On is freaking out until Kyung Ho shows him the video of the Pastor's murder. He then realizes that the prosecution seems to have framed Man Jae for the fall. He brings Kyung Ho to an empty parking lot and meets Yi On and Young Joon on the fifth floor. Yi On is so relieved to see Kyung Ho safe and alive. As a sign of thanks, Kyung Ho throws Heuk Chul his mother's watch. He had stolen it earlier from his home, and fixed it too. Kyung Ho then heads over to the elevators to go downstairs by himself, while Yi On says her thanks to Heuk Chul.
She then asks Heuk Chul why he wanted to meet at this parking lot of all places, and he looks at her confused. She had texted him to meet her there. Huh? He takes out the phone to show her, and at that moment the elevator opens up. A gun points right at Kyung Ho's face, and he is shot right through the head.
NOOOOOOO!
The elevator door closes, and Yi On and Heuk Chul barely catch a glimpse of Jae In leaving. Yi On screams frantically, and Heuk Chul notices the key lying on the floor, having fallen out of Kyung Ho's pocket…
There's some peace in the Kim Mansion that evening, as Manager Jang gives the mayor a speech for if he wins, and a speech for if he loses. Myung Chul barges in and throws away the losing speech – Kim Hoon will win the re-election. Looks like they've rigged the election. Jae In is actually in charge of making sure that the paper ballots (coming from the poorer areas) are all voting in favor of Kim Hoon. They've already got the richer voters (through electronic mobile voting).
Yi On and Heuk Chul are both questioned by the police for the killing of Kyung Ho as witnesses, but both refuse to divulge any details. Heuk Chul only asks what his name is, as a way to remember the kid. When Heuk Chul arrives home, Mayor Kim warns his son to be less reckless, as he won't overlook it anymore. After all, it's also election day, and the results are to be announced after the paper ballots are counted.
Heuk Chul hangs out in his basement/room and looks at the keychain. He realizes that the keychain is a locket, holding a small memory chip. He inserts it in his computer; it's a video of Jae In and his men rigging the election votes. What's worse is, the video also captures Mayor Kim sitting in the back of a car, watching the men rig the votes.
This chip that Pastor Lee had was the "gift" Jae In wanted to collect.
At the same time, Yi On is slowly figuring out Myung Chul's involvement in the death of Kyung Ho. When she sees the TV broadcast of the election, she sees Jae In and his men acting as official ballot counters, picking up the metal safe boxes from a voting center. Recognizing him as the killer, she assembles a team of officers to take down Jae In and his men.
Jae In is located in a large warehouse (where all baddies like to congregate), overseeing the transfer of the real metal safe boxes with those that contain the rigged votes. He spots Yi On in the distance as she tries to sneak her way towards him, and he smiles. As half the team approaches the truck with the real votes, Jae In triggers a bomb so that the whole truck blows up.
Yi On sees Jae In's car and makes chase. However, Jae In decides to drive the car in reverse, and hits her; Yi On barely makes it out of the way.
Jae In drives off but they got blocked by another car. This time it's Heuk Chul! With his super lightning speed powers, he quickly attacks Jae In's henchmen and knocks them all out. Good thing he has speed on his side, because he's not really the best of fighters. Even though he gets shot, he doesn't slow down.
Finally he faces off one-on-one with Jae In. Of course, Jae In is the far superior fighter, but just when he thinks he's won, Heuk Chul magically appears behind him for another round. Jae In breaks Heuk Chul's arm so badly that the bone splinters outside of his skin. YOWCH. Heuk Chul: "I said, you can't get rid of me that easily." All bloodied up, he forces his bone back into place. Jae In stares at him interestedly, but he pulls out his gun and points it at Heuk Chul's head, ready to just end it.
BANG! But no, Heuk Chul didn't die for the third time. Instead, it's Yi On, who has shot Jae In at his feet and a gun pointed at him. So angered by his recent murder of Kyung Ho, her hand shakes as she tries to pull the trigger. Jae In knows she's too emotional to shoot, so he just smiles. Young Joon also manages to catch up to her and stop her from going over the edge. Instead, the cops just arrest Jae In. That's not really going to stop him for long, as he manages to kill his arresting officers and get out of his handcuffs.
When Yi On looks again, Heuk Chul's already gone. He's made his way to the abandoned truck with the rigged ballots, and that's when Jae In presses another trigger. The truck blows up in Heuk Chul's face. No. of times he died: 3.
Later that evening, Heuk Chul staggers out onto the streets of Muyeong. He sees his father's winning speech broadcast over all the floating screens; Heuk Chul can tell how fake his father is. He then turns to a store front window and sees all of his wounds heal through the reflection. A leather cape and suit happens to be on the mannequin as well.
It's fate. Our hero has found his costume.
Comments:
From the first episode I'm hooked. I love the tone of this drama and it seriously feels like a Korean version of The Dark Knight – but it's not cheesy at all. The production crew has the tone all down pat, from the saturated colors and moody lighting, to the awesome use of slow-motion and special effects for the fighting scenes. I feel like I'm watching Vampire Prosecutor again. It's a dark world the people of Muyeong live in, and I can't wait to see how its most unlikely hero is going to help save the city from his own father.
I'm pretty sure Mayor Kim has big plans for Heuk Chul – that's why he gave his son the experimental serum and brought him back from China. He's going to use Heuk Chul and manipulate him into being a Batman/vigilante for the city. He could make Heuk Chul look like the bad guy the government has to fight against, or he can use his son to help clean out the corruption. I doubt it's the latter, and Son Byung Ho is so thrilling as a bad guy. So different from when I saw him in 49 Days. I also get this feeling Hyuk Kyu is going to be like what Alfred is to Batman; in fact, I'm hoping that will happen. Picking Heuk Chul up after a fight and bringing him home discreetly after fights should help.
The characters are all well cast, and Choi Chul Ho kills it as the oily, manipulative, and frightening older brother. I'm surprised with Han Chae Ah, as her previous roles have been more… domestic. (She was previously in Believe in Love and Definitely Neighbors – both family dramas.) I'm impressed with her intensity and with her kick-ass skills. It's way more fun to see a kick-ass heroine who can help our not-so-kick-ass hero. This is also my first drama watching Yang Dong Gun, so I never knew what kind of actor he was. He certainly wasn't my ideal hero type, but that makes him ever more perfect for the role – Heuk Chul is not your ideal hero type. Would you really want a guy who tests your handwriting to find out your personality saving your life from someone as scary as Jae In?
Side note: Otani Ryohei = hot. However, the one thing I find incredulous in this series is that he speaks in Japanese, and everyone responds in Korean, and they all manage to understand each other perfectly. He seems to be a Kosian character too; isn't that great? The Kim family persecutes Kosians, but hires one to do their dirty work too.
We have a new hero in town!
RELATED POSTS
Tags: cable programs, Choi Chul-ho, featured, first episodes, Han Chae-ah, Hero (OCN), Hong Jong-hyun, Otani Ryohei, Yang Dong-geun