I Do, I Do: Episode 1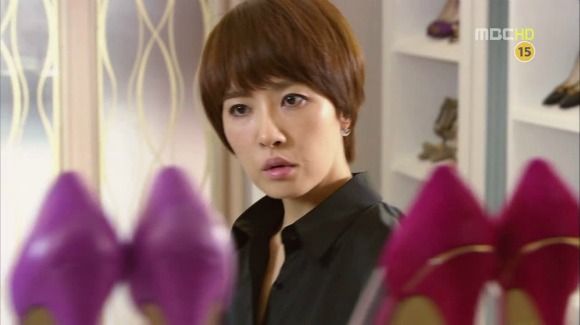 What initially appeared to be solely about shoes shapes up to be a fun zippy opening. The characters here are easily likable and if you're recovering from a deeply emotional pain from a previous drama like I am and need a funny romantic comedy to lift your spirits, then this one might just be the perfect size for you.
EPISODE 1 RECAP
A door creaks open and our heroine, HWANG JI-AN (Kim Sun-ah), pops her head out. She scans the surroundings before racing down the hallway, looking back to make sure no one or nothing is following her.
Either she must not care enough or in too much of a rush to stop as she loses a shoe on the stairwell and continues on barefoot. Once outside, she lifts her bag over her face, finding the bright sunlight too harsh for her eyes.
Cut to our hero, PARK TAE-KANG (Lee Jang-woo), who is currently being dragged by the ear by his father PARK KWANG-SEOK (Yoon Joo-sang). Dad presents his identification card and demands that his son be scratched out of the family register. But Tae-kang isn't the type easily trifled with as he turns his as well, claiming that he wants to be taken out of this ajusshi's registry.
Dad guffaws at the term and Tae-kang bites back that when it's all settled they'll be considered strangers anyway. Then he mimics defensive martial arts moves when Dad raises a hand to beat him. Omg, I love their relationship already.
Needless to say the family register remains unchanged when they leave. Dad fumes and Tae-kang tosses, "Do they need your permission to change the rules?" which elicits another potential slapdown.
Instead of avoiding it, he willingly offers his cheek… because he'll just report it anyway. To where, Child Protection Services? HA – you're a grown man.
Now we see the source of Dad's anger as Tae-kang points to his shiny new ride, "Who would take off their one and only son from the family registry just because he bought a motorcycle?!" But that money came from Dad's life savings; money that took three years of back-breaking work to accrue.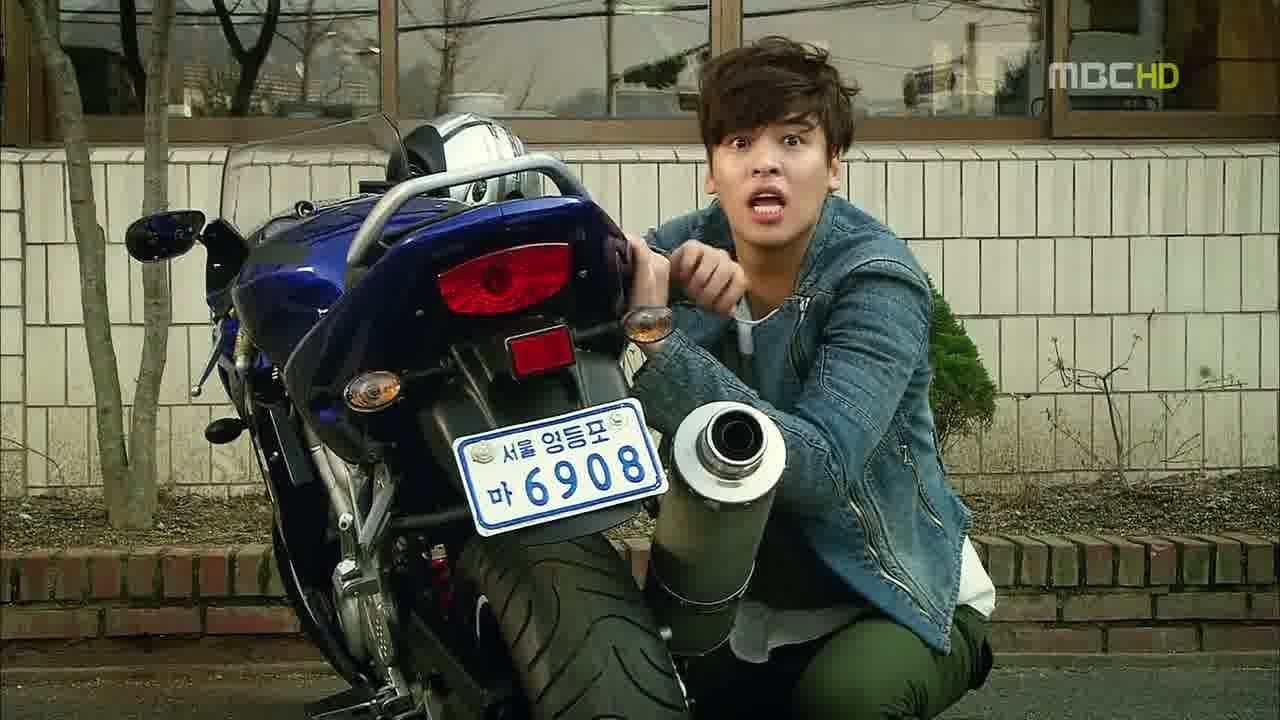 Tae-kang defends that he put in his part too with his reimbursed college tuition like it was some big sacrifice. Dad: "As if you had a choice!"
Dad continues, "Even though the law couldn't break us apart, my heart has already abandoned you." Tae-kang fully relishes in Dad's misery and Dad kicks the bike before storming off. He runs to check for any damages to his baby named – wait for it – Beyonce. HA!
While taking Beyonce out for a joyride, a woman suddenly runs out and he swerves to avoid hitting her. They both end up on the ground but don't sustain any serious injuries.
Ji-an picks herself up and scoffs when Tae-kang points to his injured bike – shouldn't a person's injuries come first? Plus, what's he doing driving in a pedestrian area? He figures she's fine and she barks how could he know – are his eyes an MRI?
He points his finger back, accusing her for someone out for insurance money. She's had enough already, and switching to banmal, Ji-an tells him that he should consider himself lucky for getting off so easy today.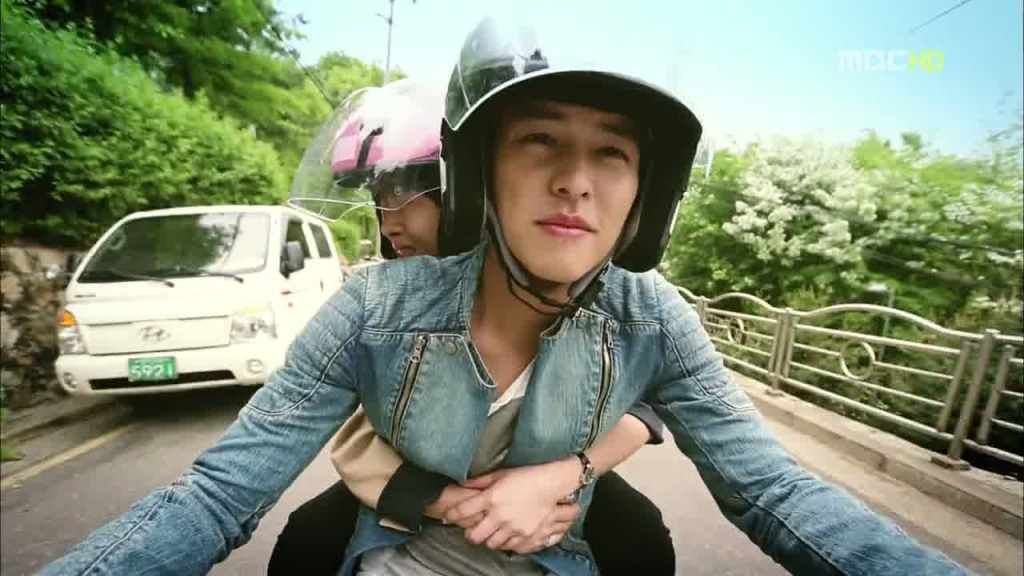 There's a traffic jam and Ji-an steps back towards Tae-kang, who's crying over Beyonce's injuries, figuring he might be her best shot to get to where she needs to be. He interprets her concern for spite until she offers to pay for the repairs in exchange for a ride.
Tae-kang zips through the narrow streets as Ji-an holds on for dear life, screaming her head off at every turn.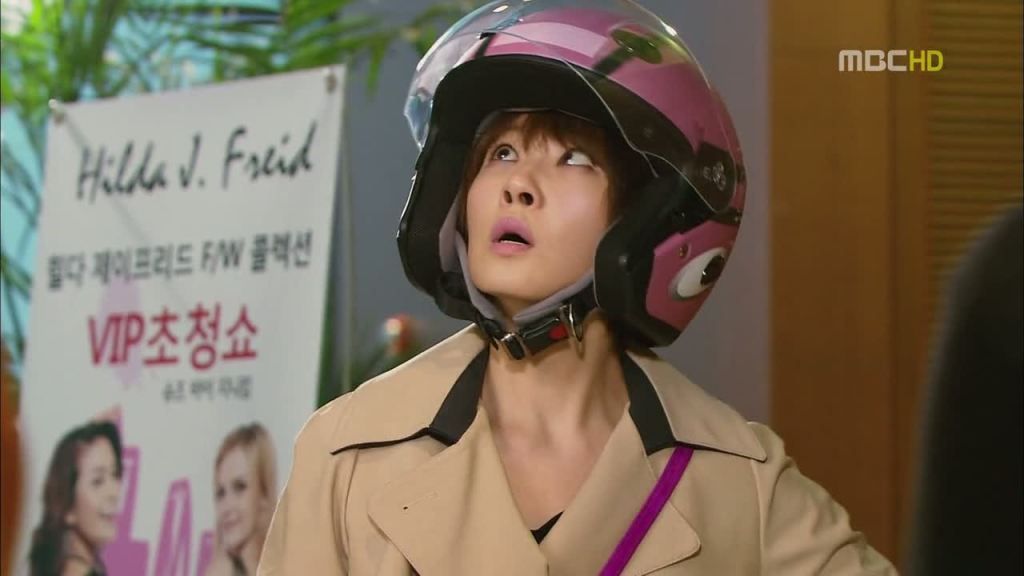 On the other end of town, a fashion show is busy preparing for their big show. Problem is, they're missing their opening piece and the hostess berates the staff, digging in that this is the reason she doesn't use "domestic" brands. Jeez, what bit you this morning?
Ji-an arrives in one piece, her eyes tightly shut (Tae-kang has to knock his helmet against hers as if to say gerroff lady). It takes her a minute to realize she's survived and then hurries in to meet her staff who was just lectured at earlier. They stifle their laughter as they sign to the helmet still stuck on her head.
Ji-an doesn't buy her staff's excuses that all Westerners look alike to them and today's model was different than at fitting. They shift the blame towards the Dragon Lady hostess about the circulating rumors and she even had a backup ready as if she was expecting them to fail.
Telling them to stop spinning detective tales, she demands them to look for a solution. After one look at the shoe, the creative gears start churning, and soon she's ripping fabric off of her staff's skirt and calling out orders left and right.
She gets to work, reconstructing an entirely different shoe design on the spot and the staff compliment that the end product was even better than the original.
The bad news is that Dragon Lady Hostess has already lined up someone else. When the polite route fails, Ji-an declares that she'll assume responsibility for the consequences. But their company is expendable, Dragon Lady seethes.
Ji-an clocks this in her head and then with a snap of her fingers, orders her staff to pull out and pack up every single pair of shoes in the place. It turns the place upside down into chaos. She's completely unfazed at the hostess' accusation that she's out of her mind: "If you don't have teeth, you eat with your gums. If you don't have shoes, you walk barefoot. Isn't that life?"
Even at the threat of legal action, Ji-an coolly says it's no problem – she doesn't have a husband or kids so she'll consider her time in jail like dorm life. One minute to showtime and Ji-an challenges, "So what'll it be? Should I take responsibility or should I go to jail?"
The opening continues as planned and the newly designed shoe takes center stage.
Ji-an sprints and slips in through the door we saw her exit in the beginning. Whatever celebration she hoped to get back to is now being cleaned up by the staff. Turns out she missed her father's 70th birthday bash and her parents are already on their way home.
Meanwhile, Tae-kang waits downstairs and lays out his hand to collect his fare… and Ji-an walks right by him again. At the door, she signals at him to hurry up, and he follows like a dutiful puppy.
Ji-an catches her parents just before they board the train. She apologizes to her father but he remains gruff and then projects his anger on reserved Mom. She's had enough of Dad's behavior and raises her voice that she pulled out all the stops for him – she did her best.
"You…" Dad interjects, "… will walk out on my funeral too!" All he wanted was for his only daughter to celebrate with him since it's hard enough seeing her as it is. Was that too much to ask?
He cuts ties with her right there that she needn't send them money anymore and she can forget about visiting home. Harsh words, Dad. Calling her out on her workaholic lifestyle, he spits if she wants him to cut her out of their family register. It seems that she doesn't want to be filial to her parents anyway.
Ouch. It's an interesting contrast from Tae-kang's situation where the family register was played up for comedy but those same words cut deep for Ji-an though she doesn't let on to her parents that they do.
Ji-an strolls the streets with a brave face as Tae-kang follows behind, having overheard the entire exchange. He gives her the space to collect herself and then hands her a tissue to blot her oncoming tears.
And then Ji-an notices something written on the tissue and opens it to find the total repair bill for Beyonce. HAHAHA – oh you ass, Tae-kang.
He turns to leave once he receives the money, but looks back to tell her not to worry. Her father won't be able to write her off of the family tree – 'cause his father tried it on him. He rambles that the laws are so well-established to protect horrible sons and daughters nowadays.
The fact that he went through the trouble to go to the district office makes her burst into laughter. He's affronted at first but soon they're both laughing at the absurdity.
And what better way to bond than over drinks as Tae-kang toasts to abandonment. If they switched families, she'd be considered the filial one because Dad is so obsessed about money. Ji-an sighs that she's likely the only daughter in the world who would miss her father's birthday.
He probes her about her occupation, clearly finding it impossible that a simple office worker could throw such a large event. She turns the question on him, figuring him for a student.
She passively listens as he rants about he could've gone to college but was financially strapped because of the tuition (pfft) until she raises an eyebrow when he mentions he wants to start up a business. His evident lack of a concrete plan clearly amuses her and they pour each other another drink.
Several bottles later, , Tae-kang offers Ji-an a word of advice that women should be babyish, full of aeygo, and be all cutesy instead of her curt attitude. She scoffs that she's single because she chooses to be and adds that all guys are the same: immature, small-minded, and ignorant
I love that she says this while dangling a pepper between her fingers. The reference (pepper = gochu = slang for weenie) is so in your face.
Tae-kang has a moment of drunken insight as he comments that she must have been hurt a lot in the past. Ji-an pinches his cheek in response and tells him to run back to mommy. He whines that he doesn't have one. The one he had ran off as soon as she gave birth to him so the mother he imagines are actresses who portray ideal maternal figures.
Tae-kang responds to Ji-an's look of concern that he's had enough of that look of pity people shoot at him. He defends his mother that he understands that someone can grow tired of their child and run off to search for meaning in their own lives.
He assures her that he's totally fine… and she bonks him on the head calling him impudent for still acting like a manchild. She continues to knock him on the head as he tries to take her home.
They're both drunken messes but he's sober enough to realize that the destination she instructs the cabbie will come out to a hefty bill. We presume she wants to face her parents and she admits as much, wanting to ask her parents what exactly she did wrong.
As if on cue, it begins to rain, the rainfall blending with her tears. Tae-kang sits down and tells her that he may come across as a sensitive caring guy but he's not. He returns her things and she sighs that people are always on their own like a lonely nomad.
The rain stops falling around her and she looks up to see Tae-kang covering her with a big umbrella. Aww.
She's moved by the gesture but doesn't let on, calling him soft-hearted. But he tells her that the abandoned needs to stick together. They drunkenly banter, adding –joo (a cutesy way to end a sentence which can also be attached to liquor) to their sentences, creating novel ways to lift their downtrodden spirits. So cute.
Morning. Ji-an is the first to rouse and her gasp effectively wakes Tae-kang up. Their faces spell out Oh crap and Tae-kang bites down to greet her first. Ji-an can't place him right away and he embarrassingly reminds her: "Yesterday…the motorcycle."
They both try to play it cool that they have no recollection of the previous night. Ji-an allows him to get dressed first to which he points across the room, "My underwear…" HA.
It turns into this hilarious physical gag where if one pulls at the blanket, the other has no choice but to stay physically close to remain covered. They awkwardly exchange goodbyes without looking at each other and Tae-kang rushes to dress so he can bolt out of the room.
Ji-an tries to shake off the previous night in the shower and gets ready (zomg room of shoes!) to head to the office.
Her staff quake in her presence, ready to hear an earful about yesterday. But Ji-an doesn't bring it up and singles out the worker whose skirt she ripped yesterday for creative design. Handing her a credit card, Ji-an tells her to buy a new one. So she does have heart hidden beneath the surface.
Tae-kang returns to the restaurant to collect Beyonce and the owner and friend, LEE CHOONG-BAEK (Shin Seung-hwan) mentions that Dad's been calling.
It confuses him that Tae-kang gets overly defensive that nothing happened with that woman last night. But when the puzzle pieces fit together, Choong-baek laughs that this is his Walk of Shame and that he's no longer a virgin.
As soon as he gets home, Dad grabs him in a headlock. There's no use lying because he knows Tae-kang was out drinking. Staying out with a woman is fine but Dad warns him of the consequences for jumping the gun. He knows from first-hand experience and reminds him that accidents can happen in an instant.
After he leaves, Tae-kang gripes, "I'm sure you're my stepfather! When I make money, I'm going to get a paternity test!"
Ji-an is displeased to hear that knockoffs are impeding their sales. She comments how lowly imitators are; that they don't deserve to make a living off of counterfeit items.
A rude customer grates on her nerves when she complains that the shoes are too uncomfortable and expensive grabs her attention. Following that logic, then why bother putting on makeup or dressing in uncomfortable clothes? One might as well wear sweats.
The customer is affronted at the lack of customer service and throws the shoes to the ground. It makes Ji-an snap and her staff is forced to hold her back. She buffs the thrown shoes with her sleeves and whispers to them.
Well, well. Looks like the knockoffs are made by none other than Dad and sold by Tae-kang. Those values misalign again as Tae-kang insists that they launch their own brand, tired of the fear that they might be busted. Dad disagrees – his goal to feed his family.
After Choong-Baek pulls him aside to show that the woman, Ji-an, is a successful business director, he scoffs that she was more than just a mere office worker. His thoughts wander back to the previous night when they were drinking and the rain.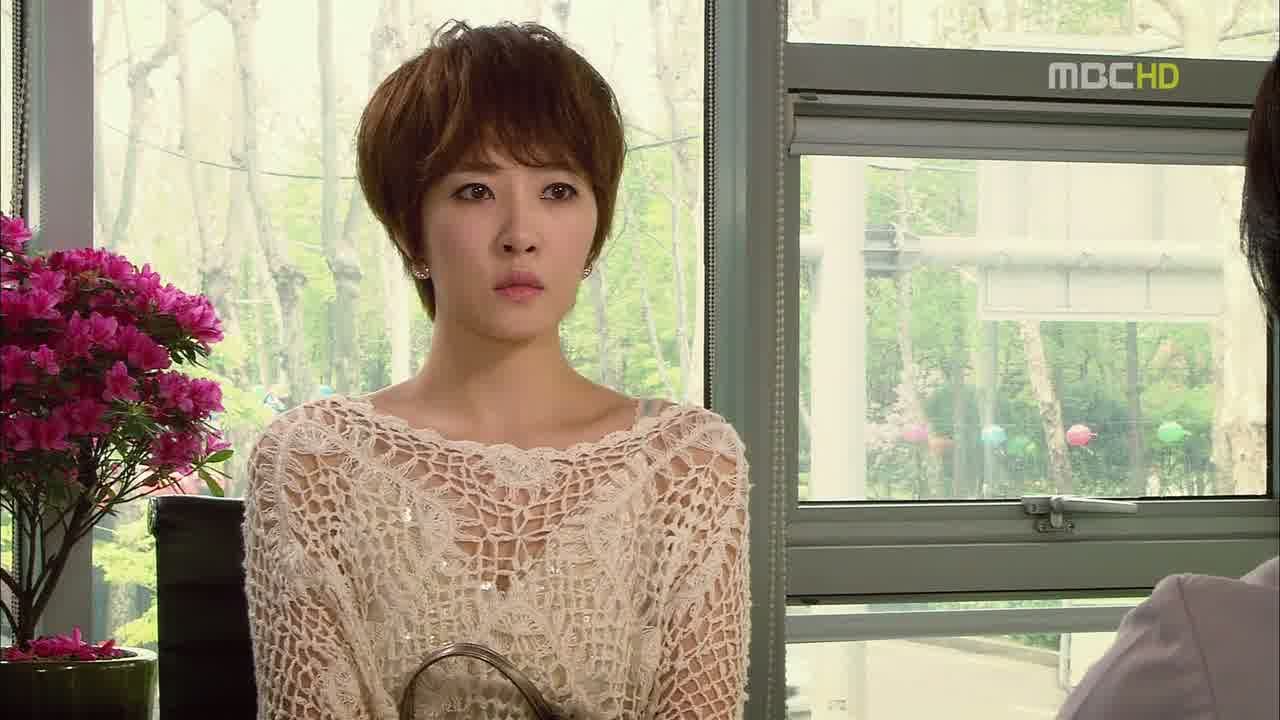 We meet up with Ji-an at her office, munching on a snack. She's skipping lunch again (morning sickness?) and resolves to take matters into her own hands to patrol the neighborhoods herself. Her ears perk up when her manager mentions the hospital called.
Ji-an sits nervously as the doctor readies to disclose some difficult news. Thinking it might be a fatal illness, she asks after its severity. And the news is serious: Ji-an's hormone levels are low so her uterus has aged faster, and she'll likely to experience early menopause within one or two years.
Mom calls excitedly that she has an arranged blind date set up for her with a gynecologist. Oh the irony. She pulls at the guilt strings and her father gives a little smirk when he hears she agrees to it.
Meet JO EUN-SUNG (Park Gun-hyung) who regales her with tales about "Mommy" and Ji-an can barely last a few seconds before yawning. In order to dissuade him about their date, she comes clean about her premenopausal state and disinterest in marriage.
Surprisingly, Eun-sung admits the same about the "Momma's boy" act. The rest of the evening turns out much better as they laugh over Eun-sung's turnoff tactics (e.g. pretending that he wears makeup) and their similar workaholic lifestyles.
They've enjoyed each other's companies so much that they've lost track of time and Eun-sung's voice twinges that this meeting felt too short. He suggests that they continue to see each other – as friends – but Ji-an is uncomfortable with that kind of relationship as well and extends her hand for a professional handshake instead.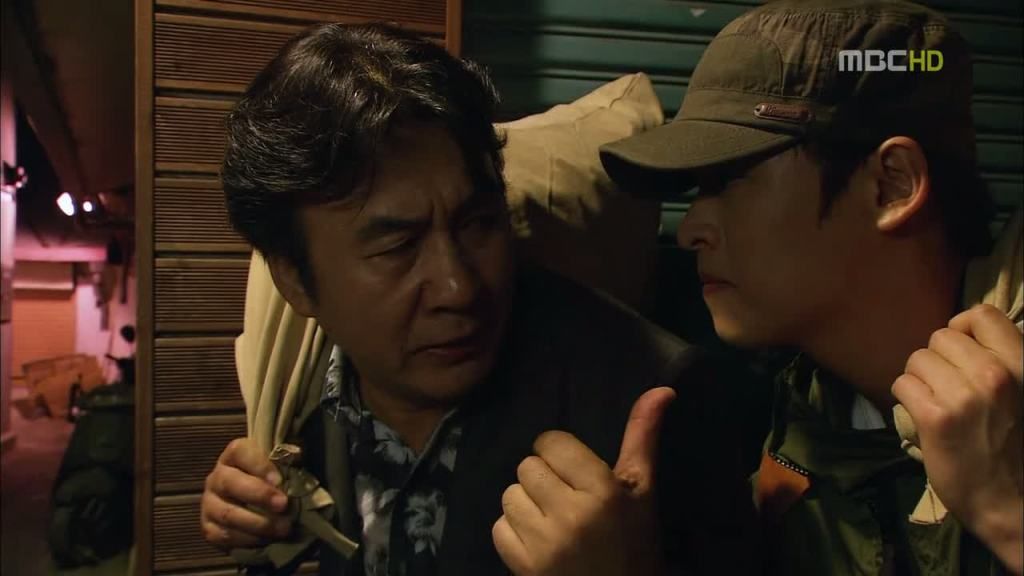 Dad and Tae-kang scan the streets with the knockoffs stuffed in their bags after they're alerted that authorities are looking for knockoff sellers. They split ways and Tae-kang runs until he crashes into someone.
The counterfeit shoes spill out of the bag and the stranger curiously picks one up. He yells at the strange woman to watch where she's going.
He looks up and his eyes meets Ji-an's …and he bolts.

COMMENTS
Considering I came in with little to no expectations about this drama, I think I can safely say that I'm oddly impressed and pleased with this episode. I personally haven't seen Kim Sun-ah in a drama since My Name is Kim Sam-soon (hides from all the Scent of a Woman and City Hall fans), and I love that she's back in a romantic comedy playing a character which she fits into perfectly and plays it fierce and sassy. Got to love a woman who doesn't put up with crap… from anyone.
I find Ji-an's alpha-girl status that conflicts directly with Tae-kang's beta-male role to be downright hilarious and find the chemistry between our leads to be utterly hilarious and adorable. Lee Jang-woo is doing a splendid job of playing the manchild who dreams big but can't get his ducks in a row while the successful shoe designer needs to live life a little. The snappy dialogue surely helps their dynamic and their presence onscreen is electrifying.
The cinematography is something I was very impressed with and the colors are bright and rich – perfect for a summer rom-com. I was hesitant when the trailers was a hot mess but the execution is far better than I anticipated. I can already foresee the innumerable shoe metaphors and the sexual innuendos that will inevitably come.
Oh and the shoes. God, I love the shoes.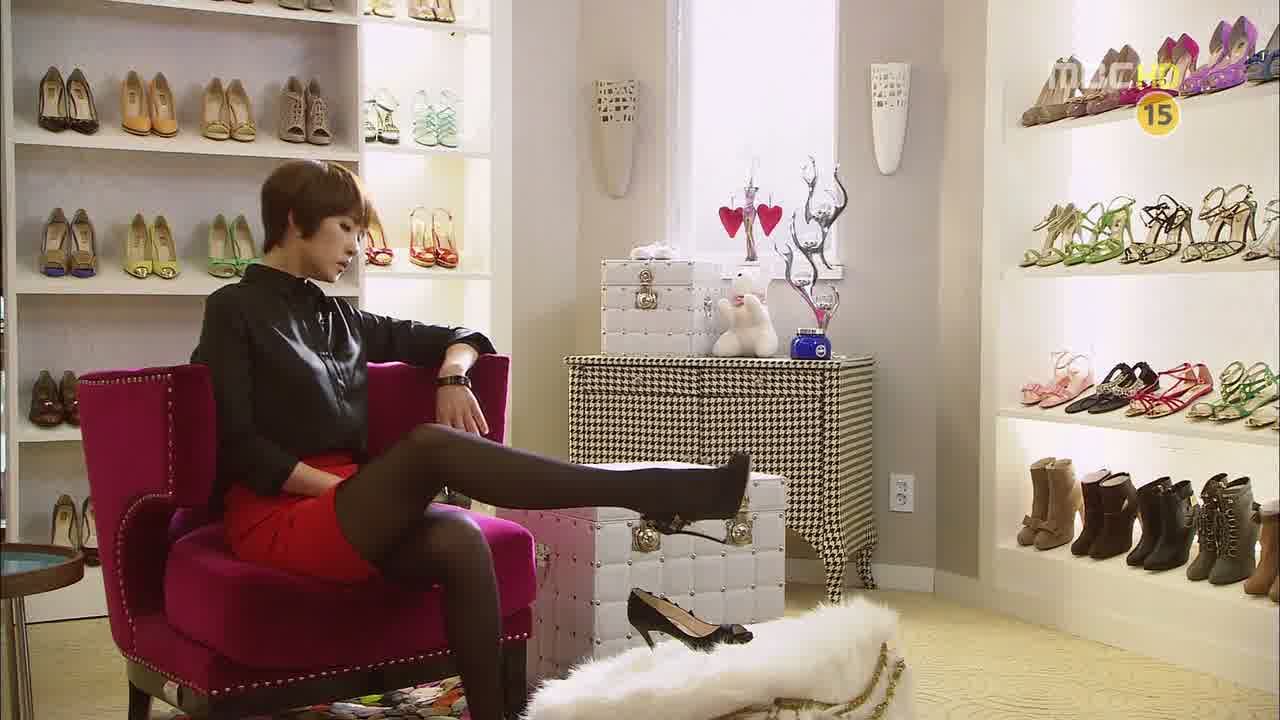 RELATED POSTS
Tags: featured, first episodes, I Do I Do, Kim Sun-ah, Lee Jang-woo