Poster shoots for I Do, I Do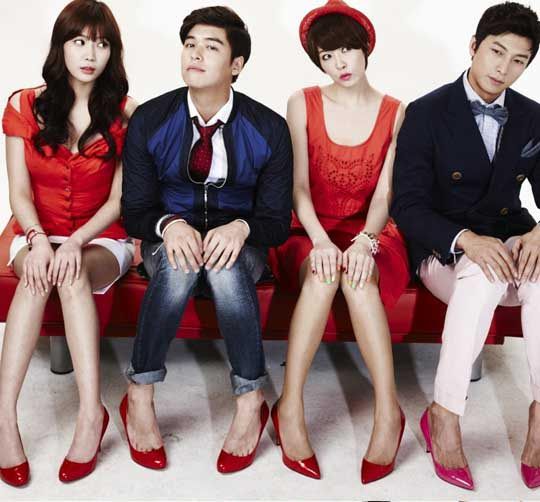 Um… am I going to have to revoke hotness points from I Do, I Do for its poster shoots? And it had done so well with that motorcycle shoot the other day, all snuggly and handsy.
Because let's face it, no matter how cute your younger stud of a boyfriend is, not a single one of the activities I want to be doing with said hottie is swapping heels with him. Or watching as he works a pair of red patent leather pumps with a saucy grin and hip-twist. (That said, I'm pretty sure the heels on leading man(-child) Lee Jang-woo and runner-up Park Gun-hyung are photoshopped on, and poorly at that. You'd think the shoes would fit, wouldn't you?)
Don't get me wrong; the shoes are a great motif, considering that both ladies, Kim Sun-ah and Im Soo-hyang, play shoe designers. They'll be rivals, with Kim as the successful gold miss and Im portraying a "cold city girl" type. It's just that I don't think you've got to put the men IN the shoes to get that point across. Unless the image you want for your leading men isn't so much a virile young stud who impregnates the heroine, but more like gabby homegirl who shares her fashion sense.
I Do, I Do premieres on May 30 on MBC.
Via Chosun
RELATED POSTS
Tags: I Do I Do, Im Soo-hyang, Kim Sun-ah, Lee Jang-woo, Park Gun-hyung