Queen In-hyun's Man: Episode 10
Another great episode, but what else is new? We get to spend a little more time in the Joseon era with Boong-do as he works to unravel the mystery of his missing memories, with plenty of intrigue and action to spare. I'm still amazed that this show can jump seamlessly from a high stakes period sword fight to a modern red carpet gala without the change feeling jarring or out of place, even though this drama has proven time and time again that it knows what it's doing. Still, I can't help feeling like it's all like one realistic yet wonderfully whimsical dream. It just seems too good to be true.

EPISODE 10 RECAP
Boong-do has his first audience with the king since his return from exile, and the king couldn't be happier to hear that Boong-do can't remember the last two months. This is perfect for the upbeat Sukjong, who sighs in relief; he'd fretted over facing Boong-do, seeing as he gave the order for his exile in the first place.
So in order to make up for exiling his advisor, he offers to play matchmaker and sets up a match with one of the prime minister's supposedly-beautiful daughters. Boong-do looks vaguely uncomfortable, but he can't very well refuse. The royal secretary jots down the proceedings nearby in what later becomes the Annals, which Hee-jin now reads in the present while she's on standby.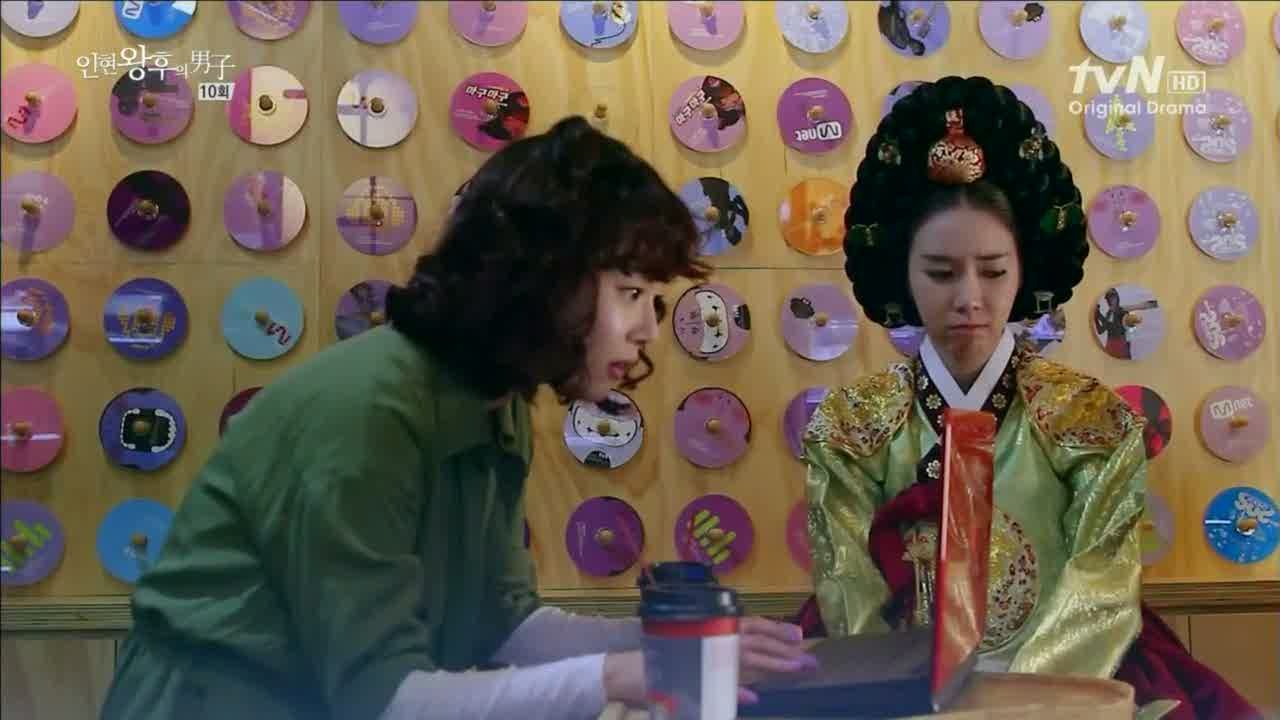 Ha – I love that she gets all huffy reading about how Sukjong basically set Boong-do up with a dud – the prime minister's third daughter wasn't the most beautiful girl around, she was only the most beautiful out of her sisters. Wamp wamp.
Soo-kyung is unhappy to find Hee-jin going through her daily routine of googling Boong-do, asking exasperatingly, "So what is Kim Boong-do up to now?", like Hee-jin is stalking his Facebook page. Hee-jin launches into the matchmaking story as if it's happening now (which it technically is, 300 years ago), making sure to clarify that she knows it's all dream, buuut she totally knew this was going to happen.
At her manager's disapproving stare, Hee-jin defends herself by claiming that she can be emotionally invested even if it's all fictional – like watching a drama or reading a book. Soo-kyung is about ready to throw her hands in the air, but she plays along and asks if Boong-do married the girl, launching Hee-jin into another tirade. Ha.
On the flip-side, no marriage records exist. Faking a swoon, Soo-kyung just feeds the flames: "He probably couldn't forget about you and lived as a bachelor." Hee-jin closes her laptop with a thud, incensed to find that her boyfriend might have cheated on her 300 years ago. Hee-jin: "Traitor."
Back in Joseon, a reinstated Queen In-hyun asks after Boong-do's health, and even displays concern that Lady Jang, the woman who took her crown when she was deposed, might have hurt feelings about this whole queen switcheroo. That's pretty kind of her, and typical of the gentle heart she's shown us so far.
Curiously, she then asks her entourage to leave so her and Boong-do can speak privately. Her voice is meek as she recounts the night he saved her from Minister Min's assassins and how the fright of him possibly being harmed has kept her up at night… enough to where she can't tell the king. Now this is interesting, though she's talking about an event he doesn't remember.
Boong-do admits that he doesn't understand what she's getting at, and her embarrassment shows as she stammers out that she won't bring it up again, just as Sukjong's arrival is announced.
When asked by the king about their conversation, In-hyun calmly claims that she was merely comforting Boong-do since his close brush with death. As Sukjong brings up his new role as Cupid, Boong-do's eyes fall on In-hyun's hanbok. Each detail, even down to her accessories, causes a flash of memory that brings to mind Hee-jin's costume hanbok, though her face remains hidden.
Sukjong goes on about the marriage, even though Boong-do claims there's no need to rush (and lucky for him, Queen In-hyun takes his side). More important than the conversation, at least for Boong-do, are the strange images flickering in his mind at the sight of the queen's hanbok.
Han-dong has been turning the house upside down for the talisman while Boong-do has been away with no luck. The monk who wrote the talisman won't be back for another two weeks, either.
In problem-solving mode, Boong-do asks his loyal servant if there's a chance that a woman could wear the queen's attire without being queen. Han-dong scoffs at the impossibility of such a thing, because a woman caught doing that would be beheaded. This isn't the answer Boong-do wants to hear, and he admits that he desperately hopes it wasn't the queen, for obvious reasons.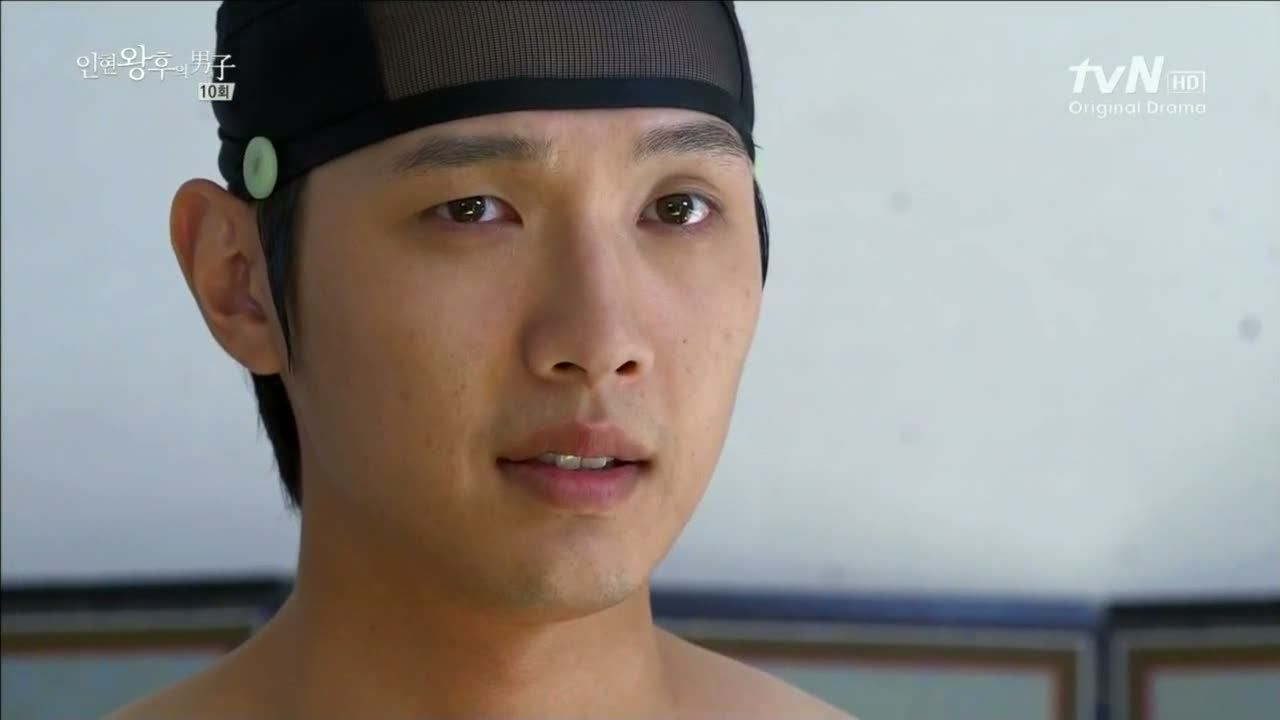 Boong-do only becomes more confused as he thinks of the Queen's ambiguous-sounding words from earlier. He doesn't remember the night he saved her life, so her words about being frightened and trembling that night, compounded with the hazy memory of kissing Hee-jin in the car (while she wore the queen's clothing), leads him to the obvious and logical conclusion… that he was romantically involved with Queen In-hyun. Hahaha.
The best part about it is that he really believes he could have done it, which means he believes he's capable of it, which makes everything Hee-jin ever said true: Boong-do, you ARE a player.
Hee-jin tries to go on with her every day life, though it's hard to escape fond memories/dreams of Boong-do. With earphones firmly in place she's off in her own world, leaving her completely caught off-guard when Dong-min suddenly comes up behind her. She screams, he screams. Ha. Hee-jin: "I thought you were a burglar!"
Dong-min eyes her suspiciously. Did she scream because she thought it was a burglar, or because it was him? Hee-jin: "It's not like that." Dong-min: "It doesn't seem like it's not like that." But it's all said in good humor, even though Hee-jin denies her involvement.
He decides to test out her reflex to him by turning on the charm, which causes her to take an instinctive step back. He warns her against running away and tries again, and to her credit Hee-jin does try to stay put… but in the end she's too uncomfortable and fidgets away under the flimsy excuse that others could see them.
Aww, he's cute. She attempts every method to avoid eye contact ("It's gross!") and he tries to find every way around it. It makes for some hilarious physical comedy until he finally catches her off guard and steals a kiss, eliciting a scandalized scream from Hee-jin.
He's pleased as punch that things are back to normal (apparently he received no kisses for a month), though he notes that the look on her face is reminiscent of someone who's just drank poison, not someone who's kissed their lover.
He's of the mind to try another kiss, the deeper kind, and the poor thing remains oblivious to Hee-jin's discomfort. She's spared from having to get herself out of a sticky situation by the arrival of Soo-kyung, returning home with Dong-min's manager from her grocery trip.
Troubled, Hee-jin escapes to the bathroom to rinse her mouth out. Normally I see this sort of moment played for comedy, so it's interesting that the tone is so serious – Boong-do isn't just a dream for her, and she knows it.
Soo-kyung stops her from storming outside to break up with Dong-min on the spot with a termination contract, and a moment that starts out with their usual comedic bickering quickly turns dour. If Hee-jin wants to break up with Dong-min, gain anti-fans, and shun all her good fortune, then Soo-kyung swears to quit. She can't handle being her manager anymore because she can't understand Hee-jin.
There's a moment where you wonder if Soo-kyung is really serious about quitting, or if she knows Hee-jin so well that she knows she can use this card to turn her around. She tears into Hee-jin for not even having a real affair with a real person that she could try to sympathize with – Kim Boong-do is just a name in history to her. Because of a dream, she wants to break up with the Han Dong-min?
Hee-jin rips up the contract and apologizes to Soo-kyung, though she tries to explain how her memories with Boong-do don't feel like a dream to her, no matter what everyone else says. Soo-kyung appeals to her as a friend, claiming that she'd be on Hee-jin's side if only Boong-do were real. But that's not how the cookie crumbles.
With that out of the way, Soo-kyung attempts to lift Hee-jin's spirits with talks of award ceremony dresses and how they can only go up from here. Even though it seems too good to be true, Soo-kyung points out that this is the reality. Fighting!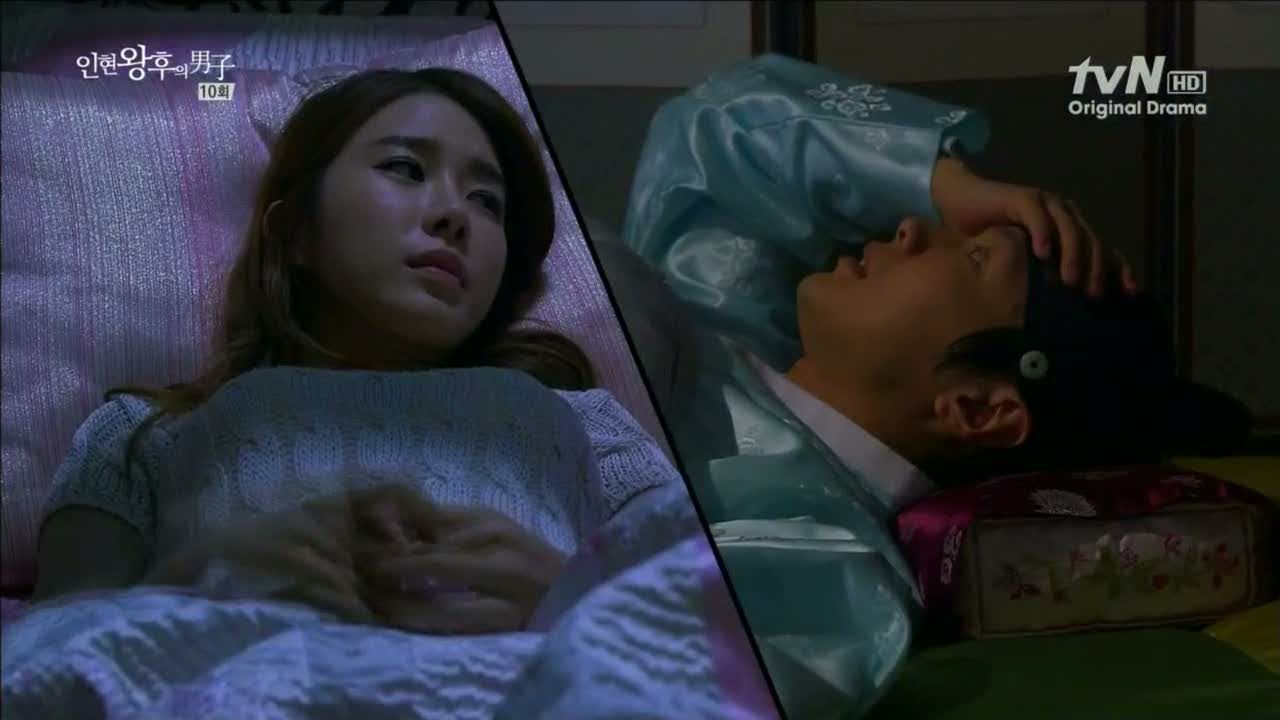 That night, both Boong-do and Hee-jin toss and turn in their own beds and time periods. He still can't recall her face, nor does he know who Queen In-hyun is.
Yoon-wol is awake that night too, and finds Boong-do readying his horse to go to the temple. She knows it's about the talisman and wonders if some things are better left alone – everything has worked out well, so why insist on finding it?
Boong-do gives her a reassuring smile as he explains that the memories he's lost are not ones he thinks he can just forget and move on from. He's referring to his concern about his possible affair with the queen, something he needs to set straight.
He pays a late night visit to the monk, and is surprised to hear that he's come before for the same reason. Even more surprising is that he'd mentioned a woman whom the monk had once described as a fairy from paradise, eliciting a laugh from Boong-do at the time. Hee-jin was no fairy to him then.
The monk sighs – he also wanted to go to that paradise to see that non-fairy fairy. But now with a broken talisman…
Joseon senses tingling, Boong-do suddenly goes on high alert. He blows out the candle from inside the room just as we find two assassins crouching outside, and draws his sword for an offensive attack. He captures one at sword-point while the other runs away, demanding to know who his master is.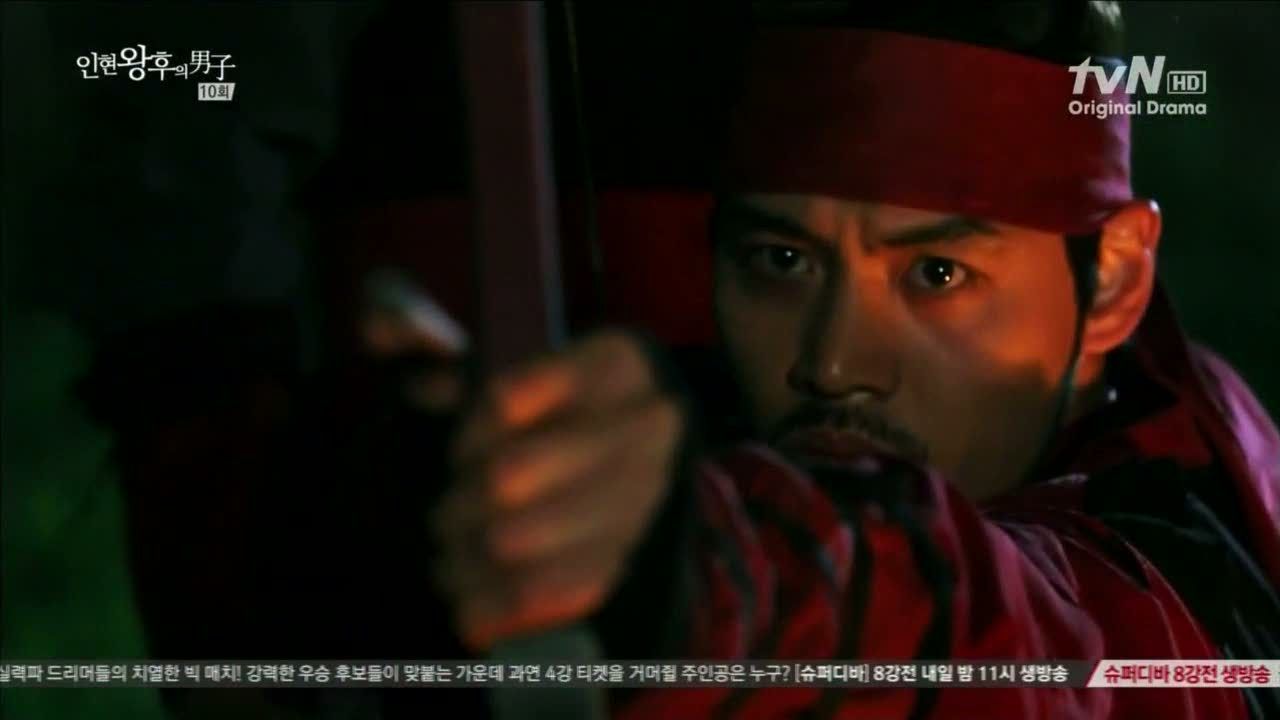 Cut to their master Ja-soo, as he receives the report from what the remaining assassin overheard: that the talisman can make one disappear and create life after death. He's intrigued, but not enough to try it out himself, so he orders one of his minions to hold the talisman while he shoots him with an arrow. Ha, it's kind of funny that Ja-soo uses this time to teach a lesson to his other minions to always check on their facts before they report.
And despite having the talisman, the minion simply dies without time warping. Interesting. So the talisman is user-specific?
Boong-do comes to crash the party, having been led by the assassin he's still holding hostage. He marvels at Ja-soo's nerve to stay in the capital now that Minister Min has been exiled, to which Ja-soo simply replies that he has matters left to attend to. "Are you here to kill me? What is your gain if you kill me now?" Boong-do asks.
Ja-soo just shakes his head like he's dealing with the amateur hour, and tells Boong-do that he could have killed him long ago if he so wanted. Dangling the talisman in front of him, Ja-soo asks if this is what he's been looking for.
But what he's interested in is the talisman's power, and how it allowed Boong-do to orchestrate Minister Min's downfall. He's been eavesdropping on our scholar to figure out the secret, though he claims that the method he heard – you know, the whole 'dying to live' thing – is a lie, seeing as how his minion died.
The minion Boong-do is holding hostage suddenly cuts in as though he's about to tell Ja-soo an extra revelation, though Boong-do knocks him out before he can say more. Ja-soo's already caught on: "Looks like I haven't heard everything."
Ja-soo is ruthless, and claims that if Boong-do won't tell him, then he'll just go up to the temple and ask/kill the monk. His choice. Our warrior scholar weighs the numbers against him and his options, wondering whether that elusive name, Queen In-hyun, is a name worth risking his life for.
Right before he's about to be attacked, Boong-do speaks up, claiming that the talisman works if one recites the words first. Ja-soo takes the bait, and Boong-do uses the moment of distraction to make his move. There's a fight with the minions as he manages to wrest the talisman from Ja-soo, which sends it flying into the air.
He makes a grab for it, and just as the talisman touches his fingertips Ja-soo readies a deathblow – causing the assassin who heard everything to cry out, since he knows Boong-do can escape that way. And sure enough, right as the sword is supposed to slice through him, Boong-do disappears. (Yay!)
Ja-soo is left fuming, and the assassin explains (while we see in flashback) the truth of the talisman. Boong-do had wondered over the dangers of the talisman making its user immortal (as in, it could fall into the wrong hands), though the monk presented a caveat: The talisman, as a gift to Boong-do infused with Yoon-wol's loyalty, will only work in the hands of its master.
As predicted, Boong-do has warped to the present… though it's unclear if he's gained his memories back. His steps are hurried, but it's like he's looking at the world anew… until he sees a preview for Hee-jin's drama on a jumbotron, bringing an onslaught of all his lost memories with it. He smiles – now the name Queen In-hyun makes sense.
Back in Joseon, Ja-soo decides that the talisman must be destroyed if they can't harness its power. Uh oh.
Hee-jin's at a salon getting ready for the awards ceremony she'll be attending with Dong-min, which the hair stylist fawns over incessantly. Her phone rings with a foreign number (Boong-do Boong-do Boong-do!) and Soo-kyung answers, sputtering with a "What?" when the caller identifies himself. She steals away from Hee-jin to take the call.
It is Boong-do, and he's at the same telephone booth where Hee-jin waited for him before. Awww. Soo-kyung repeats the name with wide eyes… Kim Boong-do? She can't believe it, and frantically hangs up. Her hands are literally shaking as he calls again, and Soo-kyung can barely get a word out: "Is this really Kim Boong-do?" He's real?
When he tells her he's calling from the park he'd promised to meet Hee-jin at, Soo-kyung begins hyperventilating, unable to accept a truth she's been calling a lie for so long. She looks to Hee-jin as if she's weighing whether to tell her or not, but in the end she tells Boong-do that Hee-jin will call him back.
Soo-kyung finds a private place to fret, wondering how someone from a dream could have just popped into reality, and whether she should tell Hee-jin. (If she doesn't tell her, so help me…)
And tell her she does not, even going so far as to warn Hee-jin against answering a call from that number, claiming that the caller was just asking for a nude model.
And poor Boong-do continues to wait in the telephone booth for a call that isn't coming, while Hee-jin heads off to the award ceremony in her fancy gown. She doesn't pick up when he calls her again per Soo-kyung's warning, having no idea it's him.
They stop the celebmobile to pick up Dong-min, and Soo-kyung goes ahead and confiscates Hee-jin's phone for good measure. Argh. Soo-kyung, you're killing me here.
Hee-jin waits as the van door opens… and after a painstakingly slow reveal, it's just Dong-min. (I know, in a normal world "just" shouldn't come before "Dong-min", but we're living in a Boong-do world now.)
Once again she ends up uncomfortable with his disrespect for her personal space, and grows even more concerned when he lets her in on his grand plan to announce their official couple status at the ceremony. She's totally serious when she tells him not to do it, and only gets a playful "We'll see" in response.
They step onto the red carpet arm in arm to the onslaught of camera flashes and screaming fans. Hee-jin even smiles for a moment, though her eyes scan the crowd… and stop on Boong-do, standing alone among the throng. Her arm drops from Dong-min's immediately.
Her face is devastated, disbelieving, believing, relieved, and heartbroken all at once as Boong-do smiles, and time stands still as they stand apart, staring at one another.

COMMENTS
I'm always grateful when mystical elements are given guidelines and rules in a drama, because it makes me feel like they won't just turn into a deus ex machina later, subject to the whims of what the writer felt like that day. We've been getting just enough information on the talisman as we've been going along, and it's been nice to discover its powers and limitations right along with our hero on his journey.
If we take it that only one such talisman exists then we don't exactly know quite why Boong-do was chosen as its sole master in the first place, but I'm content with what's left to the imagination and what's explained. It's good to know that not just anyone can use it (though I admit to thinking that it'd be funny to see Ja-soo take a holiday jaunt to the future), and how it clearly sets up our antagonists' motivations to keep hunting Boong-do – if they can't use its power, then they'll destroy it so that it can't be used against them. It's a great way to keep the tension high in the Joseon scenes, because I'd been worried about what opposition Boong-do would face now that he's helped In-hyun back to the throne.
The ensemble cast is the bee's knees, and this was a great episode to see Soo-kyung and Dong-min shine even more than usual. I love that the energy in the modern scenes is always so high, which lends them an extra sort of realism because nothing sounds like memorized dialogue and no one Tries Too Hard. In fact, I wouldn't be surprised to find some ad-libbing going on. It's nice because a lot of actions I'd normally get turned off by (Soo-kyung withholding the phone, Dong-min being forward) are handled in a way that seems true to life. Dong-min is a cad, but he's a nice, dense cad, and instead of feeling upset with him for being unable to read Hee-jin's body language I felt pity. He's like a good-natured but naive kid, he just doesn't know any better (yet). It doesn't help that he's so darn charismatic. And that aegyo!
As for Soo-kyung, even though her actions frustrated me, her character didn't. It's a pretty unusual occurrence since dramas have long taught us that those who meddle in the One True Pairing's one true love are Evil, but the episode (and those before it) did a great job of setting up Soo-kyung's stake in Hee-jin's life. She's got a misguided sense of what's best for Hee-jin (let the girl make her own choices!), but you almost can't blame her being in a state of shock after she's spent so much time and effort trying to convince her friend that she's crazy. And it's not like Soo-kyung regained her memories along with Boong-do, so it's going to be doubly interesting now that we know we're in this alternate universe for good, and that the old one will really have been just a dream to everyone but Hee-jin and Boong-do (and I'm just guessing on the latter). That's not going to get confusing or anything.
RELATED POSTS
Tags: featured, Ji Hyun-woo, Queen In-hyun's Man, Yoo Inna