Rooftop Prince: Episode 13
Lots of forward movement today, with lies unraveling and Major Discoveries being made. In fact, I sort of wonder if some of this could have been paced a little slower to give us a chance to react emotionally with the characters, rather than zooming right by… but I suppose I'd rather feel something went too quickly than dragged on for too long. Quibbles.
SONG OF THE DAY
Tim – "하루가 길다" (The day is long) [ Download ]
Audio clip: Adobe Flash Player (version 9 or above) is required to play this audio clip. Download the latest version here. You also need to have JavaScript enabled in your browser.

EPISODE 13 RECAP
Yi Gak makes his confession and they kiss.
But! The camera pans inside the house, to the rooftop family portrait… and our Joseon Travelers flicker in the photo, momentarily leaving Park-ha alone before the images return, like Marty McFly's disappearing guitar-playing hand. Oh noes!
The ducklings are currently working their tired little butts off in the company office, and Chi-san reaches for his cup of coffee… but gets nothing but air, since his hand literally waves through the cup like a ghostly apparition.
The boys naturally freak out, but as they consider what this means, it's not necessarily bad news: They deduce that time is nearing for their big mystery to be revealed. The prince's wedding to Se-na is approaching, and they must be almost ready to make their jump home. But Yong-sool wonders, "If we go back, what will happen to Park-ha?"
The boys sigh, feeling sorry for her. Man-bo wonders, "Why did she have to like the prince…?" thinking of how she'll feel to have him gone.
As for the temporarily happy couple, they sit side by side, in a bashfully giddy mood. She asks what he wants to eat, and he requests omurice, saying that he never gets sick of hers.
Park-ha offers to make it as much as he wants while he can eat it, but that's just a reminder of their ticking clock. Her smile fades as she says wistfully that it would be nice for him to stay here: "I wish we could live in the same time. How long will you be able to stay here?"
Tae-mu comes tearing into his parking garage, his driving echoing his mood. Damn, that is the angriest perfect parking job I've ever seen. He's reacting to Big News: Tae-yong has been sighted. The real Tae-yong, in Chicago. He request a confirmation photo, and it comes via text: Tae-yong, in a hospital bed. Wait, but I thought two souls couldn't inhabit the same time-space. I guess Yi Gak's theory was wrong on that.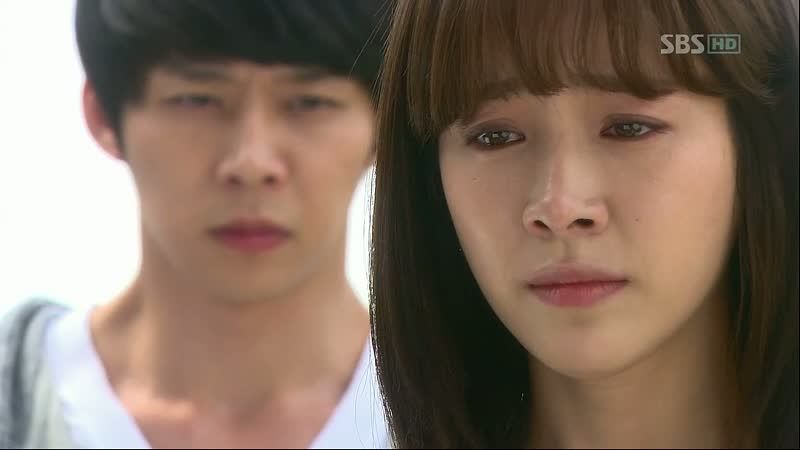 The mood becomes much more somber by the time Park-ha and Yi Gak arrive at their rooftop penthouse, and Park-ha suggests, "Let's stop here." They both know they can't continue, and they both know he has work to do. She says they can consider her involvement a detour, but now it's time for him to go his way. She reminds him of his companions, as though to cut off any protests, and says, "This may feel difficult and burdensome, but this is fate. Have your engagement. That's the right thing."
Park-ha manages to get through this without shedding tears, then packs a bag and tells Yi Gak she'll be staying with Mimi until she finds a new place. Caught off-guard, he demands, "Can you not just stay here for a while?!"
She points out that her staying is odder, and in his hurt he tells her that she may as well go far away while she's at it. She says he should have let her go to America instead of holding her back, and he retorts, "I regret that too."
Yi Gak goes in search of another home as well, and picks out an apartment in a high-rise. He calls Park-ha to insist on a meeting, overriding her protests, saying that it's important.
Park-ha goes in for an interview with a tourism agency, where she's asked whether she could take a job in a field office, outside of Seoul. The idea of relocating makes her pause, but she answers that she can.
Tae-mu meets Se-na and hands over a plane ticket to New York… for Park-ha. Aw, everyone just wants to get rid of her. He tells Se-na to bribe/threaten her into leaving, while he'll "take care" of Tae-yong. With the stockholders' meeting approaching and CEO Jang scheduled to return, they need Park-ha out of their hair asap.
Se-na's still tentative about joining evil forces with Tae-mu, but he urges her to trust him.
At the company, the duckling trio nervously watches the broadcast of their product launch, which hits the sales goal mark and elicits whoops of excitement. Not happy is Tae-mu, whose sabotage attempts were deflected by the ducklings' decoy information.
Se-na congratulates Yi Gak on the successful launch and tries to make plans to pick up their engagement rings later. He asks her to handle it herself, saying that he's fine with her taking care of it. That sends her into a peevish mood, since he's acting awfully disinterested for such a meaningful selection.
She then sees Yi Gak asking Chi-san to deliver an envelope to Park-ha. She then intercepts Chi-san and asks for a coffee break, and he complies with an anxious look at the clock. So when he steps up to pick up their order, Se-na takes a peek at the file: apartment rental contract papers, with a hand-written note reading "Let's meet here."
Chi-san finds Park-ha and delivers the envelope. Except now, inside is that plane ticket to New York, not the apartment papers. Oh. No. You. Didn't. I know you're evil, honey, but that's just mean.
As far as messages go, this one is loud and clear (even if it's been sabotaged), especially considering his words last night, and Park-ha's eyes fill with tears.
That means Yi Gak is left waiting in that empty apartment, practicing his spiel over and over, trying out multiple deliveries of the line, "This is your home now. Do you like it?"
She takes a long, meandering walk home, and Yi Gak paces the apartment all evening. When he tries to call her, he gets no answer.
And then we fade out, returning a short time-skip later.
With this new information about the real Tae-yong's whereabouts, Tae-mu makes the trip to the Chicago hospital. And this time, there's no question that this is the real guy; Tae-mu recognizes him immediately, despite that vacant look in Tae-yong's eyes.
Mimi packs a box of things to send Park-ha, which she tries to hide from Man-bo since she'd been sworn to secrecy. But he sees the address on the box, guessing she must have known all this time where Park-ha had gone. Wait, Park-ha's gone? Editing could have been better to give us a sense of the time lapse.
At work, Man-bo treads cautiously, asking Yi Gak whether he's heard from Park-ha recently. Chi-san worries; it's been several days since she left without a word.
Yi Gak feigns disinterest, telling his boys there's no point in worrying about someone who left so abruptly, and warns them not to mention her name in front of him.
Exhibiting his characteristic terrible timing, this is when Yong-sool happens to enter carrying a bag of peppermints (park-ha sa-tang), and gets so far as the syllables "Park-ha" before Yi Gak blows up at him. Aw, poor minion. Somebody get him some of that gak sugar (cubes) to crunch on.
Pyo Taek-soo reviews the team's idea for a trip package they're putting together, and Chi-san recites some potential vacation hotspots. Man-bo listens carefully, and when Chi-san mentions Jinan (the city written on that box to Park-ha), he jumps up and insists they pick that one. He cites the cherry blossom viewing as a key attraction.
So Yi Gak makes the trip there to check out the area and awaits his travel guide… and sees Park-ha leading a tour. His reaction is both excitement and relief, although he adopts his air of nonchalance to actually meet her.
Park-ha is alerted to their Very Important Person waiting for his tour, and warned to do a good job. She introduces herself brightly, belatedly realizing who that guest is only after he turns to face her and speaks. Yi Gak introduces himself as though meeting her for the first time, and after a moment to collect herself, Park-ha does the same.
Both of them tamp down their emotions—surprise, awkwardness, annoyance—to proceed with the itinerary. Using the pretext of the tour, Yi Gak needles her with questions about the facts, pointing out all the stuff she doesn't know. He's being annoying, but she's trying to keep her professional tour guide facade in place, until finally she snaps and retorts that she can't know the minutiae of what happened hundreds of years ago.
So he gets on the phone to complain to her boss, which makes her meekly apologize to her superior. Since they're both pretending there's nothing personal going on, this is the only way for him to get a rise out of her, and he's pretty successful at raising her hackles with his imperious commands. And when she tries to whiz through the tour, he calls her back to demand details. Like that stone pagoda she skipped—what's it for? How many stones are in it?
Then he orders her to the top to take photos for him. Park-ha is at her boiling point and clenches her fists, then decides she's had enough. She slaps on a tense smile and agrees, then fakes twisting her ankle on the climb and squeals in pain. She tells him she'll have to call in a substitute guide to take over for her.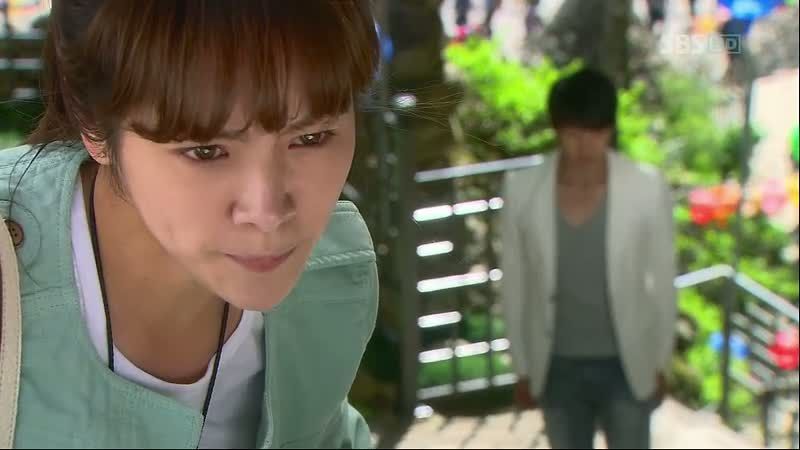 As she explains the "situation" to her boss, Yi Gak looks at her suspiciously. The tour is thus cut short, but the day isn't over yet: Park-ha's bosses gather to take out their VIP to dinner.
He tries to leave early, but they insist he stay to eat, and shove the soju bottle at Park-ha: She's the most junior employee and also the lady (urg), and therefore must serve their guest. Park-ha just barley manages to get the words out, since pouring the liquor automatically puts her into the role of subservient/supplicant, and forces her hand to pour gently when it would rather shove the thing down his throat.
She takes out her frustrations on her own glass (drinking liberally) and then on the microphone at the noraebang session that follows. She sings aggressively about "You stupid fool who left me" and ties a string of neckties around him, shoving and pulling him in time to the music.
It's only after everyone else leaves for the night that she speaks freely to Yi Gak, which in this case means talking down in banmal and calling, "Yo, prince!" Belligerently, she asks if he's happy after bossing her around. She crooks a drunken finger at him and tells him to follow, since she's got something to show him.
She leads him to the house where she lives, introducing him to her elderly landlord and the woman's grandson. The boy hilariously gives Yi Gak the evil eye; aw, does somebody have a crush on noona?
Park-ha invites him in and thrusts the plane ticket back at him. He has no idea what it is, assuming she's confused in her drunkenness. She retorts that he must be going senile to not recognize something he gave her. He argues—he never gave her a plane ticket!
Outside, the little boy watches them arguing and fumes for Park-ha's sake… and puts dog poop into Yi Gak's shoes. HAHAHA.
Both of them sit there in confusion, trying to sort out the mixed wires. She got it from Chi-san, and he agrees that he'd sent him on an errand, but that she should have received different papers. Somewhere along the line, things got swapped. He asks, "Why would I send you to America? Is that why you disappeared? You hid yourself because you couldn't trust me on that?" He calls her dumb for believing it.
And then, she falls over in her drunkenness, falling into his lap, where she nestles to sleep.
Yi Gak heads out with a sigh and puts his shoes on… and stops in horrified shock to feel something there that shouldn't be there. The boy barks at him, "Don't harass our Park-ha noona!" Grandma comes out to ask if he's put dog poop in those shoes again, which makes me wonder how many admirers Park-ha has managed to amass in this short period of time.
The boy, Se-jin, darts off and yells that he'll protect his Park-ha noona from anybody who tries to hurt her, "Because I like her!" Aw, methinks Princey could learn a thing or two. And indeed, those words cause a strange look of realization to cross Yi Gak's face and he murmurs, "I'm learning from a child."
Grandma threatens Se-jin with the punishment of not allowing him to participate in his kindergarten sports day, but Se-jin retorts that he's got no parents and doesn't want to go anyway.
Yi Gak returns home by morning and sits Chi-san down, asking him about the envelope he was to convey to Park-ha. The contents were switched, and Chi-san never opened the envelope. Did anything strange happen that day?
Chi-san racks his brains and recalls his coffee detour with Se-na. So he asks Se-na if she remembers anything about the envelope, or her coffee date with Chi-san. You can see Se-na mentally weighing her options, and then she feigns surprise: "Oh, so that must be when those got swapped!" Oh, she's good.
She explains that she'd had an envelope with a plane ticket, and she'd picked up one with an apartment contract. He buys it entirely, relieved to have figured out the puzzle. Se-na's safe for now, but she knows it was a close one.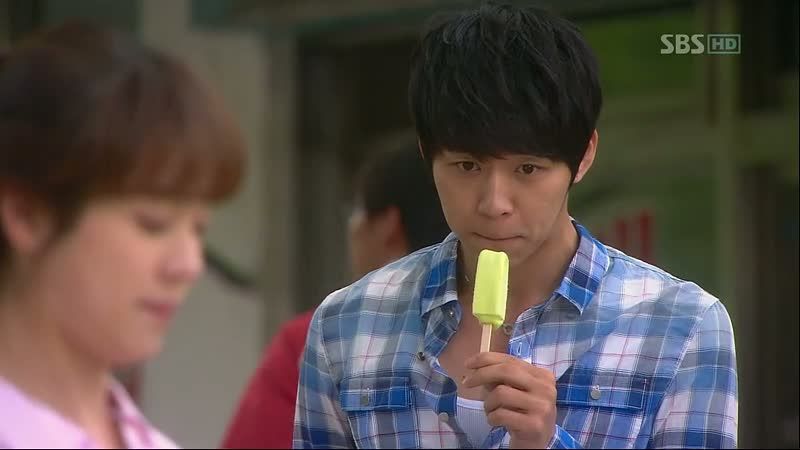 With that, Yi Gak returns to Jinan, finding her as she's concluding a call with Mom (asking Mom not to mention unni's engagement anymore). Yi Gak picks up on those words and asks if she has a sister, but she deflects and changes the subject. Come on, smart prince, you're almost there…
On to the cable cars, which have Yi Gak literally agape in horror. She means for them to ride that metal box hanging from a string?! Ha. He starts to storm off, refusing to ride, but she stops him with a bribe: "Wanna eat something sweet while waiting?"
Yi Gak turns right back around and rejoins her. Hee, he's so easy.
While they wait with sweet drinks, he asks again if she has a sister, and why she never mentioned her before. Uneasily, Park-ha says that they're not close.
Time for the car ride, which makes him gulp with nerves the closer they get to departure. He keeps his eyes screwed shut through the ascension, one hand firmly clutching Park-ha's sleeve. Laughing, she talks to him in baby talk, and he glares.
Park-ha urges him to take a look outside, and when he finally musters the courage, the view has him amazed.
Park-ha asks where he went overnight, and he explains talking it over with Chi-san. Upon hearing that Se-na had a part in this, Park-ha immediately understands what really happened, but she declines to tell Yi Gak about it. She asks if Se-na truly is like the princess: "Not just in appearance, but on the inside. In their hearts."
That gives him pause, and he thinks about it. Like it's something he never considered before.
Next, it's on to the kindergarten field day, where they cheer on Se-jin (who sadly comes in last in a race). This is Yi Gak's idea, having heard the exchange last night, and they join in for an event themselves—the Mom & Dad three-legged race. They're hilariously competitive (Park-ha sends one fallen couple a triumphant look, while Yi Gak pulls on the arm of another competitor), and come in first place.
I love how they get first-place stamps on their hands and immediately press it to Se-jin's, to transfer the stamp to his hand too. He excitedly wants to claim his prize, but they tell him he can't with a fake stamp… and that triggers something in Yi Gak's brain.
So it is that he wears a much sterner face when he calls Se-na for another meeting, showing her the envelope again. He asks for the truth about what happened to it, not buying her answer that she already told him what she knew about it.
He explains participating in that race yesterday, and how they'd copied that stamp to the boy's hand because he hadn't been able to win first place himself. He asks for her lipstick, and demonstrates with his hands.
She still doesn't get his point, but she understands that she's in trouble, and nervously asks what he's getting at.
Yi Gak takes out the plane ticket and confirms her story—that their respective envelopes had gotten mixed up. That means this one in his hand, containing the plane ticket, was originally hers. She confirms this.
Yi Gak tells her that Chi-san's envelope contained contract papers—which had been stamped just before being placed inside, while still wet. Now he cuts open the envelope and bares the inner flap… with Yong Tae-yong's stamp imprinted in reverse.
He demands, "You're not this kind of person. Why are you lying to me?"

COMMENTS
I liked this episode in that it moved a lot of things forward, but the pacing definitely felt strange. Mostly regarding Park-ha's flight in the night, which I can see not necessarily needing to be shown on camera… but at the same time, it felt jarring when all of us sudden everyone's acting tetchy about her name, as though she's been gone forever.
I'm not a fan of the prolonged separation, and I don't think the answer would have been to give us a whole episode of separation moping. Frankly that would have made this feel too much like My Girl redux anyway—but on the flipside of that coin, sailing right over a time gap with one fade-out saps all the emotional punch out of the reunion. It felt like the characters were completely overreacting, because we had about two minutes to get used to the idea of Park-ha leaving before she was found. At the very least, they could have put the time-skip between episodes, so that it didn't feel like such we sped through an important emotional beat.
That aside, I'm super pleased that the whole plane ticket misunderstanding was sorted out right away. Thank goodness for shrewd heroes, after generations of characters who are so blind to the lies around them. I'm thankful that Yi Gak was willing to entertain the notion that Se-na was lying, rather than clinging to his belief that his princess would never do such a thing.
Granted, I groan a little at his naive "You're not this kind of person" comment, 'cause that seems like he's giving her too much credit, but Park-ha's comment about the reincarnated souls being same on the inside at least got him thinking. Fact of the matter is, we know that the princess and Se-na are very much two peas in a pod (or… are they the same pea? I lose track of how it works), but even without being privy to that bit of dramatic irony, Yi Gak is at least willing to consider other explanations. I just love that Se-na got caught in her lie, and good. She knows she's on the hook, and thankfully, he's nowhere near ready to let her off it.
Also in the Big Development category: What's up with Tae-yong? I'd assumed, as Yi Gak had, that the two weren't occupying the same "dimension," so to speak, although I had my suspicions that he hadn't died. And what will Tae-mu do about it? On one hand, Tae-yong's existence helps him drive out the impostor… but how to do that without incriminating himself? Although he may get a little help from the amnesia fairy, if my cliche-o-meter is pinging correctly. Gah, I would dearly love if the drama could explain his condition without invoking amnesia. Pretty please, with some whipped cream and soju on top?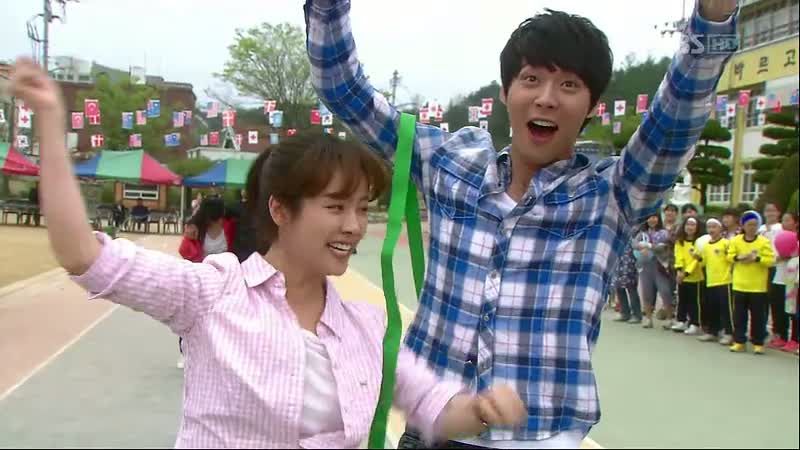 RELATED POSTS
Tags: featured, Han Ji-min, Jung Yumi (2), Lee Tae-sung, Micky Yoochun, Rooftop Prince