Rooftop Prince: Episode 14
The Cute is back, which is always a good thing with this show, where so much of the charm comes from the characterizations. I've been missing the fun in any episode that's heavily skewed in favor of the company plotline, even though those tend to move quickly, because no matter how fast the evildoers move, it's no match for the warm fuzzies that come from our makeshift rooftop family being adorable together.

EPISODE 14 RECAP
Yi Gak confronts Se-na about her lie, and demands to know the truth. I'm pretty much expecting her to wriggle her way free with a good cover story, because while she's been caught red-handed, I have no doubt she's glib enough to make it work in her favor.
She lets a tear fall and says, "It's because I love you. I love you, but it was too painful seeing Park-ha with you." He's all, do you expect me to believe that's why you wanted to send her away? But Se-na plays the victim card, saying, "Actually, it was Grandmother who told me to give Park-ha the ticket."
What? That seems like an easily verifiable lie. But I suppose it gets her out of this hole for the moment since Yi Gak is stunned speechless. She apologizes for not defying Grandma, but he tells her that he'll apologize on Grandma's behalf for making such a request of her in the first place. Ugh.
Se-na drives off having dodged one bullet, but now she has to work fast to do damage control, and with great anxiety she calls Grandma for an immediate meeting. But of course things are working in her favor here, too, since Grandma is so incensed at the news that her beloved grandson contracted an apartment for Park-ha that she tells Se-na that her "mistake" was nothing to be sorry about: "You could have done even more and I wouldn't be upset!"
Se-na apologizes for pinning the blame on her, but Grandma's so peeved that she barks that she would've run Park-ha off without wasting money on an airplane ticket. Grandma tells her she did the right thing—in fact, Se-na should continue to use Grandma as her cover and pretend not to know anything. Ugh, you two. Can you just marry each other and get out of our hair?
Yi Gak leaves the meeting replaying Se-na's words, and I think there's still some suspicion left in his mind, now that he's seen how well Se-na can lie. When Se-na leaves Grandma's house, he's parked outside and follows her car.
Tae-mu has returned from his trip to Chicago and moves back into the officetel. He calls Se-na over, and Yi Gak follows her into the parking garage, where Tae-mu meets her to tell her to move back in. She's still reluctant, reminding him of her engagement, but he grabs her close, insistent on resuming their relationship.
Se-na extricates herself, not accepting his proposal, leaving Tae-mu to declare, "Tae-yong doesn't love you. I'm the one who loves you!"
Yi Gak follows Se-na out of Tae-mu's building and to another neighborhood (doe she never look in her mirrors?), where he recognizes the apartment where Park-ha had once visited her mother.
Mom emerges just as Se-na arrives and Yi Gak overhears their discussion, wherein Se-na calls her "Mom" and asks about Park-ha's whereabouts.
Time for a monster brooding session (at the river, naturally), wherein Yi Gak starts to put all the pieces together, not only of this lifetime but his old one as well. Park-ha's question rings in his ears, of whether his princess and Se-na are really the same in spirit. He thinks of Park-ha and Se-na's caginess when mentioning a sister, now realizing the familial relationship.
He wonders, "What must I do now? Must I continue the path I have been traveling, or must I choose a different fate?" He understands that such a decision has irrevocable consequences, and that he may be closing the literal door to the past. "As crown prince, what must I do?"
He calls Se-na for another meeting, and she puts on a cheerier face. But he faces her somberly, cutting her off mid-excuse about the Grandma-plane-ticket lie, ordering her not to speak another word of falsehood. She tries to excuse herself with an air of outrage, but he grasps her arm firmly and orders, "Sit down. Until I have finished what I have to say, don't take one step." Ooh, badass prince, I like.
Unnerved, she complies. Yi Gak confronts her about hiding her relationship with Tae-mu, and her lie about having no siblings when Park-ha is her sister. He accuses her of covering lies with lies, asking, "Have you ever said one true word to me? You are all lies. You are not the person I have been looking for! I cannot marry you."
He literally dismisses her from his sight, and when she doesn't immediately leave—she's shaking from shock—he yells at her to go.
Se-na leaves in tears, and Yi Gak gathers his boys to break the news. They're stunned, since that eliminates their entire purpose for being here, and he apologizes to them.
Aw, and that leaves the boys to sit glumly, hugging the things they'd bought to remind them of home: Chi-san with his medicated patches, Yong-sool and his beef jerky, Man-bo and his jar of cosmetics. In an angry gesture, they declare that since they may never go home, they may as well use those objects, and hilariously tear into the packages. Yong-sool chomps down on beef, Chi-san slaps patches on his body willy-nilly, and Man-bo smears cream on his hands.
While his friends are cursing the prince's attachment to Park-ha for this derailing, Man-bo stops and thinks: "If that's how the prince and Park-ha feel, is that not also fate?" Score one for the smartypants. The other two are still bitter, but Man-bo reminds them that if not for the prince, Yong-sool would have been executed, and if not for the time-warp, Chi-san would have died without his appendix surgery. "And without Park-ha, we would have been beggars in this place!"
Man-bo declares that Park-ha must be alerted to the cancelled engagement. Thankfully, he knows where she is. The boys stand with new purpose… and flicker in and out of sight again. Eeeep!
Some time later, the boys show up at her house and request some omurice in exchange for good news. They're so cute with their little-boy nods, all proud of themselves.
They break the news, and immediately Park-ha gets up to make the last train back to Seoul. But they're stuck waiting for Man-bo to finish his dinner, which he's eating, grain by grain, to their frustration. Deciding they can't wait, Chi-san sends her off and assures her they'll follow later. Man-bo waits to hear that she's gone before he picks up his spoon, grumbling that he was about to die of hunger. Hahaha. Smartypants is playing Cupid.
Yong-sool wonders what they'll do now, and Man-bo smiles and declares, "I have planned something good."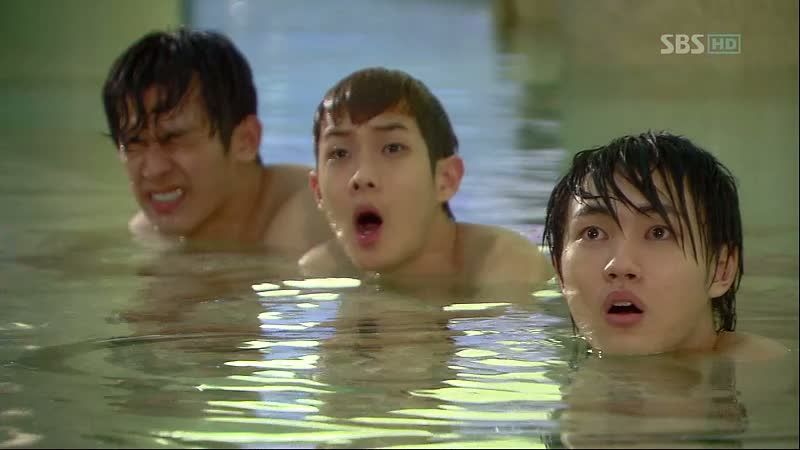 Off to…the pool? Ha, they gape at the pretty girls in bikinis, then sketch one. Yong-sool literally drools on the drawing, smudging the pencil.
Park-ha arrives at the rooftop, and her first reaction is to remind Yi Gak of what that engagement meant to him, scolding him for being so quick to give it up. What will he do now? What about home?
Yi Gak cuts her off mid-rebuke by pulling her to him and saying that he had no solution. He apologizes, and promises not to pain her anymore.
Se-na drowns her sorrows in liquor, then heads to the officetel where, to her surprise, Tae-mu is still waiting. She doesn't understand how he's so willing to take her back, but he tells her that he can understand everything: "There's only us in this world. If we're happy, if we're here for each other, that's all we need."
Now, Se-na returns his hug and tells him she'll listen to him from now on, she'll do whatever he asks. That includes acting as CEO Jang's fake daughter, which he promises will only be for a short while, until he can take care of the rest. She makes one request: "Get rid of Park-ha." Ugh. And here I was, almost willing to give you some sympathy for finding your evil pea in a pod—there's someone for everyone, don'tcha know?
She has one more request, but I'm going to go out on a limb and say Tae-mu probably didn't need to hear it to agree with it: "Get rid of Yong Tae-yong, too." Two more murders, coming right up! Or is it three, now that there are two Yoochuns running around? Ah, well, what's one more for the road?
In the morning, Yi Gak waits for Se-na outside Grandma's gate, since they have to break the news of the broken engagement. He tells her that since it was his decision, he'll be the one to bear the brunt of Grandma's wrath, which is a kindness she finds suspicious. Perhaps it's because he's a decent person, or maybe he just doesn't want to deal with her, but he says he'd like her to return to the life before their engagement, and he'll handle the fallout of this announcement.
Tae-mu's inside, enjoying the golden boy's fall from grace, and smirks in Yi Gak's face. That satisfaction is short-lived, however, because Grandma curtly declares the broken engagement old news and moves on to the stockholders' upcoming meeting—where she will make Tae-yong CEO.
Uncle Money protests, but Tae-mu plays it more shrewdly, telling his father that this is a matter for the shareholders to decide. Grandma puts Tae-mu in charge of building support for making Tae-yong CEO, which makes me think Grandma—already displaying such lack of discernment—must simply be blind to character. I guess I'd feel bad about that if she were the least bit likable. In any case, I'm pretty sure this we can count on Tae-mu to do just the opposite.
Uncle Money is concerned by this assignment, but Tae-mu assures him that CEO Jang is on their side, because Se-na is the lost daughter.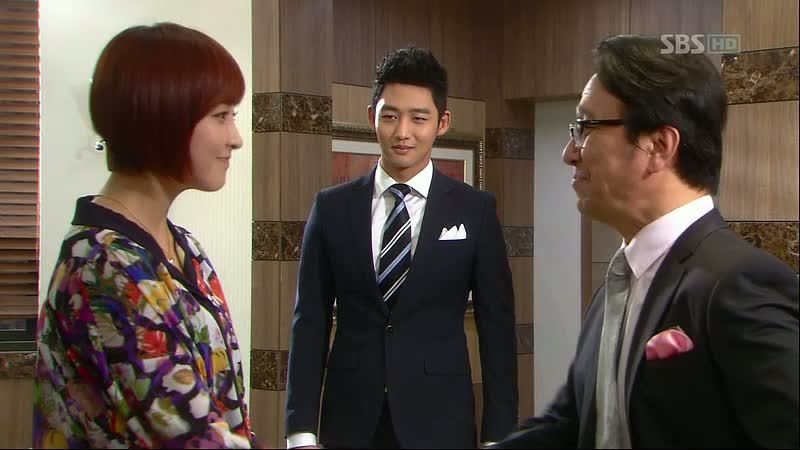 That perks him right up, and it's time for a instant turnaround; now Uncle Money starts sucking up to Se-na and tells her he's sorry, and how he knew all along she was too refined to belong to a fish market ajumma. Since class, in his mind, is a matter of birth and not, say, class. Uncle asks for her forgiveness and welcomes her back to the company while Tae-mu looks on proudly.
Now on to the identity theft, because they'll need forged evidence to assert Se-na's claim. Tae-mu tells Se-na to bring back some strands of Park-ha's hair, to be used in a DNA test.
The ducklings arrive in the morning, with all of Park-ha's belongings from her Jinan home packed, which would be presumptuous if they weren't so adorable with their happiness at having helped.
Then they head in to work, where Yi Gak gives them the new task of investigating both Tae-mu and Se-na. Having missed the latest developments, they're confused by his dictate, but he explains, "Joseon's princess was respectable and had a beautiful heart, but the princess here is different from what I knew. The princess was not a good woman. Realizing this must be one of the reasons we were sent here."
YAY! I'm doing mental cartwheels in joy. Not only does he realize Se-na's a hateful bitch, but he has connected her true nature here to her true nature in his own time.
The ducklings talk amongst themselves, processing this news. Man-bo's in disbelief, but Chi-san muses that "those rumors" must have been true after all, though he'd dismissed them at the time. He explains that there was talk amongst the palace eunuchs that the princess was a cruel woman, but the moment they opened their mouths would have ensured their deaths, so the gossip never traveled far.
Among the stories is the one we also know: that she burned her sister's face on purpose to become the princess bride. But Man-bo and Yong-sool tsㅏ-tsk the story, calling it outrageous.
At work, a scuffle breaks out in the lobby surrounding what appears to be a thief or spy running to evade capture. Yong-sool breaks out his warrior combat skills by chasing down the intruder, and he is thanked by the head of security for stopping him before he could make off with a valuable briefcase. Ah, smart move to ingratiate yourself with the security staff—good allies to lean on for information.
Chi-san works his own talents—womanizing—by going out for drinks with a team of female employees. He listens in as they vent and share work stories, and asks about Tae-mu's reputation.
Yi Gak makes a presentation to the directors for a new product he's working on, a travel package. He speaks with confidence about the Jinan tour, but Tae-mu just smirks to himself while looking at his photo of the real Tae-yong, catatonic in his hospital bed.
And then, Yi Gak's presentation is cut short—or cut into, I should say—by that very image of hospital-bound Tae-yong. Everyone stirs at the image onscreen, and Tae-mu stands up to announce that Tae-yong is currently lying in a coma center in America. He's essentially a vegetable, with a survival rate of "nearly zero," and Tae-u accuses Yi Gak of taking advantage of that information to assume his identity. "That man is a fake!"
Grandma demands, "What is the meaning of this?" and collapses. Yi Gak attempts to leave the room, but Tae-mu stops him with a punch, calling him a phony…
…which is all in his mind? ARG. I hate that trick in dramas, SO. DAMN. MUCH.
So now we're in the meeting, with Yi Gak giving the presentation, receiving applause. Grandma approves the proposal and congratulates Pyo Taek-soo for instructing him well.
After the meeting, Tae-mu congratulates his fake-cousin on a job well done, which is suspicious enough to make Yi Gak look at him warily. Tae-mu calls him out on being busy doing background checks on him, then warns, "Be careful. Your days of playing games are numbered."
Se-na comes home and suggests going out with Mom, which is out of character enough that Mom looks at her worriedly, asking if she's ill. Haha. I suppose it's something of a farewell gesture for Se-na before she claims a different mother, but to Mom it's just weird: "Was the shock of the broken engagement that severe?" Heh.
Aw, I know Se-na's never appreciated her mother enough, but I don't think she's completely without love for her. And knowing how much this makes Mom's day is enough to make me feel warm and fuzzy, even if I know that Se-na's a horrible person who's just going to disown Mom afterward. I don't think Se-na's a person incapable of love, but that she's just limited in how much love she's got, and most of it's reserved for herself.
Making this moment even more surprising is Se-na's offer to include Park-ha: "Isn't she part of this family too?"
They go out to a barbecue restaurant for dinner, with Mom literally singing to herself in joy. It's sweet. Park-ha is wary but goes along with Se-na's seemingly generous mood, keeping her surprise to herself as Se-na apologizes for being selfish and even offers Park-ha a piece of meat. Mom assumes that Se-na has had an epiphany after her jliting, and urges Park-ha to forgive unni.
To solidify the female bonding, the ladies head to a jjimjilbang next, and here, Se-na's ulterior motive becomes clear. She offers Park-ha a comb for her hair, then offers to throw it away for her—allowing her to pocket strands of Park-ha's hair in the process.
Se-na asks if she has any memories of her mother, and Park-ha says no, although she does have one memory from around her dol birthday, when Dad lad her onto his belly since she it was too cold to lie on the floor.
Meanwhile, Tae-mu and his father greet CEO Jang, who looks around expectantly for Se-na. When told she's out on a business matter, CEO Jang's smile fades and she tells the men that she won't need their escort on her personal errands, heading off alone.
She has a visit with Mom, but she's hit with a wave of pain (due to her cancer) and Mom ushers her away to find a place to rest. She ends up going to Park-ha's rooftop home since it's closest, and asks Park-ha to look after CEO Jang since she has to go to work.
Park-ha assures her that she has the situation in hand, says goodbye to Mom, then turns around to find Yi Gak practically breathing down her neck. Adorably, he's miffed that she hasn't introduced him to her mother, but she points out that in this time period, it's considered polite for the youngun to bow to the elder first.
Yi Gak huffs at her setdown, then calls for his backup. Only, the sidekicks have done a much better job assimilating into the modern world, and are currently engrossed in their mp3 players, laptops, and Wii gaming consoles. Hee.
Then at dinner, Park-ha prepares a stew made from fresh seafood, and serves CEO Jang first, since elders always go first. Yi Gak holds out his bowl expectantly as the next in rank, only to find that he's outmaneuvered by his three ducklings, who appeal to Park-ha with their puppy-dog eyes and aegyo voices. So cute. He fumes as he watches each boy get huge seafood goodies, then actually bursts out that there'll be nothing left for him. HA.
CEO Jang then meets with her lawyer to sign away her rights to the company shares in Se-na's name. Hm, is this independent of the identity theft scheme? Because if so, Se-na has just epitomized the meaning behind shooting oneself in the foot.
Speaking of which, the dynamic evil duo are ready to put their plan into motion, and Tae-mu meets with her to inform her that he's located her lost In-joo (renamed Park-ha). He escorts her to meet the lost daughter, and presents her with the DNA test results (which, ironically, would have been just as accurate coming from Se-na).
The thing is, CEO Jang already knows Se-na is hers and now has to pretend that it's big news. She tells Tae-mu that it's such a shock that she needs time to calm her nerves, and asks to reschedule the meeting for later. So she heads back to her hotel room in disappointment—she wants the daughter she doesn't know about.
She thinks, "Se-na, you're my daughter too. But you're not the one I'm looking for right now. What are you trying to do? Why are you trying to fool me?"
Park-ha does the laundry on the rooftop, while Yi Gak watches, eating his ever-present popsicle. Heh. At least this time he offers her a bite when she comments on the heat; aw, princey's finally ready to share his treats.
He asks why she hid her sister relationship from him, and she explains that there's no big reason, just that her stepsister didn't want anyone to know they were related, even if it was just through marriage.
Then Park-ha motions him closer with a crook of her finger, instructing him to assist in the laundering. Oh, and it's not just an excuse to get up close and personal? Okay. Laundry it is.
Later that evening, CEO Jang makes the official introduction to her lost daughter, and hugs Se-na, although it's with a cool expression on her face. She tells Se-na, "I've missed you, In-joo."
Over dinner, she asks Se-na about her young memories, and Se-na draws upon Park-ha's history to answer—that she was in a car accident at the age of 9. Her words happen to mimic the words of Park-ha, who explains her history to Yi Gak, about how she was adopted and doesn't remember her father's face that clearly.
Se-na tells CEO Jang about one memory about Dad, though, around the time of her dol birthday when it had been so cold Dad had put her on his belly for warmth. CEO Jang's eyes widen at the familiar story, and she thinks to herself, "Se-na, how could you know that?"
As Yi Gak watches Park-ha hanging the laundry, he works through the facts: "The princess is Se-na. And Se-na's sister is Park-ha. The princess's sister is Bu-yong."
He recalls how Park-ha's name means lotus, which is the same meaning behind the name Bu-yong. And to confirm his line of thinking, Park-ha pulls down the laundry line—creating a makeshift mask—to talk to him, and he realizes, "Park-ha, you are Bu-yong."
Well, finally!

COMMENTS
Ratings for Rooftop Prince have settled in the 11% range, which means that it's basically battling with The King 2 Hearts for second place. (The shows are flip-flopping from episode to episode.) Given that Rooftop Prince once enjoyed the No. 1 slot (as did King), it's a bit of a disappointment for it to fall to this middling range, but I don't blame the viewers, since I can feel the show struggling to retain its pep.
This episode did a better job of it than the previous one, since I found many more endearing and/or engaging moments here. I felt that the previous one was focused too much on zipping through plot, and in the interest of covering ground it let up on the character interactions. I can see how a comedy bit involving Yi Gak's fish-out-of-water imperiousness or the ducklings' quirky reactions to modernity can slow down the overall plotline, but since those are the things that make this drama enjoyable for me, forsaking them is not something I'd advise.
I've said this before and I still mean it when I say that Rooftop Prince's charm lies in its quirky comedy—NOT, say, the company politics, the makjang inheritance stories, or the sibling rivalries. It's also in the Joseon-era mystery and figuring out how it ties into the modern time-jump—which, again, is not directly related to the company machinations. I do wish it would explore more of what sets it apart than settling back on the familiar, because the more we spend on the inheritance/identity swap/takeover plotline, the more I feel like I've seen this drama already. Maybe a dozen times. It's always the same thing, and rarely is it ever more interesting than the previous examples. What I love about dramas, cliches and all, are the little ways in which they can take a tried-and-true formula and put their own twist on things. When you lack that twist, attentions start to wander.
That said, I did like this episode more than the previous couple, mostly because a lot of the lies have been discovered and now were in Part 2 of the whole Fate Question. Which is to say (as Man-bo pointed out): What if this twist is also Fate? What if Yi Gak falling for Park-ha despite their mission is part of destiny?
With Yi Gak's realization that Park-ha is Bu-yong (which made me wonder, I thought he figured that out already?—blame the live-shoot madness), we're entering the final stretch where the characters start to consider that maybe they had it all wrong to begin with, and maybe there are things they didn't account for. Such as Se-na being a horrible person, and Park-ha being part of his past life as well. Just one more step, and maybe he'll figure out that the thwarted fate doesn't necessarily have to be in THIS lifetime, but in the one he came from…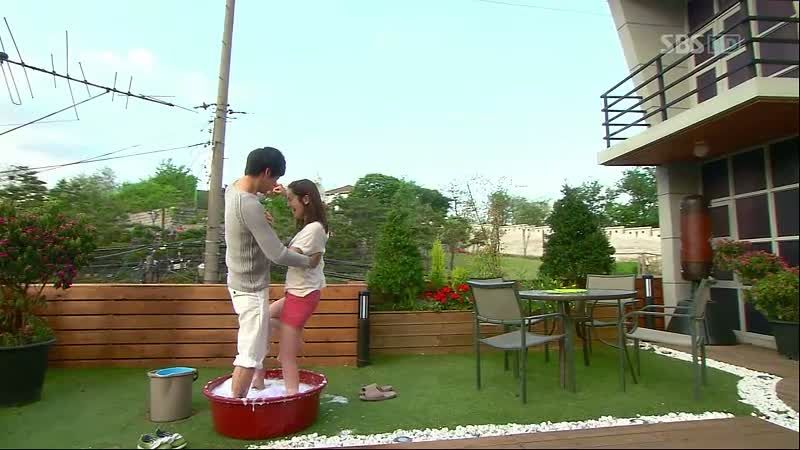 RELATED POSTS
Tags: featured, Han Ji-min, Jung Yumi (2), Lee Tae-sung, Micky Yoochun, Rooftop Prince