The King 2 Hearts: Episode 13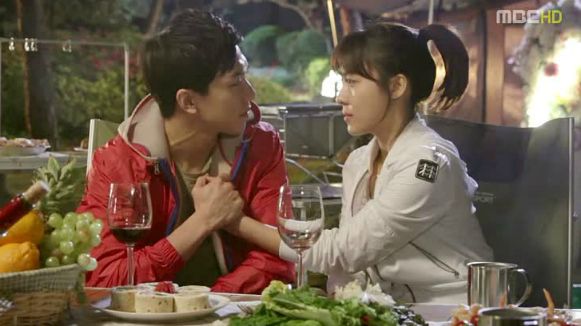 War games, mind games, and games of the heart. Bong-gu solves a riddle, Shi-kyung slays the ladies, and Jae-ha opens up about his first love, which is brave, considering your girlfriend probably carries a gun.
SONG OF THE DAY
King 2 Hearts OST – Lee Yoon-ji – "처음 사랑" (First Love) [ Download ]
Audio clip: Adobe Flash Player (version 9 or above) is required to play this audio clip. Download the latest version here. You also need to have JavaScript enabled in your browser.

EPISODE 13 RECAP
Bong-gu-stiltskin ponders his riddle box (The riddle: Something I have that you don't.) He whispers, "People," and it snaps open. He giggles and opens it up… to find one of Jae-ha's fancy royal usb drives. You know he had those custom-made: It needs more bling!
Bong-gu laughs that he's returning video letter for video letter, and walks away. But of course he gets about three feet from the desk and can't handle the curiosity, and heads right back. Ha.
He turns on the video letter of Jae-ha, sitting with his arms crossed like a disappointed father, "I TOLD you not to open it." He says he'll give Bong-gu one last chance, and tells him to turn it off before he gets to ten.
Begin countdown. Bong-gu scoffs, "What is this, porn?" Dude, you can't send my mind to the gutter two minutes in. I have a recap to write!
He fast-forwards through the countdown, and we resume at ten. And then the video switches to hidden camera footage of Jae-ha's Operation Seduction. Hahaha. Nice.
Bong-gu's eyes widen to see his girlfriend swooning over Jae-ha, not wanting to go home to her boyfriend, whom she calls childish for doing magic tricks every night. She rattles off a litany of blows – he's got no charm, no humor, he's got an inferiority complex and calls himself "the king," and she's only with him for his money.
I love that every time she says something particularly hurtful, Jae-ha looks directly at the hidden camera, just to rub it in. She says that money can't buy dignity, and tops it off with a hand-graze and a suggestion they move the conversation elsewhere.
At the same time, the girlfriend walks into the room in person, and Bong-gu pulls out his gun. Without a moment's hesitation, he shoots her, and then again and again when she's on the ground. Damn.
Jae-ha says dryly, "You're not going to kill her right?" Uh… I know it's not his fault that Bong-gu's crazy, but he's going to regret saying that so glibly. He says that Bong-gu already knew what she thought of him, but that's people for you—they lie, they allow themselves to be fooled.
He says that's what he used to think too. And that's how he was with Hang-ah in the beginning. He even shot at her too. But it was hyung who saved him, by believing in him. He hopes that Bong-gu will let this go, "Otherwise, you'll end up very lonely."
As he says the words, Bong-gu's minions run in and discover the girlfriend's bloody body, faces contorting in horror. Jae-ha continues:
Jae-ha: At least I had people who believed in me, so I could start over. But you don't… have anybody. If by chance you really did kill her, that's the end for you—the very nature of hopelessness. Because that's what's really important in life: people. That's why my weapon and my strength is people. The people who believe in me. The people who held out their hands to me though I kicked them out. And even the person I shot… who loves me. Kim Bong-gu-sshi, go ahead and step on me some more. The more you do, the stronger I'll become. Why? Because now I have to protect the people who believed in me.
Damn. So good. It's exactly what I wanted from Jae-ha, and then some. This paired with Shi-kyung's speech to him a few episodes back just give me chills.
Bong-gu doesn't even let him finish, and busts a cap in the tv. His minion tells him that Jae-ha's making an announcement right now, and then we cut to his speech (at a function to honor Jae-kang).
He says that his brother had two dreams—to have North and South Korea enter the WOC together, and that he'd marry Hang-ah. Excellent way to bolster support for your wedding. I approve. He says that to that end, the WOC team will enter as planned, with the original members… including himself.
From the security line, Dong-ha's jaw drops. He whispers to Shi-kyung, "We're ALL going?" Shi-kyung just grins.
Jae-ha says that this team has trained together for months and that even in the recent incident in North Korea, it's that teamwork that saved the day. He knows that dissension is high regarding his engagement to Hang-ah, so this is how they'll prove themselves—by making it to the second round, or else they'll call the engagement off.
Er? But! Now you're just making it harder! Gaaaaah. He says that he loves Hang-ah, as everyone knows. But he understands that the king marrying a North Korean isn't something that the citizens will accept on faith alone, hence this display of harmony/teamwork to show that North and South can work together. It makes sense in theory, but what about the part where you were gonna marry her, like right now?
He then calls Hang-ah to the stage, introducing her as the North Korean team leader, the woman he loves, and his fiancée-to-be. She walks onto the stage dressed in uniform, and then he holds out his hand (like a boyfriend, not for a handshake) and they hold hands and stand side by side, smiling at each other. It's adorable.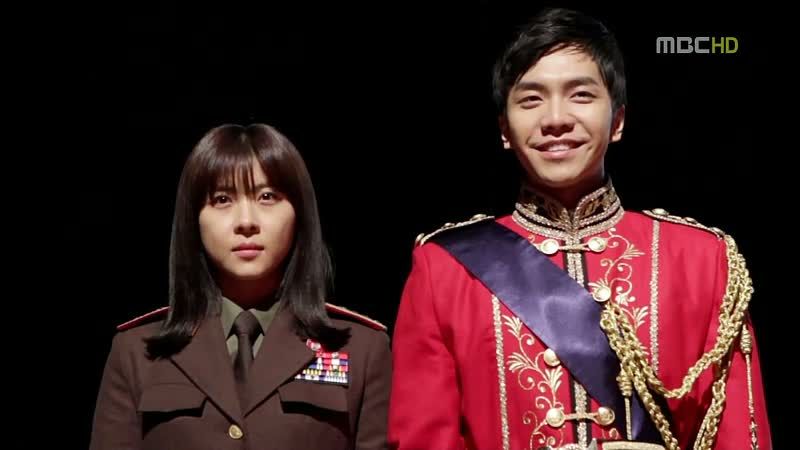 Afterwards, the prime minister throws a fit, saying that the king can't go into a combat situation himself. But Jae-ha rattles off plenty of kings who have gone to battle—Alexander the Great, King Gwanggaeto. The prime minister's like, That was EONS ago! But Jae-ha's got an answer for everything, determined to see it through.
He says that every major country has some stake in the North-South divide, but it's time they take control and show the world that this is their own problem and not anyone else's. The prime minister can't argue with that reasoning, but then whines, "What if you get hurt?"
Jae-ha breezes that it's all games with blanks, and besides, won't other teams be too scared to injure a king? And if they do, can't the prime minister kick up a big fuss? And then he winks at the man like they're in on a secret together. Player gotta play.
Secretary Eun hasn't said one word in disagreement (remember Jae-ha came to him beforehand with the plan) but asks one thing—what if they lose in the first round? Jae-ha assures them that they won't, and starts to explain, but tsk-tsks that the prime minister wouldn't understand because he never went to the army. Ha.
Questioning his health (aka his excuse for not serving in the army) leads to the prime minister's swift and hearty approval on the matter. He says that he'll guard the country in the meantime, but Jae-ha says he needn't guard his position, since he's got Princess Jae-shin on that job.
You mean the princess who's currently driving her wheelchair around like a monster truck and trying to run over staffers accidentally-on-purpose? That one? You might want to rethink that.
It turns out her road rage is just to mask her massive pain, and in a moment of weakness, she approaches the top of a staircase, her hand trembling on the forward gear.
She looks down with pained eyes, and then starts to inch forward. But Parrot squawks out at the last moment and she stops. Lassie's got nuthin' on you, birdie.
Hang-ah comes to ask Jae-shin about taking charge of the palace for a month, and Jae-shin flips out, saying that she can't even go outside the palace let alone deal with official appearances. She snaps at Hang-ah as if it's her fault, and Hang-ah just snaps right back.
I love that she's so no-nonsense with the petulant princess. It must be all her days spent taming her petulant oppa. But Mom's in the room, and when Hang-ah asks to speak to the princess alone, Jae-shin tattles that if Mom leaves, she'll hit her like last time. Ha.
Hang-ah's like, But… I bathed you!
She knows she'll get nowhere with Mom around as a shield, so Hang-ah tags along on her trip to the hospital the next morning. She stoops down to change her heels to sneakers, saying that she shouldn't give more pain to hurt feet, but Jae-shin asks bitterly what it matters, since she can't feel the difference.
Hang-ah says that she heard from Shi-kyung about what happened the last time she went to the hospital, and promises to ride along to keep her safe. Jae-shin grumbles that she knows the real reason is to nag her to play king for a month, but her face shows relief.
Mom tells Jae-ha that there's no way that Jae-shin can handle the job. But Jae-ha says she has to do it, and Mom has to stop babying her. They have to go by the rules, and the rules say the next in line for the throne has to take his place.
But Mom says Jae-shin isn't even in a state to handle everyday life, let alone all that pressure. She wakes up every night to find Jae-shin banging her head against the wall, asking why her, why it hurts so much, saying that she hears a strange song in her ear and every time she falls asleep she dreams of being chased.
Mom: "She can't even walk. You're asking someone who can't walk to run!" But Jae-ha is resolute that she has to get over it. He says that's what Hang-ah went to do. "She'll be able to run."
In the car, Hang-ah looks over at Jae-shin, her eyes full of warmth and sympathy. She's knocked out on pain meds, which the staffer tells her is an everyday occurrence now. She pulls her over to lean on her shoulder, holding her the rest of the way.
Back at the palace, Jae-ha tells Mom that because she Jae-shin won't show herself or speak about her condition, people just think she's gone insane, that she's locked herself in the basement of the palace and drools and craps her pants like a vegetable.
Crying, Mom screams at him to stop, asking how he can say things like that about his own sister. But he yells back that it's because he's tired of hearing people say those things about her.
Mom wails that Jae-shin was so smart, so bold, fearless in front of people. Jae-ha fires back with tears in his eyes that that's why they have to catch the bastard who did this to her. He kneels by her side and takes her hand. "Are you going to just let the bastard who killed hyung and did that to Jae-shin go? Mom!"
And then he tells her about Bong-gu strolling in here with a smile, telling him over a shared meal how he killed Jae-kang. He calls him a scary bastard who has endless power and fears nothing. He tells her that's why Mom and Jae-shin have to be stronger, if they're going to take him on.
But Mom cuts him off, "Don't do it." She tells him to run instead. The tears finally start to fall as he looks up at her in shock. She can barely eke out her words through her tears, shaking in fear at the thought of losing Jae-ha too.
"Jae-kang-ie, before he is your brother, he is my son. I will forgive everything. I will bury it in my heart. So let's just be a little bit pathetic. We can close our eyes just this once, like nothing ever happened. Jae-ha-ya, save me. Don't do it. You too… No! Don't do it! No, I can't…" Tears stream down his face as he looks up at her. She wails, broken and desperate not to lose another child. He hugs her tight as she cries over and over that he can't, that she can't lose him too.
Waaaaaaah. The mommy-son scenes just kill me on this show.
Bong-gu calls a meeting for Club M, and says that Jae-ha declared that he had no people. He plans to rectify that situation, which just proves he never got it in the first place, and declares that they'll work together to preserve their agenda.
The first thing on his to-do list: attend the peace conference in Jeju, and participate in the WOC himself, so as to help bring about peace on the Korean peninsula. Uh-huh.
Meanwhile Hang-ah takes Jae-shin to ground zero. The memories start to swirl around her. And then she fills her in on what kind of man Bong-gu is, and what he did to Jae-kang because of the WOC and Jae-ha's engagement.
She explains that a man like that will use any opportunity to attack the monarchy—which is why Jae-shin has to take the throne in Jae-ha's absence, to adhere strictly to law. But what's more important is Jae-shin's memory.
"If we're going to stop him, we need a weapon. Right now your memory, your eye-witness account… is our only weapon against him. Please…"
Later that night after Hang-ah catches Jae-ha up to speed, he sighs that he knew it wouldn't be easy. Hang-ah says that she's changed so much—when she first met Jae-shin she was so bold, but now…
She wonders what on earth happened to her that night to make her so scared. But that thought leads her to wonder how Bong-gu found out about the villa in the first place. THANK YOU. Can we put her in charge?
Jae-ha never though much of it before, but then realizes now that it was his vacation, and only a handful of people actually knew where he was staying. She asks exactly who. The family, Secretary Eun and Shi-kyung, and the secret service team who went with him.
She asks hesitantly, "Secretary Eun is trustworthy, right?" He scoffs that the old man has been serving the monarchy for over thirty years, and was here before Jae-ha was even born. Yes, but if you think about it, that's like having one chief of staff for seven presidents. Does anyone think that's a good idea for one man to have so much power?
She doesn't argue, but says that he did say strange things… like the time he lied to her about the congressional hearing and how it was Jae-ha's idea. He gapes, "Is that what you believed all this time?"
She says no, actually, because apparently Secretary Eun told her after the fact that he lied. To cover his own lying ass? Damnit. But then Jae-ha remembers how Secretary Eun told him that it was Hang-ah's idea to go to that hearing.
The next day he looks out the window as Secretary Eun briefs him on the WOC, and then asks after a long pause, "Ajusshi, you never lie to me, do you?" He answers no. Jae-ha nods and smiles.
He sits down at his desk and jabbers on about how he asked the head housekeeper to clean his mouse but she forgot. She's been around forever though, so it's not like he can yell at her. "When people get old, they must forget from time to time, right?" Oooooh.
"That's what happened with you too, right Ajusshi? The safety check, when hyung died?" Holy crap. I didn't think he'd make that leap so fast. Jae-ha has perfected that smile-while-threatening thing, and he just smiles up at him, as Secretary Eun has an internal freak out and then answers, "Yes."
Jae-ha returns to business as usual and watches him go with a wary sigh. He's clearly testing the waters for now, but I understand that he doesn't WANT to believe it despite the signs that maybe the old man isn't quite as honest as he claims to be.
Jae-shin ponders Hang-ah's pleas, and flashes back to memories of Jae-kang, and then the day she saw her attacker outside her ambulance. I really hope this time they're concrete memories, though it's still unclear.
Dong-ha's colleagues ask if Kang-seok is like the terminator, and Dong-ha postures that he's nothing special—he's just a crazy SNSD fanboy. The guys are like, "But in the army, SNSD is god." Hahaha. Truer words.
But Dong-ha says he's not strong at all, insisting it's all show. Shi-kyung finally looks up from his book, "Is that why you ran away from the snowball fight when Rhee Kang-seok came?" HEE.
Shi-kyung playfully makes a move to hit him over the head with his papers, eliciting a big "ooooooh" from the guys. Suddenly the festivities come to a screeching halt when Jae-shin wheels into the room at top speed.
The guards all jump to attention and click their heels, and she asks what they're all standing around for. That's their cue to scram, and they don't need any prodding. They scatter like a pack of mice, leaving Shi-kyung alone to deal with her.
She tells him that she'll do it—she'll take Jae-ha's place for a month. But she has a condition: Shi-kyung has to stay and help her. But the WOC! And the team hijinks! He says as much, but she tells him that someone else can go in his place. She needs him here.
"Should I get on my knees and beg? To save me? Then will you do it?" She rants that the world thinks she's crazy, disabled, calls her all sorts of things, but she's still a princess, so why does she have to plead, to someone like him?
But she catches herself. She can't help but admit how much she dislikes him, "You're frustrating and I don't even want to see your face! But I have no one. If Oppa and Unni go to the WOC… then I have no one to lean on. I feel a little pathetic for having to say this to you, but stay. I'm asking you." Aw, I change my mind! Stay!
He finally relents and tells her that he'll let the king know. She adds that she really doesn't remember—she's tried and she's not avoiding it, she swears, but she can't remember a thing. He nods and says he knows, apologizing for what he said the last time. She turns her head away as a tear falls, not wanting to cry in front of him.
Shi-kyung reports all this to Jae-ha, who looks up with his mouth gaping open, "Jae-shin told you directly that she'd do it?" Shi-kyung nods and says that he'll have to drop out of the WOC, and Jae-ha looks up at him with a raised eyebrow, "What's your secret?"
Shi-kyung stares, confused. Jae-ha: "Kim Hang-ah, and now Jae-shin. How'd you seduce them? Is the entirety of your true nature a royal-killer?" Jae-ha's like, what is with women's tastes? He adds that if Shi-kyung does well, he might end up the king's in-law.
Before Shi-kyung can even react, Jae-ha says this isn't how it's supposed to go—he wanted a brother-in-law who's easy to talk to and gets along with him swimmingly, so they'd play golf together and stuff, not someone like him.
And Shi-kyung just blurts out, "Me neither!" Hahahaha. Jae-ha looks up, rug pulled out from under his own joke. Shi-kyung says Jae-shin is NOT his taste in women, so he needn't worry.
Jae-ha backs down, totally deflated by Shi-kyung's seriousness. He finally snaps back, "Why do you always get so angry when I make a joke?" And then suddenly he gets belatedly offended, asking what he means by taste anyway, upset that he's insinuating that Jae-shin isn't up to his standards. Hee hee hee. I luff these two.
Shi-kyung cuts him short and leaves with a bow, and Jae-ha has to call him back in to finish the conversation. He tells Shi-kyung to find his replacement for the team then, and motions for him to come close.
He leans in, and in a low voice, he tells Shi-kyung to check on every last person who knew where hyung was staying when he died—every guard, all the staff, even Secretary Eun. The last name makes both of them uncomfortable, but Jae-ha just tells him to inspect everyone equally.
Shi-kyung wonders if there really might be a mole in the palace. Gah, the fact that he's in charge of this investigation just breaks my heart.
Secretary Eun goes over Jae-shin's upcoming agenda, and though she resists public appearances, he tells her that the peace conference in Jeju is something she can't avoid. And then he gets the guest list, where he sees John Mayer's name.
He calls Club M but puts the phone down when Shi-kyung comes to see him, to ask for his help in clearing up some accounts that don't match up from the guards who were in Anmyundo.
Dad looks at him in alarm—why is he asking? Shi-kyung explains that the king put him on the case, to find out if there's a mole. Dad panics, asking whom he's investigating. Shi-kyung says everyone, but adds with a smile that Dad's not a suspect-suspect, since the king trusts him completely. Oof. Already not true.
Jae-ha shows Secretary Eun his WOC uniform, complete with the team leader armband. Hahaha, did you have that made the second Shi-kyung stepped down? Cracks me up.
Secretary Eun tells him that Bong-gu will be attending the Jeju peace conference, where Jae-shin will be—is he really going to leave like this? But Jae-ha says it'll be a public event, besides, Secretary Eun will be there. "I trust you, Ajusshi. Take good care of Jae-shin."
It's the night before they ship off for the WOC, and Jae-ha prepares a late-night barbeque for Hang-ah. She says they have to work out, not pig out, with so little time before the games. But he tells her that teamwork is more important. Uh-huh. Teamwork? Or teamwork?
They clink their wine glasses and she downs her glass like a shot, so he laughs and quips that she's impressive, but falls way short of his first love, who was soooo pretty and reaaaaally forward. She literally pulls up her sleeves for a beatdown. HA.
Flashback to little grade school Jae-ha, who collided with a young girl and fell instantly in love. He loved everything about her, down to her immovable coldness. She wouldn't give him the time of day.
His mom had sent him to a public school and he tried to hide his identity, but the truth came out in no time. And then suddenly, that girl just sidled up to him and linked her arm in his. "It was a little disgusting."
He muses that most people talk about their first loves like they're precious and beautiful, but he chuckles, saying he doesn't know—his first love is something he wants to forget.
Jae-ha: "I gave up right then and there. This is how things are. This is what people and the world are like. I gave up and I enjoyed it. Even when I met a good person once in a while, just to there, I'd draw the line, and not trust. But living that way… a person grows so lonely."
Hang-ah listens, her eyes full of empathy, and she reaches out and puts her hand on his. He looks over at her, and then takes her hand up to his face. He closes his eyes as he leans onto her hand. Awwwwwww.
He looks up at her, "Thank you for being here." He says let's win, and she gives a little nod. And then he leans in for a kiss.
They arrive in Japan for the WOC and finally meet up with Kang-seok and Young-bae, who salute Jae-ha stiffly. He's like, what's with you guys? They remain stone-faced, so he reminds them that it can't be this way if they're going to be a team.
Suddenly Kang-seok breaks into a huge smile, "Right?" Hahahaha. He shakes Jae-ha's hand warmly, and Young-bae bear-hugs him, and then TICKLES him until he lands on the floor. I missed this so much.
Kang-seok greets Hang-ah with a smile, and then he and Dong-ha join in on the attack. Group ticklefest? I love this team! And now I'm all sad again that Shi-kyung isn't here. Wah. The replacement guy watches the proceedings agape.
Jae-shin gets crowned as interim monarch and then it's time for the peace conference in Jeju. Bong-gu's minion asks if he's really going to let the WOC proceed like this, and Bong-gu insists he's turned over a new leaf as his peace-loving self.
But then he coughs something up… a WOC ball. It's one of the team selection balls that will determine the Round match-ups. I don't see how taking one ball makes the outcome a given, but I'm just going to take it as a sign that he's rigged the whole lineup. Not knowing this, of course, the team scouts out their top choices for opponents in the first round.
Secretary Eun calls Bong-gu over and over, and he finally gets through, and asks what he's doing here. Bong-gu says he was invited, and warns that it's not really the princess he should be scared for, but himself.
"You have a son, right? The king's right hand man? What would he do if he found out that his father is friendly with me?" His eyes widen. Way to get him where it hurts.
Jae-shin braces herself for her first public appearance since the accident, and Shi-kyung tells her he'll always be where he can see her, and that it'll be over before she knows it. But she can barely hold it together, and she grabs his sleeve, asking if there are a lot of people, and if they'll all be looking at her.
He gets down on one knee and asks if she remembers that night she took him to see the shooting star. "I never saw a shooting star. Because you shone brighter." Oh swoon. I know it sounds like a line, but not coming from the boy scout. He means it.
He tells her that she looks just as beautiful tonight. Awww, you mean that'll be the reason people look at her? Jae-ha's right. You totally have game. She cries a little tear.
The WOC draw is nearing, and Hang-ah rushes to call Daddy for his input on which teams they should go up against. Basically small countries that see very little war. It doesn't much matter though, since it's luck of the draw anyway. They announce that usually the top three winners from last year's games get to draw first, but the U.S., U.K. and China decided to give first draw to the countries entering for the first time. Korea gets called for their turn.
Shi-kyung takes his place at the back of the banquet room, and Jae-shin takes a deep breath, and then heads out onto the stage…
Jae-ha and Hang-ah go up for the draw and he reaches into the bowl. He hilariously fidgets, looking down to see if he can read any of them, unable to pick, and Hang-ah has to mutter under her breath that it'll look bad if he doesn't just pick one.
She tells him to just grab the first one, and he nods… and then stirs the bowl again. Ha. But suddenly one of the balls snaps into his hand. Oh noes. Is it a magnet? He's wearing a conspicuously large ring…
He looks at it, surprised, but it's already in his hand. He takes off the label and flashes it to the crowd without looking. The team looks back in shock. "USA!"
Oh. Crap.
Jae-ha and Hang-ah turn to each other, shell-shocked, as the American team cheers.

COMMENTS
That has to be a magnet. I was wondering how Bong-gu would rig a random draw, but that's as good as any I guess. It leaves a lot to be desired as far as foolproof plans go, but in any case he succeeded in pitting them against the worst possible foe to meet in Round 1 of the games. I have faith though. At the end of the day, it's a game of wits and strategy, not a contest in military resources. Besides, guy's got a marriage on the line if he loses.
It's still ridiculous that he ADDED that stake to their engagement, as if they didn't have enough to overcome, but what it does is create a counter effect storywise – it suddenly gives the WOC higher stakes from our point of view, because now they have to win for us to get our happily ever after. Before I didn't much care whether they won or lost, other than wishing for the team to do well, but now if they lose, we will have words. It's hardly organic—the stakes are set up artificially with big neon lights—but in any case now I care a whole damn lot, despite knowing they made it this way so that I'd care.
I'm excited for Shi-kyung and Jae-shin's baby steps forward. It's the first real inkling that he's given about his feelings, and it clearly took a lot for her to beg him to stay by her side. (I also love that she's always the first to make a move.) Though Jae-ha's teasing is my favorite thing of all, because I can never get enough of that look on Shi-kyung's face when he's being mocked.
But the 'people' speech to Bong-gu was the best thing in this episode (though the mommy-son scene was the one that gutted me, with the performances). I wondered if Jae-ha had really come far enough to know the full weight of his own keyword, but I felt so proud when he proved that he did, in what to me is a direct answer to Shi-kyung's speech for him to be strong. I love that he knows too, how each of them including his brother has cut him slack or forgiven him or had faith in him before he deserved it. But they gave it anyway, which is why he's now paying them back by living up to that belief in him. Seeing the direct effect of Shi-kyung's faith, Hang-ah's love, in transforming Jae-ha into a king – that's the heart of the show for me.

RELATED POSTS
Tags: featured, Ha Ji-won, Jo Jung-seok, Lee Seung-gi, Lee Soon-jae, Lee Yoon-ji, The King 2 Hearts