The King 2 Hearts: Episode 15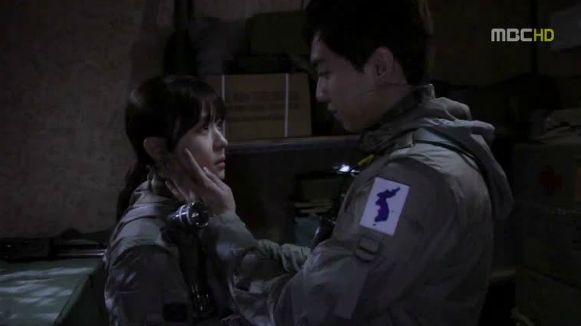 Just when you think the king is Gilligan, he turns out to be MacGyver. Yeesh, the things you gotta do to get engaged in this world. Remind me never to double down on war games to be with the one I love. Huh? Whadduya mean that's crazy? IT MAKES PERFECT SENSE.
SONG OF THE DAY
King 2 Hearts OST – J. Min – "말 못하죠" (I Can't Speak) [ Download ]
Audio clip: Adobe Flash Player (version 9 or above) is required to play this audio clip. Download the latest version here. You also need to have JavaScript enabled in your browser.

EPISODE 15 RECAP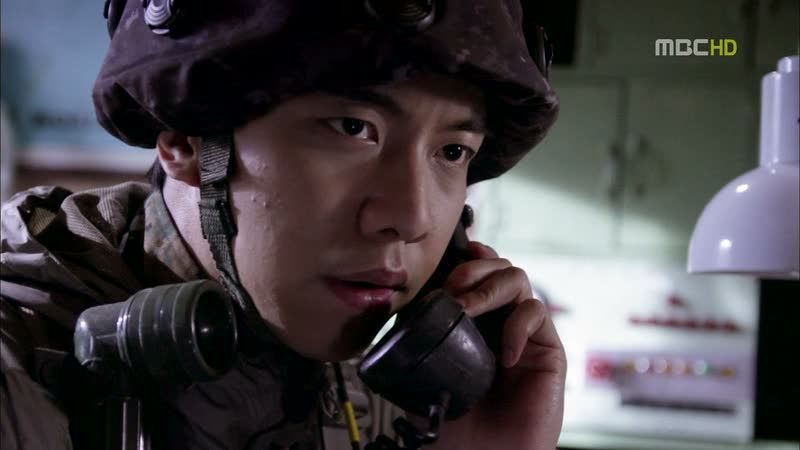 We backtrack a bit to our team after finding out that key-bearer Young-bae has been taken hostage. Jae-ha calls his general for options – if they can't get off this island on that raft, what are the other ways to win the game?
The general names the options, all unlikely: full surrender by the opposing team, they "kill" every member on the other team, or get the rest of the U.S. team to switch sides on their leader in a coup de tat. Jae-ha says no, none of those.
The final one: destroy the other team's equipment, cutting them off from supplies and all communication, leaving them incapacitated. That's the one. Jae-ha hangs up and his team worries – real explosives? Hang-ah says they can't, scared that people might get hurt, but Jae-ha says that's why they have to make sure that no one does.
The plan is to set off a few bombs and then get the Americans to surrender. If they don't? Then they blow every last bit of the U.S. bunker. They ask how they're even going to make explosives anyway, and Jae-ha takes out his phone. All he needs is two of these.
Then we catch up to the end of the last episode, as Jae-ha sneaks onto the Americans' base, and gets to work. In voiceover this time we hear his explanation to his team, that the upside of military service being compulsory is that you get all sorts – guys who make cell phones, video games.
And what did princey do in his spare time in the army? Why make bombs out of everyday things, of course. "Because I was bored." Hahaha. I love that the explanation isn't that he's some genius, but that he spent his army days goofing off and doing things he wasn't supposed to.
He sets up the first explosive and waits. Kang-seok draws two guys away, successfully killing one on a land mine. Dong-ha waits, and the guard watching Young-bae finally asks if that lighter he picked up is his. Young-bae takes a look, and sees "Yeom Dong-ha" carved into the side of the lighter.
He beams and calls out Dong-ha's name, which is his cue to toss a smoke grenade into the room. Young-bae overtakes his guard.
Hang-ah gets into a firefight, and Not-Shi-kyung ends up dead, but she takes out one on the other team.
By nightfall, the Americans are down to three active men, and one taken hostage (Young-bae's guard). Jae-ha sets up another explosive, but the clock is winding down on the whole game, and Dong-ha asks if they shouldn't just ambush the other team.
Hang-ah says they can't, 'cause that leaves Jae-ha alone to finish the job, clearly meaning, he couldn't possibly, the wee tyke. Jae-ha just turns to her mid-bomb assembly, with the most hilarious silent you-did-not-just-patronize-me-like-that look on his face.
He radios Kang-seok to see if he's holding up his end. Kang-seok is too busy making a run for it to answer, as he climbs a barbed wire fence to get away from the one American left on his tail.
But just as he reaches the top of the fence, he takes a bullet and his kill-meter beeps. He collapses to the ground in a heap, as the U.S. soldier takes out his first-aid kit (aw), and Kang-seok mutters with a laugh that it'll take three hours for him to get back to the rest of his team. Ha. What an elaborate diversion.
They wait, but the two last holdouts on the American team refuse to budge from the bunker. Jae-ha tells Hang-ah to draw them out. She worries that there isn't enough time, but he says with confidence, "We still have twenty minutes. We can do it." Aw, you learned that from her.
Hang-ah calls the U.S. team leader (she speaks in Korean and he answers in English, but at least they have interpreters in earpieces, since it's a game) and calls him out, as she walks the hostage toward them.
The leader leaves the boat keys with the last team member inside, and goes out to face Hang-ah without weapons, to negotiate. She asks why he's here alone, nervous since this puts a big kink in her safety distraction plan, but Jae-ha gives them the go-ahead anyway.
Hang-ah panics, but keeps up negotiations, while Jae-ha sneaks up behind the bunker, calls to ignite the bomb, and gets the drop on the guy inside. He tells the guy to get away from the wall behind him, but he doesn't listen, of course. Oh crap.
The bomb goes off, and the guy gets knocked down by the blast. Oh noes. Please don't die. Please don't die. Jae-ha runs over to make sure he's okay, and breathes a sigh of relief. Phew.
But the explosion must've knocked out his radio, because it goes dead and he chucks it aside. Jae-ha snatches the boat keys and then immediately gets to work in rigging the last charge. He cuts the gas line on this one. Eep. Is that a good idea?
The U.S. team leader calls foul (they're not allowed to bring real explosives) but Hang-ah points out the rule that they're allowed to make use of whatever they find. He says it's just a game, but it's no game to her:
"It's critical for us. The people we love are on the line. Have you ever been separated from your family? People with the same language, the same history, who lived together for thousands of years… in one moment, halved… have you ever been split like that? Losing parents, siblings, destroyed by a three-year war… have you ever had that happen to you? I don't know if something like this is just a game to you, but it has always been critical for us."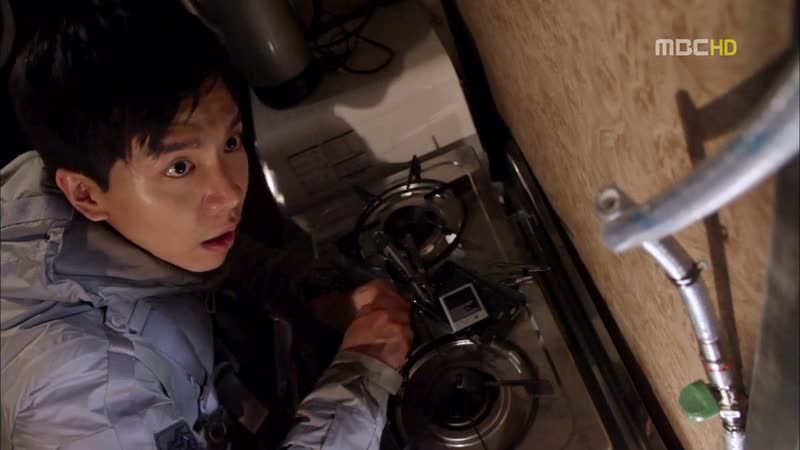 She tells him that their communications are out. She points out their armory, and presses a button on her phone. It blows. She says their headquarters are the last to go, and tells them to surrender. But they aren't backing down.
She checks her watch nervously. Minutes till deadline. But there's no answer from Jae-ha, and she doesn't know if he's had enough time to set the last charge.
Inside, Jae-ha works as fast as he can, sweat dripping, hands shaking so hard it turns me into a nervous wreck just to watch. Stop shaking while building explody things!
Hang-ah weighs her options. Another minute goes by.
Flashback to their initial conversation where she voiced her fears that the plan would be too risky. He tells her they can do it, and caresses her face, hugging her for reassurance.
He tells her that no matter what, they can't go past eight o'clock, so even if the other team doesn't surrender, she has to blow the charge before their time is up.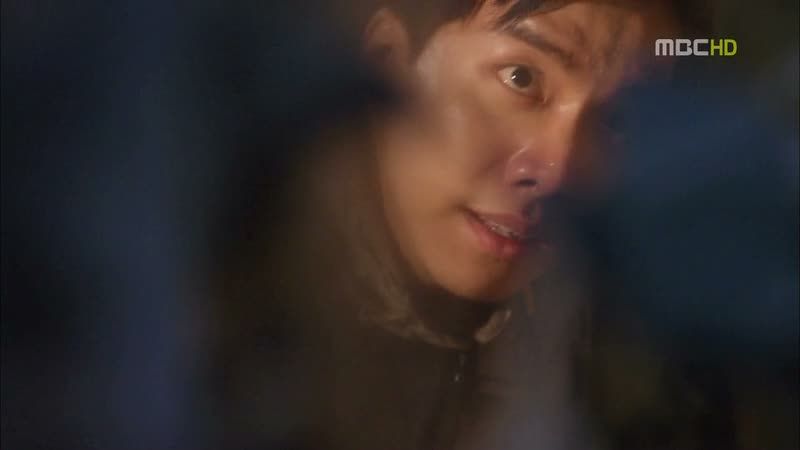 Back to Jae-ha wiring with trembling hands. Ohgodohgod, who knew bomb-building could be just as nerve-wracking as bomb-disabling? He barely finishes, and then struggles to drag the American out in time…
She looks down at her phone, and then gets ready to make the call. The U.S. team leader apparently has thrown all reason aside, because he declares that he doesn't care whether his teammate LIVES OR DIES (uh… just going to assume you're psyching her out, 'cause that's just ridiculous) but warns her that Jae-ha will die too.
She hesitates. Back to flashback, where Jae-ha says to her, "I'm going to win. And I'm going to return and be engaged to you. If you feel the same way, then you press that button before eight o'clock. Trust me. And I'll trust you." A nice reversal of the last war games they played, where they did neither.
Holding her face, he asks her to promise—that if she loves him, she'll push the button. Back to the present. Hang-ah puts her finger over the phone, with seconds left to spare. A tear rolls down her cheek, as she says, "I love Comrade Lee Jae-ha…" and she presses the button.
The call goes through, and the whole bunker goes up in a massive explosion. She screams for Jae-ha and goes running, and Dong-ha follows after her. He stops her from running right into the fire, and she screams and cries for Jae-ha, thinking the worst.
She wails, and then from the edge of the woods behind them, Jae-ha's voice rings out, "You're so loud!" Startled, they run over to the other side, and find him heaving on the ground, the American solider still unconscious, lying next to him.
Her tears turn from fear to ones of relief, and he gets up and smiles, joking, "Why are you crying? Did someone die?" She just keeps crying. He staggers to stand up, and then she finally walks toward him, collapsing into his chest with sobs.
He just hugs her tight as she cries and cries, and he laughs, "You can't trust me, even till the end, can you?" I just love that she's crying and he's laughing. He holds her close, and from the distance, he and Dong-ha exchange smiles.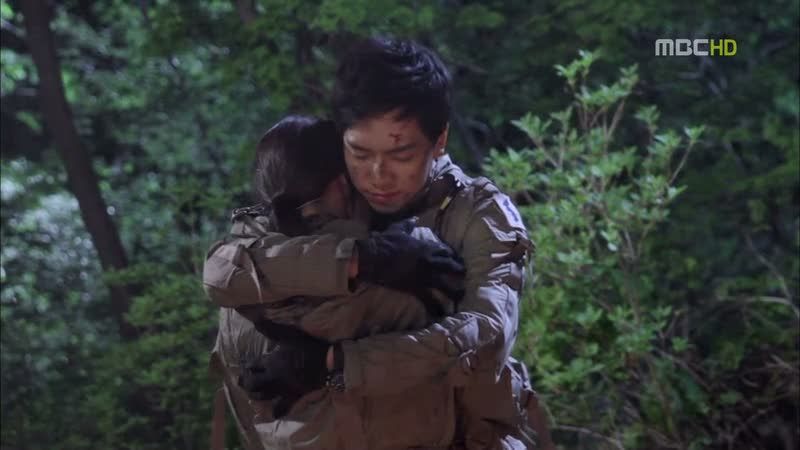 At the palace, Secretary Eun reports to Mom and Jae-shin that the WOC is currently weighing final verdict. Mom asks about the latest incident with Club M, and he says it's taken care of. Jae-shin takes issue with his idea of problem solving, since it involves groveling to the enemy. You and me both, sister.
Mom tells her to apologize to Secretary Eun (as an elder), and she does, knowing that he did what was necessary. Well, necessary for the good of whom is questionable, but whatever. He adds that it was a good experience for his son as well.
She looks up, startled, "Eun Shi-kyung went there and apologized too?"
Shi-kyung goes for a run as the day's events go swirling around in his head. Mia's threats, her crimes, the fact that she enjoys watching Jae-shin suffer in terror… it sends him to the ground as he trips on a traffic cone.
He goes to put it back, and it suddenly opens the floodgates. He kicks and screams, boiling over with anger. He falls to his knees, fists balled up, as angry tears come pouring out.
And from the distance, Jae-shin sees it all, having come out to look for him. Oof, that breaks my heart even more. He lets one last tear fall, and she cries a tear to match his.
He gathers himself and goes back to being the pillar of strength, which I think breaks my heart most of all.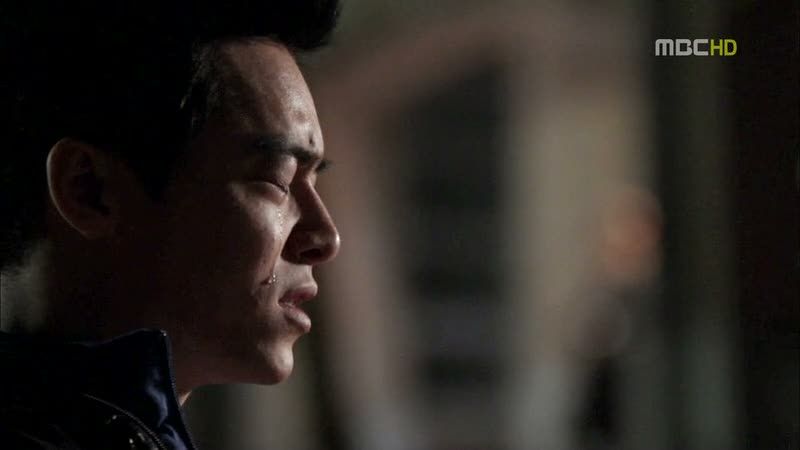 She calls him to the greenhouse later, and he comes in uniform. She asks if the man he met earlier today was the one who killed her brother, and agrees to return to therapy to regain her memories. But this time Shi-kyung tells her that she doesn't have to.
Oh noes! Did it kill his spirit? Is he broken?
She looks up, surprised, "Have you given up on me?" He stammers no, but he's clearly seeing things differently now. I'm terrified that this is the end to Shi-kyung's innocence, but then Jae-shin switches gears: "I like you." Er?
"The world's most frustrating and un-fun, one leader of the royal guard… I like him." He just gapes, mouth literally hanging open. She starts to get flustered and asks him to say something, so he tries to move his lips, but no sound comes out.
I seriously think he might cry. Or crap his pants. It's fifty-fifty right now. He's so nervous that he can barely speak, and finally manages to stammer that she must be having a really hard time, which can lead to psychological trauma. HA. You mean the only reason she could possibly like you is if she were damaged in the head?
She agrees that she is having a really hard time, which is why she kept wanting him by her side—by throwing tantrums, and picking fights, making jokes. "And then I realized… ah, I like this person. So don't give up on me. I'll be courageous like you. I'll become a woman who befits you." Awww. She asks him to standby and keep watch.
Meanwhile, it's Day Three of limbo on Battleship Island, as both teams await the official decision from the WOC. The air is still tense between the two teams, despite the fact that they've had to bunk together, which the boys complain about, but Hang-ah points out is a given, since they're the ones who blew up the other camp. Touché.
She decides to try and make the best of it, and gathers up the meat on their table. The boys panic—Not the meeeeeat!—but it works to break the ice, and they share their rations. The guy who tended to Kang-seok's wounds tosses ointment at the back of his head, even eliciting a grumbly thank you from the giant.
Cut to Shi-kyung panicking, "The princess went where?" She went to go face the bad guy is where, as she watches Bong-gu's speech at the peace convention with a glare. Bong-gu declares the monarchy of this country lacking, and the peninsula not yet ready for true peace.
He steps down from the stage, satisfied with himself, and then a special guest is announced: Lee Jae-shin. She comes to the stage and apologizes for her last appearance, making no excuses for herself.
She calls Bong-gu out on his words, for not separating personal feelings from a view of an entire country, and says that yes—they are a war-torn country, always preparing for the worst, every game a war game.
As she speaks, Shi-kyung races to the convention hall and bursts into the room, but finds that she's poised and confident and speaking with ease. She says that what Bong-gu said is true about peace not dropping in out of the sky—that it has to be made little by little.
And with that she motions to her assistants, who take out a pair of crutches. And with their help, she rises from her chair and stands up. Not on her own – she's wearing braces, essentially an entire suit from the waist down, but she's holding herself up, even as her hands tremble.
She says that she can only stand for about ten minutes. "But someday I will stand. Our country is the same." She says that every little step they're making is for peace, and just as she needs this walking suit to stand, their country needs the rest of the world to help them achieve that peace.
And then she ends the same way she did with Shi-kyung, asking them to standby and keep watch, as she works hard. She bows. Shi-kyung wells up with emotion. The room applauds with a standing ovation, and Bong-gu fumes.
From the palace, Mom watches with tears in her eyes, "That's my daughter." Aw. Secretary Eun smiles.
The WOC panel debates the decision for three days straight, and then finally put it to a vote. Back on the island, the winners' boat gets started up, and it's Team Korea onboard. Whooo! Not that we ever thought they'd lose.
Jae-ha looks over at the Americans, waiting on the shore in defeat, and offers them a ride. Once they're aboard, Hang-ah offers her Korean patch to the U.S. team leader and they trade patches with a handshake. Suddenly it's like an end-of-summer-camp lovefest, and Kang-seok's like, that's enough of that mushy stuff, until he gets offered a trade too. Hee.
As they sail off, we get told that Team Korea bested Russia in Round 2, but lost to Egypt in Round 3, landing in fourth place at the end. They toast with the Americans at the end of the games, and give interviews, faces beaming.
Hang-ah gets asked about her engagement, and she stops mid-sentence, not knowing how to answer. She looks around… and then Jae-ha pops into frame, "Engaged? Of course we're getting engaged. From now on, this is my fiancée." Kang-seok pours champagne and the party rages on.
Bong-gu watches the broadcast with a smile on his face, and though his words are mocking, I'm pretty sure a part of him thinks that they're friends. Seriously. Like the war game teams, except he's too much of a sociopath to know the difference between that and real life.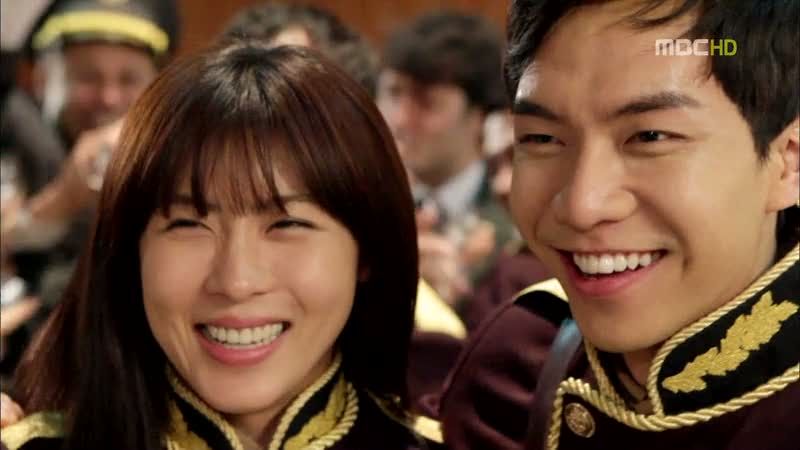 He calls Shi-kyung and greets him with, "Hello, this is Rotten Cookies." Pffft. Shi-kyung coldly asks how he got this number. Bong-gu asks, "What is it that you like about Lee Jae-ha?" Omg, is this a jealous why-don't-you-love-me call?
"You know, he and I are the same. There's hardly a difference. So why…" Shi-kyung just hangs up. HA.
He starts to save the number into his phone as "Rotten Cookies," when Bong-gu calls again. Dude, take a hint. He already has a king he loves. Er, serves.
But he pleads with him to listen, and this time he asks, "Do you trust your father?" Oh NO. "Blind faith is poisonous you know…" Aaaargh, I'm so torn between wanting him to know the truth so he can right the wrongs, and wanting him to be protected from the truth about the father he keeps on that pedestal.
If he did say more, we don't get to hear it. Next thing we know, Jae-ha gets a call from Secretary Eun, who's on his way to meet him with Shi-kyung in tow. He says that Bong-gu has requested a meeting, and though Hang-ah protests, Jae-ha agrees to meet him.
Dad asks Shi-kyung why Bong-gu called him, and asks if there was anything else he said. Shi-kyung shrugs it off, though he's clearly got a lot of new questions where Dad is concerned.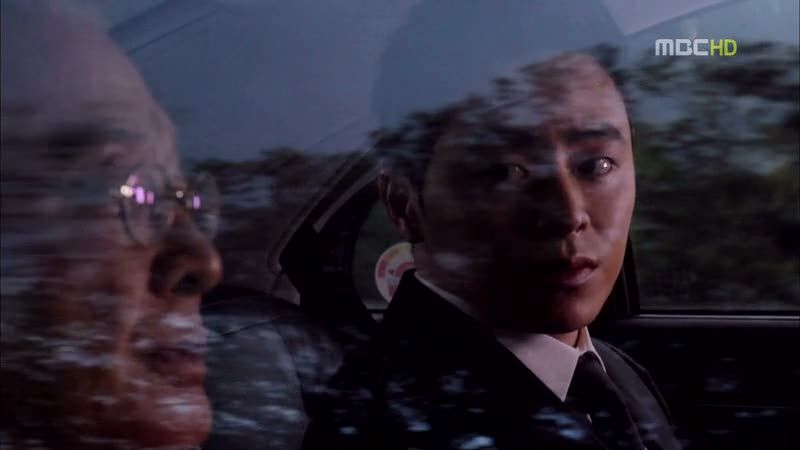 Bong-gu congratulates Jae-ha on the WOC, and then in a surprise move, he says that all this one-upping each other back and forth has run its course. He proposes that they stop now: "Let's just say I'm sorry and end it." Jae-ha sneers, "Say? You killed a man, and you want to say it's like you're sorry?"
Bong-gu says he lost a lot too, a hundred billion dollars to be exact, and figures that it's a fair exchange—Jae-kang couldn't possibly be worth that much, right? He says they'll call it even then. Brother, hundred billion, they both lost, but it's samesies.
Cookies, you are so off your rocker, it amazes me.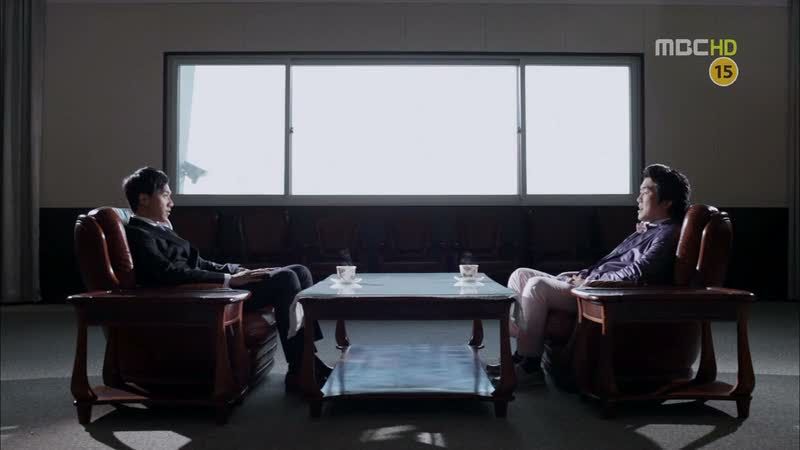 He says it dawned on him how alike they are, actually acknowledging that Jae-ha is on his level. He says that Jae-ha is the one who said in his present that he shot at his girlfriend too.
Jae-ha: "So you shot that woman too? So you could be like me?" Bong-gu counters that he's actually a step above, since he used live rounds. Jae-ha nods calmly. "That's true. You and I are only a hair different… But I know how to feel ashamed. I shouldn't hurt the people around me. I shouldn't have shot Hang-ah like that. At least I reflect on my actions. But what are you?"
Bong-gu laughs, taken aback. "Why are you being like this? You're a philistine just like me." Jae-ha says sure, but at least he has a conscience. But Bong-gu is nothing except himself.
"You eat when you want to eat, and crap when you when you want to crap. Haven't you seen something that does the same? Oh it's dog-pigs. They do that, right? They eat, crap, bite and tear each other apart anywhere. Without knowing shame." [A dog-pig isn't a real thing, but what you'd call someone who's sub-human, a beast.]
Bong-gu asks if he's really going to keep up the fight, and Jae-ha says he was going to let it go, but he Just. Can't. Do it. Bong-gu asks, I swear with a touch of eagerness, if Jae-ha's going to keep attacking the front line, but he says no: "I'm just going to ignore you."
Hahaha. I love that Jae-ha can always read what Bong-gu wants him to say, and do the opposite. He says he doesn't want to end up a dog-pig by association and laughs. Bong-gu seethes on the inside and then gets up to congratulate him on his engagement ceremony, and sticks out his hand for a shake. Jae-ha glares, thinking it a threat, and Bong-gu coos that he can rest easy, and turns to go.
But then… he has to scootch out sideways from the space between the chair and the coffee table, an inch at a time. Hahahahaha.
It's time for the engagement and the guests file in as Dong-ha checks every single person and Shi-kyung does another sweep, warning the team to keep a watchful eye.
Jae-ha's mom and Hang-ah's dad sit up on the stage, and Kang-seok and Young-bae arrive in full uniform and sit down in the front row, all stiff and sticking out like sore thumbs. Aw. The whole family is here.
All except Jae-shin who's hard at work in physical therapy. She's got a long way to go, but she's not giving up, and says to herself that she'll make the wedding, no matter what.
Jae-ha and Hang-ah arrive in a convertible, waving to the crowd, and then Jae-ha waits on the stage.
Bong-gu plays with his tarot cards, tellingly still obsessed with the people who surround Jae-ha, and picks some ominous cards, or at least that's what the music tells us, because I don't read tarot.
Hang-ah comes out onto the stage and Jae-ha takes her by the hand.
Suddenly a familiar voice rings out. Omg, is that Jae-kang??
They turn to the giant monitor, and there's Jae-kang, practicing for this very thing. The MC announces that the late king had recorded his rehearsals and that today he'll be presiding over the engagement. Aw. Are you gonna make me cry?
Jae-ha gives Secretary Eun a grateful smile, knowing it was his doing. He bows his head with a smile. But just when I'm about to give the old man a point or two for this adorable stunt, he gets a call from Club M and leaves to take it. Urg.
Jae-kang presides over the engagement ceremony, which in Korea can be as elaborate as a second wedding, and given that they're royals, it's pretty much like a wedding-lite.
He asks them each to vow to uphold their duties to the country and to its people, and they answer yes. And then he asks them for one last promise, as a couple representing a union between North and South Koreas – will they do everything in their power to rid this country of war, and even in war, promise to stand united? They turn towards each other…
Back to Bong-gu, cackling at the Queen of Swords card. He picks another to turn over: the King of Swords. I'm just going to go out on a limb and say he's happy 'cause it's king, queen, and war.
Jae-ha and Hang-ah both give their promises. Jae-kang smiles. Waaaah, it's like he's smiling right at them!
They turn to the crowd, hand in hand.

COMMENTS
Damn, the things we had to endure to get the two of you ALMOST married. I hope having to win a war simulation to get engaged doesn't mean they need to win a real war to get married. Why do I feel like I just jinxed that?
Frankly the main reason I'm glad they finally got engaged is that the last few episodes were sapped of a lot of tension, because once the couple confirmed their love, the WOC was the only thing standing in the way, and it was pretty much a foregone conclusion. So while there were interesting moments for our characters, there wasn't a lot of forward movement. I'm much happier now that we've got that past us, and can go forward with new story points, because this drama is a lot better when we've got real world stakes against the monarchy rather than a war game situation.
I get what they're trying to do with the WOC and what it means to have the couple fighting together successfully in a practice situation, but it's just not as dramatically riveting as the actual threat and political strife between North and South, no matter how many homemade bombs you make. Sure it's tense in the moment (and we got a great crying/laughing reunion in the rubble), but plotwise these last three episodes felt very much like treading over necessary but not new or interesting ground.
I'll put up with a lot for the sake of the plot, but that was definitely the rough patch in the story. It's possible that the execution left a lot to be desired, but even in the writing, despite some good character beats, overall it doesn't hold a candle to their training days, Jae-kang's death, Jae-ha's kidnapping or crossing the DMZ for love. I know you can't be epic for twenty episodes straight, but you can't help but feel the downshift in momentum when it falls short.
Thankfully it's behind us and I feel the upswing a-comin' in a major way.
Though what we did get in the meantime I do appreciate: Jae-shin and Shi-kyung have made great strides, which is awesome to see, especially in watching Shi-kyung influence Jae-shin to stop feeling sorry for herself and take charge of her life. These royals sure do take their time growing up, but they make an impact when they do. I hope she can get it together and be a pillar for him to lean on, because he's going to need it. Wah. If the mini breakdown today was just a taste, I don't know how I'm going to handle it when the shit really hits the fan. For now, let's enjoy the happy.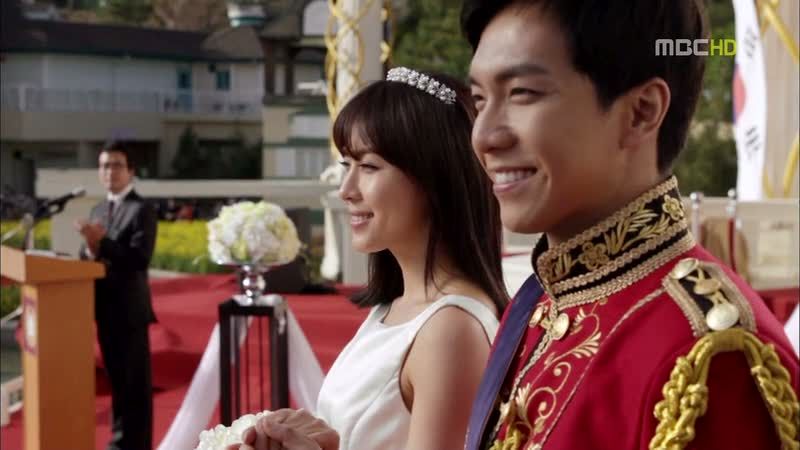 RELATED POSTS
Tags: featured, Ha Ji-won, Jo Jung-seok, Lee Seung-gi, Lee Soon-jae, Lee Yoon-ji, The King 2 Hearts