A Gentleman's Dignity: Episode 10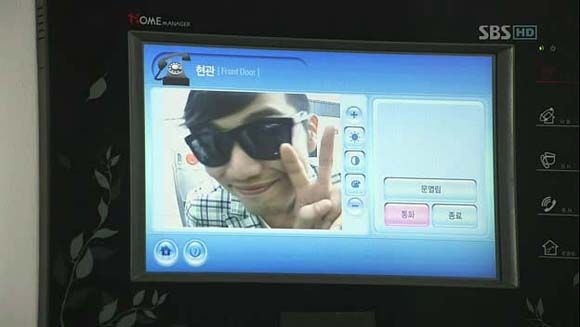 I guess the good thing about a late recap is that you can quickly refresh your memory of the previous episode before watching the next one immediately after you finish reading. Har har. Anyways, I want a pet like Jung Rok. He makes me laugh even when my soul has temporarily gone to the dark side. Can we please put him in a dress for fun? No? Too dark? Okay. How about a pretty wig?
EPISODE 10 RECAP
The guys have an epic Starcraft battle at a PC bang. Do Jin and Jung Rok face off against Yoon and Tae San again and phone calls from girlfriends and wives get ignored as the competition starts to heat up. Jung Rok receives a call from a café employee who tells him that Jeon Ji Hyun just showed up.
Jung Rok pauses for a second and then snaps that she better get a discount on her drink before hanging up. Haha. The other guys commentate on how pretty Jeon Ji Hyun is before resuming the game.
Soon Jung Rok's phone rings again and the employee announces that Im Yo Hwan (a professional Starcraft player) came with the actress. The guys quickly get up and head towards the cafe. Hehehe.
Jung Rok calls Yoon to inform him that Me Ahri is waiting for him at the bar. Yoon plays it cool and tells Jung Rok to take care of his own customers. After he hangs up, however, he looks at a text from Me Ahri worriedly.
Do Jin warns Yi Soo to stop flirting with him and she stares at him in shock while he sits back with a satisfied smirk on his face. She begins downing shots of soju and he offers to pour her some more. She bristles at his coarseness and then proposes that they talk outside. He replies that he doesn't want to converse with her unless it's to sleep with him and then stands up.
He leaves the restaurant with Yi Soo hot on his heels. She angrily declares that she will never sleep with him. He nods and says that he expected as much. She expresses that she understands he's mad at her but his previous words were beyond rude. He asks why a man's sincerity is rude; did she think he liked her only because of her soul and personality?
Yi Soo requests that he let her finish talking first. She apologizes for wearing the shoes so carelessly, but explains that she never meant to hurt him. She starts to become frustrated, saying that he should have said he wanted to sleep with her earlier; then their relationship would have just ended with a "simple" one night stand.
He lets out a smile at her burst of anger and admits that he finds her pretty even at this moment. He expresses that the days he spent with her were much more youthful than the future since he gets a little older every day. As a result, he is always much more passionate yesterday than he is today. She blinks at him in silence and Do Jin confesses that his temper flared when he saw her wearing the shoes.
Yet today, he has realized that he had been throwing his feelings at her like they were rocks and that she may have gotten hurt in the process. He finishes by saying that he has to let her go now and sincerely apologizes for not acting like a gentleman. With that, he gets into Betty and watches her walk away from his side view mirror. ::sniff::
Do Jin comes home with cans of beer and invites Yoon to join him. Yoon comments that summer has officially come and that they just keep getting older. Do Jin reminds him that they're already ahjusshis. Yoon proclaims that they've become more cowardly with age by making a hundred excuses not to do anything. Do Jin adds that doing so makes them feel like they're adults even though they're not.
Yoon wonders if Teacher Seo taught Do Jin ethics lessons and scolds him for fighting with a woman. Do Jin quickly responds that Yoon must not fight because he's dating a child, which causes Yoon to spit out his drink. HAHA. Do Jin sighs that he probably won't sleep well for many nights. They clink their beer cans together to celebrate four boring boys who couldn't become gentleman.
Yi Soo cries at home and tells an exasperated Se Ra that someone important has left her side. Yi Soo tearily declares that she's going to forget everything and Se Ra wonders if she's talking about Do Jin. Gah. I still don't like you.
The next day, one of Yi Soo's students asks why he can't solve math problems during her class. It's not like ethics are important for college entrance exams. She answers that it's not ethical for her to let him do something when he's not supposed to. Also, there are reasons why ethics is taught in school; he just doesn't know what they are.
The student huffs that he doesn't understand what she's saying and that he's going to call his mother. LOL. Okay man. You do that. Dong Hyub observes the entire encounter and approaches the student after Yi Soo leaves with her shoulders hunched.
Dong Hyub orders Sung Jae to copy all the chapters in the books that Yi Soo had assigned as a punishment for sleeping in class. Hee. Dong Hyub gives his classmate a menacing glare while pointing out that this is his second warning: don't mess with the ethics teacher.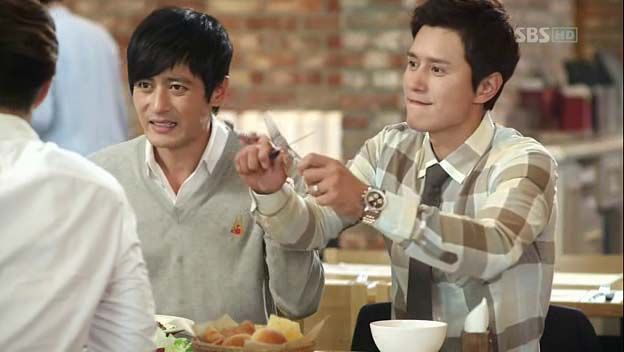 Do Jin and Yoon eat lunch with Jung Rok who pours on the baby talk as he converses with Min Sook on the phone. The guys give him looks of disgust and Jung Rok states that he's going to change his name to Mr. Chicken Jobless after Min Sook hangs up on him. LOL. Do Jin wonders if Jung Rok has finally gone crazy. Hee.
He starts to get up to bring some more food over but is blocked by the chair of another customer. His peeved mood instantly disappears when he realizes that the other customer is a pretty young girl. The charm starts to ooze out automatically as Yoon sits in awe at how fast Mr. Chicken turned into Mr. Sexy.
Do Jin later prank-texts Jung Rok as Min Sook, which puts Jung Rok immediately on the defensive. He assumes that Min Sook is spying on him and quickly leaves the restaurant to go home. Hehe. Do Jin announces to Yoon that he just gave Jung Rok a little scare in order to protect everyone's peace. He trails off at the word "peace" and Yoon shoots him a quizzical look.
Tae San and Se Ra go on a date and watch a street concert as Tae San remarks that he must be the oldest guy here. Se Ra heaves a sigh and agrees with his observation. She comments on how fresh and pretty the young guys are and how well they pull off skinny jeans. Tae San's jealousy meter rises and he bitterly responds that the teenagers look stupid. Heh.
Se Ra comes home to find Yi Soo sitting on the couch holding a trash bag, which contains the pink heels and black laptop. Se Ra gasps; is she really going to throw all of these things away? Yi Soo hesitates for a second before pulling out the laptop. She then walks outside and places the plastic bag near the garbage cans. She glances at it and congratulates Do Jin on losing her.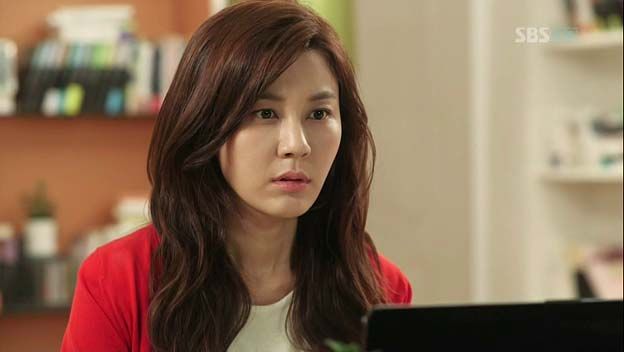 Do Jin has a business meeting with his employees but momentarily freezes when he sees a drawing of Yi Soo on one of his blueprints. He thinks back to when he drew the sketch and becomes lost in his thoughts of Yi Soo.
Yi Soo returns  just as Se Ra sees the photo of Yi Soo photoshopped onto Do Jin's bed. Yi Soo yanks the laptop away from a snickering Se Ra and runs into her room while cursing Do Jin. She moves to change the wallpaper but spies something named "Kim Do Jin's Private File," which contains four audio clips.
The first clip is a reminder of when Do Jin first saw Yi Soo in the rain and the second file is a recording of when her sweater dress became unraveled. The next clip has Do Jin tell Yoon that he met someone special and the last excerpt reveals that Do Jin didn't want Yi Soo to leave his apartment on the day she fell on top of him. She comes to her senses and bolts out to find the pink shoes. Oh thank goodness.
Tae San watches a group of young men saunter into Jung Rok's bar and he wrinkles his nose at their skinny jeans. Do Jin brags that he tried on skinny jeans last week and that he looks pretty freaking awesome in them. Heh. Tae San laments that women are difficult and that love is even harder. Do Jin puts on a chic air of "love is stupid" that is quickly interrupted by Jung Rok's phone.
Min Sook's name pops up and the boys let out shouts of displeasure before running to their back-up bar. However, they find Min Sook waiting in their regular room. Uh ohs. Do Jin cuts in and praises Min Sook's superior beauty which earns him dirty looks from Yoon and Tae San. Hehehe.
Min Sook stands up and instructs them to clear out their architecture and law offices within two months. Jung Rok abruptly bursts in but fails to make the situation any better. Min Sook leaves with one comment: she'll see Yoon at his office soon with her personal seal and divorce papers. Crappers.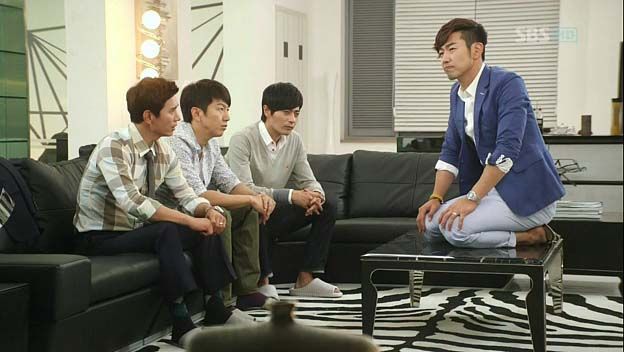 Jung Rok ends up kneeling in front of his friends again but refuses to confess who he was with this time. The person turns out to be Eun Hee (wha?) but we are given no more details about their meeting.
The guys pressure Jung Rok to give up his secret but he defends himself by saying that he wasn't doing anything wrong. Do Jin steals Jung Rok's phone in retaliation and Tae San scoffs at the number of sergeants, corporals, professors, and company presidents in his contacts list. Heh.
They threaten to reset his phone but Jung Rok begs them to let him at least write down the number for his business's coffee bean supplier. They grudgingly hand the phone over and he tries to memorize Eun Hee's number but gets caught instantly.
He ends up forgetting the number but he commends his friends on their intelligence instead of getting annoyed at their meddling. Hehe. Aw. Suddenly, his eyes fill with terror. He doesn't know his wife's number! LOL. They recite it to him and he praises them again for being so smart. Ha. I love you, Mr. Chicken.
Yi Soo meets Yoon at Do Jin's apartment to present him with a book. He hands her some juice and her eyes start to wander around in search of Do Jin. Yoon informs her that Do Jin will be coming home soon and she quickly denies waiting for him. Yoon smiles knowingly in response.
He opens up the book to a random page, which reads "We are in the fire and I am by his side," causing him to pause momentarily. Yi Soo cautiously points out that Me Ahri cried a lot the other day, but he looks away without giving her an answer.
The front door soon swing opens and Do Jin enters to find Yi Soo in the living room. He looks at Yi Soo without a word and Yoon slips outside to give the lovebirds some privacy. Aw. Being the third wheel is always awkward. He sits in the gardens and receives a text from Me Ahri, stating that she'll wait until he comes out to meet her.
Back in the apartment, Do Jin inquires as to why Yi Soo is here; is it to slap him or sleep with him? She gives him a pleading look but he reminds her that they have no business to talk about if she's not here for those two reasons. With that, he walks into his room and slides the door shut.
She makes her way towards his room but can't bring herself to knock. Do Jin and Yi Soo stand on opposite sides of the door, wishing the other person would make the first move. After some time, Do Jin hears the front door slam shut. He comes back into the living room only to see that Yi Soo is still in the apartment.
She wryly comments that he must have really not wanted to listen to her. She apologizes for inconveniencing him and leaves. Once outside, she turns around in hopes that Do Jin would come out to hold her back but remains disappointed.
Me Ahri gives up waiting for Yoon and tries to call him before leaving but finds that his phone is busy. She starts to cry (again) and steps onto the side of the street to wave down a taxi. The cars zoom past her and she notes that even the taxis won't come to her.
Just then, a taxi driver pulls up and asks if she's the "1201" customer. She realizes that 1201 are the last digits of Yoon's phone number and she perks up. She asks the driver to call Yoon and lie that the customer is nowhere to be found, but Yoon replies that he saw Me Ahri get into the taxi already. Ha.
She pays the driver cheerily and searches for Yoon. She spots him hiding behind a sign and shouts out "oppa," which makes him sigh in annoyance. Hah. It helps not to wear a bright orange sweater when you're trying to hide. Me Ahri tries to run across the street as cars whoosh by in either direction ::face palm::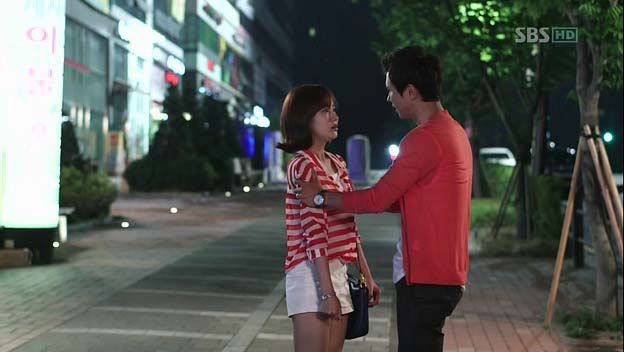 Yoon commands her to stay there and that he'll go to her as he weaves his way around the traffic. Oh gosh. If he gets hit, I swear. Shizz will go down. Fortunately, he gets to her alive and drags her away to yell at her stupidity. How old is she? She responds that he would have left if she didn't try to approach him.
Yoon replies, "If you want to be treated like an adult, then act like one. From now on, I don't care about your well-being because I'm not your guardian. Tae San is. I came here tonight because I was worried about me…in case I worried about you." He advises that she stop contacting him and that he won't meet her separately ever again. He flags down a taxi to send her home.
She sniffs that he's not even going to drop her off and he firmly commands that she stop whining. Woot! Finally. I like Me Ahri but all the crying was getting a little annoying. He shuts the car door and Me Ahri gives him the sad puppy face.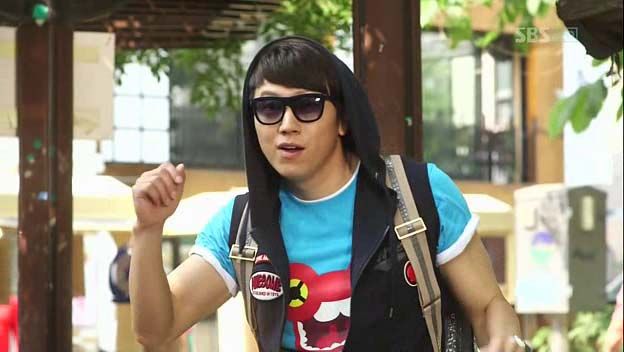 Tae San calls Me Ahri for some advice on what skinny jeans to buy. They chat and then he tells a clothing store employee that he'll buy the turquoise jeans. Hahah. Yoon observes his friend modeling and cringes at how wrong the entire situation is. Does Tae San think he's G-Dragon from Big Bang?
Tae San responds that he's wearing the jeans because he wants to do an event for Se Ra. Other guys use presents and candles for events but he's different; if he can wear this and make Se Ra laugh, then he'll be happy. Yoon scoffs…and then sincerely informs him that he wants to be Tae San's girlfriend in the next life. What?! Hah. Tae San gives a smirk and then walks out while singing "Pretty Woman." Bwahah.
Se Ra bursts into laughter when she sees Tae San after they meet up for another date but then quickly hides her face in embarrassment. He proclaims that he wore skinny jeans just for her and she grudgingly admits that he does look a bit younger. They head to Se Ra's house so she can "reward" Tae San for his good behavior.
Jung Rok gets kicked out again and shows up at Do Jin's apartment. The two irritated roommates sigh at Jung Rok's pathetic life and Do Jin goes out to take a walk to clear out his frustration. Yoon warns Jung Rok that he's dead if he tries to sleep in one of their rooms. He's banished to the couch.
Yoon goes back into his room and Jung Rok notices that Do Jin left his phone at home. He gleefully grabs it and searches for the numbers of various girls but ends up with nothing. A message arrives from Yi Soo then and Jung Rok looks at it curiously. It states "Tae San sshi, I'm at the cafe where Do Jin and I first saw each other. Do you think he would come if he knew I was waiting for him here?"
Jung Rok cocks his head in confusion; why would Yi Soo send a text to Do Jin when it's meant for Tae San? Meanwhile, Do Jin broods outside as Yi Soo's face keeps popping into his head. When he returns, Tae San calls and asks him what this text message he received means. Jung Rok calls out that he sent Yi Soo's text to Tae San because it came to Do Jin's phone on accident. Haha. Well, his reasoning does make sense.
Do Jin panics and checks the message, which was sent an hour and forty minutes ago. He curses at Jung Rok before bolting out the door. Poor Mr. Chicken wonders why Do Jin is so mad; didn't he do a good thing? Keke.
Do Jin rushes to the café but finds that Yi Soo has left already. A half-finished drink indicates where she was sitting and he unhappily sinks down in the same spot. He glances out the window dejectedly until he becomes conscious of Yi Soo's presence outside the cafe.
Time slows to a stop as they gaze into each other's eyes. Do Jin breaks the spell first and takes out his pen to write, "Today's appointment is with Seo Yi Soo," on a napkin. He places the napkin with the text facing the window and she quietly reads what's written. After a moment's hesitation, she presses her lips against the window in response.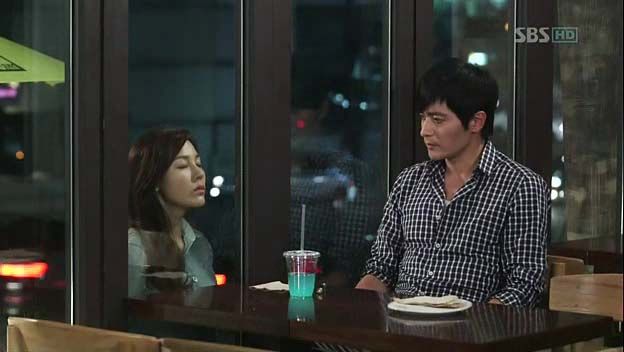 Comments:
So this episode had a lot of filler scenes. It makes me wonder if the writer doesn't have enough plot planned out to sustain the rest of the drama. We still have some significant plot points, like who Colin's dad is or why Yi Soo ignores calls from her mom, but I still think 16 episodes would have been enough. I could watch the crazy antics of the F44 all day long but I hope that we get some more meat to chew on soon.
I get that Yi Soo's kiss against the window was supposed to be romantic but I found it kind of funny to look at. Heh. I think the idea was good but the execution was a little clunky. Maybe she could have written back to him on a post-it instead of kissing the (I would guess dirty) window. I don't know. I do hope that her strange action prompts Do Jin to come outside and lay a swooping kiss on her. I think it's time we see more of Yi Soo + Do Jin smexy times, no?
I read a lot of comments about how Me Ahri seems too immature for Yoon and I kind of agree. She's very bright and passionate but her whining is a little off-putting. She is, after all, a twenty-four year old woman. However, I tend to write off her immaturity as a result of being babied by everyone. She lives an extremely sheltered life and big brother Tae San would probably cut off his arm before letting anyone hurt Me Ahri.
I'm not excusing her immaturity; in fact, I want her to be forced out into the "real world" and realize that not everything revolves around her. Call it tough love if you will. Yet I would be more impressed if she took it upon herself to take a chance and step outside her comfort zone, whether it be starting her own career without anyone's help or meeting someone outside her little bubble.
Yoon's "stop whining" command was so refreshing to hear. It sucks that he's holding himself back because he doesn't want to hurt Tae San, but I also think this period of withdrawal can be a good thing for Me Ahri. I hope that she realizes that she needs to grow up before anyone, including Tae San and Yoon, can take her seriously. We still have ten episodes to go and I pray that the writer puts some more thought into Me Ahri's character.
My favorite scene was when Do Jin and Yoon were talking to each other over some drinks. The setting was so pretty and the two actors have a great rapport with each other. Their discussion about age was so honest. I felt a little pang in my heart when Yoon confessed that they've grown more cowardly than before because they try so hard to do the "right" thing.
There's a sense of responsibility and maturity that people expect of you as you grow older and adults have to constantly restrain themselves from pursuing what they want to do in exchange for normalcy and stability. Do Jin touches on the subject of maturity and tells Yi Soo that he loses passion as he grows older which seems so tragic to me. I want him to find that spark of life, and maybe a new relationship with someone he loves will ignite his passion again. Episode 11, you'd better blow our minds.
RELATED POSTS
Tags: A Gentleman's Dignity, featured, Jang Dong-gun, Kim Haneul, Kim Min-jong, Kim Su-ro, Lee Jong-hyuk